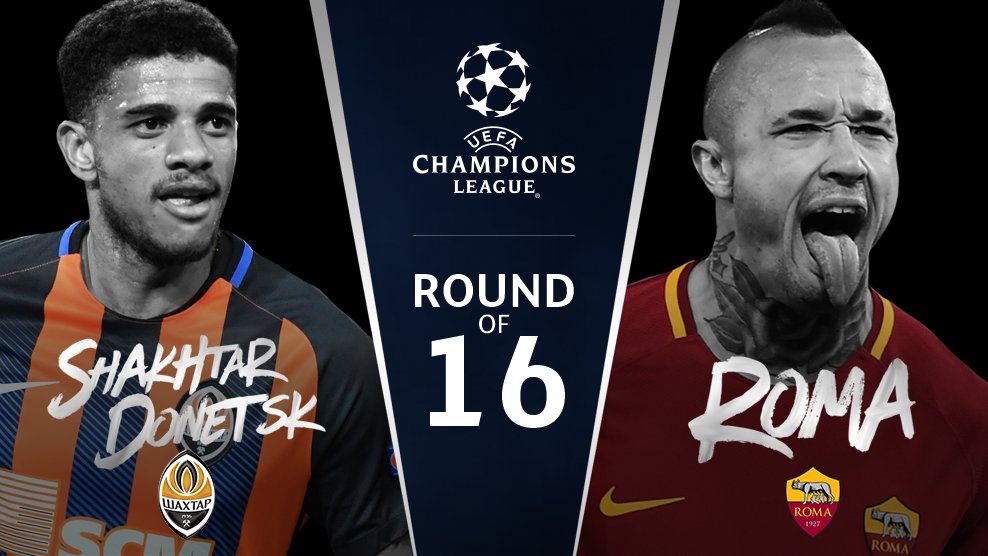 Its been mouths since Roma won their Champions League Group since then Roma drew Shakhtar Donetsk avoiding some of the big boys in the process. We have had to wait and wait for this finally the wait is over as its time for that Champions league song as we  are preparing for what surly will be a great European night. As Roma head to Ukraine this Wednesday in the Round of 16 of the Champions League. In what is expected to be a loud and thriving atmosphere at the OSC Metalist Stadium in Kiev. This isn't the first time these team have met at this stage of the champions league. These two teams met In the 2010-2011 Champions League Round Of 16 with the Ukraine side taking the advantage 6-2 over the two legs with Shakhtar winning both matches. This was a Shakhtar team that had Willian,Henrikh Mkhitaryan, Fernandino and Douglas Costa this was the best team they ever had they made the Quarterfinals for the first time in history. This time around it is likely to be more evenly matched. Roma has also played them in the Group Stage in 2006 winning one and losing one. Neither team has done very well in this stage Roma's record against them isn't great with 6 losses and just one win. Both of these teams have the opportunity to rewrite their own story as these teams battle for a place in the quarterfinals. Two Clubs with old history on the biggest stage in the football world but who will win the Battle?   
A.S Roma ;Champions League Group: Group C Winner 
A.S Roma was drawn into the Group Of Death when the Champions League Group Draw came out. Practically everyone counted them out as Roma was giving the biggest of challenges. In Group C they were joined by Defending Premier League Champions Cheslea Two Time Champions League Final Runners Up one of the best teams in this competition over the last four years Athletico Madrid and Qarabag from Azerbaijan. Everyone immediately looked about the draw and just assumed it would be Chelsea and Athletico coming out of the group. No one gave Roma a chance of escaping the group of death. Everyone bet against Roma and Roma made them pay for it. Roma topped the group winning it with 11 points in a very impressive performance in the group. Highlighting their performance was Their second match against Chelsea. After their come from behind draw in London Roma taught Chelsea a lesson as Roma bullied the Premier League Champions 3-0 in Rome. Since Roma sadly battled with a very poor run of form as they saw them slip out of the title race. In result went on a 6 game winless run that as they fell out of the race for the Scudetto and really struggled finishing in front of goal. Roma have finally found their from once again and it couldn't have come at a better time with this vital champions league Round of 16 match coming. Roma have seen a young star arise from the shadows over the last mouth. The emergence of  20-Year old Turkish midfielder Cengiz Under can not be understated after struggling in the beginning of the season he finally has shown the quality the young star has. He has scored 4 goals in the last 3 goals displaying in unbelievable ability the range and power he has with is amazing his shot is deadly. He is someone Shakhtar is going to have to deal with I think they will have problems with doing so he has left defenses for dead over the last few weeks. With all that Roma have won three games in a row after a poor run of from that has seen the club climb so third in the table. Respect must be shown to the Ukrainian giants but Roma without question have the weapons to get a result in what will be a hostile atmosphere in Keiv. Since Eusebio Di Francesco's formation change going from the 4-3-3 to the 4-2-3-1 we have some a much stronger much more confident Roma team. As I mentioned the key player for Roma in this cup tie will be Cengiz Under but another player that could play a huge role in a successful trip to the Ukraine is Radja Nainggolan. He is the catalyst of the midfield and the glue of the team as we saw Saturday in Udin. His distribution is just next level the scoring chances he will give his team will be tremendous. Its important that Roma's finishing in front of goal must be sharp if they are to get a important away goal El Shaarawy and Dzeko need to have a much better outing then on Saturday chances cant be wasted in a game like this. Alisson and the defense will do everything they can to keep it close which will be very important having the most inform keeper in the world will help their cause but they will be attacked by some quality players so their cant be a slip up in their defense. Roma have the better team but they will need to be at their very best to stop a strong Shakhtar attack. Roma come into this game in great form they need to stay hot if they want to progress to the quarterfinals Roma's away form his great which will befit them play time is over its all business now. 
Shakhtar Donetsk; Champions League Group: F Runner up 
Much like Roma Shakhtar also ended up in a very difficult group and went against the odds to advance. The Ukrainian defending champions had a nightmare of a group to deal with now quite a group of death but a very difficult selection of opponents. They were drawn with Pep Guardiola Manchester City one of the most dangerous teams in Europe with a very dangerous attack and a squad depth to put fear into any team. Joining them would be the most watchable team in Europe Napoli one of the most exiting teams to watch in world football who are gunning for the league title this year. Not mention this group also included the Dutch champions Feynoored. Shakhtar was expected to finish last but much like Roma they went against the odds and did exceptionally well. Shakhtar finished second only three points behind near perfect Manchester City. Not only did Shakhtar Napoli once and Feynoored twice but they were the first team to beat Manchester City this season. It wasn't their strongest squad but they hung with Manchester City in both games proving the quality. Despite just recently coming off of a 2 mouth break this team is no joke and will break you down if you underestimate them. They have a very electrifying Brazilian midfield with Taison,Fred,Bernard,Dentinho a very strong component of their team that's without mentioning the Ukrainian due of Marlos and Viktor Kovalenko. They aren't as strong in defense but they midfield is just that good they almost don't need to be. Two names come to my mind when i think of this excellent attacking minded Shakhtar teem Viktor Kovalenko and Bernard the two of them are excellent through the midfield can attack the goal with great succession and deliver markey passes they have great movement. These two will be a nightmare to deal with. If they are able to put Facundo Ferreyra into scoring positions it will be really hard to defend. especially if they have the space to operate they will be comfortable at home and ready to counter with anything the Italians hit them with. They understand the importance of this with Kiev being the location of the 2018 Champions League final they Ukrainian side They wont want to go home this early.
Conclusion
Two very evenly matched teams I think the outcome of the this game will determine the two legs in my opinion. Roma have not conceded at home in the champions league this season I have confidence Roma will win the home leg so it all comes down to this. This match in Kiev will be the up-most importance for both teams to deliver. For Roma the task is simply neutralize the threat of Kovalenko and Bernard if Roma are able to do that Facundo Ferreyra wont be able to operate they stop those two and they will win this game. For Shakhtar the key will be using their central midfield to break on the defense in a strategy to catch Roma sleeping. This one is very tough to call but i'm going to say that Roma get their away goal in a narrow win for Roma. Its really hard to call and i'm not underestimating Shakhtar but I believe Roma have the slight advantage.
Roma's Projected starting 11 4-2-3-1
GK: Alisson Becker 
DEF: Alex Kolarov, Federico Fazio, Kostas Manolas, Alexandro Florenzi
DEF: Lorenzo Pellagrini, Kevin Strootman
ATT Midfield: Diego Perotti, Cengiz Under, Radja Nainggolan
Striker: Edin Dzeko
Manager: Eusebio Di Franessco
Shakhtar projected starting 11 4-2-3-1
GK: Andriy Pyatov
DEF: Bohdan Butko,Yaroslav Rakitskiy,Ivan Ordets,Ismaily
DEF MID: Fred,Taison                                                                                                    ATT Midfield: Bernard,Viktor Kovalenko, Marlos                                                      Strikers: Facundo Ferreyra
Manager: Paulo Fonseca
Key Players
Roma: Radja Nainggolan, Cengiz Under
Shakhtar: Viktor,Kovalenko,Bernard
Match Details:
Date: Saturday, Wednesday 21st, 2018
Venue: OSC Mentalist Stadium,Keiv  
Kickoff: 1:45 PM (USA), 7:45PM (ENG), 8:45 (ITA)
TV Broadcast: Sky Italia,ESPN3