Score: A.S Roma 2 Genoa 1FT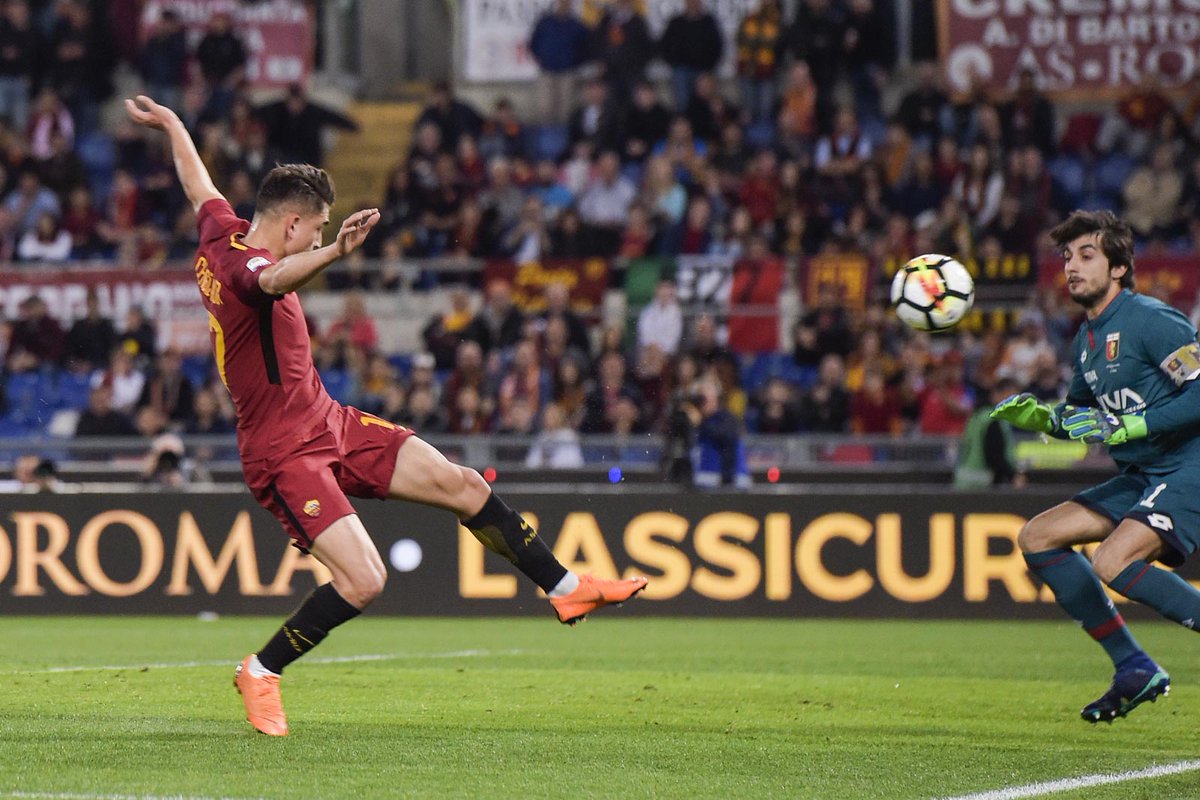 Following Roma's 0-0 draw to Lazio in the Roman Derby Roma returns to action in this midweek fixture what the season winding down. The fight for that third and final Champions League spot only heats up as Inter Milan and Lazio continue to battle Roma for that place. This week Roma welcome Genoa to the stadio olimpico in Rome for what will be their second meeting of the season. When these two teams met in November at the Luigi Ferris in Genoa it would be a point split resulting in a 1-1 draw. Largely due to the sending off of daniele de Rossi. After that result Roma went on their worst run of the season going winless in seven games. Roma look to avoid a repeat of that as Roma knows the importance of points with only five games left. Both teams are set to battle it out in the 34th match of this year's campaign with the season winding down points are essential. This was a game that Roma dominated pretty convincingly throughout it and the first half the Romans wasted no time getting themselves in position to pick up a massive three points. Roma's Turkish star Cengiz Under got himself on the score sheet in his first start since his injury giving Roma the 1-0 lead going into the second half. As he put his foot through a Kolarov cross finding the back of the net. Roma continued their dominant play in the second half as they were gifted with an own goal to double their lead. Genoa didn't back down they fought back in the second half as they got one back. However Roma wasn't going to go down as they held on for the 2-1 win picking up a massive three points to keep pace was Lazio and Inter Milan for that much important third position.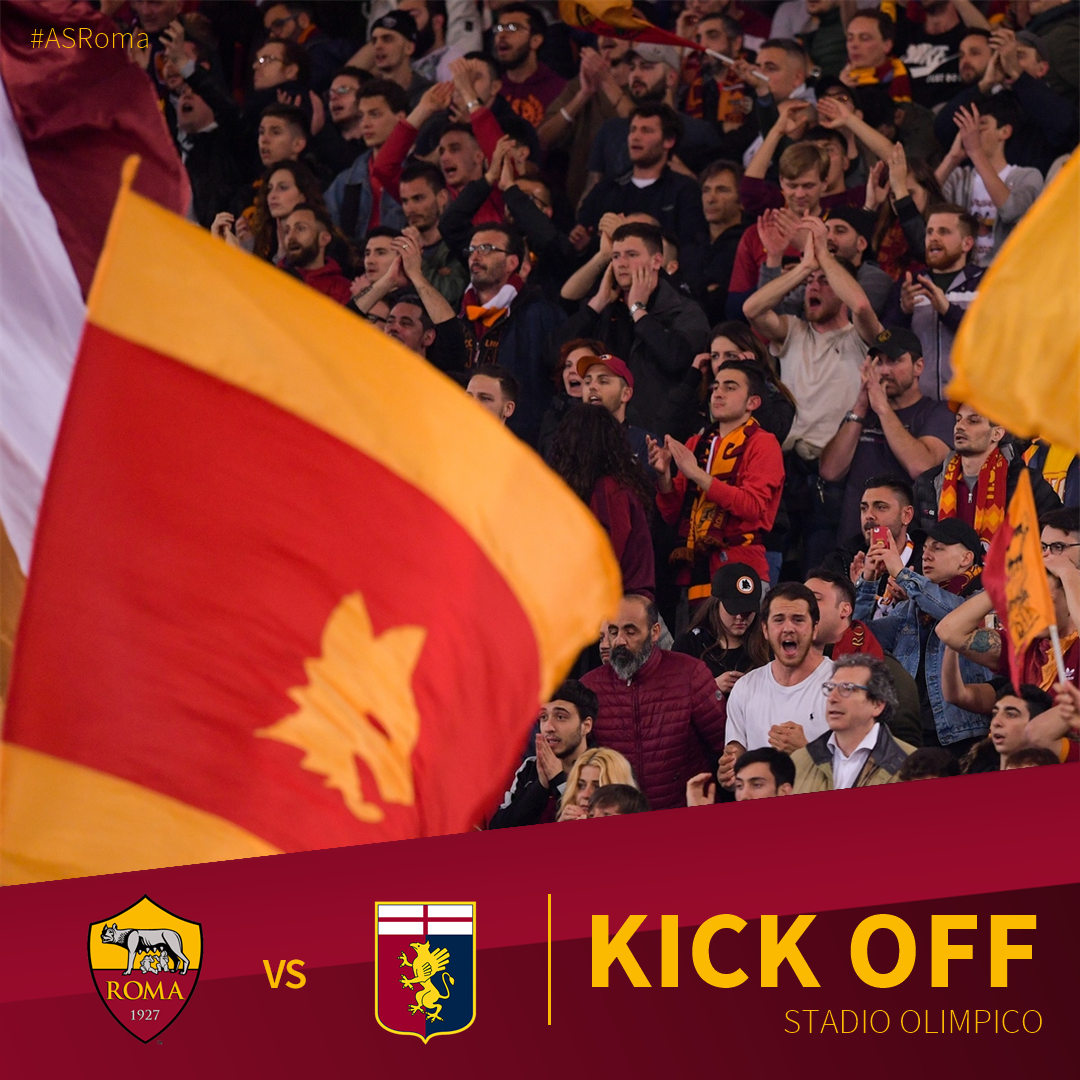 Eusebio Di Francesco once again make several adjustments to the way his team lines up in this match. After doing some experimenting against Barcelona and Lazio with the formation Roma's manager reverted back to his usual 4-3-3 formation. He also made a lot of changes to a starting 11 only four starters from last weekend's derby match would return to the lineup. This partially could be because he wants his side completely rested for Liverpool in the coming week. In goal between the sticks would be Brazil's number one Alisson Becker who is currently top three in clean sheets this season. Roma's back 4 would consist of Alex Kolarov at left-back beside him would be a partnership of Juan Jesus and Federico Fazio as the center backs. Then finally at right-back returning to the lineup retaining his normal position would be Alexandro Florenzi. In front of the defense in Roma's three-man Midfield would be three fresh starters. In the central Midfield position would it be Maxine Gonalons beside him on the left side would be Lorenzo Pellegrini and on his right side would be The Talented Brazilian Gerson. I'm glad Pellegrini and Gerson get back into the team their quality players that do well when they are given the chance. Then in Roma's attack there would be two changes from the Weekend. On the left wing returning to the lineup would be Stephan El Shaarawy who's pace can be a nightmare for any defense he also scored against this team during the first meeting. On the right wing we would see the return of Roma's Turkish star Cengiz Under who has six goals since the start of 2018. Then up front as Roma's main Striker would be edin dzeko who is in fantastic form finally scoring with some more consistency. The team would be without Kostas manolas who is mending a minor injury and Diego perotti who is doing the same. And as always a strong bench for Roma with the likes of Radja Nainggolan Kevin Strootman and Patrik Schick.
After preparations predictions and speculation the match was just about to get underway on this Wednesday night in Rome. In a massive match that could determine the outcome of the Champions League places this season Roma needed three points or they could fall out of the race. Roma came out early in this game showing all the desire they seem to lack last week against Lazio. They knew and understood what the important of this game really was. They dominated possession and looked in complete control in the early parts of this game for much of the opening 20 minutes Genoa couldn't even get a sniff. Roma were being very tactical with never approach instead of taking shots for the sake of it Roma played smart trying to execute the right play.Cengiz Under applied Roma their first chance of the game The Young Turk got into a dangerous area as he fired a shot from the side of the box just narrowly missing as the keeper took care of it. Roma didn't have to wait very long to break this game open as we saw some Turkish Magic from Roma's Turkish delight. In the 17th minute Cengiz Under brought the stadio olimpico to its feet. Coming off a free kick from outside the box kicks by free-kick specialist Alex Kolarov the left-back sent a cross into the box. The Young Turk used his Speed and Agility leaving the defense in the dust as he snuck to the near post smashing the volley as he ran into the net to give Roma the 1-0 lead. Cengiz Under did an amazing job getting through to give them the lead leaving the defense and the dust as he just zipped right by them. The Turkish 20 year old has been a revelation since the turn of the new year Roma have some player the kid is special. It would be Cengiz Under's 7th goal of the season welcome back Under. Roma continued to dominate this game looking like they were going to break constantly. Minutes later Lorenzo Pellegrini set up Alexandra Florenzi for a chance the Italian International had a good look but he missed to the right. Moments later Roma would be in again as Gerson setup Stephan El Shaarawy outside the box El Shaarawy took a powerful shot just missing. Roma were being aggressive they were challenging they were attacking they were doing everything you need to do to dominate a game. While Genoa couldn't mount a serious chance largely because Roma's domination of possession. Just as the game was about to reach the half-hour mark Edin Dzeko struck a ball that was set up by Gerson but he was denied as the keeper saved it. Roma remained in control throughout the first half deep in the first half El Shaarawy Struck from outside the box but ultimately missed. Despite that it was a one-way traffic Roma were taking the task seriously they were more fresh and not as burnt out as last week. In stoppage time Oscar Hiljemark gave Genoa a chance but his header flew wide as the first half came to a close.
Under Celebrates his opening goal with Fazio and Gonlons as right take the early lead. 
A first-half in which Roma couldn't have done much better there finishing could have been a little sharper but other than that an excellent 45 minutes. Things got back underway in the second half and for Genoa it was about to go from bad to worse. In the 52nd minute Irvin Zukanovic put the ball into his own net to give Roma the two-goal lead early in the second half. Not only were Roma dominating they now had a two-goal lead they were in great shape to pick up a massive three points. A few minutes later Alex Kolarov try to strike from distance he shot ultimately was a bit wide. Fortunately for Genoa Roma would make a mistake and they would jump on it. In the 61st minute Pandev stole the ball from Gerson in a dangerous area as he launched a through ball into Lapadula who caught Allison out of position as he launched the ball over him into the back of the net to get one back for Genoa. Gerson made a mistake but that doesn't take away from all the positive things he did during the game. After the goal it's somewhat rolled right back into Roma's favor as they continued to dominate play. Less than a minute after Alex Kolarov set up Lorenzo Pellegrini who took a high-quality shot from the center of the box as genoa's talented keeper saved it. Moments later Under tried to strike a ball from the side of the box but missed. Their attack was relentless Roma wasn't going to be denied even though they had only scored two goals they were taking high-quality shots. Genoa did fight back but Roma were firmly in control despite just having a one-goal lead they look strong. Despite six changes to their lineup it didn't affect the way they played. With about half hour to go Edin Dzeko came close as his shot from outside the box was mere inches away from finding the back of the net. Genoa would strike back as Rossi's strike from the center of the box came close. Roma would then make a pair of changes as Kostas Manolas replace Gerson and Patrik Schick replaced the man of the match Cengiz Under. A very good performance from both Under and Gerson. Roma remained in firm control but Genoa wasn't backing down as they got some chances here and there. With a little over 10 minutes to go. Luri Medeiro took a closely-contested shot from the side of the box but ultimately missed. Despite the difference in quality they weren't backing down from the mighty Romans. At this point Roma would make their final substitution of the game has Kevin Strootman replaced Stephan El Shaarawy. After the substitution Alexandro Florenzi had a pair of Fairly good chances. He came close as he struck a ball from the side of the box just missing then two minutes later his shot from a difficult angle was denied by the Keeper. Despite not scoring they were to quality chances. As Time came to an end Alexandro Florenzi would get one more chance in stoppage time to give Roma another goal. Another high-quality shot from the right back but his shot was saved as time expired at the stadio olimpico. Roma would collect all three points in a must-win game in convincing fashion as they keep Pace with Lazio and Inter Milan for that much important third spot.
All Smiles from the Stadio Olimpico as Roma take care of business as home.
Roma delivered on what was required of them. In a must-win game against Genoa Roma shaped up the starting lineup drastically with only a few starters returning to the lineup. With the race for the final automatic Champions League spot very much alive Inter Milan and Lazio both fighting Roma for it. It's important during this final stretch of the Season that Roma pick up as many points as they possibly can. Roma understood what they needed to do they showed up to this game. Despite the close score Roma dominated Genoa for most of the game. Preventing them from stealing points at the Stadio Olimpico. After not having played many games since the international break Roma Turkish star supplied some more Turkish magic. As Cengiz Under stole the headlines going yet another goal bringing his season total to seven this season. All coming since the start of 2018 he's proven to be a superstar in this league he hasn't yet broken to it but he's on the verge to stardom. Under gave Roma an early lead in the first half that Roma completely dominated. After being quite in the previous game Roma did an exceptional job in chance creation and their finishing in front of goal wasn't bad with almost entirely new team Roma were able to adapt and they played well an excellent display from Roma's young Midfield Gerson and Pellegrini both played big roles and Romans ability to dominate the play. Not to mention left-back Alex Kolarov put in an exhilarating performance against this Genoa side. Roma's lead was doubled in the second half from an own goal from Zukanovic to double their lead in the second half. Genoa  eventually got one back and supplied some pretty good chances in the second half but only one team was ever going to win this game. Roma pick up an absolutely massive three points as they keep Pace with Lazio and Inter Milan for that third spot. Today's man of the match could have gone to a few people Roma front line of attack all played exceptionally well with El Shaarawy under and Dzeko all deserving of this award. But on this occasion despite how well Dzeko did leading the front line and giving leadership to the Young Turk. The man of the match for today's game goes to Roma's young star Cengiz Under in his return to the starting lineup he did exceptionally well two of his three shots taken on target and scored a goal as he helped Roma secure a massive three points as the race for third is on. This is exactly the kind of results Roma needed getting points from the Lesser teams in the league will be crucial and securing Champions League football next season.
Man of the Match: Cengiz Under (5)
Next Match: @ SPAL, Saturday April 21st,2018 
BY THE NUMBERS
A.S Roma
Shots: 15
On Target: 6
Possession: 57%
Passes: 564
Pass Accuracy: 81%
Genoa
Shots: 5
On Target: 1
Possession: 43%
Passes: 427
Pass Accuracy: 73%
Top Of the Table
1. Juventus 27-4-2 85Points 
2.S.S Napoli 25-6-2 781 Points
3. A.S Roma 19-7-7 64 Points
4. S.S Lazio 19-7-7 64Points
5. Inter Milan 17-12-3 60Points
Bottom Of the Table
16. Chevio 7-10-16 31Points
17. SPAL 5-14-14 29Points
18. FC Crotone 7-7-19 28 Points
19. Verona 7-4-22 25Points
20. Benevento 4-2-27 14Points