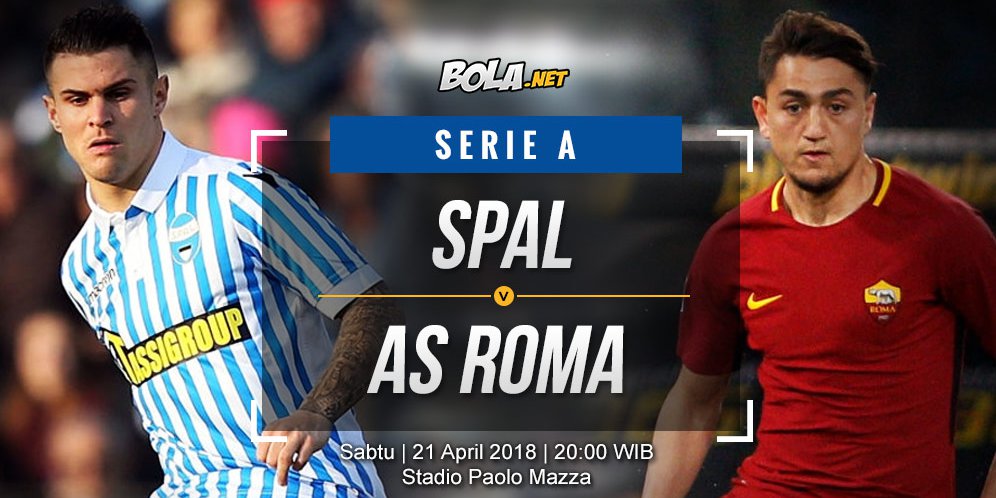 The battle for the Champions League continues this Saturday as Roma set to take on relegation-threatened spal. As Roma head back onto the road To Face a team in need of points. The race for the third and final automatic Champions League place only intensifies this weekend. There are only two potential Champions League spots available and there's three teams chasing which only one point separating all three. Just like last week at Genoa it is a must-win. Roma are coming off a 2-1 win at home against Genoa and must take this momentum forward. This weekend third-place Lazio hosts a strong sampdoria side at the stadio olimpico and 5th place in to Milan travels to Verona to take on Cheivo the race is on.
As Roma
Roma head on the road a place where they have had exceptional success in the league to face off against the team fighting just to survive. Last week in their win against Genoa Roma played a very under sized Team without several of their regular starters. With the Liverpool game coming this Wednesday Roma need to be fresh as they possibly can. I see Roma lining up very similar to how they did this weekend they want to keep their young starters healthy and really fresh so they can have a real crack at a result at anfield on Wednesday night. I expect dzeko under and El Shaarawy to start up top once again I think they did well against Genoa the finishing could have been better but overall I thought they did really good together as a unit. The Roma Midfield should be reasonably similar as well I see Gerson and Pellegrini getting back into it another opportunity prove they can play at this level I don't see too many changes maybe just maybe you bring De Rossi back into the fold but against this spal team that is struggling for points I don't believe it's really necessary for Roma to at full strength. The last time these two teams faced off Roma picked up a 3-1 victory at home. It also happened to be Roma's most dominating performance of the season with a league-high 37 shots and 15 shots on target they dominated them for the entire 90 minutes and easily could have had four or five more. Spal lacks real fire power to threaten roma roma still have to take this very seriously because spal knows how much they need points Roma must take this game seriously and not look at them as a bad team because psychologically that could mess everything up. My key player for Roma will be none other than their Turkish youngster Cengiz Under he returned to the starting lineup last week and delivered. He will be a nightmare to face with his speed agility going up against a defense that will have a very difficult time containing. Most of the times he has played well or started Roma have one I fancy him to get a goal in this one as I see him keeping his momentum going into a massive fixture on Wednesday night.
SPAL
Spal have had little to no success against the big teams last week I can made the argument that Genoa had enough talent and ability To grab another draw against Roma. I don't think you can make that same argument with spal. They're not just going to let Roma come in and walk then into the relegation party. However the difference in ability I think it's far too great for even a draw to occur. Spal are fighting for their lives they do not want to be relegated but relegation where they are heading they will give it their very best they will fight to the end of this game because they know how much it means despite that I find it hard to believe that they have a real shot at even getting a point in this game there going to be hunted so surviving the inevitable Doom will be extremely difficult but if they are going to have any chance which I don't think they will but if they are to cause any sort of Havoc it will rest on the shoulders of Mirco Antenucci. Despite having just eight goals this season he is definitely their biggest scoring threat if he can have a great game it's possible the Gap may not be massive.
The bottom line
The most important thing you need to know about this matchup other than things that are quite clear is this. Roma's away form is the best in Italian football not a team in Italy has a better away record in the last 35 games then Roma do. This is going to be a big problem for a spal team just at one point out of the relegation Zone. Roma are unbeaten and 24 out of the 25 away from home in League Play. This doesn't mean there winning every game but they will not lose it's basically what it says. The fact of the matter is both these teams need points and desperately for different reasons. Roma dropping points could potentially end their hunt for third forcing them to win the Champions League to return next season. While spall a point could slowly drift them away from the relegation Zone which is something they are desperate for as they want to remain in the league Beyond this season. the bottom line is this the difference in talent and ability between these two teams I think it's too great of a some. Like I said Roma will not put out a fully strength team because they want to rest some bodies for the Liverpool game upcoming however with that being said Roma second-tier starters are still incredible players when you look act someone like Lorenzo Pellegrini who is been on the books and is interested many of some top teams in Europe. he is a quality starter and has started games for Roma and you have other guys who probably he is a quality start and has started games for Roma and you have other guys who probably could start more Gerson is another one if either of these guys were on s t a l they would be their best player. This gives you a clear picture of what could happen in this game spell truly don't have enough to stop this Roma team who's desperate for wins. Both teams are fighting for their lives while Roma is fighting for the Champions League neither team can really afford to lose this. Unfortunately spal will end up on the short end of the stick as I see Roma cruising to a very easy win.
Roma's Projected starting 11 4-3-3
GK: Alisson Becker 
DEF: Alex Kolarov, Federico Fazio, Juan Jesus, Bruno Peres
DEF: Lorenzo Pellegrini, Gerson, Radja Nainggolan 
Front Three: Cengiz Under, Stephen El Shaarawy , Edin Dzeko
Manager: Eusebio Di Francesco
SPAL:Projected Starting 11 (3-5-2
GK: Gomis
DEF: Cremonesi, Oiknomou, Vaisanan
MID: Konate, Mora, Schiattarella, Vitale, Schiavon
ST:Borriello, Mirco Antenucci.
Key Players
Roma's Cengiz Under
SPAL's Mirco Antenucci
Date: Sunday, April 21st, 2018
Venue: Stadio Paolo Mazza,
Kickoff: 8:00PM (USA) 2:00PM (ENG), 3:00PM (ITA)
TV Broadcast: Sky Itaila