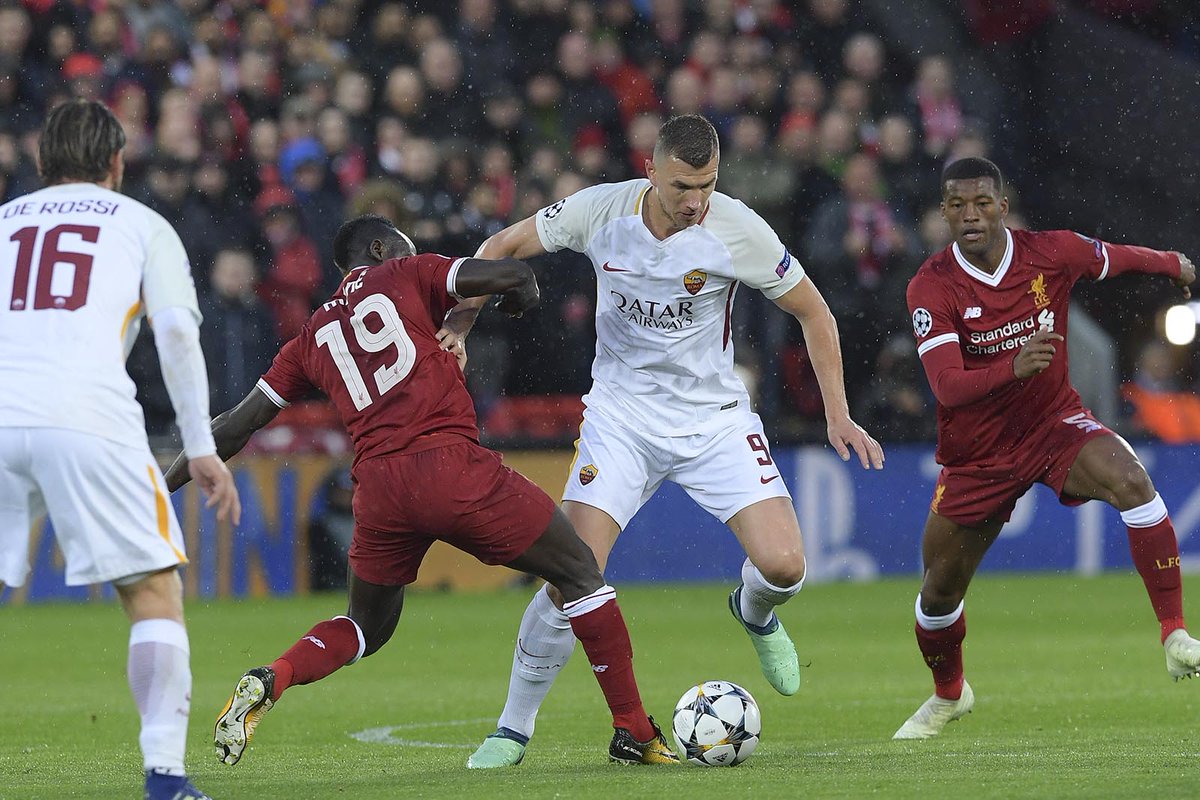 Last night Roma took on Liverpool at Anfield in the Champions League semi-final in what was one of the most anticipated matches in the Champions League this season. As we saw the return of Mohamed Salah as he played against his former team for the first time since leaving in the summer. Roma's magical Champions League run ended up losing a little bit of it's magic. As Mohamed Salah scored twice and assisted two more. The former Roma Winger refused to celebrate as he put his hands up in apology. Liverpool got a 5 goal lead with very minimal time left in the game. Roma was slightly salvaged as Edin Dzeko and Diego Perotti both scored in the final 10 minutes securing two away goals. As Roma gave themselves a window of Hope but once again the Italians find themselves against the wall as they need some more Champions League magic requiring three goals at home once again.
Roma vs Liverpool five talking points
Mohamed Salah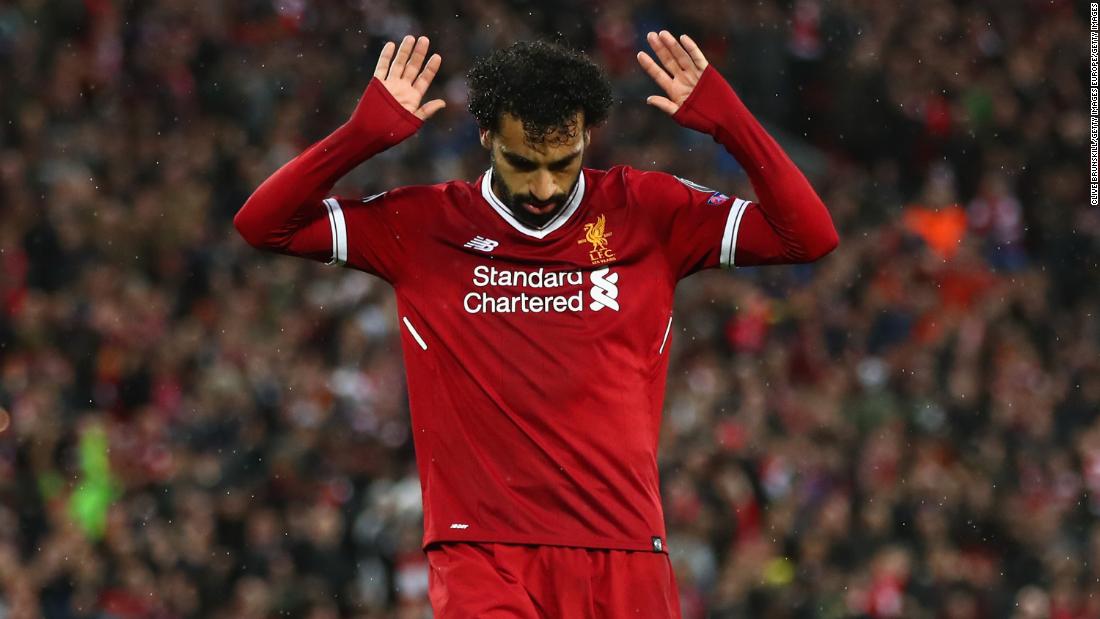 In this game two things stuck out for me with Mohamed Salah. The first being if Liverpool go on to win the Champions League he a hundred percent deserves the Ballon D'or. This season he has just been next level in the Champions League and in the league scoring 31 goals and league play in his season. Which by the way is the highest goal total for a African player in the Premier League. He has 43 goals now in all competitions and put a unreal display last night with two goals and two assists against one of the best Keepers in the world. He is an absolute nightmare to deal with and even if you do a great job defensively against him just the inches of space given he can make that play That's what separates the good players from the great ones. Juan Jesus did a terrific job defending him but because of the greatness of Mohamed Salah he was able to take advantage of the minimum space he gave him on the right side that just shows the greatness of Mohamed Salah. The second thing that I noticed last night was quite clearly he left some of his heart in Rome. He did not celebrate either goal he scored or his teammates for that matter. It truly showed how much he loves and appreciates Roma. He almost looked ashamed for scoring the expression on his face tells a thousand words he felt so  comfortable and so emotional and sad about just simply scoring against his old team. Roma made Mohamed Salah you can argue that his development happen before that but Mohamed Salah became this player in Rome. He shares a special bond with the fans and his former teammates. He admitted before the game that he texts them regularly and it was going to be an emotional game. Seeing his reaction made me nearly shed a tear for how much respect he has for this club. Most people believe that Mohamed Salah became this player at Liverpool he became this player at Roma he knows it himself that's why he's so appreciated and has so much respect for Roma because he really loved being a part of that team. Mohamed Salah  was not given the resources to flourish in Rome in the way he has in Liverpool because he was not the first option with Edin Dzeko scoring a crazy goals total last year he was able to become this because of the development that took place in Italy. It was a very sad and emotional game for anyone who supports Roma because of how much we love the guy the bond we have with him is Unbreakable. And we couldn't be more happy to see him become this world class player we knew he was capable of becoming. Right now Mohamed Salah is one of the three best players in the world he's not yet reached the level of Leo Messi or Cristiano Ronaldo but he's right there with him his world class ability was on display last night despite how uncomfortable he was it was a breathtaking performance even if we were on the wrong end of a 5-2 loss what he did last night was incredible you almost could sit back and appreciate what he was doing even if you're a Roma fan.
Di Francesco the good and the bad
Rio Ferdinand claims that Di Francesco is the is solely responsible for the defeat to Liverpool that it is his a hundred percent to blame for his team's 5-2 loss. That is blasphemous I think that is utterly ridiculous and disrespectful and I don't think it's fair to make that assumption. Eusebio di Francesco is one of the best young managers in World football and if you think otherwise you are fooling yourself. He took a sassuolo team that was in the relegation Zone to the Europa League and during his time there this included a season in which they finished Sixth in front of both Milan clubs. He lost Mohamed Salah and still has done a Unreal job with what he was given there's not one person that believes that Roma could make a Champions League semi-final without him. However with that being said there was a good mix of bad and good in this game he made some mistakes and some errors but that's just human his ability should not be in question because of it. When the lineups came out I was very happy how Roma were lining up out of the 3-4-2-1. Three at the back worked against Barcelona so I didn't have an issue with that there was some things I probably would have done differently but overall when the game started there's no issue with the lineup. The mistake I thought he made in this game what's a starting the his Turkish youngster Cengiz Under in favor of Diego Perotti. Although I understand the move I thought Perotti made more sense. Under did not have a great game and was subbed off at half-time but he's only going to learn from this experience. The biggest mistake I thought that was made was Roma were playing too high up the pitch at anfield which gave too much space in the back creating several counter-attacks while Allison did a tremendous job shutting them down too much space was given to this lethal Liverpool attack. 3 at the back might not have been the right call but going into this game there was no reason why it didn't make sense. However there was some good too bring it on Patrick Schick at halftime was a really smart move although Liverpool dominated the majority of the game when he came on Roma got back some control. Also bringing on Diego Perotti late was a excellent move as he helps Roma slightly get back into it. Edin Dzeko ended up scoring late in the game and then Diego Perotti scored a penalty just a few minutes later. so clearly he made some really good decisions in this game he made a mistake but I completely trust he will assess the situation And make the appropriate changes for the second leg in Rome. Rio Ferdinand was out of order for what he said unless he's watching Italian football every weekend he has no right to completely blame him for the loss he has the right to criticize but to say hes solely at fault he has no right to say that.
Liverpool's dangerous front 3
Liverpool's dangerous attack was on full display last night accounting for every single goal that they scored during their 5-2 rout of Roma. They have proven to be arguably the best attack in the world. They have accounted for almost a hundred goals between the three of them. They completely dominated Roma single-handedly the Roman defense could not deal with what was coming forward. the explosiveness of the trio punished Roma constantly. This is the biggest argument against a comeback. Unlike Barcelona this Liverpool team attacks constantly That is their philosophy and that is the type of football Jurgen klopp runs. It will be very difficult to break them down because this team is a different animal. and it's all because of the front three they work so well cohesively as a unit. Breaking down Liverpool can be very difficult because of them now if you took one away they would be a much less dangerous team They are dangerous because of the three of them together. The rest of the Liverpool team isn't at that level but because they have the Heavy Hitters up front it makes beating them very difficult. The problem is there are three of them so if one has a bad game the other two can pick up the scraps they just dominate teams. Back to front they're not the greatest team in the world but their attack is as good as I've seen since Messi Neymar and Suarez. The question will become can they win trophies and they certainly put themselves in a position to do that after last night.
Liverpool's of late collapse
Liverpool had their place in the final all about wrapped up with 10 minutes to go with a 5 goal lead it would have been insurmountable for any hope of a comeback. Up by 5 Roma were dead in the water everything looked all but locked up. Until Liverpool had a slight collapse at The Bitter End of this match. Jurgen klopp gifted Mohamed Salah with some rest at the end this game after his two goal and two assist performance Against his former Club. Once the Egyptian was taken off Roma got some momentum back. They were still being dominated but despite that They had a little fight at the end of this game. The Romans knew what was at stake they needed away goals and probably more than one. the hunger of the Romans kicked some fight in this match as a Liverpool collapse started to unravel itself. Much like blowing a two-goal lead against West Brom just this weekend. Roma got themselves back into this Cup tie. As Edin Dzeko scored a crucial away goal putting away the chance into the back of the net to give them some hope. Roma moments later will be given a penalty after a handball in the Box. Diego Perotti stepped up and put it in the back of the net learning a second away goal for Roma. Roma went on to attack the remainder of the game. They were unable to add a third however Roma leave this match with a glimmer of hope. Roma grab two away goals. This sets up an opportunity to repeat their historical come back that occurred against Barcelona in the quarterfinals. As likely or unlikely as that make seem at 5 down there dead there's not a chance even at 4 down there's not a chance.  Two away goals gives them the opportunity to make history again. If Roma pull off the impossible for a second time to advance to the Champions League final which at this point seems rather unlikely but if it happens they only have themselves to blame for taking their foot off the gas.
An all-out attack is required to make history again
we have seen this story before on more than one occasion in this competition. In the group stage Roma went to goes down against Chelsea and salvaged a draw. Against Shakhtar Donetsk in the round of 16 Roma lost the away leg but fought back at home to get through. In the quarterfinals against Barcelona they lost the away leg then Roma turned around a three-goal deficit in one of the greatest comeback from champions league history to advance. This will be the most difficult challenges but this Roma team doesn't quit this team fights until the last breath they won't waiver and they won't back down they will do whatever it takes. Because of the situation it will require attacking football to turn this around the good news is at the Stadio Olimpico they have yet to concede a goal. At home Roma are the best team in the Champions League this season with their fan and atmosphere it will give them a chance. However it's not a great chance Roma needs to attack in numbers they need to be aggressive and they need to be at their best for them to have a chance. It can't be defensive at all unfortunately they're in the situation because of poor defending but they have no choice but to attack it's the only they are going to beat Liverpool. The problem of this will be they will be vulnerable in the back that's do whatever it takes to make sure they don't get punished for the attacking style they're likely to play in the second leg. Liverpool always attack which is why coming back could be very problematic. This will be the biggest and most difficult test they will face all season because this Liverpool team is a different animal they can  be stopped they can be controlled and they can be beaten. I believe they will be but that's not what is concerning to me it's the margin that will be required to get through. 1 away goal from Liverpool kills off any hope of a comeback. Roma will have to risk losing to try an win.