Juventus battled Roma at the Stadio Olimpico to try and secure their seventh straight Scudetto. Only needing a draw Juventus attempting to wrap up another league title. This Roma team was not just going to lie down and concede to the fact that they were already going to be Champions. This Roma team wanted to put together an inspiring performance to try to delay the celebrations. Roma played Juventus really tough they made them work for everything in fact overall Roma shut down the Beast. One of their better home performances of the Season against an incredible opponent however Roma's incredible effort was not enough to delay the celebrations in what was a 0-0 draw . As Roma had to watch Juventus lift the trophy on their own ground painful thing to watch. After the match Eusebio Di Francesco and the Roma players took a lap around the stadium to thank the fans for their support during the season. With Champions League already confirmed Roma will try to get a top-three finish on Sunday against Sassuolo Juventus
Juventus proving to be one of the best Italian teams of all time
When we look at Italian football 50 years from now this is the one of the teams that we will always remember. Along with the Milan teams under Angelotti the incredible Inter Milan teams and of course the iconic Grande's Torino. I'm not going to sit here and compare them all but I'm going to talk about the absolute other domination of this Juventus team which was without a doubt will be considered one of the best Italian teams in league history. An Historic seventh consecutive scudetto which is incredibly difficult to do given the fact that players leave every season. They continue to operate at this level is one of the most incredible things you can do in this game. Only Lyon in football history has strung this many League titles together. A risk of frustration from the other teams around the league who have had to continue to watch this consistently watch this. While I do believe this will be the last title that they will win in a row we still have to appreciate what they have done. Juventus every season has lost key players that they have replaced the following year. Which is incredibly a daunting task given the quality they have lost. Andrea Pirlo Paul Pogba Arturo Vidal Leonardo bonucci and many others. Given that they have been able to replace them with stars such as Pjanic Douglas Costa Sami Khedira and Pabulo Dybala to name a few. Unlike Man United and Man City and PSG and Real Madrid they haven't paid king ransom to replace them Dybala for example only cost them 23 Million. Season in and season out they lose their best players and replace them with bargain deals not to mention they have a good system setup for success. These teams have thrived under Antonio Conte and arguably more impressively under Max allegri who sings taking over has led Juventus 4 consecutive doubles he has won 9 trophies since his arrival. Not to mention he has led them to two Champions League finals they unfortunately have lost both but that does not take away from the greatness of this Juventus team. There's a reason they're so successful. As much as I would love for another team to lift the trophy and I believe that could happen soon the greatness of this Juventus team will be remembered for eons. Whether or not this team is considered the best Italian team ever is up for debate but you cannot argue against the utter domination Juventus has created in this league it has been frustrating to watch but you have to respect what they have done. This is why they are the favorites every single season and they will be until someone knocks them off.
Roma are coming
Italian football is Juventus throne and rightfully so but the team did they just played at the Stadio Olimpico to clinch the title is coming. Roma made the Champions League semi-final they made it further the Juventus this season Under New Management under Eusebio Di Francesco they have made it further than the old lady. It was very clear in this game that they are coming this Roma team is no joke they have the potential to go on another Deep Run in the Champions League as well as challenging League next season especially if Allegri leaves. With  transfer wizard Monchi as sporting director Roma have pulled off some magnificent bargain signings this is a great team that is only one or two signings away from taking the league. This will be the team to dethrone the giants this team can do some incredible things in this league going forward. They aren't Juventus or at that level yet but they have the potential and they have the players to make that happen. Roma have incredibly young Talent that can play right now as well as some seasonal veterans in Edin Dzeko & Radja Nainggolan. Not only that but defensively Roma massively improved something they struggled with at times last season. They played Juventus really tough and showed every bit which why I believe they are coming. They Attacked the Juventus goal with great success and looked to be in control for the majority of the game. Juventus may have been playing for the draw but Roma didn't back down from the challenge. Juventus will reload but Roma will add quality and With Di Francesco at the helm. I assure you they are coming last night showed that the gap between Roma and Juve isn't as big as it appears.
Juventus in Goal are in safe hands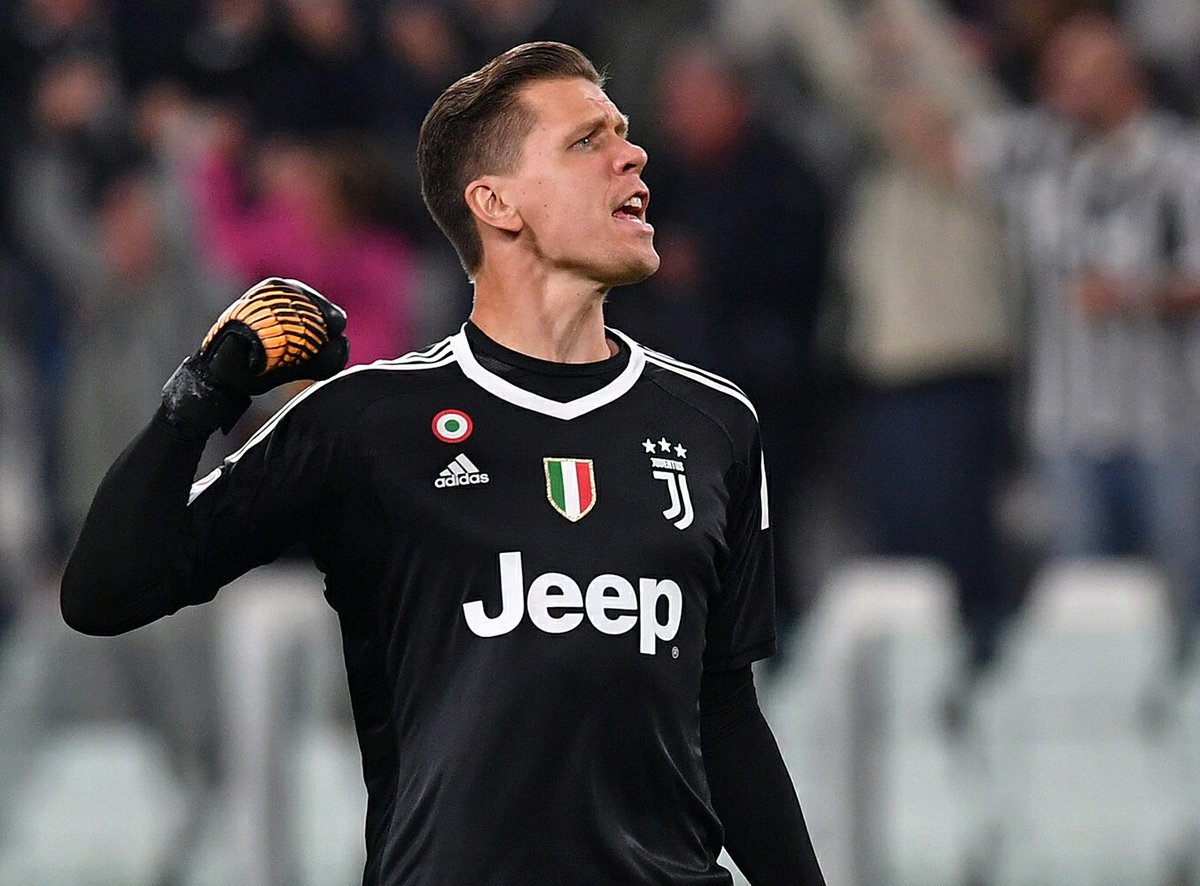 The pending retirement of the games greatest goalkeeper to ever play Buffon could be worrisome to many people but the last night it was proven they have nothing to worry about. Juventus backup goalkeeper is Woich Szczensy a goalkeeper that would be the starter for nearly every other team in Italy. A goalkeeper that made a name for himself in this league playing for Roma. In the previous two seasons he was on Loan in the Italian capital from Arsenal where he really expressed and showed that he is without a doubt a number one goalkeeper. I believe Arsenal made a massive mistake letting him go. Even as a backup he is one of the top 5 goalkeepers In Italian football. Despite their not being a high volume of shots the Polish International performed exceptionally well against Roma last night to confirm their title. Not to mention he was Unreal and their first meeting against Roma where he made several important saves. Juventus may have issues in some areas going into the next year's campaign but goalkeeping is not one of them. They are an incredibly safe hands Szczensy have the most clean sheets in the league last season and has proven time and time again that he is a world-class goalkeeper Juventus made the right decision going for him instead of a young goalkeeper to fill the shoes of a legend. Getting him at a measly 12 million  to sit here while getting playing time was the best way to prepare for their future in goal. They have done an an exceptional job for putting themselves in position for another League title which for Juventus has been identified by a strong defense putting him in goal certainly helps what they're trying to do. At 27 years old and a year behind the legend he does not need to be taught anything he has learned everything he needs to know and is ready to take takeover.
Roma's Young Talent
two of Roma's brightest talents were on display last night against a very tough Juventus team. Watching them play made you realize how much potential this team really has. Lorenzo Pellegrini and Cengiz Under are just something special. While Under has certainly had a lot of the spotlight on him since the beginning of 2018 Lorenzo Pellegrini also has done an incredibly efficient job behind the scenes. Last night we saw the pair of them put in some excellent performances. I thought Lorenzo Pellegrini was man of the match and showed some great maturity and exceptional intelligence last night making some really smart plays and decisions in crucial moments of the game nearly scoring once. In the same game Roma's Turkish youngster made the world class Alex Sandro look like it was his first game. Under's frightening pace speed and athleticism made an absolute nightmare for the Juventus left-back. There was so many times that he would have to be pulled it down in order to stop the Turkish Speedster. These two are just the tip of the iceberg Patrik Schick and Gerson also looked have a great potential. The two that played yesterday showed they can go toe to toe against Juventus's young Talent.  Federico Berenechi and Rugani are miles behind Pellegrini and Under. Roma's young Talent is what is going to push them forward in the future.
Roma can secure a top-three finish against Sassuolo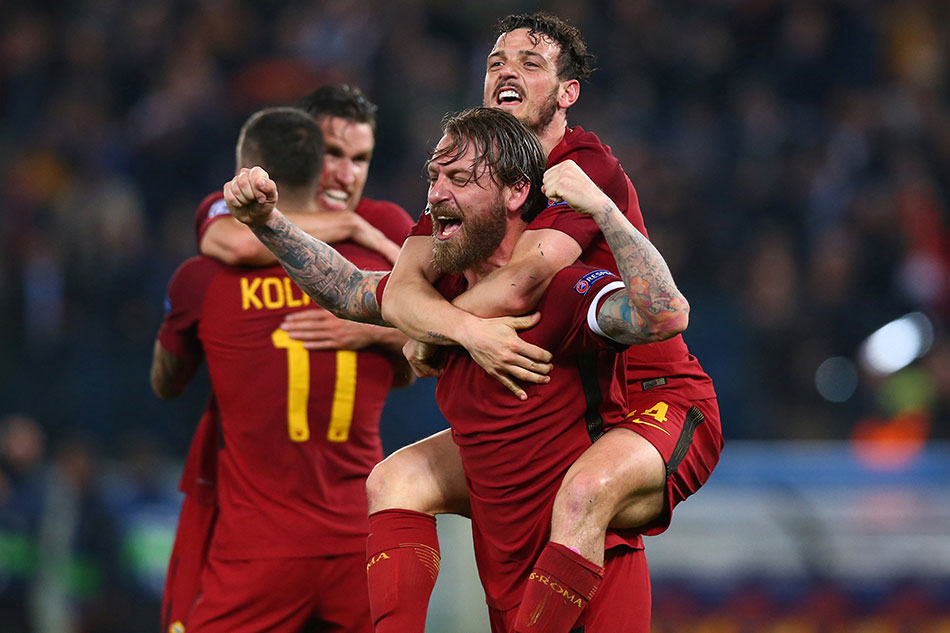 Roma have seemingly been in this battle for top three against Inter Milan and Lazio for nearly the entire second half of the season. As the three teams battled it out for Champions League football next season. With Inter Milan's loss to sassuolo it confirmed Champions League football for Roma next season Eusebio Di Francesco side will finish no lower than 4th this season. Roma currently hold a two-point advantage against Lazio who will face off against Inter Milan on the final match day of the season the winner of that match will join Roma in the Champions League next season. Roma just need a draw on Sunday to confirm a top-three finish that seemingly will be for bragging rights against their City rivals. even if they draw and Roma and Lazio end up with the same amount of points Roma will get it anyways because of the head-to-head tiebreaker rule. Next week Roma should have no issue finding a way to win. As Roma have a chance to finish above their City rivals And earn a much deserved top-three finish. While Lazio will have to watch their rivals finished ahead of them for the 8th straight season