Goalkeeper: Alisson Becker (Roma): Saves: 109 Clean Sheets: 17
Without question Alisson Becker has been the best goalie in the League this season and from my viewpoint it wasn't even close. Allison's 17 clean sheets this season was a large part of why Roma's Defence massively improved from last season. He has kept them and many games and is one of the main reasons Roma made the Champions League semi-finals this season. Roma are on the verge of a top-three finish this season and have gotten back into the Champions League. His incredible goalkeeping abilities got them into the position they are in. With another goalkeeper they would not have been able to scrap out the points they were able to do this season with several 1-0 wins throughout the season. He has made so many unreal saves throughout the year and has proved this season not only is he the best goalkeeper in Italy but he's one of the three best goalkeepers in the world. Hopefully he stays in Rome so we can enjoy what he brought to the League for another season definitely the best goalkeeper in Italian football.
Left back: Alex Kolarov (Roma): Goals: 2 Assists: 8
Coming in at left-back will be Alex Kolarov another Roman included in my team of the season. The Serbian left-back made the controversial move to Roma this summer after having previously played for arch-rivals Lazio. Prior to this move he had won two Premier League titles with Manchester City. Roma stole him for about 5 million this summer. This has turned out to be one of the deals of the season. Despite being in his thirties he was an upgrade to Antonio Rudiger. He Not only was a great signing but he became the best left-back in the entire league. He provided great defensive pressure and athleticism as teams on his side of the pitch struggled on a consistent basis. Not only that he was an absolute weapon in the attacking sense as well his service to the Roma attackers was unreal. His movement up and down the flanks was so effective he became a very effective offencive attacking player as well not to mention his free kicks in which two of them found the back of the net. He has turned out to be the complete player but the most impressive thing about him this season is his service he had 9 assists this season as a left-back an incredible total for a Defender. He simply put has been the best at his position in Italy.
Center back: Milan Skriniar (Inter Milan) Goals: 5
Coming in at centre-back I have gone with Inter Milan's Milan Skriniar. He joined from sampdoria for a very small sum last season. Last year the defender really struggled and didn't quite find his feet in the league. Under Luciano Spalletti that changed drastically he not only became a good Defender but he became Inter Milan's most important Defender. He has been instrumental to their success this season I believe Inter Milan are very fortunate to be in the position they are in Champions League football is a possibility for them and the reason this is even remotely possible is because of skinnier he's been a revelation in that back line a tremendous security blanket for the goalkeeper. Not only in the defensive sense but much like Kolarov he has been a force in the attack especially on corners and set pieces he has scored five goals this season which is a pretty good amount for a Defender. In my opinion he is been Inter Milan's best player throughout the season and thoroughly deserves a spot in Team of the Year this one was a no-brainer.
Center back: Raúl Albiol (Napoli): Goals: 3 Assist: 1
Napoli's Defence only conceded 28 goals all season and a large part of that is Raúl Albiol while he may not be on everyone's a list he is certainly on mine I think he is a very underrated player in this league. He truly does not get recognized for the ability he has. Napoli put together a truly strong and terrifying title challenge to Juventus throne. They were unable to pull it off but Raul You could argue with their best player offensively players just struggled against him he has that mental and physical intelligence that can frustrate players and it's what he has done all season. Great in Defence if you're going on purely defensive ability he's probably on par with Fazio and Bonchhi for the best in Italian football. His defensive ability and his leadership of the back line showed this season without this there would have been no title challenge. People always look at the Napoli's attack but their defense is equally as good and Raul was at the front foot of that not to mention he scored three goals this season. Undoubtedly deserves a spot on team of the season.
Rightback: Alexsandro Florenzi (Roma): Goal: 1 Assists: 5
This may be a stretch but I believe Alexandro Florenzi is well deserving of this spot. One of the most emotional and passionate players in our league was Sensational when he was at his best. While he plays multiple positions he most commonly played as the team's right back. He may not be the best defensively although he is very strong there but his athleticism allows him to be a very strong Defender. And a much like Kolarov in that Roma defense he consistently made himself a part of the Roman attack. As he went forward constantly as he's very comfortable on that left side the service he gave to the Roma attackers this season much like his counterpart was incredible Flornezi had 5 assists in the league this season a high amount for a right back. He showed this season he has the speed dribbling ability and intelligence to make really important passes because of his quickness he is a nightmare to deal with and attacking positions while not many people will agree with my choice here he is proven to be a valuable asset at the right back position and given his upside he would be my first choice at right back this season a massively underrated player.
Midfield:Luis Alberto (Lazio): Goals: 11 Assists: 14
The Lazio midfielder has been one of the surprises of the season. He has contributed both scoring and assisting many goals this season. He has been an absolute in Jewel in their Center Midfield this season and has a been hugely important for them In their Champions League Chase.Immobile has gotten all the headlines with the amount of goals he has scored for this team and he has been a crucial part without Luis Alberto Lazio Star Striker would not get the looks He gets on a consistent basis. Alberto has 10 + goals + 10 + assist the season  he has hit 20 assists this season. As well leading the league with 14 in Serie A. He has been the complete midfielder for Lazio a player who has been hugely important for them he is without a doubt been one of the best players in the league at his position this season. Going forward he will be really important which is why Lazio must do everything they can to hold on to him.
Midfield: Ivan Perisc (Inter Milan): Goals: 11 Assists: 9
The Croatian midfielder opted for an Inter Milan stay after being linked to Manchester United this summer. He has been really important for Inter Milan's potential return to the Champions League. He has contributed massively an excellent Touch of a ball Supplies great service to their high-scoring Icardi and can score goals of his own. In addition to that with his rapid Pace on the left wing he does a really good job of getting into space not only as a facilitator but as a scorer. In my eyes he is the best player in Milan. When Icardi was out this season despite them not playing that well Perisic was the leader. Inter Milan do struggle without their main man up front but without his creation in the Midfield Inter Milan would have scored significantly less goals maybe a surprise pick for team of the season but for me I thought it was a no-brainier. Nearly double digit goals and Assists he his oozes with class.
Midfield: Douglas Costa (Juventus): Goals: 4 Assists: 12
You can make the argument that Douglas Costa has been the best player in the entire league this season. Absolute steal from Bayern Munich Douglas Costa has been so influential in this Juventus team that just won their seventh straight title. Without a doubt the signing of the season his speed and vision has been second to none this season an assist machine he knows how to play the right pass in crucial situations and at times is mutually unguardable. A staggering 12 assists this season for the old lady he has just been a gift to this league a tremendously talented and skilled player. And to me has probably been the best player this season in a title challenge between Napoli and Juventus he has been one of the reasons Juventus won the title and absolute baller he has been the difference Bayern look foolish now for letting him go been one of the league bests.
Midfield: Pablo Dybala (Juventus): Goals: 22 Assists: 5
Pablo Dybala is one of my favorite players in the entire league. This season he showed why so many clubs are after him. Had a frightening start to the season where he just couldn't stop scoring although he was unable to maintain it through the entire season he still was able to put together an incredible year that didn't go without notice as he was picked for the Argentina World Cup squad. The talented Dybala in addition to a career year where he scored 26 goals which is the highest amount since he signed for Juventus three seasons ago. He also scored three hat-tricks this season which is a Unreal amount For a season campaign. What makes his year almost more impressive than some others is he was not starting every single day there was several games when he came off the bench. But game in and game out he delivered for his team and I think was a big part of their title this season he has turned out to be some signing for only 23 million they got a player that can lead this club going forward this may be an odd choice but I think it was unbelievable this season definitely in my team of the season without question I think this young man is just special he's very clinical in front of goal makes intelligent plays and on occasion can put together a pretty nice assist he has the complete package and he will only get better next season.
Striker: Ciro Immobile (Lazio): Goals: 29 Assists: 9
I could not put this team together without the goal scoring machine from Lazio. Last season he showed how good he can be with his 27 goals this year it became a pretty damn clear that he is world class. Ciro the hero Immobile has over 40 goals in all competitions and will without question win the Golden Boot. This season he has been unbelievable almost like everything he touches turns to Gold. Every time he is in an area it looks like he could possibly score. He would be team of the season even if he didn't play for a good team but his impact on his team cannot be underestimated. I don't believe Lazio would be in the position they are not on the verge of Champions League without his goals. Now while they have a good team they arent great Ciro makes them great he's taking them from a mid-table side to a Champions League Contender as they have been in the past. But this season he just took it to another level he just cannot stop scoring and it's not like it's all penalties he is scoring. Not Just goals he is scoring great goals from outside the box from the corner Every which way he is capable of scoring goals and has been an absolute goal scoring machine this season. He hasn't been recognized for his greatness this season which I think is a little unfair largely to the scoring machine in Liverpool but he is one of the best goal scoring forwards in Europe this season this season will come without trophies but going forward this is a team that is going to be a problem and it's almost purely because of immobile. Easily one of the best strikers in the world at the moment and it has been a long road for him. But he has earned his colors and the hype he gets he is a Unreal and dangerous goal scorer and has been a revelation this this season he can score from anywhere at anytime the best striker in Italy this season without a shadow of a doubt.
Striker: Marco Icardi (Inter Milan): Goals: 28 Assists: 1
It was another productive season for Marco Icardi who has also received a call up to the Argentina national team for the World Cup. Another season where he has scored 20-plus goals. One of the most clinical finishers in Italian football he may not have a lot of touches throughout a game but when he gets in position he buries most of them. Inter Milan is not a great team they are a good team with a world-class Striker. I don't think people realize how much they would struggle without him when Inter went on their slump to end 2017 Marco Icardi was injured for some of that time and it really showed how poor Inter Milan are without him. No player holds more importance to their team then Icardi he is crucial for Inter Milan's success with out him they arent in this position. Now when he got back they weren't great either but they much improved. He is the Catalyst of that team while they have other good players and they have improved in the last few months without Icardi they would struggle to get into European places. Which really shows the value of their Striker. Every season no matter how well they do he is their most potent weapon and without him they can struggle which is why he is so much importance on their league positioning this season and absolute world-class Striker the once again shows why he is one of the best in the league. Inter must do every thing they can to keep him.
Manager: Eusebio Di Francesco (Roma)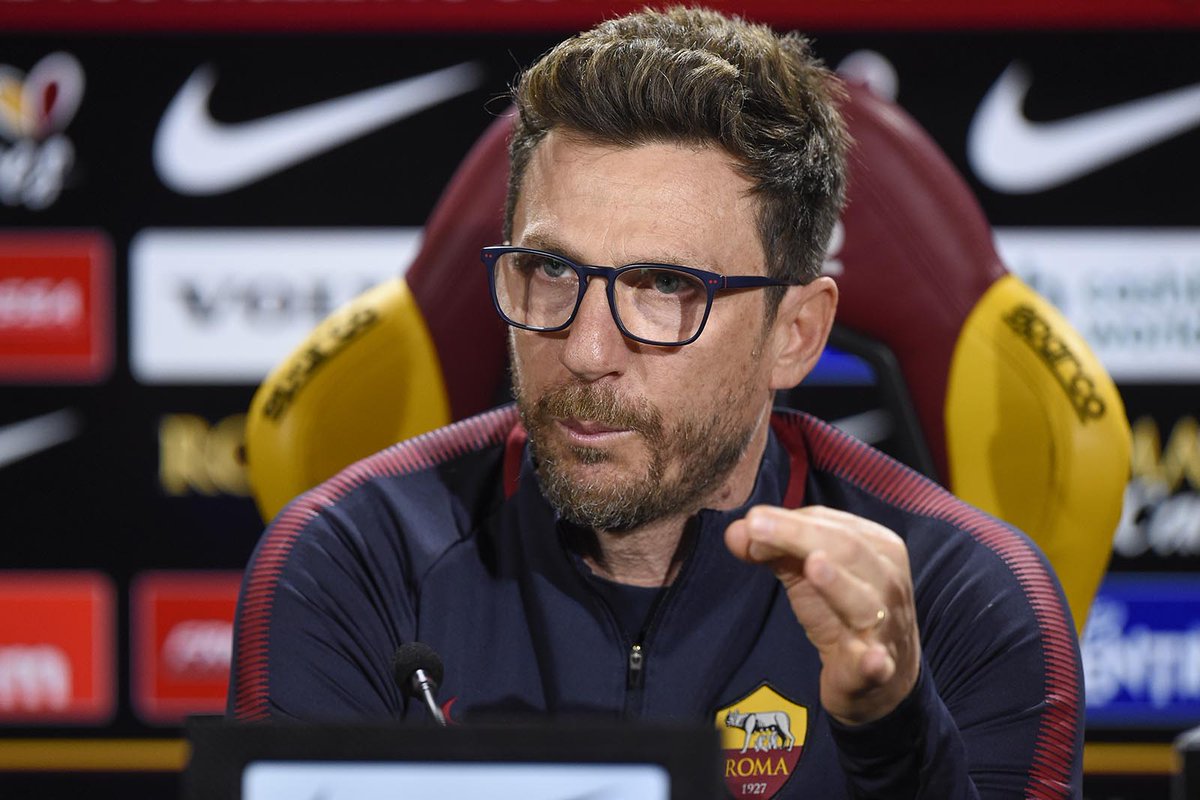 Eusebio Di Francesco is without a doubt the manager of the season. After doing wonders at so Sassuolo he took over his first big job at Roma a club where he won the scudetto back in 2001. During the summer transfer window he lost Mohamed Salah Antonio Rudiger and Leonardo Paredes all key players. That didn't matter though he was able to make some pretty good signings and got the best out of lot of his players Especially Cengiz Under. Tactically in the league he was marvelous. He took Roma to a third-place finish and got them to the Champions League semi-final something they hadn't done since 1983. Given what he lost no one really gave him a chance to take this team anywhere and he overcame the adversity and made magic happen with this Roma team next season they truly could mount a title Challenge and a large part of that is their manager.