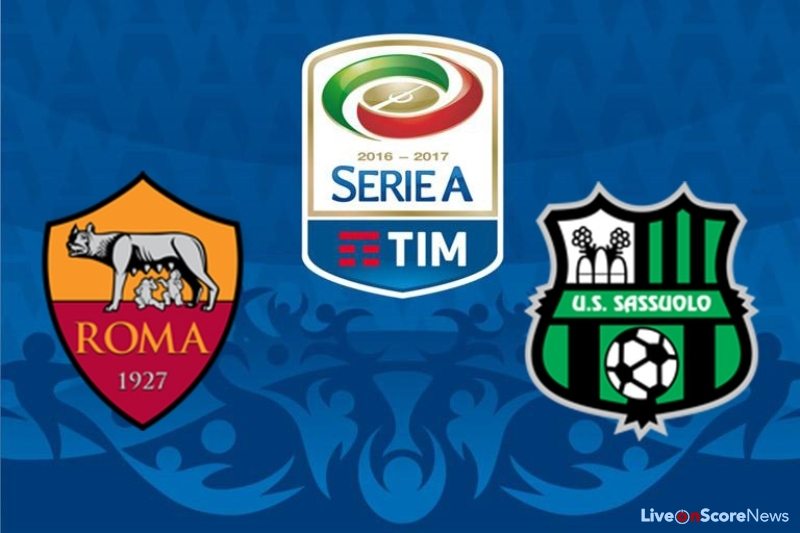 It's has finally arrived as we reach the final match day of the season. As Roma travel to sassuolo as Eusebio Di Francesco returns for the first time since he took charge of Roma. That is the main storyline ahead of Roma's final match day of the season. However the main story line this week in Italian football is inter VS Lazio on the last game of the season one team will head to the Europa League while the other will join Roma in the Champions League next season. After a very strong performance against Juventus at the Stadio Olimpico last week Roma are already insured for next season's Champions League campaign with Inter Milan's recent loss to Sassuolo. Roma will play that very team on the final day of the season with only one point needed to guarantee third place as the Romans can get bragging rights over their Rivals down the road as this would be the 8th year in a row in which Roma has finished ahead of Lazio. Champions league is already done and confirmed now it's just about pride and finishing the season as strong as they possibly can. The Romans look to win the season series trying to overwrite the controversial 1-1 draw against Sassuolo earlier in the season. It was was apart of Roma's worst run of the season. Roma find themselves in terrific form and wants to by all accounts end the year on a good note Roma intend to extend their unbeaten run away from home as they are unbeaten in 25 of their last 26 they should have no issue keeping that going as we cap off the final game of this season. As  DiFrancesco looks to pick up a big three points in his return to sassuolo.
Roma
As I said Roma coming to this final game of the year in fantastic form playing their best football of the season. They shouldn't have too much trouble getting the necessary points to confirm a top-three finish. Radja Nainggolan saw red against Juventus last weekend so he will not be featured on the final match of the campaign. The Belgian has been excellent for Roma this season his numbers went down but his impact was as crucial as always. Another player who I expect to be left out is Diego Perotti Roma's Argentina Winger has recovered from his injury but with the World Cup less than 30 days away DiFrancesco should spare him. After the Winger was named to the World Cup squad after having that played for his country and several years before the season he wants to be fit when Argentina heads to russia. Also Kostas Manolas will also be out with an injury as I mentioned last week. Roma have everything needed to get a point while they don't have much to play for they can secure their place with a win. I expect DiFrancesco to play maybe a younger team not necessarily all of his starters mostly because there's nothing more to fight for it given their Champions League place has already been determined. I think he's likely to play in the 4-3-3 formation with Patrik Schick Edin Dzeko and Cengiz Under any attack. A Midfield made up of Daniele De Rossi who is likely to be back next season although you just never know. With Lorenzo Pellegrini and the Gerson in the Roma midfild. As well as the exact same defense they played last week. But we could see The Return of Rick karsdorp into Roma's lineup for the final game of the season. Lorenzo Pellegrini also has a homecoming against sassuolo having played the last two seasons in the green and white before Roma bought him back over the summer. He scored in his first game against them in the 1-1 draw in Rome earlier this season. Which is why I believe that he is Roma's key player in this matchup especially with Roma's Belgian Superstar out due to suspension. I expect the young Pellegrini to pull the strings in the Midfield something that he is proven capable of doing. Over the last 3 or 4 weeks Pellegrini has been a revelation showing how good he really is he is going to be so good in a few years. I think it's possible that we could see some youngsters on the bench in this one. El Shaarawy and Strootmon will both likely be possible substitutes as well it's really simple Roma have to play their game if they do that they should find no problem picking up three points to end the season on a high.
Sassuolo
Sassuolo struggled this season without Lorenzo Pellegrini and Eusebio Di Francesco it's been a hard-fought season but they managed to fight off relegation to maintain their status in Italian footballs Top Flight. So much like Roma they have absolutely nothing to play for a result would be Pride alone. Without the threat of relegation a win a draw or a loss would make no difference their league positioning it probably stay relatively the same. to put it plainly there on a beach it makes no difference to them one way or the other. However with that being said Sassuolo will still give it a real go to try to get some points where the end of the day they're not going to risk everything for it. Matteo Polintino will be the key player for Sassuolo he has 10 goals this season been pretty darn good without him it's possible they would have got relegated. Coincidentally he was the Roma youth product that was a part of the Lorenzo Pellegrini deal. So i'm expecting a big game from him even though I don't believe it will be enough.
Bottom line
Both of these teams not have a lot to play for Roma have already gotten a place in the Champions League next season basically Roma are just fighting for third place and that's it. It's not really a fight they just need some sort of points to guarantee themselves finishing ahead of their Rivals down the road who have a tough game on Sunday. While sassuolo are safe from relegation there's no really incentive in this match other than the storyline of Di Francesco and Pellegrini returning to Sassuolo as Roma manager and player. That really is the only significance of this game this game will come down to one factor and one factor alone who is better? The answer to that question is the Romans they are the better team whether they play all their starters or they rest half of them a lot of Roma reserves would get into Sassuolo team quite easily. This is no disrespect to Sassuolo but when it comes down to it neither one of these teams  need this victory neither one of these teams are in a must-win situation their place is in the league have pretty much already been determined. So in my eyes it the question which team has the better  better players will. Roma definitely has the better team I don't see Sassuolo trying to put heroic defensive performance together to stop Roma. It purely is based on who was better and that's why I believe Roma will win this game. Roma have incredible away form which will give them even more of an advantage than they already have That's why I believe they're likely winners of this match. Both teams will give it their best but without anything on the line I think this will just be a pretty normal match with Roma winning. Like I said the big match is the one between Lazio and Inter Milan at the Stadio Olimpico this match is pretty much irrelevant.
Roma's Projected starting 11 4-3-3
GK: Alisson Becker 
DEF: Alex Kolarov, Federico Fazio, Juan Jesus, Alexandro Florenzi
DEF: Danielle De Rossi,Gerson, Lorenzo Pellagrini 
Front Three: Cengiz Under, Patrik Schick , Edin Dzeko
Manager: Eusebio Di Francesco
Sassuolo: Projected Starting 11 (4-3-3)
GK: Consigli
DEF: Peluso,Acerbi,Goldaninga, Lirola
MID: Duncan,Magnanelli,Missiroli 
Front Thee: Politano, Falcinelli, Berardi
Manager: Giuseppe Iachini
Key Players:
Roma's Lorenzo Pellagrini
Sassuolo's Matteo Polintino
Date: Sunday, May 20th, 2018
Venue: Mapei Stadium, Sassuolo
Kickoff: 1:45PM (USA) 7:45PM (ENG), 8:45PM (ITA)
TV Broadcast: Sky Itaila