Roma took on sassuolo on the final match day of the season. neither team had anything on the line Roma mutually just needed a draw to confirm top three for the 6th straight season. however this game did have a fun story line as their old manager who took sassuolo to the highest point now Roma manager DiFrancesco returned to the place where he made a name for himself. on a hot and humid evening it would be Roma that had the last laugh as they confirm a top-three finish with their 1-0 win on the road again sassuolo Roma are now unbeaten in 26 of their last 27 away games. as Roma say goodbye to what was an extraordinary season as step one of the process is complete.
The excruciating Heat
Not very often will weather be one of the main factors in a football match. But today it kind of was a big talking point. It was so hot and humid that the players could not perform at their level. They seem to be so bothered by the humidity and the heat. Italy is a hot country but from what we saw today it was a whole new level heat and humidity. There was barely any shade at all so a both teams struggled with energy as they operated at a low volume because of how hot it was. I saw several players in both teams run out of energy a lot quicker than they typically would the weather played a big factor in the game I don't think it changed the result but it changed the type of game that It ultimately became. I'm not saying it wasn't an entertaining but there was a lack of flair and really attractive football the heat just took a lot out of what the players had to deal with a lot of them struggled and I think some of the substitutions had something to do with fatigue and Heat rather than tactical moves. I imagine it was an absolute nightmare to play in and it showed on the players faces.
Roma Gets another top-three finish
Despite not winning titles finishing in the top three is something Roma has done for the last six seasons. The gap between Roma and Juventus has never been smaller but something these Romans do is finish in those three spots and it have for many years. There were many times this season where did not look like Roma would end up any top three but they kept on fighting and fighting and fighting and were able to achieve that. The battle between Roma Lazio Inter Milan ran its conclusion tonight but Roma had already taken care of business prior to today's game. Only needing a point to guarantee a top-three finish they grabbed three. As Roma finished third which I think is a fair exclamation of how they played this season. Now if it wasn't for a really bad Run od form near the end of December I think an argument could be made that Roma could have stayed in the title challenge a little bit longer but third place is definitely something that Roma have deserved. Inter Milan and Lazio ended up pretty close in the tables around me but Roma were definitely the most deserving of that third spot. There were times this season where it looked Out Of Reach and Di Francesco got Roma playing great again and Cengiz Under being Unleashed certainly help the cause. Given they made the Champions League semi-final this was great progress but next season Roma will aim higher and try to take the title.
Sassuolo had some fight
Sassuolo had no reason other than Pride to really go for in this game. They weren't going to push Europe and they recently confirmed to safety from relegation. As I've always said about teams late in Seasons when there's nothing to play for I thought they were going to be on a beach like their minds will be somewhere else. Despite losing this game they gave it a serious go they went for it and they were trying to get something out of the game. I'm not going to sit up here and say there was a better team but they made it more difficult on Roma than originally thought. The reunions of DiFrancesco and Lorenzo Pellegrini maybe had something to do with that but either way I tip my hat to them for really giving as much effort as it possibly could. They didn't need to regardless of result to Sassuolo was in no danger of anything there was nothing on the line but they still went for it I think the fact that Roma are a big team and Italy inspired them to give the effort they did because they quite easily could of just parked the bus.
Great momentum to end the season
Since Romans elimination from the Champions League the Romans are in incredible form. They have won their last five in a row to end the season DiFrancesco has them playing appealing and tactically sound football. Whatever he is doing it is working there is not a better way to end the season. Since they lost a Liverpool Roma have played with extreme confidence and their quality has shown on the pitch. Obviously there are months until League football returns but this group ending the season and the way they did is going to set this team up perfectly going forward. Obviously the task is trying to maintain all the key players from this season but it is proving the season that DiFrancesco is very capable of taking this team to the peak of Italian football. He's did the unthinkable at sassuolo and now he's making magic in Rome the good thing is there a lot of loyal guys in this group who want to play for this club who are proud of the badge. But as far as the season goes you could not have asked a better way to finish it off they ultimately found themselves in a three-team race for the Champions League wanting to get back into the competition and finished above their arch-rivals Lazio during the stretch they were able to create separation from the pack as well as finishing above Lazio which at Roma is a minimum requirement. the season could have gone better what I believe this momentum will take Roma upper a level next season it's not been the best season but it's only going to get better from here.
Inter Milan will join Roma in the Champions League next season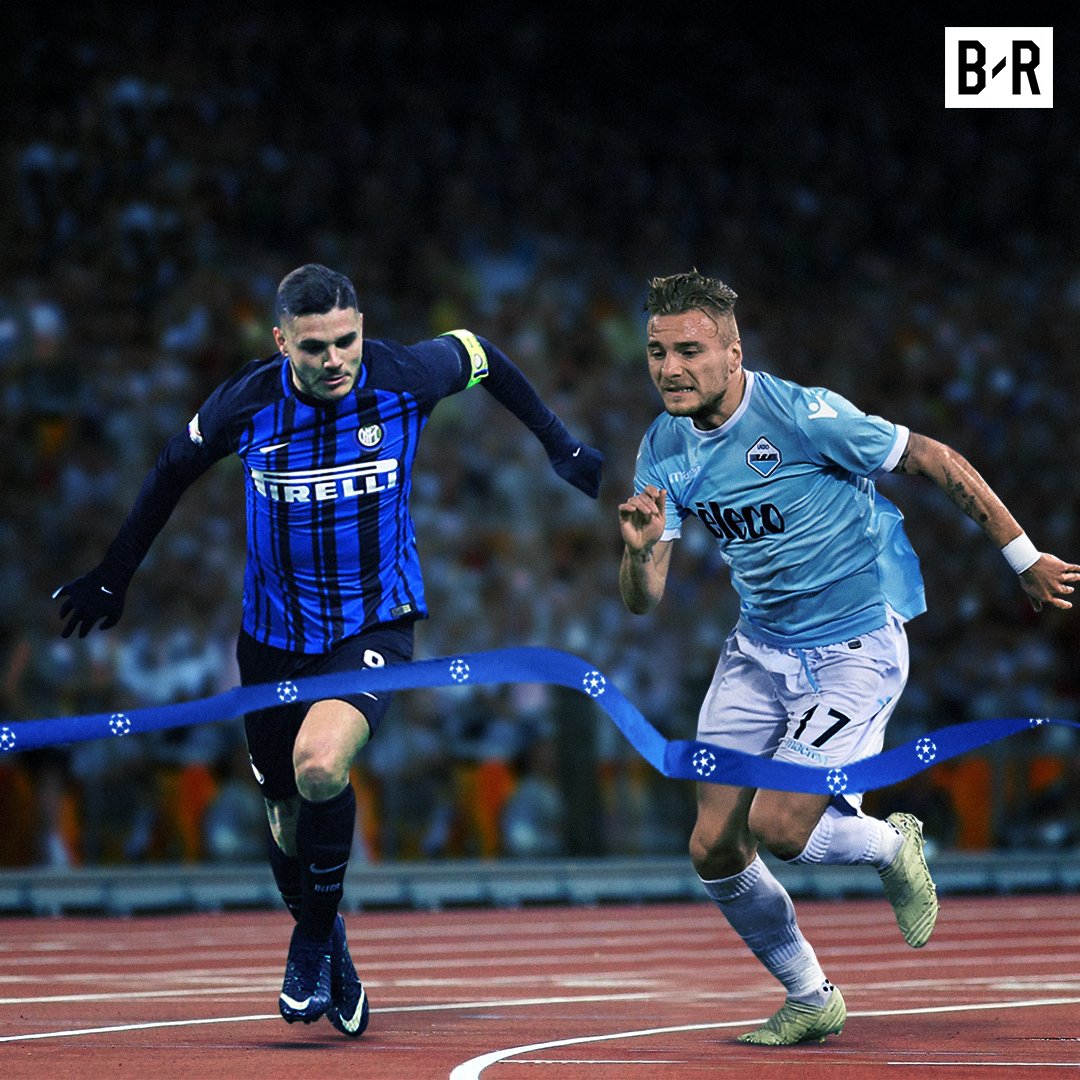 First I want to say for credit and respect goes to Inter Milan for pulling this off but on the other hand I'm going to put this as simply as I can Lazio blew it. Inter Milan a week ago thought of their Champions League Ambitions were hopeless all Lazio was required to do is Beat Crotone who ultimately ended up getting relegated today. They were unable to do that they failed to beat a relegation side that ultimately opened up the last Champions League spot that would require a do-or-die match between Inter Milan and Lazio. Because of the head-to-head rule a win for Inter Milan would confirm Champions League football for them while all Lazio needed to do is get a point and it was over. Not only that but Lazio had the advantage being at home. Going on the road and winning a game like this on the last day of the season is extremely hard being at home is the advantage an advantage that they failed to convert on. By all means Lazio was the better team throughout the entire match and thoroughly deserved to go into the Champions League. I'd also argue that over the 38 games they were much more deserving of the Champions League then Inter Milan and probably would have a better chance at going deep in a competition. Lazio ended up leading this game twice But ultimately mistakes allowed it's to open up as Inter Milan score twice and the last 15 minutes to heroically beat Lazio in Rome to join Roma in the Champions League. a night that gave us pure football Madness.