Russia 1 Spain 1AET (Russia 3-2 on Penalties)
Most of the time the hosts of the World Cup tend to do extremely well. A lot of the time they come from teams Nations who are football in powerhouses and even in the unique situations where teams who holds the world cup that are not that strong do better than they expected too much like South Korea in 2002 as they made the semi-final against all odds. This year the competition was held in Russia Russia is not a football in Powerhouse and don't have a lot of big-name players that jump out of you. By all accounts are a team good enough to get to the World Cup but nothing beyond that in fact they are the lowest ranked team in the World Cup. According to FIFA they are ranked as the 70th best team in the world. There are teams who did not make the World Cup that are ranked significantly higher. Russia did not have to qualify for this tournament and that may have to do with their current ranking but no one expected them to go on a deep run. Most people thought they would show up play a few games and get eliminated. When the round of 16 came around nobody expected them to win especially against Spain getting out of the group and getting to this match was a victory in itself. Nobody nobody expected then to have a shot at first quarter finals appearance since 1990 and their second quarter-finals ever. That is exactly what happened against a team ranked in the top 10 Spain it was one of the Darlings of European football one of the most dominant teams the world has ever seen. Russia did their part to keep it close as knockout football unveiled. The game was tied going into extra time and it remained even throughout the 120 Minutes. It would come down to penalties. The Russian missile ultimate pulled off and upset after the heroics of their goalkeeper who saved the two Spanish penalties to ensure and historic quarterfinals appearance for the host nation as one of the favorites to win it all goes home and great disappointment. This is what the World Cup is all about never underestimate the fight of an underdog Russia shocked the world when no one really gave them a chance.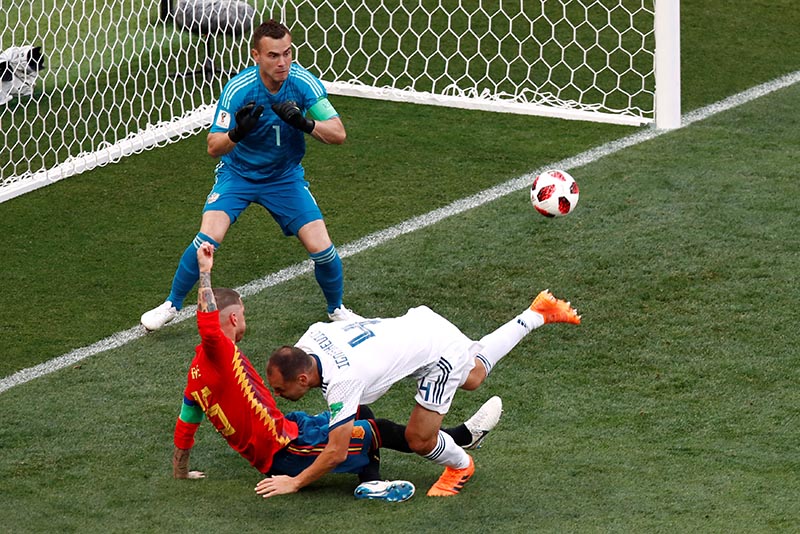 As the host despite not having a strong team Russia had an immense pressure to at least get out of the group. Russia ended up in group a that featured Egypt without a fully healthy Mohamed Salah a Saudi Arabia team that lack as much quality as anyone in this tournament and a very strong Uruguay team that features Edinson Cavani and Luis Suarez. Russia could not have been given an easier route to The Knockout stage this was viewed as one of the easiest groups to get out of. Which is why there was so much pressure for Russia to deliver on home soil. No one was expecting Russia to win the World Cup but at the very least their country was counting on them to get past the group stage. They opened their World Cup campaign on opening night against Saudi Arabia. A match in which they delivered at the highest level they ripped through Saudi Arabia frequently and often as the hosts treated their fans to an excellent opening game and unreal performance as they clobbered Saudi Arabia 5-0. In their second game against Egypt Mohamed Salah return to the starting lineup but that didn't matter Russia continued to show the quality on the biggest stage in front of their own fans. The ended up beating Egypt quite easily with just a Mohamed Salah goal as consolation eliminating Egypt in the process. In the final match of the group stage they faced off against group favorites Uruguay and right from the kick-off they stood no chance. Uruguay Superstars Luis Suarez and Edinson Cavani had a field day against the Russians as they cruised to an easy win. However despite that Russia delivered finishing second in the group earning a spot in The Knockout stage that gives them a slim chance at the quarterfinals. Spain on the other didn't start things off on the right foot as their manager was fired up by the Spanish Federation before the World Cup kicked off they got in a immediate replacement. Against Portugal in one of the matches of the tournament this far they were held to a 3-3 draw as Cristiano Ronaldo's free kick at the death of the game stole a win away from Spain. In the following group match against Iran they struggled didn't play to their best but was able to escape with a narrow win. In their final group match against Morocco they fought back to earn a controversial win as of their game winning goal would have been waived off if the referee had consulted VAR but none-the-less Spain went on to win the group. Spain got what they wanted avoiding Uruguay as a Russia was viewed as the easier match up however you have to be careful of what you wish for because even an underdog can knock you out not to mention an underdog that has the entire country on its side. It would turn out to be a surprising result that made us question if Spanish dominance still exists.
This wasn't a match the whole world was looking forward to but it I found it very intriguing could Russia actually pull off the upset? there was just something in the air you could feel it maybe not necessarily a Russian win but I just had a feeling Russia would push them to the brink of elimination and that's exactly what they did and more. Spain controlled possession but wasn't doing very much with it even from the early parts of the game they didn't look themselves. This Spain team was just not strong enough this year however they took the lead even though it wasn't their own doing. Early in the first-half Russia had some rotten luck. Despite the fact that Spain had not yet attempted a shot they found themselves one goal up. Coming off a free kick the Russian Defender tried it to clear the ball out in attempt to prevent an opening goal. Unfortunately while trying to clear the ball the defender put the ball in the back of the Russian net as he was trying to avoid a goal from Sergio Ramos. This would give Spain 1-0 lead in the first half Spain attacked the Russian goal constantly but no real success came from it if  Russia were to get a goal it would drastically change the landscape of this game as this Spanish team was vastly under performing. Right before halftime the moment arrived for the Russians as they were given a penalty after pique had a handball in the Box. Russia were giving a very crucial penalty and an opportunity to steal the momentum going into the second half. Dzyuba scored a crucial goal for Russia from the spot it was now in their control. From a tactical perspective Russia's entire game plan going forward from this crucial point in the game was to not concede a goal. They wanted to get to penalties without conceding and in the round of 16 against a team as talented as Spain it was absolutely the right call parking the bus was definitely the right move from a tactical perspective. Spain completely dominated the possession and had twice as many shots a fair amount of opportunities from the Spanish side but they constantly and frequently were denied. While Russia had a few chances but for the most part concentrated their efforts on defending. They got into the extra time and continued to defend well they were able to hold off Spain over the two 15-minute extra time periods then Russia got exactly what they wanted. A penalty shootout with a 50-50 chance of knocking off Spain and going into the quarter-finals. Russia's goalkeeper made 2-crucial saves as the hosts did The Impossible as Russia defeated the mighty Spain on penalties to make their first quarter finals since 1990. For the Spain it was a huge disappointment as they had aspirations and the talent to go all the way. This World Cup has truly been one of the best in history so many underdogs performing and delivering on the highest level. Russia will face off against Croatia in the quarterfinals in a game where once again Russia will be huge underdogs. With a Croatia team that features Luka Modric Ivan Rakitic and Mario Mandzukic it is going to be as big of a task as Russia will face. Nobody expected them to beat Spain and they conquered that so I don't think you can count them out in this competition when it gets down to the quarterfinals anything can happen. This tournament will be remembered for his Underdog stories I think Russia have a chance if they can play great defensively. They will be against a team that many consider one of the strongest left in the World Cup and now are almost a shoe-in for the final. I don't think Russia wins in the quarterfinals but they have represented themselves and their country with great pride and and performed an extremely well for the host country I'm not counting them out because they do have a chance but once again it will be them against the world.