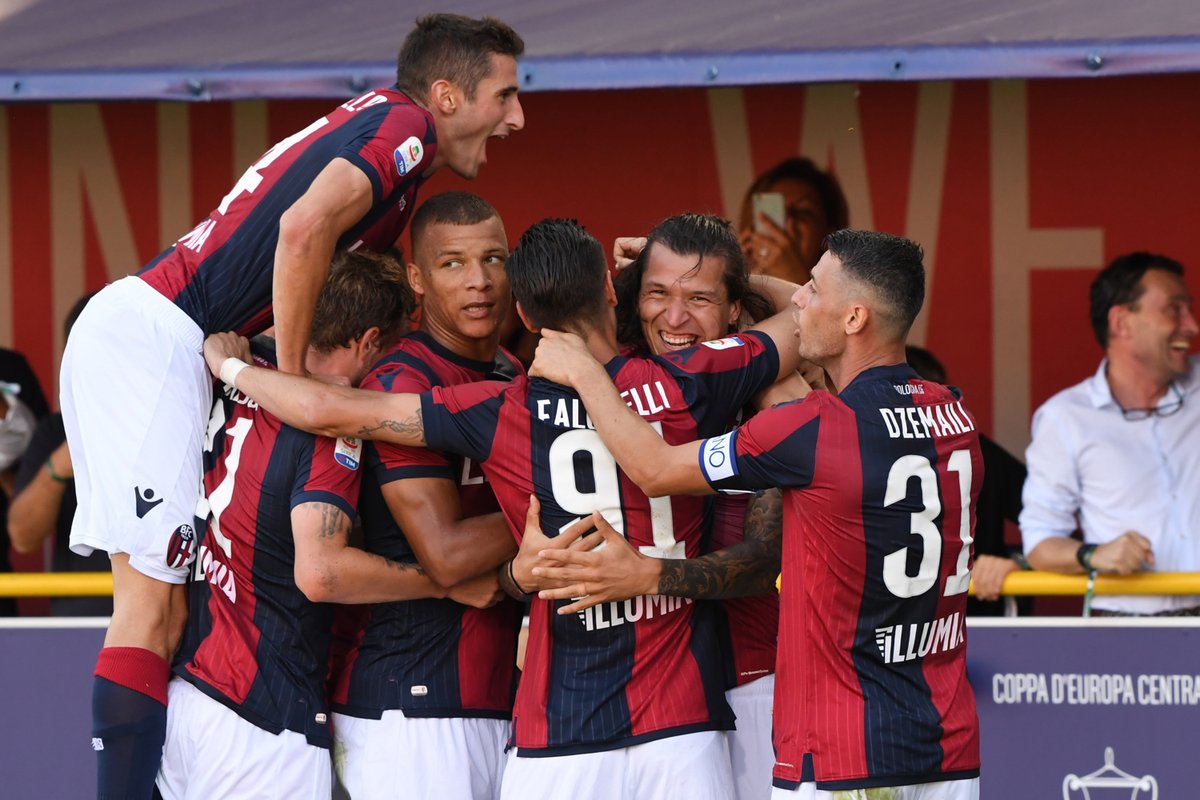 Following a two-goal collapse against chievo Verona and a lost to Real Madrid in the Champions League midweek. Roma would attempt once again to turn their season around. The team traveled to Bologna and hopes of getting their season on the right track. Going into the game bologna found themselves 19th in the table having yet to score a having yet to score a goal this season. This was a game that Roma should have had no problem picking up the three points. Bologna hadn't beaten Roma since 2012 Roma had a massive advantage not only in quality but in the head-to-head battle. Roma won the season series a year ago and were hoping to increase their winning streak against bologna. Away from home last season Roma were excellent and were hoping to try to get things back on the right track. This was a game they needed to win as they are off to their worst start to a season in many years. Roma manager DiFrancesco needed to win this game to hold on to his job. Unfortunately Roma broke down despite dominating much of this match DiFrancesco tactical adjustments backfired as the previously scoreless Bologna who were yet to win a game scored right before the halfway point. Lorenzo Pellegrini would miss a sitter right before the second half where it would only get worse. Roma play poorly and they could not find the back of the neck which has been a serious problem this season bologna scored again in the second half to conquer what would be a 2-0 win against Roma. As DiFrancesco has surely lost his job as I expect his sacking to happen any day now. A flat-out awful performance as despite all the chance that they had Roma came out flat and could not score against the team with an atrocious defense. Roma needs to make a change and quick Antonio Conte is available if they want to turn this season around they must find a way to get him to the Stadio Olimpico at all costs because things are only going to get worse if things keep up.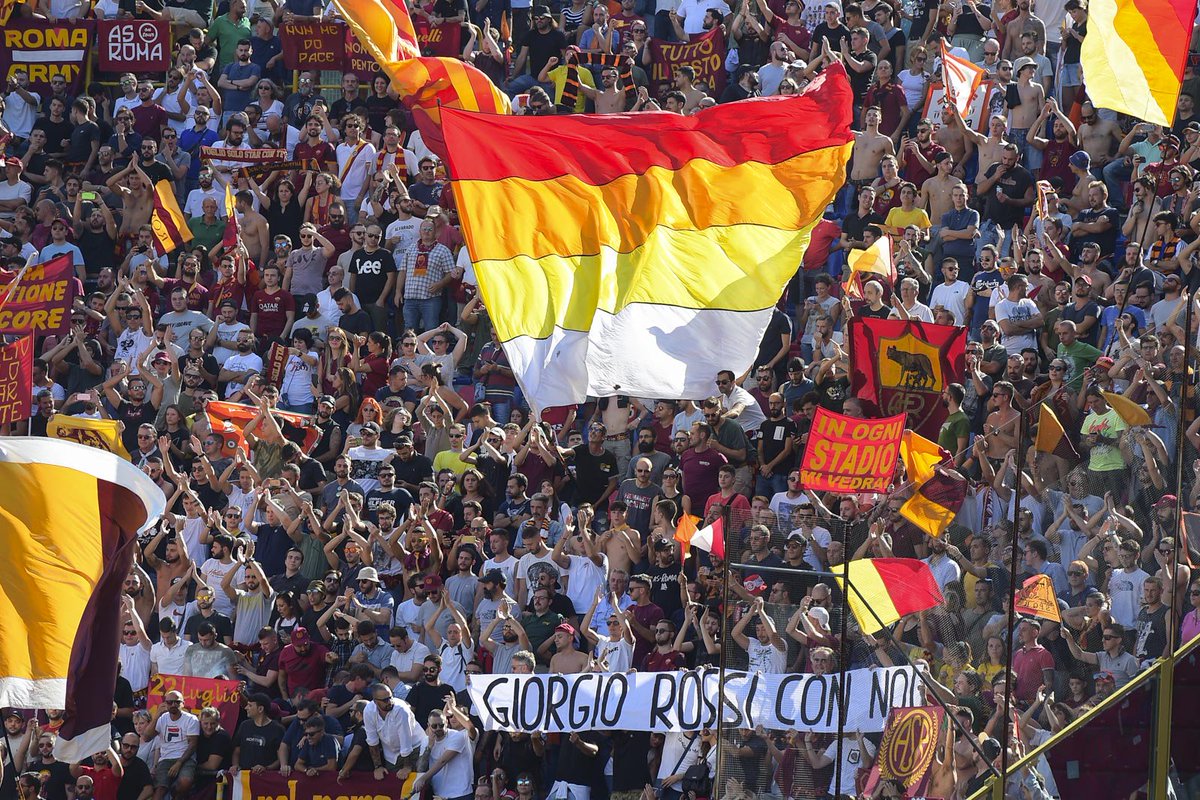 Amazing away support from the Romans
In a do-or-die situation for Eusebio Di Francesco  made several adjustments to the team we saw against Real Madrid in the Champions League on Wednesday. Taking some somewhat of a risk in his tactical approach but a risk that needed to be taken given his job security. Roma shoots out of the 4-3-3 formation a typical formation that is often used by Roma. In goal Sweden's #1 and one of Roma's consistent performers this season Robin Olson. Roma would still line up and a back four but made a small adjustment. As Alex Kolarov was pulled in favor of Ivan Marcano as he starts at left back. Beside him would be the center back partnership Federico Fazio and Kostas Manolas. Then as the teams right back would be the very versatile Alexandro Florenzi who is has been one of Roma's best players this season. There was also be an adjustment made in Roma's three man Midfield. In Central Midfield position would be Captain Daniele De Rossi. On the left coming in for Steven Nzonzi would be Bryan Cristante who scored in the game on Sunday. On the right it would be Lorenzo Pellegrini was given another start I think it is wise to continue to give him time to develop his incredible Talent. There also would be some adjustments and Roma's attack smart tactical decision they were the surprising choices by DiFrancesco. On the Right wing making his first start an Italian football would be 19 year phenomenon Justin Kluivert who is made all his appearances Off the Bench up to this point this is something I have been waiting for for quite some time. Then on the left wing making his first start of the season would be Diego Perotti returning from injury. Then finally up front as the main Striker would be Edin Dzeko. A strong lineup with several options on the bench with the likes of Cengiz Under Patrik Schick and Steven Nzonzi.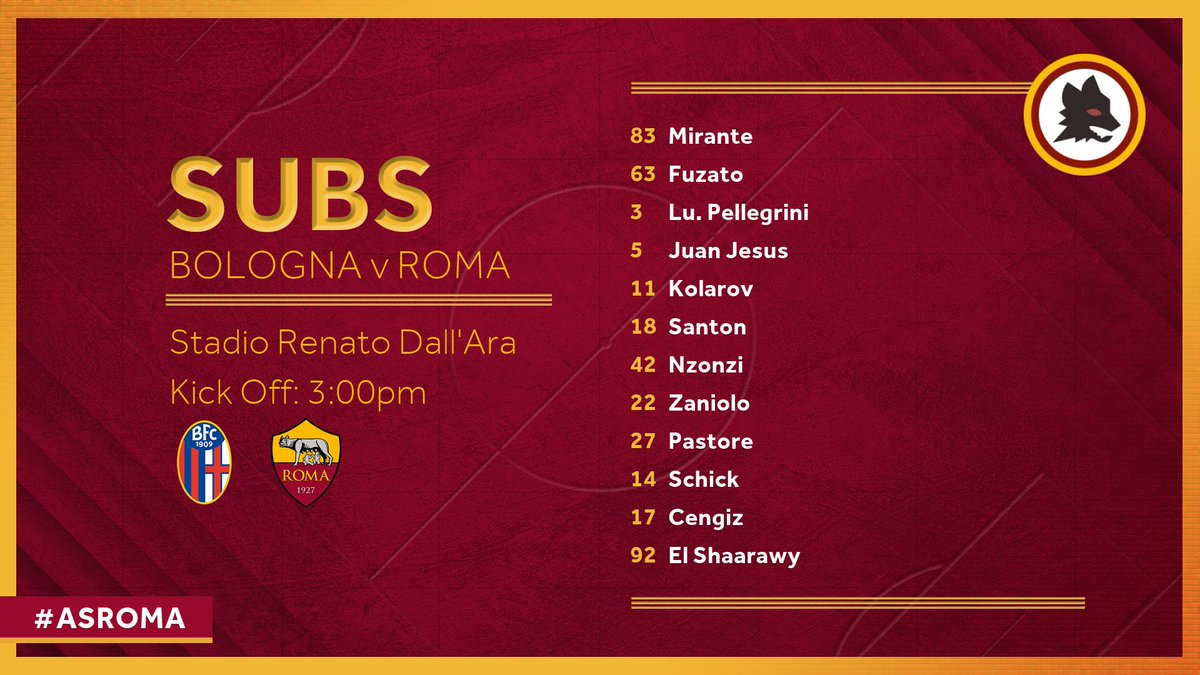 Roma came into this game coming off a short week after a midweek Champions League match up. However they had to deal with it as they headed into a much important game. Both teams needed points for very different reasons. For Roma it was to try to get their season back on track and for bologna it was an attempt to gain points and possibly score their first goal of the season. As in the match kicked off in Bologna on a Sunday afternoon. As you would expect Roma control possession but bologna was going to take risks to try to get a point as it showed early. Dzemali gave bologna the first chance of the game but his deep strike left Olson unchallenged. Roma almost had an immediate response when Federico Fazio put his head through a Lorenzo Pellegrini cross but was saved by the keeper. Less than a minute later the young a Justin Kluivert took a strike from the side of the box but the keeper denied him. It was a very good start for the Romans they all their shots were on targets the hope was that they would find the back of the net in this match. It went back and forth between the two teams as the game was slowly developing. Near the 20-minute mark Diego Perotti took an ambitious strike from deep merely scoring but the goalkeeper got his hands on it. Just a few minutes later Roma came close again off a set-piece Federico Fazio connected on another Lorenzo Pellegrini cross with his head but he missed the target. Roma had got another chance a few moments later when Justin Kluivert hit strike from the six-yard box but was denied. It's really had looked like a Roma were going to eventually break through. However there was quite the opposite a mental breakdown opened the floodgates. In the 36th minute Federico Mattiello buried a shot coming off a cross into the bottom corner to give bologna they 1-0 lead scoring their first goal of the season. Horrendous from Roma who allowed a team who have not scored a goal all season into the lead. Roma would try to give a rapid response as Florenzi missed was followed by a pair Federico Fazio headers that came close. The closest it came was right before halftime Lorenzo Pellegrini had a sitting with the opportunity to equalize but his shot blasted over the net to signify the end of the first half with bologna up 1-0 on the heavily-favored the Romans.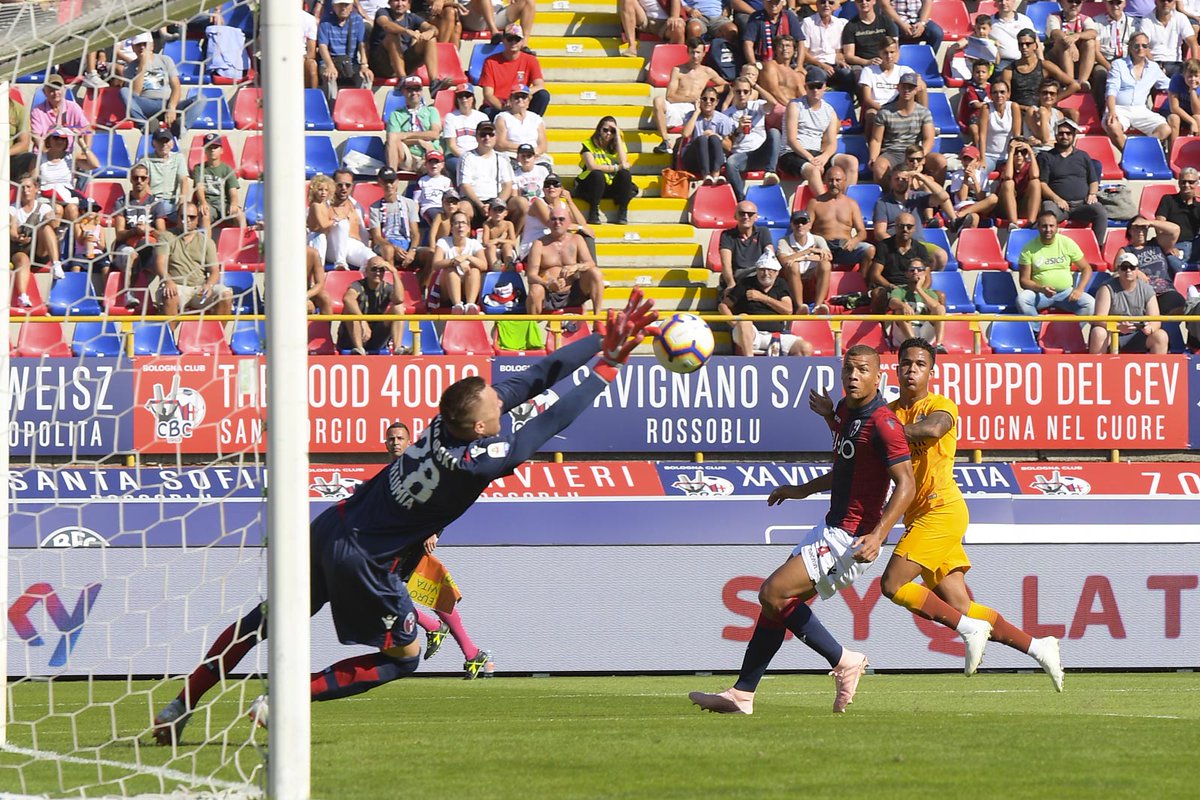 Kluviert sees his shot saved in the first half by Łukasz Skorupski
Despite the fact that Roma had done a lot of good things in that first half it became an afterthought after conceding to a team had not scored. Maybe the adjustments that were made may not have been the smartest decision as it was looking like. Roma were incredibly efficient in front of goal but now found themselves in a situation where they need to go to win and only 45 minutes to do it. Early in the second half Javier Pastore made his return as he came in for Bryan Cristante. However the Roman nightmare was only going to continue when bologna ended up on a fast-break in the 59th minute. In which Santarder beat the keeper to give bologna the 2-0 lead. It was an absolute joke that Roma allow that to happen. They were not playing like a team that were desperate for points and it massively hurt their chances of a comeback. Immediately after Cengiz Under came in for Justin Kluivert. That may have been one of the mistakes I think Justin Kluivert should have started but under should not be coming off the bench.  Roma when losing a Race Against Time as Edin Dzeko saw shot Go wide after striking a from the center of the box. This was followed up by Alex Kolarov missing from Deep. You could not fault  their effort but they weren't good enough. Roma didn't give up they kept trying to get back in this game as Kostas Manolas got his head on a Cengiz Under cross but missed once again. Roma kept coming but the results didn't seem it was going to change Javier Pastore fired a shot and Edin Dzeko had his shot saved as well with time was working against them. Florenzi found Edin Dzeko on a cross a few minutes later he was off the target again. Perotti picked out for cross for  Lorenzo Pellegrini but the results stayed the and the dying minutes of the game Flornezi picks out yet another cross for a teammate as Manolas put his head through the ball missing on Roma's final chance of the game as a Roma fall two previously scoreless bologna 2-0 in absolute nightmare to start as this Roma team clearly have some building to do as they seemingly seem to have no chance of competing for the scudetto changes are coming whether it's this week or next week changes are on the way as Roma at the moment are are awful. Di Francesco might get another game but it seems he is no longer the answer as Roma's horrid start to season gets even worse.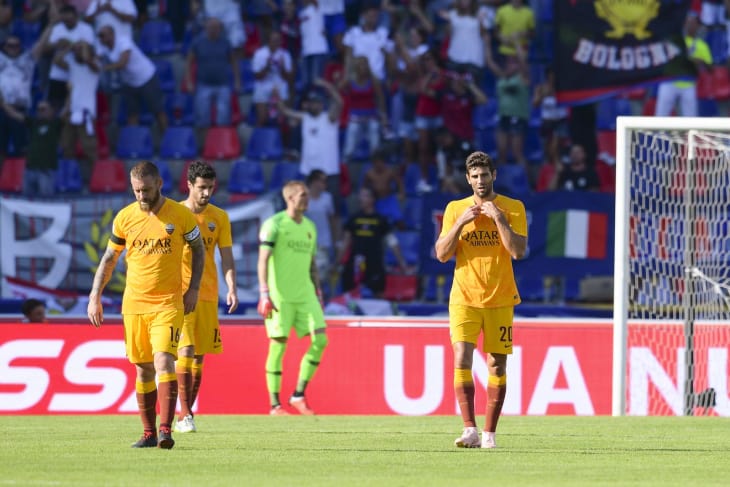 A day of Frustration caping off Roma trip to Bologna this afternoon
It has been an absolutely horrendous start to the new campaign for Roma. This is a team that spent over a hundred million or nearly that much to try to make amends for the sales of Allison Radja Nainggolan and Kevin Strootman. This is truly a blown up in their face as this is the worst start to a league campaign in so many years. There have been five games played this season out of a possible 15 points Roma have five the title race is over before it begins. DiFrancesco needed to win this game to save his job even a draw was not going to be enough. I gave him at the benefit of the doubt after all he's done for this club last season but it is truly time to move on. Bologna coming into this game was winless and goalless this was a game they absolutely could not afford to lose and somehow they have found a way to lose another game to a relegation candidate. This team has no confidence and no rhythm with stale tactics we aren't seeing any Improvement. Roma did some nice things they attacked well and the majority of their shots are on target but if you cannot find the back of the net then that whats the point. Bologna wasn't incredible but they played the game plan they need to to pull off the upset. Roma just simply or not good enough at the moment Roma flat-out stink. Roma have players good enough to win games in this league and are just not able to do it. Some of these sales earlier this summer has come back to bite the Allison one I think Roma can live with because Robin Olsen has done a really good job this season. However Radja Nainggolan should not have left or been sold Roma have dearly paid for it. I find it really difficult to have anything positive to say about this team because right now there is no positivity surrounding it. Di Francesco made some odd but risky decision and I don't blame him for doing so but it's choices he has committed it is very likely now that he will lose his job in the next days or weeks. As much as I like Di Francesco the team has no control and is playing so badly right now that Roma does not have a choice. Antonio Conte is available right now I think he's the only manager that can dig Roma out of this hole. Roma do have great players in their team they're just not being utilized to their ability. Roma were absolutely horrendous today you cannot lose this game they should be utterly ashamed of how they performed not only today but this season. The Derby is in a week from now against arch-rivals Lazio they will lose it and it could be ugly. I hate them I truly do but unlike Roma Lazio are playing great football after a terrible start showing that they have the ability to bounce back the question that I have is does Roma? At the moment I don't believe so unless Antonio Conte takes over that's the only way we could see changes in a positive light. The man of the match today goes to Diego Perotti he did a lot of good things in the match and had a lot of effort I think you could make the argument that he should be starting on a regular basis he was the only Roma player that provided the extra bite. Starting Justin Kluivert was a good idea but it blew up in it. Perotti was legitimately the only Roma player who looked impressive today. This season has been an utter disaster they are already out of the title race and if this keeps up they might not even get into Europe. They need to change and fast because the season is crumbling down by the day. Roma is want the most supported clubs in Italy fans are paying their hard earned money to see their club play. The loyalty in this cities is unbelievable they should not be have to watch this garbage. responsibility needs to be addressed from everyone because they have let everyone down.
Man of the Match: Diego Perotti (1)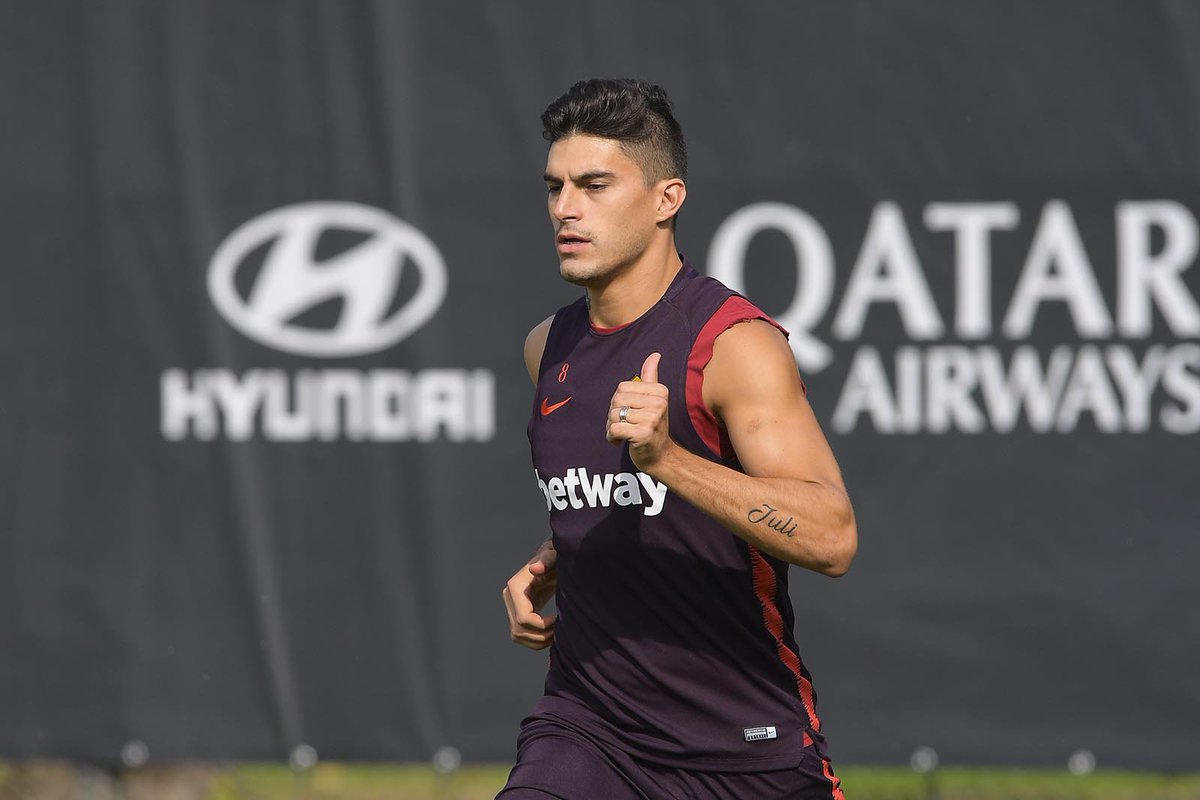 Next Match: Vs Frosinone , Wednesday September 26th,2018
BY THE NUMBERS
A.S Roma
Shots: 26
On Target: 8
Possession: 72%
Passes: 619
Pass Accuracy: 87%
Bologna 
Shots: 11
On Target: 2
Possession: 28%
Passes: 240
Pass Accuracy: 67%