Score: A.S Roma 3 Cska Moscow 0FT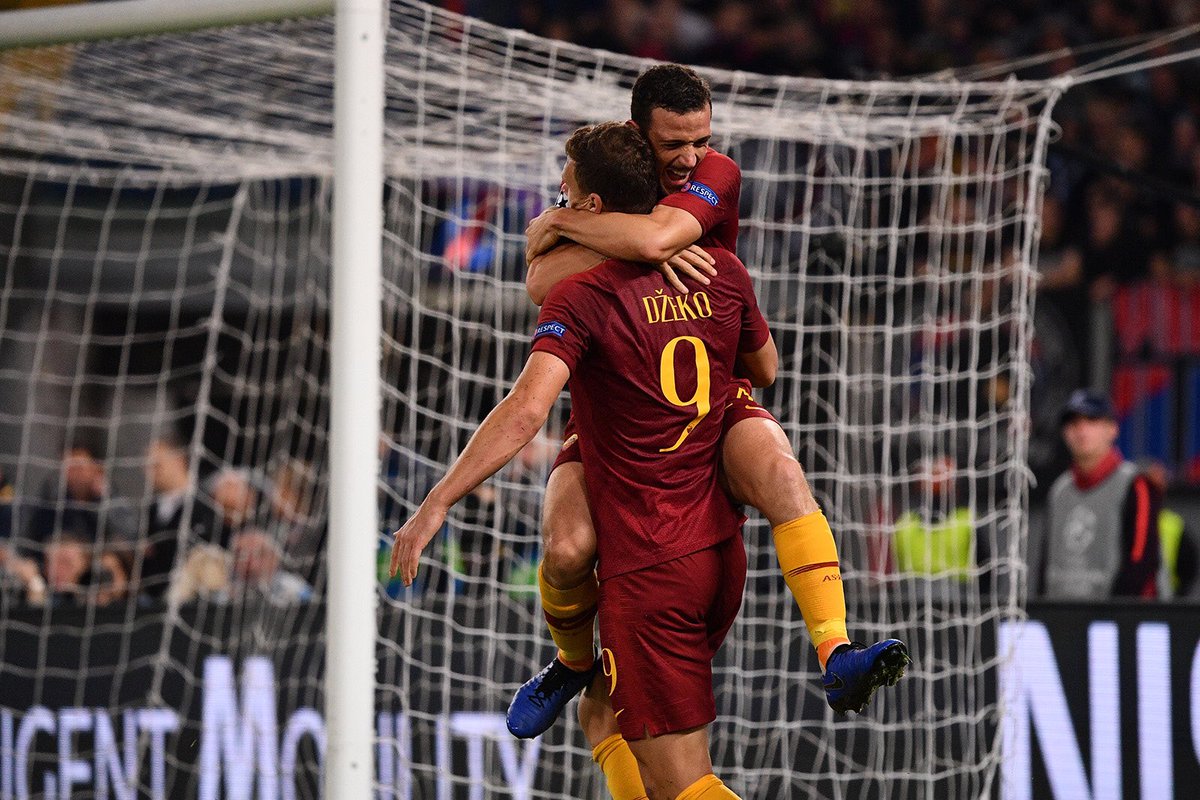 Following a frustrating loss Saturday Roma try to get their confidence and momentum back as Champions League Play resumes. Roma would welcome Russian Giants cska Moscow to the Olimpico on a Tuesday night. Roma would go into this match as slight favorites despite their loss over the weekend. Unlike Plzen cska Moscow had players to put together dangerous attacking opportunities and that's exactly what we saw early in the match. It was a very evenly-matched contest at least it appeared that way and the opening  minutes both teams were exchanging chances. However despite how well Moscow played in the first half Roma proved their superiority over there Russian counterparts. Roma's Edin Dzeko lives for Champions League football coming into this coming into this match the Bosnian Hit-man has a scored 8 goals in his last six Champions League matches and only went failed to find the back of the net in one of those matches during that stretch. Once again he rose to the occasion to deliver for his team as he scored two goals in the first half as Roma ran out to a 2-0 lead in doing so Edin Dzeko became Roma's 9th highest score in club history with 80 goals. Despite cska Moscow efforts the Bosnian Superstar delivered for Roma as Roma had a 2-0 lead after the first half. Moscow continued to go at them but the deficit appeared to be too big to overcome. Early in the second half Roma's Turkish star Cengiz Under scored a third for Roma to make it 3-0. Roma we're making easy work of the Russians Moscow didn't back down and fought back when they had the chance but they were out of their depth as Roma had too much quality to overcome. A stunning performance in front of their home fans at the Stadio Olimpico as Roma get past cska Moscow 3-0 giving them confidence and momentum with Napoli upcoming this weekend. A type of performance Roma has been lacking the Italians Champions League performances have been sensational. It was the Edin Dzeko show at the Stadio Olimpico but the team cohesively worked together to secure a much deserved three points on another European night as fans leave the Stadio Olimpico smiling.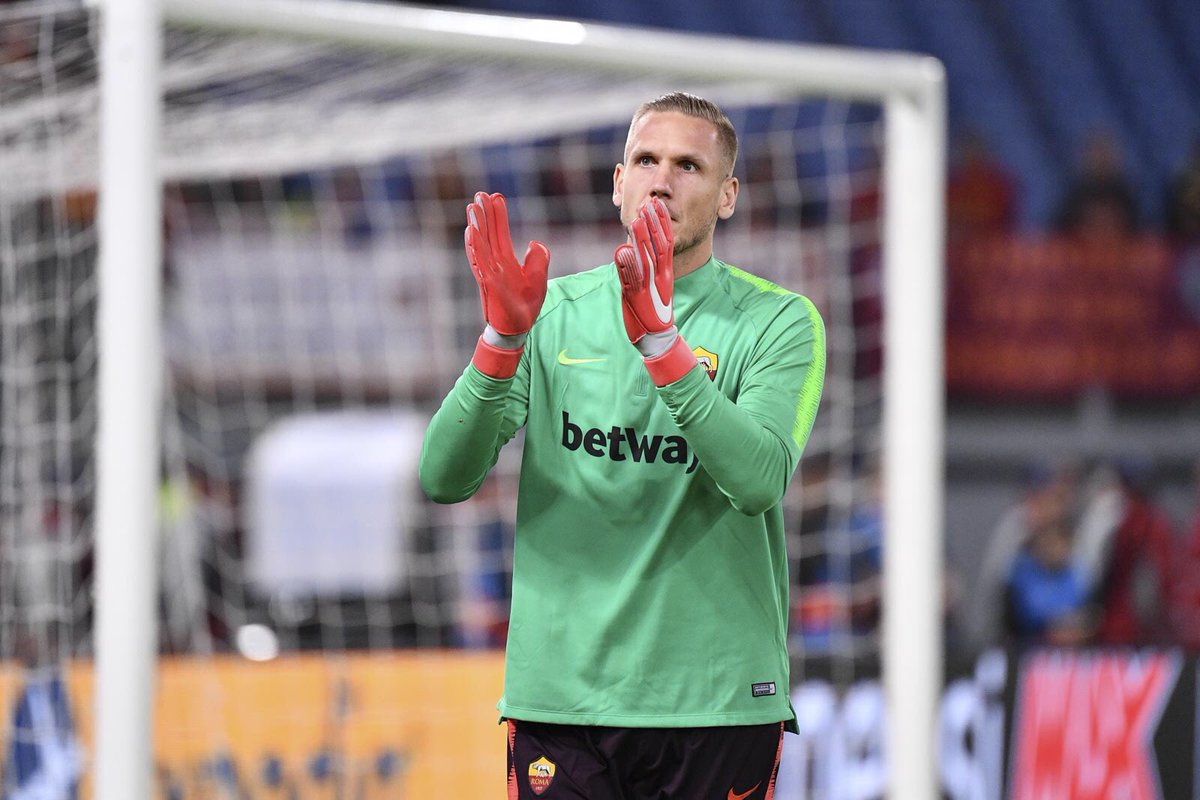 Eusebio DiFrancesco once again is starting to feel pressure but he keept his usual formation as it has been effective. Roma shoot out of the 4-2-3-1 as usual. In goal between the sticks would be the Swede Robin Olsen. We would see a slight change in a Roma's back four at left-back would be Davie Santon a player that has rediscovered himself at Roma this season. Beside him would be the centre-back partnership of Federico Fazio and Kostas Manolas then it to fill out Roma defense would be Alexandro Florenzi at right back. In Roma's defensive Midfield we would see the return Daniele De Rossi he would be partnered with Steven Nzonzi in his usual position. Roma would come out with a very dangerous attacking Midfield an absolutely speedy and ruthless trio. In central Midfield thriving under his new position would be Lorenzo Pellegrini. On the left wing would be Stephan El Shaarawy who's coming off a great performance. Then on the right wing would be very talented Turk Cengiz Under. A very dangerous Midfield but perhaps and even more dangerous Striker. Up front as Roma's main Striker would be Edin Dzeko who is an incredible Champions League form coming off a hat trick and has scored eight goals in his last six Champions League game.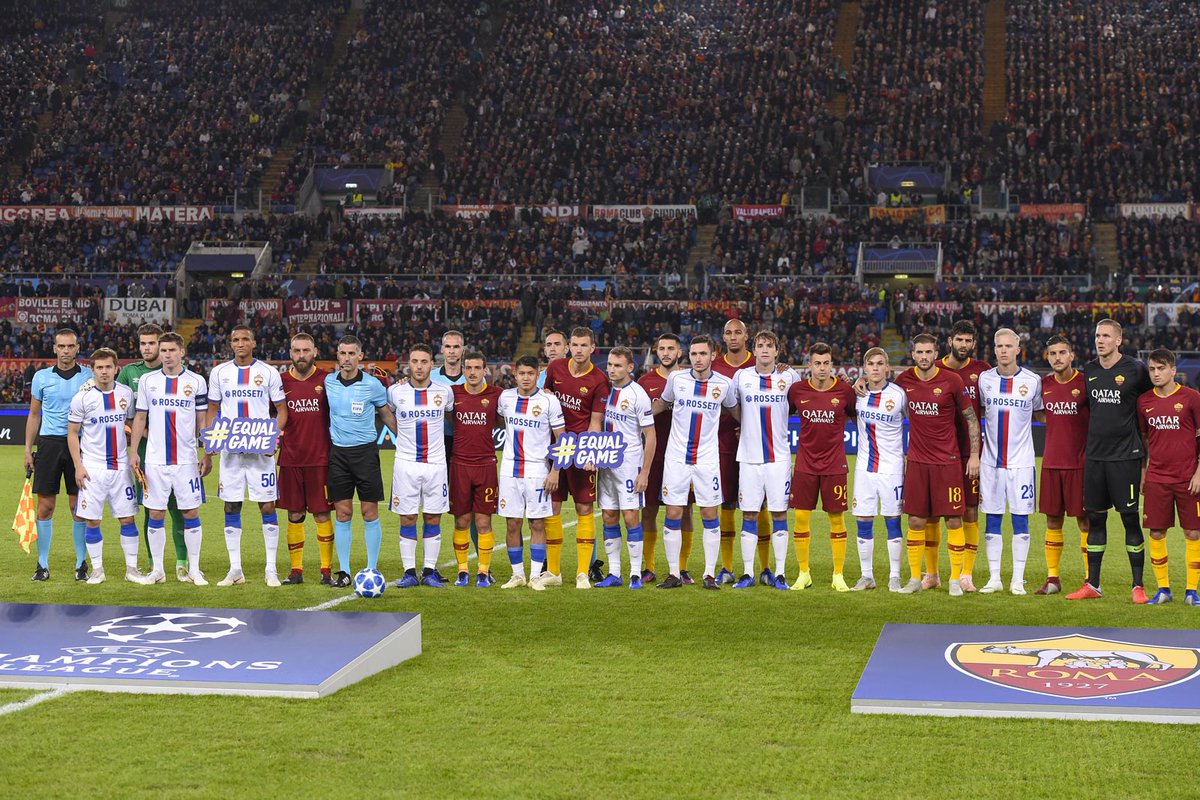 After predictions and preparations for this match we were ready to get underway at the Stadio Olimpico in Champions League match day 3 as Roma took on cska Moscow. The world's biggest Club competition resumes on a cold night in Rome. The top two teams in group G battle it in Rome. This would be part 1 of 2 as these two teams face again in matchday 4. The captain's got their teams ready as the match the kicked off from the Eternal City. Both teams approach this game was similar the mentality of these clubs was to attack and that's exactly what they did. Despite Roma being quite clearly the more talented team it did not scare Moscow as they went for their throats even if it was going to be unsuccessful they still went after it. Moscow hit first as a Vlasic set up Chalov hit a a blisteringly powerful shot at Robin Olsen. However the Swedish keeper was prepared for it aggressively saving it. Roma responded when Lorenzo Pellegrini came close with a deep strike but narrowly missed. Moscow hit again withVlasic but was denied by Robin Olsen. It very much looked like a back-and-forth battle despite Roma having dominate possession both teams were very much in the game at this point. A few minutes later Florenzi tried an ambitious yet borderline crazy deep strike from over 40 yards that came relatively close but the goalkeeper got his hand to it tipping it over the goal. Just a few minutes later Edin Dzeko tried from deep. The momentum began to slightly swing of Romans favor as they continued to go for the throat. This attempt was followed By Under finding De Rossi on a cross an incredible connection between the two but De Rossi's header was saved. Incredible delivery by Under as he showed some unreal quality on his connection with the ball. Roma was coming and coming then in the 30th minutes Roma's moment arrived. In what was an incredible connection between Lorenzo Pellegrini Edin Dzeko & Cengiz Under. Approaching the Moscow danger area the creative Lorenzo Pellegrini drove the ball forward before passing it into Under. Under sent a one touch pass into Lorenzo Pellegrini tap it into Edin Dzeko who was looking at an empty net. Dzeko blasted it into the back of the net to give a Roma the 1-0 lead.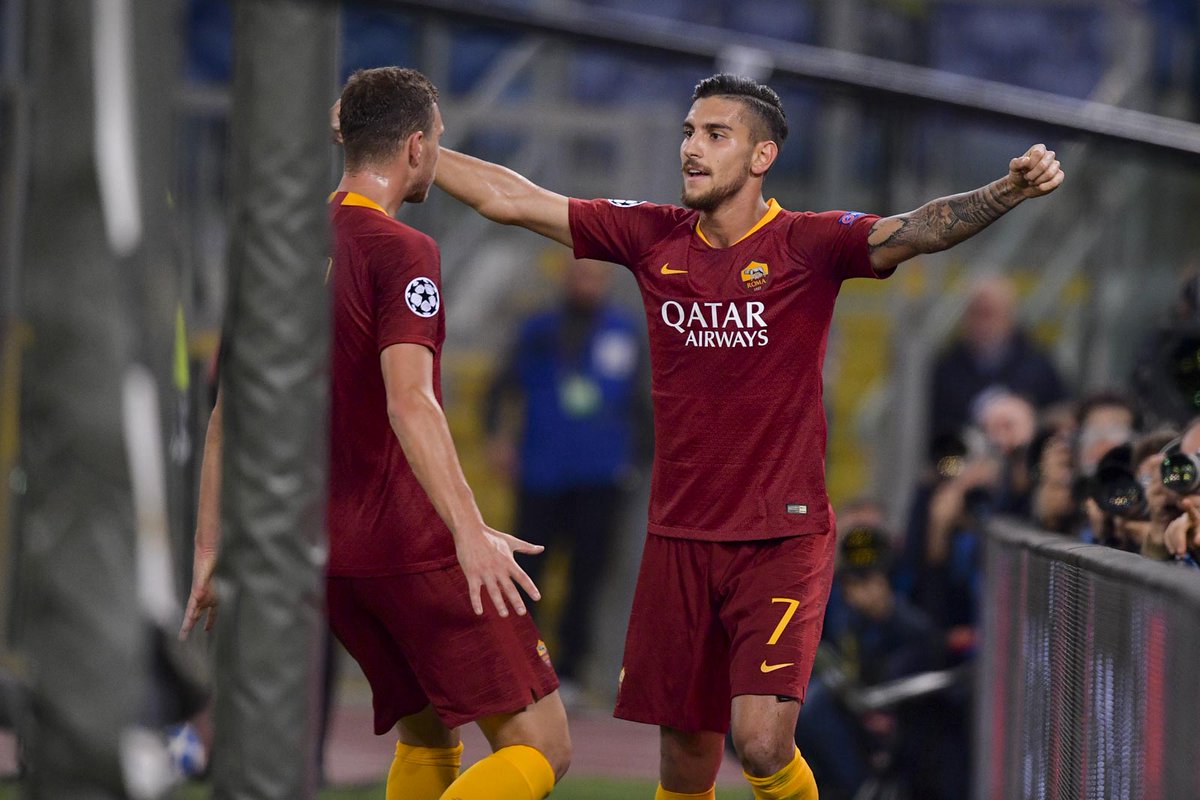 Lorenzo Pellagrini celebrates with Edin Dzeko after connecting on a goal
Incredible ball Movement by Roma by all three parts of that goal none of it could have happened without each other the intelligentcre from Dzeko on under and Pellegrini the connection between them was unbelievable. It would take Edin Dzeko to 6 goals on the season meanwhile pulling one goal closer to 9th on Roma's all time scoring list. It wouldn't take very long for Edin Dzeko to lick his chops again on the brink of half-time in the 43rd minute history was made. Under running with Pace lost control the ball luckily Stephan El Shaarawy picked it up Then sent a through pass to Edin Dzeko Inside the Box. Edin dzeko hit it on the first touch beating a keeper to the far post to give Roma the 2-0 lead. That is 10 goals in his last seven Champions League games as well as his seventh goal of the season. History was made as Edin Dzeko passed Dino DaCosta for 9th all time on Roma's scoring list scoring his 80th goal for the club. Once away from tying Marco Delvecchio for 8th all time. Incredible awareness from El Shaarawy to make the smart play after under had lost control not to mention the brilliant finish by edin dzeko who drilled the ball into that bottom corner. The game went from being in the balance to being out of balance really quickly. That would signal the end of the first half.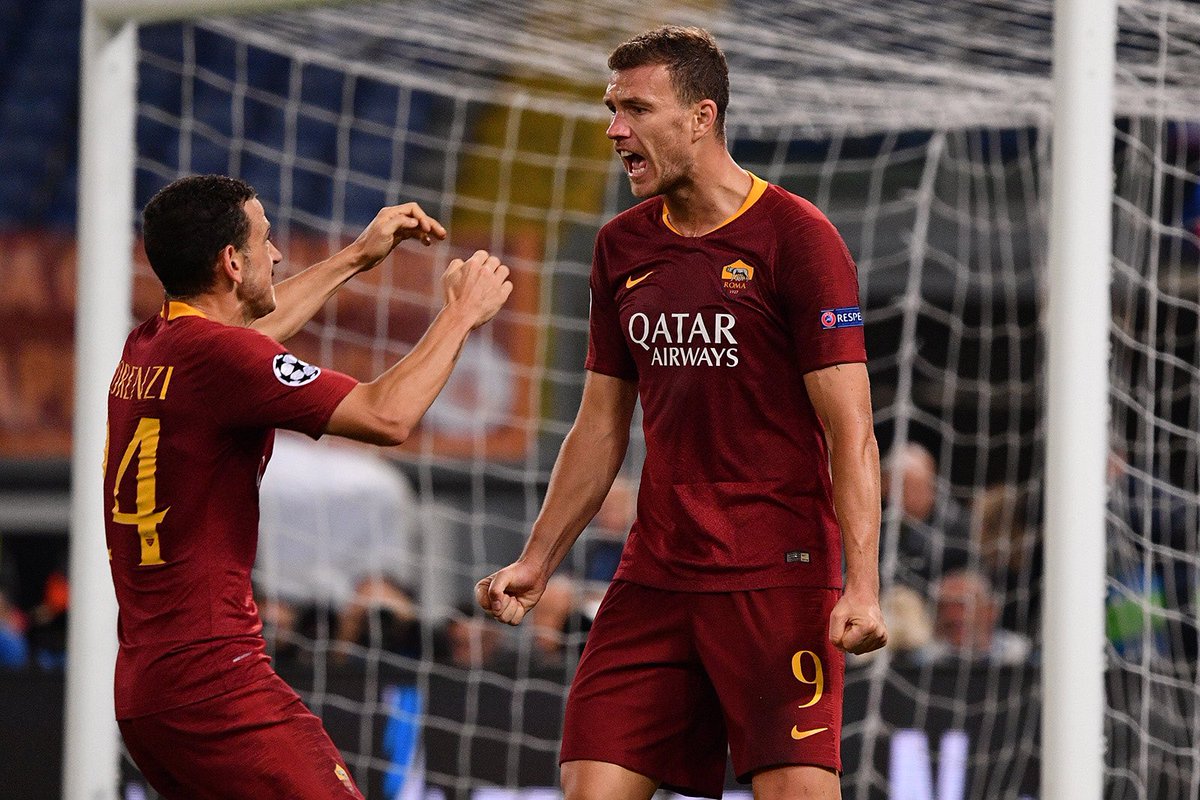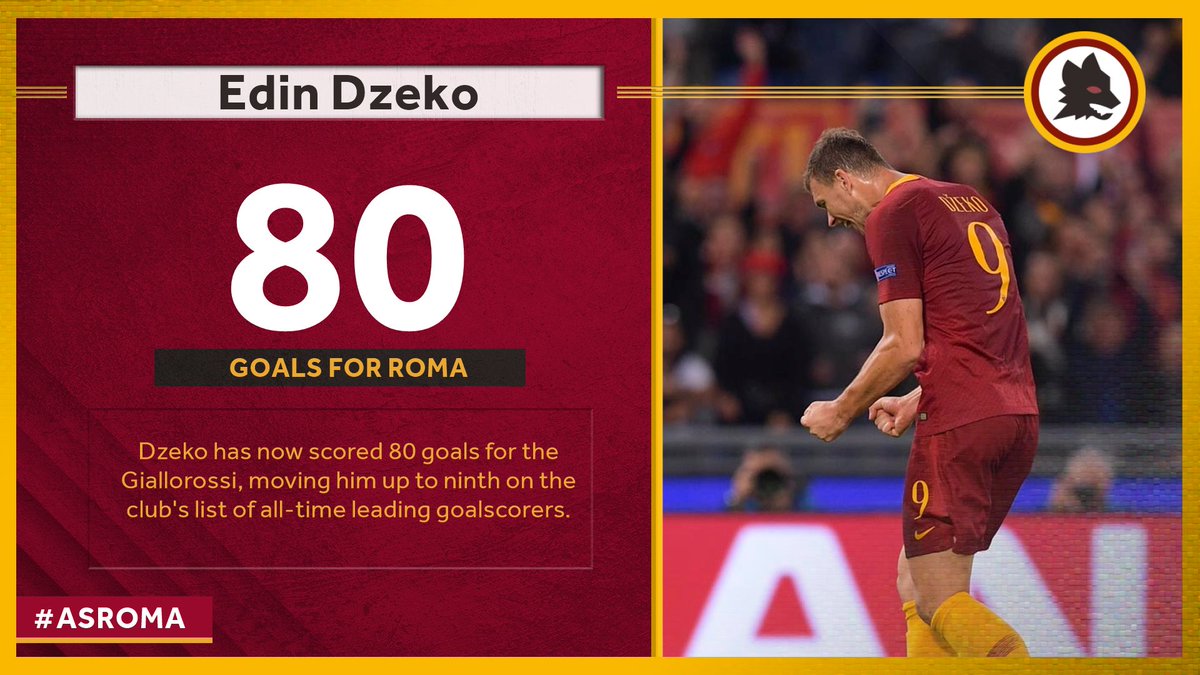 Edin Dzeko's Double makes Club history as he moves to 9th on the Roma all time scoring list
A balanced first half turned into Roma domination after momentum shifted Roma took advantage of their chances under the lights they delivered in the first half. It wasn't going to get any easier for cska Moscow as Roma came out firing in the second half and within five minutes found a way through again. Another well-worked scoring opportunity for Roma collectively as a unit they had been on the same wavelength throughout this match. Florenzi sent a deep cross from Midfield into the box where Edin Dzeko I was waiting for it. The big Bosnian connected with his head as he laid it off to Cengiz Under. The Turkish wigner slotted the ball into the top corner to give Roma the 3-0 lead. A on the real display of teamwork as all of Roma's players is seem to be on the same page the way they went at this game was brilliant. Telepathic rhythm by this Roma team.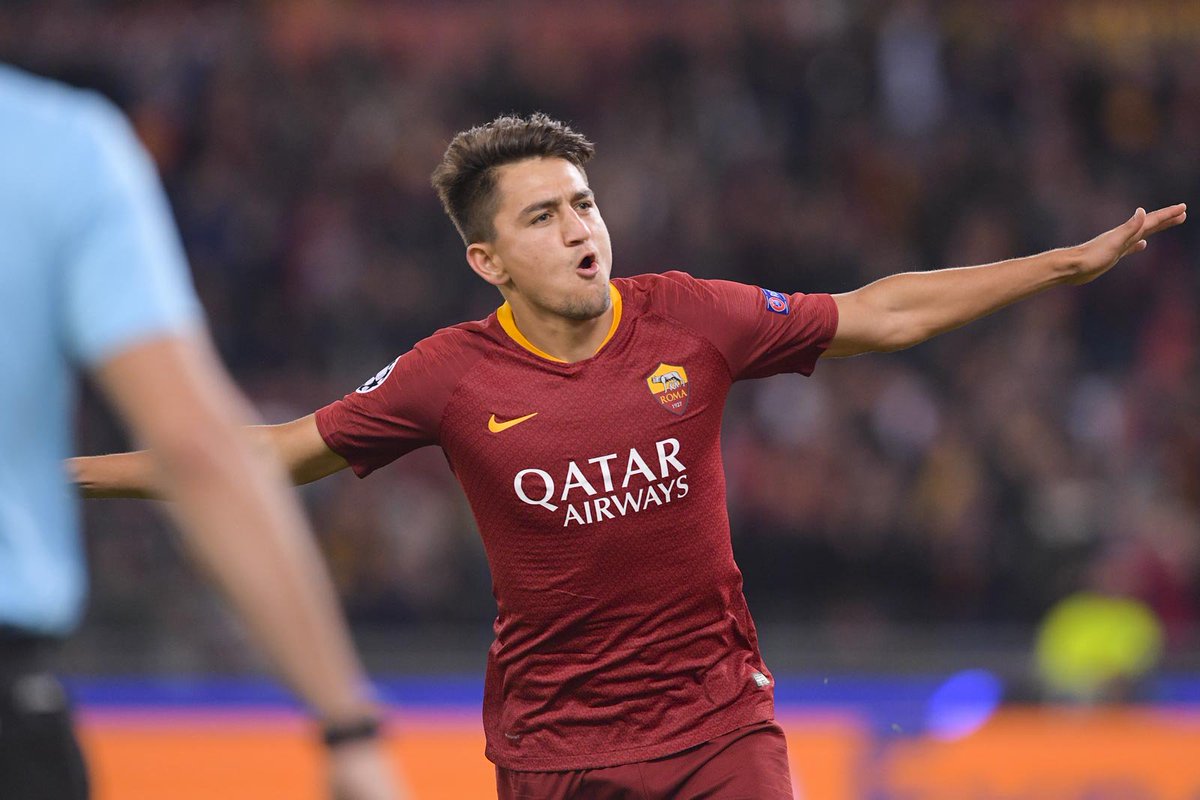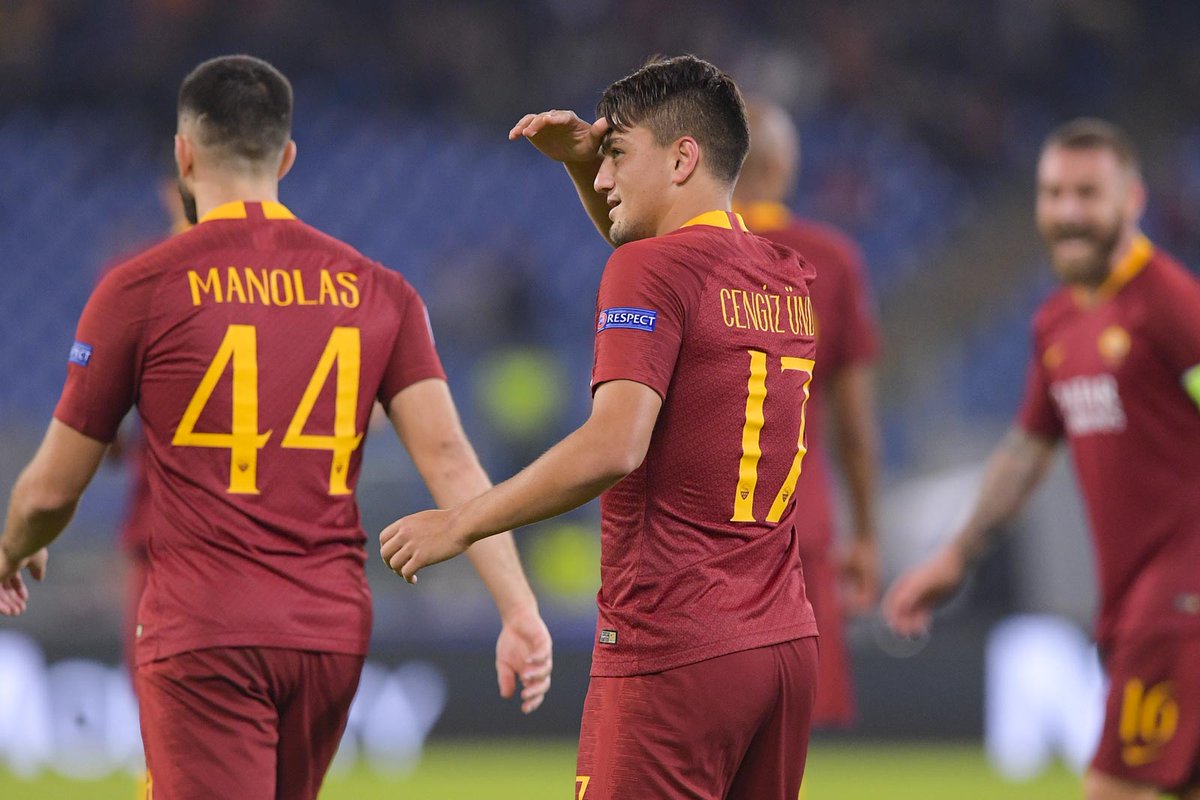 Cengiz Under supplied some Trukish magic as Roma take a 3-0 Lead.
It would be Cengiz Under third of the season. Roma at that point continued to go as their opposition but were able to relax a little bit more and feel the game out. Few minutes later Stephan El Shaarawy saw his shot saved in front of goal. Moscow had a few chances but none that seeming stuck. El Shaarawy came close again but was denied several moments later as the game progressed. Shortly after that Lorenzo Pellegrini came close But ultimately was denied. Roma would make their first change of the game as Bryan Crisante came in for Lorenzo Pellegrini. The game slowed down a little bit as Roma were in their comfort zone. Moscow continued to have trouble finding the targets as Sigurdsson missed wide late in the second half. A little while later Edin Dzeko was on the brink of a hat-trick as he connected with his head to a Cross from Under but it wasn't to be desired. At this point Alex Kolarov would come in for Cengiz Under. As well as Patrik Schick coming in for Daniele De Rossi. Cska Moscow continue to take chances but  was too late as Roma continued to open up and attack. El Shaarawy had another shot saved after a deep strike. Very late in the match Roma had a collection of chances to get another goal. However they were unable to put them away. After chances from Crisante Stephan El Shaarawy Manolas and Florenzi. At the final whistle it was a 3-0 Roma win a dominating performance that highlights the the fast that this Roma teams can go on a Deep Run in this Champions League campaign. This was exactly what they needed going into a very tough match this weekend the momentum and confidence they had lost during the international break has been rediscovered in a massive 3-0 win against as the Russian giants cry wolf.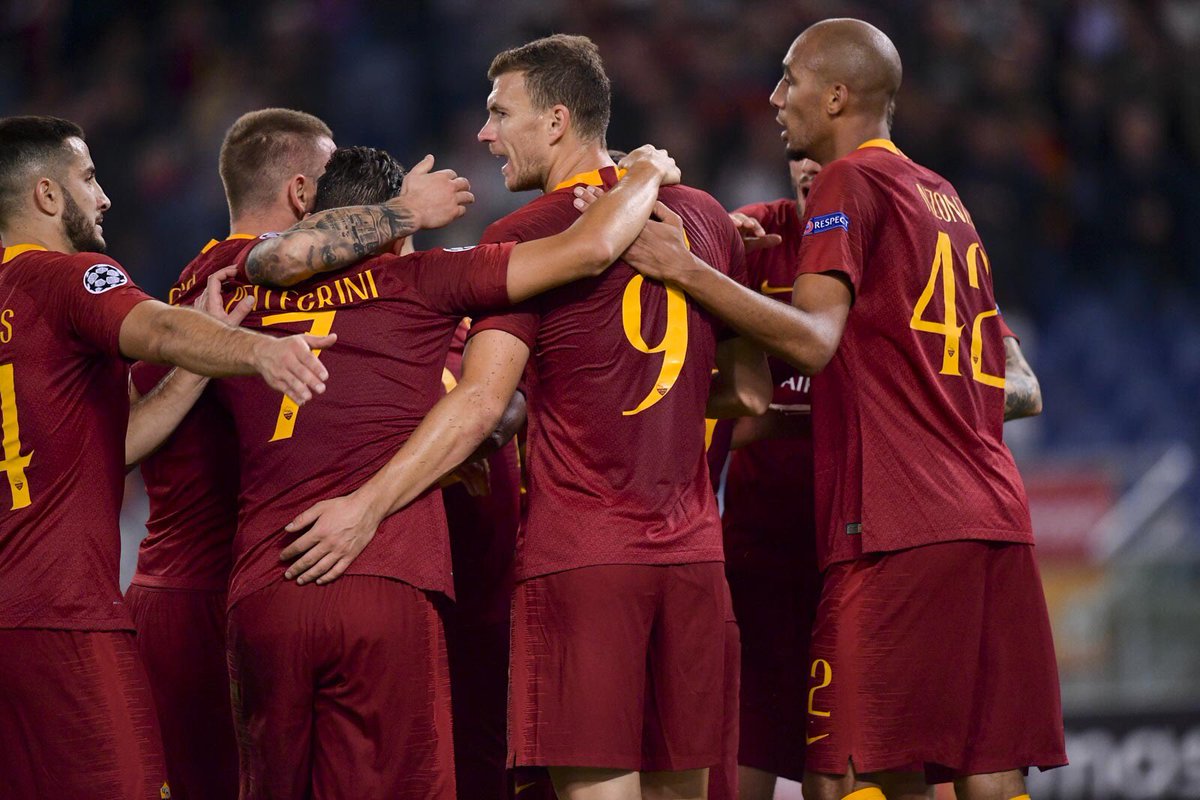 After suffering a disappointing loss on the weekend Roma needed an injection of energy and confidence. In a crucial Champions League match against cska Moscow Roma were able to deliver in front of their own fans after disappointing them on Saturday. Once again it was Edin Dzeko who delivered that the much-needed win for Roma. Roma needed to find a way to grab some momentum and Confidence from their team after being a very inconsistent side this season. Under the bright lights of Champions League football Edin Dzeko thrived in what was another historical night for the Bosnian. As most of us expected cska Moscow went at Roma and attack them as frequently as they possibly could. Despite the difference in quality they are not a team that sits back and defends they will go for your throat even if they're overmatched the Real Madrid match with proof of that. They gave Roma some early scares as they had several scoring opportunities early in the match. Fortunately for Roma Robin Olsen came to play and made some heroic saves when it was 0-0. Moscow attacked but Roma hit back in response it was a very balanced match in the first half strategically speaking Roma's point-of-attack was just more effective. Before not too long Roma made the Breakthrough as with Lorenzo Pellegrini setting up Edin Dzeko for a very easy goal to give them the lead. Edin Dzeko was able to double it before half-time with an insightful and accurate finish. Roma jumped out to their 2-0 lead as Edin Dzeko made Club history once again with his second strike of the evening he equaled  passed Dino DaCosta's 79  goals for 9th on Roma's all time scoring list. It wasn't just what he did offensively but he created chances as well he showed why he is a complete Striker he did the job in front of goal and he set up teammates For goal-scoring opportunity. Great fluidity with the Roma attacks displayed throughout the stadium. Everyone seem to be on the same page and the quick passing approach caught cska Moscow on their heels. Edin Dzeko setup Cengiz Under as the Turkish International found the back of the net in his own right but it was largely the intelligence of Edin Dzeko. Roma came under immense pressure prior to the match would be DiFrancesco on the hot seat once again. Roma defended extremely well because there was not a shortage of attack from Moscow but I thought they performed to the absolute best defensively Santon really showed me something he has been really strong and has given Roma depth he's been able to redefine himself at Roma after being crucified at Inter Milan he has shown his contribution and it's finally seeing his potential go into fruition. The Midfield was excellent as well all around from top to bottom but won't played great beautiful football. Seemingly Roma plays much better in the Champions League then the League this season I'm not quite sure why but tonight they were excellent. It shows this team's potential and what they can achieve if they stay focused. Lorenzo Pellegrini played another crucial role he assisted the opening goal was unbelievable all game. His passing and ball movement was exceptional his intelligence is just on another level for someone as young as he is. Roma needs to take the momentum and confidence that I've gotten from this victory into the San Paulo this Saturday when they met high flying Napoli. Roma got exactly what they needed out of this game the infliction of energy and confidence. The entire team worked cohesively together and we're very deserving of the three points as they go to the top of the group. Their League form needs Improvement but I believe this team will make the quarterfinals of the Champions League. Knockout football is something this team will thrive in if they can play to this level for the rest of the campaign we could see another Deep Run. The man of the match tonight is Edin Dzeko 2 goals and 1 assist his amazing champions form continues He has scored 10 goals in his last seven Champions League game and currently leads the Champions League with 5 goals. We need Edin Dzeko to score a few more goals in the league but we have seen an unbelievable play from one of the best all-around Strikers. Roma will travel to the San Paulo for the Derby Del Sole against second-place Napoli in the league this weekend hoping they can carry some momentum into Saturday. They play Moscow again in their next Champions League match another win would ultimately book their tickets for the round of 16. Stellar performance from the Romans tonight momentum restored 
Man Of the Match: Edin Dzeko (3)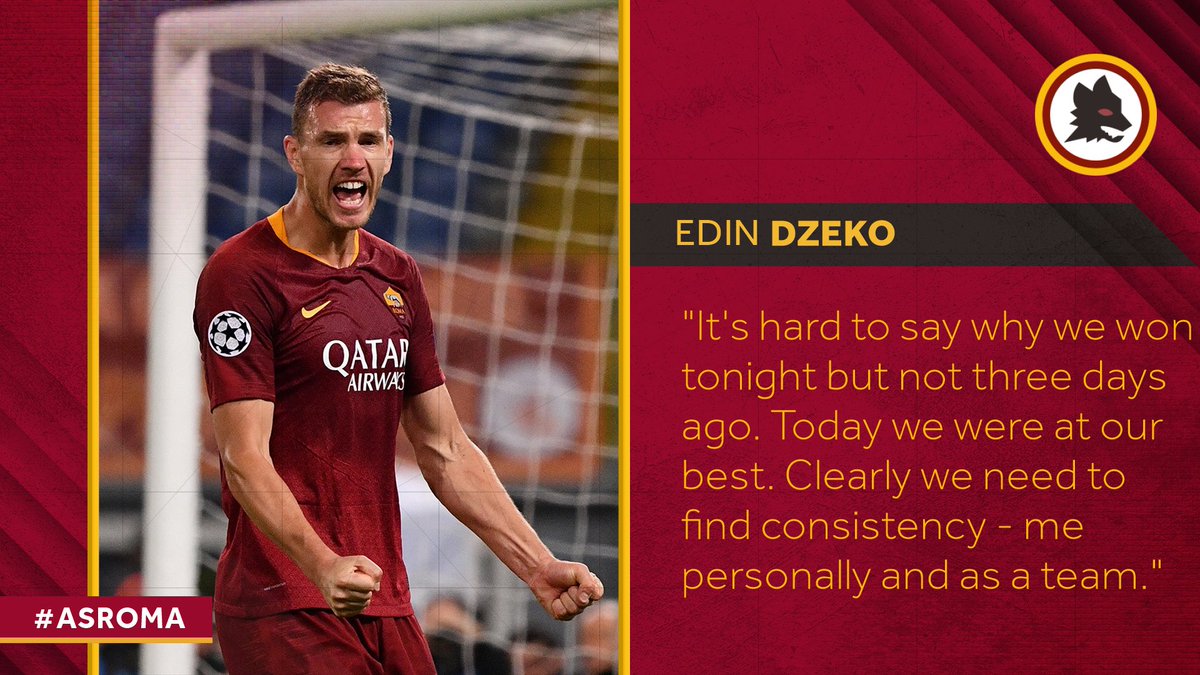 BY THE NUMBERS
A.S Roma
Shots: 21
On Target: 13
Possession: 53%
Passes: 543
Pass Accuracy: 85%
Cska
Shots: 12
On Target: 4
Possession: 47%
Passes: 487
Pass Accuracy: 78%
Champions League Group G
1.A.S Roma 2-0-1 6Pts
2.Real Madrid 2-0-1 6pts
3. Cska Moscow 1-1-1 4pt
4. Viktoria Plzen 1-1-1 14pt