Goalkeeper: Jan Oblak, Atletico Madrid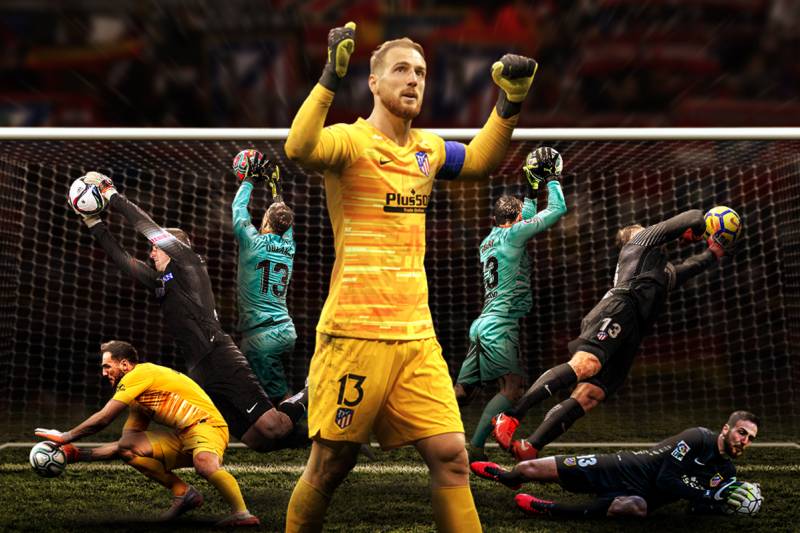 Jan Oblak continues to justify his place among the elites of Europe. This season he has been the very best Keeper in La Liga making my team of the season. Atletico Madrid had an incredibly disappointing campaign through 27 games it appeared they would not be returning to the Champions League this season. They find themselves in 6th Place and with the season being canceled a place in next year's Champions League seems very unlikely. The sales of Antoine Griezmann and Diego Godin to Barcelona and Inter Milan respectively have largely affected the campaign that Atletico Madrid ended up having. Even though both players failed to impress at their new clubs there was a vacuum of attacking prowess at Atletico Madrid. Jan Oblak has been the one consistent with Atletico all season. With another keeper, there's not a way that they would be even remotely challenging for Europe in any way. Atletico Madrid's leading scorer is Alvaro Morata with eight goals in La Liga. Even though they broke the bank for Portuguese teenager Joao Felix the attacking options for Atletico Madrid have been minimal. Among the League's top 15 scores there is not a single Atletico Madrid player. Among the League's best suppliers only one Atletico Madrid player stands with Angel Correa. Atletico Madrid lost many components and the Brilliance of Jan Oblak has been the crucial difference with Atletico Madrid this season. Despite how poor Atletico Madrid has been outside their Brilliance in the Champions League it has been an utterly disappointing season. However, their goalkeeping productivity continues to be at a high level the Serbian keeper still appears to be the best goalkeeper in the world and it doesn't appear that will be changing anytime soon. Outside of one poor performance in the Champions League throughout the entire season Jan Oblak has been at his absolute best. He has the third-most clean sheets with 11 and the Atletico Madrid defense this season has the second-best defense even though their defense has deteriorated. Simply put it tells you one particular thing Jan Oblak is the best goalkeeper in the world and he's clearly the La Liga Keeper of the season.
Left Back: Matthias Olivera, Getafe
GGetafe has once again been one of the biggest surprises in the league for the second consecutive season. Following last season's fifth-place finish they were able to repeat that during the League's 27 games this season. A large part of that has been the improvements they made defensively. Getafe had the third-best defensive record in La Liga this season. Only Atletico Madrid and Real Madrid have conceded fewer goals over this year's campaign. It has been a collective unit however Matthias Oliviera has been as consistent as any part of their backline. He has not only been one of the best performers for the side in la Liga he has done well in the Europa League as well. He's not a player that typically puts out a lot of big numbers he is a grind-it-out mentally tough physical Defender. He's not going to display an explosion of athleticism. He's mean he's nasty but incredibly consistent. This was the Uruguayan's breakout season in La Liga and played a massive role in his team's ability to fight for European football once again. They have gotten help in the attacking sense but they've done the job defensively which is a big part of why the twenty-two-year-old deserves recognition. He quietly becomes one of the best left-backs in La Liga and this season he proved his quality week in and week out as he was the driving force behind a backline that turned out to be one of the best in all of Spain as Matthias Oliviera proving worthy of a spot on the team of the season.
Centre Back: Sergio Ramos, Real Madrid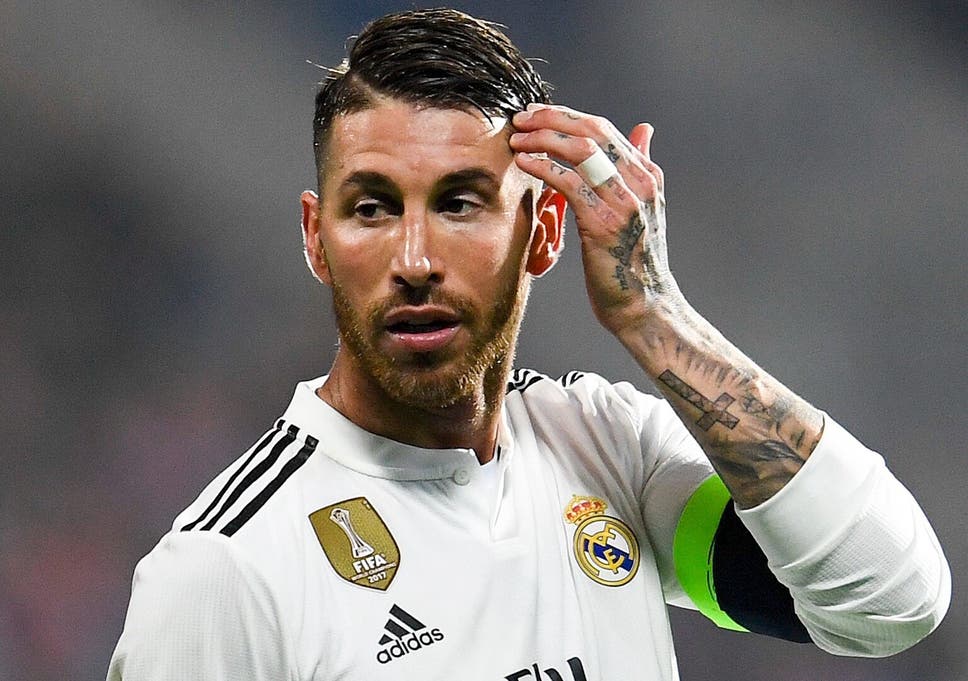 Sergio Ramos is one of the greatest Defenders of this generation. A true leader that fights for the shirt he wears he has been once again a very crucial part of a real Madrid title chase this season. Ultimately it appears we will not have a champion in Spain but nonetheless during this title race this season against Barcelona Real Madrid have looked up to the part to battle a Barcelona led Lionel Messi team in La Liga. When the league stopped Real Madrid were only two points off the top of the table. Real Madrid has had some Clunkers but for the most part, they have been in a healthy title race that unfortunately, we will not to get to see the end of. Sergio Ramos is a very tough Defender and has displayed that consistency over a decade. The responsibility in value he had in the team this season, however, is much higher than many years prior. Real Madrid business in the transfer market has not panned out the way they would have liked. Eden Hazard struggled Luka Jovic has had issues recreating the success that he had at Frankfurt last season. Karim Benzema has been one of the only sources of the attack for Real Madrid this season. This has made Sergio Ramos a much bigger part of the team in the attacking sense then years prior. Outside of Benzema, he has been the team's at second-best attacking player this season. He has scored 10 goals this season something that has not necessarily been a rarity he has been one of the highest-scoring Defenders in history but this year he has had more responsibility to play that role in a Real Madrid team that has lacked that killer upfront that really could have made a difference in a title race. Sergio Ramos walks into the team of the season without any question he's been great defensively and even though he plays the villain he has been absolutely Sensational this season the value he has had both in defense and in attack shows his incredible value another terrific campaign once again for the Real Madrid all-time great.
Right Back: Dani Carvajal, Real Madrid 
To finish out my back three of the team of the season in La Liga I recognized yet another Real Madrid Defender. Dani Carbajal has been the best right-back in La Liga this season by a country mile. It's not even been a little bit close between him and the second-best at his position. He has been a level above everyone else. When it comes to efficiency and the metrics behind it he has been one of the League's 10 best players this season. He has been the man of the match on five different occasions. On top of all that he has been a part of a core with Sergio Ramos and a Raphael Varane even though unlike Sergio Ramos Dani Carvajal is much more defensive he still has supplied five assists this season for Real Madrid defense that has only conceded 19 goals all season. Real Madrid had the best defense in La Liga this season largely because Dani Carvajal had another spectacular campaign. The Real Madrid defense made leaps and bounds to where they were last year. Real Madrid has lost some games and drop points occasionally but it is nearly impossible to get into a shootout with Real Madrid because they do not concede enough goals to allow back-and-forth battles to happen. Real Madrid either loses by low-scoring or they don't lose it all. That's the level that Dani Carvajal and the Real Madrid defense has operated on the season. No surprise here Dani Carvajal joins Sergio Ramos in that the team of the season as Real Madrid's defense has been the best in all of La Liga.