Bayer Leverkusen 3 Borussia Monchengladbach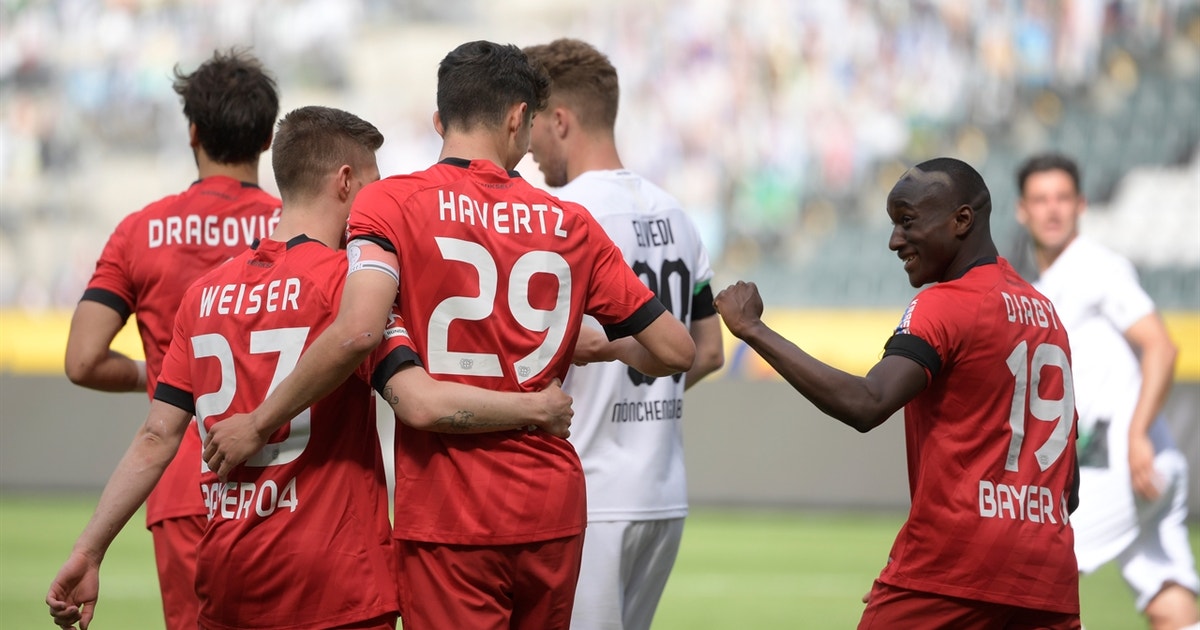 In the battle for the Champions League, we saw a dog fight between Bayern Leverkusen and Gladbach. Coming into the match, the two sides were separated by just near points. Standing in fourth and fifth place. One of these teams is going to make the Champions League next season, and one of these teams is not. This was a hugely important game for the structure of European football for the rest of the season. There's still time to make back to points, but this match was completely vital for how the season will end up for both these incredible teams. There's not too much to split between them; both sides have incredible qualities throughout and have the tools and capacity to win big games. Getting into that competition but unfortunately only one of them is going to make it, which made this match so important. Bayern Leverkusen is coming into this game by having beat Werner Brennan candidly behind Kai Havertz, arguably the best youngster in European football outside of Killian mbappe given how he can dictate a match. He had two goals against Werner and was looking for another a few more. Despite being in good form and momentum, they were coming off a short week, just playing on Monday night. Meanwhile, gladbach handled Frankfurt in a routine 3-1 Victory looking very impressive. Both sides were coming into this game with a lot of momentum and confidence on their side. This was going to test both of these teams, especially given what was at stake. Throughout this match, there never seemed to be one team that was in full control or have that superiority, but early in the game, Bayern Leverkusen started strong. Bayern Leverkusen had an early chance in the opening minutes but was denied by Sommer. However, they would not have to wait all that long for the opening goal. Bellarabi picked out a perfect pass for Kai havertz he got an on a one-on-one with a goalkeeper the brilliant youngster stuck the ball in between the legs is the keeper taking a slight deflection as the ball rolled into the back of the net to earn a 1-0 lead. Bayern Leverkusen came out with a certain energy and enthusiasm about them; they were up for the challenge ahead. Equally, Gladbach was doing their part as well, showing their quality, but it was Leverkusen that had the momentum early in the first half the match still was balanced, though. Bayern Leverkusen nearly doubled their lead when Kai struck from the side of the goal over the keeper, but unfortunately, it took a touch on the top of the crossbar coming out a follow-up strike with hit By bellarabi, but an acrobatic clearance from the backline saved Surefire goal. After the opening goal, it became a back-and-forth between two great teams who are just trying to find a psychological advantage against one another. Even though Gladbach was losing, they came close on several opportunities, Marcus Thurman was incredible in his execution and made Bayern Leverkusen uncomfortable constantly. Equally, Kai havertz was a magician in the Midfield, not only creating chances for himself but supplying that for his teammates as well many times dribbling through the Midfield to create. It was a 1-0 lead after 45 minutes. With opportunities to score was exchanged between both teams that have her eye on that Champions League spot. Gladbach a team who once was top of the League this season, found their way back into it by Marcus Thurman he collected a ball coming over the top that landed just outside the box he hit a malicious strike into the bottom corner to equal things up. Such a phenomenal young player really underrated and the ability to make big differences in big games. Something he surely learned from his father, who was an all-time great Lillian Thurman. His strike saw the scores level making 1-1 with time left in the second half to turn it around. Shortly after he scored, he nearly got a second on the break but just didn't have enough space to finish off the attack. All of a sudden, Gladbach had a momentum going for them, but unfortunately, they would be on the receiving end of an unjustified penalty. Bellarabi was clipped Inside the Box, but the contact the defender made was with the ball before he fell down. The fall of bellarabi was because his feet were moving too quickly, and he tripped he may have gone down in the box, but it wasn't the defense effect. Kai havertz struck from 12 yards out despite taking a slight deflection He gave them a 2-1 lead. Making it four goals in the last two games for the young star. Gladbach was right to feel dejected after Bayern Leverkusen take the lead from the penalty spot. Gladbach tried to come back and at least secure a point, but late in the match, Bayern Leverkusen killed it off. Coming off a set-piece Lars Bender connected on a header putting it in the back of the net in what was an ambitious connection giving buyer Leverkusen a 3-1 lead. Practically ending any chance of a comeback. Despite the circumstances and being on a short, weak Kai Havertz balled out in a crucial match that largely will impact the Champions League picture. Gladbach still has a chance to make Champions League next season, but Bayern Leverkusen has the advantage with the much important victory.
Dortmund 2 Wolfsburg 0FT
After a nearly flawless opening performance against Schalke, Dortmund tried to keep it going in what was going to be a really tough match against Wolfsburg. Much like Dortmund Wolfsburg ended up winning their Opening match in a very dramatic and energy fueled Victory. Against Augsburg, as they scored a late winner in the 90th minute of that game. There was a real opportunity for Wolfsburg to end the Ambitions for Dortmund title. Dortmund may have the better team Wolfsburg has a side that was more than capable enough of feeling points from Dortmund high-powered attack even with some problems showed in that match last week. Much like with Bayern Munich, Dortmund needed a rezoning performance this weekend because of the match that occurs on Tuesday night against Bayern Munich that could affect the entire football season for them. It was going to be interesting to see if Dortmund could repeat the success that they showed last weekend. It turned out not to be the case. Dortmund and Wolfsburg both had their moments, especially in the first half. Wolfsburg came close on a few opportunities in the early part of the game. There wasn't really any superiority from Dortmund as we may have expected. Wolfsburg was up for the challenge even if they were to lose this game; they were going to go down swinging. They hit the bar early and caused Dortmund to react. Defensively against a high-powered Dortmund attack, the Wolfsburg backline suffocated them. Especially John Brooks, who had a really horrendous performance last week. He all but turn that around over the weekend, making Haaland's life a living hell. The young star could not provide anything and had a really awful performance largely because of how the Wolfsburg backline was able to make him uncomfortable. Bayern Munich has a more dangerous backline then Wolfsburg, and Wolfsburg gave them problems. There was some level of concern, especially in that first half. However, Dortmund did end up jumping in front in a goal that would be described as a misfortune for Dortmund. Julian Brandt set up Hakimi, who set up Hazard, who sent a ball into the box. Haaland slipped and fell trying to hit the ball as it fell to the feet of Rafael Guerreiro, who stuck it into the back of the net to give Dortmund a 1-0 lead. Dortmund would take this lead into the second half. Wolfsberg was still very much in the game. Even a stolen point in a draw would have been precious to them and have a big ripple effect on the title Chase. Dortmund continued to try to put the game away, but they just couldn't close the deal. It was not a great performance from Dortmund, and the same level of concern that I had against Bayern was evident against Dortmund. They really didn't show their best performance to a Wolfsburg team that even though they're trying to get into Europe, it does not have the quality of Dortmund, but they made this game a lot more interesting than it should have been. Wolfsburg continued to pressurize, and if it wasn't for an excellent goalkeeping performance from Burki, they might not have lost this game. They were doing everything possible to try to break them down, and they made them really work because it was a match for Wolfsburg where luck was not on their side. In the game against Augsburg, an argument could be made that they did not earn those points, and Augsburg was a much better team, at least in a good portion of that game. In this game, it was the polar opposite Wolfsburg outplays Dortmund for a good part of the game, but they couldn't finish off their chances they have nothing to blame but themselves, but unfortunately late in the game, Dortmund would kill it off. Jadon Sancho on a Counterattack released Hakimi Inside the Box, who stuck the ball into the back of the net. It would be the 16th assist for Jadon Sancho, and he is responsible for 30 goals in all competitions, which is the best in Europe. Dortmund managed to hang on to earn a 2-0 victory, but this wasn't the performance needed ahead of the biggest match of the season on Tuesday. They were unimpressive and unconvincing throughout the game and are fortunate to have picked up a point. Haaland was shut down and exposed something that Bayern Munich will be capable of doing. Dortmund needs quite a response wild they struggled Bayern Munich were flying we'll see how they react on Tuesday night. Still, some of the confidence and momentum have been stripped from underneath them by a Wolfsburg team who, despite losing at many points, appeared to have to give them trouble.