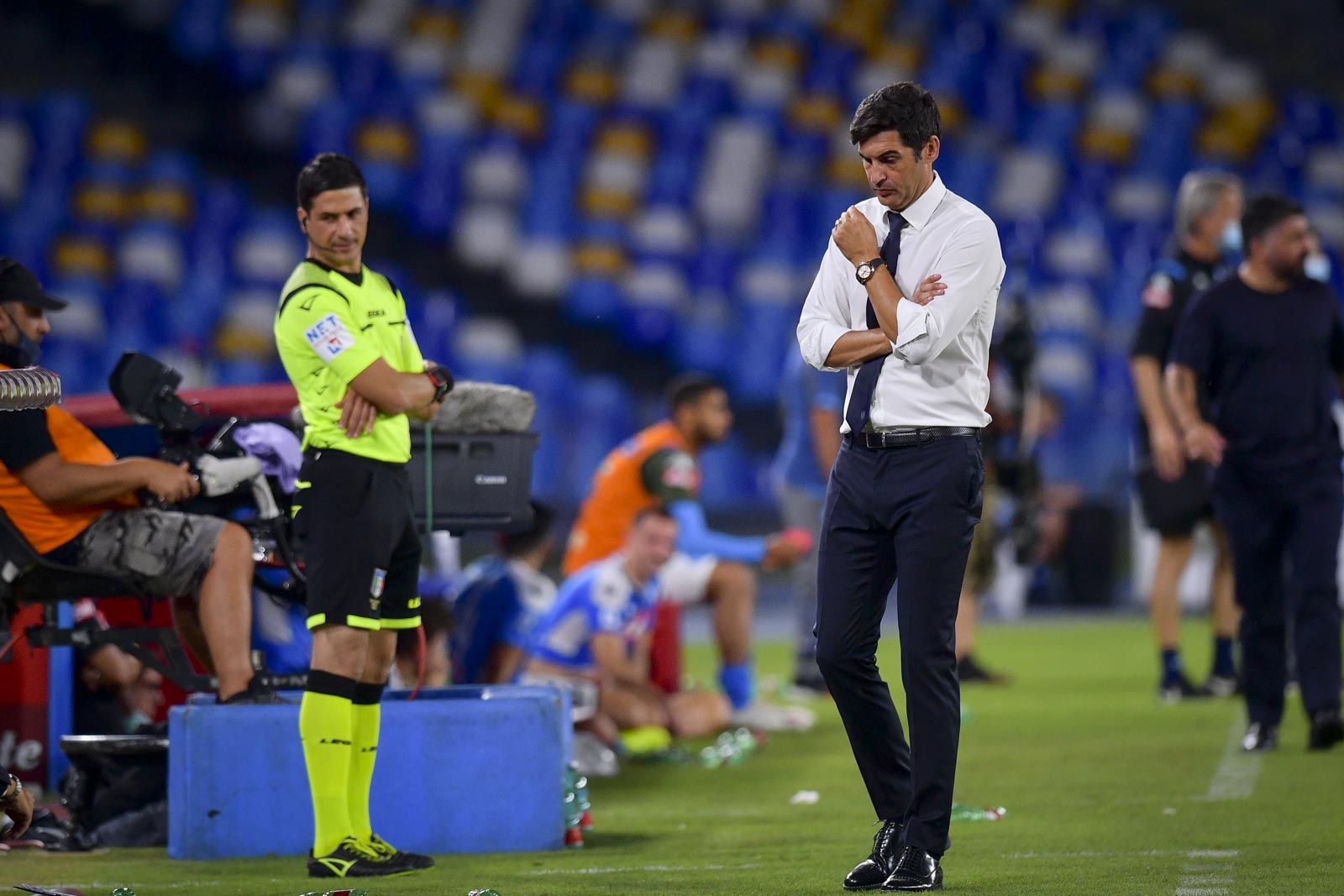 Roma struggles since the restart of Italian football-only continues to drag on last night in the derby Del Sol. After their come from behind win against Sampdoria, they have now dropped three games on the bounce. Losing to AC Milan at the San Siro, humiliating themselves at home against Udinesse at the Stadio Olimpico and then last night falling short in the derby Del Sol. The match on Thursday was one of the worst Roma performances of recent memory everything was out of order, and there was no positive feedback to be given after the final whistle. Despite the result against Napoli, it was a battle until the very end. Roma had beaten them earlier in the season 2-1 at the Stadio Olimpico Roma were trying to avoid dropping more points as Napoli we're going to go level on points with a victory. Even though Napoli dominated possession and had the majority of the chances. An energetic and world-class performance from Pau Lopez kept things in Balance the majority of the game. Despite many great opportunities from Napoli while Roma created next to nothing, the Roman goalkeeper kept things level after the first half. In the second half, it was more of the same, but Roma got a little bit more into it despite a severe lack of a conviction going forward. Eventually, Napoli would break through as Mario Rui picked out a cross for Jose Callejon as Roma finally Beat Pau Lopez to give Napoli a 1-0 lead. Even though Roma was or not providing much going forward, Napoli would not be in the lead for long as Roma had their opportunity. edin Dzeko switched the field with a cross that landed at the feet of Hendrik Mkhitaryan with space and time to operate he beat the goalkeeper from distance to level the scores just five minutes after they had conceded. It had looked like Roma was going to find a way to secure a point that they may not have deserves. Pau Lopez continues to put on a show and stop any threat that Napoli put his way. It was a truly outstanding performance. In the second half, Nicolo zaniolo returned to the pitch for the first time since he tore his ACL in January. Only for Napoli to find a late winner. With less than 10 minutes to go, Lorenzo insigne sends a rocket into the top right corner to give a Napoli a 2-1 lead and the three points. Despite the performance of Pau Lopez, the best player on the pitch, a late strike buried Roma as they dropped their third consecutive game. Despite the results, it was much better from the romanista. The pressure is undoubtedly on now.
Better but not good Enough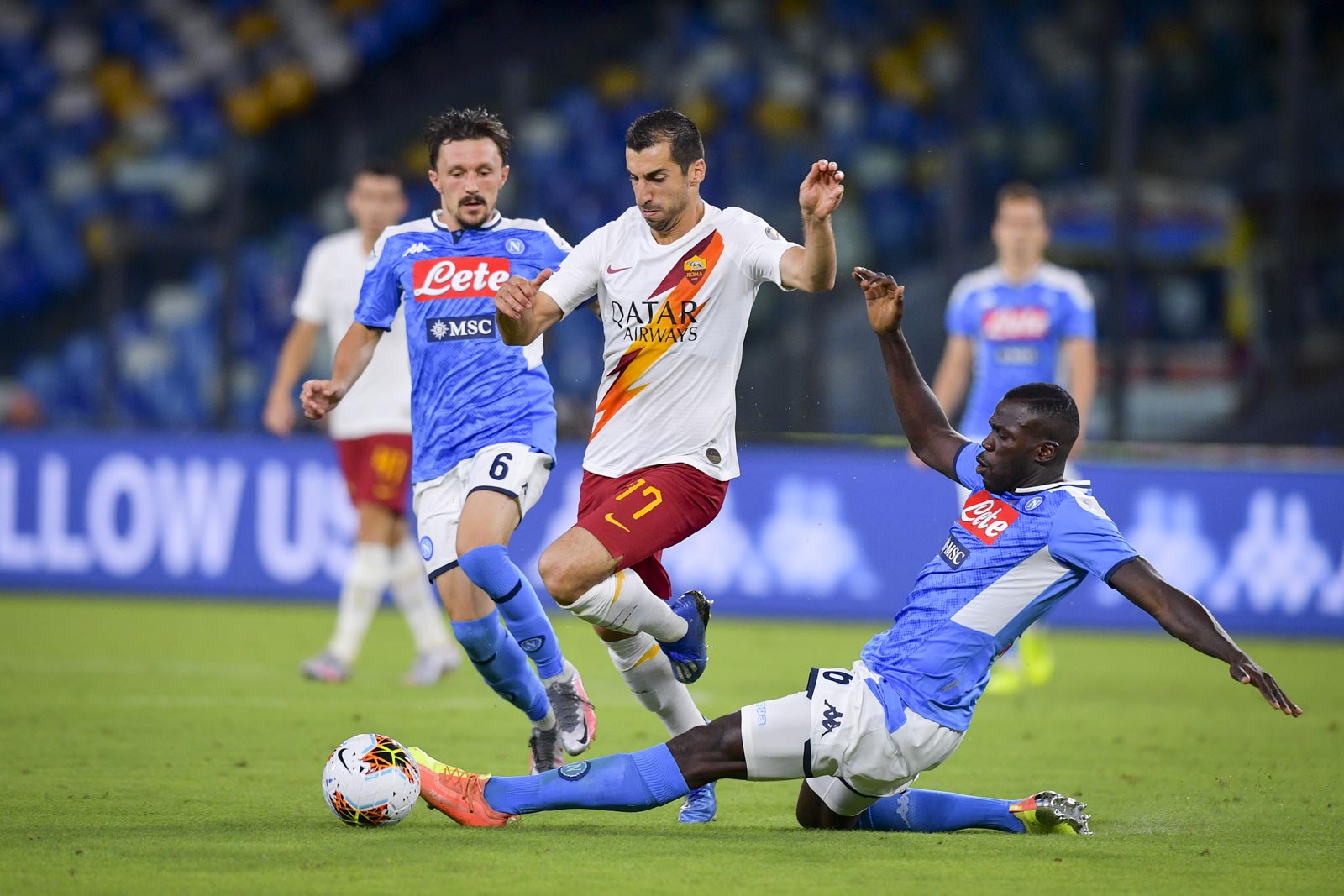 Roma's confidence and momentum were shocked entirely after putting together an abysmal performance on Thursday, on top of the fact that they had dropped two games in a row. Meanwhile, over this time, AC Milan and Napoli both have closed the gap between themselves, and Roma still sits in fifth place despite this result. Roma truly needed a break out display after having such difficulty in their loss to Udinesse at the Stadio Olimpico on Thursday night which they allowed the League's worst attack score 4 goals on them even if two goals didn't count it shows the lack a Killer Instinct and mentality that they had. I expected an incredibly tricky match against Napoli in the derby Del Sol. Even though Roma had beaten them earlier in the season at the Stadio Olimpico, there wasn't much reason to be optimistic about the performance against one of the hottest teams in the league. They were still on fire, having collected twice as many points as they had before Gattuso came in. They were coming off a Coppa Italia victory over Juventus, and just like that, they were cruising since the restart. I thought the possibility of it turning into a bloodbath was highly likely. Roma did much better than anyone really anticipated. That's largely because Pau Lopez was having a game of his life. However, Napoli created twice as many chances as Roma, and it took them until the 82nd minute to really solidify all three points. Napoli scored an opening goal, and Roma responded immediately. For large parts of the game, it did look like Roma could potentially steal the points. However, Roma was just not good enough going forward and did not create enough opportunities to give them a realistic chance to collect all three points. On top of that, there was not enough creativity in the Midfield, which largely has contributed to the result. A much-improved performance, even though they lost it, could give them some momentum based on the way they handled themself. Their next couple of fixtures are crucial; they are now forced into picking up maximum points at least over there next three games. However, it still was not good enough! Roma needs to do much better in the Midfield edin Dzeko can only do so much when the Midfield is not giving the forwards any service. Defensively Roma was better but may have lost Chris Smalling at least temporarily who left injured in the first half. Roma's goalkeeper really came up big for them with that being said Roma must be better defensively and has to create more chances if they genuinely want to get points midweek against Parma they're going to need to improve in those areas Roma are now are on level with points with Napoli and AC Milan isn't far away they're not forced to show what kind of team they are it's my belief we will see a much more energized Roma after an encouraging performance, but Roma still has to do better.
Pau Lopez Heroics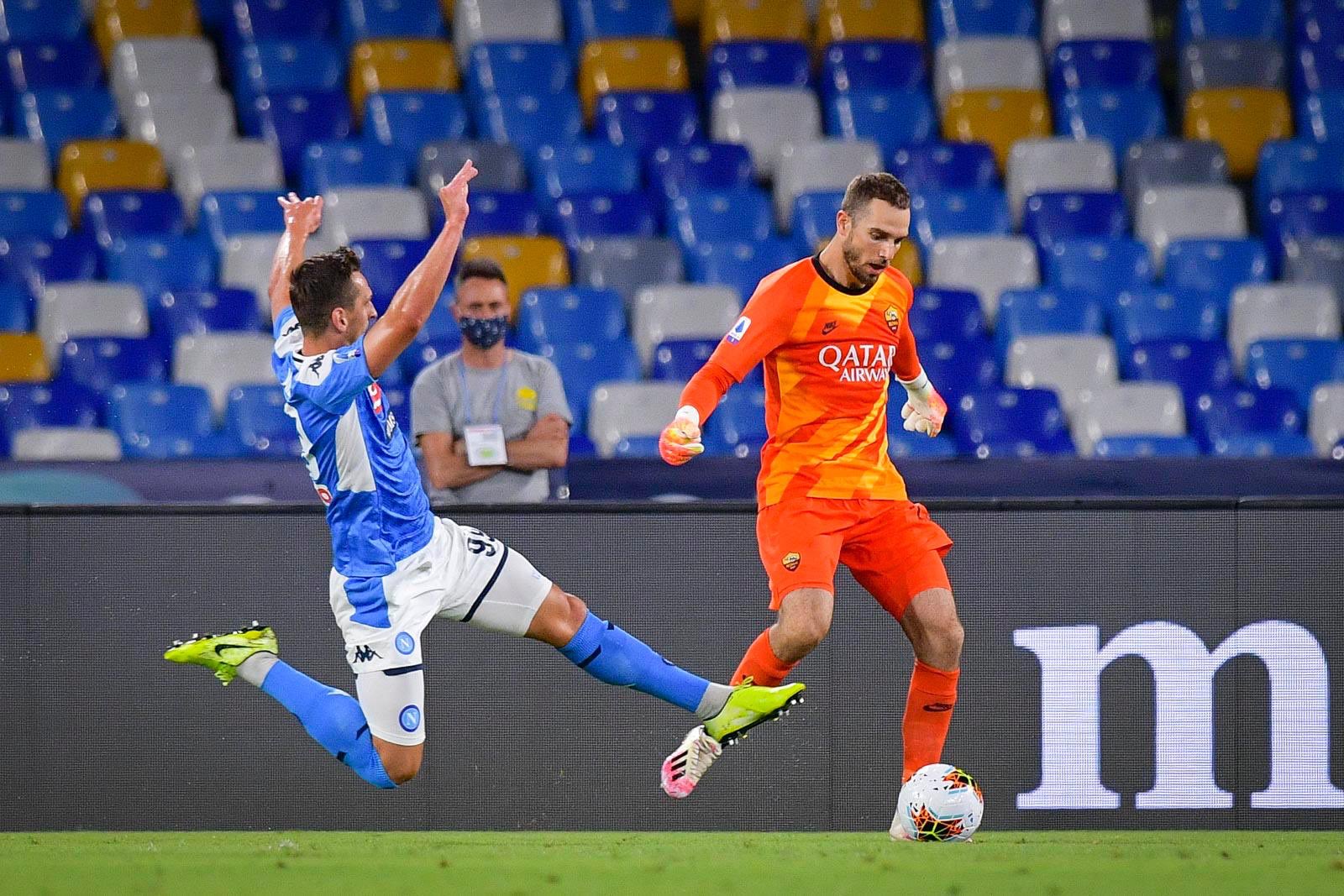 Pau Lopez returned in goal after having been sidelined over the last three games through injury. Last night in Naples, he puts together a superstar performance. The best player on the pitch yesterday, and it's not all that close. Over the last three games, Serie A journeyman Antonio Mirante has been in goal for Roma. Even though they lost two of the three games that he played, the losses cannot be pinned on the 36-year-old goalkeeper. However, there was a specific quality adjustment. Having Pau Lopez back became such a crucial part of why Roma improved. He had just come back from injury and put together one of his best performances of the Season. He has so much potential, and playing like that, and the game against Napoli indeed shows his qualities. He can become one of the best goalkeepers in Italian football. He is relatively and has continued to improve throughout the season. He is only made really one mistake all season, and for the most part, he has been as consistent as any Keeper in the league. Now while I wouldn't call him one of the best goalkeepers in Italy quite yet, he has shown the qualities to become that. Napoli is a murderous attack with Lorenzo insigne who scored a stunner last night, Dries Mertens, who has more Napoli goals did then Diego Maradona and on top and on top of that Milik who can be very consistent. Against a Midfield that featured Fabian Ruiz, one of the League's best midfielders. Napoli is loaded from top to bottom, and they came at the Spanish goalkeeper consistently. He had to deal with a whole lot, and he kept rolling in the game as long as he possibly could. None of the goals that he conceded were on him; he was the one star from yesterday. Outside of his performance, even though Roma improved, he really stood out in the way he performed. He made countless jaw-dropping saves down the stretch. He had he not been at his top-level Napoli would have put the game away earlier his incredible performance forced Napoli into requiring a late winner with less than 10 minutes to go to get Napoli all three points. Last night Pau Lopez was that difference, and that should give Romo some sense of confidence and momentum over the next couple of games when he performs like that it is the responsibility of Roma to do better going forward. I wouldn't say he was betrayed, but the Midfield an attack didn't do enough to bail him out hopefully next week against Parma; the rest of the team will have his back more than they did in a Napoli game. Napoli created so many chances in 90 minutes, and his performance delayed Napoli from putting away the game much earlier.
He's Back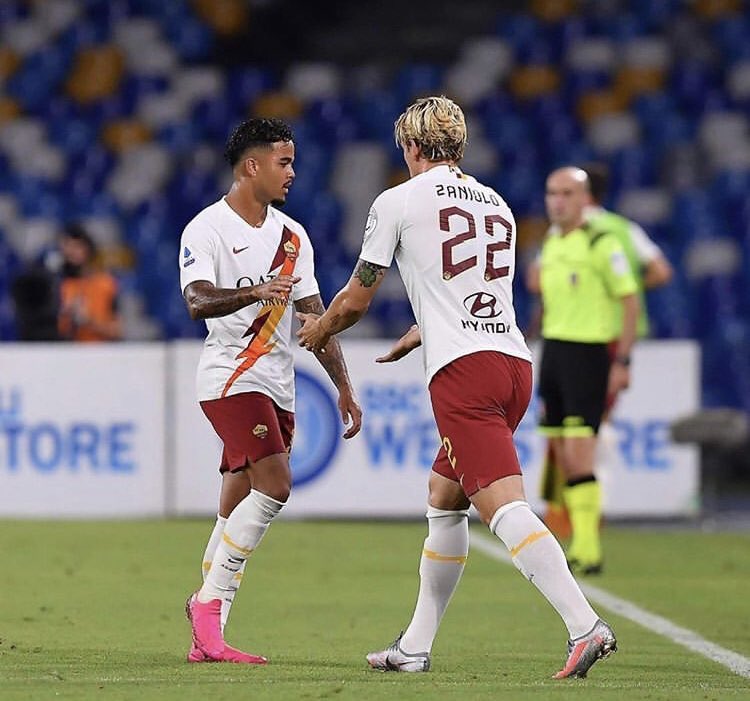 Over the last couple of games, Roma has really struggled with creativity in the Midfield. Lorenzo Pellegrini does provide that on most nights, but collectively as a group, this has been a big reason why they have struggled so much in creating chances at least over the last two games. Roma is a team with weapons in attacking positions; they should be supplying a large portion of opportunities every single game. Paulo Fonseca plays attacking football and has players within his system that provide that for the team. If you look back during other stretches of the season, they have been ruthless on the attack and to have a lack of It kind of neutralizes what Roma does well. Roma needs to improve this as soon as possible luckily enough; the answer may have already arrived. In the second half, Nicolo zaniolo came into the game for Justin kluivert. He only had about 20 minutes up game time, but he did some nice things. It was clear he still has not at 100% or ready to start yet, but he will surely be before the end of the season. I would say he may be able to start next Saturday away at Brescia. If there's one thing, we know about Nicolo zaniolo; he is one of the most creative players on the team. Aside from his talent and his unbelievable ability and potential, he provides a different dimension when he plays within this side. Getting Nicolo zaniolo back will help this team improve massively going forward. Roma can play him on the wing or in central Midfield when he reaches full fitness; they will have a lot of options. Nicolo Zaniolo coming back is a big boost for Roma he had to deal with an ACL injury back in January he has struggled to fight back, but he is finally ready to return to the pitch. Once he reaches 100%, Roma will look much more dangerous than they have. It is so important that they get a player of his caliber back within the team. Nicolo Zaniolo could be a big reason why Roma gets automatic qualification for the Europa League, and on top of that will be a big difference-maker when they resumed Europa League play at the beginning of August. Nicolo Zaniolo returning means everything to Roma.