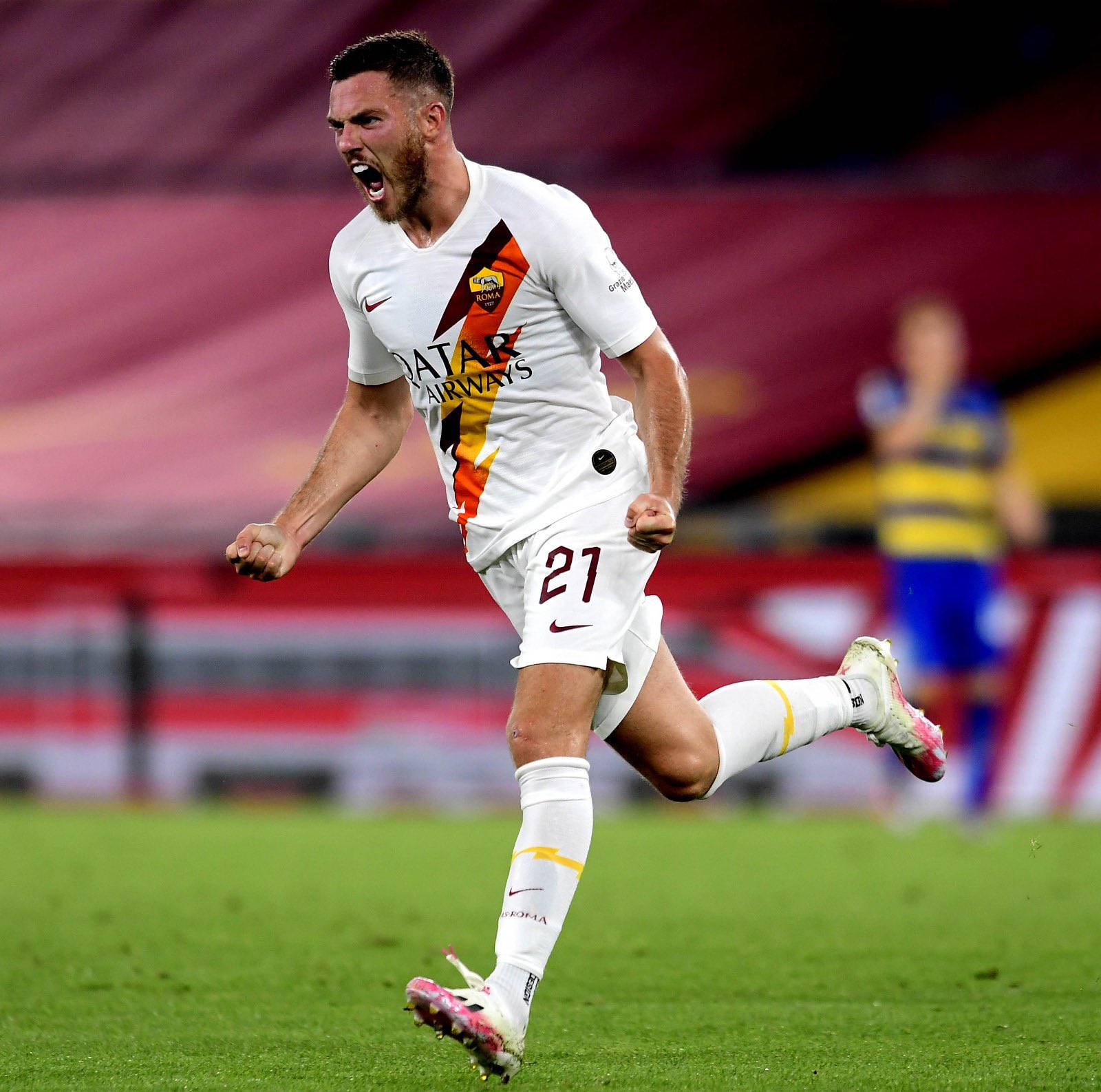 Roma ended their losing streak last night as the club picked up three massive points in what has felt like a long time since they tasted victory. Roma has struggled significantly since the restart of Italian football. Even in the game against Samp in which Roma they struggled in a lot of aspects. Its been a number of bad for performances. Last Thursday being the tipping point in what was a truly horrific display by the Romans against a team that has struggled all season. During this skid AC Milan and Napoli have both caught up, and we're on the verge of passing Roma up. Last weekend against Napoli, Roma still hasn't put it together yet but was much improved from the week before. However, against Parma, it finally clicked. Roma didn't start off this game the way they would have liked. They dominated the majority of the display, and we're the better team showing their superiority even in the early moments. Unfortunately, Bryan cristante conceded a penalty allowing Parma to take a 1-0 lead after only 6 minutes from 12 yards out. After the opening goal from the penalty spot, they hardly did anything to threaten Roma. Parma found it challenging to create a match and even have possession at all. It was a truly dominating performance that just happened to have some Misfortune to start. Roma continued to burn Parma's backline; it was only going to be a matter of time before the Romans broke through. Lorenzo Pellegrini hit the post-Roma was a big threat going forward, something to have lacked over the last couple of games. At the end of the first half, Hendrik Mkhitaryan broke the deadlock scoring for a second consecutive game he leveled scores right before the break. There wasn't much change in the second half as Roma continued to look dangerous constantly. They showed the creativity in the Midfield that pushed the ball forward and even looked respectable in the backline the formation change really did seem to benefit this Roma side who was in search of momentum. Early in the second half, Jordan veretout hit a stunning strike from outside the box ripping through the back of the net to took a 2-1 lead. The chances that Roma created were a big part of why they had success. Even though they probably should have scored on a few more occasions, the Frenchman's strike from outside the box gave Roma enough to secure all three points to win at last. For the first time it since the restart Roma put together a dominating performance that should only enrich the team's confidence.
Change of Formation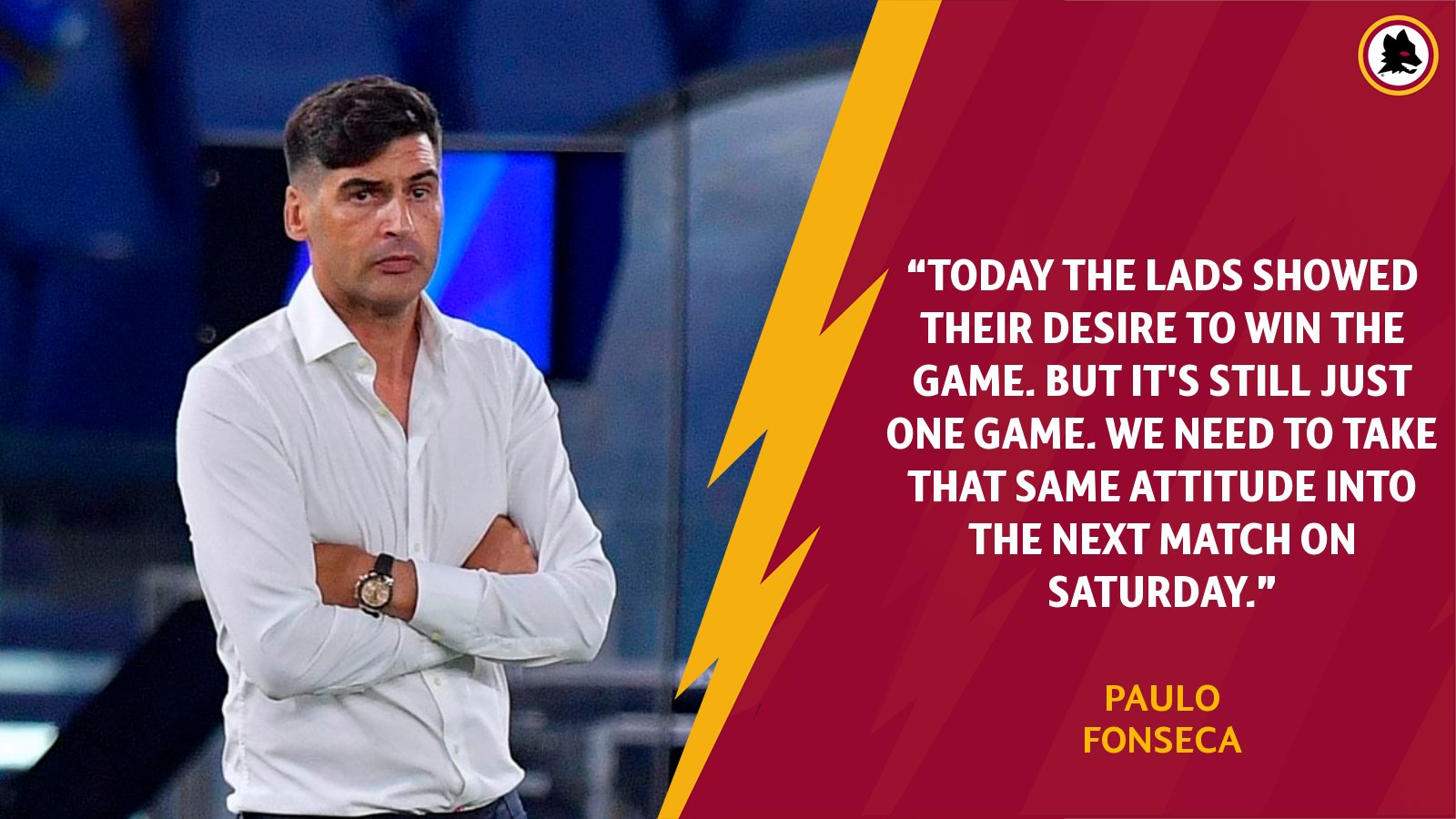 Paulo Fonseca has felt the pressure over the last couple of weeks as Roma statistically is not having a very productive season. Roma may or may not have the team capable of living up to the fans somewhat unrealistic expectations, and the Portuguese manager, unfortunately, has fell victim to that with rumors of potentially replacing him if things don't get better. He hears the chatter but is unfazed by it. Nonetheless, he made a new adjustment vs Napoli and did it once again against Parma. His team typically lines up out of the 4-2-3-1 formation. He has used this all season and only has changed the structure a couple of times so far this year. Against Napoli, in the derby, Del Sole Roma went with the 3-4-2-1 formation. Roma has not played with a back three since 2018 under DI Francesco. This was a risky decision to make, but ultimately it did pay off. Roma was without Chris Smalling last night who has been the team's most consistent Defender. Fonseca opted into playing Bryan cristante at center-back along with Ibanez and Gianluca Mancini as part of the backline; then, he decided to put wingbacks behind the Midfield. This allowed Roma's build a play to come from the backline with Pace on the outside, and Roma was excellent in the Midfield in creating chances. The new formation significantly makes the game easier, notably missing out on certain key pieces; it proved to be important in the way they played in the setup. Against Napoli, it worked to a certain point, but they hadn't really found their identity in front of the new system. Roma made the new formation work, and I suspect Paulo Fonseca will continue to play this way. It Is A little unorthodox to what they have typically done, but last night it proved to work. Outside of the penalty, Roma didn't make mistakes the entire match. This is the first game in which Roma didn't beat themselves the new setup did precisely what it was supposed to do giving Roma a new dimension of creativity, and even though they only had three Defenders, they were covered by the wind backs playing slightly ahead of them which proved to be the breaking point in the way they play. Roma should continue to do this as long as it still works. Roma will have to adjust based on the opposition, but still, I see them sticking with this set up at least for the next couple of games. Roma needs to pick up as many points as so they can to confirm Europa League football next season. This was a good start and doing that.
Improved Creativity Going Forward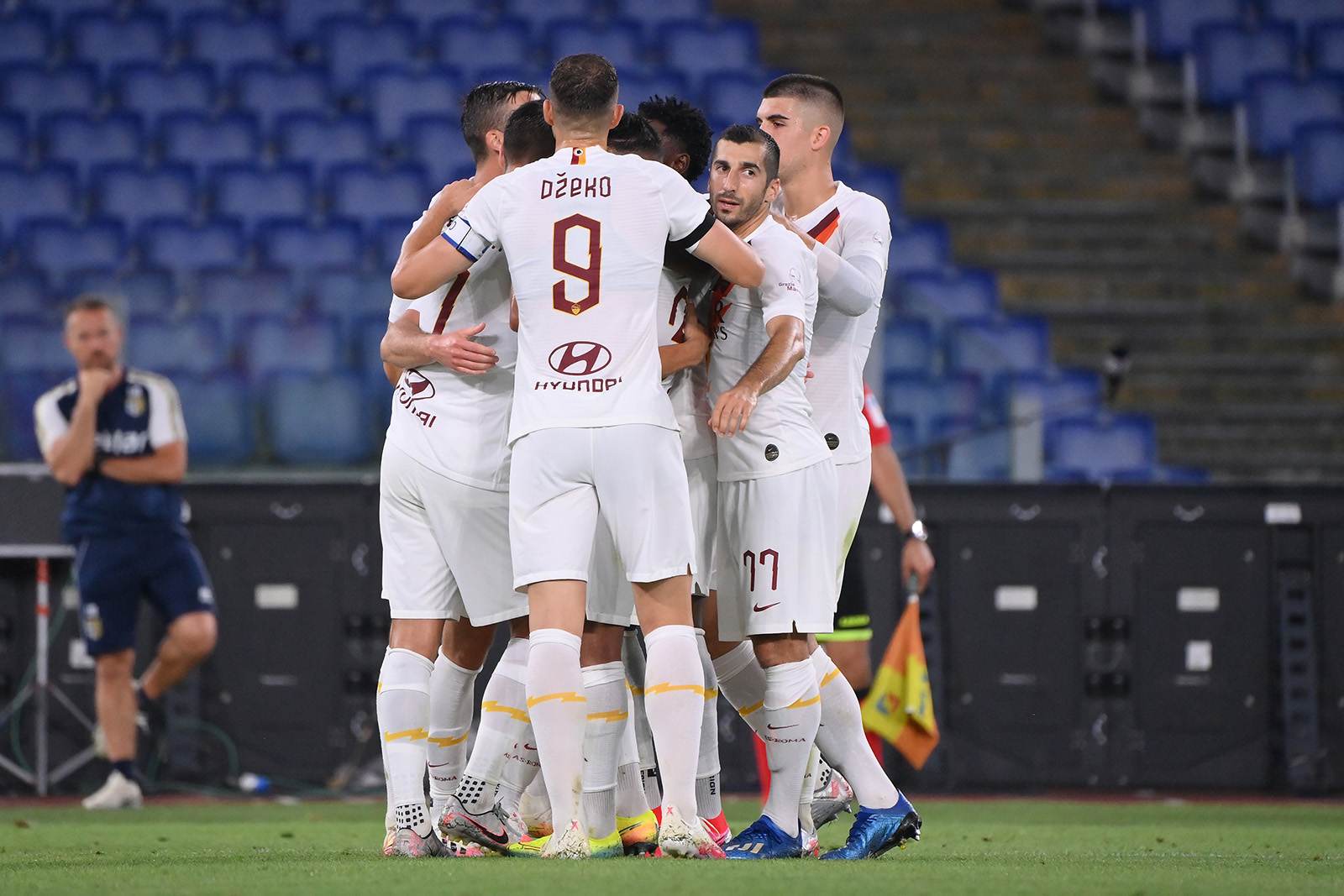 Roma's fixed one of their most essential problems last night in their victory. Against Milan Napoli and Udinesse they were able to provide only minimal creativity in the Midfield and could not go forward very successfully. They were limited in this area over the last couple of games. In games like that, especially Roma needs to play with the attacking mentality. Hitting on the counter is what Roma does best. When they're healthy, and energized Roma can be a severe problem going forward. However, for that to happen, they happen to have a good link-up play with the Midfield to the backline, and as I mentioned within the formation, that very much played into their favor. Roma had to find a way to attack with more aggression, especially when these points are so valuable. Jordan veretout and henrikh Mkhitaryan really showed those qualities. I thought the Frenchman was exceptional all night; not only did he go forward scoring great goal Supply to teammates, but he contributed defensively as well he had an all-around performance. He has been one of the most consistent players for this team this season. The link-up play that he provided with henrikh Mkhitaryan only solidified their control in the game. They were able to connect on the winning goal being on the same page throughout. That only highlighted the Leaps and Bounds in the way they have progressed in this area. When Roma can come forward like they did last night dominating the pace of the game. In matches, they have not played well or being outplayed by a strong opposition; their counter-attack is how they get back into these moments and able to secure points. When Roma struggles to go forward, they can't create nearly enough within their team. Outside of the performance itself, which was nearly Flawless from Back to Front outside of conceding the early penalty, what made it so impressive was edin Dzeko did not have a very good game. He only provided maybe one chance all night. But that didn't matter last night in the Midfield connected with the backline so well that allowed the attacking players in that set up to do what they did. Even Gonzalo Villar came off the bench and nearly scored twice. He probably should have scored at least one of those goals, but again, it's not fair to judge someone after just a few games. However, the way that everything connected shows and displays what this team can be when they fight for every ball. The passing fluidity was excellent, and they were so dangerous on the attack when they are rolling. Roma needs to find a way to recreate the success they had in the attack. Roma can still lose games, but if Roma can get forward and attack, they won't beat themselves. Sometimes Roma can be outplayed by a better team, but Roma can't beat themselves, and that is the most significant point out of all of this. If Rome were going to lose, it has to because the other team was simply better on that day. Roma cannot continue to put themselves In harm's way. As long as they have enough creativity through the Midfield and its supplies into the attack, they will always have a puncher's chance in every game. The Rarity of the performance yesterday was edin Dzeko was pedestrian; he didn't do much whatsoever. That's not going to happen very often as When Roma clicks the way they did through the Midfield and in the attack when edin Dzeko is at his best; this team can be even more dangerous than they were last night. The biggest issues have been defensive mistakes and the lack of conviction in front of the goal. Last night Roma created a lot of chances, and the Defenders were nearly mistake-free. Last night really showed what this team can be when they're firing on all cylinders.
Momentum Engaged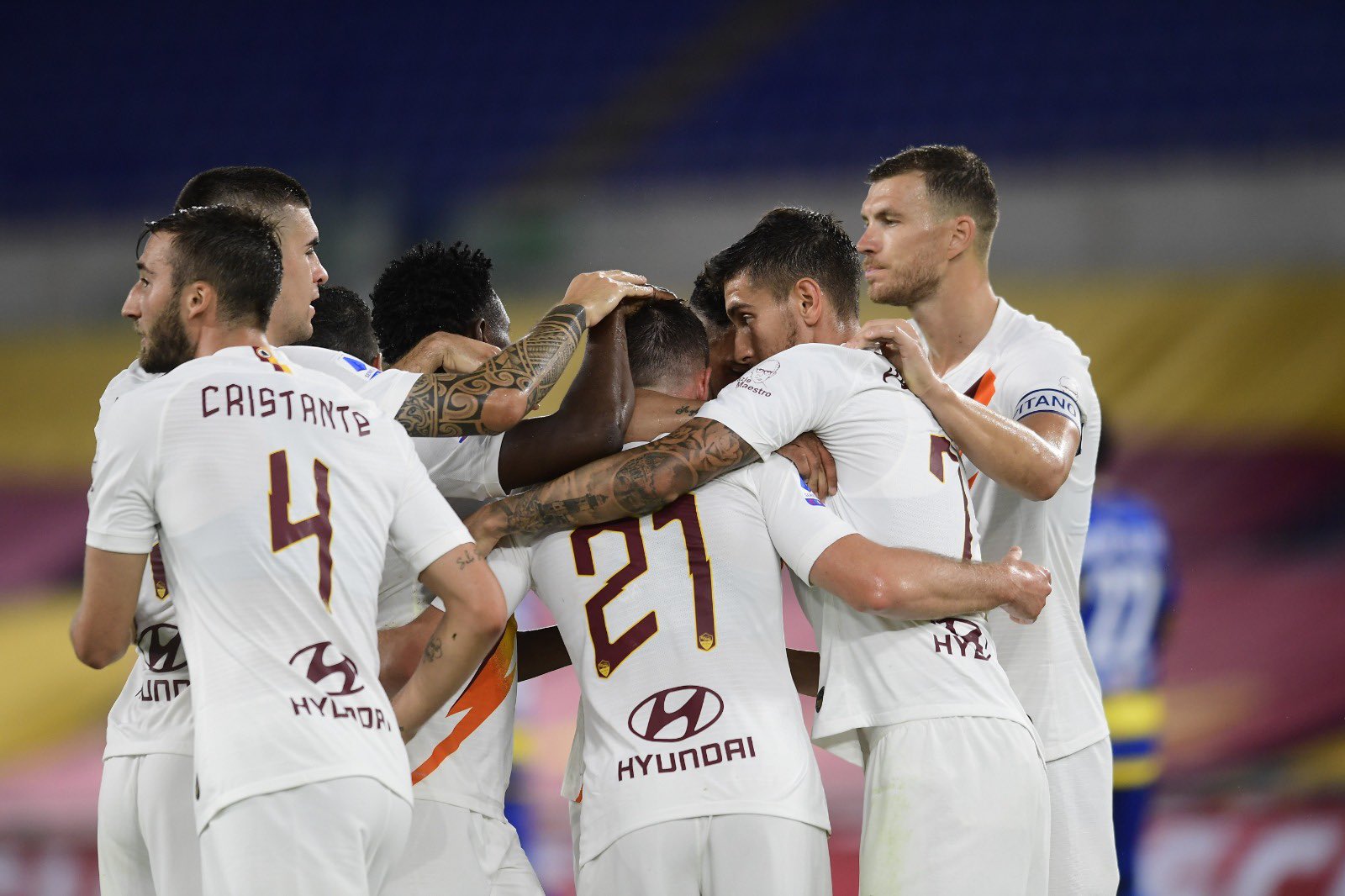 Roma required performance of desperation. Earlier in the season AC Milan & Napoli, we're so far from Roma. No one even thought of the possibility for them catching up. 5th Place seemed to be all but wrapped up months ago; however, certain things have changed in those two situations, and they've caught up, which puts Roma in a bad situation they almost are forcefully needing to win these games. For Roma to stay on pace with Napoli and keep themselves at arm's length from AC Milan. Earlier in the week, it wasn't clear if they would be able to do that. It was a performance of redemption. Roma and Napoli are equal on points, but Roma still has the advantage. Meaning they have to continue to win games as long as Napoli continues to win games. Meanwhile, AC Milan or just two points behind both of these teams are within Striking Distance of taking the 5th position. This is what made the three-points last night so valuable. Roma showed that they could perform when they need it the most. They showed everyone what kind of team they can be when they're at their best. Last night was nearly Flawless, and that wasn't even at their best. Once everything clicks together, this team can start to create distance from the two teams that are currently chasing them. Europa League may not be a sexy competition but Roma should try to keep their spot as it is. It was a win, at last, Napoli may be the better team but if Roma is playing high on fumes and take momentum and confidence Not only last night but the game against Napoli can Coast through the next five or six games without a blemish on the record. It is not needless to say that Roma is capable of winning the rest of the games on their schedule. This lousy string of games can undoubtedly become a wake-up call for Roma. this is only the beginning of the journey. Roma has to play Inter Milan at the Stadio Olimpico and then Juventus to end the season outside of that they are capable of picking up maximum points and all the rest of the games. On top of that, it is possible they could steal points in those two big ones. Those two matches will Define the season. For the first time since the restart, the team has confidence. They did it for one game; let's see if they can keep it going. They face 19th Place Brescia and Verona over the next two games; both teams are not in good form and could pick up maximum points. Then they have a tough match against Inter and after that, they should be picking up a victory until the end of the season. Roma with the results put themselves in a great position they have to keep it going because of Napoli, and AC Milan will continue to play well Roma can't wait for them to drop points they have to take care of their business and then whatever happens happens..