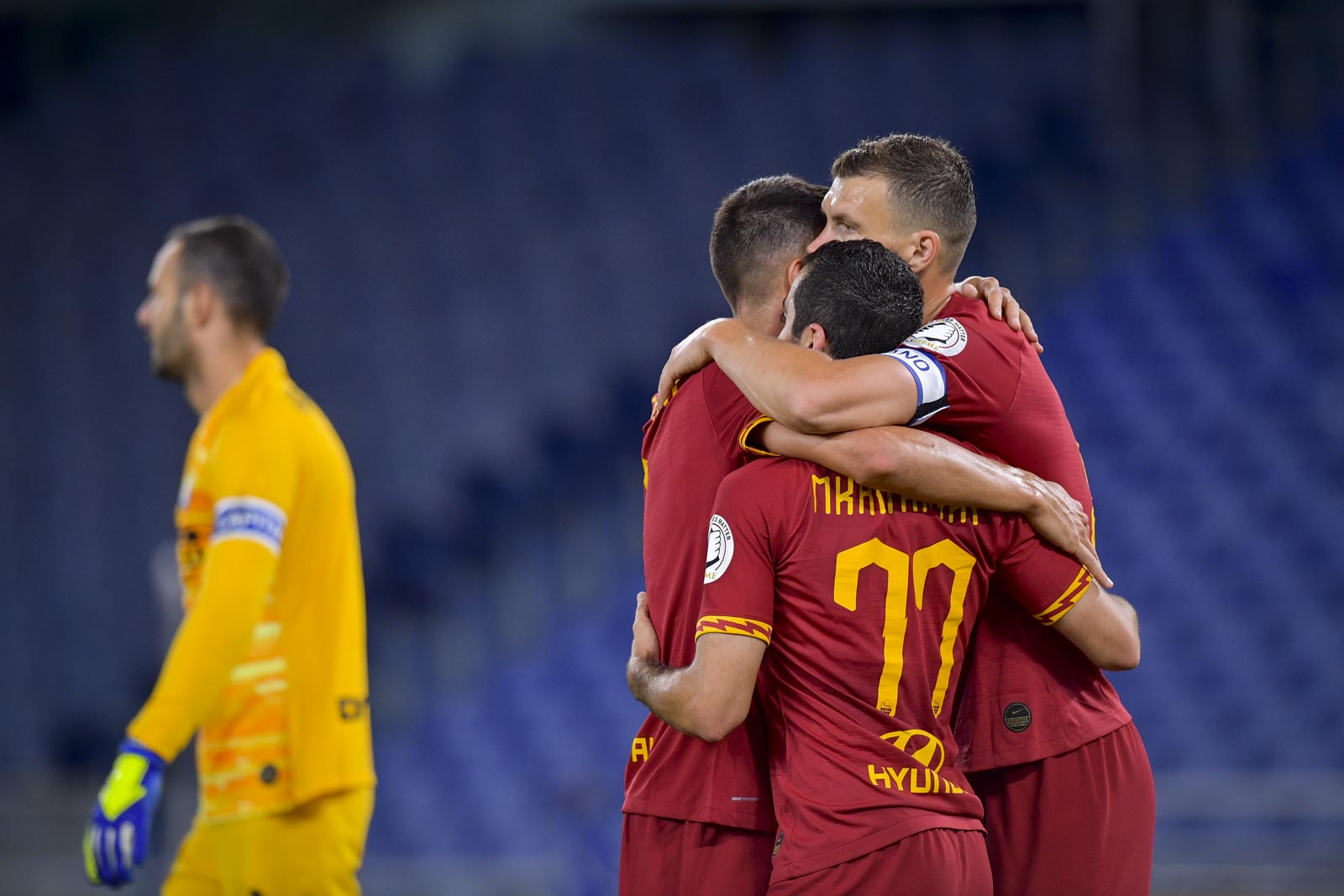 For what they got. Last night we saw a thrilling battle at the Stadio Olimpico between two teams that are not of one another. This matchup has always been a thrilling rivalry one that Inter Milan historically has dominated, but none, the less Roma, have had their moments against Inter Milan. It was a climactic battle between two Italian football heavyweights. Both teams had some momentum going into the game, but Roma had picked up more quality wins. Last night Roma came in slight favorites and looked like the much better team recently only intensifying the battle. Roma is in a tight Europa League Race So, three points would be essential but at the same time and to Milan for trying to get themselves back into the title race even if the odds were stacked against them. It was an incredibly exciting game between two teams who desperately needed two points. Inter Milan struggled throughout this game, but they were the ones who managed to strike first. It was an outstanding defensive performance, but on an early corner kick, Roma made a mistake as Kolarov did not pick up Stefan de vrij at the far post as the Dutch Defender converted a header to give Inter Milan an early 1-0 lead. There weren't a lot of chances in the opening half, but Roma did seem the superior side despite conceding first. Missing opportunities could have changed the result its something that needs work on. Roma still pushed forward; they attacked & looked fantastic on the break. The movement was exceptional, and throughout the 90 minutes, they were much more effective in their passing and their point of attack. They overwhelmed Inter's backline outside of Stefan de vrij's goal; they seem to really struggle with the trio all that in Dzeko, Mkhitaryan, and Lorenzo Pellegrini. Inter Milan young star Bastoni seem to be out of sorts and, at times, even looked a little lost. He is exceptionally talented with a big ceiling, but he did not look very strong defensively as he was ripped apart by henrikh Mkhitaryan. At the very end of the first half, Roma got out on the break, and edin Dzeko and Mkhitaryan hooked up before laying it off to Leo Spainazola, who struck from inside the box with the help of a deflection from Stefan de vrij Roma got the equalizer. In the second half  Roma, we're in complete control and just displaying a different level of quality then Inter Milan. Before not too long, Roma got on the break once again. Just like the first time in to Milan couldn't do anything about it. The trio of Pellegrini Dzeko and Mkhitaryan got inside. Dzeko took a touch as well as both the Bosnian and the Armenian tried to strike at the same time. Ultimately Mkhitaryan Connected on the strike as the ball ripped through the roof of the net to give Roma a 2-1 lead. Roma's really dominated the second half and seemed to have control throughout; however, Roma missed some big chances down the stretch that would ultimately, in the end, seem to be the difference in the results. In the closing moments of the game, Leo spinazzola conceded a dumb penalty, and romelu Lukaku step-up from 12 yards out to earn Inter Milan a point they absolutely did not deserve. Roma was a better team throughout. They deserved all three points; it's a shame how everything ended as Roma sincerely outclassed a stronger Inter Milan team. Roma lost two points, and Inter gained a point that was not deserved; they were the second-best and every aspect and didn't earn a single thing from this game. Despite the way, it ended Roma will only build on this in what was an otherwise spectacular performance.
Late Penalty Throws the Game Away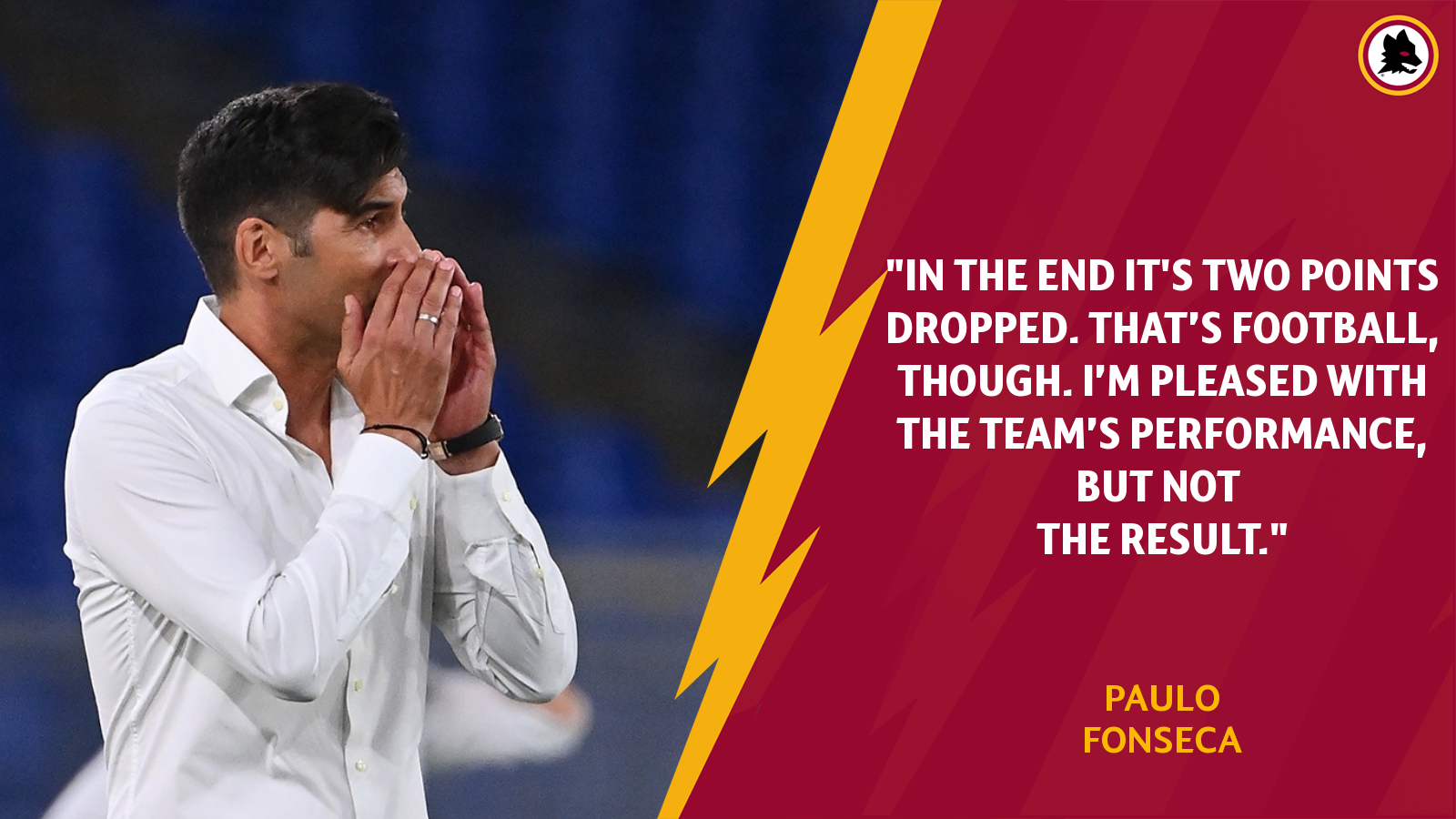 Roma was minutes away from taking up all three points in a big match against Inter Milan. At the very end of the game, Leo spinazzola made a catastrophic mistake that cost Roma. A late penalty allowed romelu Lukaku to get Inter Milan a point they certainly did not deserve. Roma was the better team throughout the 90 minutes, and the result was incredibly harsh. Roma had control, and we're far superior much of the game even though the game did not supply a high level of chances Roma had more than enough to get it over the line. Leo spinazzola cost Roma the call itself while I believe it was probably the right decision; there were questionable motives around it. Leo spinazzola cut into the box before trying to send it away. The defender should have just gone around instead of cutting back inside. If he had done that, I'm not sure we would have been in this situation. When Leo spinazzola conceded the penalty without the ball in the area. He missed time the ball ended up striking Victor Moses in the leg. It was certainly a foul, but it may have been an indirect freekick. Leo spinazzola created this mess, so ultimately, the result doesn't necessarily look different. Given the nature of how everything went down, it could have been called as an indirect free-kick from inside. A very similar play occurred many years ago in La Liga when Cristiano Ronaldo collided with the foot of a Sevilla defender. In that situation, the indirect free-kick was given. Last night it was a straight penalty. I'm not saying it was not a penalty, but I think it deserves an extra look because of the nature of the play. However, we wouldn't be talking about this if he didn't cut inside; there was no reason to do that. It's a shame because he had such a great game before that. This mistake gifted Inter Milan a point they definitely did not deserve. I don't mind the call because his actions cost Roma regardless. 
Antonio Conte's Lack of Adjustments (Inter Didn't Deserve a Point)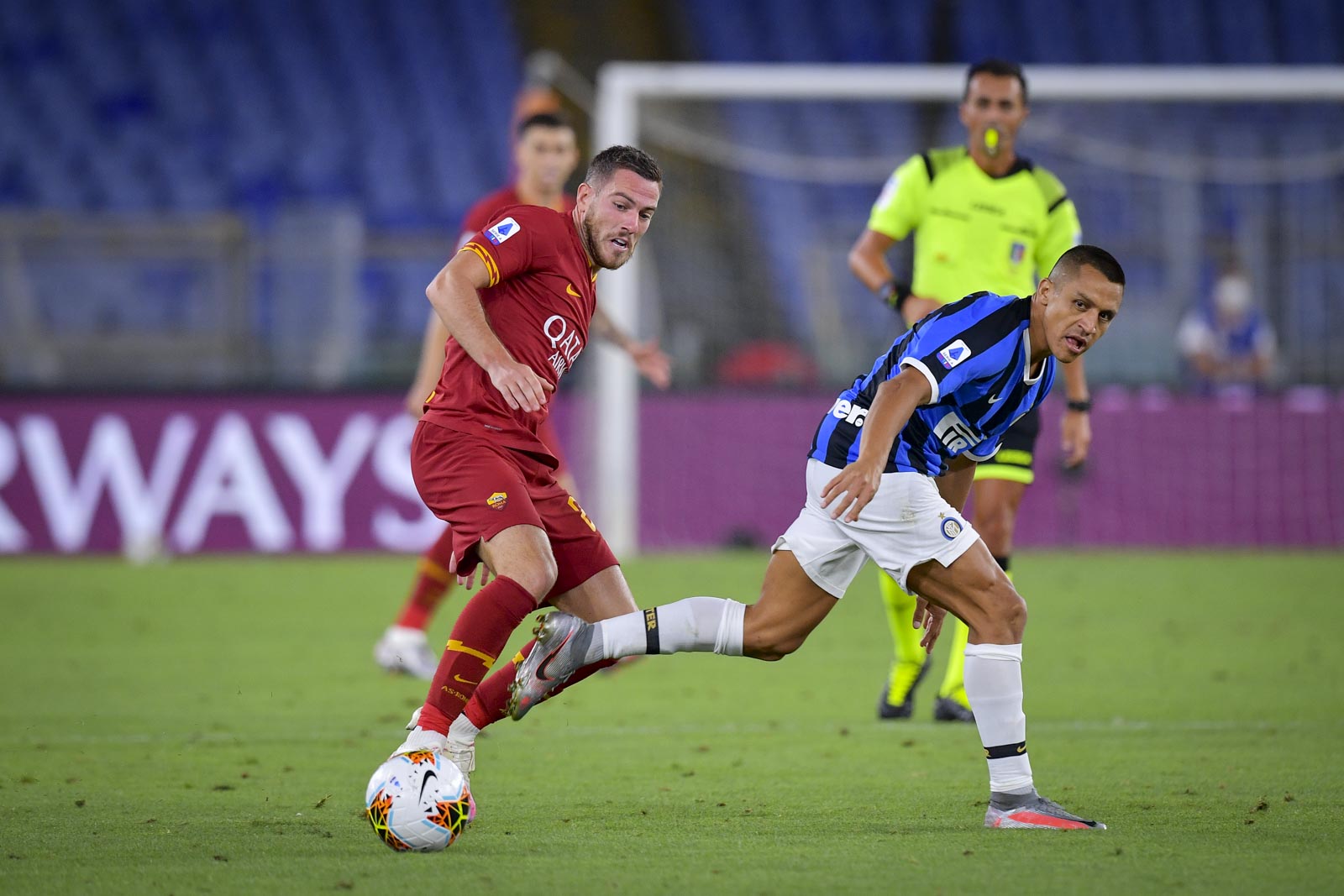 Roma outplayed one of the best teams in the league. Inter Milan is not in their best form right now that has been evident over the way they have performed the last couple of games. However, just in terms of the talent that they have on their team, they are on paper one of the best teams in the league without question. They're going to get back into the Champions League next season and are one of the favorites to win the Europa League. This is a very strong team; however, against Roma, they were just a second-best in every aspect that you could think of it. Their attack was more or less non-existent; they had a few chances, but it was nothing consistent that they could put together. Roma did miss their opportunities in this game to really make the score look much more lopsided than it actually was. Inter Milan, we're lucky to get anything. They did not deserve a thing from this game; they had practically no Advantage. The buildup in their attack didn't scare anyone. Defensively, they look exhausted and disorganized. It really was just dumb luck that they managed to get anything. Inter Milan's problems start and end with Antonio Conte. You could see the significant differences between the two managers. Roma dropped three games on the bounce to start the restart they have typically operated how the 4-2-3-1 formation this season. Paulo Fonseca ended up making adjustments going into a back 3; they are a different team since making these changes. Meanwhile, Antonio Conte refuses to change his formation under any circumstance even though everything that happened here could have been adjusted. Also, it's the lineup choices. Nicolo Barella, when healthy, is the team's best player. He came back from injury yesterday and return to the starting lineup it is clear he's not quite at 100%. All Things Considered, I think he did a relatively good job. I'm not going to criticize him for that one. However, Biraghi has been an exceptional form, and he took him out and put him on the bench ahead of their biggest match of the season. He made send unique adjustments that certainly didn't work out. Starting Martinez was not only a disaster but a mistake. Romelu Lukaku also returned from injury, but when he came on in the second half, he looks dangerous; there was a sense of fear about him as there usually is. Roma had no problem dealing with Alexis Sanchez and Martinez together. Martinez just doesn't have his mind right lately; he did play well against Torino. But he seems to have taken his eye off the ball with Barcelona and Manchester City interested in the services. Inter fans have criticized him for not performing well and for not trying. I do believe he showing effort, but he's not in a mental state of mind of being beneficial as a starter. He provided nothing, and on top of that, he spends most of his game on the floor. It just was a forgettable performance, and the team should be celebrating that they got the point at all. Beyond that, I thought Stefan de vrij did well, but the backline is a problem. Bastoni is a super talent and has the potential to be one of the best defenders in Italian football. However, he was utterly dominated by Mkhitaryan. At times he looked lost, and his inexperience showed. Starting him, an was a mistake by Conte, and even after the mistake, he wasn't able to adjust. I think he is excellent going forward but very Hernandez like he's a not a factor defensively, but he still has those qualities. He seems more motivated to improve his defensive abilities, and I think he's going to be a tremendous player, but his performance left something to be desired. He looked was overwhelmed. On top of that, Milan skriniar looked slow, and unathletic Inter Milan have more issues with their defense than they care to admit there formation it does not suit this team It just was not the performance Inter Milan needed. They should be so grateful for what they got from this game considering the performance. 
Must be more clinical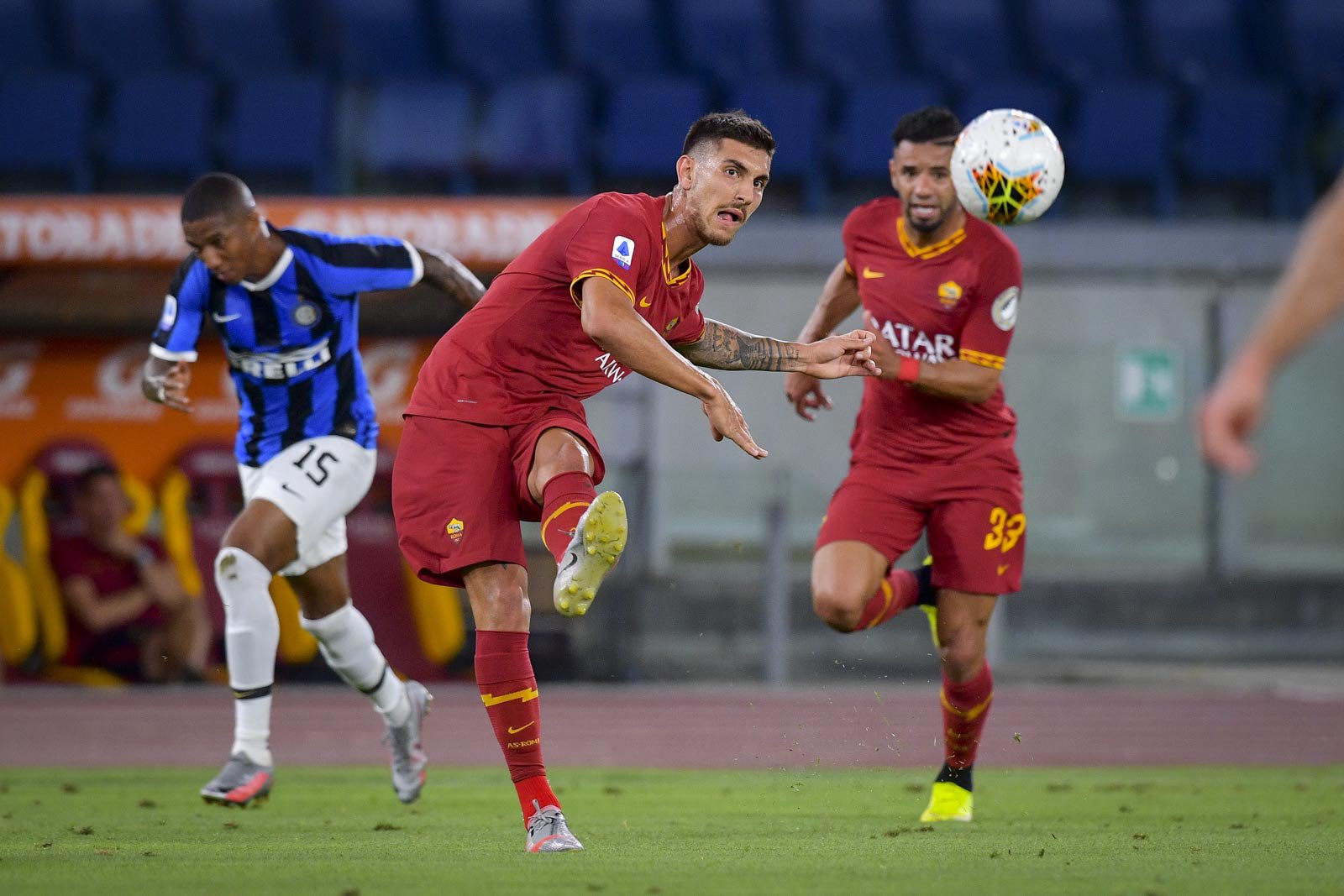 The result may have been frustrating, especially the fact that Roma was the better team and did not deserve to drop points. However, all things considered, it was a really outstanding display; there aren't too many negatives to take from this game. However, I do believe the negatives did cost them points last night. It's something Roma can improve on, but it positively could have affected the final results of the game last night. Defensively Roma has been superb a much better team since they changed the formation; however, on the corner kick to start the game, Alex Kolarov left Stefan de vrij unmarked and wide-open which ultimately led to that first goal. Then you look at the end of the game, Leo makes that big mistake and Inter end up being able to salvage a point. Those are two mistakes this team cannot make in those situations. Both very costly at the beginning of the game and at the end of the game. Being mistake-free throughout some games will really help them going forward. Roma just can't make those mistakes in those situations in crucial moments; that's a big reason why the game ended up in a draw that Inter Milan didn't deserve. This game, Roma should have collected all the points. The biggest issue I have seen in games like this isn't Roma's ability to create. They got the creativity when Rome is at their best they are some of the League's best teams in terms of the creative aspect. They've done exceptionally well in the defensive Midfield all the way up to the front. The problem is executing them. In all honesty, last night's games didn't have a ton of chances. Still, they have more than enough, especially on the break because Mkhitaryan Edin Dzeko and Lorenzo Pellegrini were a nightmare to deal with Inter just had all kinds of issues with them. The problem I have is Roma, unable to make those chances count. Roma should have scored at least another two goals based on the opportunities they had. This isn't the be-all-end-all for Roma because it was a tremendous display, but moments like that or the reason why Inter Milan managed to stay in the game. Rome absolutely cannot let these big game chances slip, especially in a game like that against a really tough Inter Milan team. In the smaller games, Roma can afford to miss those chances in these games they absolutely cannot. Roma beat themselves mistakes they made and the lack of conviction. They just seem to struggle in the final third and especially with clinical finishing ability. The fact of the matter is if Roma doesn't make these mistakes in big moments and are just have a little bit more of a Killer Instinct in front of goal, they are a great team. Many teams are more talented than Roma, but at their best when everything is firing on all cylinders, they are a huge problem. In those situations, Roma just needs to finish those chances. Because what happens is when you don't finish off the game, you leave goals on the table, and then points can be dropped anyways. I don't think anyone's at fault individually. I thought Dzeko Mkhitaryan & Lorenzo Pellegrini, the defensive Midfield, and the backline all played exceptionally well. As a group collectively, they just need to do better, finishing the chances that they're creating. If they figure these things out, this will be an incredibly dangerous team that will give all sorts of problems to their opponents. If Roma can deal with it and fix it before the Europa League but have a puncher's chance to win it. Roma needs to stop beating themselves, and I'm not degrading a performance because it was outstanding. Still, Roma just got to finish those big chances if they do this conversation is entirely different.