Paulo Fonseca: The Rebirth of Italian Football In the Capital 
Roma had completely rebuild the team from the previous season. They had a different sporting director they changed the manager there was a lot of move around in terms of players and personnel it was going to be the first year without Francesco Totti and Daniele de Rossi and there was still a lot of controversy in regards to James Pallotta selling the club. Now that is all been sorted out since with the club recently being sold for 700 million but with all that being said it was a tough situation to go into. Roma needed to find the right manager to take them to the next level or at least take them through this next phase. They looked at Sassuolo's Roberto De zerbi, Bologna mihailovich, and Shakhtar Donetsk manager Paulo Fonseca. Roma went with Paulo Fonseca a team that Roma knocked out on the way to the Champions League semi-final in 2018. He had won the league in the Ukraine every year he had been there and on top of that, he beat two of the best attacking sides of the last decade in the Champions League his side ended up beating Sarri's Napoli and Pep Guardiola Manchester City he is a manager that has always done tremendously well in European competitions and is Tactically tremendous with the intelligence and mentality to adapt into certain situations as we have seen this season. Paulo Fonseca didn't take very long in the way he started to build this team. He ended up bringing in players that's fit his system there may have been better players on the market that he could have gone for but he was building a team from his ideology putting in the right players to make this team effective. Now the expectations were completely unrealistic but the expectations that I had for them he delivered on everything. I asked for attacking football to return to the stadio olimpico. When it comes to attacking football Paulo Fonseca is a genius. He knows how to play and how to use his team against his opponent. He was famous in the Ukraine for the way his team that attacked. Under the previous managers, none of them really had the attacking mentality. Even though Luciano spalletti side broke all kind of records and was one of the highest goal scoring teams in Europe at the time it was largely due to the players he had not by the way he played football. Luciano spalletti football was exciting and entertaining to watch but his mentality wasn't completely down to attacking football. Paulo Fonseca brought a very different level of attacking football. Roma had internal issues and things they needed to work on so we didn't always see Paulo Fonseca team at their peak. However, when they were riding momentum they were incredibly dangerous going forward. On the counter-attack they were vicious this is something that we hadn't seen at the stadio olimpico for quite a while. Now with all that being said, Fonseca doesn't have his complete team right now but he had a portion of it and he made the best out of the situation it takes more than a season to truly figure out what you have and what works the best in the system. He did change formation once in awhile especially late in the season he brought the attack back to the capital. He used the entire team to push forward largely relying on Nicolo zaniolo, Mkhitaryan, Justin kluivert at times, and Lorenzo Pellegrini to pinpoint their attack. Most of their team seem to have the best year of their careers at least recently. Justin kluivert was not really used to since the restart but he took a big step in his second season in Italy I find it unlikely he will be back next season but you can just see the impact he has had. Then you look at Nicolo zaniolo who only continues to be one of the best prospects we've seen in Italian football in recent memory. Lorenzo Pellegrini became one of the most dangerous passers in the league and edin dzeko got back to playing at the world-class standard that we missed from him last season he missed a lot of chances but you know what he was a completely different player this season and that is largely by the way this side played football. When they are going forward and have Security in the back line and the defensive Midfield this is a team capable of winning trophies. That didn't happen this season but nonetheless, he did a sensational job in this campaign. Beyond attacking football he progressed this team in every way imaginable. The team was not expected to make the Champions League but he has this team believing next season they might be able to get into it. They improved in so many aspects and that down to the manager Paulo Fonseca has been fantastic in Italian football the numbers say what they say but the way the team has operated since he's taken over he seems to have all his ideas in the right place and with a little bit more time he can make this team into a monster. Maybe not to the level of Atalanta but this team could potentially become one of the most incredible attacking sides in the country. That's the type of manager he is he has the mentality of that and his teams operate towards that. He also fights for his team and has displayed himself as a true Roman. One of the most fascinating parts of the season has been the attacking football we haven't seen a team with so much Firepower in the attack in many years this is not one of the best teams we've seen by no stretch of the imagination but we haven't seen a Roma team play this kind of football in a long time with time this is going to a juggernaut they potentially can become that with Paulo Fonseca and the way his teams play. Roma took one steps back to take two steps forward with the signings that will arrive Roma have a great shot at getting back to the Champions League next season and potentially in the near future returning to the title race that's the type of impact he has made in just one season next season will make an even bigger step towards that.
Young Talent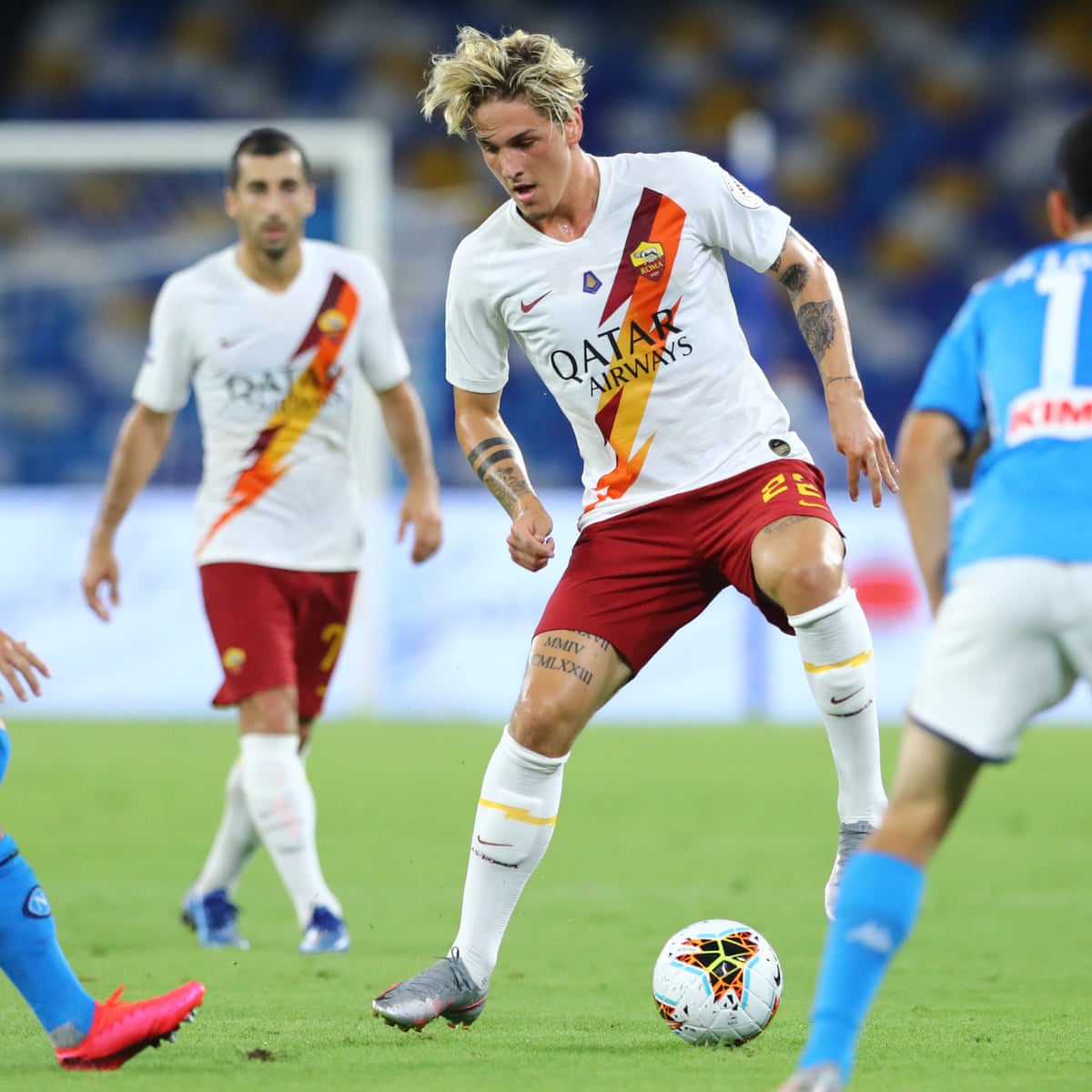 This was one of the positive from last season and it's going to be one again this season. The resources of young Talent that Roma has is absolutely insane. From top to bottom Roma have so many potential stars or impactful players from the ages of 24 and younger. It really is a spectacular thing to have for a team in a rebuild. We have seen the progression from the majority of Roma's young players and continue to see a promise to the ones that haven't quite broken into the team in the fullest way. Justin kluivert might be heading for the exit door if Roma get a big enough offer Arsenal are currently interested in. It's unclear whether or not he will be here next season I'm optimistic and hope he will but I have my doubts. Nonetheless, the jump he made in his second season is absolutely incredible. He has been one of the best youngsters in the league the problem has been his consistency is he can just be a little bit more consistent he can be much more valuable. The Dutchman may not really fit into Romas new system but you know what he has been incredibly special this season. He has scored in the league and in Europe showing his versatility. The Dutch youngster became a completely different player this season he only scored two goals in all competitions last season this year he scored 7 goals in all competitions while that may not sound like a ton the way he is impacted this team especially when it comes to counter attacking football has been tremendous. There may not be a more skilled and athletic Winger in the league when he had the ball at his feet and is running nobody catching him he has a lightning speed. He's not the most talented youngster on the team but my god he has quality. Lorenzo Pellegrini has made an even bigger step he has been a really special player and you could see it at the end of last season this year he's been a completely different animal. One of the best midfielders in the league when in from When Roma is clicking and look frightening he has developed into a world-class passer and is truly one of the best young players on this entire team. When he's not playing they just don't seem to be the same. He is one of the pinpoints of this Roma future and is a likely to be a future captain of this team. A Roman born player who has the qualities and the intelligence to be that guy currently Roma are set to hand himself a new contract to reaffirm their belief in the attacking midfielder. He does everything well he has some defensive ability and he can push forward and Supply excellent passing to his teammates. He's not a goal scorer and once he has that to part of his game they will be a completely different monster for what he's capable of doing. Roma signed Gonzalo Villar and Carles Perez from Alche and Barcelona respectively. These two arrived in January both are under 23 years of age. Gonzalo Villa really seems to be the future in the defensive Midfield he is going to force Roma into selling Bryan cristante. The young Spaniard has been really special he is only play a limited amount of game but when he has played he has shown the ability who starred in that defensive midfielder role. Definitely, one you want to keep your eyes on for the future. Carles Perez also has only been at Roma for a short amount of time he scored an important goal in the Europa League that got Roma into the round of 16 and has recently scored his first League goal. With an entire season under his belt, he has the potential to take an even bigger step in his first full season with Roma. The options they have in regards to Young Talent is insane. There's also a Riccardo Calafiori who starred in Roma's season finale Victory against Juventus was excellent on his debut he is likely to get into the team on a regular basis next season at least that's the hope never as a starter who would be good Off the Bench a quality piece that Roma should try to hold on to. then we have the best for last Nicolo zaniolo one of the best youngsters in World football and the best Prospect in Italy. He has so much ability and skill his dribbling is literally insane comfortable on the ball and he's a tough kid. He scored eight goals this season and he would have scored double that if it wasn't for his injury Midway through the year. He still has not reached 100% And nonetheless has come off the bench twice and scored goals it may be too early to say but he may be the best player on this team. Next season I expect him to take a massive jump just like Kai havertz did from his second and third season in the Bundesliga. The German star went from four goals 20 in one season I expect next season with  Nicolo zaniolo as one of the key parts of this team could very well have a 20-goal season along with eight assists next season. He has brilliant but he also is really intelligent and can supply a little bit of Improvement in his decision-making and he will be a world-class player by the end of next season. He is one of the best youngsters in World football only outside of Killian mbappe only Joae Felix and Jadon Sancho he is significantly better than anybody else in that age group. This group of youngsters it's only going to get better and better which is why this team he's going to get more dangerous as they continue to grow their young Talent Into something truly extraordinary.