Sevilla Wins 6th Europa League Title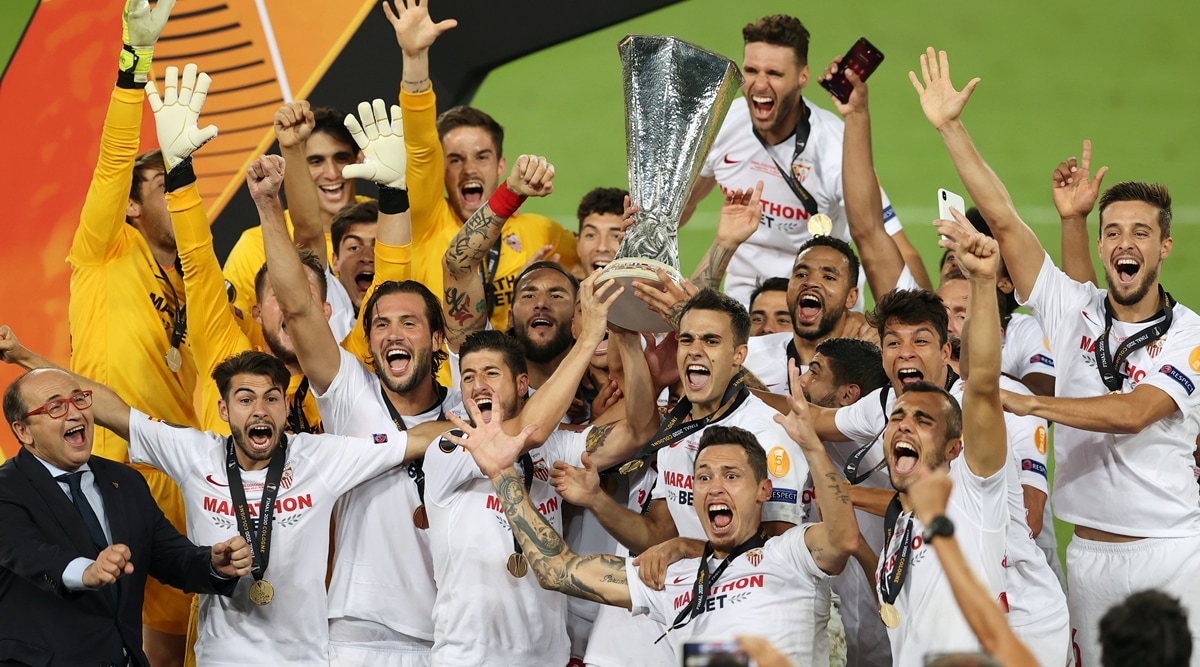 Sevilla is once again proven to be Kings of the Europa League. Beyond that, starting to build a reputation is one of the most underrated clubs throughout Europe. Sevilla is a very disciplined team that makes very minimal mistakes; this is why they've had such a success in competitions like this. They have done this over different coaches, managers, and players; it is the definition of sustained success. They haven't had the same success in the Champions League, but even if that is the case, it doesn't lessen the domination they have displayed in this competition. They have six European trophies; there are very few teams at all that can say that. They know how to dictate their opponents and find ways to beat them at their game. Sevilla went behind in a lot of the knockout rounds and still ended up winning. They blitzed through a Roma team that was unbeaten in their last eight games they went behind to Manchester United after about 10 minutes and ended up turning around and winning. Then in the Europa League final, it was a back-and-forth battle with four goals being scored in the first half only for Sevilla to win it with a bicycle kick that won the Europa League. It is challenging for a team like Sevilla to collect domestic trophies especially when you're in the same league as Real Madrid Barcelona and Atletico Madrid it's mutually impossible for a group of their size to win La Liga even the Copa del Rey the Spanish trophies that they're competing in they do their very best and they consistently get into European football and a lot of the time they end up in the Champions League but beating Real Madrid Barcelona Atletico Madrid to trophies in Spain there is no more significant feat that exists mainly in Spain. They are still a consistent Challenger to Champions League football, and they're able to dominate and win trophies like this. I think there is much bigger Club than people give them credit for they are consistently lifting European silverware even though it is the Europa League it is not an easy thing to do a lot of teams would love to win that competition among the teams that don't have the reputation of the European Giant Sevilla is the closest thing you can get they have won more European trophies over this last decade and some of the biggest teams in the world. Europa League or not, it's still a major trophy, and they even continues to add their pedigree. It was such a feeling of momentum driving them in this competition somehow someway I think we all just knew that they were going to win it because that's what they do. This year was only a more prominent example of that what they have done is truly remarkable.
The Underdogs
RB Leipzig, an Olympic Lyon, ended up in a Champions League semi-final. It is genuinely extraordinary not only that they managed to get there but what they had to get through to make it that far. This may not have been the biggest storyline of the competition but indeed a Redemption story. Olympique Lyon finished seven in the French league, a league that is not highly regarded by all that many people. The French league is much better than people give it credit for, but they're still a stigma surrounding it. Some even make a mockery of it as a top League. Olympique Lyon silenced all of them; they beat Juventus with Paulo Dybala and Cristiano Ronaldo in the round of 16, then in the quarter-final, they beat Pep Guardiola and Manchester City those are two of the biggest teams in the world. Juventus has made it to Champions League finals this decade and continues to dominate Italy while Manchester City won back-to-back Premier League titles. This Lyon team matte finish outside of the Champions League spot beat both of them. Meanwhile, RB Leipzig came into existence less than 15 years ago continually getting promoted, and even though they had money supporting them, it's still imposing how fast they elevated. They got straight to the Bundesliga after a couple of years of promotions, and then they always were a figure in the Champions League. They took down Spurs and Athletico Madrid on the way to a final it wasn't a good performance from them in the semi-finals, but it was worthy of admiration. It took a Tyler Adams late goal to beat Atletico Madrid, who has a world-class coach and one of the best young players in World football. It has just been a truly remarkable campaign for the Underdog Story. It's unclear if these teams will have an opportunity soon to get to a Champions League final, but we have to show respect for RB Leipzig and Lyon for what they were able to do in the Champions League this season.