Score: A.S Roma 2 Juventus 2FT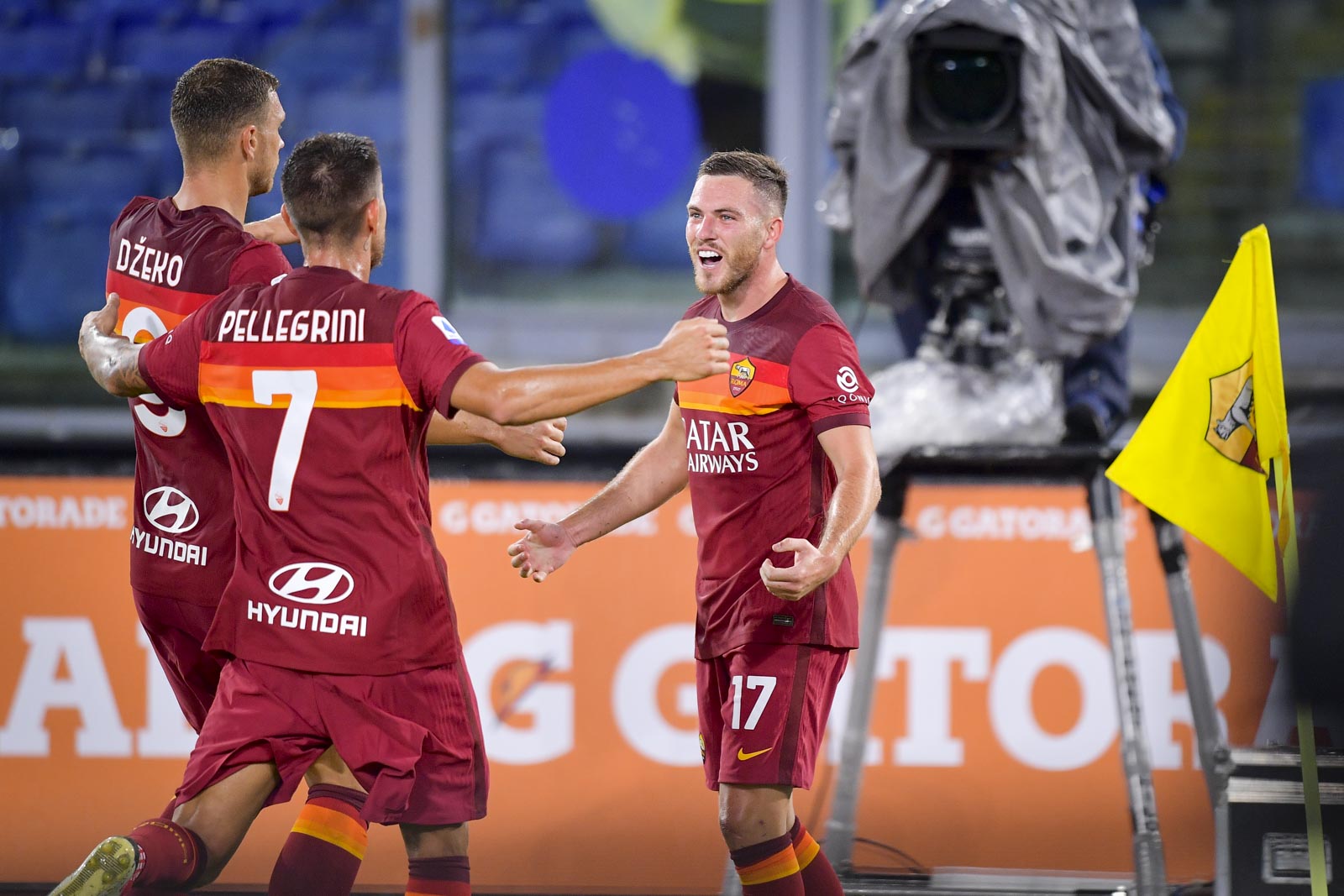 Following an Incredibly disappointing display against Hellas, Roma returns home in what was their home opener against Juventus. A team that is going to be very active in the title race. It felt like it was a game that timed so badly as the defending Champions were coming off a 3-0 Victory against Sampdoria; however the game itself surprised many. Roma outplayed Juventus for most of the match; they have that momentum, Rodger Ibanez. Most of the defense kept Ronaldo quiet even though he scored in this game; they did a tremendous job on him, especially early. They were going back and forth, but Roma seemed to be in control. Eventually, Roma got their lead there were looking for a handball, gave Roma a penalty. Jordan veretout converted to provide them with a 1-0 lead. Only for Juventus to be given a penalty on the other end right before halftime. Cristiano Ronaldo stepped up and converted, drawing the game level. However, in stoppage time, Roma got out on the break, and Miki supplied a ball into the box for Jordan veretout, who finished off the first half with a strike as Roma took a 2-1 lead right before halftime. Roma continues to be the better team in the second half. In the second half, Edin Dzeko had a chance of a lifetime in a one-on-one but absolutely laid an egg in front of the goal hitting the post. It was one that was going to come back to haunt them as the Bosnian had a horrific afternoon. Cristiano Ronaldo did not play well in this game, but he had that one moment as he equalizes converting the header. They went back and forth the remainder of the second half Juventus for even down to 10 men as a Roma continued to be far superior. Still, unfortunately the Edin Dzeko mess cost them as Roma has to settle for a 2-2 draw, a disappointing result. Still, much better performance as Roma have a lot of reasons to be confident & take some momentum in light of the result Pedro, in particular, was sensational throughout, but unfortunately, it did not matter because Edin Dzeko sabotaged Roma with that miss in light of that's a big Point as Roma outplay Juventus at the Stadio Olimpico.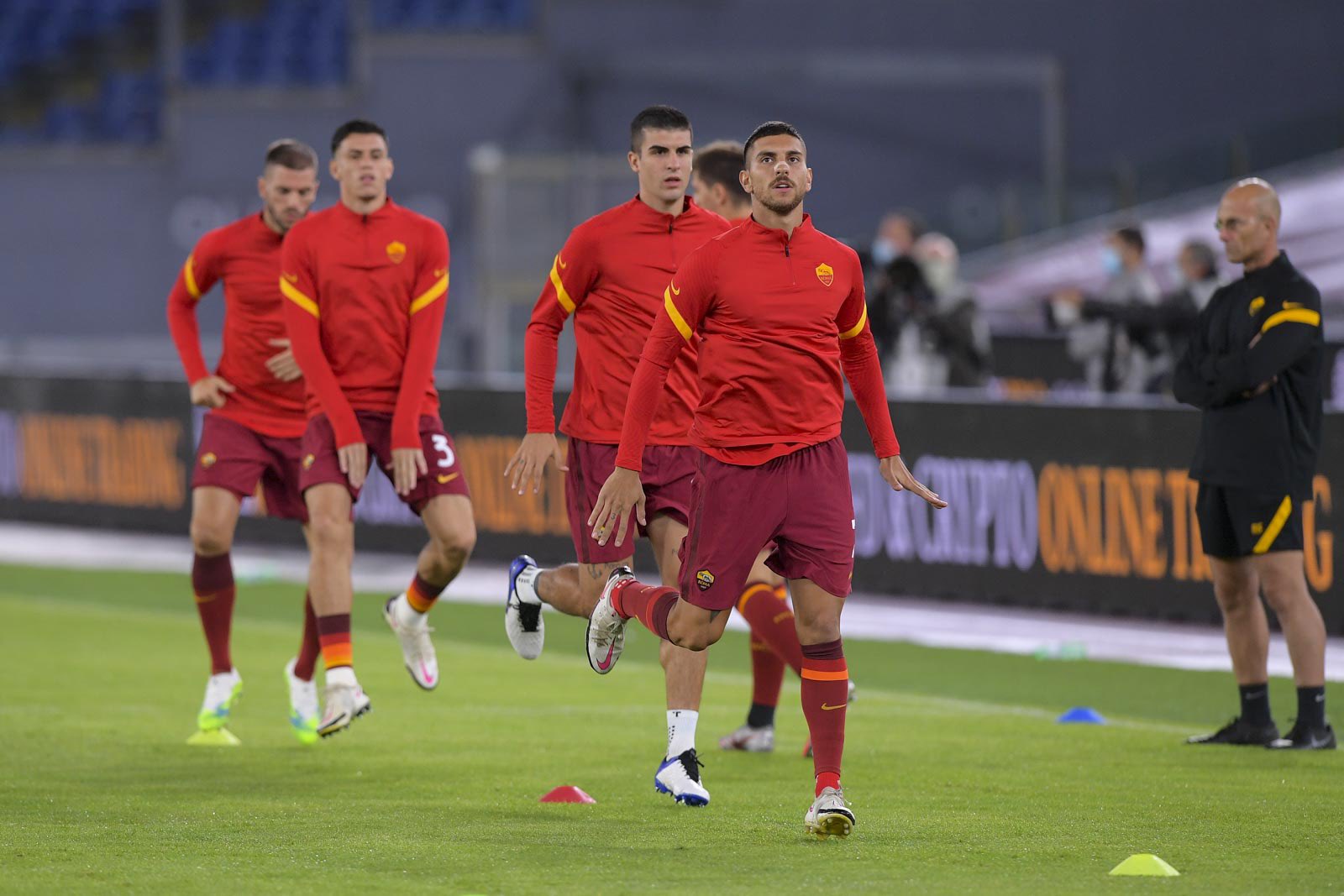 Paulo Fonseca maintains his typical 3-4-2-1 formation and just a couple of changes from their 0-0 draw with Hellas Verona. It has now become abundantly clear that Pau Lopez no longer has a place in this team. Antonio Mirante get another start as the 36-year old seems like he will have an important role this season unless Roma can get a replacement. Roma line up yet again out of the back three with three center-backs. Centrally would be Rodger Ibanez. Beside him and to the left, the much-awaited debut of Max Kumbulla. Then on the right would be Gianluca Mancini. There will be a slight adjustment in the defensive Midfield. It would always be Jordan veretout tonight he is paired with Lorenzo Pellegrini, who dropped back into a defensive Midfield position rather than in the attacking Midfield. The left wing-back would be Leo spinazzola, who put a man-of-the-match performance against Verona. On the other side would be Davie Santon as Rick karsdorp, unfortunately, seems to be injured yet again. In the attacking Midfield on the left side on the wing would be Hendrik Mkhitaryan, then beside him on the right-wing would be Pedro Rodriguez. Then upfront, as the main Striker, edin Dzeko returns to the starting lineup after transfer speculation was put to rest. Roma should see a much-improved performance from what we saw a week ago good adjustment by Fonseca; we'll see if it works.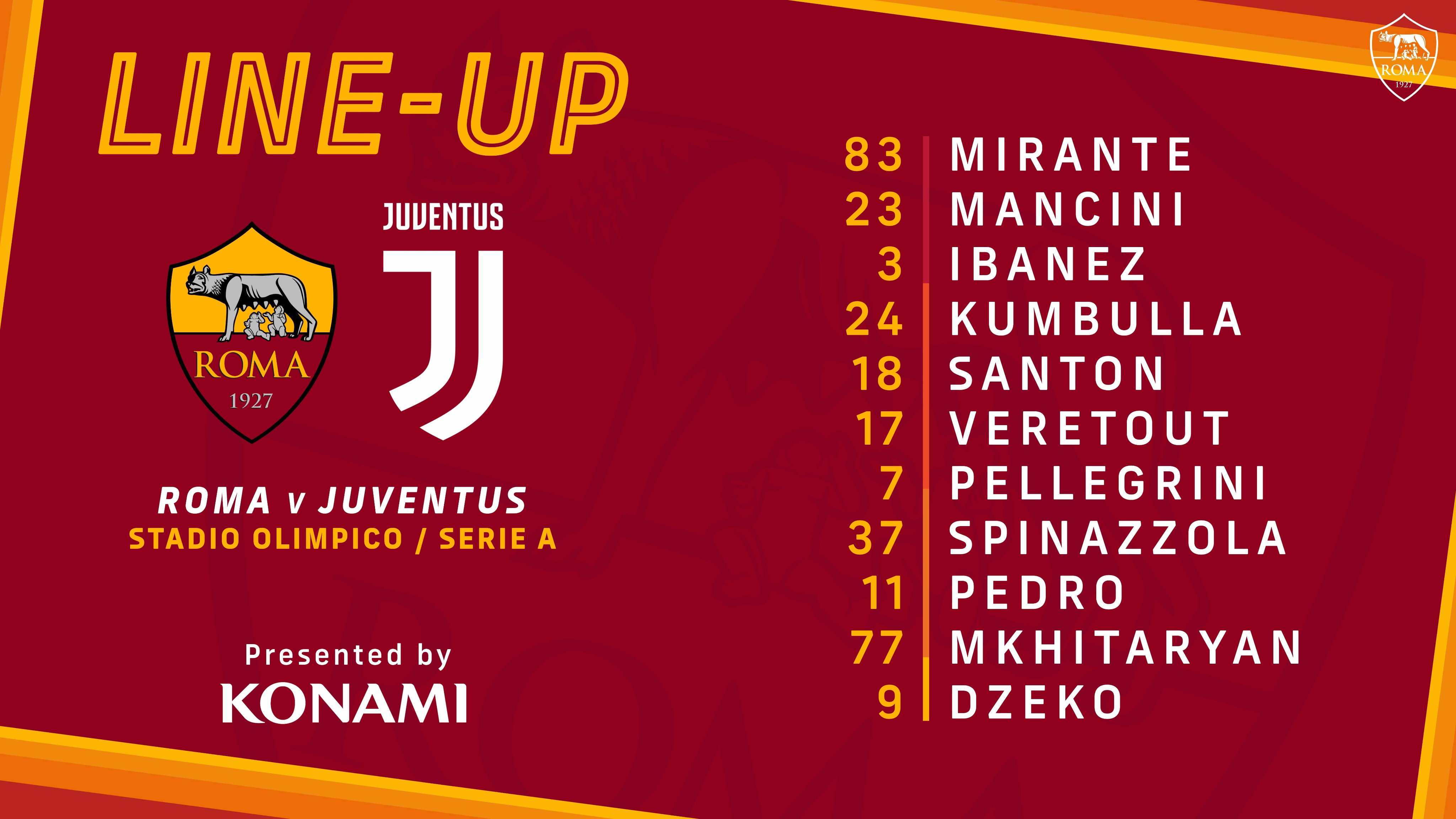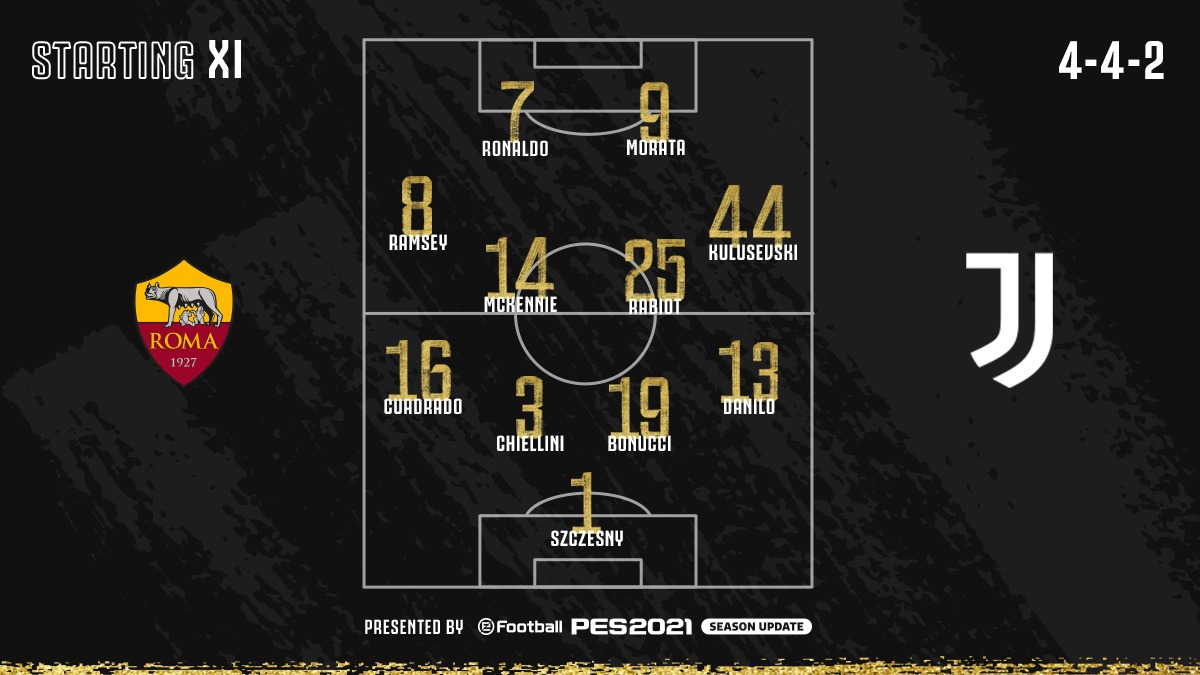 After preparations and predictions, the match got underway as Roma set to battle Juventus at home at the Stadio Olimpico. The home team was looking to rebound after the disappointment from last week. Roma started the game very well. Even though Juventus came through on the break quite a bit, the backline gave Juventus problems, they were in the right place at the right time, and we're looking to slow down Cristiano Ronaldo. Roma, we're driving momentum. Leo spinazzola was giving big problems To the left flank; getting into space is far too easily. Roma was slightly the better team, but it was a battle for at least the beginning part of the game; however, henrikh Mkhitaryan nearly gave Roma the lead. Very early in the game, a really well-orchestrated pass from Lorenzo Pellegrini put the Armenian wizard inside the cutting around a Defender trying to strike at the Juventus goal. Look like somewhat of a missed opportunity, but it shows the cracks as Roma were able to cut into the Box without much difficulty. Roma had the momentum and looked like the superior team. There weren't many chances, but it was very thrilling to see these teams go at each other. As we approached the 20th minute, Alvaro Morata connected on a header coming from a free-kick, but the Spaniard headed it wide. This followed Aaron Ramsey coming very close at Roma's far post in a Sublime cross from Cristiano Ronaldo, but Juventus put it wide once again. It continued to be a back-and-forth battle, but eventually, Roma would find their way through. In the 31st minute, Adrien rabiot handled the ball inside the Box; he was given a yellow card, and the referee pointed to the spot. Jordan veretout stepped up converted into the back of the net despite Sczceny getting a touch. As the Frenchman's strike give Roma a 1-0 lead. Roma showed incredible qualities going forward, and there are a lot of positives to take from their performance thus far. Ronaldo was having a big problem dealing with Rodger Ibanez and Gianluca Mancini. Roma showed that creativity with edin Dzeko Pedro and Miki. Unfortunately, in a strong defensive sequence, Roma conceded a penalty as they were called for a handball in the Box connecting with Pellegrini. Cristiano Ronaldo stepped up and converted. However, it did not stay level for long in the 46th minute in stoppage time before the end of the half. Roma Unleashed on the counter-attack feeding the ball to Mkhitaryan running on the break before releasing Jordan veretout inside the Box; the Roma midfielder took one touch before converting on the break into the back of the getting his brace as Roma take a 2-1 lead right before the end of the half.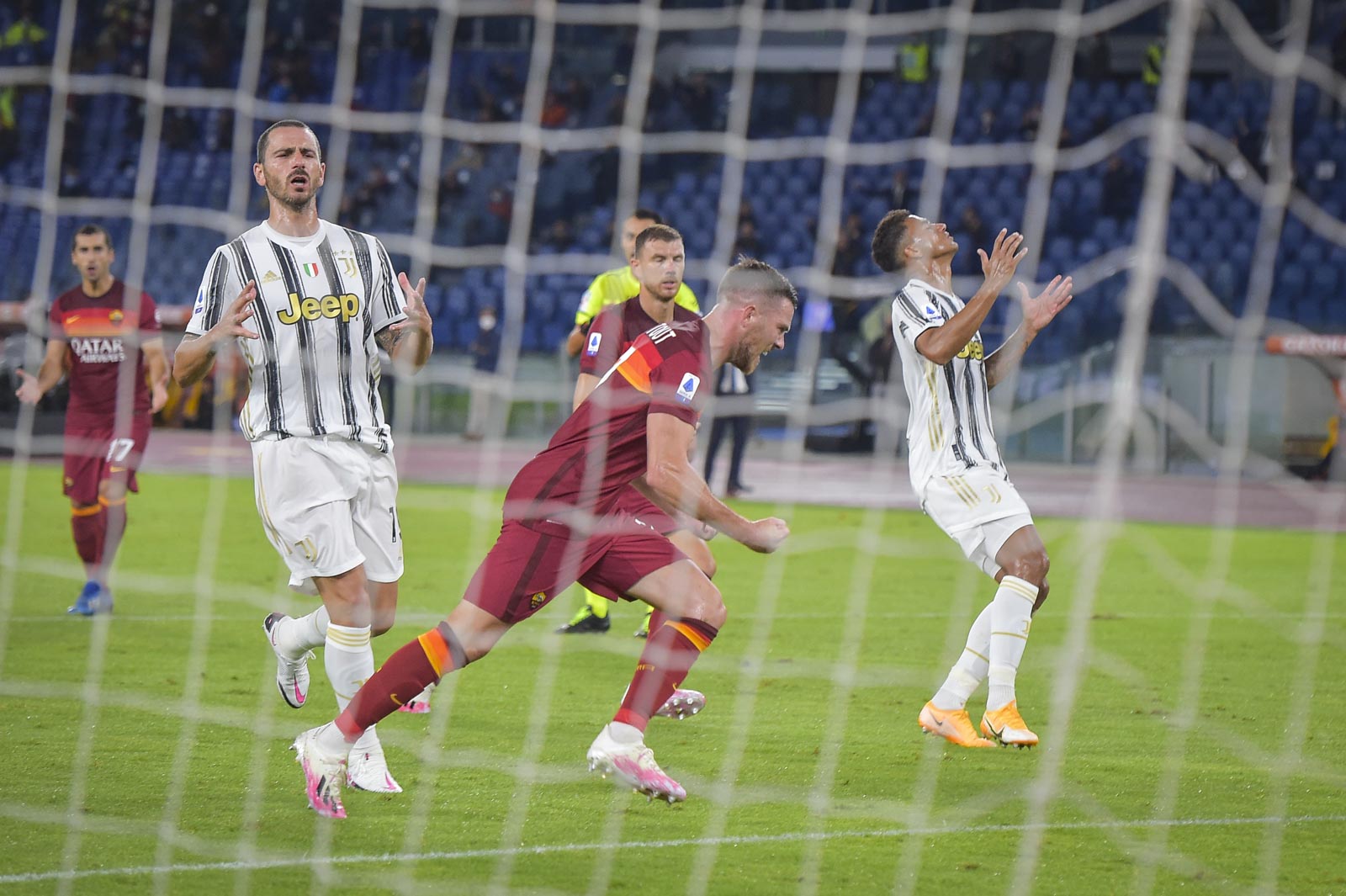 Jordan Veretout scores twice late in the first half as Roma held 2-1 lead.
It was a really strong first-half for Roma, who really looks like they were the better team. Cristiano Ronaldo did next to nothing and really struggled to deal with Rodger Ibanez. Just collectively speaking a really outstanding first half, and Roma just needed to keep pushing that the rest of the match so they don't dip like they did last weekend. A few minutes into the second half Pedro Rodriguez came really close, hitting a curler that missed the top post just buy a couple of inches. Roma seems to have that momentum still, but Juventus were finding their way into the game as well. However, even with that, Roma or significantly the better team throughout the majority of this game. Roma nearly jumped in front even further several times. Edin Dzeko, who had a horrific game, missed a simple header. Just a few minutes later, Leo spinazzola misfired. The wing-back had another very productive match. Just moments, edin Dzeko missed the biggest of opportunity in a one-on-one; his shot struck the post missing the best chance of the game. As I said, it was an abysmal performance from him individually. Juventus tried to hit back a minute later, but Cristiano Ronaldo once again was denied by Antonio Mirante. It became a back-and-forth even further as we got later into the game. Edin Dzeko missed another chance with about 20 minutes to go. Edin Dzeko is a club Legend, but he really cost his team today. Fonseca made a bad substitution at the wrong time Cristiano Ronaldo who had a very underwhelming perform rose up, connecting on a header supplying a world-class moment in what was otherwise disappointing from him. Directly after the Goal, Roma went to the bench again as Diawara came in for Lorenzo Pellegrini, who was on a yellow card. Before The Equalizer, Adrien rabiot was that off with a red card. Roma was down to 10 men. This was their opportunity to get things back on track; the Roma backline did such a great job on Cristiano Ronaldo well offensively. Pedro was such a weapon in the Midfield that really cause major problems for Juventus. Late on, Roma held off a pair of chances at the end. The match ended as a 2-2 draw as Roma split points. A much-improved performance from Roma outplayed Juventus the entire night edin Dzeko squandering a one-on-one ended up being Roma's downfall. Nonetheless, Roma still a point from Juventus despite the final results. Roma has to feel good about the performance, and it should give them some momentum, but Roma should have put this away.

Edin Dzeko missed chance costs Roma points as Roma outplay Juve in 2-2 draw.
Roma looks like a completely different team in comparison to last week. There were a lot of negative Vibes going around the club over the last week, especially given the fact that their point against Verona, while it not being a great performance, was being credited as a loss. Roma played with such surplus equality. Roma played without Striker last week and struggled caring over good first-half performance. If we're honest, Roma was much better than Juventus; they were significantly the better team throughout the 90 minutes. Roma, in the end, probably drops two points, but getting the point against a team like Juventus that's flooded with a quality only is going to drive the momentum and confidence into this team that they did not have before. Defensively Roma was absolutely heroic. Rodger Ibanez shrunk Ronaldo in this game and made most of their attacking players as a non-factor. Without the penalty, Roma probably would have won this game. The team looked incredibly strong; there were no communication issues, and if edin Dzeko doesn't blow up a perfect opportunity for Roma to extend the lead, Roma walk away with all three points. Edin Dzeko was absolutely horrific; he wasted far too many chances and failed to convert a one-on-one where he had time and space. He wasn't genuinely awful. Roma needs to get another Striker and soon and that deals about to cross the line but all things considered on the performance itself, Roma were tremendous; they outplayed Juventus and exposed themselves as a potential title Contender potentially. Paulo Dybala didn't play, but a lot Juventus we're playing this game, and they were outclassed by a Roma team that doesn't even begin to stack up against a team like that. The backline was so impressive the way they hit back with that great goal on the break as Jordan veretout convert the early penalty and finished off a counter-attack right before halftime; he was unbelievable today and a lot of aspects, but The man that match today for me was Pedro he might be 33 years old, but he's got so much energy explosive parts of his game made the Juventus uncomfortable he looks like a player that should be starting on a regular basis. He dribbled well; he controls the game in the Midfield also supplying balls on the outside to his team really had a complete performance. Max kumbulla made his debut today for Roma; it was a solid performance but not anything to write home about; it's just going to take him a little while to get integrated into the team. Roma drop points in a disappointing manner based on the way the match played but on the football itself in the way they played collectively throughout the night, Roma has to feel very good about that performance. Edin Dzeko doesn't miss that they win this game, so disappointment is exactly what they should feel, but at the same time on the pitch, they delivered and outplayed Juventus, a team that on paper is significantly better than them. In terms of performance, it was night and day for what we saw from them last week; they get a big Point against a strong team. Ronaldo had a quiet night, and that's primarily due to the way Roma performed. Paulo Fonseca made some questionable substitution and didn't use the subs he had, which could have made a big difference in this game edin Dzeko. Paulo Fonseca deserves serious criticism for the performance. Still, collectively they were excellent outside of Dzeko's missed chances; the team's collective played extraordinarily well together. They have to do feel happy about the display. They outperform Juventus despite the result that something important to remember. Next week we should see even more progress, but Dzeko really did cost his team tonight.
MAN OF THE MATCH: Pedro Rodriguez