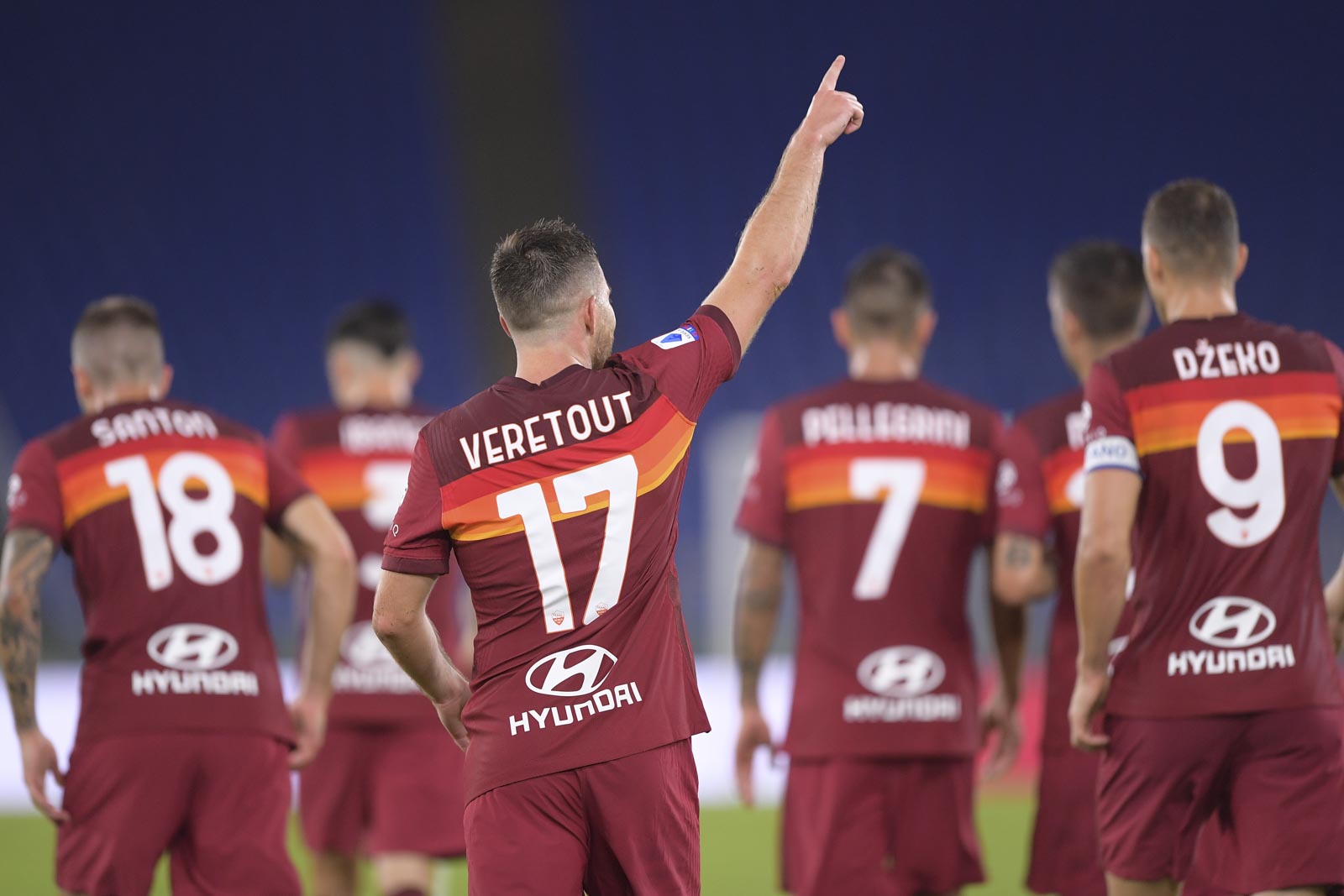 Last night Roma hosted Juventus at the Stadio Olimpico in what was expected to be a tough match for a Roma team that, at least for the time being, was handed a forfeit for the previous game. Starting the season with two losses in a row is not ideal for a Roma to accomplish this. Meanwhile, Juventus are expected to be title contenders, and this was the perfect platform to show how good Pirlo actually is. Roma came out with tremendous energy and looked like an extreme side, completely the polar opposite of what we saw last week. They really dictated to momentum, got on the break early, and was able to cut into the Juventus backline without many issues. Mkhitaryan nearly gave Roma the lead finding space Inside the Box nearly finishing off the attack, but his shot was saved on the other end; Juventus try to get in dangerous areas to try to feed Cristiano Ronaldo. It was ultimately unsuccessful. Roma's backline left Ronaldo frustrated the majority of the game. Rodger Ibanez was a maniac against for Cristiano Ronaldo add the Roma backline allowed him to do absolutely nothing or nearly nothing all evening. Roma slowly started chipping away, and eventually, their moment would arrive. A handball by Adrien rabiot gave Roma a penalty. Jordan veretout stepped up and converted to give Roma a 1-0 lead. However, unfortunately, not long after, on the other end, a Lorenzo Pellegrini handball gave Juventus a penalty. Cristiano Ronaldo stepped up and converted, getting his equalizer. Roma hit back immediately. A minute later, Roma got on the counter-attack in the last minute of the stoppage. Mkhitaryan showed his qualities on the break before releasing Jordan veretout into the box as the midfielder scored his brakes Roma took a 2-1 after the first 45 minutes. In the second half, Juventus got back into the game slightly, but Roma still was the much better team. edin Dzeko had a one-on-one that would have increased their lead even further it was a horrendous finish in what would have guided them to three points. That would come back to haunt them as Cristiano Ronaldo, who had an abysmal performance, found his moment converting on a header to level things up as Roma and Juventus play out a 2-2 draw. Roma outplayed Juventus for the entire match with edin Dzeko failing to convert cause Roma to drop the points but nonetheless, it was a much-improved performance as Roma shows their qualities while exposing Juventus of theirs.
Edin Dzeko Costs Roma Points
We have to acknowledge the elephant in the room. Even though it's a difficult conversation to have, we can't dismiss it as if it is not something fundamental. Edin Dzeko may be a Roma Legend, their fourth highest goal scorer in club history, and one of the best center forwards the club has ever had. All those things can be accurate and true, which they are. However, that doesn't excuse him from criticism. As difficult as it may be, edin Dzeko cost Roma the points against Juventus. Roma should have taken all three points, which even though they played heroically, it has to feel like points dropped. Getting a draw against Juventus is not an easy thing, but the fact they outplayed them so convincingly is why it all comes back to the one on one edin Dzeko had. The Bosnian striker missed on to Golden opportunities. One of which he has no excuse to put it away. Even though he was playing poorly because Roma doesn't have a backup Striker as of yet, Roma couldn't remove him. Edin Dzeko had a one-on-one in front of the goal while Roma we're leading 2-1 at the time. He had time in front of the goal; he took his time, he got into the right position, and all he needed to do is convert it. He failed miserably, hitting the post and a strike that should have landed in the back of the net. There's no excuse for missing that one, and then not long after, he got another one on one that he just kicked at the goalkeeper. He is an all-time great when it comes to Roma; he is a club Legend, but he was absolutely horrific. Edin Dzeko, it's entirely responsible for Roma not picking up the points. Roma has to feel good about the situation just because they outplayed Juventus, but this entire game comes down to a singular moment in what edin Dzeko missed the most significant chance of the game. This was his worst performance in the Roma colors, and he has a lot to answer for in the match next weekend. In this game against Juventus of high magnitude that Roma could have easily picked up the points, edin Dzeko has to take the responsibility in this match; the sword falls on him. Either Mayoral or Jovic is expected to sign for Roma this week, giving the club a backup Striker; this will help give Roma that depth at that position. It is going to put even more pressure on edin Dzeko to perform; he can't perform like that the rest of the season, or he's going to start sitting on the bench.
Roger Ibanez Shrinks Ronaldo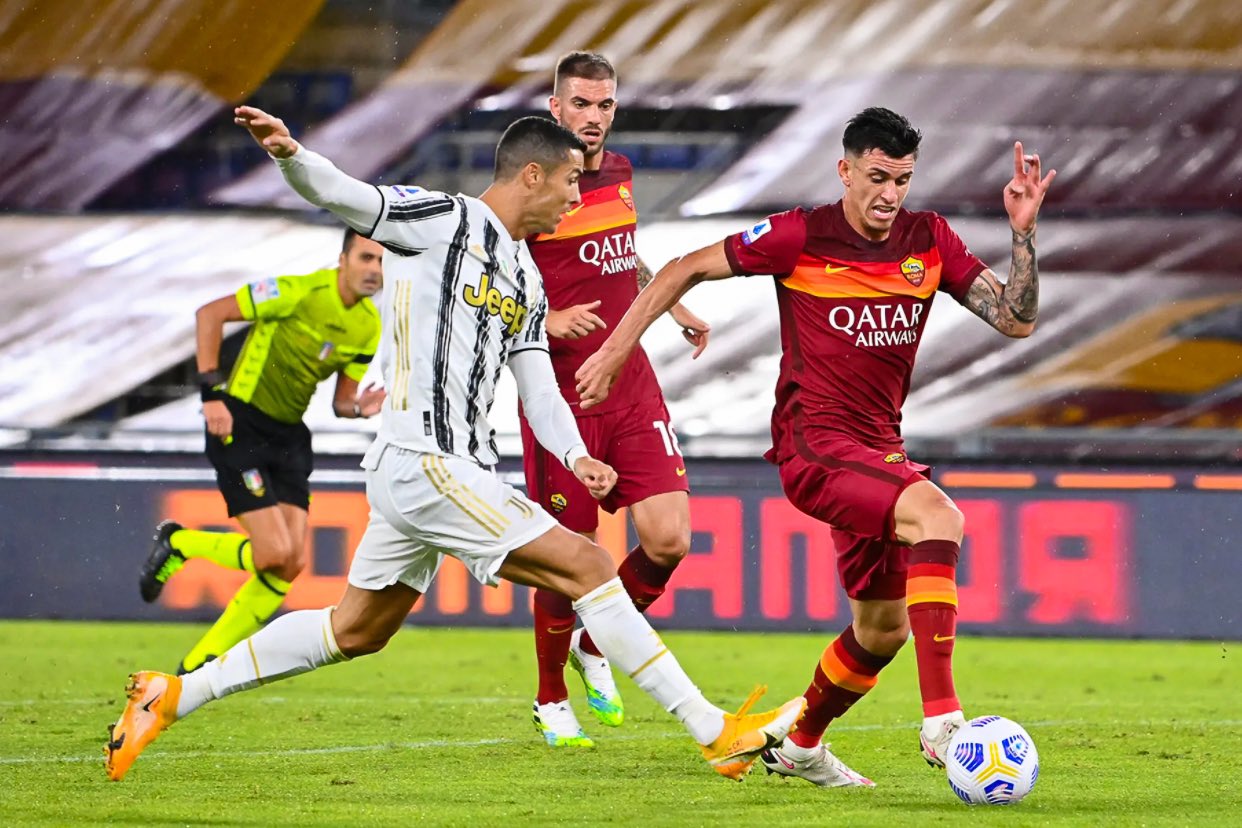 Roma is coming off a very disappointing result against Hellas Verona. Even though it's been credited as a loss for the time being, it was a goalless draw. They showed some real promise in that first half but collapsed in a second-half, allowing Verona to dictate the game, which absolutely can not happen. Collectively it was a much better display. The Midfield looks strong; they went forward with at least reasonable success, and if not for an edin Dzeko blunder, Roma would have picked up all three points. A point against Juventus is precious, especially because they outplayed them for the entire 90 minutes. Roma has to feel disappointed but should feel good about the performance; this will give them a lot of momentum and confidence for the next couple of weeks. Pedro and Jordan veretout we're absolutely outstanding among the majority of the team. However, one particular thing they did well must be highlighted. Roma went with a very young back 3 of Gianluca Mancini, Max kumbulla, who made his debut, and Rodger Ibanez. Alvaro Morata was a new signing for Juventus, who just returned to the club this week. On top of that they have Cristiano Ronaldo, who may not be the same player he is, but it's capable of being a problem given his physical stature, size, and athleticism. Rodger Ibanez specifically, but the defense as a whole shut off one side of the pitch. The Juventus attack provided nothing or next to nothing & the goal they scored came from one Ronaldo moment where he had a significant height advantage over the defender and a penalty from a handball. Juventus didn't leave goals on the table because those were there only chances or realistic chances of the game. While Roma created much more and probably should have put this one away, we'll take it as it is because they outplayed them. The biggest issue for Juventus is going to be that attack Rodger Ibanez pocketed Cristiano Ronaldo for the entire match. The defense was world-class cause serious problems for one of the best goal scorers in the league when he's up for it. Without Dybala, Ronaldo not with the same, and we've known this, but considering that they were so good that Alvaro Morata was subbed off early, Cristiano Ronaldo was overwhelmed in what was a horrible display, not counting the one moment he had. Even parts of the Midfield struggle getting into that box and creating something the Roma defense made things unmanageable for Juventus, which is a big reason they could get points from this game. It might be a long until the season for Roma but all things considered, there's one constant thing that Roma will always have strong defensively. I'm not saying they're not capable of mistakes, but that back three shut down Juventus from the start; the defense in the capital is the real deal; they may not have the brand names, but they perform at an exceptionally high level.
Juventus Exposed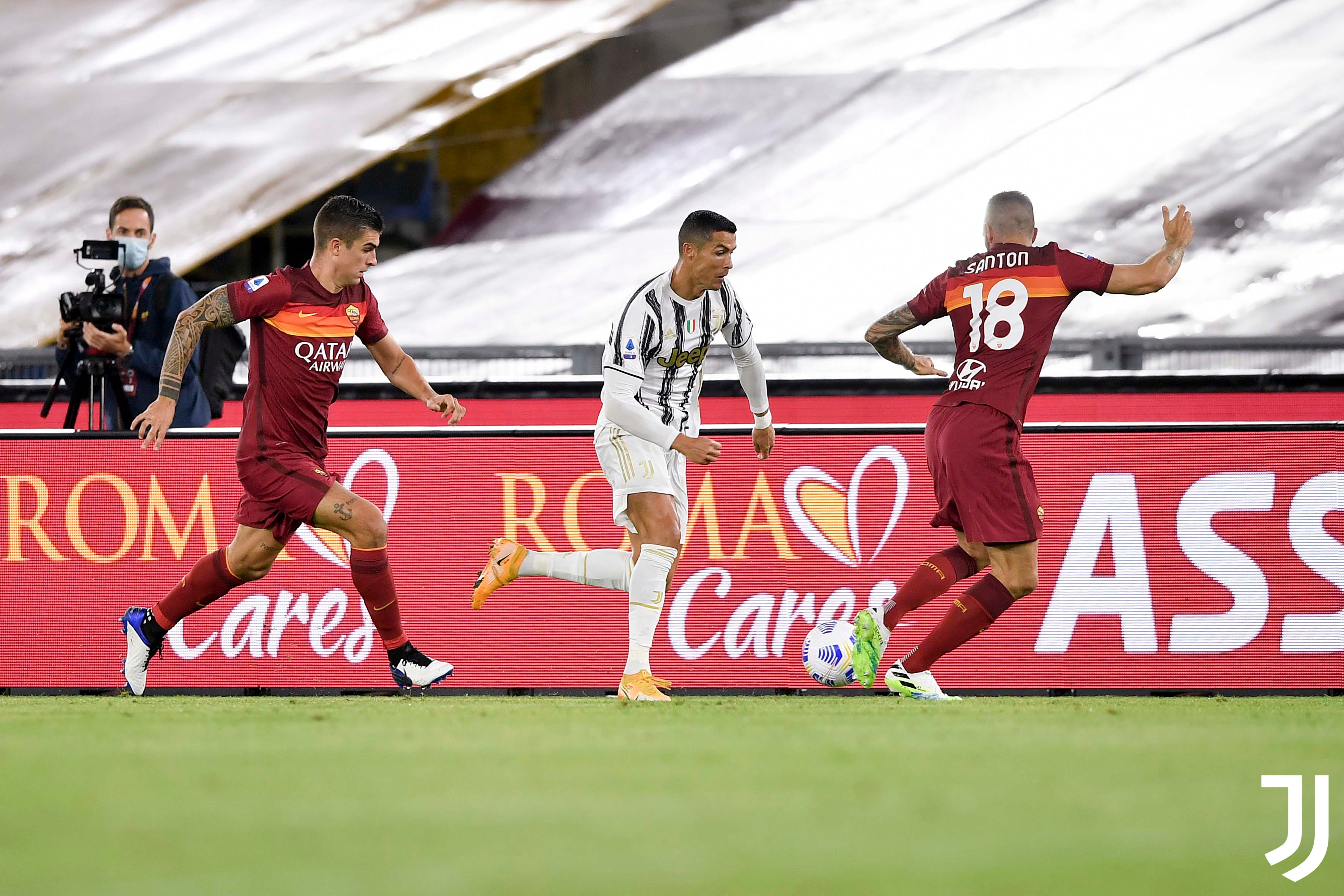 Juventus were exposed in their draw with Roma. There's a lot of momentum behind them potentially repeating as Champions, even more so being in that conversation all season long. They could be loaded from top to bottom, but if last night proved everything, they should not be the favorite for the title. If anything, they should be the third favorites. Last week Roma looked flat unenergetic and allowed Hellas Verona to run circles around them. They played much better in fairness to Roma and looked like a much better team than what we saw a week ago. However, with all that being said, Juventus have a team that is much stronger from top to bottom. Juventus, we're not the better team in this game at any stage and are actually very fortunate that Roma didn't score more than they did. Roma was the better team from start to finish. Even their best players, we're shut down. Cristiano Ronaldo was awful; he had one moment and scored one penalty. Rodger Ibanez absolutely manhandled him, the Portuguese star wasn't allowed to do anything. He has struggled, and not just Ronaldo but the Juventus attack was non-existent a penalty and one Ronaldo moment was the only reason they scored in this game. While Roma ran them up and down the field, exhausting them and frustrating them. Juventus will be happy to have gotten the point, but it exposed themselves as a title Contender. They will be in the title race, but Napoli and Inter Milan look much better as it stands. Inter Milan win late as winners do, and on top of that, Napoli looks like the most unbeatable team in the league. Things could change, but this team should not scare anyone; they have a lot of talented players. Still, much like last season, if they win the league, it will have to be based on individual brilliance because what we saw from Juventus last night, they were overwhelmed by a Roma team that is unlikely to qualify in the Champions League. So I beg the question, what's going to happen when they play a team that's in the title race?