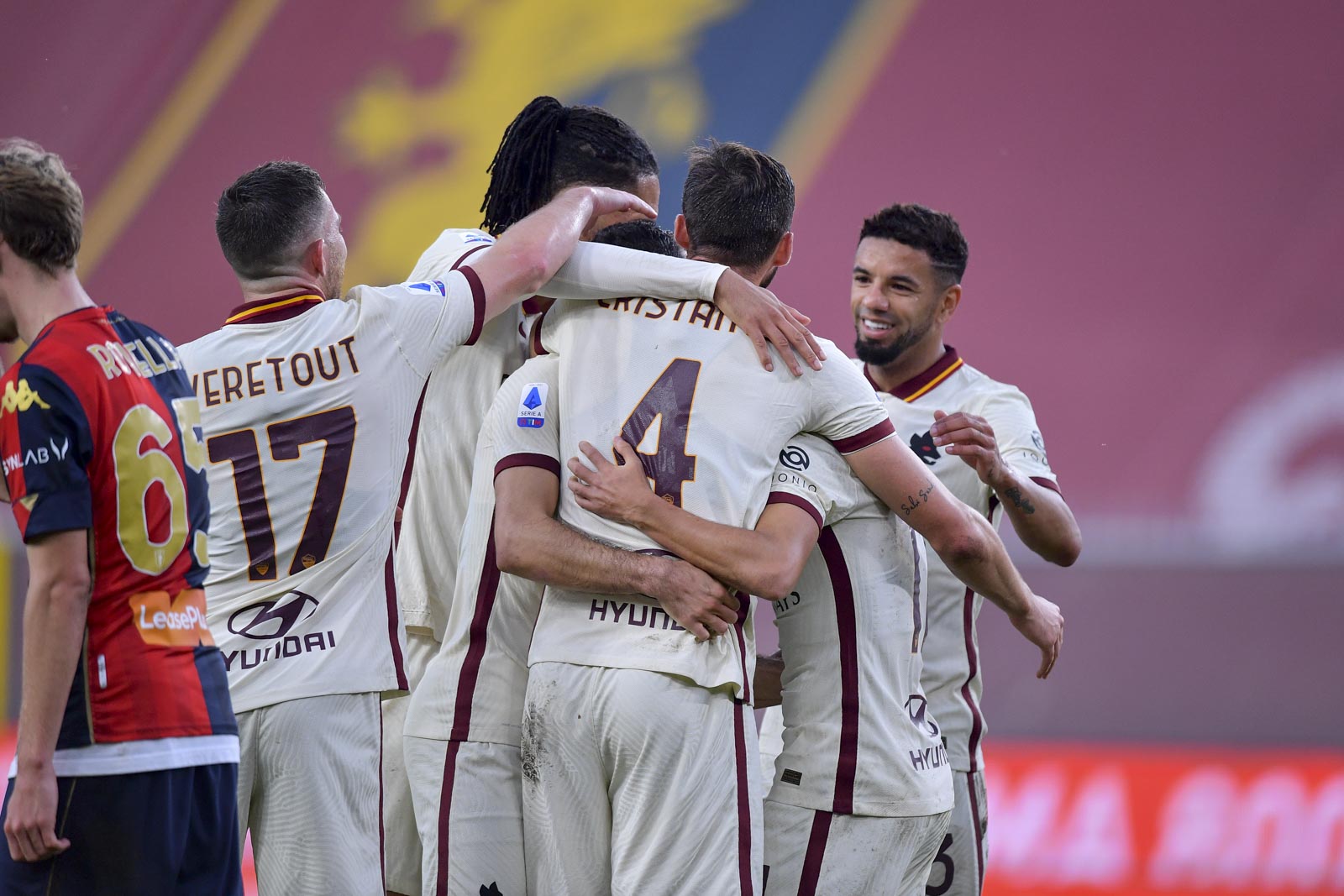 Yesterday afternoon Roma traveled to Stadio Luigi Ferraris to take on a Genoa as kept their winning form outside of the forfeit and the season opener. Roma is now unbeaten in the last 15 games as Roma pushes themselves into the top four and potentially could be looking at a title challenge if they stay at this pace. Next couple of weeks, we could see a surprise Challenge from Roma. Roma was without edin Dzeko, who has covid-19 a player Roma regularly relies upon and has struggled when he has not been in the lineup. It would give a Genoa team, that is struggling the opportunity to potentially steal something from a red-hot Roma Squad that is playing outstanding football. However, Roma has figured out ways to contend without the Bosnian after having to rely on him early in the season heavily. Roma with the team coming into the game with great confidence and momentum driving them as they hope to push it even further into the international break. Roma was in complete control and domination during the opening 45 minutes with multiple opportunities going for them; it took a while for them to break and Genoa was doing a reasonable job resisting a strong Roman attack what the very end of the first half corner kick henrikh Mkhitaryan came through winning a ball on a header left on the back of the neck to give Roma a 1-0 lead is. Genoa doesn't have many attacking options. Roma should have felt like they could have got over the line even with just the one goal however, a poor offside trap set by Chris Smalling early in the second half allowed Genoa to break even. There was always the sense that Roma was going to get back on terms. Genoa provided a little bit more pressure on Roma that the momentum and was driving them as multiple opportunities came from the Midfield that's fed into the attack Lorenzo Pellegrini and Jordan veretout very creative in the Midfield and allowed Roma to get Out on the break regularly it was just going to be a matter of time before they broke through once again. Midway second half Chris Smalling played a great cross into the Genoa box as Bruno Peres supplying a touch henrikh Mkhitaryan who got his break converting one on one on one his powerful shot from close range made it very difficult for the goalkeeper to contend with even though he got a touch it ended up in the back of the net regardless as Roma took a 2-0 lead the Armenian got his brace. Roma with hit again with five minutes remaining as Pedro Rodriguez found henrikh Mkhitaryan a low cross that the Armenian connected on the volley burying it into the bottom corner to give Roma a 3-1 win second hat trick of his career and the first Roma hatrick since Mohamed Salah in 2016. it was indeed the henrikh Mkhitaryan show in Genoa as he has been one of the league's best players this season. Roma keeps the run of form going as they are starting to look like title contenders after cracking into the top four just me and points of the top of the table, putting Roma and the best position possible ahead of the international break.
Mkhitaryan gets a Hatrick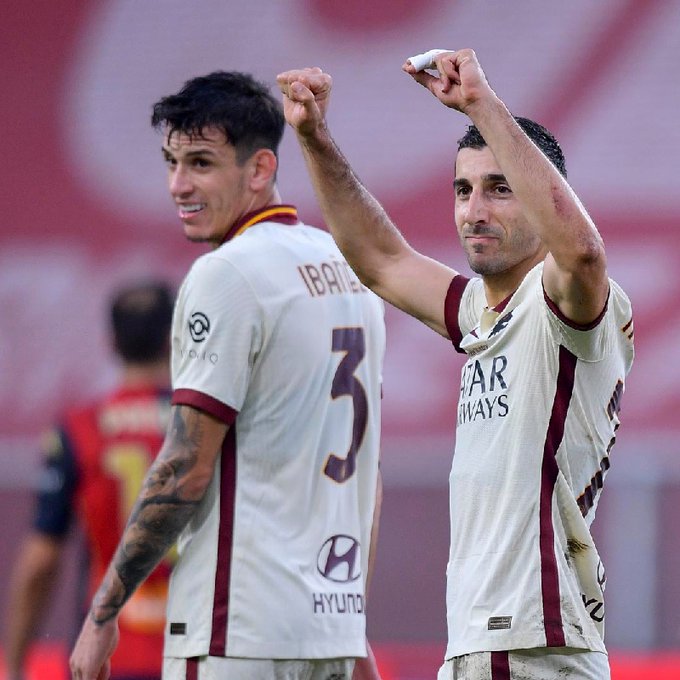 Henrikh Mkhitaryan has become one of the league's best players. He has been instrumental to Roma's early success this season and individual success last season. He came from Arsenal last year on loan after being castaway at Manchester United and Arsenal, he found a home in the Italian capital; the initial signing did not excite that many people in Rome, but very quickly, he earned a growing reputation at the Stadio Olimpico. It has only grown in escalated since his arrival. This summer, Roma wanted to make the move permanent as Arsenal renegotiated a deal that allowed Roma to take him for free in hindsight from Arsenal's point of view. It looks like it has been a mistake; the Gunners could really use someone like Mkhitaryan this season. Last season The Armenian scored nine goals for Roma many times as an attacking midfielder will playing on the left-wing and others. He has been one of Paulo Fonseca's key components as he has provided another element of creativity with great communication with the Midfield and has also been on the same page with Pedro Rodriguez much of the season. Both Pedro Rodriguez and Miki came for free and continuously have outplayed players at their former Clubs. The Armenian has goal-scoring capabilities; he's been able to show it periodically for the Italian Giants; however, Sunday afternoon was a joyous and special-occasion, something that Roma has not seen from a player since 2016. When you think of Miki, even though he can score goals and has proven to be a very valuable asset so far this season, it has been about his creative play, and the way he can facilitate opportunities for teammates; he leads the league in assists this season and thus far in this campaign it is the thing he is done at the highest level however this Sunday he got on the scoring sheet a whole bunch. After scoring in the Europa League against the Romanian champions in midweek, he was certainly up for against Genoa. He scored on three different occasions earning himself a hat-trick, something he is only done a handful of times in his career. The first hat-trick since he was playing for Dortmund. Not to mention it was the first Roma hatrick in the league since Mohamed Salah has three goals against Bologna in 2016 edin Dzeko have had a Champions League hat-trick & Europa League hat trick, but it has been four years since we've seen one in league play a moment to remember for Mkhitaryan. In a dominant first half, Roma couldn't find that breakthrough until the final minute of stoppage time Corner sent in from Jordan veretout, and at the right place at the right time, Mkhitaryan following through on a header they gave Roma the lead before the break. Genoa Drew level in the second half before henrikh Mkhitaryan finished off a Counter-attack orchestrated by Chris Smalling and set up by Bruno Peres, allowing The Armenian to be free in the Box to get his second. Then very late in the game, Pedro Rodriguez connected with him on a cross that henrikh Mkhitaryan buried in the back of the net, completing a wildly impressive hatrick to score a hat-trick with no penalties involved is extraordinary; he was nothing short of world-class this weekend. It wasn't just that he was outstanding and put in a man-of-the-match display; he was one of the best performance across all leagues this week it was a truly breathtaking display. He has four goals and forces in all competitions and as quietly becoming one of the best players in Italian football this season; a display like that is another example of the incredible qualities he has displayed in Rome on a consistent cliff he's shown to become something exceptional at the Stadio Olimpico one of the best performers saying this week in any League.
Roma Could find themselves in the title Race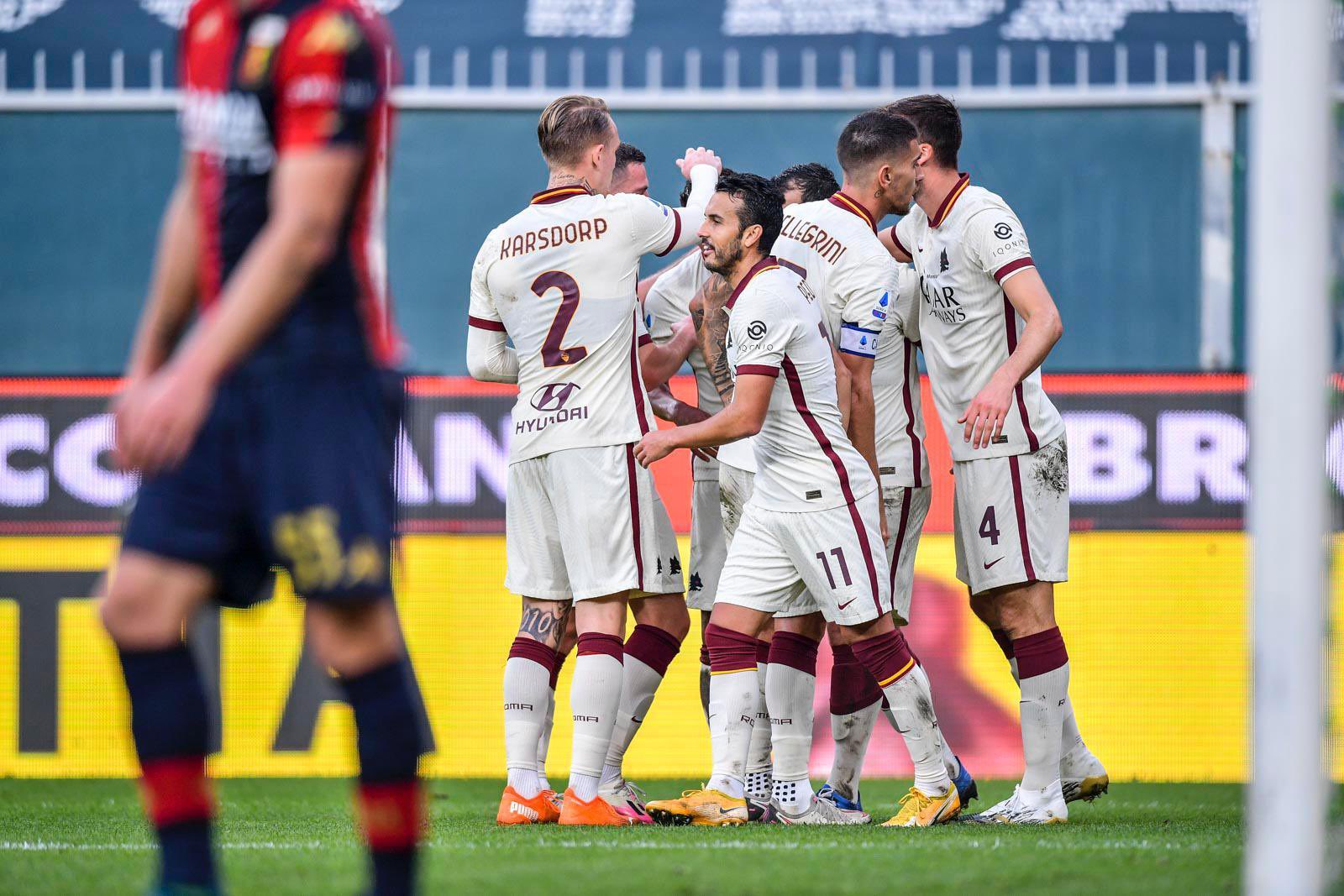 Roma is on the verge of entering a title race; if they can manage to get a result against Napoli in a few weeks, not only will they be involved, they could end up being one of the favorites to lift the trophy. While I don't want to get ahead of myself because it's still very early in the season but the team in the capital there already positioning themselves into the top four Champions League football next season now looks almost a certainty if they can keep up even if similar pace to the way they're playing right now there's no doubt they will be playing Champions League football next season. Roma is already in the top four and our only separated from the top by a few measly points as far as performance this season; they have been the best team in Italian football even if they don't have the points that back that up yet just based on the display of this team they have been the best in the league. Not only that, based on current form, there are even one of the best in Europe not from a talent point of view but in terms of form. Roma is unbeaten in their last 15 after losing to Napoli at the very end of last season. From the last 18 games, they are unbeaten in 17 of them. It is only justifying and proven the qualities that this Roma team has. Roma has gone through a transitional period this season with new ownership, the backing of their manager Paulo Fonseca and even and a coronavirus transfer window; they were able to add enough quality to put them over the top and potentially put them in a position to challenge for the title. While I'm not saying it yet or even going there, a victory against Napoli in a couple of weeks would certainly justify that Roma's in the title race; this is a Champions League team regardless of how you look at it and if this team had a healthy Nicolo zaniolo they would be no doubt about that whatsoever. Paulo Fonseca is proving with this group to be one of the most underrated are managers in World football; he has taken this team to Heights to look capable of everything. While they still have a lot of work to do, Paulo Fonseca has changed the way Roma plays football and the Outlook of what their future may look like; he seems to be a manager to lead Roma to its first league title since 2001. Will it happen this season? Probably not based on the way they're playing; you just never know. Roma already had a very strong team, got rid of some pieces that just didn't sit, and added Pedro's likes a veteran who has one on every level which is a proven winner and provides leadership intangibles scored four goals this season already. On top of that he retained Chris Smalling, one of the best center backs in the league last season, and added Max Kumbulla, one of the hottest Young center-backs on the market, stealing him from Lazio and Inter Milan. Roma is a well-coached team with a lot of young players piercing through not tonight when they have the best defense in Italian football with Kumbulla, Mancini, Chris Smalling, and Rodger Ibanez; the scary part about that is Roma plays with a back 3 meeting weekend and week out they have one of the best defensive adjustments in the league. The way he's able to rotate these defensive Dynamo makes them a big threat. As I have stated earlier this season, Roma is not going to lose any games because their defense, something that has been a problem the last couple of years, now looks to be a strength it will come down to whether or not Roma can score enough goals as I don't think they're going to have a problem with that either with the options they have in the Midfield defensive and attacking as well as on the counter. Roma has the best counter-attacking team in the league, and it seems to become a more dangerous weekend and week out. The wing-back position isn't even a weakness anymore as Leo spinazzola is one of the best players in the league. This team has very little disadvantages anyway, an attacking team with edin Dzeko, henrikh Mkhitaryan, Pedro Rodriguez, a Midfield of Lorenzo Pellegrini, and Jordan veretout, not to mention they have the best defense in the league alongside a depth that could prove to be very important the long run. In contrast, Roma has not proven anything yet the majority thought that this is a team that would struggle to finish in the Champions League; at this point, the Champions League kind of just looks like a given this team had the capabilities of a title challenge all of this is guided by a manager that has the ability be one of the best in the league if he hasn't already. They will be contending; maybe even a performance against Napoli could put them on the Forefront hopefully title this season Roma has the team to do it. We'll see whether or not that comes to fruition, but one thing is certain this Roma team is contending this season.