Score: Roma Ladies 0 A.C Milan Ladies 1FT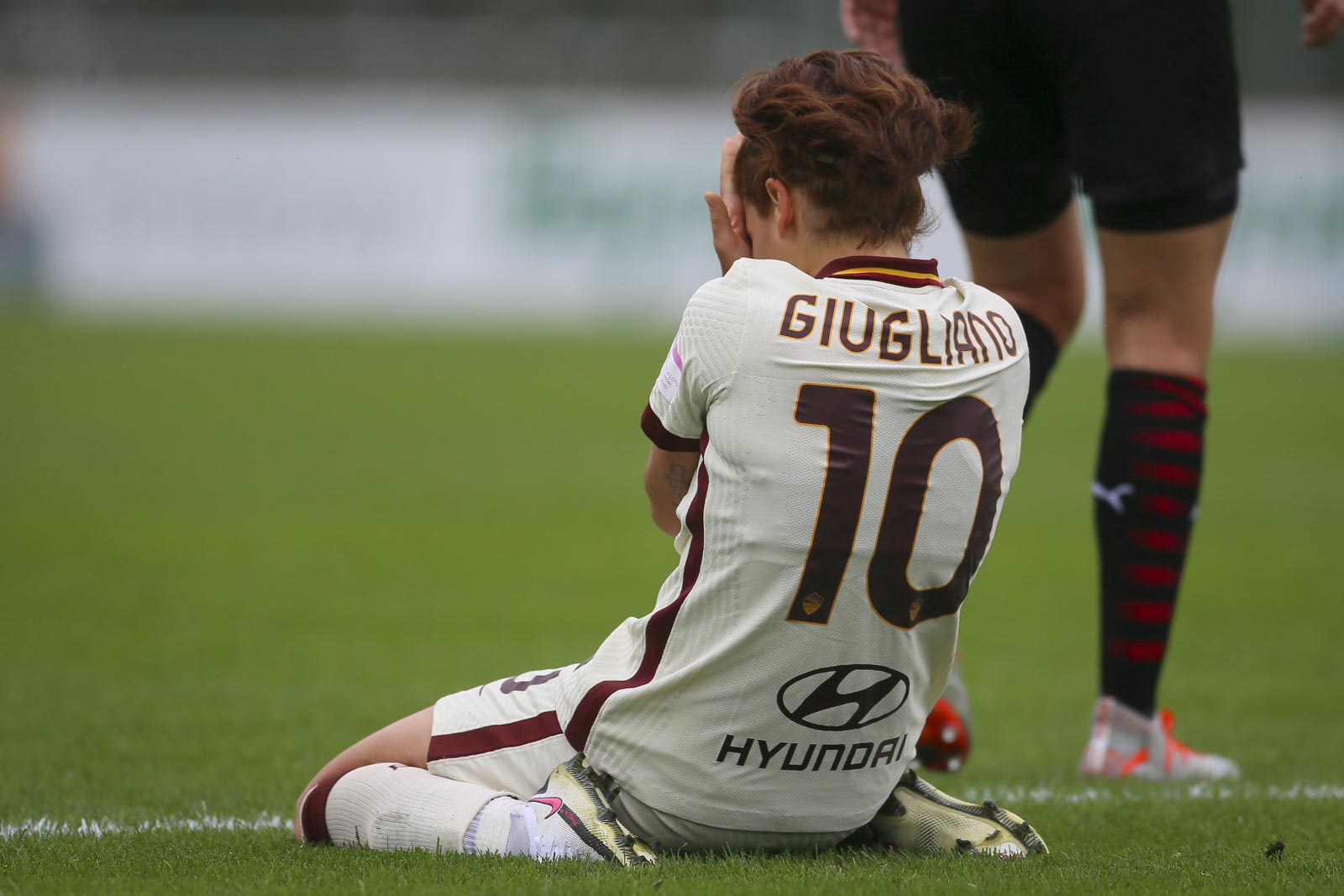 The Roman women are the definition of inconsistency; at least, that is what we have seen from them this season. They continued to struggle to pick up points regularly; honestly, quite a strange proposition has given that on a talent basis case-by-case, they have outside of Juventus the most talented team on paper, but for whatever reason, they can't seem to put it together. The likes of certain, Pamela Lazaro, Giuliano Andressa Alves, and so many others. This week they would face a difficult challenge against an AC Milan team that is simply on fire and has their eyes on the league title. They only sat 3 points out of first place coming into this game at home as they were preparing to host Roma. Roma, we're coming into the game against AC Milan following a draw against Fiorentina;. However, they were significantly, the better team had control and probably could have scored more than they did, they were shut down because the two set pieces that ended up being the difference between the three points. as they couldn't beat, a team that was on a three-game losing streak when they completely dominated had control but couldn't see out the game, something that has been far too much of regularity for this Roma team that has drastically underachieved massively this season regularly. AC Milan is a legitimate title Contender, so even going into this game, you would have thought it would be a significant challenge. AC Milan is very much alive in the title race, and going away from home and trying to beat them was always going to sing to have its difficulties. However, like every game this season, Roma would have their chances; the question was really going to be what their wastefulness gets in the way of getting three points against one of the best teams in Italy. Even though AC Milan did create many chances early in this game, Roma had those opportunities to put themselves on the front foot. The Roma ladies were driving the ball forward just outside the box as Andressa Alves picked out a pass for Manuela Giuliano Roma's Dynamic midfielder tried an ambitious strike from outside the box as she attempted to pull one past her former team. Still, the goalkeeper didn't have much difficulty. Shortly after, Lindsey Thomas was in a dangerous position but misfired equally though AC Milan looks antagonizing and show their qualities. Make no mistake AC Milan for the most part, had somewhat control and had high-quality chances throughout the game, but Roma did have their chances to get in front early. Repair chances for Roma just didn't amount to anything as the match continued. Just a few minutes before the break, the Roman ladies had the opportunity to break in front. Manuela Gulianio came forward with pace and athleticism, looking antagonizing on the break she sent a cross into the box that was mishandled by the AC Milan defense a few touches by Roma put the ball back into her as she missed fired from close range just into the way in what surely would have been an opening goal had to use less power however I'm not going to hold that one against her because at that point in the game she was significantly the best player on the pitch. Both teams had opportunities at the end of the first half, but they just didn't materialize. It was a 0-0 going into the second half. 10 minutes after the break AC Milan was within inches of taking the lead when the strike hit the side netting. Then a sequence of absolute confusion ensued. I'm still unclear what happened, but the goalkeeper was given a straight red card for not cleaning the Ball-out. I have watched this play on repeat since it has happened. I still don't understand, but this resulted in an indirect free-kick Inside the Box; a shot blast at the Roma goal was deflected as a danger was averted. Even though Roma had their chances, especially in that first half, AC Milan looked much more dangerous on the front foot, held The Possession battle, and dictated the match. it was going to be a matter of time before there was a breakthrough. in an absurd penalty decision, Inside the Box, as AC Milan was given a penalty despite minimal contact as the attacker fell AC Milan stepped up and converted as the hosts take a 1-0 lead. she kind of just flung herself to the ground. It's unfortunate given the circumstances, but AC Milan was the better team, So it was somewhat deserved as Giacinti scores a vital goal for AC Milan. Late on, Manuela Giuliano stepped up after being set up by Pamela Lazaro; she tried to hit a curler in the top corner but just didn't have the accuracy required. AC Milan would hang on to win 1-0 thanks to a second-half penalty. However, given the circumstances, Roma did a good job. I've limited one of the best teams in the league to a spot-kick, deciding it shows some of the qualities, but it just wasn't good enough. Manuela Giuliano had a few big changes that could have defined the game, but I'm not going to crush her for it because she was the best player on the pitch for either team. Roma drops another game as inconsistency is becoming far too familiar; a top-three finish now seems Out Of Reach. only eight games in, but they have a mountain to climb.
Losing Patience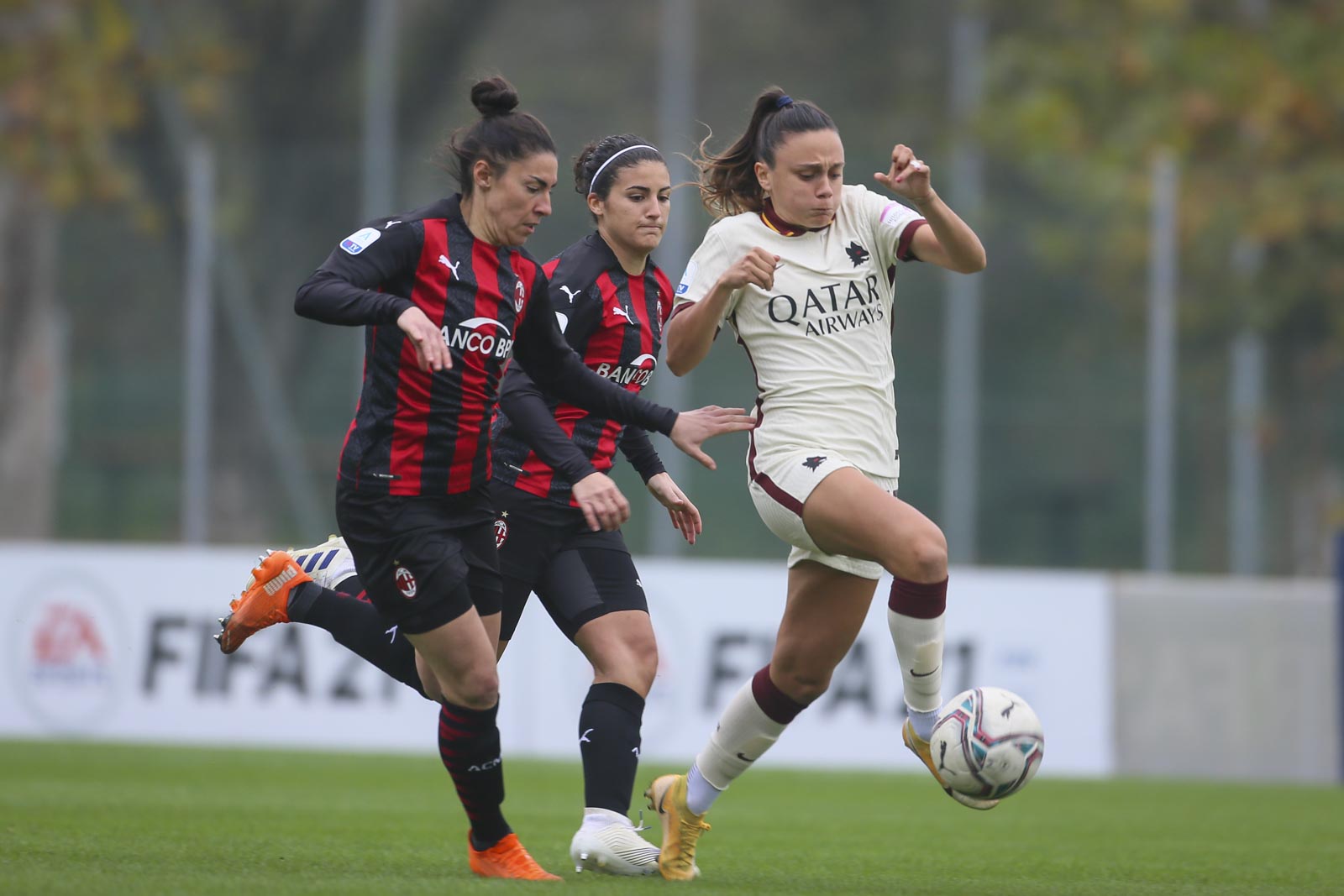 Even though the Roma ladies did a decent job handling one of the best teams in the league, it's simply is not good enough. Roma off this game mainly because of a penalty but even despite that, they were outplayed by AC Milan, which isn't that surprising considering how well they're playing this season but still, you would have thought that Roma would have been a little bit more up for this game. Missed chances in the first half really could have been a considerable difference in this game's outcome. It's the same story every week Roma creates enough chances to win the game but just can't put them away; this is a serious problem and doesn't seem to be being fixed. This is a manager problem; the Tactical awareness and the manager's approach simply isn't good enough. Roma really needs to consider looking for a new manager next season. This is just isn't working the first couple of weeks; you can excuse that the girls haven't been around each other lately after the pandemic and everything that happened last season; it had been a little while since the girls have been together. They've been in training together for a couple of months now; there shouldn't be any lack of Communications and energy; they've been around each other for a while; we can't make that excuse anymore. One of the most talented teams in the entire league, is playing like a team that lacks talent; this team lacks a lot of things talent is not one of them. The only team in league with better Talent is Juventus. They had enough chances in this game to pick up all the points, and they've just come up short again; they have not won back-to-back games this season. Frankly, I'm losing patience; there is no excuse for Roma to be in this situation; it continues to be the same old story, and there's no improvement in Rome has a most vulnerable area three players are carrying this team Manuela Giuliano, certain and Pamela Lazaro makes this team go they need more contribution collectively Roma have probably caught themselves a top-three finish they need to get it together, and quick will become Beyond fixable.