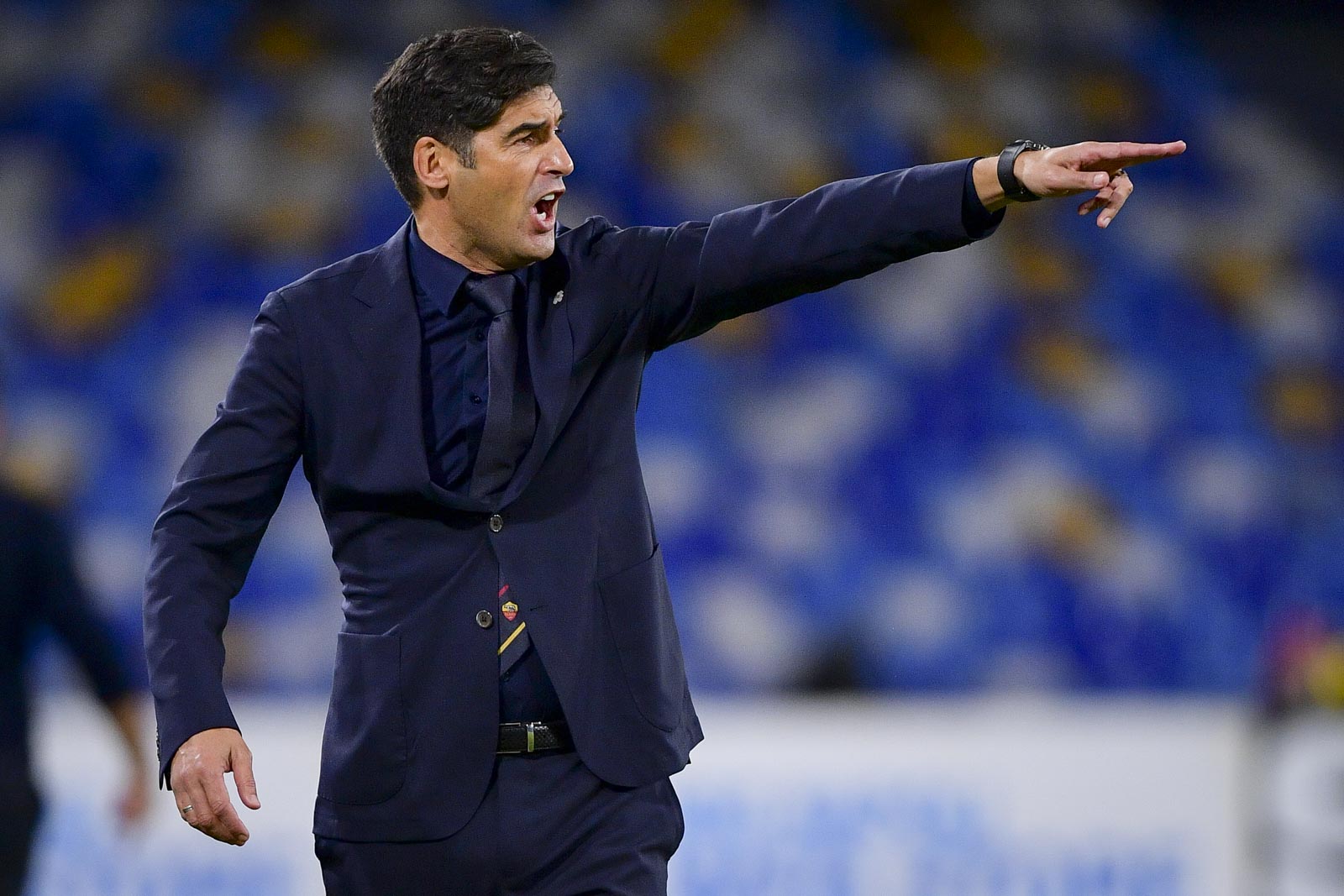 Roma is coming into this emotional game at the Stadio San Paolo against Napoli following victories against CFR and Parma. Roma would put their 21 unbeaten run at risk against Napoli. This week Diego Maradona passed away as the Napoli icon died at the age of 60. This was the first game in the league since it occurred. Last season Roma and Napoli split the season series as they seemingly always do. The Derby Del Sol took place Sunday night between Roma and Napoli. Napoli was not going to be denied at any point. They weren't going to take no for an answer. Roma is the better team and is likely to finish higher than them in the table, but this night belonged to Napoli. Circumstances positively impact the length of the result. Napoli outplayed Roma from the beginning of the game; however, an offside call that went against Roma could have very well led to the opening go early. The officiating was very heavily favored towards Napoli. Lorenzo insigne gave Napoli a 1-0 lead coming off a free-kick. not long after, both Jordan veretout and Gianluca Mancini went off injured. Then in the second half, Napoli just dominated; certain circumstances could have led to some of this, but nonetheless, they were the better team than a tributed their performance to Diego Maradona. They doubled their lead to Fabian Ruiz and added two more through Dries Mertens, and Politano did what was a 4-0 victory for Napoli as they win in their first game since the passing of Diego Maradona. Roma was severely outplayed and did not look up for it. However, losing Mancini and the offside call could have very well become a different game. Napoli wasn't going to be denied tonight, but the scoreline would have been kinder to Roma. Despite Napoli getting some favoritism, they were the rightful winners. Roma will try to rebound next week against Sassuolo at home; this wasn't not a performance to remember Roma still are contenders and a Champions League team; they will come back from this, and next week we will see what this team is really made of.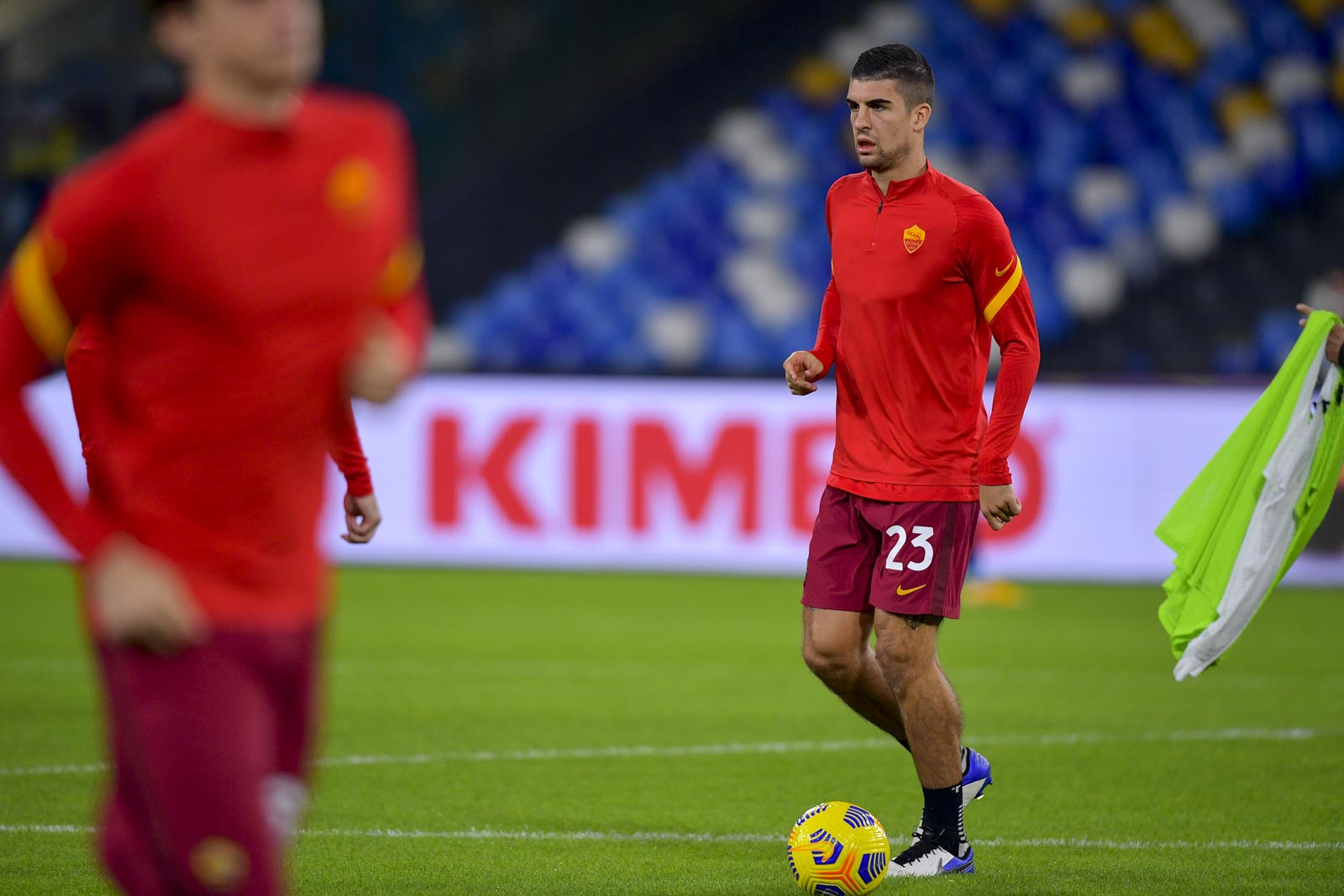 Paulo Fonseca would set up his Roma team out of the typical 3421 formation. It would be an almost full-strength Roma team with some adjustments required defensively. In goal as always would be 37 year old Antonio Mirante. Roma's three center-backs would be Bryan cristante centrally, with Rodger Ibanez on the left and Gianluca Mancini on the right. The defensive Midfield would be made up of the pairing Jordan veretout and Lorenzo Pellegrini. Then in at the left-back would be Leo spinazzola on the opposite side as a right-wing back would be Pedro Rodriguez. Then up front underneath the striker on the left-wing would be the red-hot Armenian henrikh Mkhitaryan. Then on the right-wing would be Pedro Rodriguez. Then up front as the main striker returning to the starting lineup would be edin Dzeko. The bench would consist of Gonzalo Villar Diawara, among others.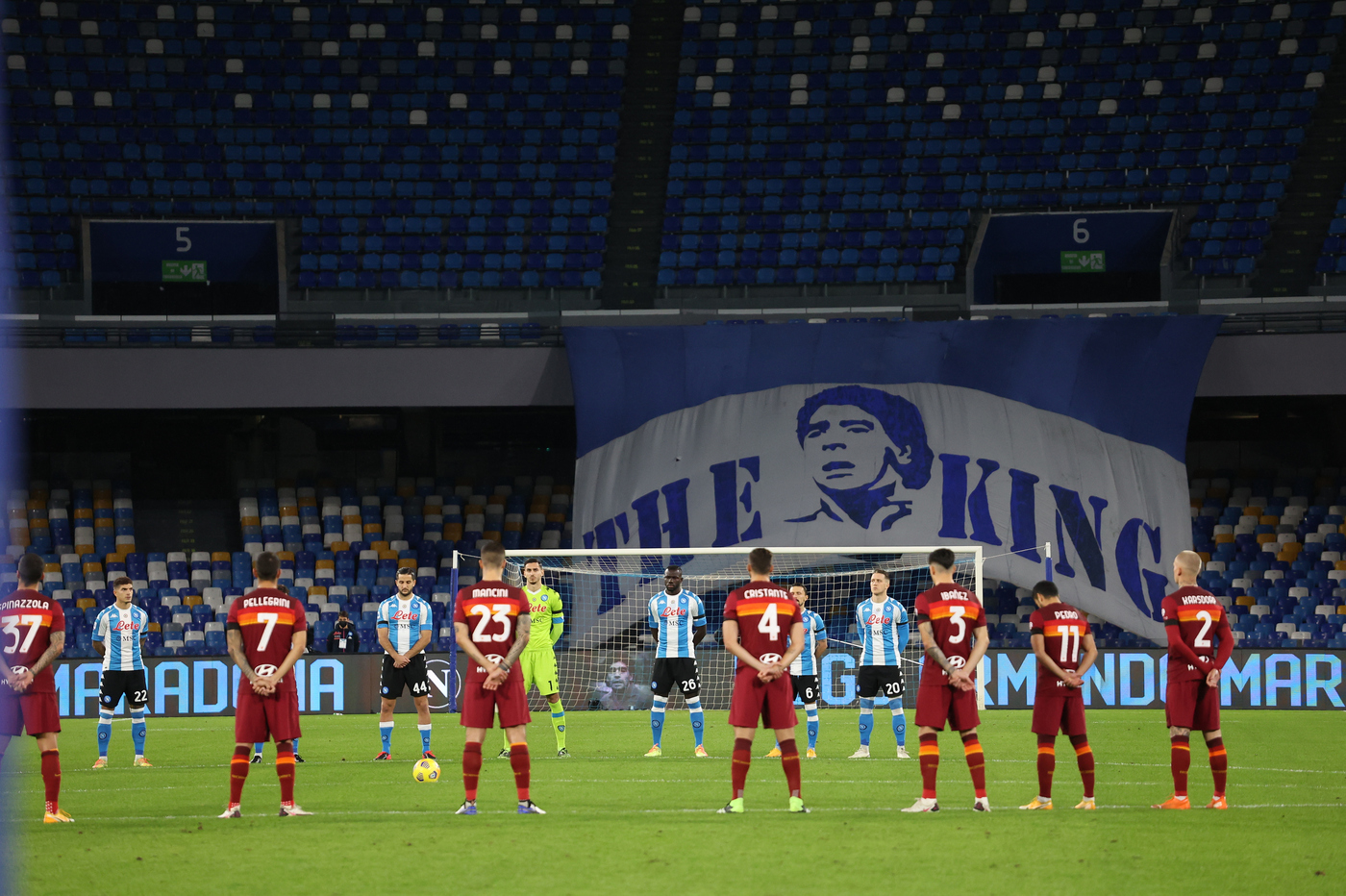 After preparations or predictions, the match got underway at the Stadio San Paolo. Emmy opening moments, there was a moment of silence for Diego Maradona the Napoli icon, recently passing away this week at the age of 60. Afterward, the match got underway as Napoli andR oma went to battle. Roma did not play all that well in the first half. But they got an early chance from Pedro Rodriguez, but his strike went wide. For the most part, Napoli were in complete control of possession, playing well despite some circumstances being thrown in their direction. Both Lorenzo insigne and dries Mertens try to hit Roma, but Roma defended the accuracy of the Napoli attacks at a very low rate. The controversy kicked in not long after Pedro fleeced through ball into Mkhitaryan, who was onside, but it was called back in what would have certainly have been an opening goal. At the end of this game, we may very well be looking back to that decision. Napoli continues to get forward; however, In fairness, the Roman defense did a phenomenal job keeping Napoli in check. Piotr Zielinski, not long after was denied as the strike went directly at the goalkeeper. Leo spinazzola had one of the few chances for drama in the first half, but his strike was deflected. Finally, that moment arrived for Napoli in the 30th minute. From a free-kick, Lorenzo insigne scored a screamer to give Napoli a 1-0 lead. He lifted up a shirt reading Maradona's number on it and pointed to the sky. An outstanding goal a great way to Tribute the Fallen Hero. However, what people won't tell you is dries Mertens was in an offside position before Napoli winning a free kick if that is called correctly, the free-kick doesn't happen. Napoli wasn in total control, not taking anything away from them, but the officiating in this match the heavily-favored Napoli. Roma tries to reply, has Bryan cristante Misstime they strike that he certainly could have done better with. Then in the closing moments of the first half, a superb cross from Pedro Rodriguez Miss time edin Dzeko as the ball went through after the first half Napoli had a 1-0 lead. Thanks to Lorenzo insigne and a slightly controversial error left of the goal, Napoli were the better team and probably deserved to be in front after the opening 45 minutes.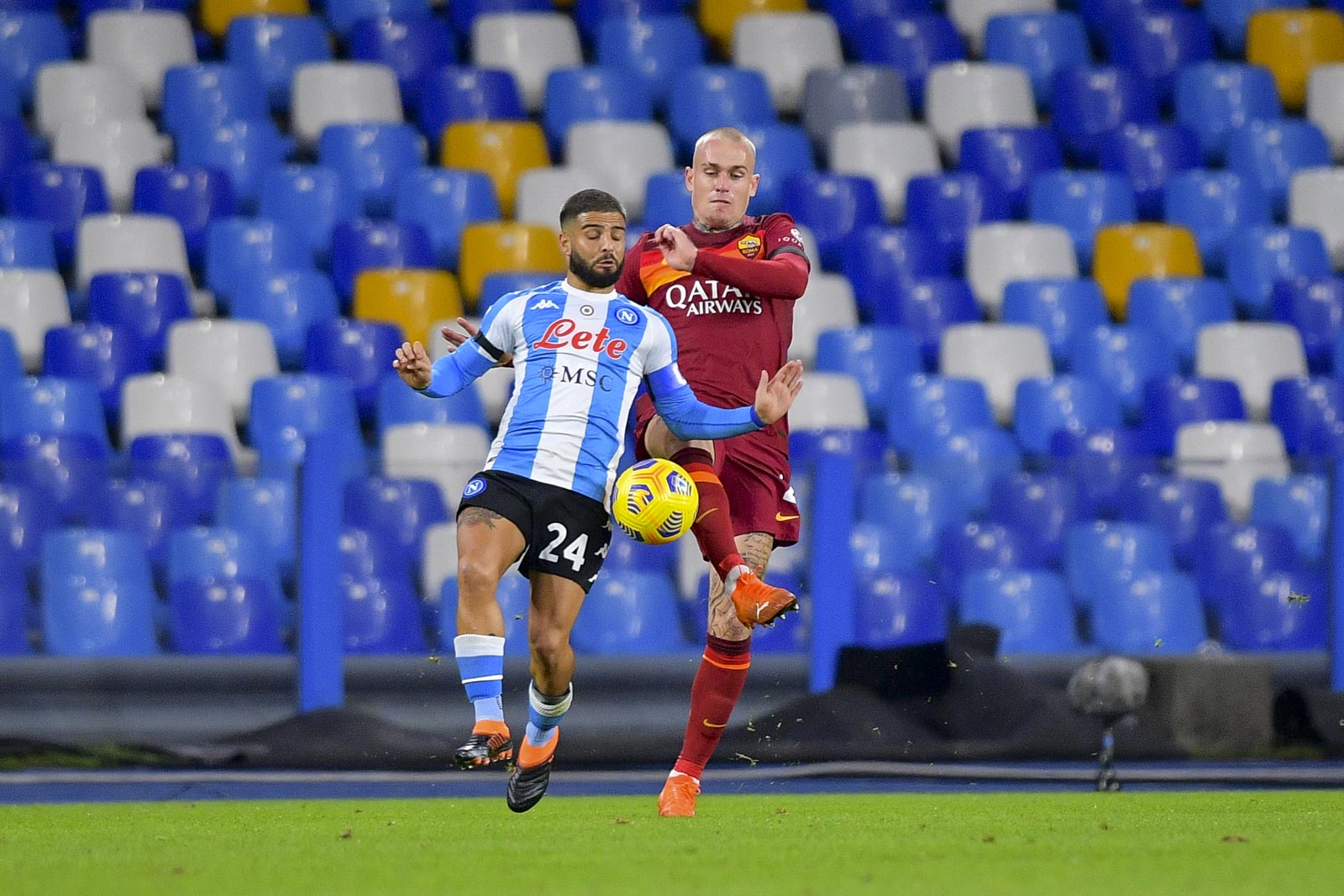 That was not an overly impressive first half of, but a lot of it was circumstantial. Not enough possession didn't press well enough the second half will be an opportunity for Roma to try to turn that around. However, things got worse for Roma Jordan veretout had to leave the game because of an injury as Gonzalo Villar replaced him at half-time. Now Roma would be without their starting center back and arguably their best player. Meanwhile, Napoli just kept driving their momentum. Dries Mertens send a through ball into Chucky Lozano, who struck at the Roma goal but was denied by Antonio mirante. Roma founded it difficult to indeed find themselves in the game. The officiating disadvantages the fact that they didn't have enough possession, and Napoli was playing with emotional energy. It just was a bad moment for Roma, not to mention the injuries they had suffered. What about a half hour to go edin Dzeko shot from close range was denied. Then two minutes later, in the 64th minute Fabian Ruiz scored a scorcher perfectly placed from outside the box to give Napoli a 2-0 lead. Not long after Carles Perez came in for edin dzeko. The Bosnian did not get a full game, but he is still trying to get back into match fitness after having the virus the last couple of weeks. Roma didn't have much life whatsoever not long after Lorenzo Pellegrini tried striking from a distance but didn't have the accuracy. 2 minutes later, Gonzalo Villar came close to one of Romans best chances of the game as his shot from Deep came within inches but did not find the back of the net, unfortunately. With a little more than 11 minutes to go, bojar mayoral came in for Lorenzo Pellegrini to try to get Roma some sort of energy that they seem to be lacking. 2 minutes later in the 81st minute, Dries Mertens Napoli's all-time leading scorer Struck from close range so give Napoli a 3-0 lead before Politano scored a fourth to end it. In what led to an eventual Victory. It was Napoli's night after what they have gone through over the last week it was deserved; they played like champions beating Roma 4 0 in a night in which they were not going to be denied romelu Stookey players to injuries, and Napoli rolled over then and the second half as they put together a performance that would have made Diego Maradona proud. Beating Roma for the first time in 21 games, telephone Seca side suffered injuries and never really felt in the game Napoli just took advantage of it.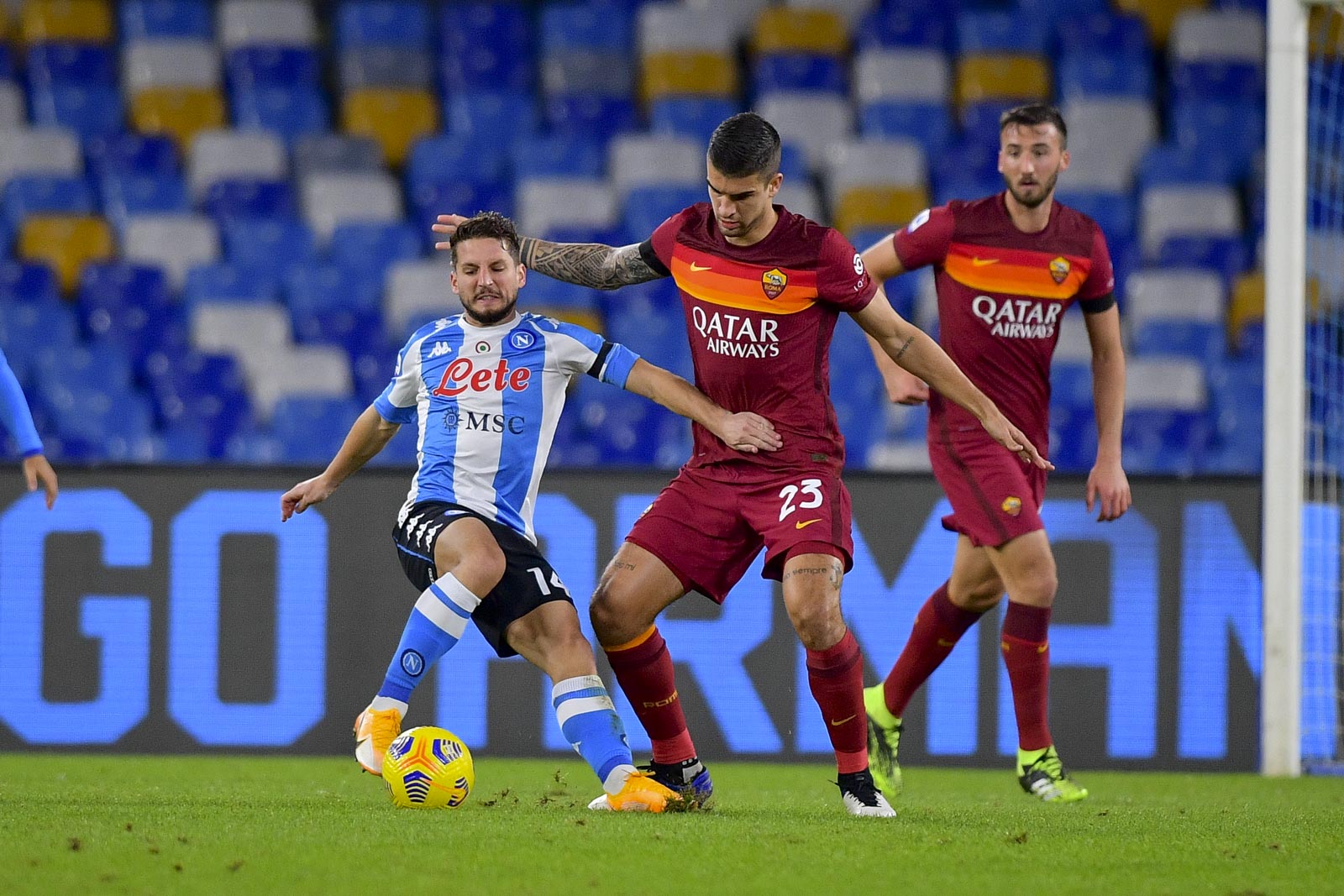 Roma's really horrible performance even though that's not the only thing that contributed to the match it certainly looked very different. It was always going to be quite challenging to beat Napoli away from home after the passing of Diego Maradona. Roma is a very dynamic and capable team fighting for the league title and will be playing Champions League football next season. Despite how the match went, Roma just had a bad day at the office against an inspired Napoli team that had emotions flowing through them. Don't change the narrative. Roma losing this game by the margin doesn't mean they're not a capable team, just like this Victory doesn't mean that we are going to win the title. I think everybody needs to calm down before they start painting certain things about what these teams are and what these teams are not. Even though Napoli deserves to win. Roma did not have much of the ball Napoli control possession and attacked Rome as a goal. Roma did not do much of anything outside of the opening 15 to 20 minutes. However, certain circumstances clearly impacted the game. Regardless of the game's storyline, I still think Napoli probably would have won based on the way they were playing today. They wanted to honor Diego Maradona and they did that. However, certain things need to be mentioned that could have influenced the way the game went. Henrikh Mkhitaryan was onside on a breakaway before Napoli scored their opening goal it was called back. You could say it was fifty-fifty, but to me, even though it was close, he was clearly onside. If the Armenian doesn't get called back and all likelihood Roma score that goal, which would have given them a 1-0 lead. I'm going to say this again I still think Napoli would have probably won the game regardless. However, if that happens, the Outlook of the game and potential scoreline looks different. on top of that, Napoli's first goal coming off a free-kick; before the free-kick was called, Dries Mertens was in an offside position and wasn't called if that is cold correctly Napoli doesn't get that free-kick and doesn't take the lead in that moment. Then Gianluca Mancini and Jordan veretout both get injured who significant pieces then the game is in the same. Napoli were incredible rooling Roma over in the second half breathtaking they missed a bunch of chances, but equally, they converted the ones that mattered. It's hard not to point out specific things in this game where it went against Rome was way it was all in one direction Napoli got away with a lot there offsides that weren't called there foul on Roma players that were ignored; they allowed the situation of Maradona to influence how they were going to officiate against Napoli. There's a little bitterness here and a little bit of salt But ultimately, this was Napoli's moment and night but that doesn't completely ignore some of the situations that took place. Roma just didn't do enough when Gianluca Mancini went off. Roma had no chance in it, and that is the honest truth.