Bayern Leverkusen 4 Hoffenheim 1FT
Bayer Leverkusen is sliding under the radar but not for much longer. They are top of the table about Bayern Munich and above RB Leipzig. That is what was on the line last weekend in a match filled with drama two red cards when Bayern Leverkusen and Hoffenheim went to battle with one another. Bayern Leverkusen would go top with a victory; they have done all this after selling their best player Kai havertz to Chelsea over the summer; however, it seemed not to have fazed this vibrant Leverkusen side that is getting production from multiple areas. After scoring a brace in the Europa League, just minutes into the game, Leon Bailey hit an absolute scorcher into the top corner in what has been one of the best goals this season. Coming off a corner by Leverkusen played it short outside to Leon Bailey, the Jamaican International took one dribble before a snipe rip through the top corner from outside of this area code at an angle, just an outrageous hit to give Leverkusen a 1-0 lead. Bayern Leverkusen controls most of the game, but Hoffenheim tries to retaliate however the Bayern Leverkusen goalkeeper made a double save on a Swift counter-attack buy Hoffenheim But ultimately denied. Three minutes later, Hoffenheim sends a horrible back pass to the keeper that was picked off by Leon Bailey; once again, the Jamaican midfielder picked off the ball before the goalkeeper could get to it, passing the ball into the back of the net from well outside the Box as Bayern Leverkusen took a 2-0 lead. They had control, and we're only driving it further. Horrendous defending as they give the Winger a gift. Hoffenheim desperately, with trying to get back into the game they had another very close to attempting with a header coming off a just missing. Hoffenheim just needed to get a goal back, and then everything was open, but that would be easier said than done, especially against a team that was looking to take the top spot in the Bundesliga. Right before halftime, Julian Wirtz tried to strike from outside the Box but misfired. Minutes into the second half Hoffenheim got their lifeline as Christophe Bumgarner hit an outrageous strike from outside the Box lifted into the top Corner as Hoffenheim was able to minimize the deficit, at least for the time being. An outrageous goal from Hoffenheim. However, Leverkusen would strike again, eliminating any dream of a comeback. A beautiful through ball from Lars Bender inside the Patrik Schick that took one touch laying it off to Julian Wirtz lifting the ball into the back of the net as Leverkusen took a 3-1 lead. Two red cards would be issued in the final 30 minutes as Bayern Leverkusen we reduced to 10 men first, and then Hoffenheim would be as well. In the final minutes of the game, Bayern Leverkusen won a penalty. Lucas Alario stepped up, striking in the bottom corner as Leverkusen pull off Victory thanks to a Leon Bailey brace as Bayer Leverkusen launch themselves to the top of the Bundesliga for the first time in a long time. No kai havertz, no problem; this team is the real deal and will continue to be in this title race.
Hellas Verona 2 Lazio 1FT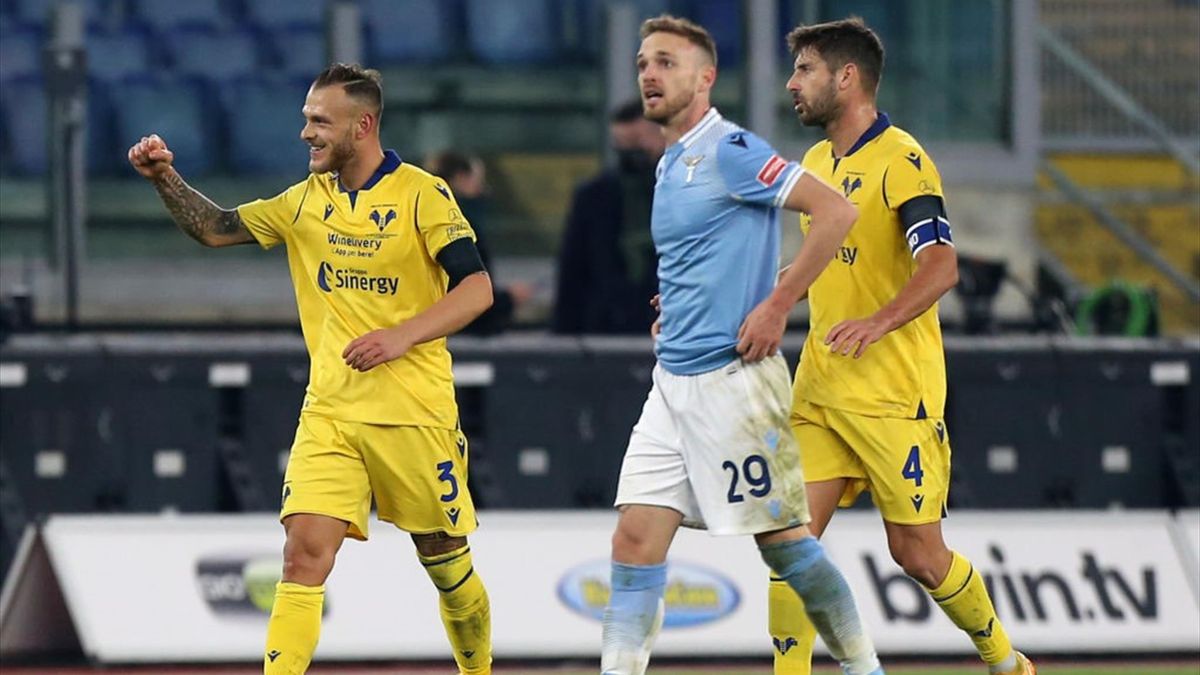 Every week in Italian football, it is a different story. In this campaign, it's really hard to explain, but anything can happen. This last week was another example of that Hellas Verona took on Lazio. Verona being one of the most underrated teams in the league so far this season with a possibility of Europa League football if things continue to go the way they have. Then you have Lazio led by Ciro immobile and Luis Alberto, a team that has underperformed this season and doesn't seem to be any threat to the European thrown this season. They probably will be able to grab a Europa League spot, but at this rate, it's going to be kind of tough they are just not playing very well, and they're way too inconsistent. Hellas Verona was the team to spoil Lazio at the Stadio Olimpico away from home. Ciro immobile can close early, shifting a strike from inside the Box a little wide. However, Hellas Verona where not to be messed with have they tried to strike out the other end. Then the moment happened across from inside the Box was hit out of the air. Unfortunately Lazzari accidentally put the ball in the back of his own net feeble defensive structure as Verona just cut in there and put themselves in front as they took the 1-0 lead. Hellas Verona only drove that momentum further; they were out playing even if it was at home. Verona took a 1-0 lead into the second half before Lazio got a great equalizer ripping a strike into the back of the net to level the scores. They came close numerous times, but Di Silvestri continues to be one of the best goalkeepers in the league this season, making some crucial saves in big moments it would go a long way in the end. A horrible defensive pass from the terrible back reaction from Pepe Reyna and Verona went around the goalkeeper striking in an open net; it turned out to be a vital piece as Lazio mistakes the Hellas Verona continues to be one of the toughest matchups in the league as they pick up all three points in a 2-1 victory against Lazio. Lazio really needs a goalkeeping change. This isn't what they were last season after another Rocky performance; pressure has only continued as Hellas Verona stun Lazio to keep that momentum driving them as they have the rise on a potential Europa League spot after another massive three points.
A.S Roma 5 Bologna 1FT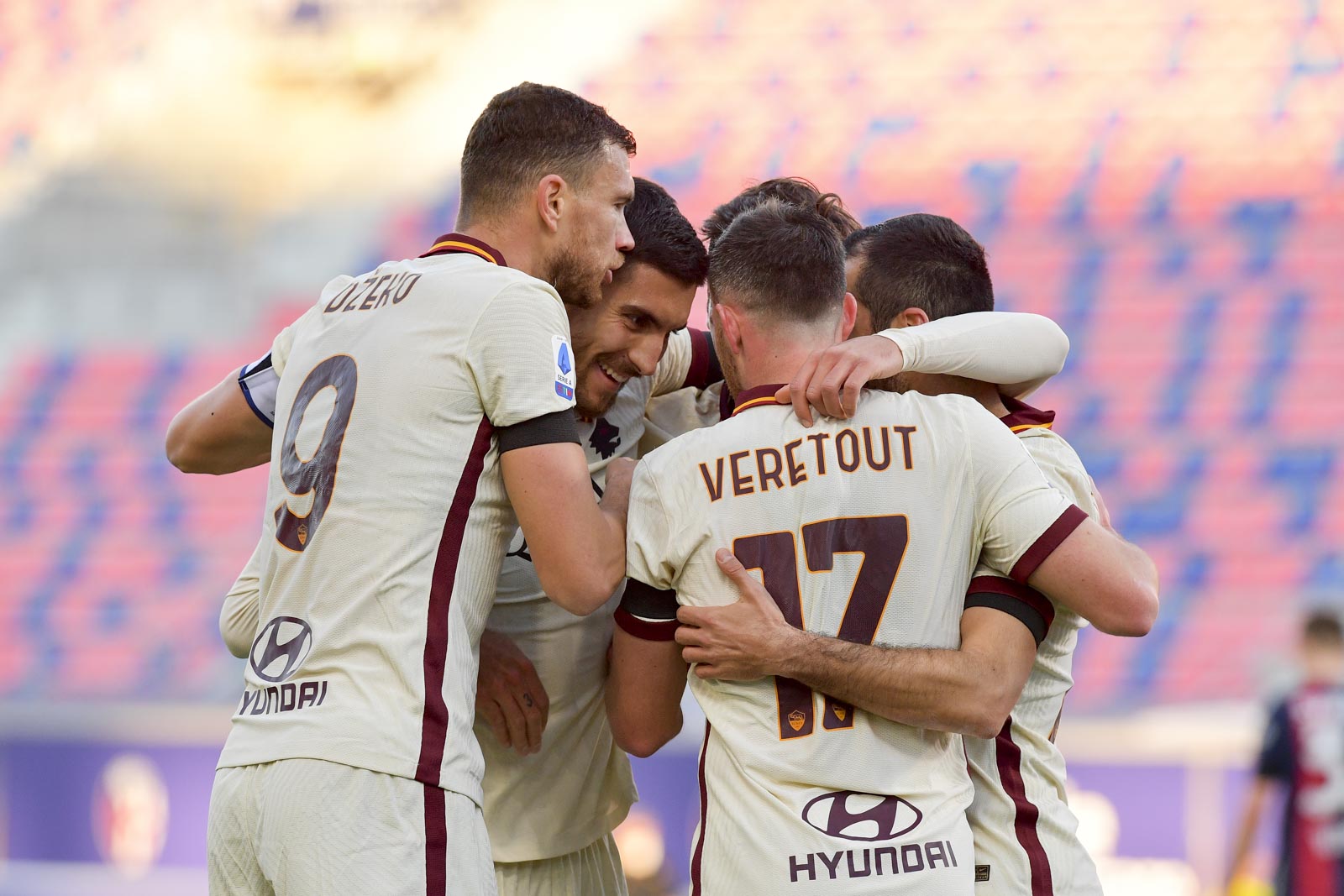 Last night Roma put together one of their most dominating performances that Rome has ever had. It was a unique and memorable display from Roma. Something they certainly we were not expecting. They took on Bologna last night away from home. Roma had a controversial draw last weekend, and before that, a big loss to Napoli. They needed that push of momentum; they got it early and often. Roma would be without Pedro Rodriguez, who was serving a suspension, and Paulo Fonseca, who had to watch the game from the box rather than the bench after being sent off for protesting a VAR decision last weekend. This match ended so quickly and so precisely. In the fifth minute, Leo spinazzola was searching for edin Dzeko in the box his cross ended up finding him, but a touch from the bologna Defender ended up putting the ball in the back of his net as Roma took a 1-0 lead. Five minutes later, in the 10th minute, edin Dzeko got that goal to supply some significance. A wonderful ball inside the Box as Lorenzo Pellegrini found the Roma captain Dzeko created separation before sending a strike into the bottom corner to give Roma a 2-0 lead. It was edin Dzeko's 111th Roma goal, now taking him to third all-time. Equiline the goal total of the great Amadei. Then five minutes later, in the 15th minute, Lorenzo Pellegrini was released by himself just outside the box Roma's vice-captain bury the ball in the back of the net to give Roma a 3-0 lead. Things calm down a little bit but not for long Bryan cristante scored a goal at the wrong end, giving a goal back for Bologna. Roma would add even more misery to a horrible first half for Bologna with one of the best team goal seen this season Edin Dzeko to Lorenzo Pellegrini to Mkhitaryan and finally into Jordan veretout inside the box as he buried the ball into the far Corner as Roma ran out to a 4-1 lead. Then at the stroke of half-time, Rick karsdorp made a brilliant run down the flank before supplying a perfect time pass into Mkhitaryan, who struck the ball right down Main Street into the back of the net as Roma ripped out a five-goal first half as they led 5-1 after 45 minutes. It was the first time they've done that since 1958. In the second half, they could have certainly added more goals, but they showed respect and professionalism to Bologna, a team they have respect for. Nonetheless, Roma wins big without Pedro Rodriguez and Paulo Fonseca on the bench. Roma back on track after an astounding 5-1 victory.