Joshua Kimmich vs Mainz 
Joshua kimmich continues to be the standard of consistency as he was the brains intelligence and Leadership behind Bayern Munich pulling off a come-from-behind victory against Mainz. Against the odds, Bayern Munich, due to the sensitive deficiencies, once again saw themselves two goals down. Bayern Munich is the best team in the world, and it's not even close. This is the case because their defense does have its issues from time to time, and it still doesn't matter they can figure out a way to pull themselves out from underneath, especially by being down by multiple goals. It was one of the most exciting and exhilarating matches of football we saw over the weekend. Especially after pulling out the comeback, it wasn't Robert Lewandowski or Thomas Muller who stole the show; Joshua kimmich. He is just on a different level than the majority of players in football. He is a right-back that converted to defensive and has become one of the world's best players. There is no debate about this; he is a top 5 player in the world right here right now. So many are not aware of that. He has a lot of credit and is universally recognized as one of the world's best players and a world-class player, critical to Bayern Munich. So it may even be hard to say that he's underrated, but that's precisely what he is; this is why. When he is discussed as a world-class player, what people really mean to season the top 10 wrong he's in the top three. Only Neymar and Leo Messi are better. Joshua kimmich is the heart and the pulse of Bayern Munich. Along with Thomas Muller, Bayern Munich are lead by these two men. In big games, Robert Lewandowski may be the one supplying the goals. Often, Muller is the one providing them, but Joshua kimmich does everything for Bayern Munich. He is the best defensive midfielder in football, and it's not even close. Defensive Midfield may not be the sexiest position, but he does so much he can score great goals in big games; we all remember his strike against Dortmund last year that flipped the title. He can supply with excellent ball skills and passing ability, but it is the fact that he does a little bit of everything. There come from behind Victory Joshua kimmich scored and assisted, being responsible for two of the five goals. His ball control, his tackling is intercepting rate, and his overall football intelligence is what makes him better, but most of the players on the planet. People love goals and assists, and I understand that, but Joshua come it's just so much more than just that; without Joshua kimmich, this Bayern team would not be capable of starting a dynasty they would still win Champions Leagues, but this is a team can go on a run of consecutive Champions League trophies and might become the first team ever to have back-to-back trebles this does not happen without Joshua kimmich. When the chips were down in this game, he found a way to inspire his team and get themselves back in it. Joshua kimmich ended that game with an 88% passing efficiency and then 91% tackling success; he dictated and controlled the entire match; his impact was largely influential, and his leadership was impacted by the ability to come back. Bayern Munich is loaded from Back to Front, but it is Joshua kimmich that moves the ink. He was nothing short of world-class this season and the comeback last week was a team effort, but Joshua kimmich dictated this; he got involved in the attack and defensively made things difficult, neutralizing the opposition when Bayern started gaining the momentum. One of the best performers of the week, and I would even argue of the three getting recognized. Joshua kimmich was just on another level even against Federico Chiesa, and duvan Zapata, who had performance is up for Section Joshua kimmich was just a level above that.
Duvan Zapata vs Sassuolo 
Duvan Zapata has been as consistent as any player coming at the striker position since he's been in Bergamo. He was broadly influential in the club, making Champions League football in back-to-back seasons, and has been as crucial to their success as any. In contrast, Papu Gomez is the greatest player in club history and arguably an essential component to what has made them such a success. they aren't the same type of team without duvan Zapata. The Colombian International is as tricky to deal with defensively as any player in the league. Typically you come across players with extraordinary physical abilities or great speed; it's very rarely you come across a player with both of those components. He also has all of that in a big frame. He is one of the toughest players in the league to slow down or shut down. Only a limited amount can make him uncomfortable. Now duvan Zapata is undoubtedly capable of losing run a form consistency from time to time. Still, when he is firing on all cylinders, it makes Atalanta such an antagonizing matchup. With all the drama regarding Papu Gomez, the Columbian has stepped up in a big way. It has been an up-and-down season for Atalanta, and they're unlikely to make the Champions League next season, but they still can get into that conversation and threaten or at least Europa League football. Over the last couple of weeks and the last two matches he played this week, he's really taken it to another level. He is one of the most underrated, underappreciated players in Italian football who never seems to get the respect that he deserves. In his first season in Atalanta, he went for 25 goals and then follow that up with a 20-goal campaign despite being injured for half of the season. He's starting to get into his bag as Atalanta continues to roll. They played sassuolo last weekend in what was supposed to be a tightly-contested matchup between two teams with European ambitions. Then duvan Zapata happened, putting together incredible strikes, incredible control, and finishes on both goals and facilitated his teammates' opportunity. Atalanta annihilated them in a 5-1 victory primarily lead by duvan Zapata. Then just a couple of days ago, the Columbian would be the main man again in a 3-0 win against lowly Parma. In his last two games, he has three goals and two assists. Practically ever since the Roma game, he has been operating on a different type of level. He had been one of the best strikers this season but is not getting the credit for the praise that he deserves. He has six goals and four assists in the league, including three strikes in the Champions League, taking him to nine goals in all competitions. While it may have been a somewhat slow start to the season individually last year, it was similar, and the striker still ended up with 20 goals and nine assists. He is just getting warmed up this season; if Papu Gomez does leave in January, Atalanta will have to rely heavily on duvan Zapata, and even though I've been going with just so significant to that team, the Colombian is just that good that he can keep it moving even if his captain departs. He was Sensational over the last couple of games but was truly one of the complete Strikers in Italian football over the last month. His goal scoring is his most antagonizing trait, but he is also an underrated passer and physically hard to control because of his speed and size. He is basically a pitbull with its leash off. More opportunities will come for him; this team is better with Papu Gomez, but you will get European football as long as you have duvan Zapata. There is certainly more to come from the Columbian, but this week he was nearly flawless.
Federico Chiesa vs Milan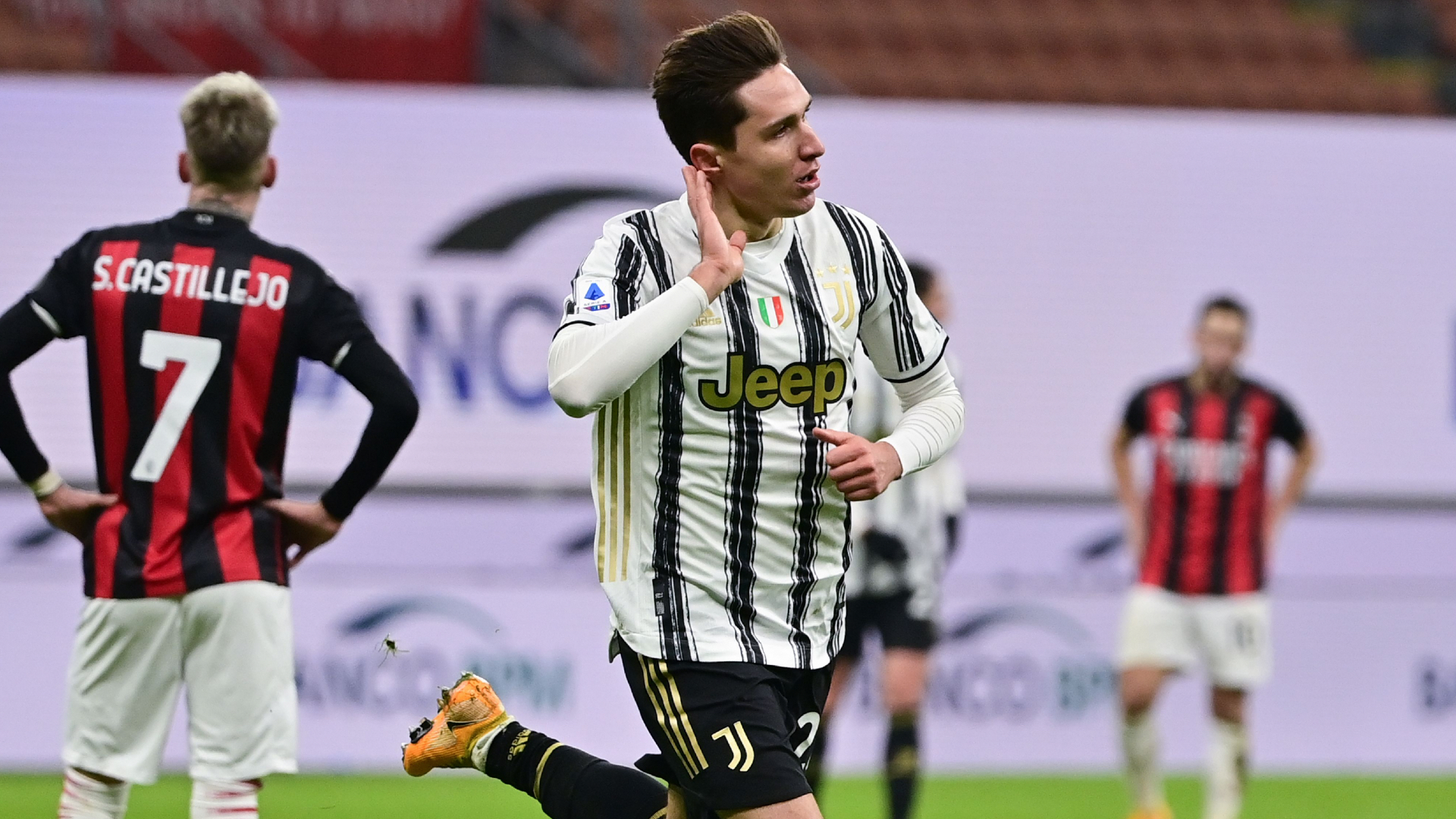 Federico Chiesa put together one of the most dominating performances of this last week. To back-to-back influential displays, that's e Juventus pick up victories in their last two games after being embarrassed at home to his former side Fiorentina. He was especially bad in that game; he needed a bounce-back performance, and he certainly supplied it against Udinesse. Then against League leaders Milan who suffer their first loss of the season. Federico Chiesa has been the most overrated Talent in Italian football over the last couple of years. That has been his reputation and his narrative about him. Quite obviously, he's hugely talented, but he hasn't quite got into that something extra yet. You could put that down to the lack of Investments that Fiorentina surrounded him with, or you can put that down to some of his issues. He was heavily scrutinized the last couple of years because of his attitude and the lack of work rate. He's incredibly talented and has so much potential to be a super player in European football still, but the perception has been he doesn't put in enough work; he's a light fuse and has a bad attitude. Some of these things are still legitimate things about him. However, he is slowly starting to become a much more refined player. The move to Juventus was scrutinized mostly down to the price, which at the end of this deal will rise upwards to 60 million, about 25 million more than he's worth. The other reason it was criticized is his attitude, and you can be a great player and have a bad attitude, but for a Juventus team that Pride itself on discipline, work rate, and composure, he did not fill any of these categories a Juventus team of the past would never have even considered going in for him. However, even though he still has to work on these things, he has become much more mature over the last couple of months. On the pitch, it started poorly at Juventus but quickly, it is started to turn around. At the back end of 2020, he began to find his place in this team and became a vital piece into this Juventus team that will don't have the materials to win the league title but can position themselves for the next couple of years. In the matches against Udin and AC Milan, he was nothing short of sensational. He's starting to have the mentality and an incredible skill set in terms of athleticism and speed; he is such a threat in the attacking sense he would get forward and use his explosiveness. He is also becoming an outstanding passer with exceptional vision. These sort of skills were on display in Juventus's last couple of games. Against Udin he supplied a nearly perfect ball into Cristiano Ronaldo and put the ball in the right space is countless times. He also found the back of the net in that game, largely contributing to a 4-1 victory. Then in the biggest match of the season so far against AC Milan, he rose to the occasion and was the Magic Man for Juventus in their 3-1 Victory against a seemed a lot. I understand that Milan was slightly short-handed, but his performance was brilliant. The young, sometimes misunderstood Federico Chiesa scored a brace striking on two different occasions in their big victory. Again I'm going to reiterate this Juventus will not under any circumstances win the league title; there are too many considerable weaknesses in this team; however, they played like Champions against AC Milan. Federico Chiesa scores a tremendous first goal beating one of the world's best Keepers and Gigi donnarumma. AC Milan ended up getting back in that game. Still, Federico Chiesa settled once again attacking Theo Hernandez, one of the best attacking minded left-backs in European football but has struggled significantly defensively. Federico Chiesa found that Gap on a repeated basis and overwhelmed the Frenchman. Chiesa scored one of the goals of the season, finding an inch of space that barely slipped underneath the leg of Hernandez, who was attempting to block the shot into the back of the net to put them back in front and then, as we know, Weston mckennie killed off the game. Federico Chiesa was one of the most outstanding performance this week that was a performance of just pure ecstasy a dominant display against AC Milan and very influential in their match on the weekend; he has four goals and three assists this season; he struggled at the beginning, but he's starting to find his form with three goals in his last two games his performance was justified even with all the things he still needs to work on it is quite clear she is a different player than in past seasons.