Score: A.S Roma 2 Speiza 3 AET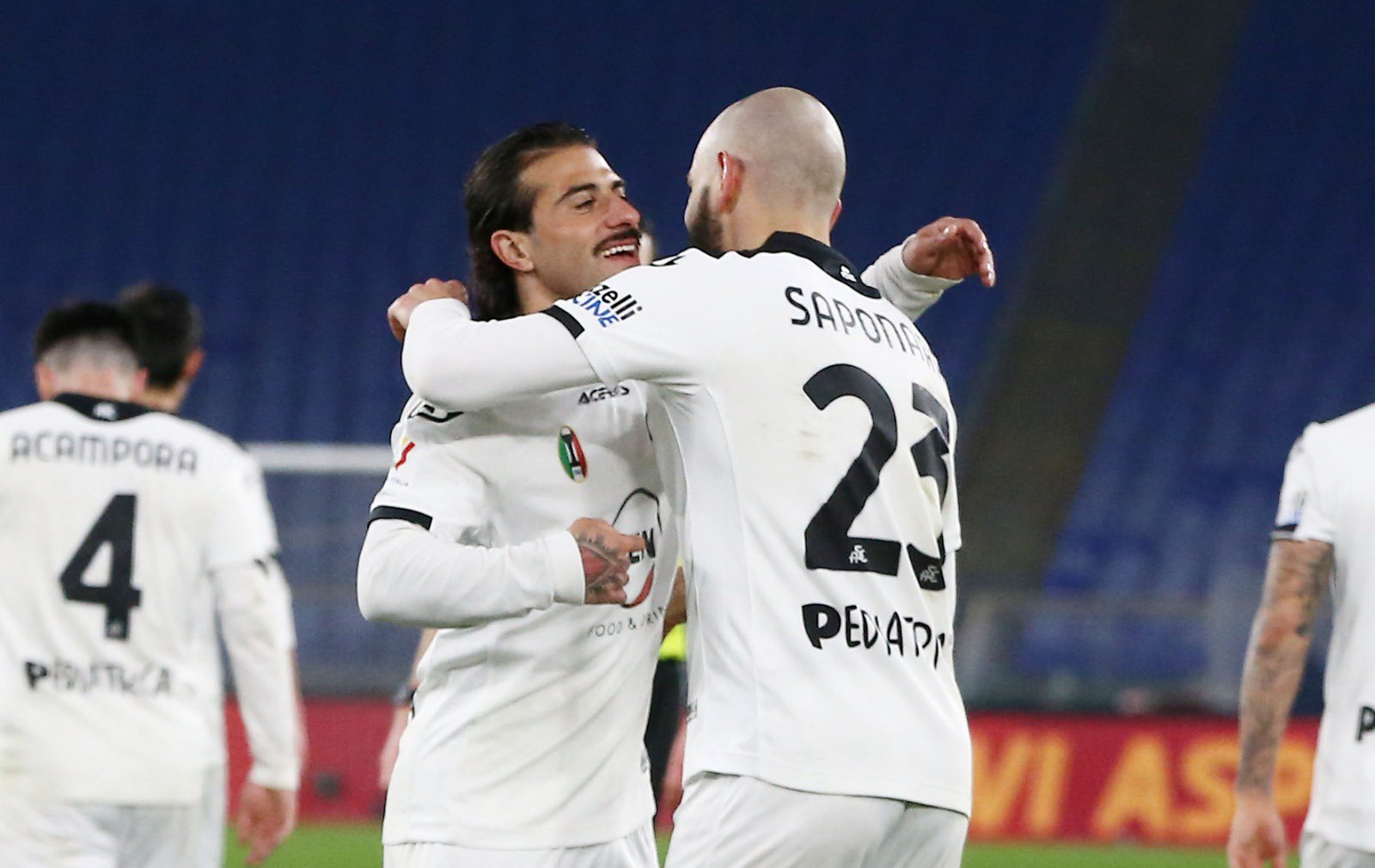 Roma came into this matchup after being absolutely humiliated by their City Rivals Lazio. There was an absolute lack of momentum and confidence in the general sense as they fell flat in another big game, something that has undoubtedly put a lot of pressure on Paulo Fonseca. Roma was hoping to use this platform to get themselves into the quarter-finals of the Coppa Italia. They will be playing against Spezia, a team they will play again this weekend with a real chance to try to get that momentum back they seem to be missing the last couple of games. That did not go as planned Speiza took the lead early through a penalty kick as the visitors took a 1-0 lead. Roma dominates the game but had some issues in the opening 20 minutes, and Speiza scored again to open up a 2-0 lead against Roma. The hosts had a lot of opportunities to break things even in the first half, with a lot of chances coming and going. Bojar mayoral step in for edin Dzeko and didn't have an ideal performance. He's done well when he has played this season, but this was not one of his better moments. He had a couple of chances in the first half that could have got them back into it. Roma did get back into it at the end of the first half when Lorenzo Pellegrini converted from the penalty spot to minimize the deficit. Spezia had a 2-1 lead after the first half. Roma continues to dominate in the second half and had chance after chance to break this thing down. They were playing a game against the clock. They had to find a way to break through one way or another if they were going to avoid elimination. Henrikh Mkhitaryan found his footing getting Roma an equalizer in the second half. Roma had some chances at the end of the second half, but it did not happen. The game went into extra-time Misfortune would hit Roma Gianluca Mancini, and Pau Lopez would both be sent off within minutes of each other. Roma was reduced to 9 men. Roma had to use a third-choice goalkeeper. Spezia scores twice an extra time as Roma, after losing the Derby go crashing out of the Coppa Italia. Even more, heat is put on the table, Fonseca and what was a disheartening performance yet again.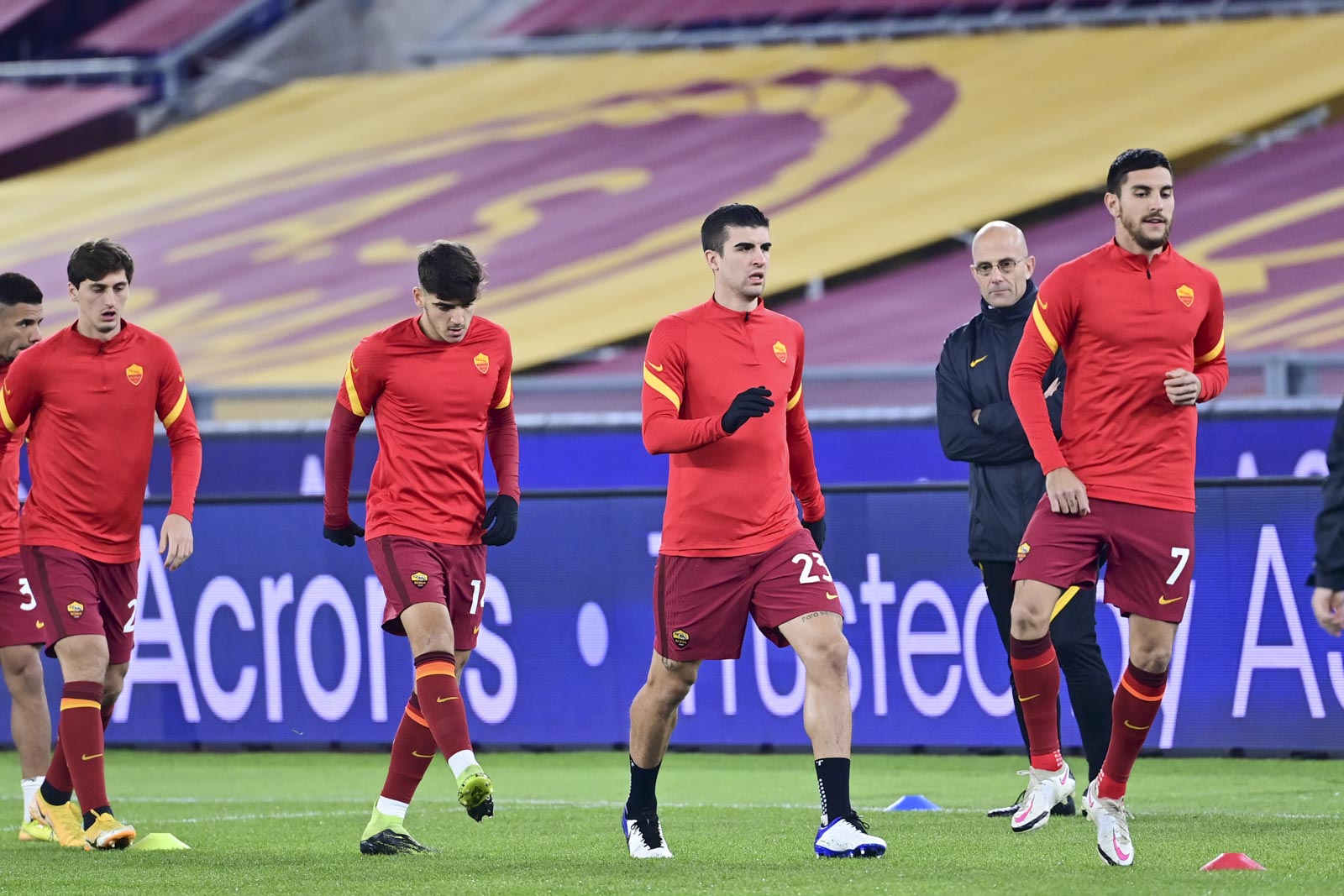 For this Coppa Italia match up Roma would operate out of their typical 3421 formation. In goal for Roma would be the in-form Pau Lopez. The back of 3 would be Max Kumbulla on the left, Gianluca Mancini on the right, and Bryan cristante centrally. In that left-wing back would be Leo spinazzola on the opposite side as right wing-back would be Bruno. We would see Gonzalo Villar's pairing in the defensive Midfield, and returning to the defensive Midfield for this game would be Lorenzo Pellegrini beside him. Upfront as the left attacking midfielder would be Hendrik Mkhitaryan on the opposite side as the other attacking midfielder would be Pedro Rodriguez. Them upfront as Roma Central Striker would be Bojar Mayoral getting a start as Roma set to battle for this round of 16 match up. As always, Roma will have components on the bench if needed.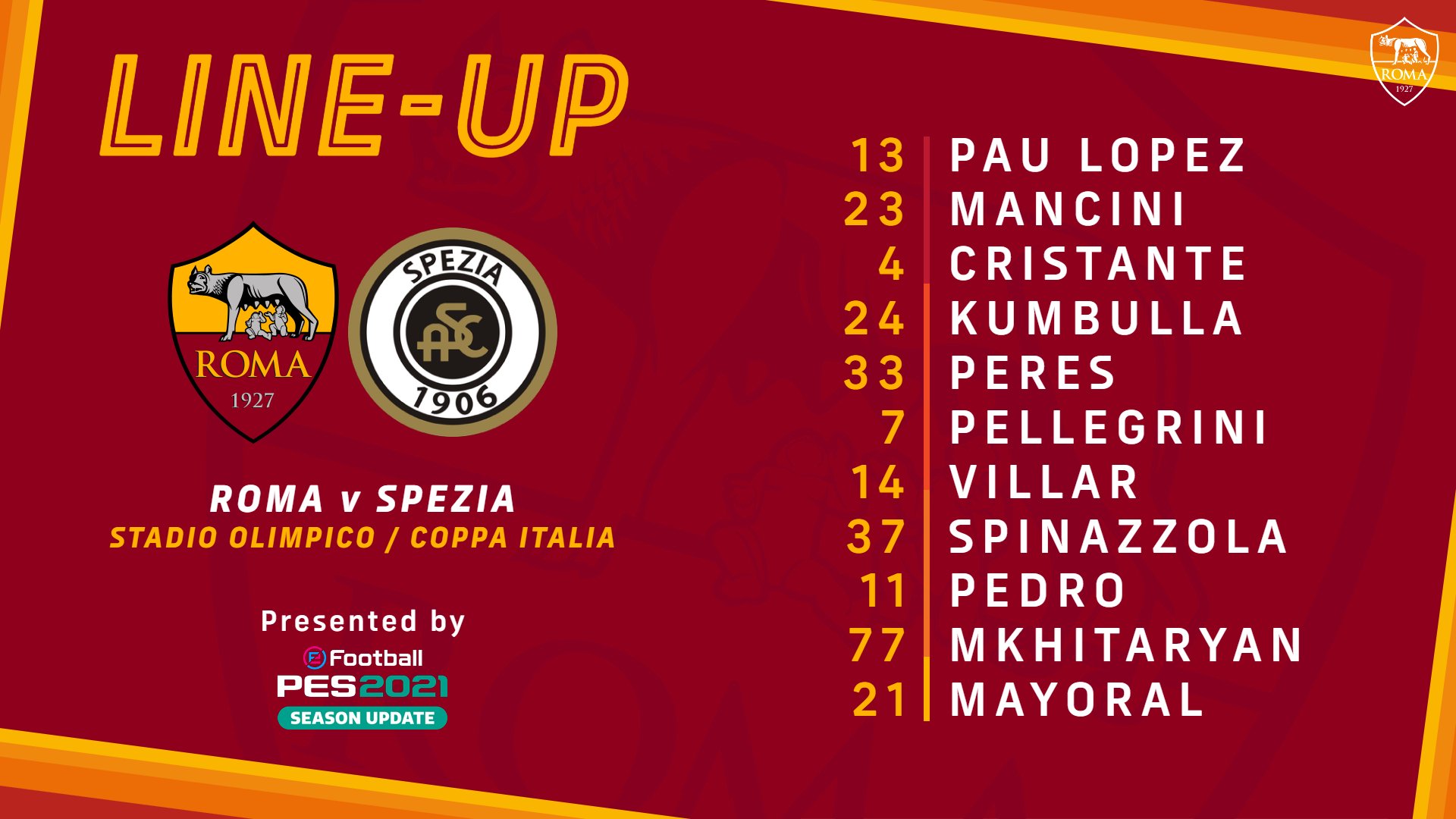 After preparations and predictions, the match got underway at the Stadio Olimpico for the round of 16 at the Coppa Italia Roma had a early start when Spezia made a mistake bojar mayoral got in an excellent position to pounce on the opportunity but misfired an early chance. You could argue the Spanish Striker very poorly executed it. It's a few minutes later Roma sees themselves fall behind when a penalty was given. Giulio Maggiore stepped up and converted as Spezia took a 1-0 lead in the fifth minute. 10 minutes later, Roma would make a defensive mistake, and Speiza would hit a beautifully hit strike into the corner as they took a 2-0 lead. It had only been 15 minutes, and Roma was already down by two goals; this is precisely the opposite of what they needed after the game on Friday. Nonetheless, after they fell behind, Roma started to look much better and was almost continually attacking the goal. Lorenzo Pellegrini thought I would hit strike from Deep. This was only followed by a miss from Leo spinazzola and another deep strike Lorenzo Pellegrini that was denied by the goalkeeper. Roma kept it going as bojar mayoral missed wide from close range. Late in the first half, Pedro came close before, ultimately Lorenzo Pellegrini drew a penalty. Roma, the vice-captain, stepped up and converted from the spot, giving them a lifeline and minimizing the deficit. Lorenzo Pellegrini got Roma back into the game with 45 minutes to get a second one.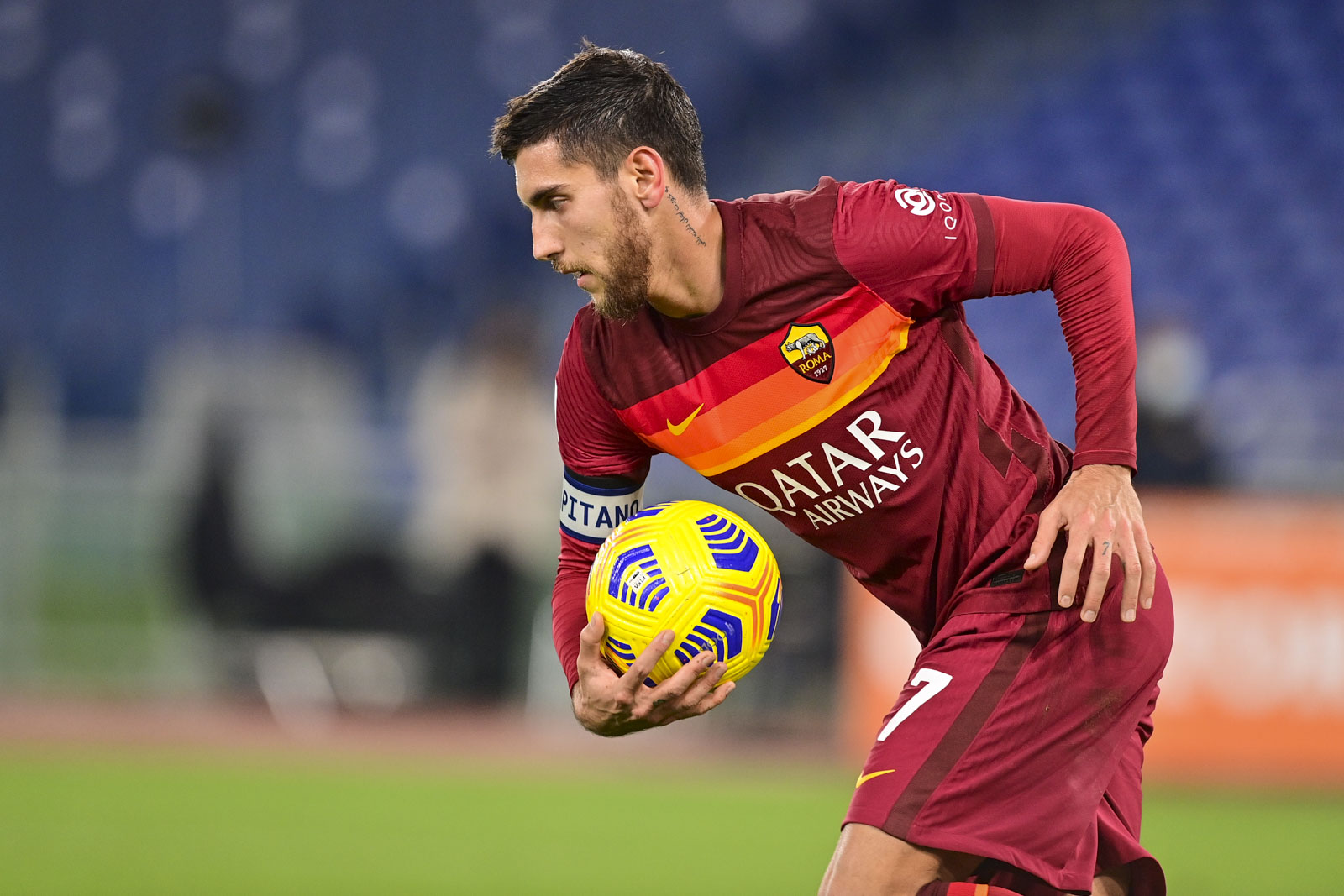 It was a little more back and forth as Speiza had a few chances to start in the second half. Before Roma somewhat took control. Roma may not have had legitimate shots on goal, but they were creating opportunities a lot of them. Ever so many times in which Roma got in position before things started collapsing in the end. Spezia would have a couple of chances here and there, but for the most part, it was Roma on the verge of scoring almost regularly. Bojar mayoral was played in from the box's side but failed to convert, in what should have been a goal. Rick karsdorp and Jordan veretout both entered the game with about 20 minutes left in the second half. henrikh Mkhitaryan and Mancini both came close as it seemed like time is running out. But in the 73rd minute, henrikh Mkhitaryan chipped the goalkeeper on the break as his strike landed in the back of the net, getting that much-needed equalizer. A couple of late chances from both teams could have made a difference if the finishing was slightly better. After 90 minutes, it still was all tied up. Roma headed into extra-time after Lopez made a late save. The match in extra-time, everything would collapse. Gianluca Mancini was sent off for a second yellow card, then Lopez was sent off minutes later. Roma was suddenly down to 9 men and had to play a third-string goalkeeper; they were absolutely dead in the water was nothing there to save him. They tried including Rodger Ibanez and edin Dzeko late on, but it just wasn't going to work. Daniele Verde and Riccardo saponara both scores for Spezia as Roma are knocked out, losing 4-2 an extra time. These teams play again this weekend, but on this occasion, Roma falls on their face after a massive collapse in the first half of extra time.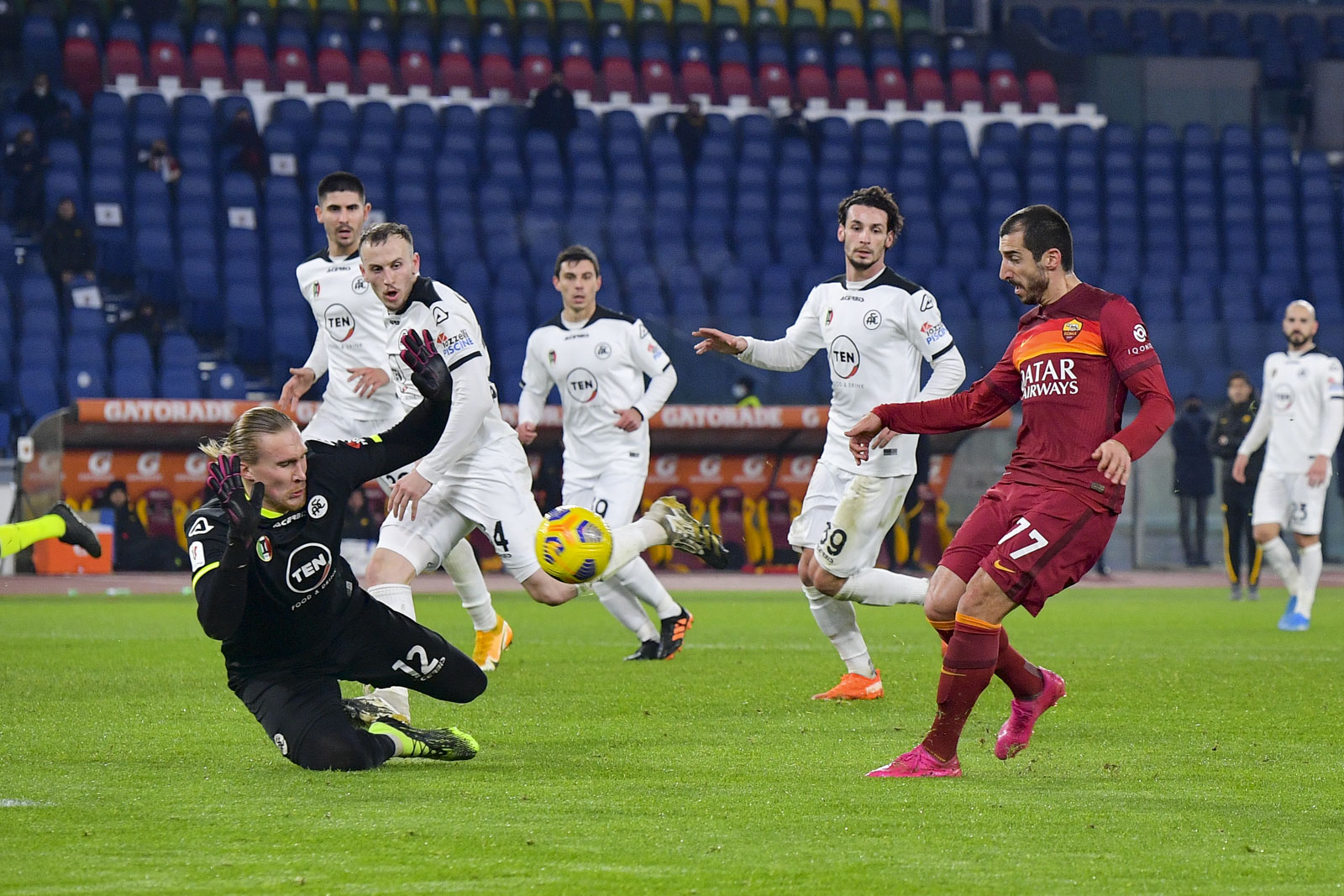 This performance was exactly what they didn't need. Roma had just lost the Derby and needed a push in momentum to try to give them some confidence going into the weekend. A game in which they will play the same team. Roma goes out of the cup to a team closer to the bottom of the table than the top; even though Spezia is in good form, this was unacceptable. Roma went behind by two goals through a penalty and a great strike. That's not what is unacceptable about this; it is about the performance that we saw. Roma dominate the rest of the match and, for the most part, had the best chances. Roma should have put this game away. Roma ended up pushing the game into extra time, and then chaos Unleashed two red cards, one which was the goalkeeper Roma have to put in a third-string goalkeeper Speiza scores twice in extra-time leading to their elimination from the Coppa Italia. Mistakes contributed to some of the goals, and Roma had too many chances not to have scored more. Bojar mayoral didn't have a great game, but I'm not going to kill him for it. But edin Dzeko should have been brought on a bit earlier. The chaos in extra-time messed everything up. It was always going to be hard to beat them regardless of having a third-string goalkeeper and losing one of their center backs. It wasn't necessarily humiliating, but it was embarrassing given how many chances that Roma had. Lorenzo Pellegrini was the man-of-the-match. He was the best player on the pitch by far, and even though they were able to turn around a 2-0 deficit, Roma had so many opportunities to win this not only an extra time but before the red cards in regular time. Paulo Fonseca is not necessary to blame for this performance, but the heat is only heating up, and Roma will have a significant decision to make if things continue. Roma will have another crack at them on the weekend, but this isn't what Roma wanted tonight.
MAN OF THE MATCH: Lorenzo Pellagrini