Score: Juventus 2 A.S Roma 0FT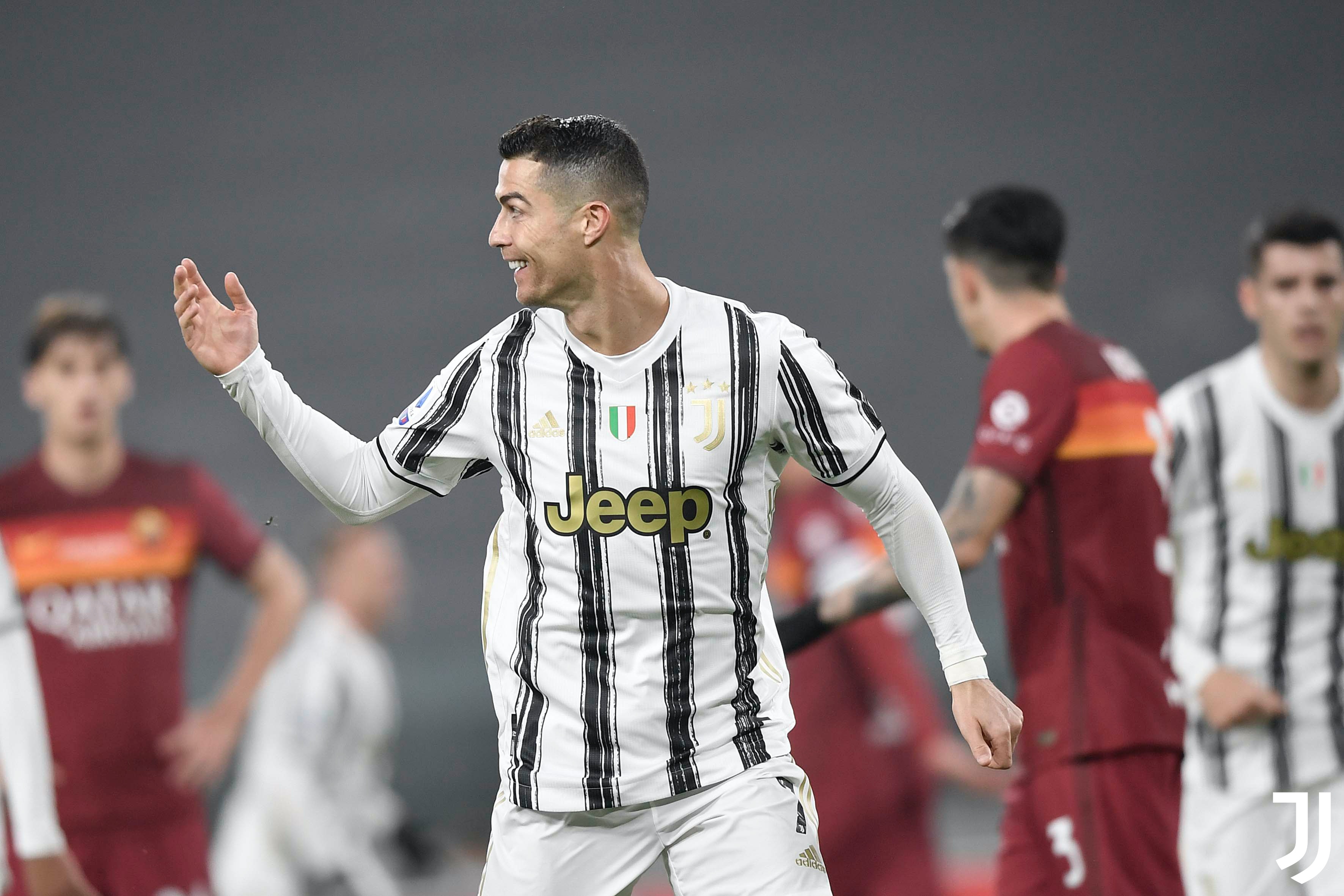 Following a dominating display against Hellas Verona, it provided a lot of build-up into what was expected to be one of the biggest matches of the season. Roma head out on the road in hopes of trying to test Juventus at Allianz Stadium. in the first matchup between these two teams, it was a 2-2 draw at the Stadio Olimpico in which Roma dominated and probably could have won the game if it wasn't for an edin Dzeko miss. Roma went into the game just a couple of points in front of Juventus. If Juventus beat Roma, they would overtake third place. There was a lot of expectation and excitement about this matchup; it was expected to be extraordinary thrilling. Not only was it essential, but it had the makeup of a matchup that could have been something special. Roma was without some key players, which could have determined how the game actually went, but there was still the hope that this was going to be an exciting battle. All the expectations going into this game, unfortunately, was not fulfilled.
As it was not an overly exciting game, and even though both teams had moments, neither team played extraordinarily well. Roma dominated the opening 10 minutes before Cristiano Ronaldo had that opportunity. A well-hit strike that found the bottom corner gave Juventus a 1-0 lead through a Cristiano Ronaldo moment. Lopez was terrible on his positioning that could have honestly led to the goal. After Juventus scored, Roma continued to play their game and did look like the better team for the majority of the evening. Roma still was not at their best, and they were short-handed in their personnel, but they were still playing reasonably well. Juventus only had three shots on goal the entire game, and one of them was Cristiano Ronaldo's opener. In the second half, Juventus didn't have a shot on goal. However, unfortunately, Juventus would get another one as Roma put one in the back of their own net, a goal that was down to dumb luck. Roma tried to push themselves back into the game, and they tried to attack the backline. They had an avalanche of chances, especially late on. Even though spinazzola was brilliant, was the man-of-the-match, and provided the biggest threat to Juventus, Roma did not offer enough and take advantage of the possession they had to put themselves back into it ultimately. Once they conceded the second goal, things became much more complicated, and even though they went after it, the energy just wasn't there to the same extent Roma pushed to try to minimize a deficit late. Still, ultimately Juventus held on to earn a 2-0 victory. Juventus hop to 3rd place, but Roma remains in the top 4 after Napoli loses to Genoa, but the game's narrative was the opposite of what was expected. It was an ugly, gritty game, But unfortunately, the Romans came up short.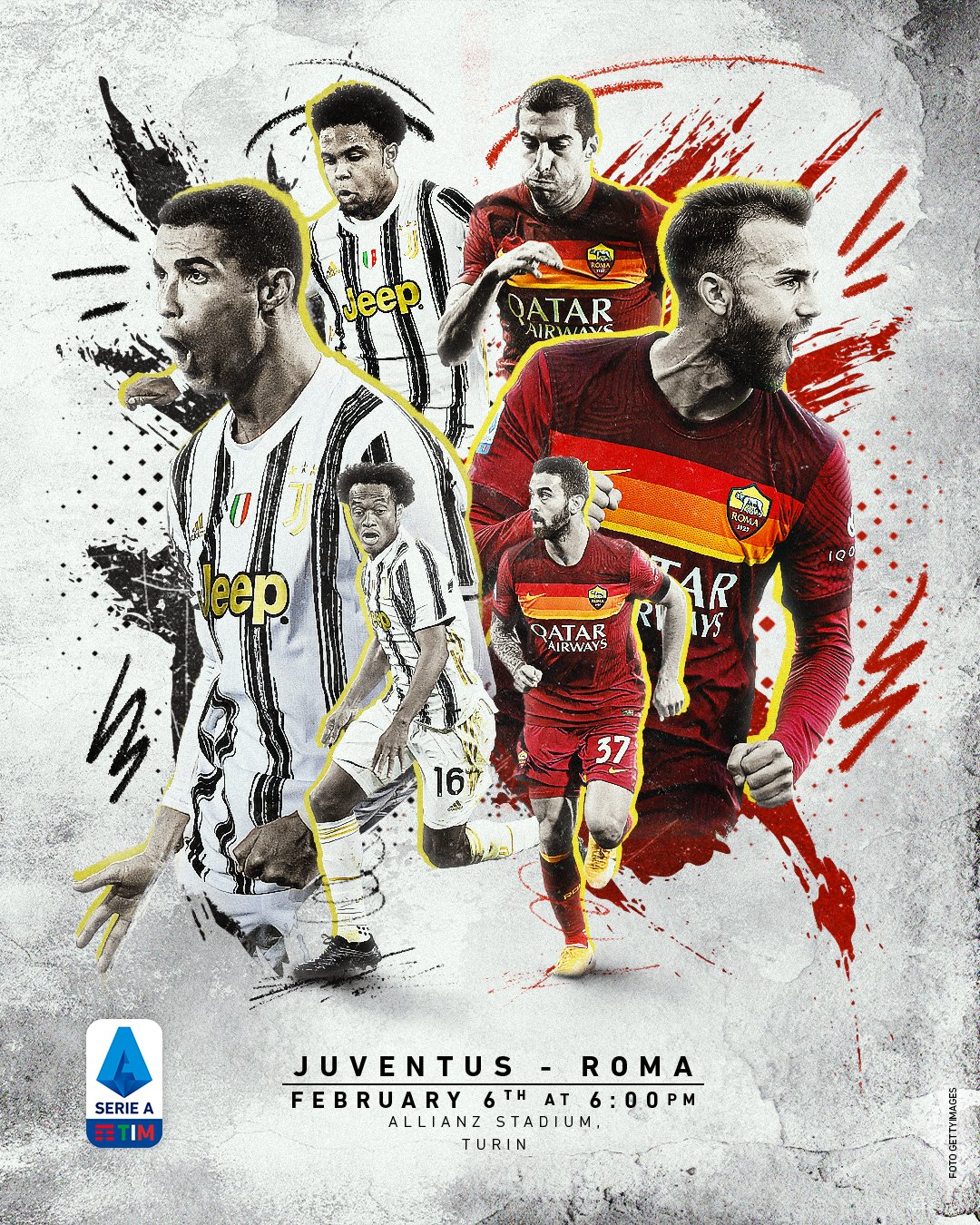 Paulo Fonseca would make a change to his formation surprisingly after lack of options with Lorenzo Pellegrini, Chris Smalling, and Pedro Rodriguez all out. The Portuguese boss would go with a 3-5-2 formation. In goal would be the Spaniard Pau Lopez. The three center-backs would consist of Rodger Ibanez on the left, Gianluca Mancini on the right, and Max Kumbulla centrally. Roma would operate out of a five-man Midfield. On the outside, at the left wing-back would be Leo spinazzola, and then at the right wing-back would be Rick karsdorp. In the middle of the Midfield would be Jordan veretout, Bryan cristante, who has the armband tonight, and Gonzalo Villar. Then we would see a strike Partnership of bojar mayoral, who is in excellent form right now, and Mkhitaryan would move up and operate beside him.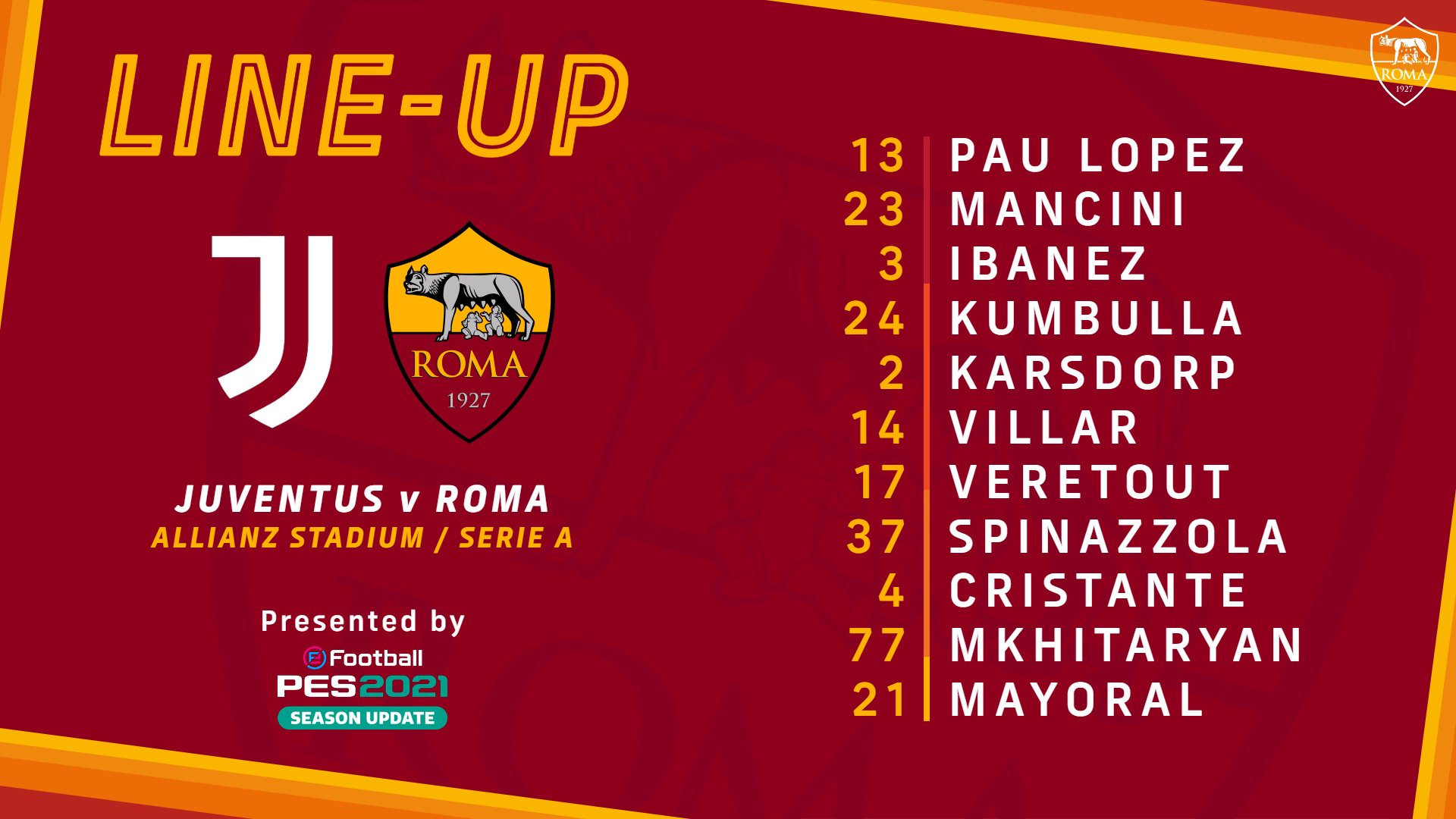 After preparations and predictions, the match was just about to get underway as Juventus and Roma would go head-to-head in Turin at the Allianz Stadium. Like in the first game, Roma dominated an opening couple of minutes, pressing into the Juventus danger area. They had an advantage in possession and seemed to be in control. However, Roma gave Cristiano Ronaldo One Moment In the 13th minute. Even though the Portuguese Winger that just turned 36 a couple of days ago has been very inconsistent this season but like I said all year, Ronaldo still can have his moments. He found one in a massive game against third-place Roma. from just outside the box, Cristiano Ronaldo found the bottom corner as he gave Juventus a 1-0 lead. Despite having been not really in the game, he found the moment and put his team in front. Roma was going to need some response; it was poor positioning by the goalkeeper as Ronaldo took advantage of that. Despite Juventus taking the early lead to a certain extent, Roma was slightly outplaying them. About 20 minutes into it, Bryan cristante came really close as Roma we're attacking very well he hit a shot out of the air that misfired but still put Juventus on the back foot even though he missed. Just a few minutes later, Gianluca Mancini came within distance following a corner kick. The Italian Center back struck from close range but just narrowly missed. It was back and forth, but Roma did have the majority of the chances. On another Corner, Gianluca Mancini, this time connecting with his header, fired a little wide. There weren't many chances in the first half; it was a pretty open game for both sides, with about four minutes remaining in the first half. Cristiano Ronaldo tried taking advantage of a defensive mistake but was denied by The Keeper. Not a very entertaining matchup so far, not a whole lot of chances as Cristiano Ronaldo's moment is the difference as Juventus hold a 1-0 lead after 45 minutes.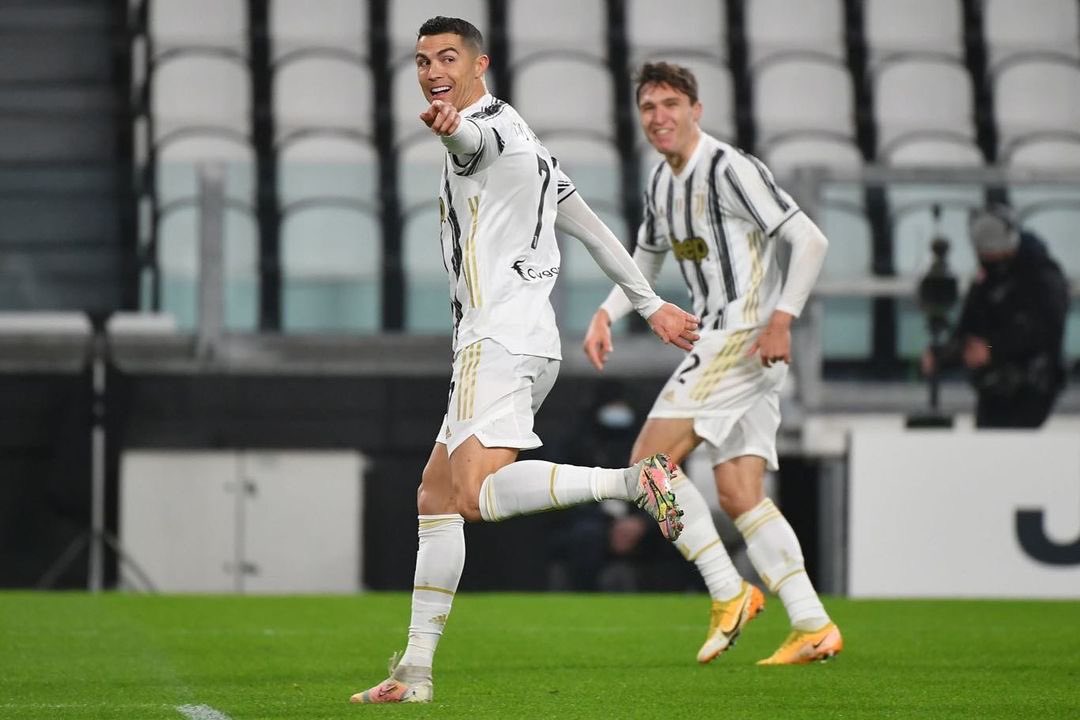 A Cristiano Ronaldo moment was the difference in that first-half outside of that, Roma was the much better team. The game did not provide many chances, and neither team was really living up to the hype even though it were certain positive to take from both sides. Cristiano Ronaldo gave Juventus that much important goal, which looked like it would be most influential on the result. In the second half Roma dominated and had all the best chances in the final 45 minutes. Roma had a significant advantage in possession but really struggle to do anything with it, which was a big problem. Leo spinazzola down the side was posing such an incredible threat but really could not threaten Inside the Box. If it wasn't for poor goalkeeping, maybe Juventus don't get that opening goal. Roma was better, but it would not be very sensible if they didn't find the back of the net. They struggled in this aspect in the second half But still gave themselves opportunities. It was somewhat of an ugly game; there were minimal chances, and the start of the second half we didn't see a shot on goal until 16 minutes into the second half. Leo spinazzola tried to set up an opportunity for Mkhitaryan from outside the box a well-hit strike from The Armenian, but his deep strike was dealt with by Szczesny. Shortly after, Roma went to the bench bringing on diawara Carles Perez and edin Dzeko. A couple of minutes later, edin Dzeko would Supply headed pass that Carles Perez struck out of the air a well-hit strike, but the Polish goalkeeper was able to deny Roma yet again. Roma was better and had the bulk of The Possession and look like a threat to score more often than the opposition. However, Kulusevski, on the break, looked for Ronaldo when Rodger Ibanez put the ball in the back of his own net to give Juventus a 2-0 lead. After the fact, it really dented Roma's confidence as they were playing quite well up to that point. I don't think either team was overly impressive, but Roma did have the upper hand in performance, but after that happened, Roma, even though they continue to push, seemed like energy was taken out of the building. However, Roma didn't give up and continued to try to claw their way back into it. It was getting late on, but surprisingly that's where the bulk of the chances in the game came from. Jordan veretout didn't have the touch from Deep, not even threatening the goal. Leo spinazzola was the best man on the pitch cut Inside the Box, but his strike didn't have the appropriate distance. A couple of minutes later, edin Dzeko missed coming off a Leo spinazzola cross. Before Leo spinazzola and a Bruno, Perez saw late strikes saved in the final moments. Juventus did not register a shot in the second half but could hold on to earn all three points pushing them into 3rd. This match did not live up to the billing witugly, but Cristiano Ronaldo moment was the difference Juventus did not provide much else but they didn't need to as it was enough to collect all three points In a slightly disappointing match for both sides.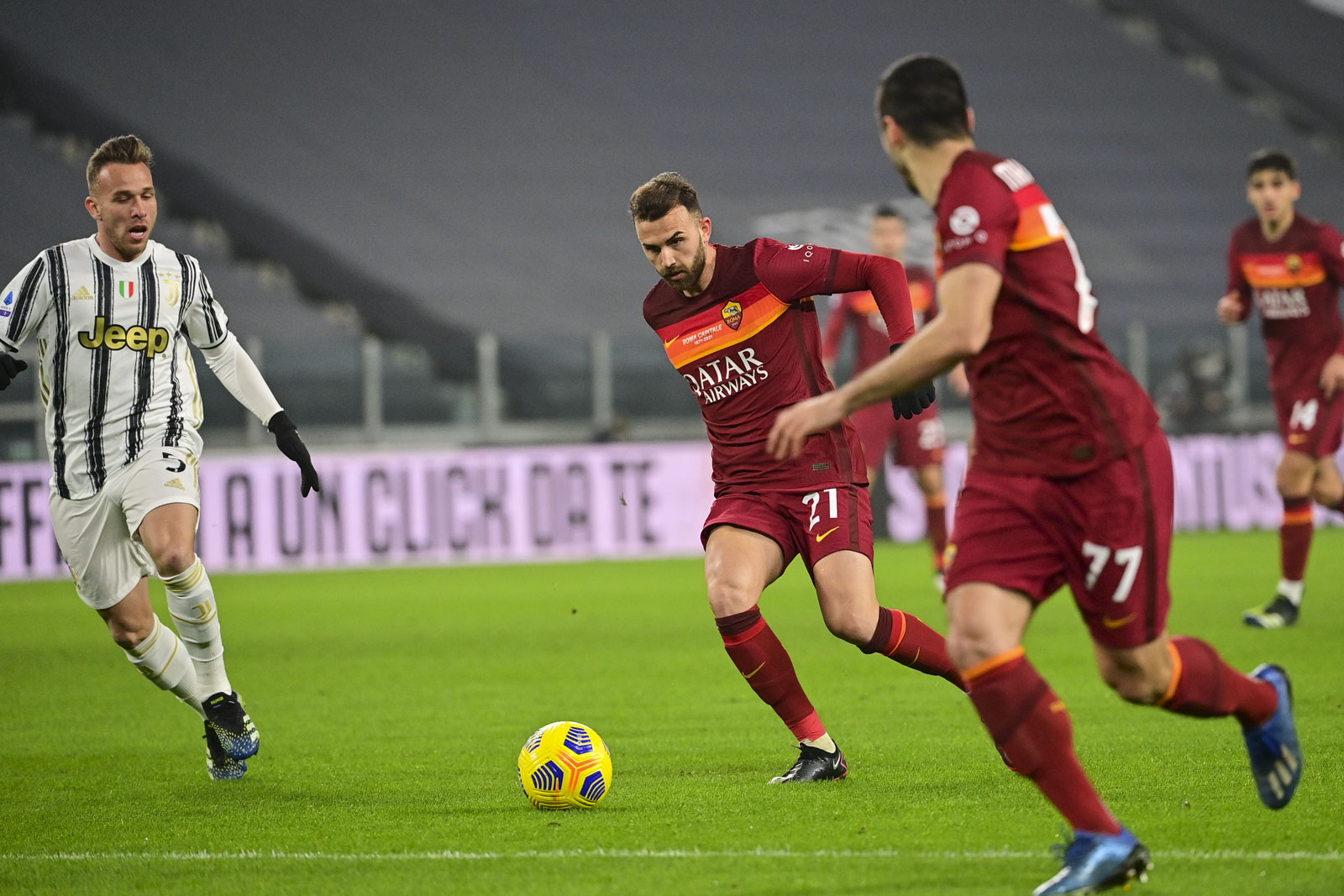 There was so much expectation on this game. For both Juventus and Roma who coming into this game were only separated by a couple of points. Juventus end up winning this 2-0 thanks to one Cristiano Ronaldo moment. Unfortunately for Roma that is all that's it took to ultimately pick up the points. This wasn't a relatively exciting game that we all thought it would be it was rather ugly and did not provide what it was expected to. If we're really being honest about the situation Juventus and Roma neither one of them really stood out as a dominating force. In this game based on just performance Roma were the better team based on The Possession the chances that they had obviously they weren't able to put them away but they were slightly the better team tonight. However both Juventus and Roma didn't show what they're capable of. It doesn't help that Roma drop another couple points against a top team but it is important to mention that they haven't dropped any points to teams outside of the top 7. Roma had to play in an unorthodox way being without Stephan El Shaarawy, Lorenzo Pellegrini and Chris Smalling because of this henrikh mkhitaryan had to play as a striker next to mayoral. Bryan cristante had to play underneath the striker and they just couldn't provide their best. Not to mention Lopez was horrible which could have prevented the opening goal. Roma still play quite well had the majority of the chances and even though they scored own goal they kept Juventus rather quiet only one three shots on goal all game long only two of them we're on target. For the most part Roma provided the chances. Cristiano Ronaldo had that great moment and that's all that was required outside of that Roma played really well and the own goal was down to luck if anything else. Gonzalo Villar was taken out in the Box probably should have been called as a penalty but this performance or their failure to deliver is on them. They dominate the match they were the better team they just didn't do enough with the possession. Juventus deserve the points but no one made a statement here. Despite losing Roma did play better than they usually do against big teams I don't know if that's signs for improvement going forward but certainly there are some positives to take from Roma's performance. the man of the match go to Leo spinazzola  thought for the most part he was the biggest threat that Roma provided to Juventus. Roma didn't do much in the Box and only looked dangerous when Leo spinazzola was involved he is having an outstanding season and despite this results it was one of his better performances this season. Roma can't pull off his victory but certainly positives to take but then again even though Juventus did jump in front of Roma in the table it isn't a performance that has an alternative meaning both teams had moments but in the end it wasn't overly impressive by either team.