Job Nearly Finished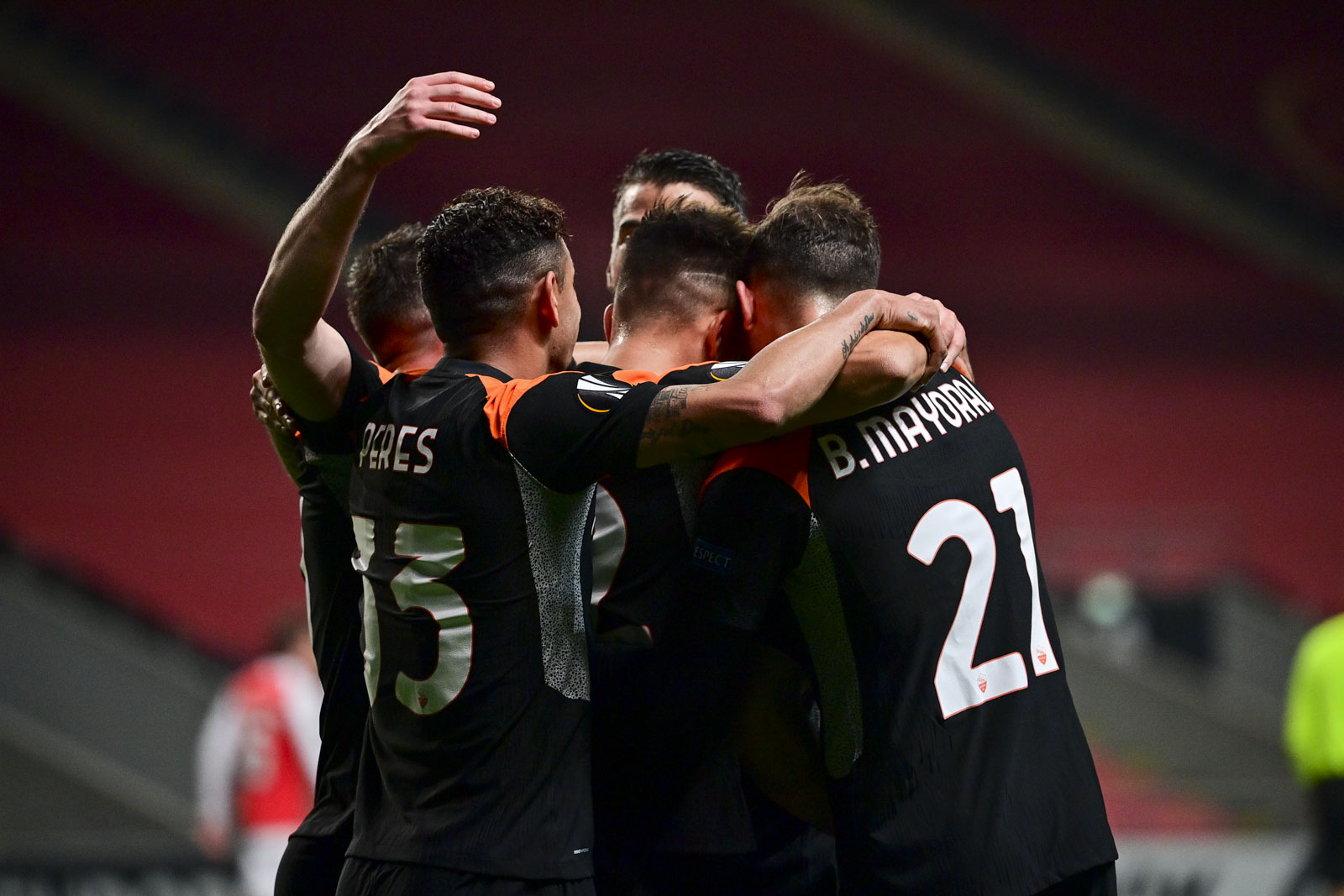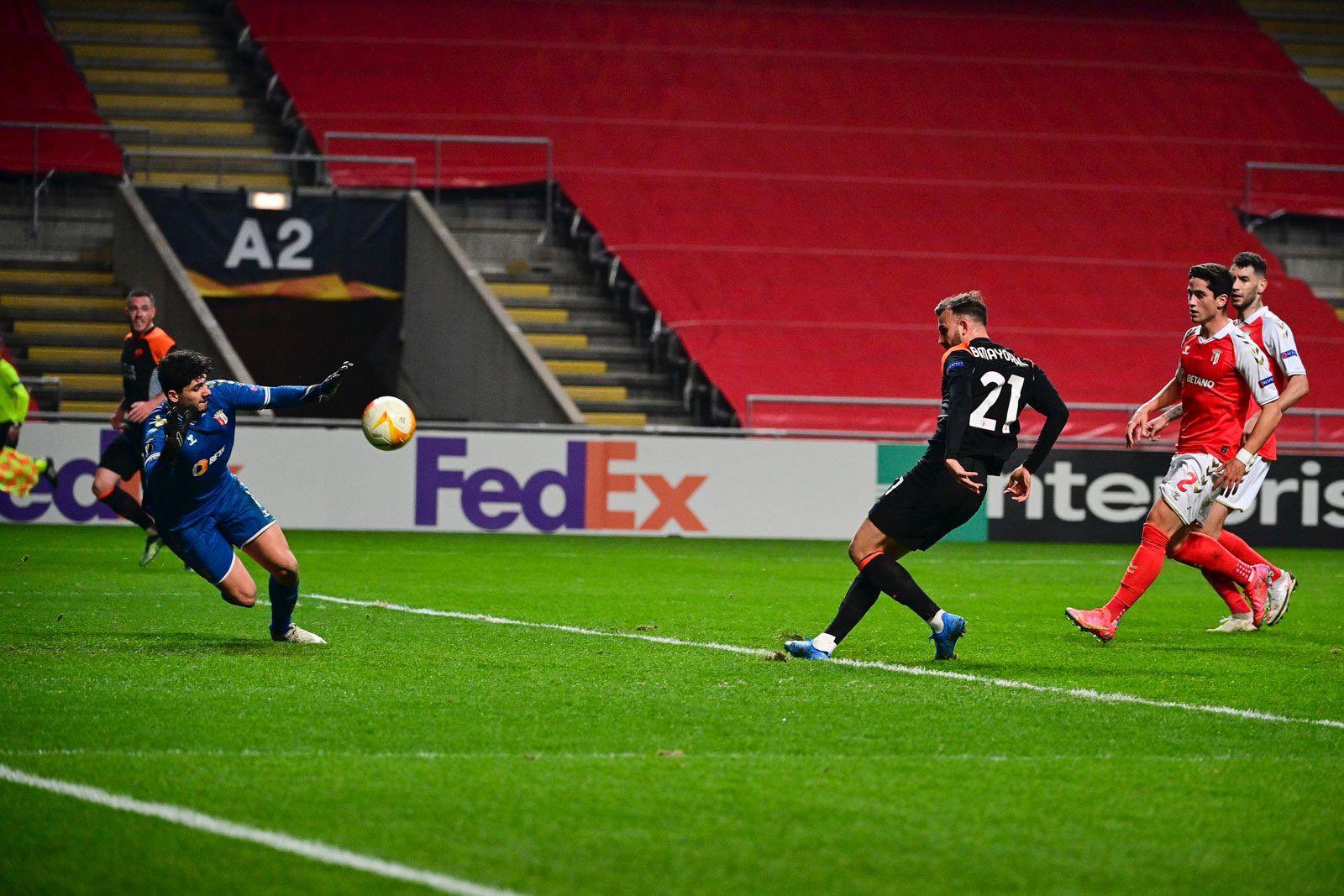 Roma had one priority ahead of the Europa League Clash against Braga in Portugal. As I've said before, having the away leg when you are the more talented team is the most significant advantage that you can get. Roma is unbeaten at the Stadio Olimpico in all competitions. In Italy, they have picked up the most points at home out of any team. In the Europa League, they only dropped one point at home in the group stage. On current form Roma at home is a very challenging proposition to any team, especially against a team with significantly less Talent. Rome's whole purpose was performing yesterday in Portugal in the Europa League against Braga was two get away goals. The more away goals Roma could get, the more difficult it was going to end up being. Roma wanted to have a big lead to a certain extent so they can consider resting several starters when these two teams play again in a week. Roma plays AC Milan at the end of the month, which is within the same week as the second leg. The away-goals Roma got yesterday we're critical. The reason being Roma is all the way through or almost there, at least in the driver's seat in a very compelling way. Roma barely concedes at home in the Europa League so far and always managed to score goals. Edin Dzeko returned to the squad as it looks like he will be the starter for the Europa League. He scored inside of 5 minutes after a cross coming from Leo Spinazzola. Roma probably could have had more goals, significantly after Braga was reduced to 10 men. However, Stephan El Shaarawy and bojar mayoral came off the bench and connected as mayoral converted in front of goal to give Roma a second away goal. Now Roma takes not one but two away goals into the second leg. If Roma wins the game, they go through to the next round even if they concede. Roma are basically all the way through; it is essential not to underestimate Braga in the second line, but the job is nearly done; this is the best thing that could have happened considering some of the tough fixtures that they will face. An outstanding performance both Edin Dzeko & Bojar mayoral score Roma take care of business away from home Two away goals will be hard for Braga to overcome.
Ibanez and Cristante Injured 

Unfortunately, despite the positive performance and significant results, it came with some consequences. Roma going into this game was already relatively thin defensively. Things worsened for Roma. Bryan Cristante had to leave because of injury very early into the game as he joined Max Kumbulla and Chris Smalling with the center-back absentees. Then early in the second half, they lost Roger Ibanez to a muscular injury. The unfortunate facts are Max Kumbulla, Roger Ibanez, Bryan Cristante are all unlikely to be ready for Benevento. Leo Spinazzola had to drop back into a center back position and did quite well but unfortunately because of the multiple injuries, they have in this area. Roma will have to play Federico Fazio or Bruno Perez. It's unclear who will start in for Leo Spinazzola, considering he will likely be dropped into the center back position this weekend. It could be Bruno Perez or maybe even Bryan Reynolds; it's obviously not something that Roma needed. Their defensive options were already fragile, especially with a big game against AC Milan coming up at the end of the month; they really need substantial depth in that position. The result was terrific Roma played well they defended well, but they lost two important pieces to the backline that was already dealing with an injury crisis. Roma must find a way to innovate and trying to deal with the situation, but obviously, the timing of this is just unfortunate.
Mismanaged Possession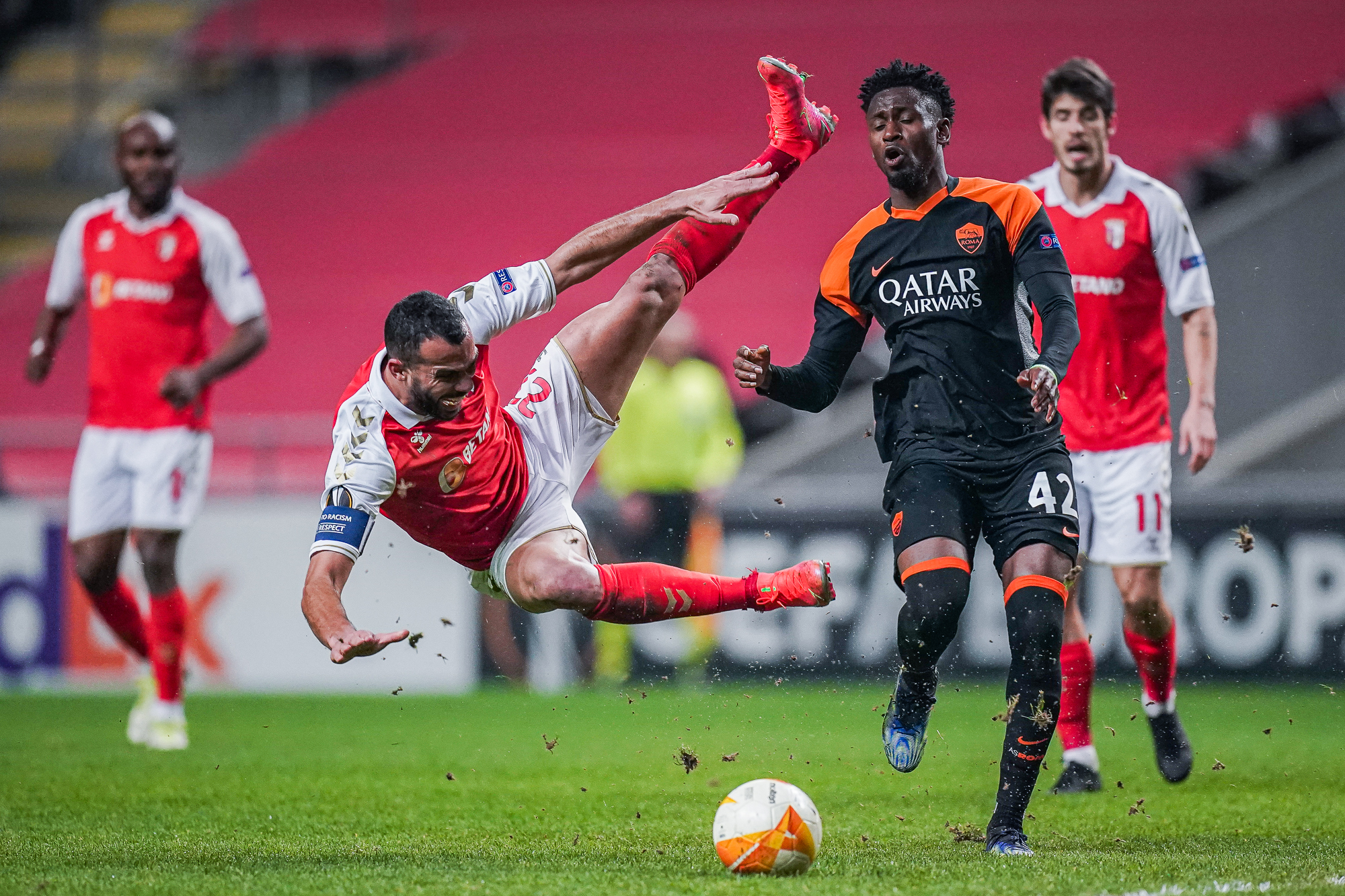 Braga came into this European match in good form with at least some optimism that they could at least keep this one close. They did for most of the game, although that was more down to Roma. By my surprise, Braga, controlled possession and, for the most part, had at least the opportunities to do something with it. Braga did a tremendous job in that aspect; the problem is their possession that didn't count for anything. If you look through the 90 minutes very carefully, Braga data threatened the goal a couple of times, especially at the end of the first half. However, it certainly has to be said they mismanaged it because Lopez was barely even tested in any way. Braga had 64% possession; they had the ball significantly more than Roma they completed more passes in Roma by a significant margin. Even in the first half, that had completed over 50 more passes than the Italians. Everything that Braga set out to do was working. The way to beat Roma is with great possession and converting chances; they passed the ball really well, they were on the same page, they just couldn't finish, and because of this, now they're in a whole two goals down. They need at least two goals at the Stadio Olimpico a place where Roma doesn't lose. It will force them to take risks that could sabotage the entire matchup. However, this could have been avoided had they done better with the ball when they had it. Roma only had a small number of legitimate chances in that game, but the difference between the two is Roma didn't need a lot of opportunities to put this thing away. It took them until the 85th minute to get that second goal but they allowed them to cut through and score late, which has now made this game and this matchup much more complicated. Braga did some nice things but not nearly enough to make a searing impact on Roma. They have a chance to come back, but it seems more or less insurmountable now. If Roma leaves with one away goal, it becomes much easier for Braga, but it makes it extraordinary really difficult because they got two of them.
Edin Dzeko back but Mayoral should Remain League Starter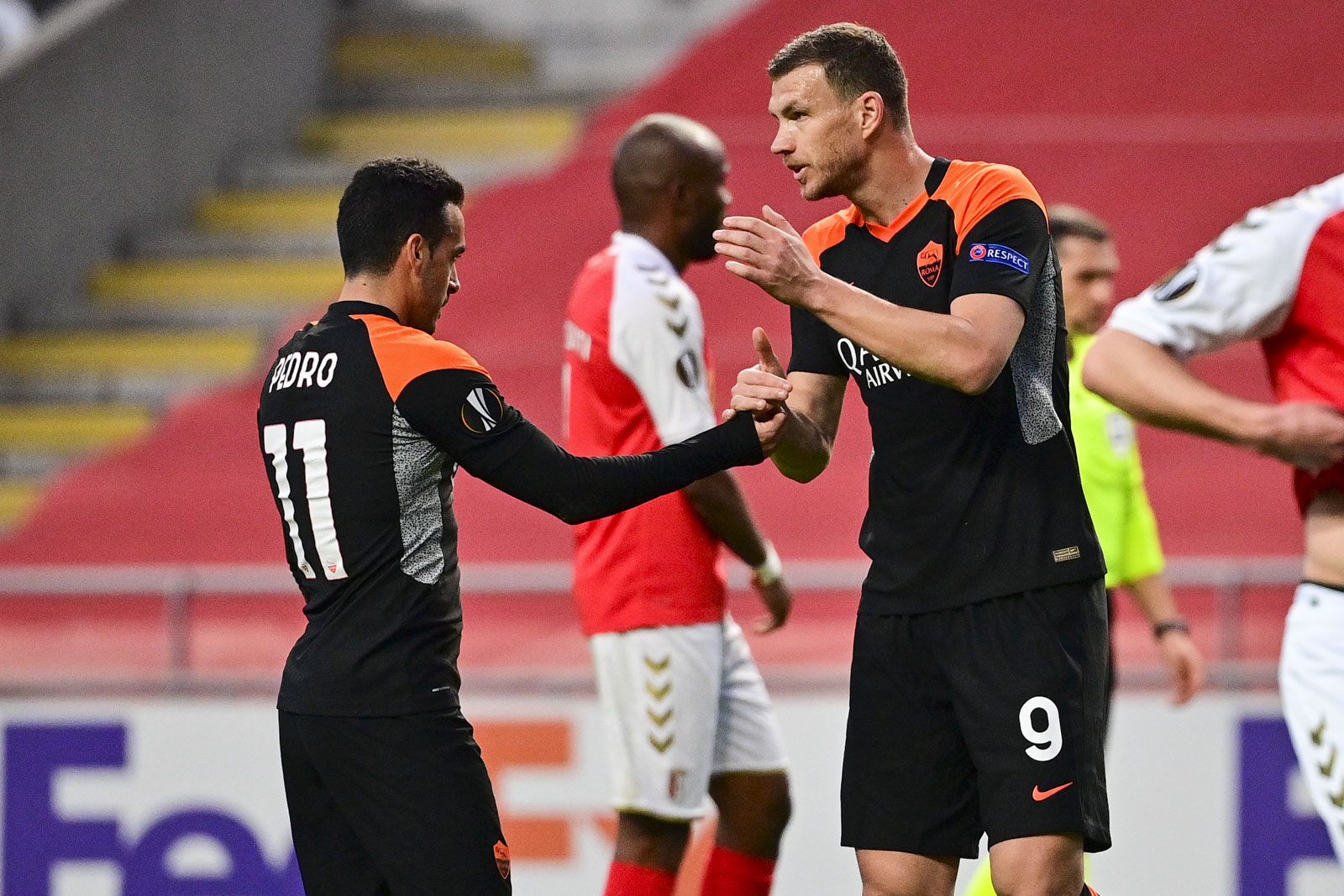 Edin Dzeko is one of Roma's the greatest ever players. However, certain toxic situations had involved him as of late. There was a big splat between Paulo Fonseca and Edin Dzeko. It nearly led to his departure from the club in January, and because of this, he lost his armband and his responsibilities as team captain. Bojan mayoral, who is having a better season than Edin Dzeko before this happened, took his starting position in the Roma team during the league games. Paulo Fonseca and Edin Dzeko resolve their issues, but certain things were not going to change he wasn't going to get his armband back. Bojar mayoral was starting all the minutes that Edin Dzeko typically would get. Dzeko in the league has only been coming on for 10 minutes at a time. Obviously, Edin Dzeko as you can imagine he's probably not particularly happy about the situation. But you can't have Edin Dzeko distraught on the bench; he will depart at the end of the season, but while he's here, Roma has to find a way to find a place in this team for him. The answer inevitably is the Europa League. Bojar mayoral has been great in League Play; it makes no sense to replace him in the starting lineup. However, the Europa League is a good time for the Spaniard to be rested, at least to a significant degree. In the Europa League games, Edin Dzeko seems like he's going to be the starting Striker after a kind of a toxic situation with the club that will ultimately lead to his departure at the end of the season, considering how great he has been for the club great play in the Europa League can rectify the situation slightly even though we all know that he's heading out at the end of the season. Inside 5-minute, Edin Dzeko scored a goal and played fairly well. This can work if Edin Dzeko agrees to it. Bojar mayoral in the league games and Edin Dzeko in the Europa League. This makes the most sense. Even though Edin Dzeko did score in that game, bojar mayoral has been much more critical to the team and has been playing regularly; he has to remain as Roma starting striker in the league as much as Edin Dzeko probably doesn't like that he has to accept it but at least this way you can split between the two with mayoral in the league and Dzeko in the Europa League.