Score: A.S Roma 0 Benevento 0FT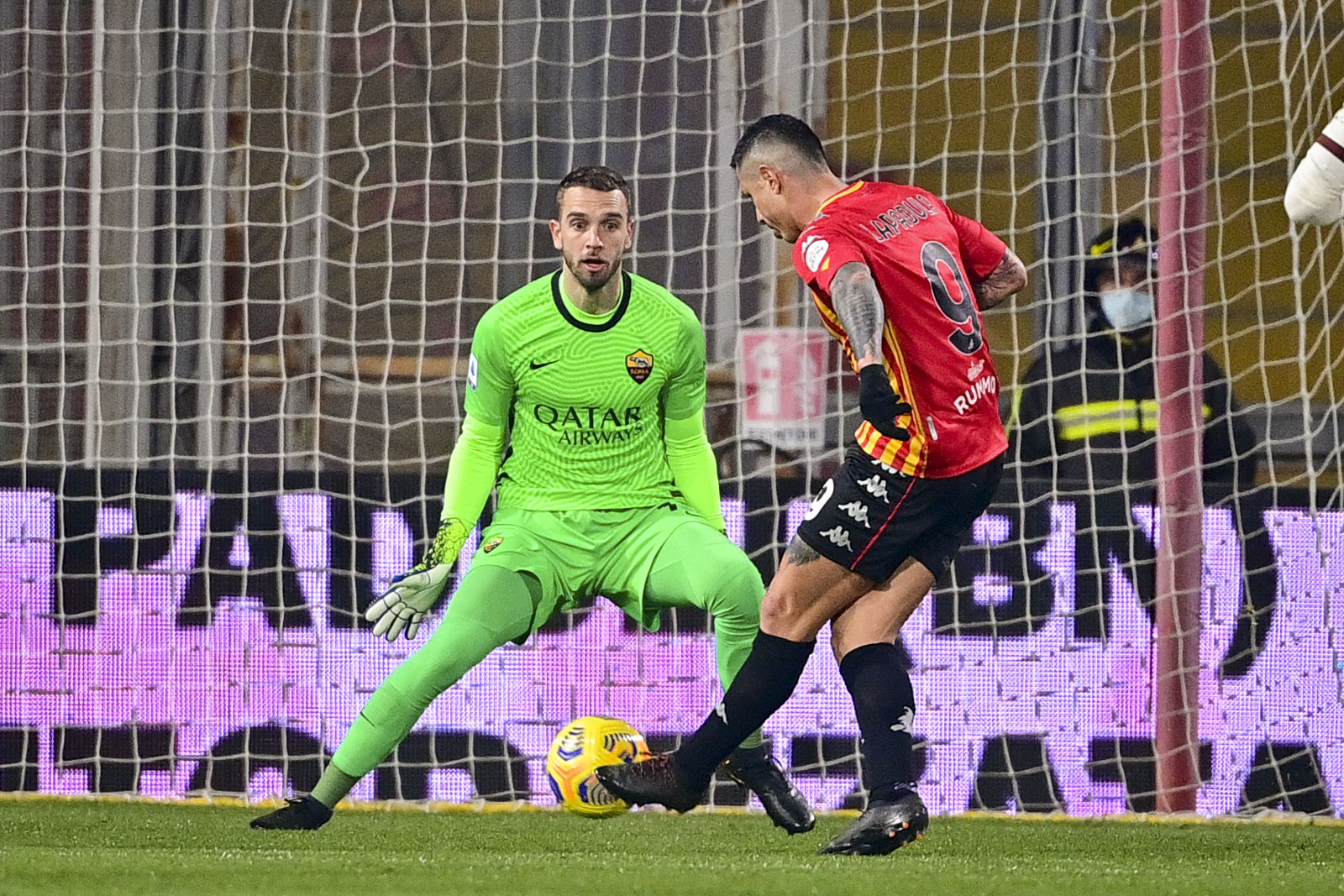 Following a victory in the Europa League against Braga and midweek, Roma headed out on the road to face Benevento. Roma had beaten Benevento in the first meeting at the Stadio Olimpico 5 to 2. This was another opportunity for Roma to increase their form against newly-promoted teams. Romo has a league-record 26th consecutive victories against them, and considering the form of Benevento, Roma went into this game as the favorites. Roma had outscored Benevento 14-4 in their meetings; there was no reason to believe this was going to go any different. Romo a red-hot going into this game, and Benevento came into the game winless in their last five. The match itself turned out to be rather dull, not many chances from either side. Roma did have some defensive issues going into this game, having to adjust the way they played. However, Roma is one of the best counter-attacking sides in the league, and none of their attackers were injured; it was all in the defensive area. You would have thought Roma was going to go out there and rip them apart. It wasn't meant to be, though. Roma looks like they would see their 26 game winning streak against the newly-promoted side come to an end. Both teams had chances here and there; however, it was a slow and did game, and Roma had their chances to win it even a late penalty that was offsides according to the official has laid in the second half the Benevento held on to earn a historic Point against Roma. It turned out the exact opposite of what was expected in a dull 0-0 draw. Roma dropped points for the first time this season to a team outside of the top six. The disappointing draw does not impact their standing in the league table, but it was a good opportunity to make some ground up and potentially close the gap on AC Milan as Benevento and Roma play out a goalless draw, a pretty horrible performance.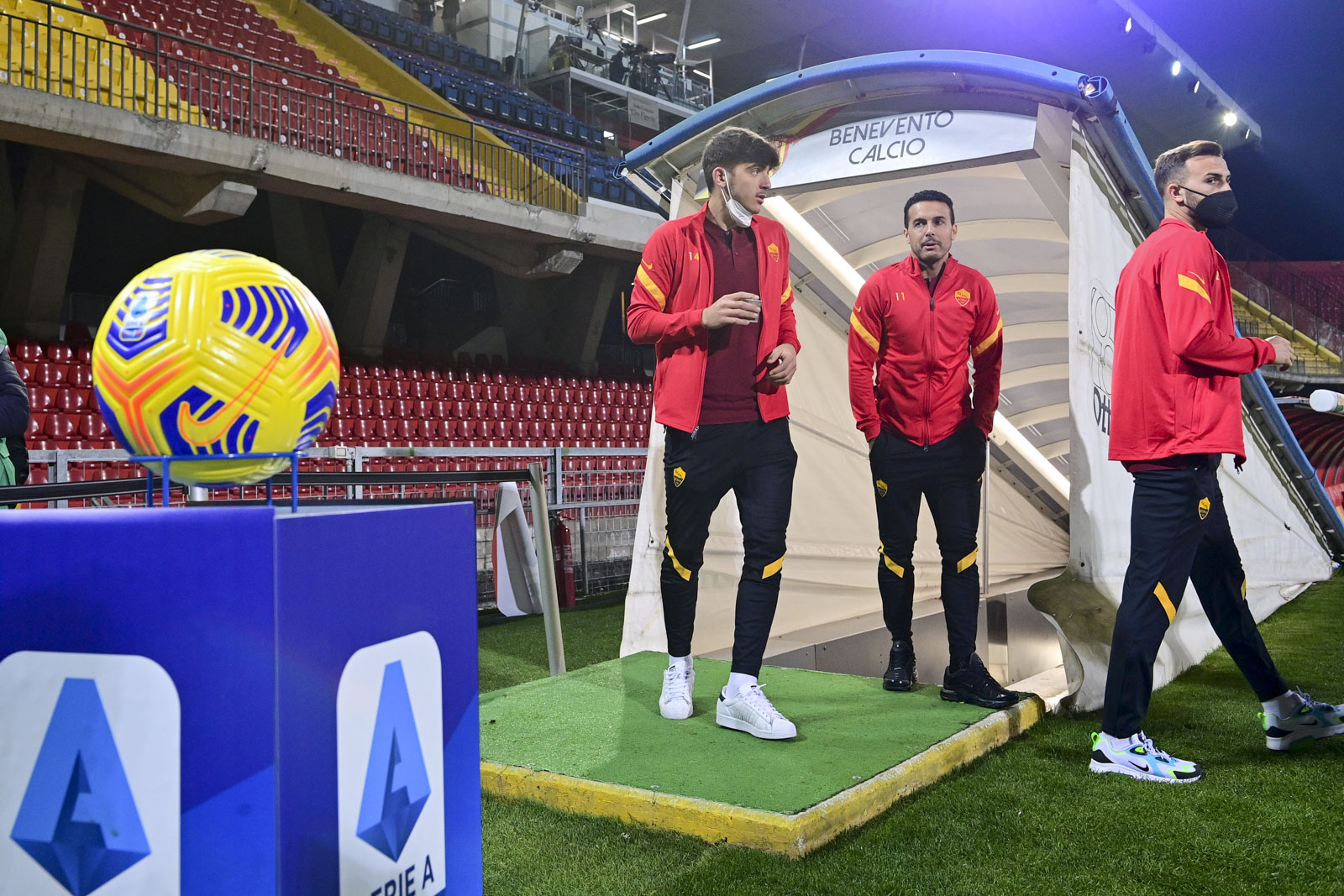 Roma still operated out of the 3421 formation despite their defensive injuries. In goal as always, we would see Paul Lopez. The three center-backs will be made up of Leo spinazzola on the left, Federico Fazio on the right, and Gianluca Mancini's centrally. The left-wing-back would be a Bruno Peres, then on the opposite side as a right-wing back would be Rick karsdorp. The defensive Midfield would be made up of Gonzalo Villar and Jordan veretout. In the attacking Midfield underneath, the striker would be Hendrick Mega talion on one side. On the other than upfront as the central striker, Captain Lorenzo Pellegrini would be the Spaniard bojar mayoral. Rama would have options Off the Bench if they needed it.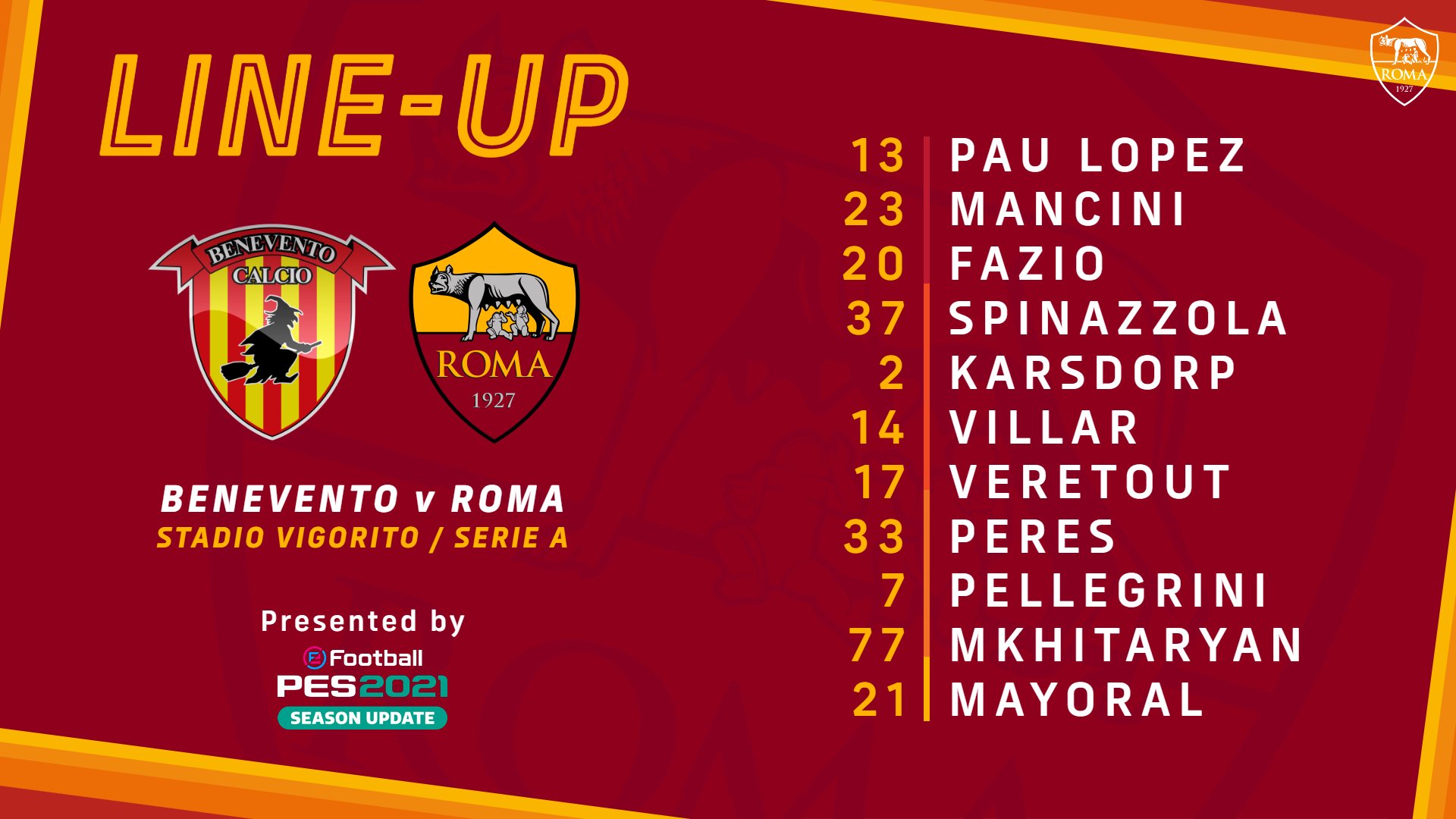 After preparations and predictions, the match got underway in Benevento. Benevento was optimistically thinking up getting their season back on track, and Roma was trying to keep their momentum going with a big matchup next week. It was dull of a first-half, as you could possibly imagine. Roma dominates The Possession by a significant margin, even more so than usual, but they seem to lack something, whether it was character creativity or ideas they didn't provide all that much in this game as a totality but certainly with the possession that they had you would have thought they would have been in more control. The first opportunity of the game came in the 14th minute when Benevento missed from Deep. This was not a game that had a lot of chances, and it was a prolonged build not just from the Roma side of things but Benevento as well. Roma's first chance of the game didn't occur until about 4 minutes past the half-hour Mark. Lorenzo Pellegrini shot from outside the box that was dealt with by the goalkeeper. Gianluca Lapadula tested Roma with two chances at the end of the first half, but Lopez was able to deal with it. Benevento looks like the better team the first time, and Federico Barba came close, connecting on a header when the first half was a goalless draw so far.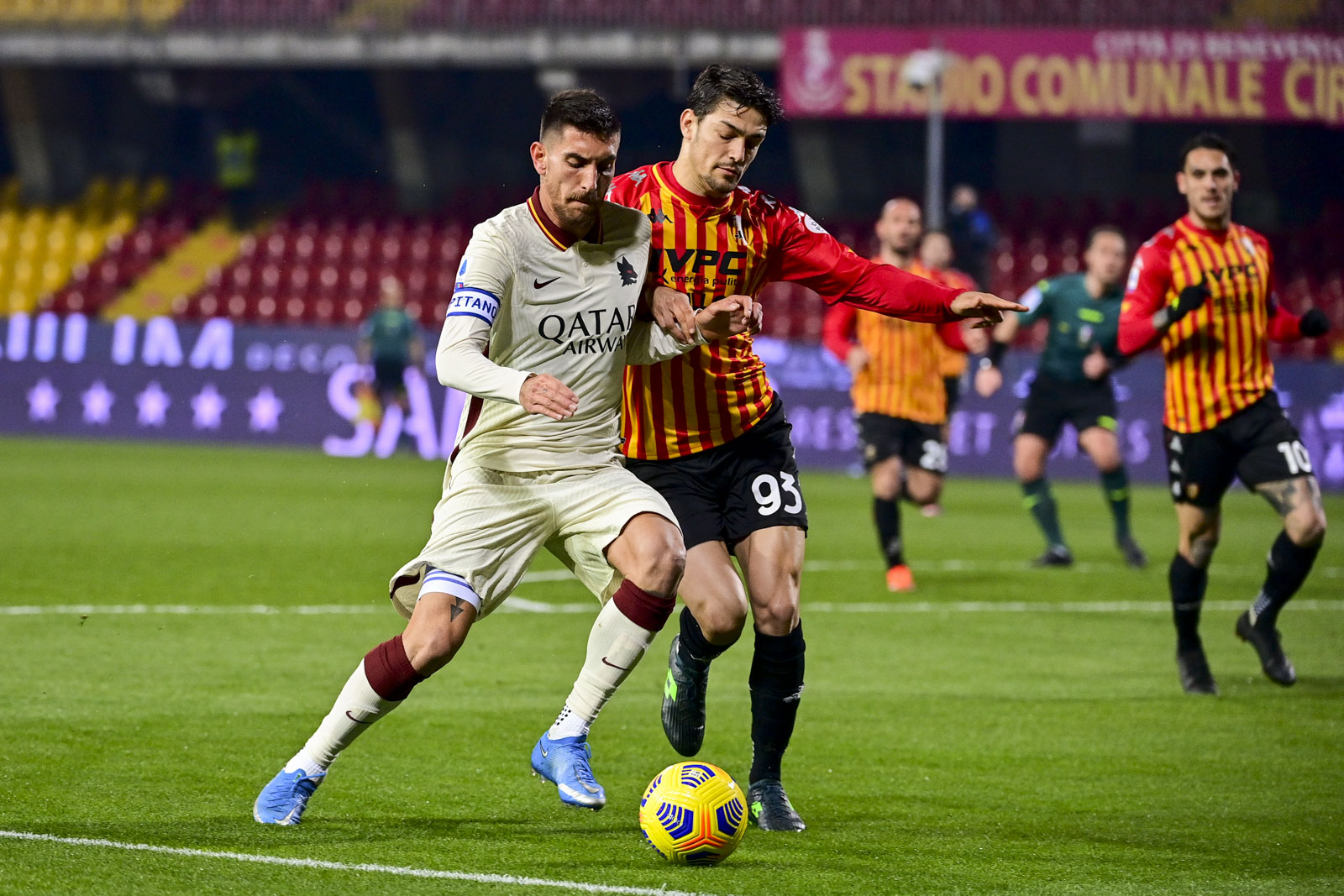 A very poor first-half from Roma who really seemed to lack something. Benevento is a team that goes forward, leaving exposure at the back a lot of times, and Roma what are the best counter-attacking teams in the league for unable to take advantage of it. Just minutes into the second half, Hendrik Mkhitaryan searched for that left corner after cutting into the box, but the goalkeeper could manage. A minute later, Jordan veretout Struck from close range but hooked it a little left. Roma had absolutely nothing going for them, and despite having a significant advantage in possession, they weren't able to do the types of things they usually are able to. It was a horrific performance so far as Benevento was playing this game perfectly, playing the ball, letting Roma dictate the game, and adapting to the circumstances; even though they did not have a lot of chances, they were keeping Roma away from the danger area. Paulo Fonseca made his first change as edin Dzeko enter the game for Jordan veretout with about a half-hour to go; Lorenzo Pellegrini tried to put his head through across from henrikh Mkhitaryan but just didn't have the accuracy of the placement to convert on it. There still were not regular chances for Roma; it just didn't seem to be their day. Pedro enters the game for Rick karsdorp and Juan Jesus, play manager Federico Fazio. Then, less than 10 minutes to go, Stephan El Shaarawy entered the game following a Gonzalo Villar strike that hooks right. There was hardly a shot on goal the rest of the game. In stoppage time, edin Dzeko put his head through a Leo spinazzola cross but still couldn't find the back of the neck. Then late in the game, Stephan El Shaarawy cut into the box before he was taken out; a penalty was given, but a VAR review it had shown that he was offsides before the foul took place as the penalty was canceled. Roma and Benevento play out a 0-0 draw, and what was a very disappointing evening for Roma.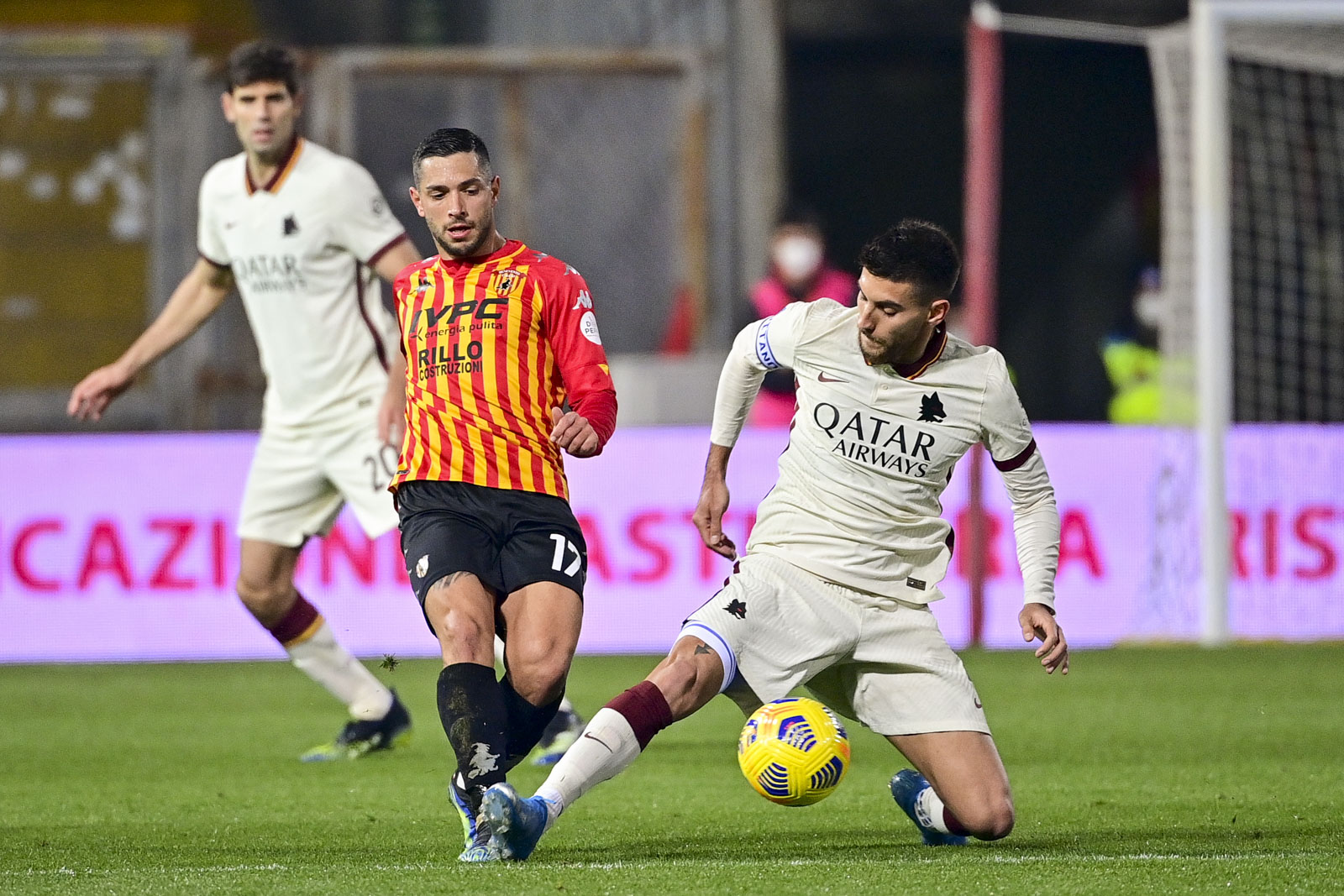 This was a disaster of a performance. Roma had so much possession in this game, and Benevento was eventually reduced to 10 men, and they still couldn't finish the job. Now enough creativity, not enough character; this really didn't show what they needed to get all the points. Not that it matters all that much, but they're 26 games winning streak against the newly-promoted team ended. They just didn't have it today, and even though Roma did have defensive injuries, it's not an excuse. Benevento had a player sent off, and Roma did not take advantage of it in any way or manner. Roma is one of the best counter-attacking teams in the league; this is a game Romi should have won easily. Minimal creativity didn't really have all that many high-quality chances seem to lack the hunger. This isn't about their midweek match either that's just excuse losers make. This wasn't up to the standard; it was a dull game with not many high-quality chances from either end. Benevento did an excellent job getting this point and had Roma won the game at the end. They would not have deserved it. Both teams got what they deserved from this match. The man of the match for me is Rick karsdorp. I thought he was one of the few Romans that really looks like he was trying to create something. It is just a forgettable performance, one that Roma will want to move on from as quickly as possible. Roma had confidence and momentum going into this match; they have to dig deep and get past this as they have AC Milan next week at home. They could have gone within three points of them today with a victory, but it just wasn't in the cards. Roma isn't a necessary team in the title race, but Roma still could have potentially taken second place, which would have been huge to a team that wasn't even expected to make the top four. Not the worst performance of the season, but they just didn't have nearly enough to get the job done.
MAN OF THE MATCH: Rick Karsdorp