Werder Bremen 2 Frankfurt 1FT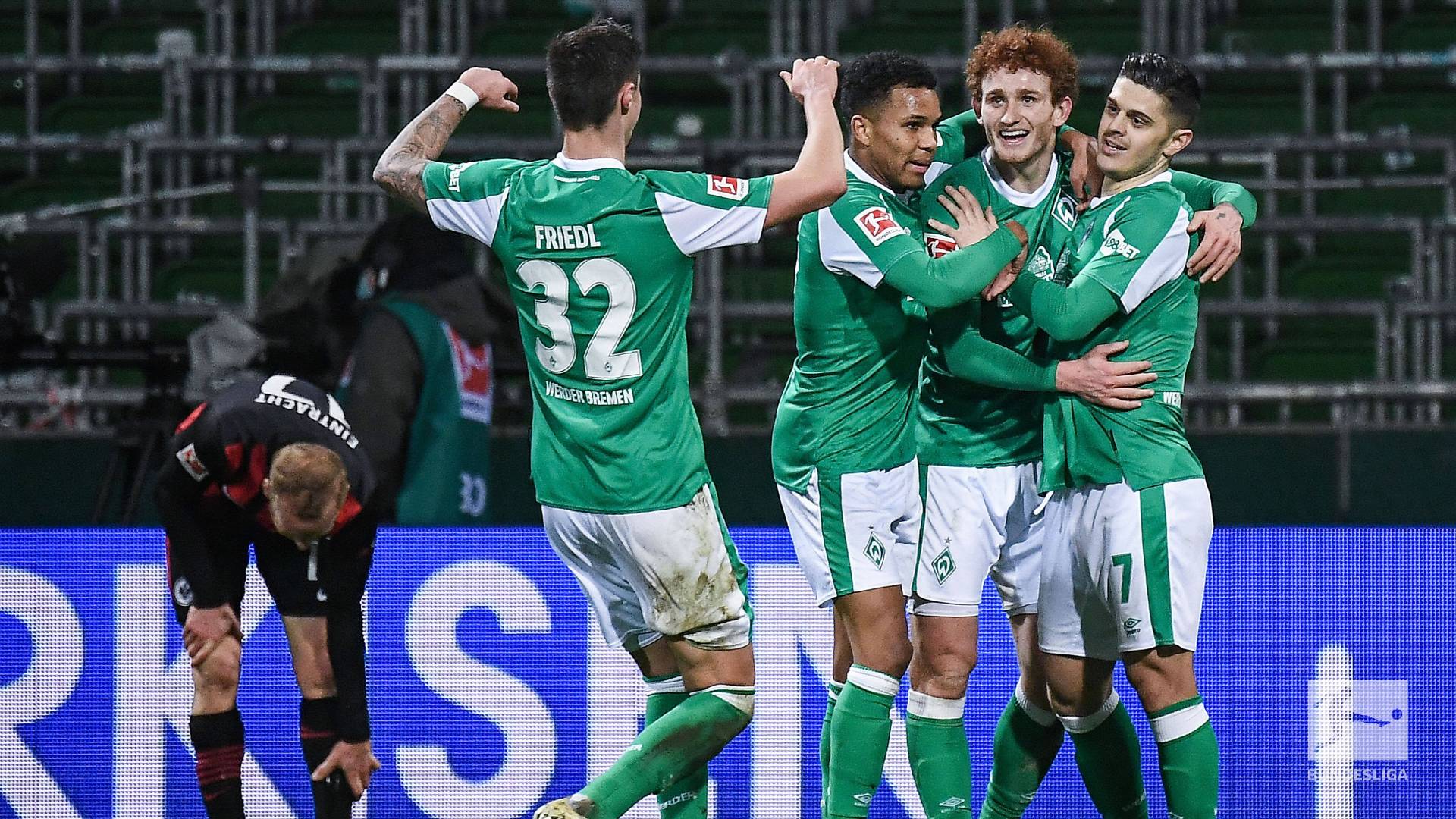 Frankfurt came into this Bundesliga weekend with a lot of confidence and momentum driving them. They have been one of the most in-form teams over the last month, with four wins in a row. Including a victory against Bayern Munich last weekend gave the title race a little bit more juice as Frankfurt did a huge favor for RB Leipzig. Frankfurt has been one of the most overachieving teams in the Bundesliga this season as they were in the Champions League places with some separation in front of Dortmund. Andre Silva leading them into the Champions League could be, in reality he has been the second-best striker in the league after Robert Lewandowski. He has led this Frankfurt team into Uncharted Territory. Frankfurt was red hot when they went on the road to take on Werder Bremen a team in a relatively good form not pushing Europe but not in danger of relegation either just smack dab in the middle of the table. Frankfurt beat Bayern Munich without Andre Silva, so certainly it felt like they would not have too much trouble with Werder Bremen early in the game; it certainly looked that way. Werder Bremen made this game very competitive at different points but early in Frankfurt got their moments, and who else but Andre Silva. Filip Kostic picked out a perfect pass inside Andre Silva propels himself upwards, connecting on a well-placed header into the back of the net to give Frankfurt a 1-0 lead. That was Andre Silva's 19th Bundesliga goal of the season in 21 games. Frankfurt's well-taken goal but really poor this defensive marking by Werder Bremen; they did not pressurize them enough as he made a well-taken header look easy. Frankfurt had the majority of the possession and looked at dangerous almost constantly. Andre Silva used his physicality in power to get through two Defenders before taking a really vicious strike at goal; under other circumstances, it could have been 2-0 already however, Werder Bremen wasn't going to lay down for them even though their chances may have been limited when they came they certainly were going to take advantage of them. The Hosts looks dangerous in their own right. Werder Bremen, close to the half-hour mark, ripped a vicious free-kick as Milot Rashica's strike went right at Kevin Trapp, but it was hit with power as it stings his hands before punching the ball away on the rebound stroke. Suddenly, Werder Bremen we're riding on momentum and looked like the more dangerous team. Milot Rashica went through again on a break cutting around two Frankfurt Defenders before hitting a curler searching for the top corner; he hit it a little short as it hit off the crossbar. Frankfurt were playing well, but Werder Bremen were not backing down from anything; despite having the left talented team, they were very much alive in this. Werder Bremen can close at the end of the first half with an attempted strike was denied by Kevin Trapp as Frankfurt was hanging on to a 1-0 lead after 45 minutes. A minute into the second half Werder Bremen had their moment. The play starting from the Midfield alternately quick passing in a deep through Pass finding a blank in the Box who beats Kevin Trapp one-on-one doing a great job of getting into that space as Werder Bremen found their equalizer. Outside of this game's first couple of minutes, Frankfurt was trailing a bit and looked second best. A little over 10 minutes later, believe it or not, Werder Bremen found another one. on an attack, Eggestein hit a perfect pass into Josh Sargent, who had space. At a tough angle, the American Striker hits a malicious Drake at Kevin Trapp; the German international does his best to get his hand to it. Despite getting a touch, Josh Sargent from finding the back of the net to give Werder Bremen a shock 2-1 lead. As they were on the verge of a massive upset. Josh Sargent got himself in space again, testing Kevin Trapp with a goalkeeper made the save this time. Frankfurt were on the verge of losing points. Filip Kostic late on trying to give Frankfurt some hope of a late equalizer; he had a vicious strike from outside the box, but Jiří Pavlenka got his fingertips. Then minutes later, Andre Silva gave Frankfurt a last-gasp chance Inside the Box taking his time finding the space and searching for the top corner nearly going in Jiří Pavlenka extended just enough to make the save it was tense during the closing moments, but Werder Bremen and ultimately hang on to pull off a massive upset against Champions League contending Frankfurt. Coming from a goal down after Andre Silva gave Frankfurt the stamp of approval. Werner Brennan allows Dortmund to close the gap slightly. Frankfurt shouldn't be too concerned there are in red-hot form, and they still have a three points distance between themselves and Dortmund, but Werder Bremen pull off one of their victories of the Season, taking down a Champions League team that was red hot.
RB Leipzig 3 Gladbach 2FT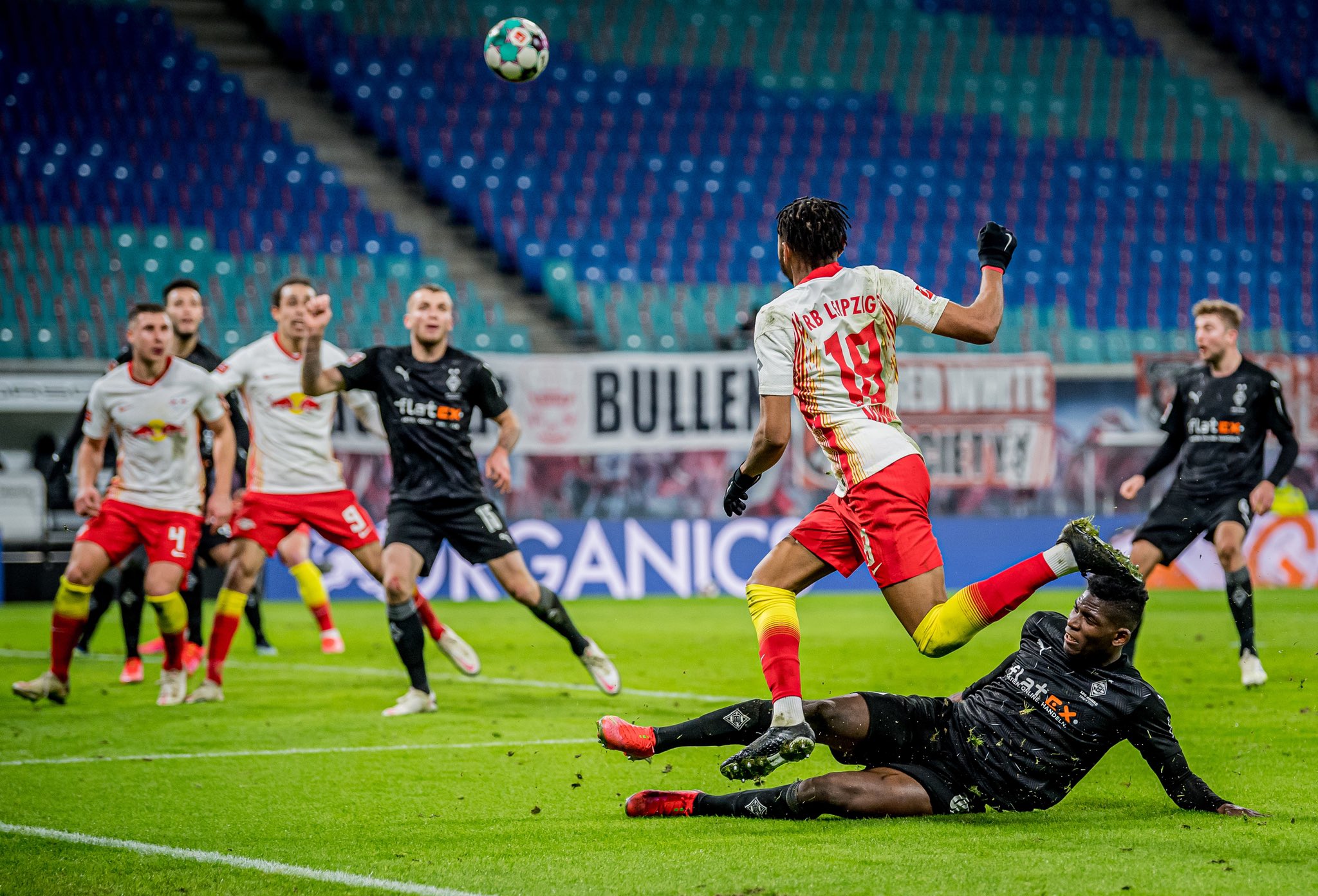 Last week RB Leipzig gave some life in the title race in the Bundesliga. Bayern Munich was starting to run away with it until they got done by Frankfurt away from home, which allowed Leipzig to close the gap at the top. Last weekend they took care of Hertha Berlin, earning a 3-0 victory that made it only two points separating themselves and Bayern Munich. This weekend the title race Nearly took an unexpected turn. It in one of the most enthralling matches of the weekend. As expected, Bayern Munich put together a dominant performance against FC Koln, ultimately picking up a 5-1 victory. That result really didn't surprise anyone. However, RB Leipzig had a challenge and nearly let Bayern Munich Heisman pose RB Leipzig in the title race. RB Leipzig was at home against Gladbach, a team coming off a loss to Manchester City in the Champions League and a couple of games in which they have underperformed. This all started when it was announced that Marco Rose would take over in Dortmund next season. There's angered the fans and some of the players, and the result of this has been a dip in form since the announcement they have not picked up three points. However, they put extreme pressure on RB Leipzig in this game and early, and it looks like they were finally going to get over their slump. just a couple of minutes into the game Dayot Upamecano made a catastrophic error failing to get the ball on a tackle as a penalty was immediately given without any hesitation from the referee. Jonas Hofmann stepped up and converted to give Gladbach a 1-0 lead; however the Hungarian goalkeeper has to be disappointed as he did get a hand on it, maybe even so much so he could have denied them from the spot. RB Leipzig did try to respond not long after. Halstenberg looked for the bottom corner, but Matthias Ginter makes the acrobatic save off-the-line RB Leipzig try to strike on the rebound, but Yan Sommer denied them. Really outstanding goalkeeping preventing a certain goal-scoring opportunity. right as RB Leipzig has seen they were starting to get some sort of momentum Gladbach came in again some dictation from the Midfield allowed Gladbach to get on the break across coming from the wing found a mutually unmarked Marcus Thurman as he connected on a free header taking a slight deflection to find the back of the net as a Gladbach opened up a 2-0 lead. Horrible defending once again as the backline did not supply any pressure on him. Upamecano was having a horrific start to the game as RB Leipzig was in a hole. They gave some life to the title race last weekend, and all of a sudden, it was being sucked out of them. The good news is they had about 70 minutes to turn it around as a Gladbach hit twice inside 20 minutes. Gladbach was supplying incredible pressure on Leipzig, but the hosts did find those gaps and try to get in dangerous areas as frequently as possible. However, the Gladbach backline and Ian Summers came to play. Justin kluivert got through on a counterattack, but Sommers left the penalty area coming outside the box as Justin kluivert was cleaned out the Glide by goalkeeper did make contact with the ball and another outstanding save. At the rate at which he was performing, it would make it somewhat difficult for RB Leipzig to fight back and continue to put pressure on Bayern Munich. They had to get things together and quickly. Gladbach had a 2-0 lead after 45 minutes just minutes into the second half; it looked like Leipzig was getting a goal back when Alexander Sørloth stuck it in the back of the net, but on the replay, it showed it made contact with his hand as the goal was wiped off. A big blow for RB Leipzig, who really started the second-half very well. Upamecano use his physical ability to get Gladbach off the ball before controlling it. Distributing towards his teammates RB Leipzig made a beautiful run before the pass was picked out for Christopher Nkunku who blasted it from close range into the top corner can minimize the deficit as RB Leipzig got one back. All of a sudden, all this momentum went towards RB Leipzig and before not too long, they had another one. Upamecano had a rebound performance in the second half; his outstanding pass from Midfield got Leipzig forward inside to Yussuf Poulsen the striker connected from outside the box a low hit ball that hit the bottom of the post before going in the back of the net as all of a sudden RB Leipzig erased a 2-0 deficit What now a chance to go in a minute. With a little under 20 minutes to go, Emil Forsberg hit perfect free-kick curling around the wall, but somehow someway, Sommer got his hand on it, keeping a Gladbach alive. However, RB Leipzig completely dominated the second half, and it was only going to be a matter of time. RB Leipzig was rushing forward on the wing before changing their actions to take a different approach; they got back inside before Christopher Nkunku hit a beautiful cross in the 94th minute to find Alexander Sørloth who Rose above his Defender connecting on a header into the back of the net despite Sommers best efforts Leipzig got a game-winning goal at the death. A tale of two halves the title race was losing oxygen in the title race before overturning a two-goal deficit to win at the death in what could be a very defining match of the season the Bundesliga race Marches On as RB Leipzig win late.
A.C Milan A.S Roma 1FT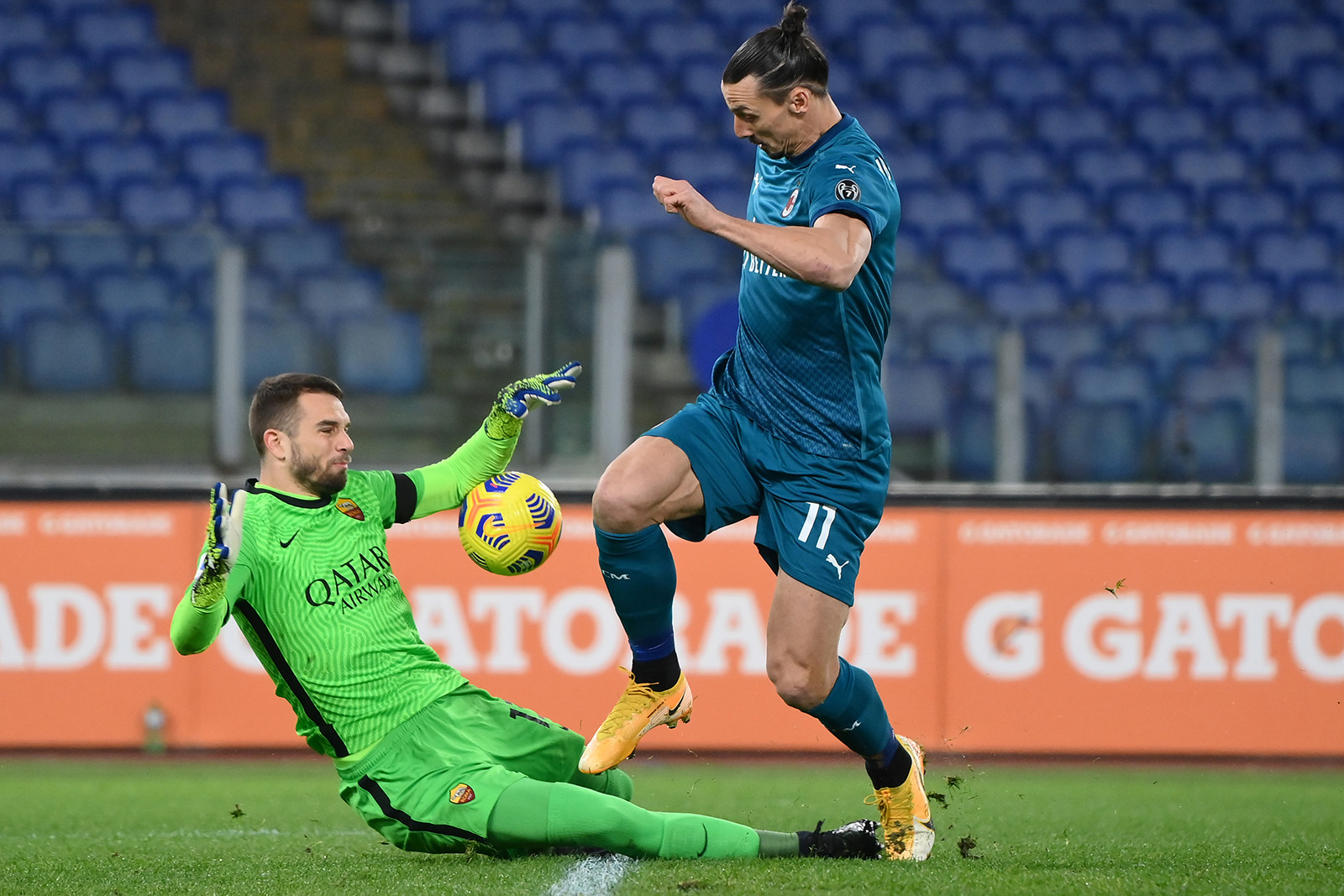 Roma was coming off a 0-0 draw to Benevento and a 3-1 Victory against Braga in the Europa League before one of the biggest matches of the season. It is Well documented that Roma has struggled against the top 6 in Italy this season. This was an opportunity to make up some ground at the top of the table, and they hosted AC Milan at the Stadio Olimpico. Roma going into this game, had not lost a game at home in all competitions. This was going to be a challenge, and it was exactly that. Roma had to play with a banged-up defense but still had enough quality in the team to perform. Roma really struggled in the opening 20 min as AC Milan dominated Roma at the Stadio Olimpico. After the first 20 minutes, Roma got back in the game as you became very back and forth. Both teams had their fair share of chances; it looks like it was going to be a very thrilling matchup. At the end of the first half, there was slight controversy, and AC Milan was given a penalty on the stroke of half-time. There was no denying that Fazio did commit a foul on Calabria; however, it appears to be on the line, which means it should have been a free-kick from the side of the Box; however, it was very close to call and ultimately AC Milan were given a penalty. Franck Kessie stepped up and converted as he gave a signal on a 1-0 lead. Roma got themselves back in it in the second half when Jordan veretout ended a very well put together counter-attacked that started in the Midfield and ended with the Frenchman hitting a curler in the top corner from just inside the Box has he became the first Frenchman to score ten goals this season since Michelle Platini Roma got themselves back into the game. However, poor defensive marking led to AC Milan retaking the lead 8 minutes later. Rebic finished off the attack has AC Milan took a 2-1 lead. Over the final half-hour, Roma really dominated and was the better team to a large extent. They had several chances to capitalize and at least come away with a point. Henrikh Mkhitaryan had the chance of the game hitting a strike at the goal, but donnarumma managed to make the save on the rebound of the shot Miki tried to collect when Theo Hernandez dragged him down. In what looks like a clear penalty. VAR wasn't even checked, and even further, a foul was called on Miki, although Theo Hernandez was driving him to the ground. Late in the game, Roma had a couple of chances in the closing moments that was dealt with by donnarumma AC Milan held on the win a narrow 2-1 game at the Stadio Olimpico being the first team to beat Roma at home this season AC Milan played very well on this game. Still, the result of the match was largely influenced by a penalty call that was clear as day that wasn't even checked; you can talk about this game anyway. Still, a robbery occurs at the Stadio Olimpico as a penalty call denies Roma of stealing a point.