Roma Robbed of Split points  

Roma's 20 game unbeaten run at the Stadio Olimpico came to an end last night largely due to the match's controversial circumstances. I'm not trying to argue that Roma deserved to win last night. A draw would have been a completely fair result for the team, and maybe you could even argue that AC Milan should have won the game regardless. The circumstances that led up to the final whistle in Rome were of a controversial nature. AC Milan came out strong and played extremely well throughout the game. Roma had a rough opening 20 minutes, but outside of that, they found a way to get themselves in this game and ultimately earn the point they should have. AC Milan was given a penalty at the end of the first half. I would not necessarily say that the penalty call was corrupt in any way, but some arguments were all wrong. There's no doubt about it, and you can't even argue the fact that Federico Fazio did foul Calabria on the edge of the box. However, the foul's circumstances happened on the line meaning it should have been a free-kick from the edge of the box, not a penalty. That one's close to call but given the nature of the rule on the line is technically still not in the Box meaning it would have been a free-kick instead of the penalty if it's called a free-kick AC Milan don't take the lead at that moment however I'm not overly upset about that one wasn't necessarily agree just call do I think it was the right call? no I don't I think got that one wrong, but you can't look at that call and call it robbery. A minute into the second half, salesmakers don't play the ball and have his studs up as he approaches Federico Fazio's foot. That was a clear red card in my book has AC Milan should have been reduced to 10 men at that very moment. Again very controversial call, but you can't call it a robbery because of that call. The truth is the first penalty probably shouldn't been given as a penalty; it should have been given as a free-kick, and secondly, AC Milan should have been reduced it had met. However, the robbery of this game took place in the second half. Roma had drawn level through Jordan veretout. AC Milan ultimately got themselves back in front after poor marking by the Roma defense that allowed Anton Rebic to score AC Milan second. around 10 minutes to go, henrikh Mkhitaryan hit a vicious strike at donnarumma a goalkeeper makes the Save the Armenian then tries to collect the ball before Theo Hernandez pulled the Winger to the ground. In what is a clear penalty. The Armenian is literally being dragged to the floor because Theo Hernandez play-acted and the referee didn't make the right course of action. Roma was not given a penalty with 10 minutes left. If Roma is given that penalty and they convert it, the game results could have been drastically different. VAR wasn't even wasn't even checked; it went even further; a foul was called on Mkhitaryan; they argued the Roma Winger commits a foul on Hernandez, the player that was dragging him to the floor. A truly egregious decision that led to a robbery at the Stadio Olimpico. Roma had chances to win this game, and they did not convert them; however, that was a clear penalty that was not given that takes the energy out of Roma, and even though they had chances down the stretch, that singular decision largely affects the result and steals points from Roma. The question I have and I continue to have is why wasn't the VAR are checked? There has to be another solution to these sorts of problems. If the referee does not check it, then it's a standstill, but a clear and obvious situation like that the video review should intervene them to allow them to make the right decision. in Italy, we haven't had too many issues like this but a clear and obvious decision like this one gifted AC Milan two points. I'm not saying AC Milan didn't deserve something from this game; they played very well. Still, the circumstances of the non-call in the 80th minute ultimately led to the robbery Roma should have had the opportunity to get the point. They weren't gifted that because the referee decided to ignore it.
A.C Milan Bounce-Back Performance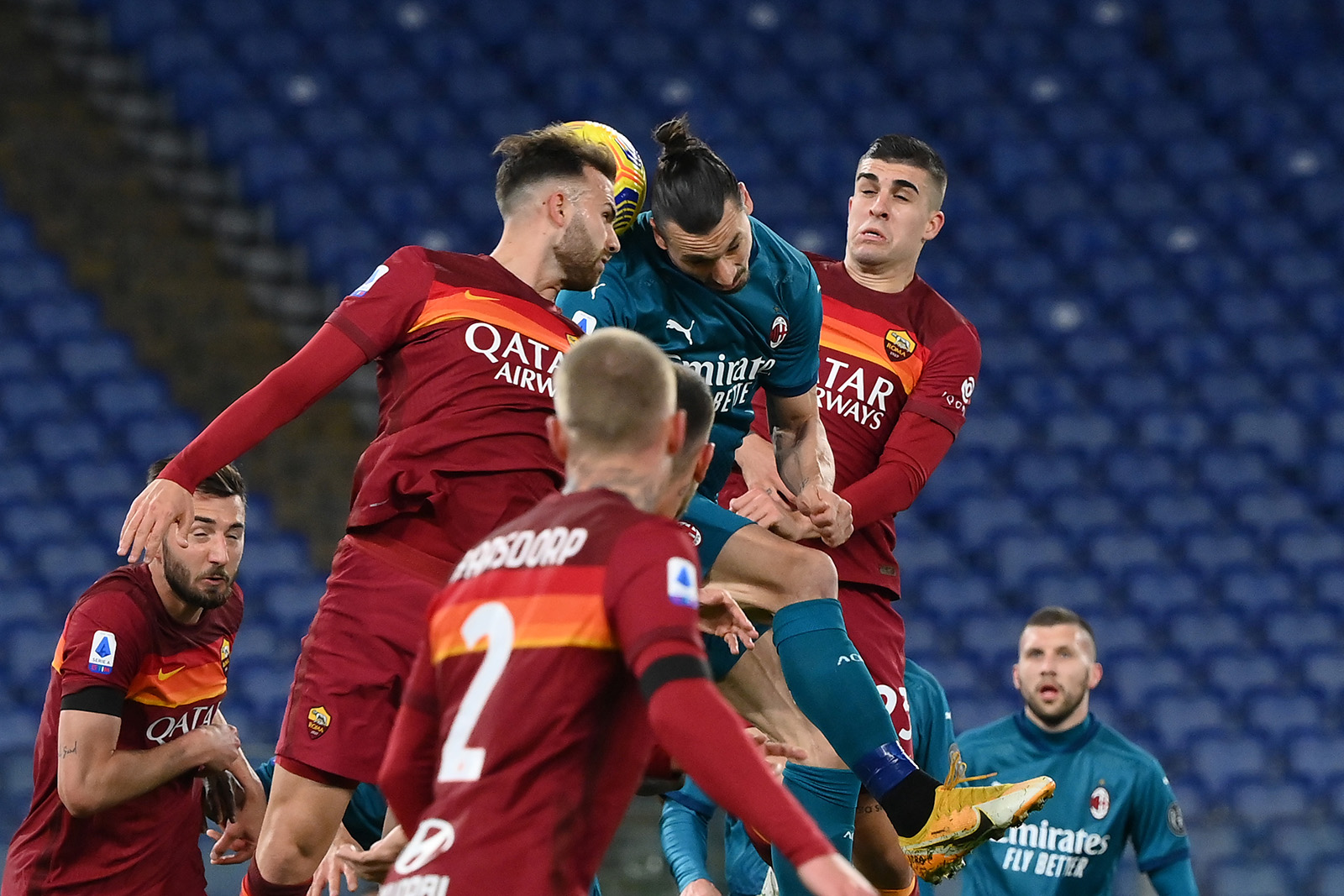 Regardless of the circumstances of the match, AC Milan needed a performance who really Propel themselves back into the way they were playing during the first half of the season. They were coming off two losses in a row, and has not played well over the last couple of games, this Victory against Roma was their first victory in their last four games in all competitions; they did not look overly impressive in the games against Red Star if fans were allowed to be in the stands for the home leg, it is actually possible that Milan would have been eliminated because of how crazy those fans can get and be. They had dropped points in losses to Speiza and Inter Milan. They were humiliated in the Milan Derby last weekend and needed some performance to make up for it; the title race is probably gone cuz Milan just does not have the depth that entered does to get themselves back into it even though it's only four points it seems like a lost cause if enter continue to play as well as I have the last couple of weeks. They seem to be on a mission to secure their first League title since 2010, and AC Milan needs to start putting a little more pressure on them; even though I don't think this Victory pressurizes them at all, they get back into playing the right way. They were aggressive in this game again, throw up from the very jump, and really went after it. If it wasn't for Lopez's goalkeeping performance, it is actually possible that AC will I would have blown them out. It was exactly the type of response they needed, even though they did lose a key player to injuries for the majority of the game. AC Milan looked incredibly strong. There was a stretch where Roma was retaking momentum, but for the most part, AC Milan got the exact type of performance they were looking for. They needed to make a statement in a big game like this at the Stadio Olimpico regardless of how they got there in the end and the penalty that wasn't given to Roma; however, even though Milan lost Ibrahimovic and Rebic, they play very well together now will this go forward into the next couple games it's kind of hard to say one way or another. Still, they put together a performance that should give them a men's confidence over the next couple of weeks. Again I don't think they're catching enter I don't, but after playing really badly for weeks, that's the type of performance that they can feel proud of despite the circumstances that ultimately led to the victory.
Pedestrian Start Horrible first 20 Minutes 

Roma has struggled significantly in the big games. This has been proven considering the number of points they collected against the top six. Roma was robbed last night; there's no way to dress it up or try to explain it otherwise, they were robbed because that wasn't given to them in the 80th minute; however the performance itself actually was pretty productive. Roma looks pretty good for most of the game; however, they let it lose in the first 20 minutes. This is the big reason that Roma has lost all their games against the top six. It's not because Roma doesn't have the talent. Of course, they do not have the talent of maybe some of the better teams in the league, but they have enough certainly to be doing better than what they have done this season. Jordan veretout is one of the best box-to-box midfielders in the lake; Chris Smalling, Roger Ibanez, and Gianluca Mancini are all highly regarded offenders in the league. Then you have Hendrick Mkhitaryan, one of the best players this season, and have a couple of other nice pieces obviously, this team is out of completed work, but they have enough talent in this team to be doing better than they are. They struggled so significantly against the big six because they have started so slowly in these games. We saw Atalanta score four goals in 25 minutes as Roma fell asleep in that game, we saw on Napoli a very bad Napoli to him rip them apart, and then we saw the way they started last night. They have done reasonably well and some of the other big games but fail to achieve three points last night the reason why they couldn't pull this off large it was cuz of the penalty, but the reason they couldn't win the game is that they started so slow. It was too passive. Roma did not come out with the aggressiveness they needed to, and ultimately, that cost them in a long one. You can say that Roma didn't concede in the first 20 minutes that doesn't make a difference because AC Milan was going for the throat from the jump, and Roma had to try to grab that momentum back by the time they started doing that AC Milan and already taken the lead, and it only took them eight minutes after Rome is an equalizer to get back in it. Roma was without Chris Smalling and Roger Ibanez to vital pieces of this team, especially defensively. This forces them into playing Bryan cristante and Federico Fazio at center-back; with those types of options at that position, it will be very difficult to win games, which was proven last night. Milan came to play, and Roma just started far too slowly. The absentees in the defense do make a huge difference if they play this match again with different center backs the maybe the game is different, but their approach in the early parts of this game certainly didn't do them any justice. Paulo Fonseca can be totally blamed for this loss, but to a certain extent, he waited too long to make substitutions, and the ones he made it didn't make a lot of sense. The approach was completely wrong, and it just highlights even more so why Roma has struggled and games like this. Roma was robbed, but despite that, Roma did not put themselves in the best position; they started to passively and too slowly by the time they had gathered momentum AC Milan was already taking advantage of them.