Score: A.S Roma 2 Empoli 0FT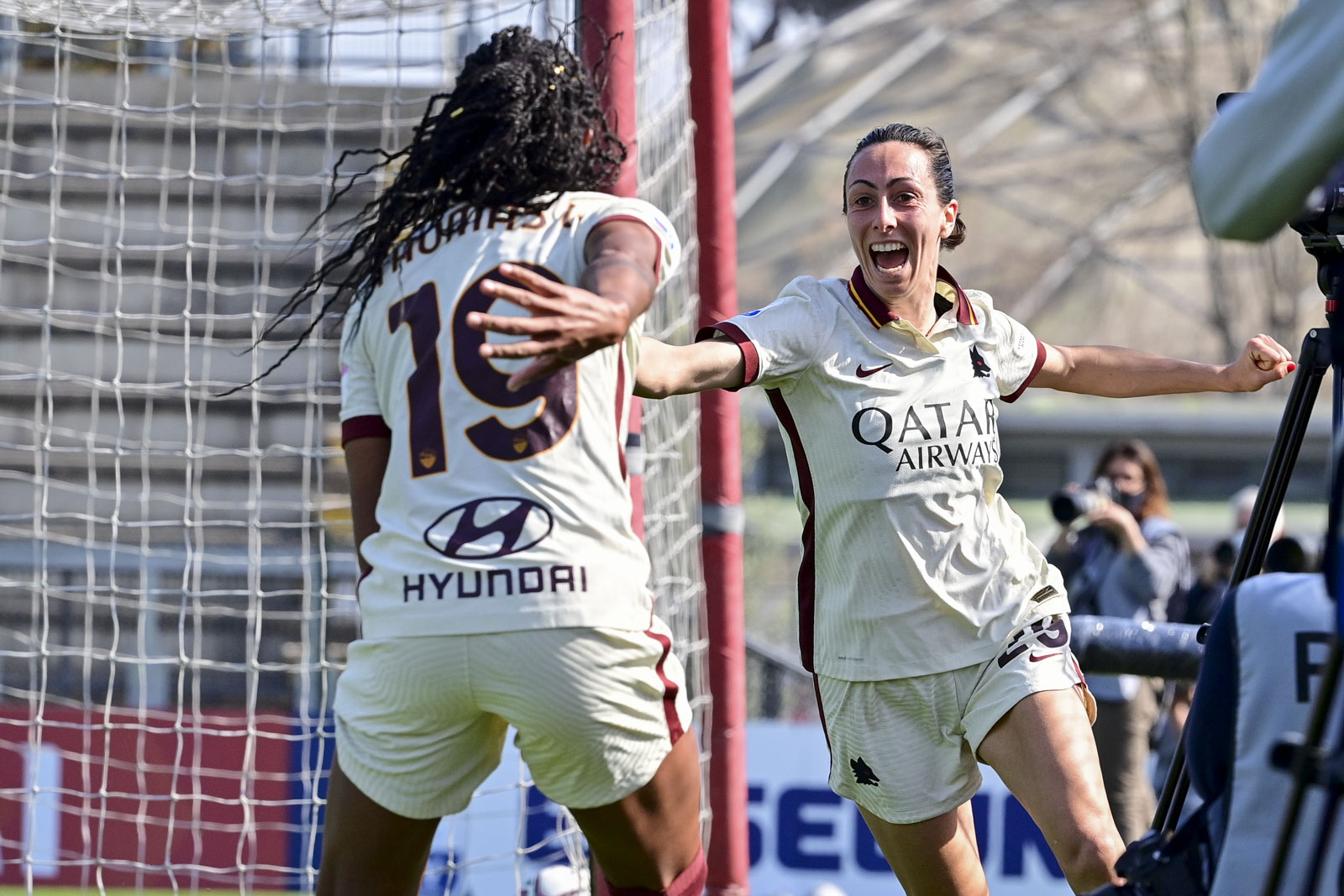 It's been a bizarre season for the Roma women. Almost to the point where it is a season of two different teams. Roma came into the season with many expectations at least attempting to push for Champions League football. Chasing down the league title and challenging Juventus would be a real challenge not just for Roma but also for anyone. They happen to have the best players as well as the best resources. Winning the title was never going to be a realistic expectation, but pushing Juventus and trying to at the very least be in the title race and potentially make the Champions League what's something that Roma felt was a realistic expectation on what they could achieve during the season. Roma had added some significant pieces in the summer, and it looks like this team was poised to have an outstanding campaign. However, the first half of the season was a little inconsistent. It wasn't that Roma talent was underwhelming Roma has one of the most talented teams in the league; the results just didn't follow it. Roma has two of the best-attacking players in the league. At times Annamaria Serturini and Pamela Lazaro have been the big difference makers for Roma. Roma has dealt with some injuries this season that certainly doesn't help the situation, but even against some of the Lesser teams, Roma has struggled at least during the first half of the Season. Inability to finish in front of goal letting leads slip and just seeming to lack that Killer Instinct. However, this Roma women's team, a team that for most of the first half of the season really couldn't really gather that much momentum or even a winning streak for that matter, they have started to turn this around. Coming into their second meeting against Empoli. Roma had picked up maximum points in three consecutive games. There were points this season where they had some of the worst form in the league, so the fact that they were gathering momentum and have been really helping Roma's case not only for the rest of the season but for next season. They have their eye on 2nd place; even though it may be slightly challenging at worst, they have ground to make up but could manage to get themselves into the top three. Roma's manager has even been under some criticism for underutilizing this Roma team. They were opinions out there that maybe Roma needed to go in a different direction next season; however, she's got her team back on track playing some of the best football they have played all season. In the first meeting against Empoli, it was a 2-0 victory for Roma in what was their first win of the season. Roma, we're looking to do the double against them, trying to make it four wins in a row.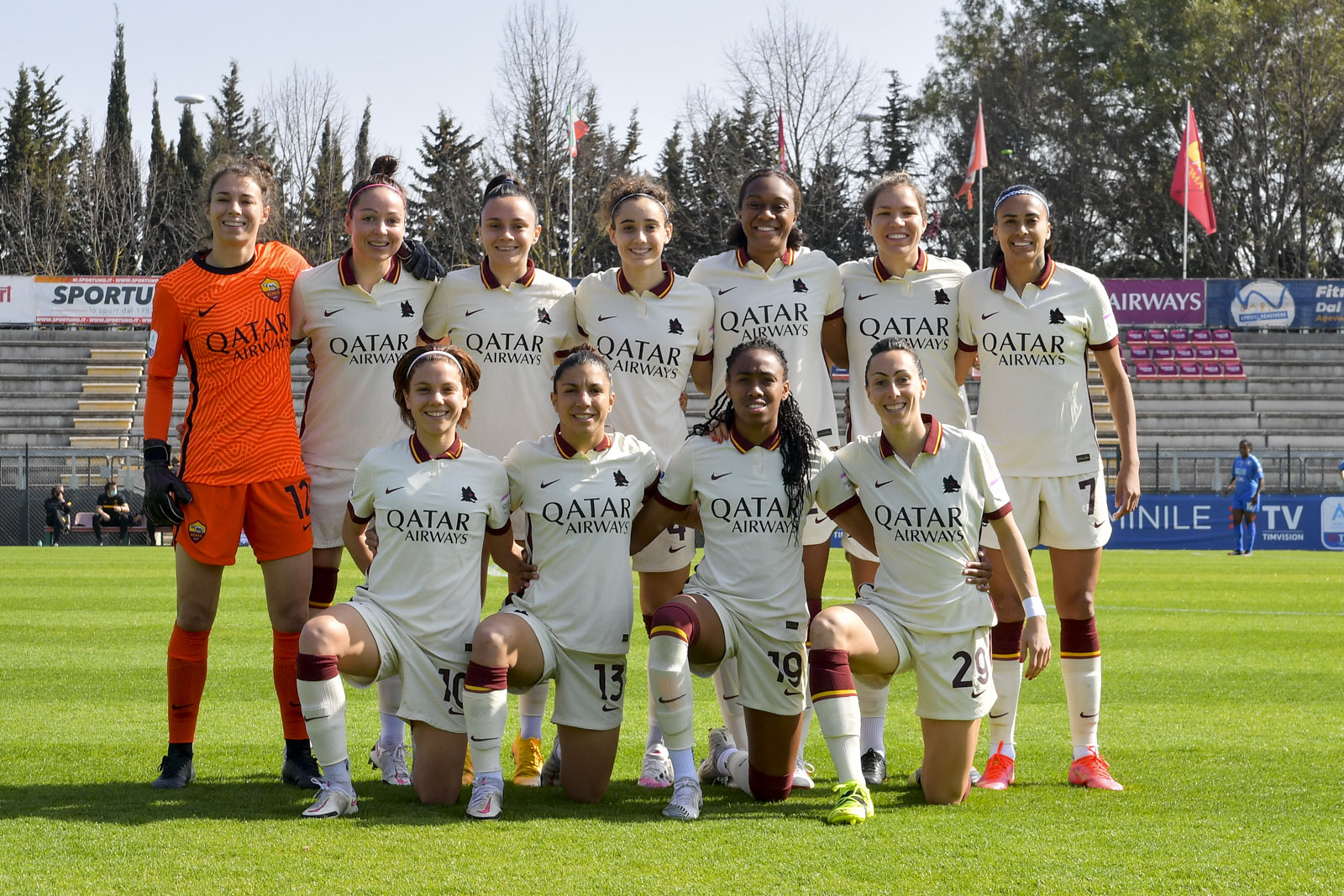 Roma were the heavy favorites going into the match. However, Empoli is a strong side that is in the middle of the table; they may not have the talent of Roma but considering what they have for their disposal, they've had a very productive season it was not going to be as easy as it may have looked on paper. They had some players that could really do Roma damage even though they were not in great form; they have the capabilities of making this difficult on Roma. Even with that, Roma was largely expected to pick up maximum points. Even though Empoli deserves to be respected, Roma did show their superiority in the early part of the game. Everyone seemed to be clicking with one another from the jump. Roma is just an incredible form right now, and it showed. Empoli had some difficulty dealing with Roma's attacking options. Just minutes into the game, Manuela Giuliano tested the Empoli keeper actually hit an audacious strike from well outside the box; she had the distance on it, just relax that power to really give the goalkeeper serious problems. Really showing Emily that it would be quite a challenge, especially with the strike trying to keep Empoli out of balance. A little later, Roma almost got their opening goal when Lindsay Thomas ran down the wing inside a box to find Annamaria Serturini, who had a powerful strike at the goal. However, Empoli was defending very well as a goalkeeper got her hands to it, denying a good opportunity for Roma. Emily had some chances once in a while, but Roma looks like the better team; even though Empoli was defending very well eventually, it just felt like when we're going to break through and put themselves in before front in this game. Emily nearly got out of the first half unscathed, but with just a few minutes to go in the first half, Roma finally broke through. A perfect strike hit by Lindsay Thomas traveled inside the box as Pamela Lazaro met the ball at the near post heading the strike home to give Roma a 1-0 lead. Pamela Lazaro becomes Roma's first double-digit goal scorer of the Season as that was her 10th goal in the Roma colors. Pamela Lazaro scoring once again; she had some consistency issues this season, but at her best, she is certainly something special as it showed getting in position as she gets her head on the end of the cross. Roma takes the 1-0 lead into the second half thanks to Lazaro putting Roma in front with minutes to spare.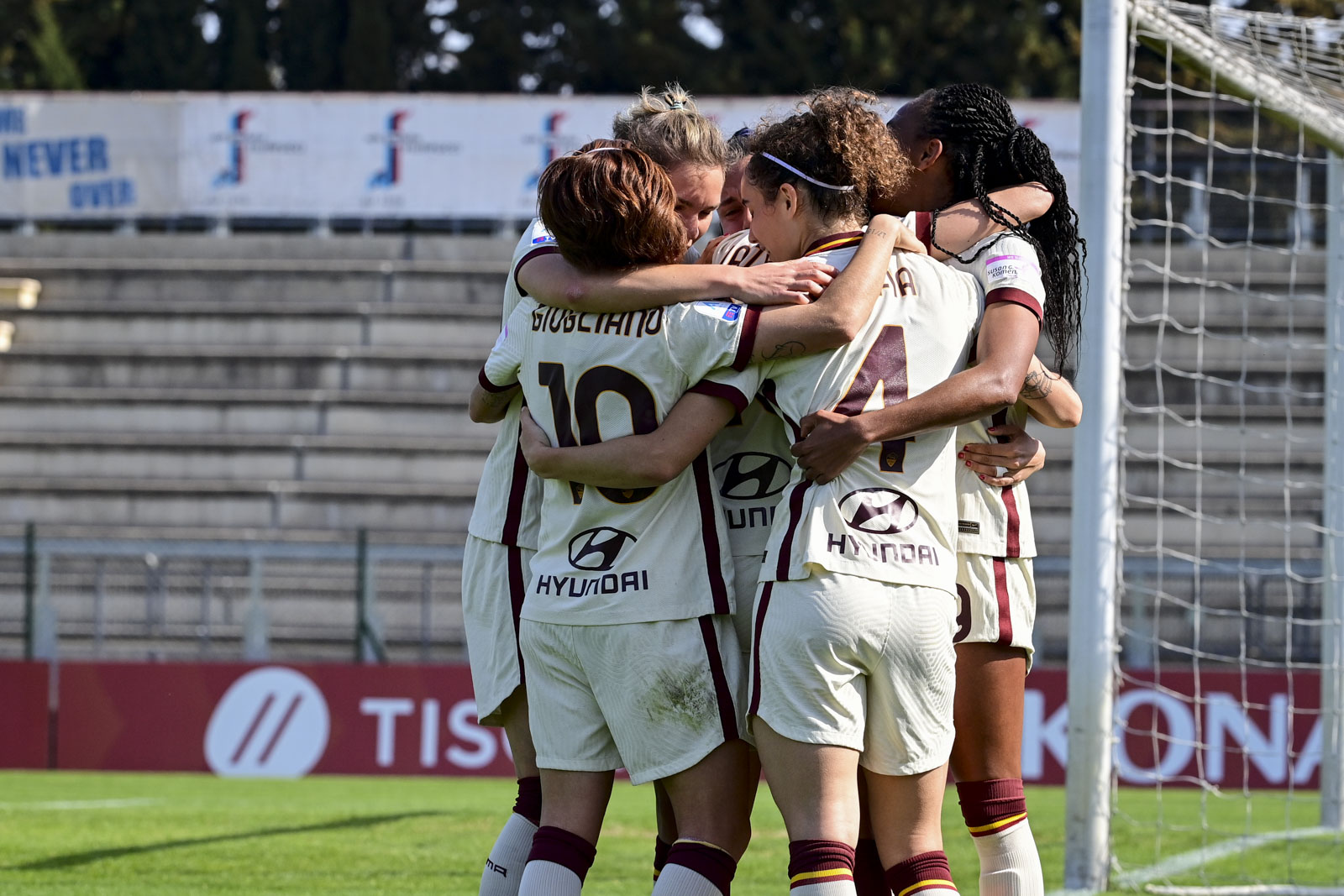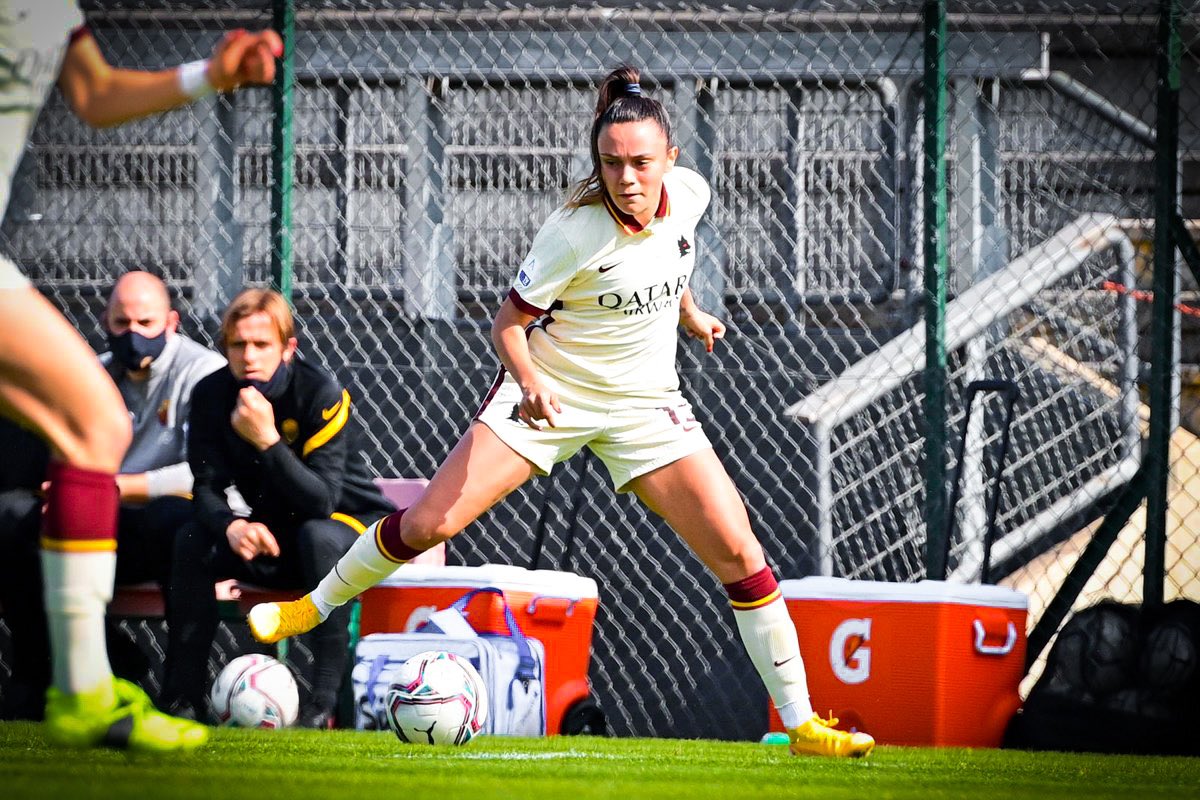 Roma was the much better team in the first half, however Empoli defended very well and eliminated multiple opportunities from the Romans attacking side of things. The problem now is that Empoli needed to try to pounce on that and attack, meaning at some point in the second half, they would be open, and it would allow a Roma to extend the lead; however, this was turning out to be a tough game. As it took Roma almost to see the race in the first half to breakthrough, considering the difference in talent, this was much more difficult than expected. Minutes into the second half Manuela Guliano try to test the keeper once again, hitting a low strike from outside the box, nearly finding the bottom corner just inches away from Roma, scoring a second. Giuliano is not afraid to take a risk as she tries to convert on another deep striped, ultimately coming up short, but it was within distance to find the back of the net. Empoli nearly got their equalizer not long after a deep strike from outside the box Saved By The Keeper; Empoli even went forward and tried to get on the rebound after Camellia Caesar dropped the ball however, the Romanian keeper was able to grab it before Emily try to attempt another strike. That very nearly could have been The Equalizer. With a little over 20 minutes to go Annamaria Serturini nearly scored one of the goals of the season from just inside the box from the wing at a tough angle, she hit a cross that nearly hit the post and went in however, her strike ended up hitting the post before falling in the goalkeeper's hands. A few minutes later, Emily was looking for a late equalizer to put things Back in Balance. They struck twice coming out the corner, but Roma made a double save from the goalkeeper and the Defenders to clear out the ball to eliminate an opportunity that could have changed the game's outcome. With 10 minutes to go, Manuela Giuliano killed off the game for good; she got on a break mutually alone with two Empoli Defenders trying to track her down. She ran from the Midfield all the way inside the box with a ball at her feet, not enough space, and just tucking it into the bottom corner to give Roma a 2-0 lead, essentially securing the points once and for all. Manuelo Guliana perfectly ending what has been an outstanding performance from her individually. Empoli try to fight back to minimize the deficit but too little too late as Roma hangs on, gets their clean sheet, and picks up another victory in a 2-0 win thanks to Manuela Giuliano and Pamela Lazaro. Roma won their fourth game in a row as suddenly they are one of the most in-form teams in the league; proven yet again, this is more than a two-women team. With half the season still to go, third place seems very achievable as Roma continues to close that Gap.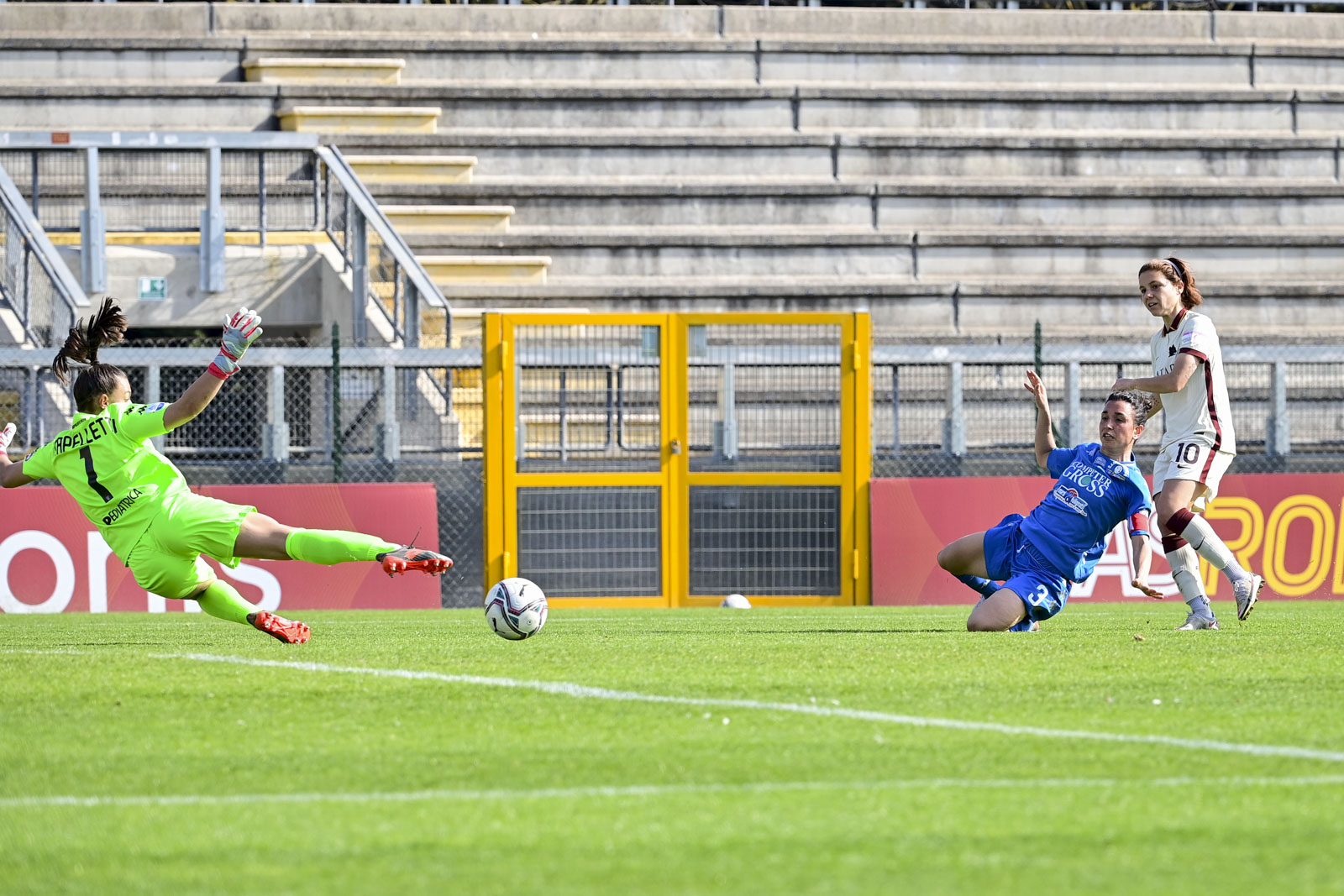 1.Juvnetus 14-0-0 42Pts
2.Milan 13-0-1 39Pts
3.Sassuolo 10-1-3 31Pts
4.A.S Roma 7-4-3 25Pts
5.Fliorentina 7-2-5 23Pts
6.Florentia 7-1-6 22Pts
7.Empoli 6-2-6 20Pts
8.Inter 5-2-7 17Pts
9.Hellas Verona 3-1-10 10Pts
10.San Marino 2-2-10 8Pts
11.Napoli 1-1-12 4Pts
12.Bari 1-0-13 3Pts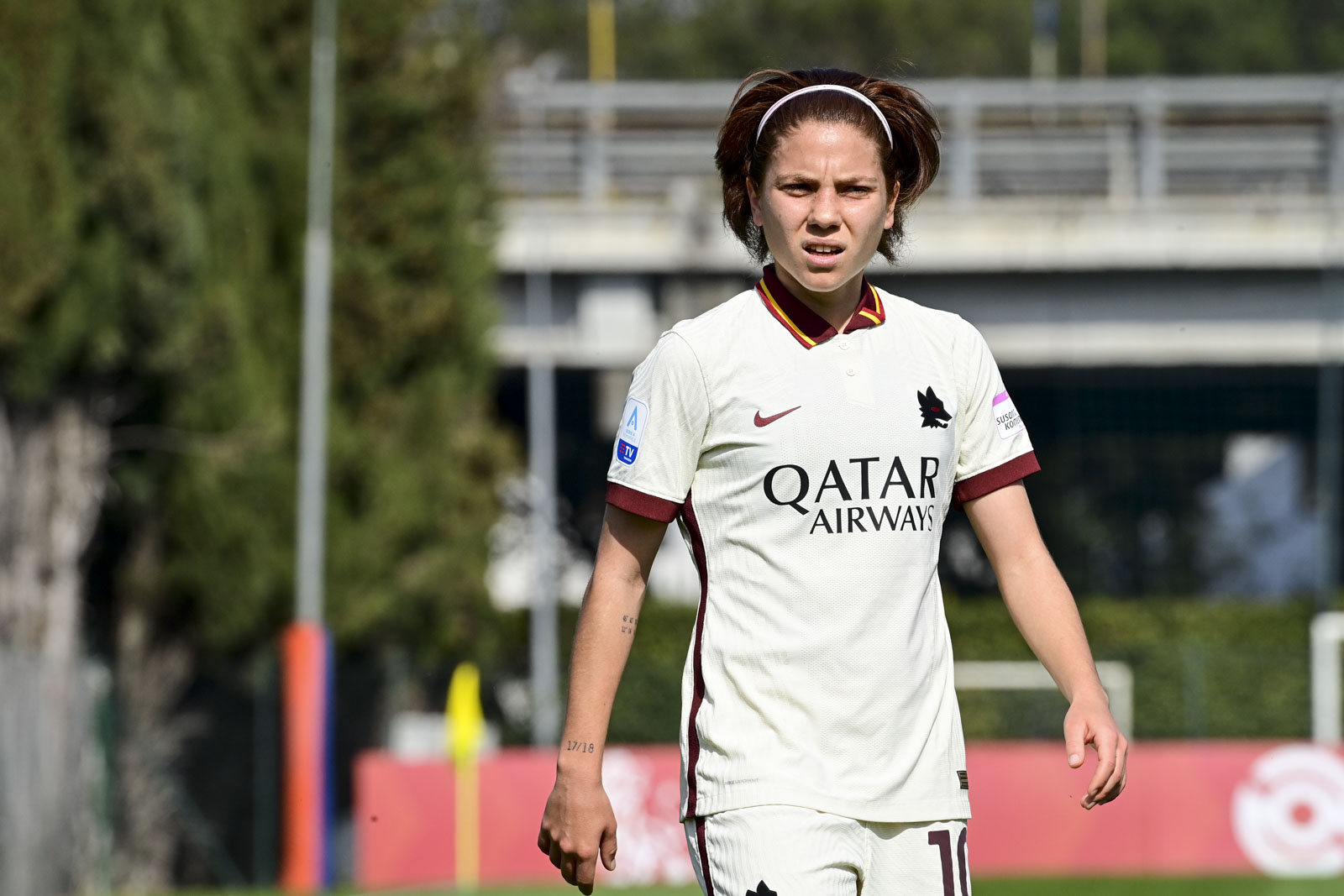 TOP GOAL SCORER SERIE A WOMEN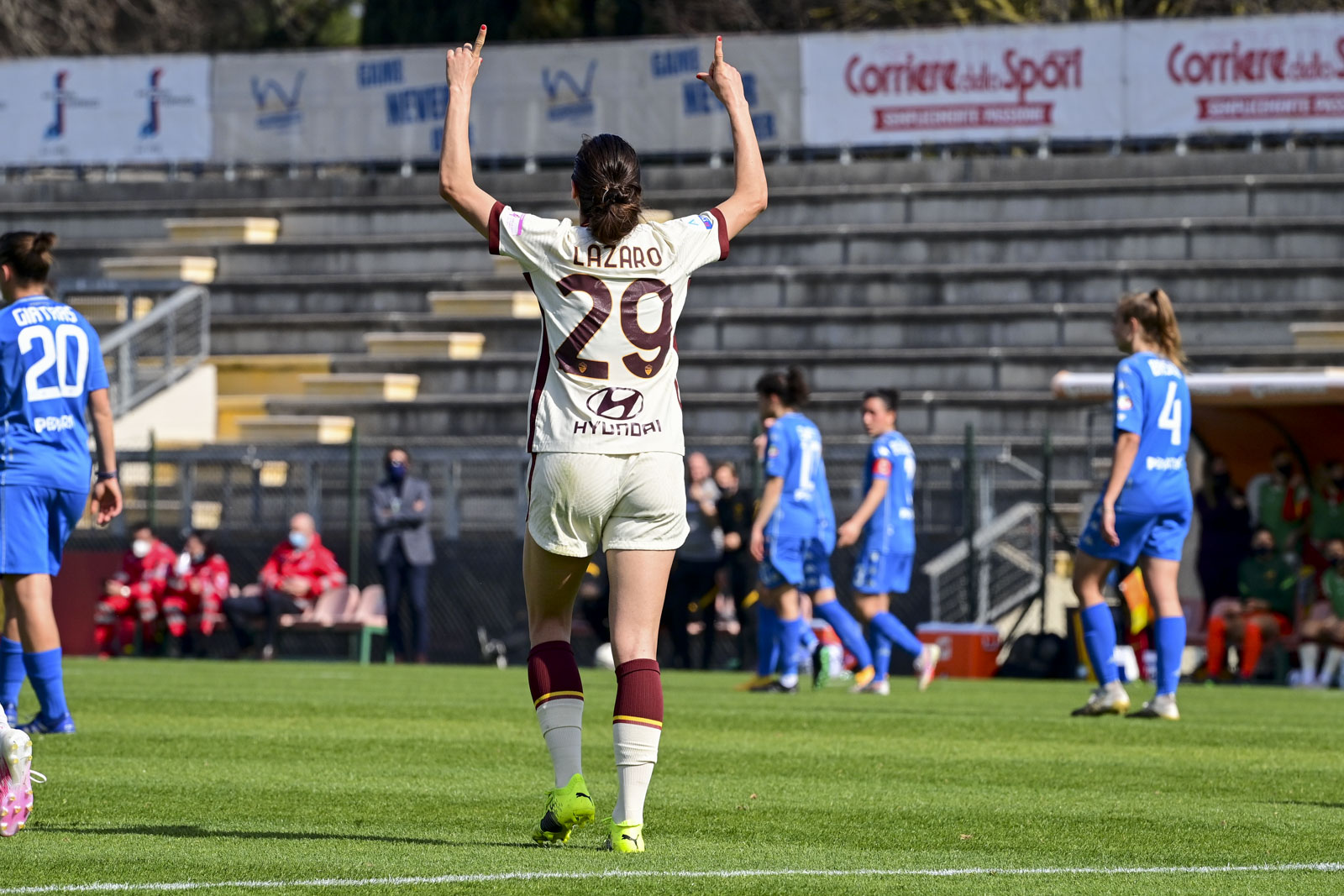 1Valentina Giacinti AC Milan 12 Goals
2Daniela Sabatino, Fiorentina 11 Goals
3Paloma Lazaro, Roma 10 Goals
4Natasha Dowie AC Milan 8 Goals
5Valeria Pirone, Sassuolo 8 Goals
T5thKamila Dubcova, Sassuolo 8Goals
T5th Raffaella Barbieri, San Marino 8Goals
T5th Annamaria Serturini, Roma 8 Goals
T5th Elisa Polli, Empoli 8Goals