Tyler Adams vs Gladbach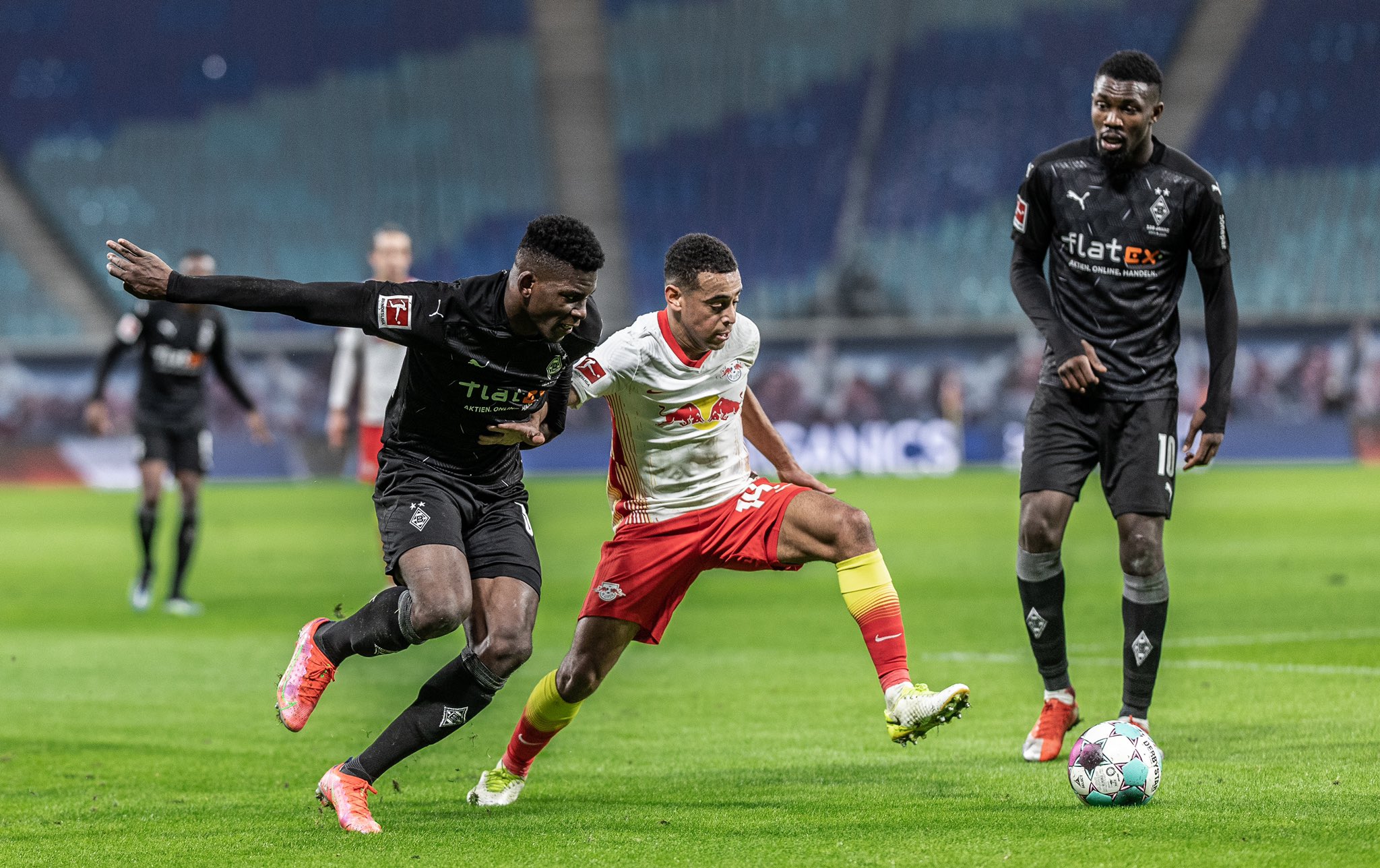 Tyler Adams is one of the most important players to The u.s. Men's National Team for the foreseeable future. The future of US soccer is heavily on the shoulders of Tyler Adams and Weston mckennie. They do not get the praise or a claim of Christian pulisic. The American media is obsessed with him just because he is athletic. However, the defensive Midfield Duo is significant, and they are the two best players on the US Men's National Team. Tyler Adams is also one of the most underrated players in the Bundesliga this season, and we got to see that at the highest level this weekend against Gladbach. Tyler Adams scored a game-winning goal in the Champions League quarter-finals last year that isn't the style or the type of player that he is. His game is very gritty, ugly, and tough. You're not going to see Tyler Adams on a highlight film practically ever. He is important to RB Leipzig, who suddenly finds themselves in a legitimate title race. He continues to develop and grow into a phenomenal player for this RB Leipzig team. He could be the future captain as he continues to grow in Julian nagelsmann system. It is true that sometimes he has played out of position and when he had the opportunity to play his natural spot he was a standout star he was incredibly influential in the result turning around for RB Leipzig. Gladbach ended up taking a 2-0 lead very early in this game; they had a lot of attacking prowess in the first 15 to 20 minutes and essentially were able to do nothing else after that. RB Leipzig dominated the majority of this match and, to a certain extent, suffocated the Gladbach attack outside of that first 20 minutes. Tyler Adams, to a large extent, has kind of moved around inside of this team. He has played him in more attacking my new position out on the wing, which has worked to a certain point, but to a large extent, his defensive abilities large outweigh the attacking ones. Tyler Adams was allowed to play his proper role, and he did not disappoint. He was the best player on the pitch for either team and clearly the man of the match by a large margin. The way he influences this game was one of the most impressive performances we have seen from him all year. he has been very productive this campaign, and he has adapted quite well to the circumstances. Still, when he had the opportunity to play in the defensive Midfield, he suffocated the Gladbach. They did mutually nothing the entire game because Tyler Adams made it so incredibly difficult on him. Shows his importance in this team a mentally with the performance he pulled off in a game that RB Leipzig needed to win. The distance between those these teams is only two points. Tyler Adams was asked to handle slowing down the attack and preventing any counter-attacking play. Gladbach could not get on the counter-attack the entire game. Their goal came from a penalty, and a cross from the wing they never got on the counter because Tyler Adams prevented that from happening. He thrived operating in his natural position. it was certainly his best performance of the season; the American defensive midfielder operated at a superb level with 91 completed putting together a pass accuracy of 86%. Only the best midfielders in the league are capable of those types of numbers. He had 14 ball recoveries, he was in complete control when the ball was at his feet he just played the game the right way and made the intelligent plays; on top of that added four tackles and was the most influential player in the match. He had 125 touches as he dictated the game both defensively and the attacking sense. Tyler Adams proves again that he is one of the most underrated players in the Bundesliga it was a world-class performance. The level in which he controlled the ball distributed the ball and created such a problem for the Gladbach attack that did not show up the second half; a large part of that is because Tyler Adams made them so uncomfortable. He was certainly one of the best performers in Europe this week. In his natural position, he was dominant Tyler Adams. He is a proper defensive midfielder his assets and abilities come down to his wall control, intelligence, passing ability, and dictation. He has operated as a leader the entire game he was communicating with his teammates and getting Leipzig the exact type of energy they needed to turn around a game that started so poorly it truly was a Tyler Adams masterclass as he continues to take great strides in becoming a much more refined player Gladbach had one massive problem in the second half, and his name was Tyler Adams.
Leon Goretzka vs Koln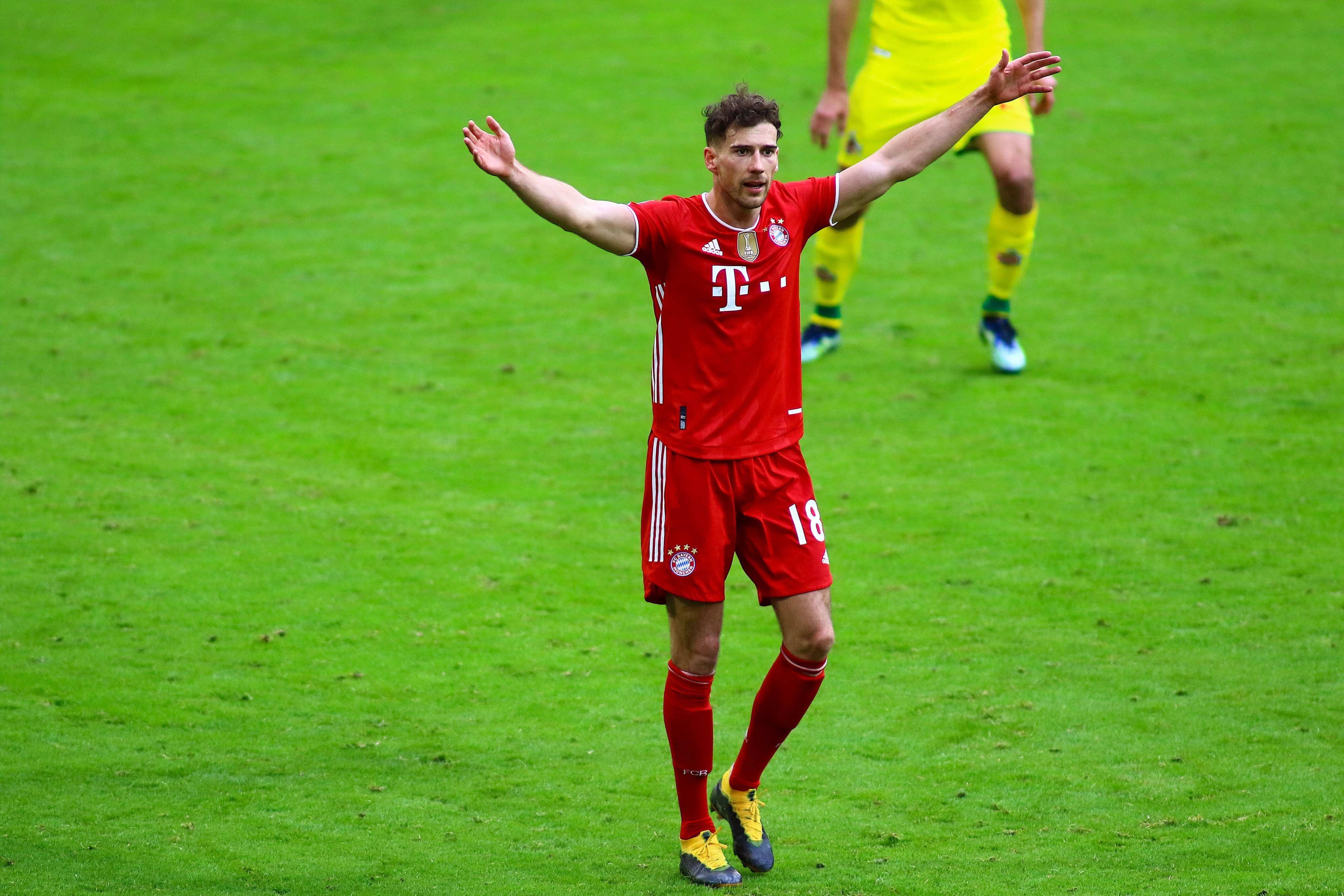 Bayern Munich is the best team globally, and there isn't any team out there with the surplus of options that Bayern Munich has. This Bayern Munich team is known for their attacking weapons and what they can provide on counter-attacks, and their ability to score from anywhere from anyone. Obviously, they are recognized more than others because of how loaded this team is; they're certain components incredibly important components of this Bayern Munich side that sometimes don't get the recognition that they deserve. Leon goretzka is a top 15 player in the world. However, if you're not watching the Bundesliga every week, you probably wouldn't know that. In fact, there is an argument out there that he is the best box-to-box midfielder in the world. Of course, there are some arguments for others, but he certainly in that conversation. He isnt a stat player. Leon goretzka has five goals and five assists this season it's a pretty good stat line, but obviously, other midfielders in Europe fill it up at a much higher rate than he does. He is undoubtedly one of the most underrated players in European football and even further inside this Bayern Munich team. When people discuss and talk about a Bayern Munich, Leon goretzka isn't brought up as much. When Leon goretzka came from Schalke 3 years ago, he came as a rather stocky, get skinny playmaker. He has put on so much muscle and power since then. It has made him such a more Dynamic and physically imposing player. He has the physical strength of an ox it is challenging to get the ball off him when it did as at his feet; while he doesn't have the best ball control because of his physical stature, power and endurance it is challenging to tip him off. Against FC Koln was another display of Genius from the defensive midfielder that doesn't really get the credit he deserves. He is box-to-box; he's very physically empowering, has the attacking mentality, and has hit some absolutely outrageous strikes this season. Then on the other side of things, he also has defensive capabilities; he has his strength and power and is good with his feet allowing him to stop counter-attacking plays in his own right. Bayern Munich probably have the best defensive Midfield in duo in European football with Leon goretzka and Joshua kimmich. This is a match made in heaven for a few reasons. Joshua kimmich is thinner and more agile as Goretzka comes with power and physicality. Joshua kimmich is probably a little better defensively and has a different approach; the reason it works so well is they are polar opposites. He also can push forward and is very contributive on counter-attacks. The one thing that both have in common, though, is they can facilitate. It wasn't just the fact that Goretzeka was dominating in the Midfield and showed unbelievable qualities in controlling the ball, Distributing it as defending the back. He largely contributed to Bayern Munich getting forward on the attack and got a hat-trick of assists. This may not be something you're going to see every week from him because I mentioned his greatest assets happened to be his physicality and how he can provide in the defensive Midfield controlling the game as well as contributing to counter-attacking play. However, on this occasion, Leon goretzka was just unplayable. he had three assists, making them look very easy. A perfect cross from outside the box being placed right in the space for Moting then on a he supplies a slick pass into Robert Lewandowski then late in the game, another cross from outside of box perfectly placed yet again this time for Serge gnabry. It was a complete performance for one of the complete midfielders in European football.
Leo Messi vs Sevilla (3)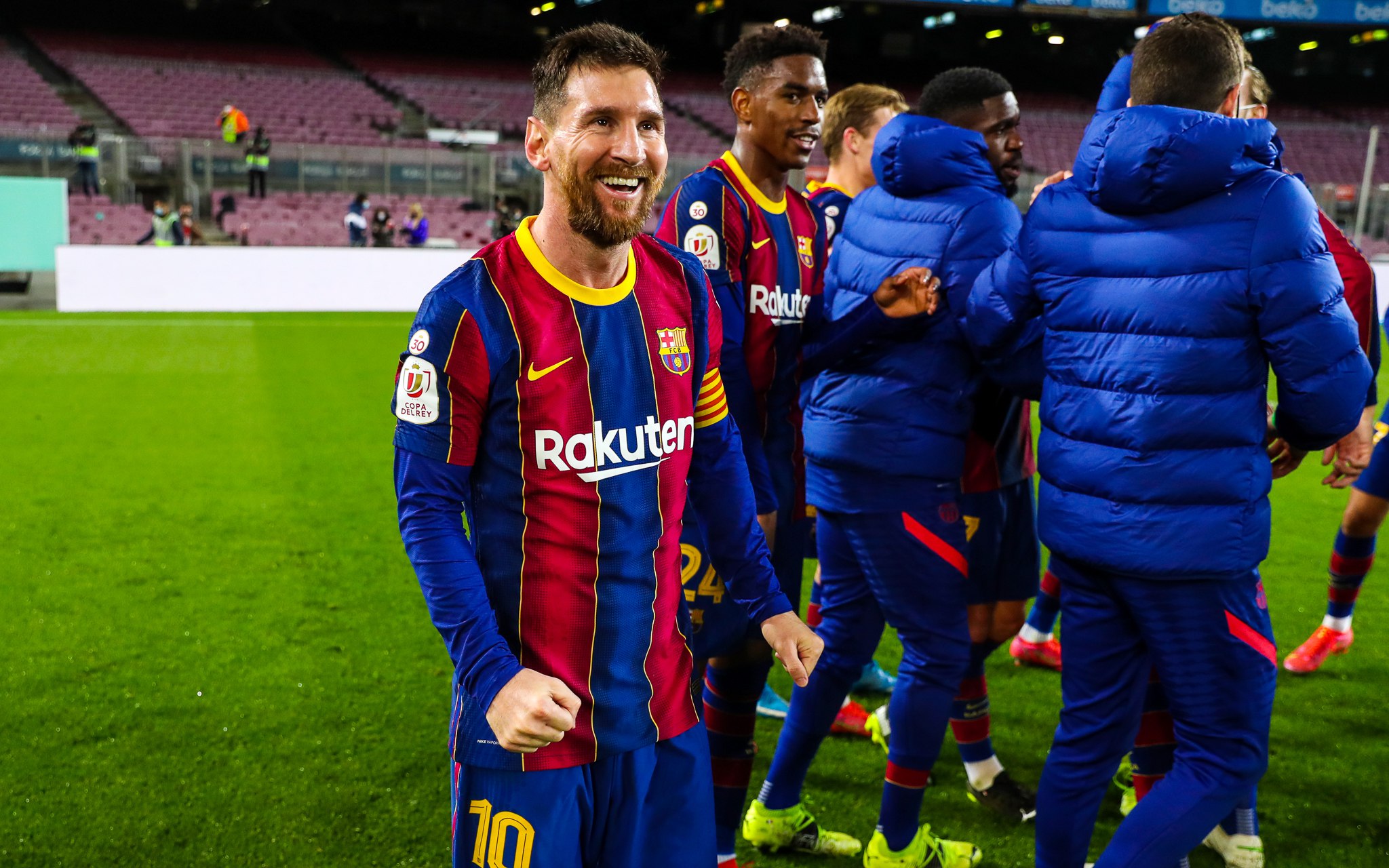 Barcelona had two different, very defining matches, both in La Liga and the Copa del Rey. Leo Messi, not surprisingly, was the orchestrator of both these games. However, from Messi's perspective, the games he played in each were very different; ironically, Barcelona had to play Sevilla twice in a week. Only two points separate the both of them in the top 4 trying to close the gap between themselves and Atletico Madrid, who seemed poised for the league title this season. Leo Messi is the greatest player of all time. I think most of the world understands that. However, just like what we have seen with Cristiano Ronaldo at Juventus, we are starting to see a slight decline with Leo Messi. maybe not to the same extent, not in terms of numbers but in terms of quality. Leo Messi still seemed as impactful and influential to the Barcelona success as he always has. However, people argue that the numbers are down the goals and assist numbers are down the rest of the statistics in terms of pass completions. A number of passes, key passes positioning statistics, chance creation, and others are maybe not at an all-time high but still ranked among the best in Europe. Leo Messi was the biggest Difference Maker in Barcelona's 2-0 Victory against Sevilla in La Liga as he helped Barcelona close the gap for the top of the table. Leo Messi in the La Liga match supplied a perfect through-ball from Midfield all the way into Dembele, the French Winger on slides the strike into the back of the net. Then he added one of his own driving through around everyone into the box in a classic Messi way it a strike at the goalkeeper and then connected with a sliding shot on the rebound to ultimately wrap up a 2-0 victory. It wasn't just the goal and assist; he put his teammates in position constantly. he controlled the game while Distributing and created chances for himself. It was a classic Leo Messi performance with two-goal contributions in a massive three points for Barcelona that now or within five points of the top of the table. Considering the quality of this Barcelona team, Leo Messi, it's quite honestly taking them above their quality as a team. Then in midweek, they played Sevilla again in the Copa del Rey semi-final. overturning a 2-0 first-leg deficit to punch their way into the final if Leo Messi and Barcelona can pull this off, even though Messi has been the greatest of all-time, it would be one of his biggest accomplishments considering the team that he has around him. They will have a matchup waiting for them again, Athletic Bilbao. Leo Messi did not score a goal or assist in the second leg. Still, you could even argue that it was a more impressive performance from Leo Messi individually than their victory in La Liga. Leo Messi is a deep-lying playmaker; it is hard to really Define what his position is. He often plays forward in the front three but always drops back and facilitates his teammate's and others' opportunities. In the first half against Sevilla, he really showed his playmaking standard as he pressed really high up, really pressurizing and putting a lot of tension on the right back. Acuna is considered a versatile and disciplined right back with an attacking mentality. Leo Messi gotten his space in countless times of this game, closing it down getting in situations in which he made him extremely uncomfortable. Leo Messi did not allow him to have the game he would have liked. Not only that, he terrorized him more than just pressurizing him when we have the ball but also running down that side and trying to break through inside the box from his angle. he got through countless times put continuing to pressurize him, but it wasn't just him; he spread the ball out the orchestrated goal opportunities for his teammates, and slowly but surely, they chipped away at the lead. He may not have had a goal or an assist in this game, but it was his best performance of the week. All of a sudden, this Barcelona team is in good form with Four wins of their last five games. It would be truly remarkable if they would overturn the first-leg deficit that they have against PSG but never say never. in the Copa del Rey semi-final, he may not have got on the scoresheet in any fact of the matte but the way he was able to impact the game not only the pressure he put on the left-back but also being able to press forward looking for teammates dribbling through multiple Defenders that many points in this game by a rope around him and that's not to mention the fact he had a goal that did not count coming off a free-kick because of the offside position. He showed his leadership inspired his team to go and pull off the upset now Barcelona vs Barcelona team that I think most people understand is not very good in comparison to past years especially have a chance to win a trophy, and that is happening because of Leo Messi without Leo Messi this team isn't even in the top 10. Leo Messi has 23 goals and six assists this season. His numbers are not at the level that they have been in past years, still not too shabby for a player some people considered washed up he still better can every player in the world not named Neymar this week he showed it to completely different games He dominated both of them in two very different ways