Score: Verona Ladies 1 A.S Roma Ladies 0FT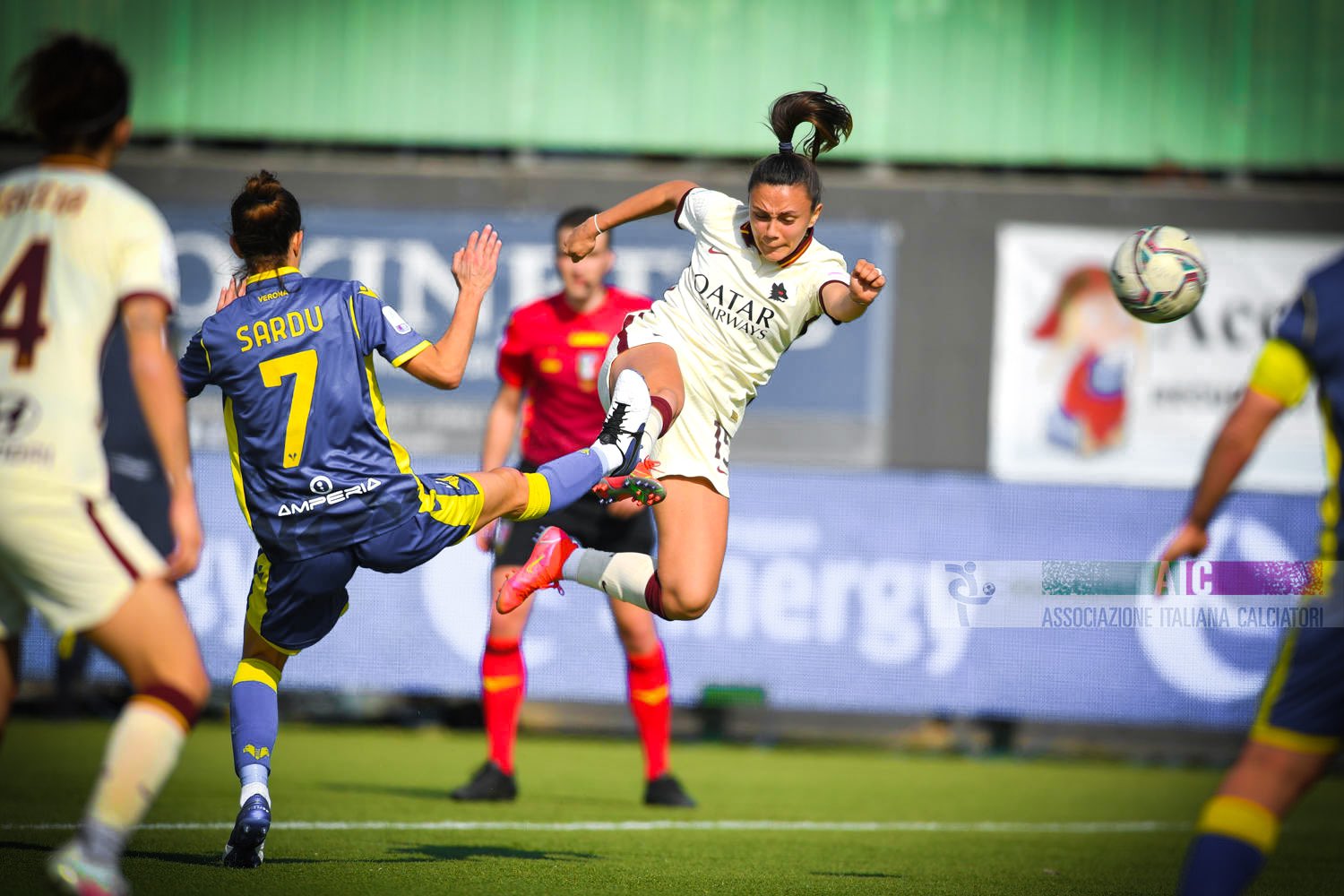 The Roman women have completely turned around their season and Revitalize themselves. For the first half of the Season, Roma really struggled to get their rhythm going. Roma should not be expected to win every game they play, but they really struggled, even stringing wins together this season. A lot of that has to do with that time. This team looked like two dimensional Paloma Lázaro and Annmaria Serturini they are scoring the majority of the goals this season and have been the most important pieces that Roma has to offer right now. Roma had some issues closing games even in games they should have won a lot of the time leaving goals on the table after seeing their inability to finish off chances. They are one of the most talented teams in the league. It becomes complicated when your best young talent and one of your best subs get injured, not necessarily on Roma per se, but it was a rather tragic first half of the season. Roma really didn't have the form you would have liked to see from the team with their level of talent. However, slowly but surely, they have bought up the table in back at least in shouting distance of where they should be this season. To start the second half of the season, this Roma team looks completely different, showing the real strength, and we're playing more as a team, not only be relied on by two players. Roma is in their best form of the season; they have won four consecutive games and even though it's a long shot still have the opportunity to close the gap between themselves and their place. Since Roma's run of form, they have improved extensively defensively and have played together more. They have four victories in their last five games and have not tasted defeat in quite a while. This was an opportunity to make yet another statement. Paloma Lázaro ended up scoring last week as she returns to Peak form. They travel to Hellas Verona to try to pull off the double against them. They handled them the first in the first meeting very easily in what was a 4-0 victory. On this occasion, it's very well that could have gone that way, but as we have learned, this season is not necessarily about the most dominating performance; it's more about converting chances more than anything else, something that would be a harsh pill to swallow when Verona and Roma went head-to-head.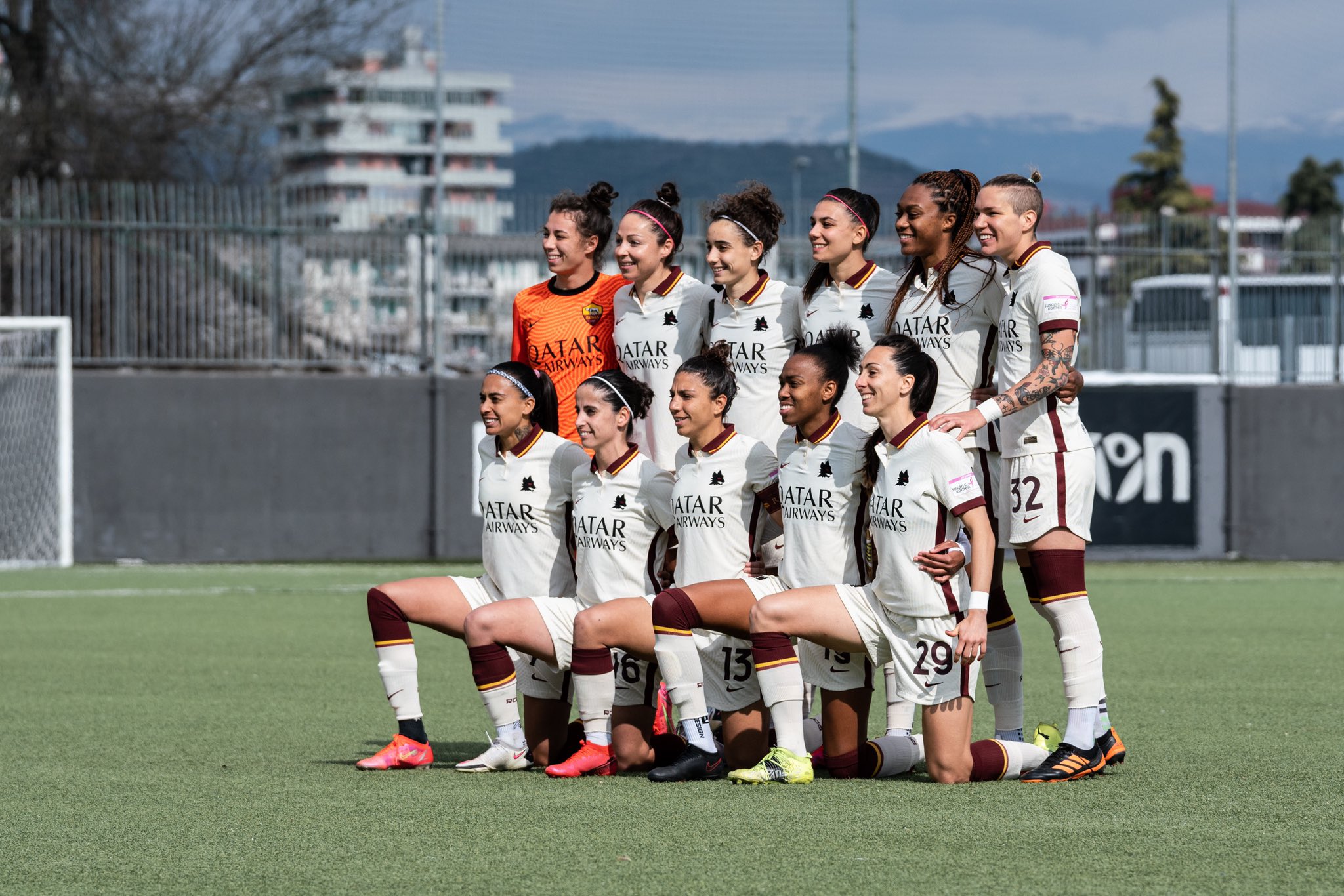 During the early parts of the first half it looked very similar to the way Roma played them in the first meeting. Roma has one of the most talented teams in the league and can hurt the opposition in many ways. Obviously, people focus on Annamaria Serturini and Paloma Lázaro as they are two of the best in the league but considering how good they are playing in their form. It was a very dominating play from the very beginning of the game. However, the goals were not falling as frequently as you would have liked to see from the Roma ladies. They are basking on their best form of the season. They're playing with confidence and have a lot of momentum that has driven in them forward over the last four weeks; this was an opportunity to expand even further. In the early goings, it certainly looks like it was going to be going their way. Very early in the game, Paloma Lázaro who got back in scoring form last week against Empoli, allowed her to a breakthrough in the opening 15 minutes. The Spanish International did an exceptional job running down the flank, really showing her athleticism and Pace against a backline that has been prone to make mistakes in the past. Paloma Lázaro, to a certain extent, was trying to get them out of position so she could break on them. She did an outstanding job of that when she first cut into the box, leaving the defender marking her in the past however, Verona's defense shifted to one side as Paloma Lázaro had to try to sneak in a really physically empowering strike. Hitting the strike with Pace at the goalkeeper, she made the safe, then Paloma Lázaro trying to supply Another Touch, but the goalkeeper managed to get there. Roma looks like they had control even after that. Paloma Lázaro could have as easily scored and there was a certain indication that she would have more opportunities to do so. Hellas Verona didn't have very much at all, and when they did they struggle to do much with it. It seemed like it was going to take a free-kick goal for them even to find the back of the net; however, equally, that's how Roma has lost a lot of games in a season by circumstances like that there was a certain pressure for them to convert. Lindsay Thomas came close, coming off a corner, but her header hook to the left. A minute later, she got another chance; this time, Paloma Lázaro was the supplier, a well-hit cross from the wing that was hit by Lindsey Thomas again very close but fired fractionally wide just to the left. Two golden opportunities for the Romans would it come back and haunt them? We would have to wait and see, late in the first half Claudia Ciccottitried striking from Deep as she hit a Well hit strike, marginally misfiring as it ended the first half. It will be a goalless first half, but it's not like Roma did have their chances.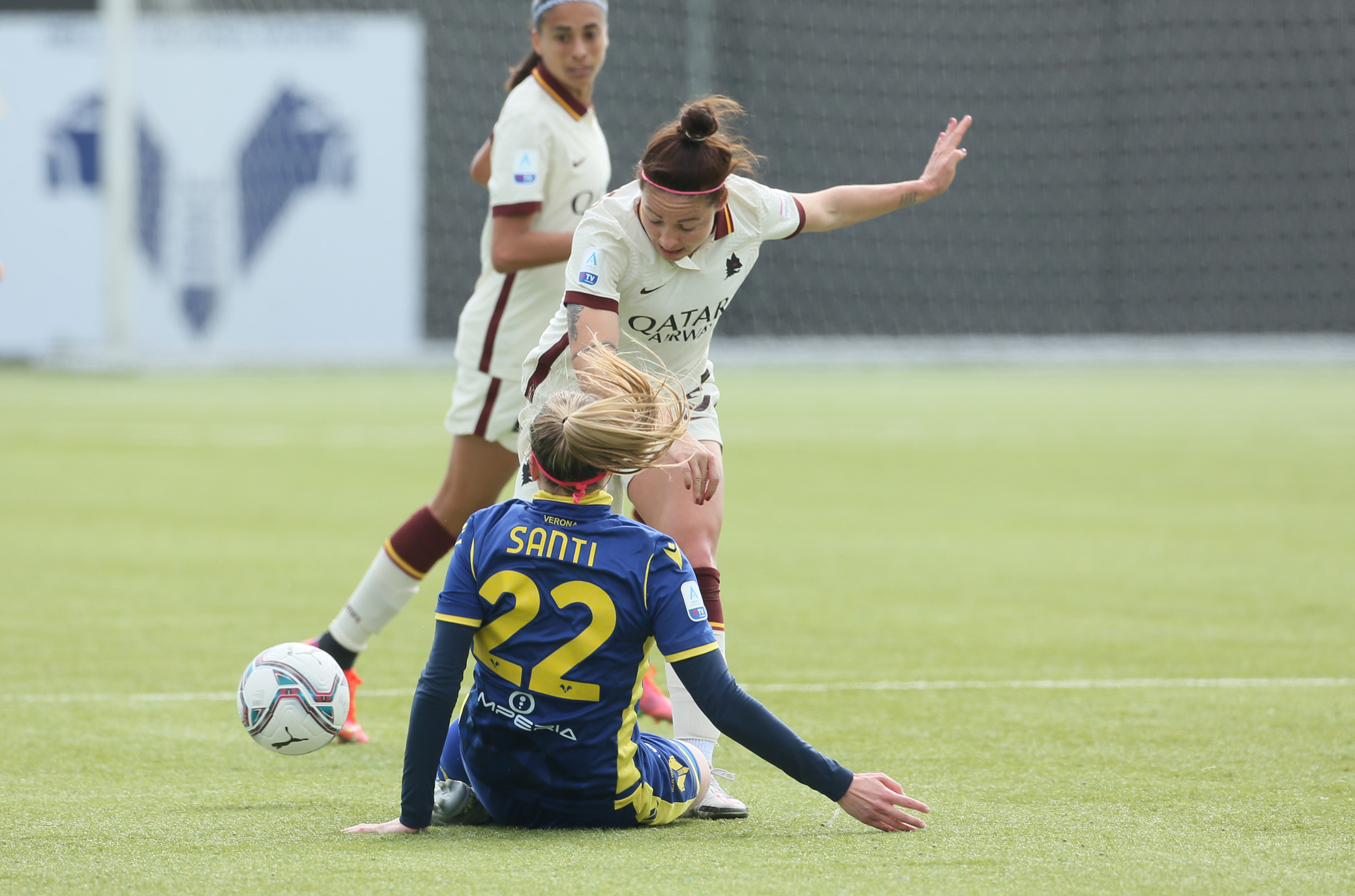 Roma completely dominated the first half; as I stated, Verona didn't have much of the ball, and when they did have it, almost certainly Roma will get it back before not too long. The problem with the first half is Roma had three perfect opportunities to score and couldn't convert on any of them, which gave the possibilities to Hellas Verona, and as it turned out, they only needed one of them. That's why Roma lose some of these games if they don't convert their chances and they lacked a freak goal to occur. Over the last couple of games, it's been a lot different, but in regards to that but it seems like Rome or slipping back into their old ways. Early in the second half in the 51st minute, Mella backs up on a corner kick before hitting an incredible curler somehow someway found the back of the Roma net nothing could have been done to avoid that; it was truly a moment of Misfortune, but then again it goes back to their failed chances before that. Verona had barely any shots on target the entire game. Roma was completely dominating them, but as I said didn't matter; they found that one moment and that moment is all that mattered because they were able to convert on it. It was a moment of Brilliance that could have defined the entire match. Roma would be giving another great opportunity just a couple of minutes later to get that equalizer. A horrible mistake from the defense allowed Andressa Alves in good space to get the equalizer; she reacted to it too quickly and too precisely she tried to sneak it in the side of the net on a really well it strikes the goalkeeper found the space to keep it out. The defense was out of position on the play; she had space around her and should have used that; more precisely,she made a knee-jerk decision to hit it, and because of it Roma misjudged an opportunity to get that equalizer. The game continues to go the way it was going. Roma dominated the game but did find it difficult to get themselves back into it. Andressa Alves we played through a little later with another opportunity breakthrough with time winding down another good strike for the goalkeeper was there to deal with it. With about 15 minutes to go, Annamaria Serturini sends a bomb into the box to find Lindsay Thomas and perfect space she tried to find the top corner, but the goalkeeper denied her sending it out for a corner. Nothing to really be said about that one that was the right thing to do. On the corner and hook it into Paloma Lázaro as she fired it wide, very close but not enough as Roma were on the verge of seeing their streak come to an end. Roma still was searching for a late equalizer, and they almost got it. Annamaria Serturini received the ball from way outside the box in a deep area; she has hit strikes from this range. All Season she has a rocket in her foot; she can strike from these distances; she followed through from Deep a perfect strike, unfortunately hitting the bar in the closing moments. Quite nearly could have rescued a point for Roma, and on top of that, it would have been one of the goals of the Season. It was in her right to make that decision she had space and has the ability a manner of inches Define the entire game as Rome was winning streak crashes at Hellas Verona have one world-class moment off a corner crack and manners to hold off a dominating Roma side Verona take the points after 1-0 victory.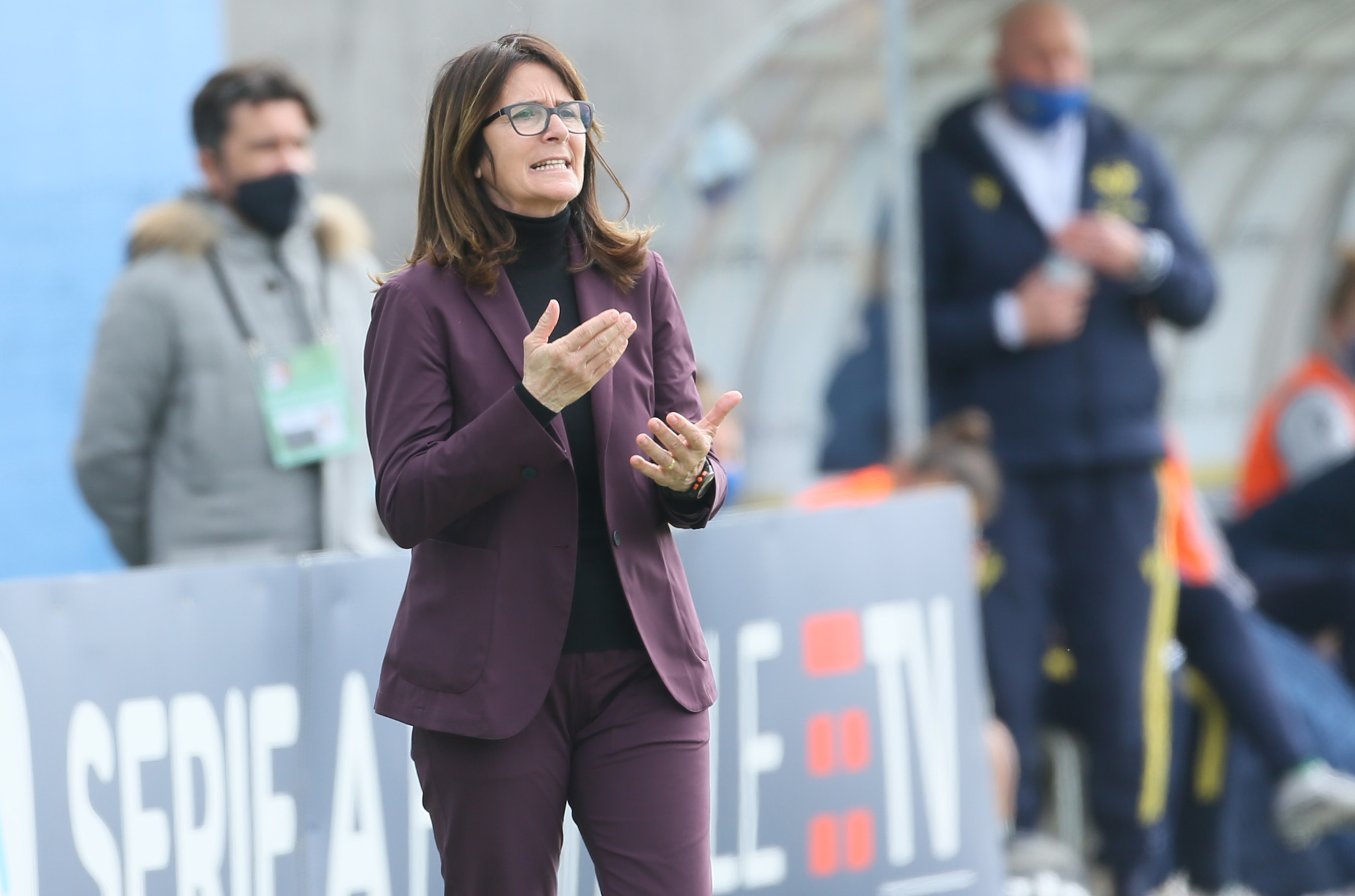 Roma has had certain issues this season regarding finishing their chances and closing the deal. Roma was the better team by far; Verona didn't do very much. They had one incredible moment and managed to convert in a goal from a corner. Outside of that, Roma ran circles around them. As hard as this is on Roma, they did this to themselves; they had the opportunities to break them down many goal-scoring opportunities to at least get a goal back. Not enough of their shots were on goal; they had 29 shots 7 reaching the target. Especially the ones at the beginning of the first half where they really could have made a statement to start the second half. Minutes into the second half, they concede, which all goes back to what they didn't begin. This is how Roma lost a lot of their games at the beginning of the season; they were playing completely differently over the last couple of games and it seems like old habits got the better of them. Rome is still in a good position; they are still staying in fourth place, and they have all the capabilities to rebound from this performance. They played really well; they just couldn't close they will have a chance to rebound and get past this result; it is more painful than most because Hellas Verona only had one shot on goal, and it was unsavable. Roma did everything they should have done in this game to try to get the result; they just left too much on the table, left too much to be desired, and didn't convert enough their chances and they convert in the first half Rome would you not find themselves in this situation. There's no one to blame for, say I think it would be totally unfair they played really well together they just couldn't close the deal. Roma will look to rebound next weekend and collect all three points, unfortunately, now they are 11 points from 3rd place, as Verona gets the 1-0 victory as Roma either winning streak come to an end. Roma knows how they got on the hot streak, to begin with, there's no doubt they can dig deep and find a way to overcome it and get back on the right track again Annamaria Serturini hitting the crossbar at the end makes this match sting, and they nearly get the point but the girls will come together and get back in business I'm sure of it but still an awfully painful way to lose a game.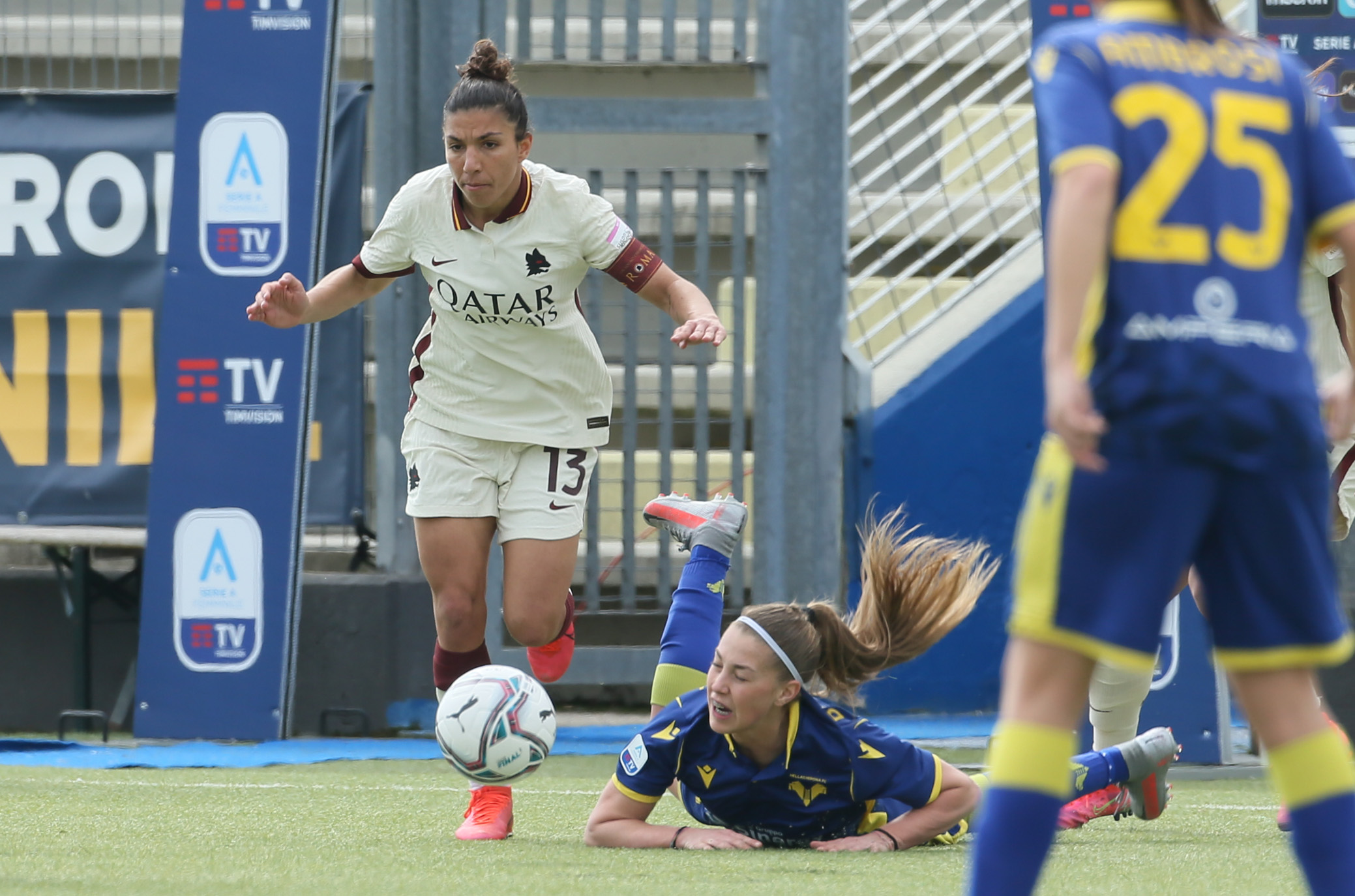 1.Juvnetus 15-0-0 45Pts
2.Milan 13-0-2 39Pts
3.Sassuolo 11-1-3 31Pts
4.A.S Roma 7-4-4 25Pts
5.Fliorentina 7-2-6 23Pts
6.Florentia 7-2-6 23Pts
7.Empoli 7-2-6 23Pts
8.Inter 5-3-7 18Pts
9.Hellas Verona 4-1-10 13Pts
10.San Marino 2-3-10 9Pts
11.Napoli 1-2-12 4Pts
12.Bari 1-0-14 3Pts
SERIE A TOP GOAL SCORERS
1Valentina Giacinti AC Milan 12 Goals

2Daniela Sabatino, Fiorentina 11 Goals

3Paloma Lazaro, Roma 10 Goals

4Natasha Dowie AC Milan 8 Goals

5Valeria Pirone, Sassuolo 8 Goals

T5thKamila Dubcova, Sassuolo 8Goals

T5th Raffaella Barbieri, San Marino 8Goals

T5th Annamaria Serturini, Roma 8 Goals

T5th Elisa Polli, Empoli 8Goals