More Struggles in Knockouts for PSG
Thomas Tuchel took over at PSG the next season. Mbappe got so much better and put together the best season of his career. Neymar was back, and they were ready to fight for the Champions League. Mbappe got over the Real Madrid thing he scored against Liverpool and Napoli in some big games. Mbappe's was only 20 years old was coming off world cup glory with France; he was a top 10 player in the world already, and he wasn't old enough to drink yet. He had a historic season with 39 goals and 17 assists; he was living up to all the hype surrounding him. Meanwhile, Neymar once again looked like the world's best player and looked like he would finally get that Ballon D'or that was lost due to his injury. Neymar had 23 goals and 11 Assists in 28 games. Mbappe was playing the robin role perfectly as he was developing into an animal. Injury struck Neymar again just as they were ready to take on all of Europe together. Neymar would have won 2 Ballon D'or's in a row without injures; he was the best player in the world; the injures were getting in the way of people seeing it. He was clear of everyone, but once again, it would be on Mbappe to deliver in the Champions league Rounds of 16 vs Man United. United was poor and finished 6th that season. Neymar would be out, but there's no way Mbappe let that one slip on his watch right?. It was time for Mbappe to deliver on what was promised. He scored vs. Man united; he had his moment! His first knockout goal for PSG. Di Maria scored another PSG win 2-0. All Mbappe needed to do was show up in the second leg. There lied the problem Mbappe came up too small again. He was undoubtedly great that season 39 goals 15 assists was the best year of his career, but again without Neymar, he folded. All he needed was one moment, and he couldn't supply it as PSG choked against a poor man united. The heat on him was justified when you are brought for the price; he was a world-class player, one of the best in the world most talented young player since Messi, but they didn't buy him for the French league they did for the Champions League, and it was starting to look like he needed Neymar. Another league title, but another early exit would be a bad look. Neymar wouldn't have allowed that to happen.
Neymar's lead PSG Take Paris to Final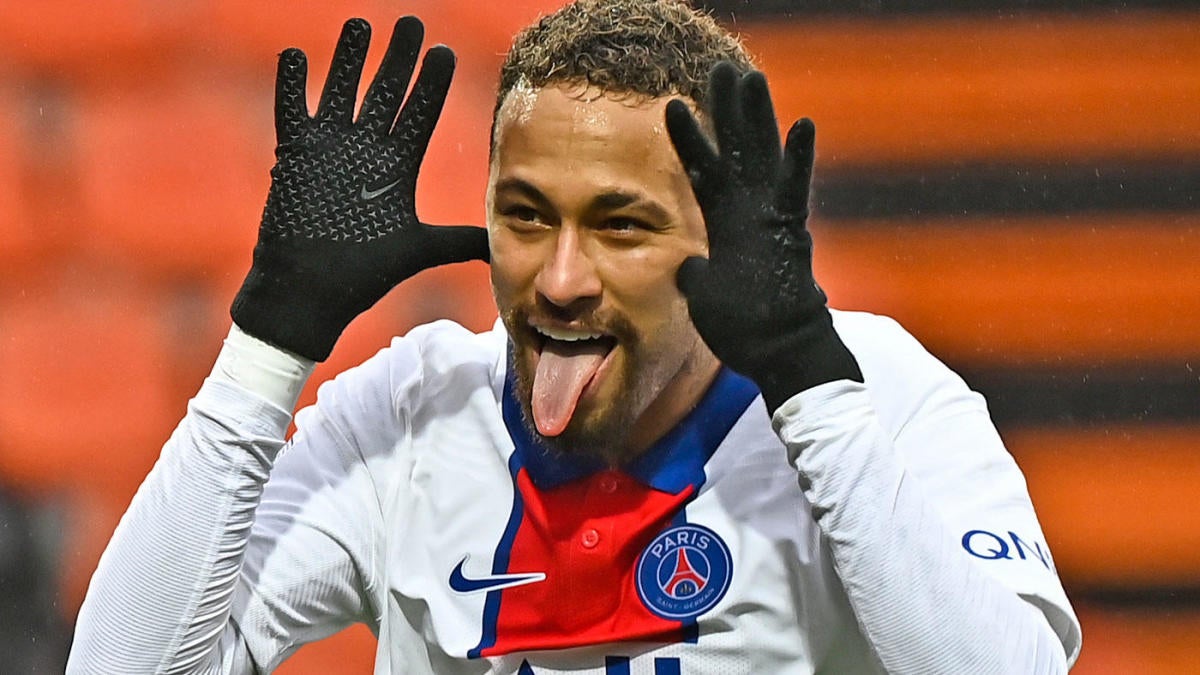 It was another historically great season for Mbappe, but similar issues would arise. Mbappe scored 30 goals, dished out 18 assists, the definition of a generational talent. He scored against Real Madrid scores 5 in the group stage. This year he wouldn't be alone. Neymar did suffer from some injuries but didn't miss out on the Knockout stage. However, when the knockouts happened, Mbappe's lights turned off . A rising striker in Erling Haaland faced off against PSG in the round of 16. He outplayed Mbappe. It wasn't that Mbappe was poor, but Haaland's performance was more memorable and made him look superior to Mbappe. PSG fell in Dortmund after Haaland scored twice. However, Neymar kept them in it, scoring a fundamental away goal. In the second leg, Mbappe became a sideline act in what was a Neymar masterclass; he scored one supplied another as PSG overcame Dortmund on the back of Neymar. Then you know the rest of the story, Neymar dragged them through everything. Down 1-0 to Atalanta Neymar creates both late goals for PSG Mbappe came off the bench and was actually really good in this game, but Neymar made a comeback as PSG scored twice in stoppage time. The Semis vs. RB Leipzig Neymar continued to make the biggest impact dragging a team known for choking in the champions league final. It highlighted the difference between Mbappe and Neymar, the superior player was clear. Mbappe needed Neymar, Neymar didnt need Mbappe and even then, he came up the same in the final it what was the lowest moment of his career as Neymar did everything to help him but it wasn't enough; it could have been a stain on his legacy. Mbappe is an all-time great but kept falling apart in the knockouts while continually needed somone else pick him up long term could effect how he is viewed in this light.
Mbappe's Lowest Moment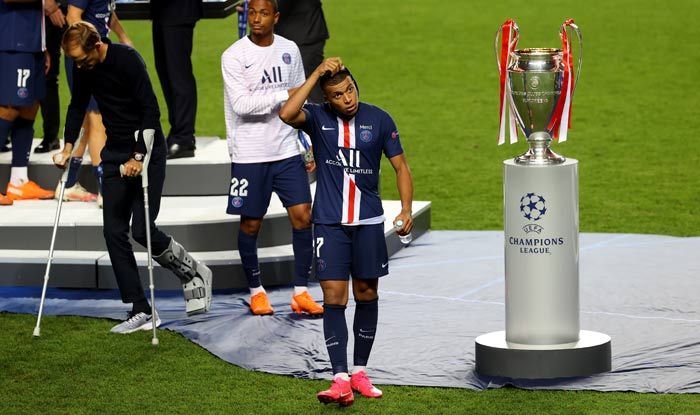 The Champions League final between Bayern Munich and PSG was perhaps the lowest moment in the young career of Kylian Mbappe. The world-class super Talent burst onto the scene with that Monaco team that went all the way to the Champions League semi-final knocking out Pep Guardiola Manchester City in the process. He was as talented as we have seen from a teenager in European football. He had all these physical and natural gifts that you would not typically see in a young age player. He had all the ability to become one of the worlds best even at his very adolescent age; he was becoming something extraordinary. That Monaco team was not expected to go on a Deep Run in the competition they made it all the way to the semi-final considering they had limited expectations made it even more impressive it was an outstanding team and beat some big teams along the way to make a semi-final that no one expected them to play in. Kylian Mbappe made a name for himself there as well with the France national team. As we know, he won the World Cup of France and joined PSG shortly after Neymar. He was electric with PSG. Neymar was, without question, their best player, even though delusional people that dislike Neymar try to argue already that Mbappe was better. This made things even worse for the young Frenchman. He was great individually came up small in too many of these big moments; he was an animal in the Champions League group stage games but, to a certain extent, failed to deliver when all the cards were in the middle of the table. He scored one knockout goal against Manchester United before his hat-trick against Barcelona. Kylian Mbappe had never carried a team to glory; there were certain questions out of his ability to come up and do those types of moments. Whether or not the young Frenchman had that something extra, there is no denying the talent level that he possessed, but there was certain criticism that was valid around his ability to perform in knockout games.
Neymar's Unlikability has covered up Mbappe Criticism
Kylian Mbappe isn't Neymar against Manchester United when Neymar was injured, and he wasn't able to turn the tie and keep PSG from elimination quite the contrary. Man United came back in a game that shouldn't have, and PSG choked it away. Against a Real Madrid team that ended up winning the Champions League again, he was unable to perform. I wasn't necessarily expecting him to win the game alone, but against Real Madrid, he did not put his best foot forward, really struggled, and knockout games essentially the entire time he's been in Paris. Neymar is the best player in the world if he doesn't get injured. He collects at least one Ballon d'Or; he is the best player in the world right now, and it is not even close. He is the most gifted, most electric, most creative player in the game right now; he is the best player on the planet, he's not very likable, and because of this and the way the media treats him, he has covered up Kylian Mbappe worst moment. If Neymar weren't at the club, Mbappe would have taken the wrath. Neymar embraces his role as a villain and takes the accountability even though he shouldn't have to. PSG, for the most part, outplayed Bayern Munich in the Champions League final. They were the better team, pretty much from start to finish. One moment from Kingsley Coman after receiving a ball from Joshua Kimmich gave Bayern Munich the Champions League trophy completing the treble. However, a very different game could have unfolded if Mbappe had risen to the occasion against Bayern Munich. Manuel Neuer had an outstanding match in that battle, but Kylian Mbappe left PSG with something to be desired. Neymar was the best player on the pitch, came within inches several times, and even hit the bar it was one of Neymar's better performances; he always shows up in the big games; he did absolutely everything carrying this PSG team to another level. Remember Neymar provided what was necessary when they came from behind in the round of 16 against Dortmund? He scored twice, supplying that moment for PSG, then against Atalanta Neymar created both goals as PSG came from behind again. In the semi-final against RB Leipzig, it was mostly Neymar and Angel Di Maria. Make no mistake, Mbappe is one of the most talented and best players in the world and easily one of the best youngsters; there's a conversation to be had in regards to the lad at Atletico Madrid that is being flown under the radar because of the defense of football that is played at the Wanda Metropolitano in attacking system Joao Felix could be doing a similar thing as well as the great Erling Haaland who might be the best youngster in the game right now. Even if I stand alone, Haaland is still the best youngster in the game, and I believe Felix has the highest ceiling and is a product of the system while he's unable to show realistically what he's been able to do. That's not what this is about, necessarily the point here. Neymar has covered his bases and has been the restoring man for PSG; he is the best player in the world, and he has shown it in every knockout game that he is played wearing the colors. When PSG choked against Manchester United and against Real Madrid, Neymar was hurt. Neymar is injured, and that is a problem, and he continues to get injured but at his best, he always performs in games like this. In the Champions League final, it wasn't on Neymar it was a masterclass from the Brazilian. Mbappe is actually the reason PSG doesn't have a champions league title. Neymar did everything he could with that team; he took them and drove them to the brink of Glory. Neymar orchestrated four different chances for Mbappe. He failed to deliver on every single one. He had five or six chances throughout the game in which he could have scored, and there were three chances in that game he should have. Neymar gave Mbappe every opportunity in the world to be the hero. He wasted every chance Neymar tried to selflessly set up his teammate, who could have provided a moment that he would never forget. He missed the game of the biggest chances on the game. PSG would have won the Champions League if it wasn't for Mbappe's failure to convert in front of goal two goals in which would have taken his legacy up a level. After the Champions League final, Neymar fell on the sword he is the most disrespected player this generation despite being the best player in the world the media can't stand him, and everybody was blaming Neymar and completely ignoring the fact that Mbappe had four Golden chances to win the champions league for PSG. Had he scored them, Neymar would have been ignored as if he had nothing to do with it. Because they lost, everyone blames Neymar even though he was a thousand percent the best player on the pitch and it wasn't even close it was a Neymar master class, but because he's not very likable. Mbappe escaped criticism what shouldn't have been the case. Neymar doesn't mind it and has been a leader for this PSG team, so I'm sure that doesn't bother him, but it was the case nonetheless.