Robert Lewandowski (4) vs VfB Stuttgart
Robert Lewandowski is one of the best players on the planet, the best striker in the world. He has continued to established himself as one of the best Strikers in football history. This weekend he only added more Legacy and history to his already very productive and accomplished career. Ged Muller holds every goal scoring record in the Bundesliga; the question is, for how long will that be the case? Get Muller is considered the greatest goal scorer in the history of the Bundesliga. He scored over 700 goals in his career, truly one of the best we've ever seen. he has his hands so many German records. However, over the last 6 years, Robert Lewandowski has scored 40 goals this season, including 55 last year. Robert Lewandowski, unfortunately, played in an era that included Cristiano Ronaldo and Leo Messi. How productive he has been hidden by what Cristiano and Leo Messi have done for decades. Robert Lewandowski has been right behind in history, but because of the Monumental Gap, his greatness has been slightly underappreciated. This week in the Bundesliga, he had a nearly perfect performance, absolutely Flawless, and we continue to see that he is making football seem like miniature golf. After going from a man down after 10 minutes, Bayern Munich turned a switch. In 21 minutes, Robert Lewandowski pulled off a perfect hat-trick. It was truly magnificent. Left foot, right foot, and header. Serge gnabry keep him up into the box; a sliding strike rippled through the top corner 4 minutes later, a perfectly placed cross from Thomas Muller came right inside the space of Robert Lewandowski, the Poland International follow through with a diving header giving the goalkeeper no chance. Right before the end of the first half Robert Lewandowski got his third control strike. Inside the Box finds the bottom corner and converts it. Robert Lewandowski and Company just showing to the world at Bayern Munich is playing a different game to everybody else. This team is unmatched when Robert is playing in such a manner. Robert Lewandowski continues to be Essentially a scoring machine. Not only that is 42 goals 8 assists this season has been spectacular yet not unexpected. Robert Lewandowski is 32 but does not seem to be slowing down his he can keep up this pace for another five years. He could go down and wanted 20 greatest players. He is approaching a record for League goals in a season. With nine games remaining, he has 35 Bundesliga goals. The record is 40. Unless he completely drops off, he will ultimately break that record. It is even possible that he could end his career with more Bundesliga goals than Ged Muller. As crazy as it sounds, he is less than 100 goals away from breaking it; all Robert needs to do over the next three years is score at least 40, and he will end his career with more goals in the Bundesliga than Muller. Robert Lewandowski Patrick was truly a masterpiece in the first half; he had three shots on goal, all three of them finding the back of the net. Robert Lewandowski is one of the five best players globally and by far the best striker in the world; we begin to expect these things from him that hat-trick was truly a symphony of magic. No one in the world is better at their job than Robert Lewandowski.
Andre Silva (4) vs Union Berlin
Andre Silva has truly been something special this season. He obviously had gone through a lot to get to this point, but it has been worth it. Still relatively Young performing at a high peak level, and will have the opportunities in the coming years; if he keeps up this, he could go to a bigger club if he wants to. AC Milan it didn't work out particularly well. He's been rejuvenized at Frankfurt. Frankfurt on the verge of Champions League for the first time in a long time. Andre Silva he's a big reason why this is the case. He is operating and scoring at a world-class type of level. Ever since he joined Frankfurt last season on loan, he found himself starting to become something special. His season put them on the radar for the Portugal Euro 2020 Squad the summer, and he certainly will get it before the season; it was unclear if he would even be considered. Believe it or not, he is the second-highest scoring player in the Bundesliga this season. Frankfurt is not playing and other competitions, so his numbers may be slightly smaller than they could be with more games. Nonetheless, Andre Silva continues to show the type of player the ultimately came to come. He has 22 goals in 26 games this season and has been the go-to man for Frankfort. He only needs 5 more goals to have the highest-scoring season in club history. Frankfurt is a well-balanced team with many exquisite pieces so it's not completely Andre Silva or nothing, but certainly, he has been the key to their success this season. Frankfurt is still in a Champions League battle. Against Union Berlin, it was no different; he has 3-Goal contributions in Frankfurt's 5-2 victory. He had a brace for the start of the second-half, showing these qualities very early in the match. It's always beneficial when you have someone like flip Kostic feeding you. He set up Andre Silva for first goal in Portuguese, just got into the right position, great spacing, and just talk that ball in the back of the neck, ultimately scoring for Frankfurt. After being supplied by Filip Kostic, Andre Silva returned the favor. Frankfurt cut into the Union Berlin box with both of their Heavy Hitters. Filip Kostic ultimately laid it off to Andre Silva, making an unselfish play that supplies the ball back to him before Filip Kostic put the ball in the back of the net. Andre Silva will get his second punishing Union Berlin even further. On a counterattack, Andre Silva found just enough space with the ball at his feet to sneak it past the goalkeeper, taking out that bottom corner has Frankfurt scored four in the first half, including two goals and one assist. Andre Silva, he has been a revelation or a Frankfort Squad that is drastically overachieving their expectations. He has become such an animal in the Bundesliga, and a performance like that exemplifies is incredible qualities that he's showing weekly.
Erling Haaland (7) vs Koln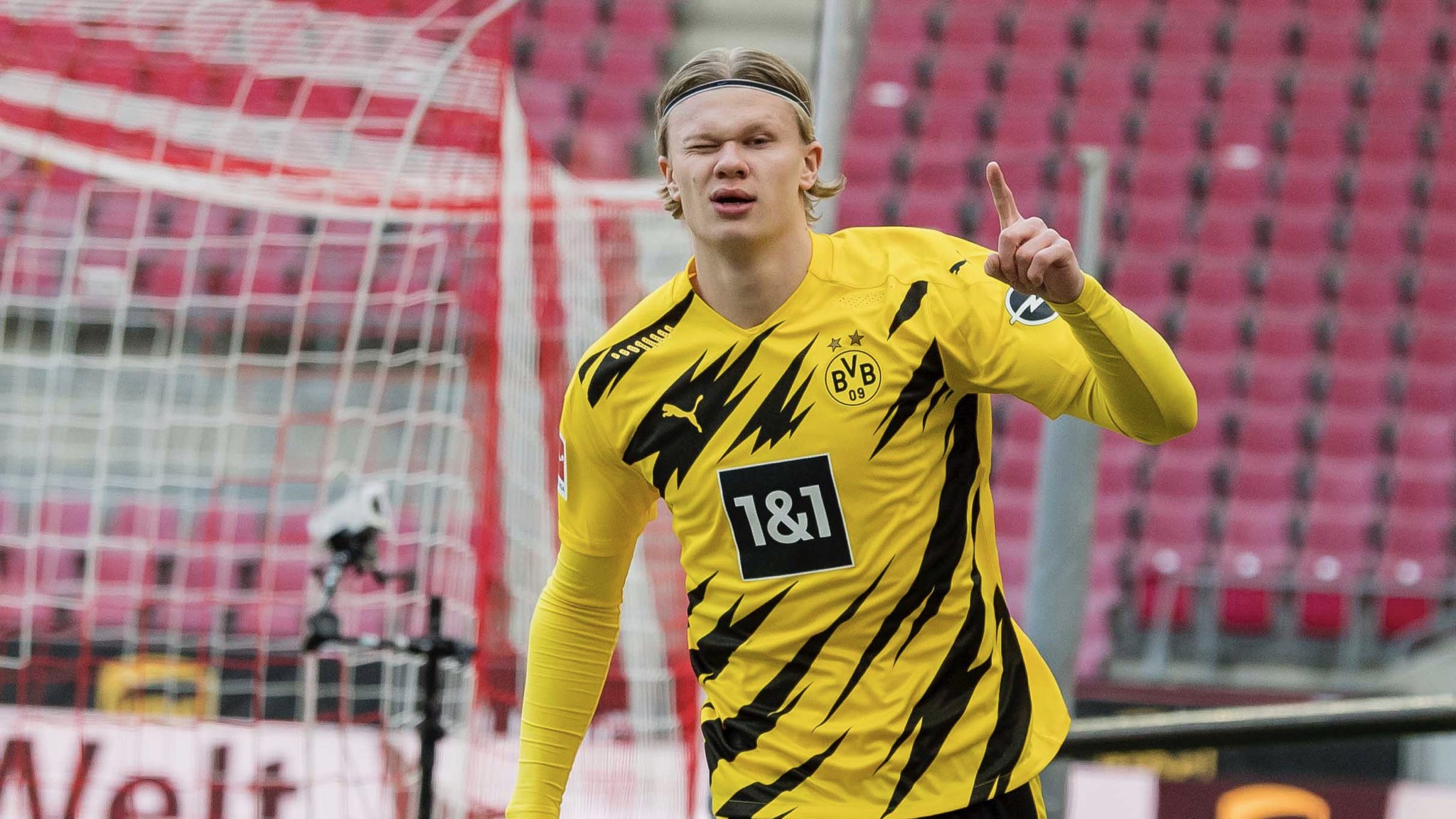 Erling Haaland is one of the biggest talents we have ever seen at the striker position. The number of goals he has scored since being in The Fray is absolutely out of this world. He arrived on the scene and has scored goals non stop He is a natural goalscorer with so many other skills and abilities that makes him such a phenomenal Talent. He's clearly generational; even though there's quite a bit of distance between Robert Lewandowski and everyone else, it just feels like erling Haaland is the next man up. This is the second season in a row in which he is on Pace for 40 goals. This season he already has 33 goals; unfortunately, the team success has not been up to standards in the Bundesliga. It is improbable that they will make the Champions League with Frankfurt and Wolfsburg having a much better season. There have been certain speculation that he could depart, but he is in the Bundesliga, scoring practically every game for the time being. Even though Dortmund did not pick up the victory this weekend, it was erling Haaland save them from humiliation as Dortmund we're trailing late in the game to a team that is in 15th. However, individually he was still at his best and probably could have scored more goals than he did. Haaland opens up the scoring after 2 minutes, perfectly cutting Inside the Box and sticking the ball game between the goalkeeper's legs a really exceptional finish to give Dortmund the early lead. However, cologne ended up converting from the spot before half-time in the second half. Cologne scored again. It was on the shoulders of erling Haaland to bring them back yet again. He has been so relied on to save them on so many occasions this season they have significantly struggled; there's no explanation of why this is considering Dortmund is more talented than the team. They're almost expecting a moment from him in every game. Fortunately, he's so good he's been able to supply it. The Norwegian Star was on a mission trying to get them back into it. He hit the bar and came really close on a few opportunities before the moment arrived. We just a few minutes left erling Haaland used his physical stature and power to get in front of the defender sticking his foot out underneath the ball as Dortmund had their equalizer; they even had some moments at the end of the game to try to steal a victory with unbelievably brilliant with a brace as he continues to be an absolute animal physically in terms of speed and his finishing has been out of this world he's really proving to be worth all the hype. Still, the result is self Leaves him very disappointed. Erling Haaland showed up once again as he was one of the best performances this week. Unfortunately, his team could not follow suit.
Leo Messi (4) vs Real Sociedad
Leo Messi seemingly has been on a mission since the start of 2021. He started quite slow this season at one point; he did not have a goal out of the open it slightly concerning there were possible talks about deteriorating. Even though he isn't at the level that he once was, it's clear now that that thought process was filled with delusions. Leo Messi is the goat; he's the greatest of all time but just didn't look the same at the beginning of the season. Once he got in form, there was nothing that could be done. He has been playing like a man on the mission and Barcelona, having one of their worst seasons ever, starting to chip away and get back in the right places. They have closed the gap significantly and now are legitimately in the title race if Leo Messi could pull this off it would be the biggest accomplishment of his career considering the types of players and team that he is around. A Very young team that doesn't have that experience then past teams. In fact, if Barcelona win La Liga it would be their weakest Champion ever. Still, none the less if Leo Messi can drag this team to the promised land and then win the Copa del Rey final, it will be something truly extraordinary considering the strength of this Barcelona team. Ever since the turn of the new year, Leo Messi has been truly Unstoppable. He has scored and assisted in every game he is played in 2021 15 goals and seven assists in that stretch which is only 12 games long. He is justifying the fact that Leo Messi may not have the cartoonist numbers in the past, but he is not slowing down, and he still is at worst the 3rd best player in the world however I still believe despite the form of Robert Lewandowski, he is only behind Neymar among the world's best players. This week Barcelona ran through a real Sociedad team that at one point was vibing for European football. This is a tough team that can give people some problems. However, Leo Messi was at his very best. To a certain extent, it looks like he turned down the clock. From every aspect of this game, Leo Messi was beyond brilliance. His touch of the ball, his control, his finishing, his passing, and his overall dictation in the Midfield. He provided himself and his teammates with countless opportunities to find the back of the net. It looks like the Messi from many years ago where he could dribble through the entire team and find that into space to either score himself or supply for his. Barcelona went on to win this game 6-1 Leo Messi had three-goal contributions in this game. He cut into the box inside Crucible Defenders before ultimately supplying a pass pattern that led to Jordi Alba finding Antoine Griezmann. Leo Messi's movement into the box set up that first goal even though Jordi Alba did end up with the assist. Real Sociedad couldn't do anything about him he could essentially do anything he wanted, showing that he's still on a different planet from almost anybody else. Outside of Robert Lewandowski in 2021, there may not be another player in a better form he is just playing some of his best football this season and Barcelona to the point where La Liga glory is feasible. Throughout the game, you thought it was only going to be a matter of time until Leo Messi finds the back of the net himself after setting up teammates in dangerous areas almost constantly. After a cross coming over the top, Leo Messi caught up with his foot, ultimately heading the ball over the goalkeeper and into the back of the net as Barcelona just continued to run away with it. A little bit before that, he himself a cross atop inside to Sergio dest who was put in a perfect position to score from close range. Leo Messi continues to do what he normally does and dominates the game. Real Sociedad tried anything they could, but there was no stopping this man. Leo Messi calmly picked out the bottom corner to complete the match in stoppage time, getting his brace after receiving a ball inside the box coming from the left flank. Leo Messi scores twice assist on another as Barcelona win big. Once again, Leo Messi has been one of the highlights of the weekend. Leo Messi has got Barcelona just four points from the top of the table, conquering La Liga with 10 games to go very possible. This would be a crowning achievement, but honestly, none of this rice the top-of-the-table started until Leo Messi caught fire. Seemingly he cannot slow down. Leo Messi has 29 goals and 13 assists this season; you can say whatever you want about him being not the player he once was; there may be some truth to that. However, there's no denying that if there is deterioration, there's not many; he still is one of the greatest players in the world today, only going to be continued to break down at defenses and ripping apart, yet despite all of us, he's having a down year? If 43 goal contributions as a down year, then most of Europe is underperforming Leo Messi was at his best yet again, just doing what goats do.