Bayern vs RB Leipzig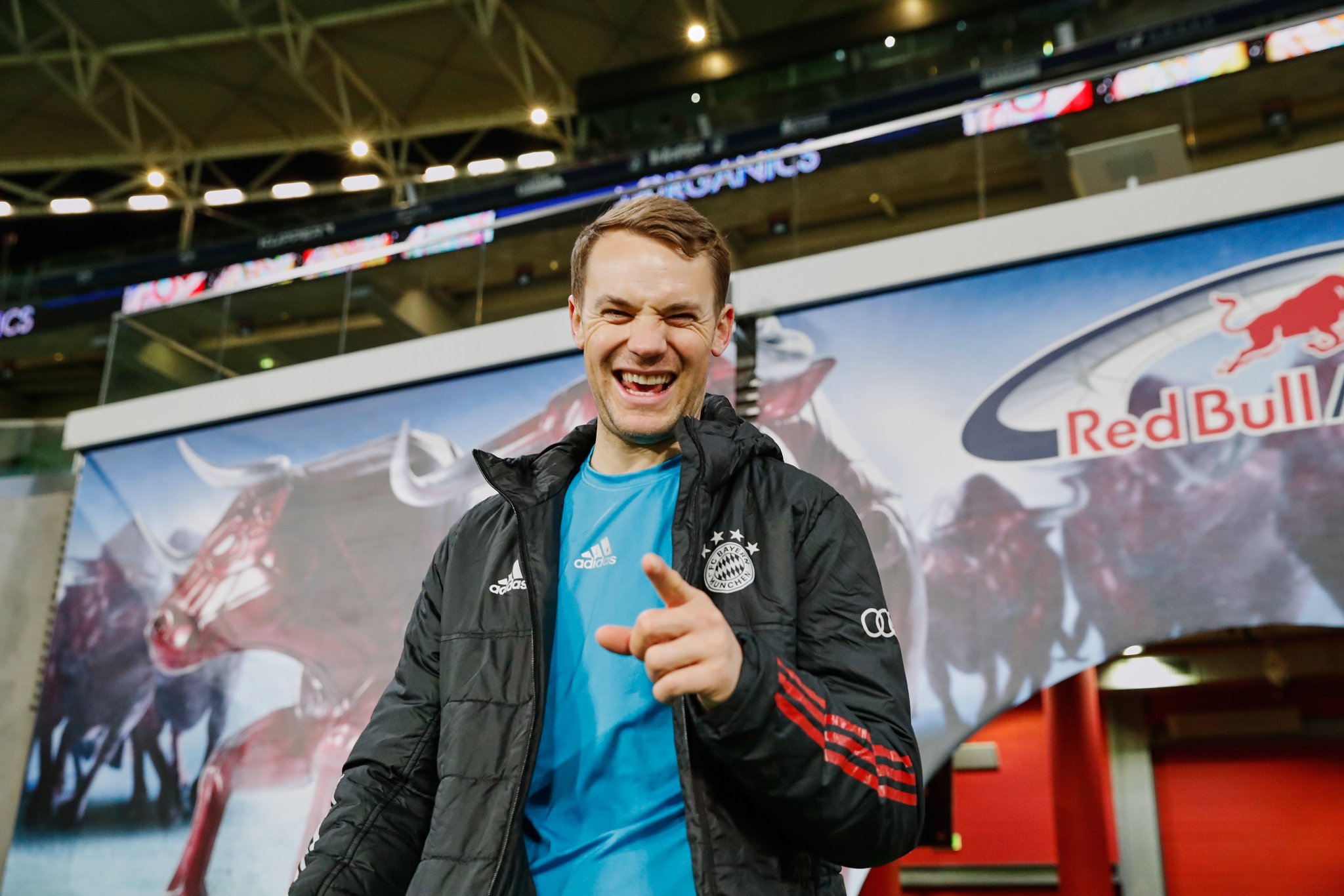 The Bundesliga title race was more or less settled on Saturday afternoon. Everything was on the line RB Leipzig Bayern Munich's biggest challenges in the title race and the only hope of preventing Bayern from winning another title. These have been the two best teams in the Bundesliga, and it was a match everyone had their eyes on. Bayern Munich and RB Leipzig played a six-goal Thriller in their first meeting of the season. It was a game in which RB Leipzig, for the most part, was the better team and Led at several points during that game. Bayern Munich did what they always do and found a way back to secure point; it was such an opportunity for RB Leipzig to close the gap even further with themselves and Bayern Munich. It was a match that was going to Define the Bundesliga season once and for all. Bayern Munich, we're without Robert Lewandowski, who got injured while on International Duty. This gave RB Leipzig a chance to pounce on the opportunity, but it was going to be easier said than done top-to-bottom Bayern have the most destructible team in European football, even with their best player out of the side. It was expected to be a battle, and potentially a Bundesliga champion would be determined by the result of the match. In the first 20 minutes of the game, it was a bit back and forth, each team trying to get in those dangerous spaces to be effective. It was nip-and-tuck as not many changes occurred, at least at the start of this game. With Robert Levandowski out, Bayern Munich went with Eric Maxim Choupo-Moting up top for the Champions League winners. He came dangerously close in the 22nd minute as Bayern looked dangerous, pushing the ball forward. Eric Maxim Choupo-Moting from the inside sends a ball on the wings to find Kingsley Coman the French International cut into the box before finding just enough space to pick out a pass into Eric Maxim Choupo-Moting the striker struck away from his body out of the air a potent shot that went a little wide as his strike rusted against the wall was inches from potentially an opening goal for Bayern Munich. The game started to come to life a little bit more, with both Bayern Munich and RB Leipzig getting into those dangerous areas to try to make that impact inside the game. It was always going to be a battle between two teams, one trying to secure another title and another trying to close the gap. However, Bayern Munich showed that they could deliver even without Robert Lewandowski. In the 37th minute, kimmich hit a beautiful cross from the Midfield deep into Thomas Muller, who supplied a pass just as he was approaching the touchline hit the ball, centering it into the space of Leon Goretzka the German midfielder hit a rocket into the top corner leaving the goalkeeper no chance to deal with it. Bayern Munich took a 1-0 lead near the end of the first half. Five minutes later, in the 42nd minute, Bayern Munich and nearly added another one. After cutting into the box, the RB Leipzig defense cleared it out only to find Leroy Sane strike the ball out of the air very well could have found the back of the net, but the goalkeeper made a diving save to prevent the situation. At the end of the first half, Bayern Munich had a 1-0 lead.
37th Minute Leon Goretzka 1-0 Bayern Assisted by Thomas Muller
Bayern essentially having one hand already on the Bundesliga title. Leipzig had a lot of changes in that first half and was failing to convert on them; meanwhile, Bayern didn't necessarily have an Avalanche of opportunities but was very selective of how they're good we're going to attack a pretty structured RB Leipzig defense. Leipzig tries to open up in the second half and add some serious pressure on the Bayern defense. RB Leipzig knows that their chances of winning the title would disappear without a victory in this game. A couple of minutes into the second half Dani Olmo had a magnificent opportunity that was wasted. In the 51st minute, Tyler Adams send a beautiful ball inside to Justin kluivert that used his speed to open up space, ultimately sending it through to Dani Olmo; the Spanish midfielder completely mistimed his strike, missing the bottom corner in which he should have found in his follow-through it was one of those opportunities and one of those messes that could have very well to find the game. They kept up the momentum and continue to push Manuel Neuer was then forced to make one of his best saves of the season. Marcel Sabitzer hit a bomb from outside the box; the cleanest look he could have taken it was heading into the top Corner before Manuel Neuer somehow got a handle on it confidence that they have had was turning into frustration for RB Leipzig.
53′ Marcel Sabitzer tests Neur with a snipe as from deep as RB Leipzig tries to find a way back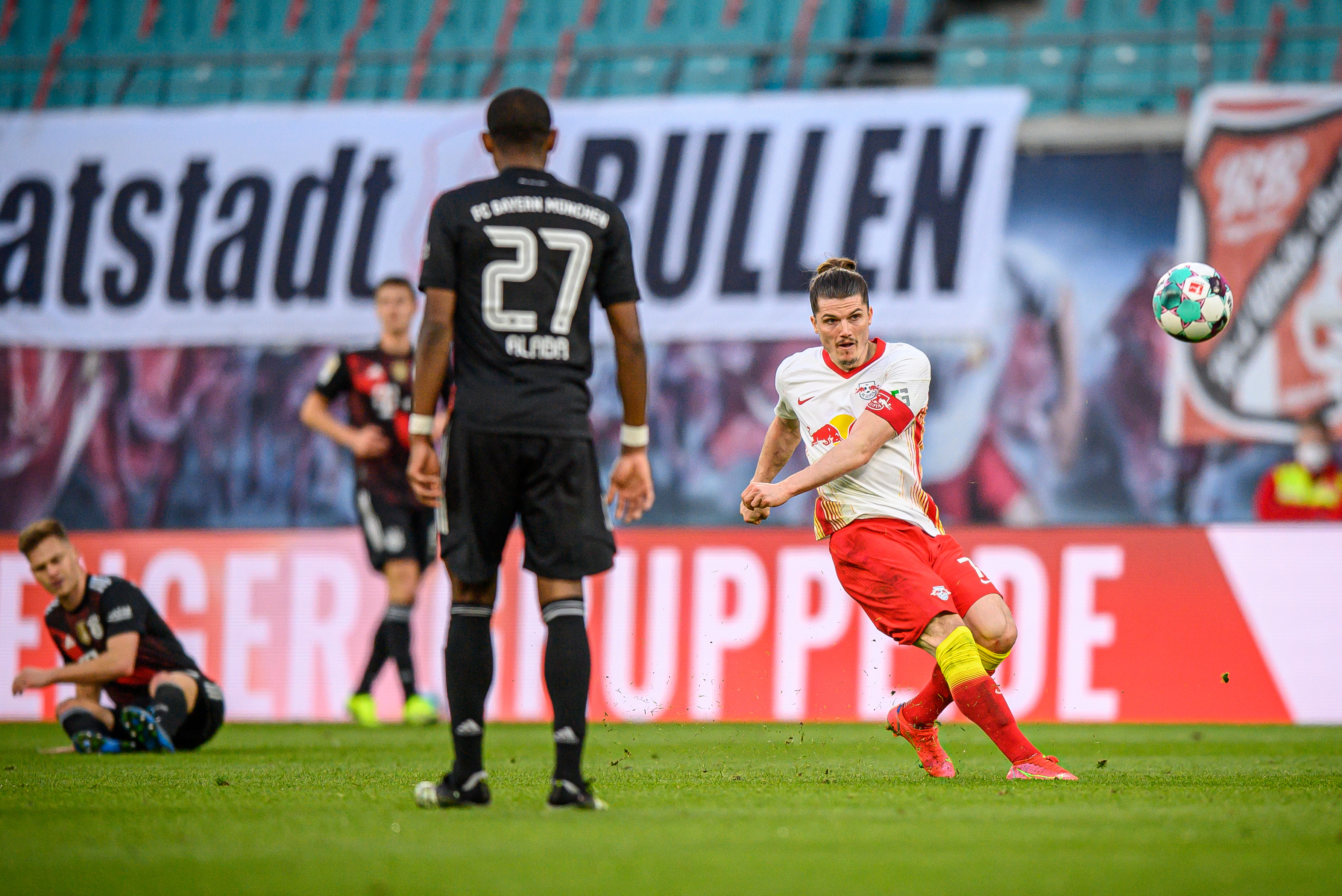 They continue to have opportunities and continuously could not convert on them. Even the hopes of getting the point were slowly evaporating. It was just a one-goal game; they're certainly a team capable of coming through. Bayern Munich hit in the 74th-minute energy Gnbary found some space who sent a good pass inside to Jamal Musiala, who followed through only to see his strike hook a little to the right. Bayern was in cruise control. Leipzig continues to change things up and try to create chances for themselves, but ultimately, they were losing a game against the clock. Bayern was defending very precisely, not giving RB Leipzig an inch. If they were going to score, it would be from a great strike. Bayern wasn't making mistakes, but when they did, RB Leipzig could not capitalize; the time eventually ran out on RB Leipzig and essentially ran out on their seat. They get a clean sheet and yet another Victory as they are a step closer to the Bundesliga title. Bayern Munich's most legitimate title Challengers could not take advantage RB Leipzig should not be discouraged with the proper adjustments in the summer they can win their first-ever Bundesliga title it is clear a striker is what is needed for them as they just did not have enough to chase down Bayern Munich legitimately. The Bavarian Club Will regin terror for at least one more season as they thrive without Robert Lewandowski as it one step closer to glory. One of the most climatic matches that will turn out to be very influential and impactful on the conclusion of the Bundesliga season e that was as exciting and thrilling as any game this season Bayern able to handle their business even without Robert Lewandowski just shows the quality of depth that this Bayern team has. Bayern Munich they're too deep, too good, and showed even went out they're scoring machine they still were able to close the deal on RB Leipzig a stunning performance and an exciting match.
Bayern 1 RB Leipzig 0FT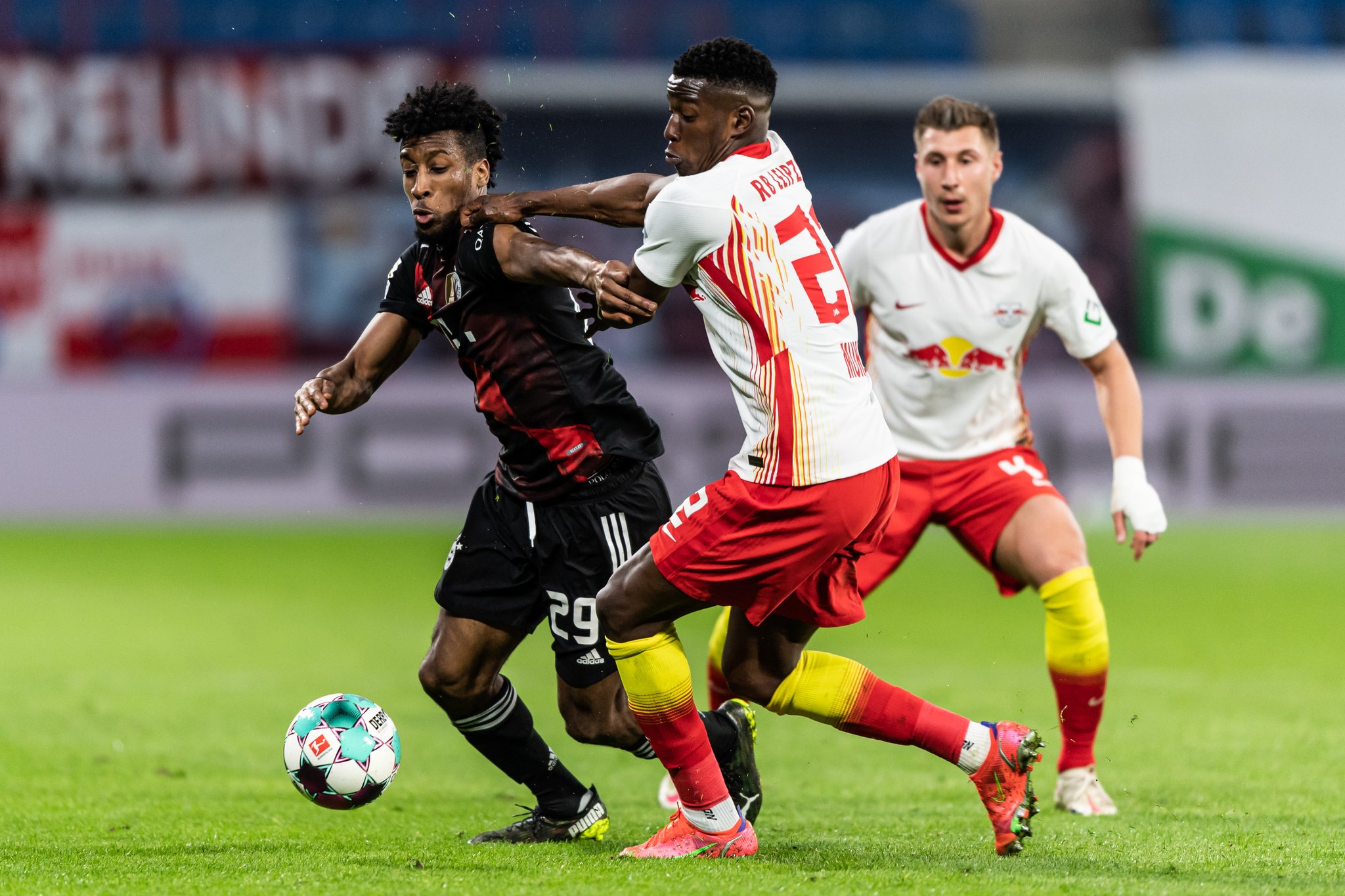 Attempts: Leipzig :14 (5) Bayern:9 (2)
Possession: Leipzig 46% Bayern 54%
Bookings: Kimmich(Bayern), Sabitzer(RB),Mulkiele(RB),Upamecano(RB),Hernandez (Bayern)
Goals: Goretzka 37′
MOTM: Goretzka
Frankfurt vs Dortmund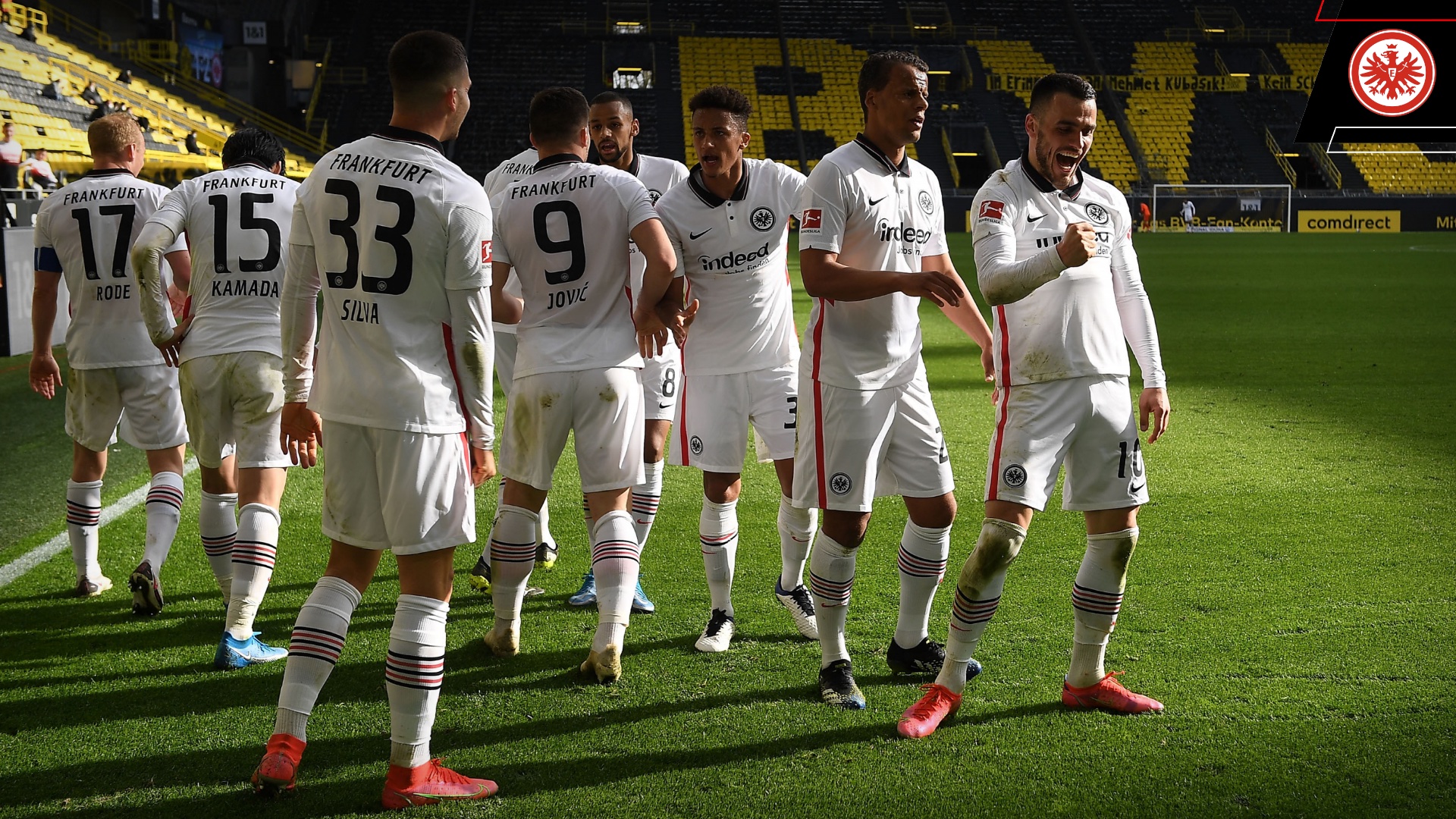 This week in the Bundesliga, we saw some champions league and title defining matches. On the Champions League front Frankfurt on the road against Dortmund in a match that could have serious implications on the Champions League picture at the end of the season. Dortmund is on the fringe of Champions League football. After drawing with Koln a week ago, it has made it very difficult on themselves, especially against a vibrant young yet athletic Frankfurt team leader by Filip Kostic and Andre Silva. Frankfurt is on the verge of securing Champions League football for the first time since 1960; meanwhile, dormant are looking for a victory to keep themselves alive in that picture. Anything but a win for Dortmund potentially exiles them from the Champions League contention. A lost would see them seven points away from the top four, and considering the way Wolfsburg is playing so well, it is hard to imagine that Dortmund will find a way to get into it if they don't do their job against Frankfurt. It turned out to be a fascinating game and a true battle; two teams that some significant points may separate but on a talent level are quite similar. In the early part of this game, Dortmund tested Kevin Trapp with a few legitimate strikes on goal erling Haaland coming close wall Hazard nearly broke through on a potent strike at the German keeper. However, Filip Kostic has the best cross in the Bundesliga; all he needed was just an inch of space to pull it off. He was sent through on the wing with a brilliant pass from the Midfield the Serbian found enough space to place the cross in Andre Silva's headspace accurately; however, the Schultz connected trying to clear it out, ultimately ending in their own goal. If the Schulz is in there, Andre Silva would have finished it with a beautiful Cross by Filip Kostic to put Frankfurt in a 1-0 lead.
10′ Kevin Trapp watches on as Frankfurt take lead.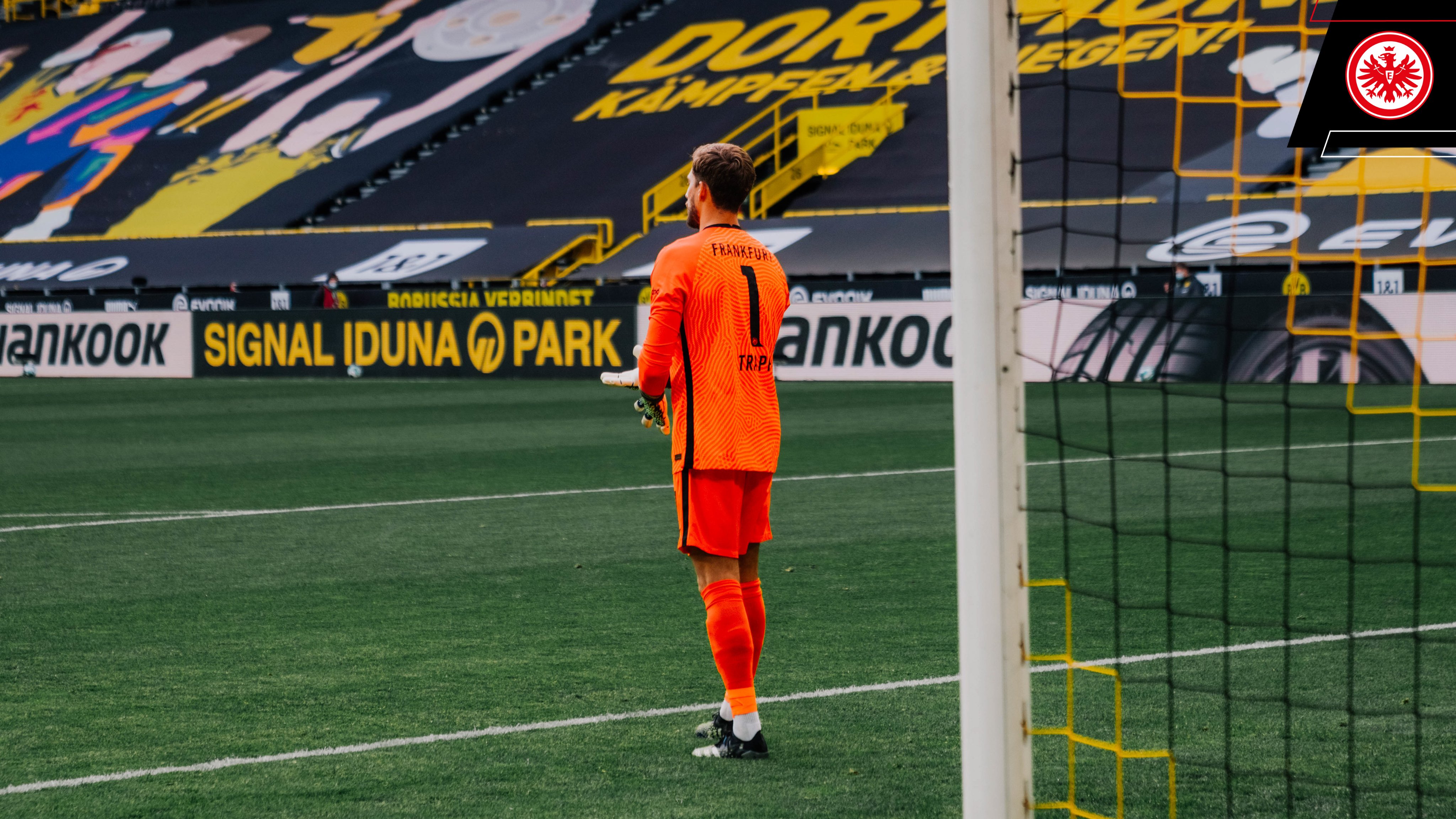 It was a big blow for Dortmund, especially so early in the game as Frankfurt strike in the opening 10 minutes. A little bit of pressure was taken off Frankfort as Dortmund continue to try to get after it. The back three really seem to work against this Dortmund attack. They frustrated and constantly, not to mention Kevin Trapp continuously made some fantastic saves in big moments. However, Frankfurt looks like the superior team was some great chances at the end of the first time that maybe they should have converted to put the game away much earlier. However, Dortmund got themselves into good space, and founder equalizer mat Hummels converted on a great strike beating Kevin Trap to find an equalizer right before the second half.
45′ Mat Hummels levels game before the break
A game only heats it up in the second half as it became much more of a battle. Both teams exchanging high-quality looks. Even though it was a battle, everything was seeming to stay in Frankfurt's favor. It wasn't that Dortmund didn't have their chances it was simply because Frankfurt was able to handle it. They never felt pressurized until late in this game. Frankfort had so many opportunities to put the game away earlier. It felt like it would be moments that we're going to come back and haunt them, especially considering the Dortmund big hitters they have. Dashi Kamada in the second half was in Perfect Space to give Frankfort their second but misfired, failing to supply the appropriate touch in front of goal then filled caustic suffer to the same way there were so many chances in which Frankfurt for probably could have scored however they had to Soldier on and continue to progress. Eventually got themselves in front coming off a header, but Frankfurt had the goal wiped off. Each team had their moments and tried to get after it; both teams understood the importance of this and continue to battle; it was a True Flight until the very end. But ultimately, it was going to be Frankfurt that delivered the knockout punch. Filip Kostic ran down the wing with the ball almost running out of space; the goalkeeper slightly out of position sent a beautiful cross into the box only to find the head of Andre Silva, who powered through seeing his bullet of a header rip through the back of the net as Frankfurt took a 2-1 lead.
87′ Filip Kostic and Andre Silva connect late as Silva heads home the winner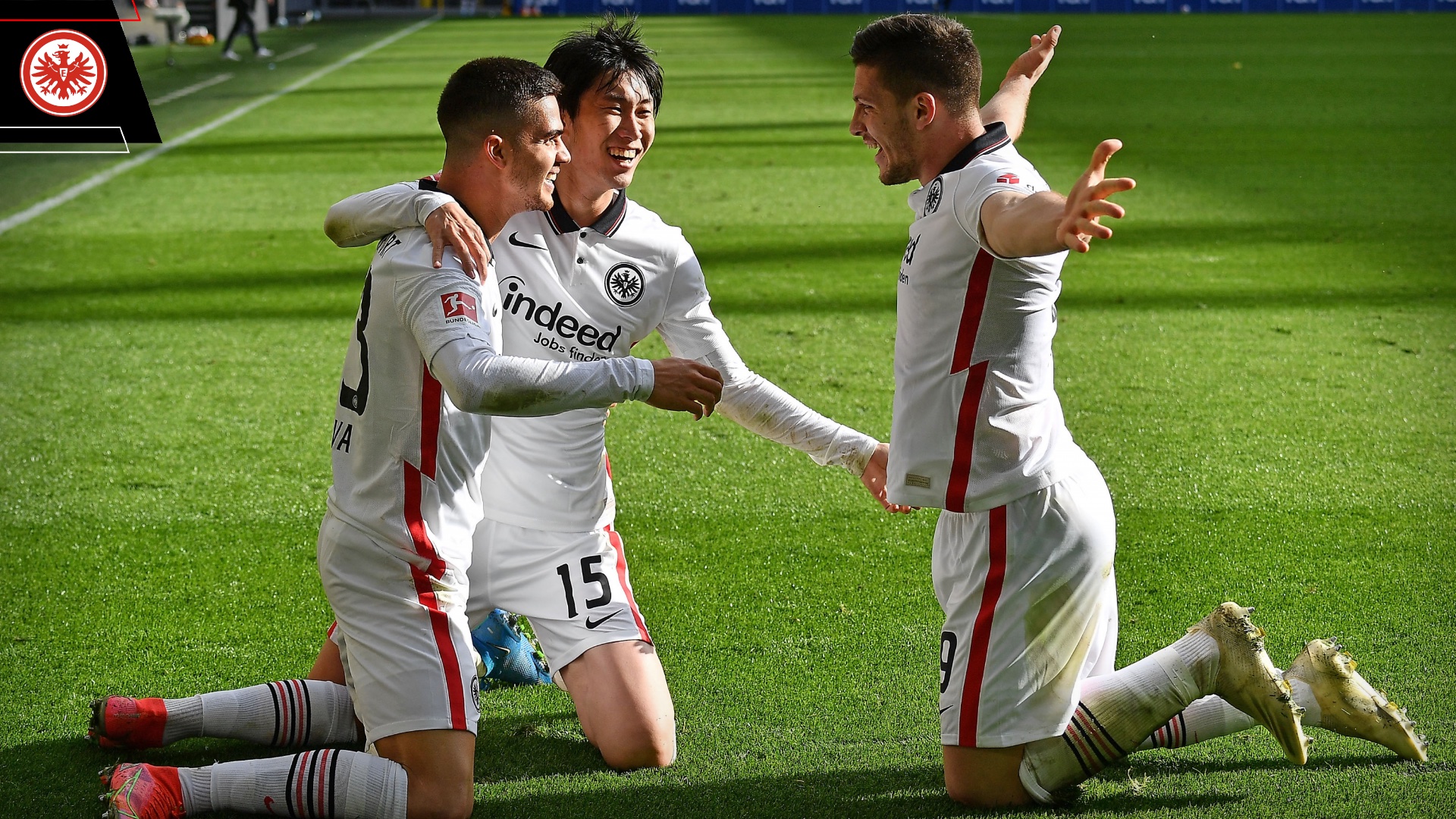 This irritated Dortmund as they went on the hyper-aggressive style of play, really trying to go after it and at least to secure a point. Dortmund came fast and furious they played with a level of aggressiveness that they should have been playing with the entire game and came close on so many opportunities Kevin Trapp in the defense did a tremendous job of dealing with it. Even requiring a goal-line save from the Frankfurt defense and some outrageous moments from them collectively, Dortmund went down swinging, but they couldn't close the gap as Andrei Silva's late moments cease Frankfurt go seven points clear as they are on the verge of Champions League football for the first time since 1960 meanwhile that Andre Silva header in all likelihood kicks Dortmund out of Champions League contention as they are dropped at home in a tremendously competitive match up with a Champions League race on the line erling Haaland and Dortmund couldn't get the results necessary Frankfurt essentially giving Dortmund the boot and one of the most exciting matches of the weekend. Erling Haaland's departure seems to be getting nearer by the day Champions League football to keep him in Germany, and now it looks like he will likely be playing his football somewhere else next season. Frankfort continues to be an Underdog Story that, against the odds, it's going to make the champions league for the first time in 60 years. Frankfurt is a young team with may not have the most significant names. Collectively as a unit, they perform as well as anybody they beat the big teams, and they have no fear about them; that's the biggest difference Frankfurt was willing to play aggressively against Dortmund where Dortmund only did it when they were desperate as Frankfurt show their superiority as Champions League football is well within their grasp now.
Frankfurt 2 Dortmund 1FT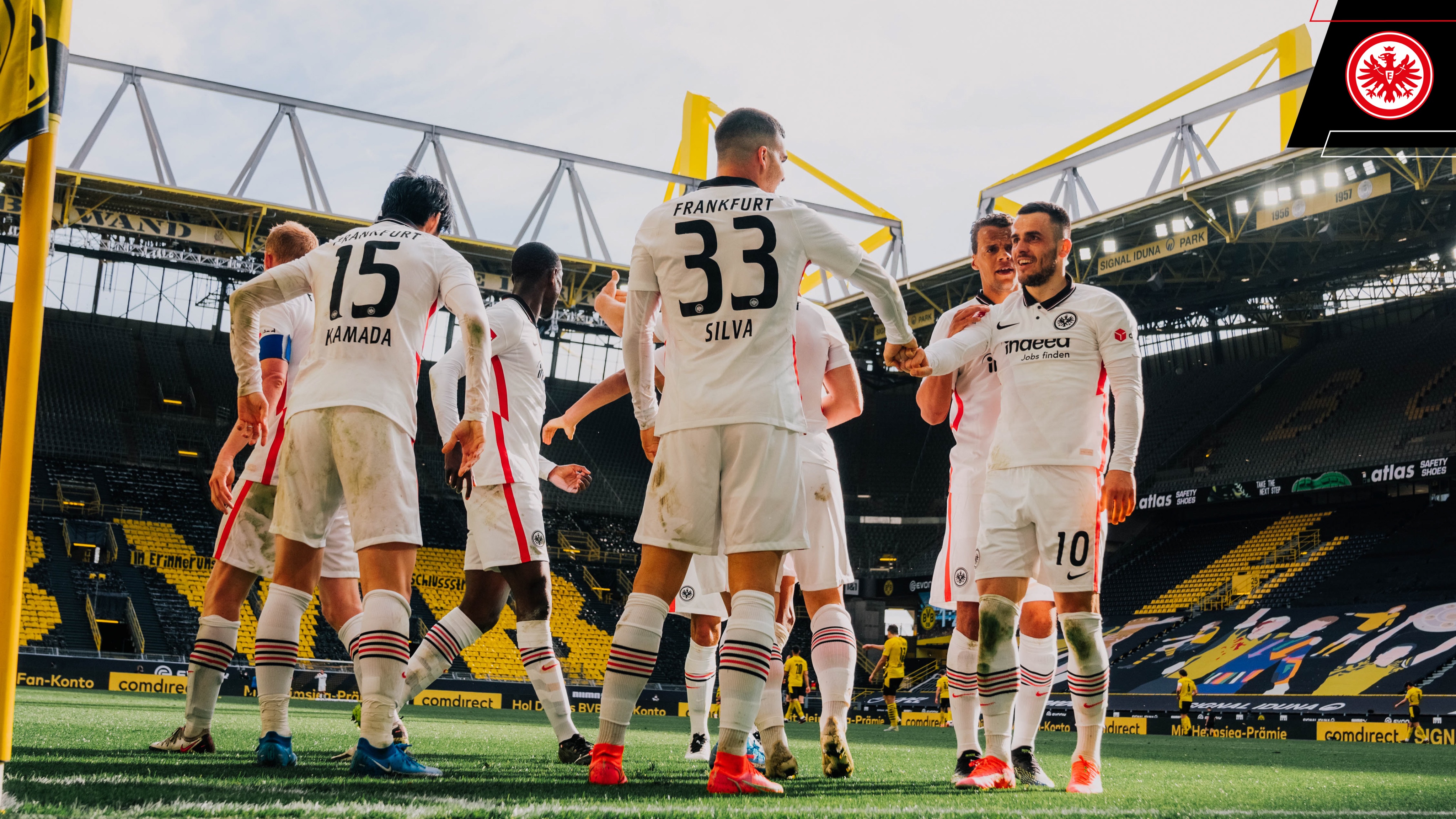 Attempts: Frankfurt :14 (3) Dortmund:19 (5)
Possession: Dortmund 58% Frankfurt 42%
Bookings: Kostic (Frankfurt), Sow (Frankfurt), Rode (Frankfurt)
Goals: 11′ Schultz, 44′ Mat Hummels, 87'Andre Silva
MOTM: Filip Kostic