Paulo Fonseca's Questionable Team-Selection and Lineup Worked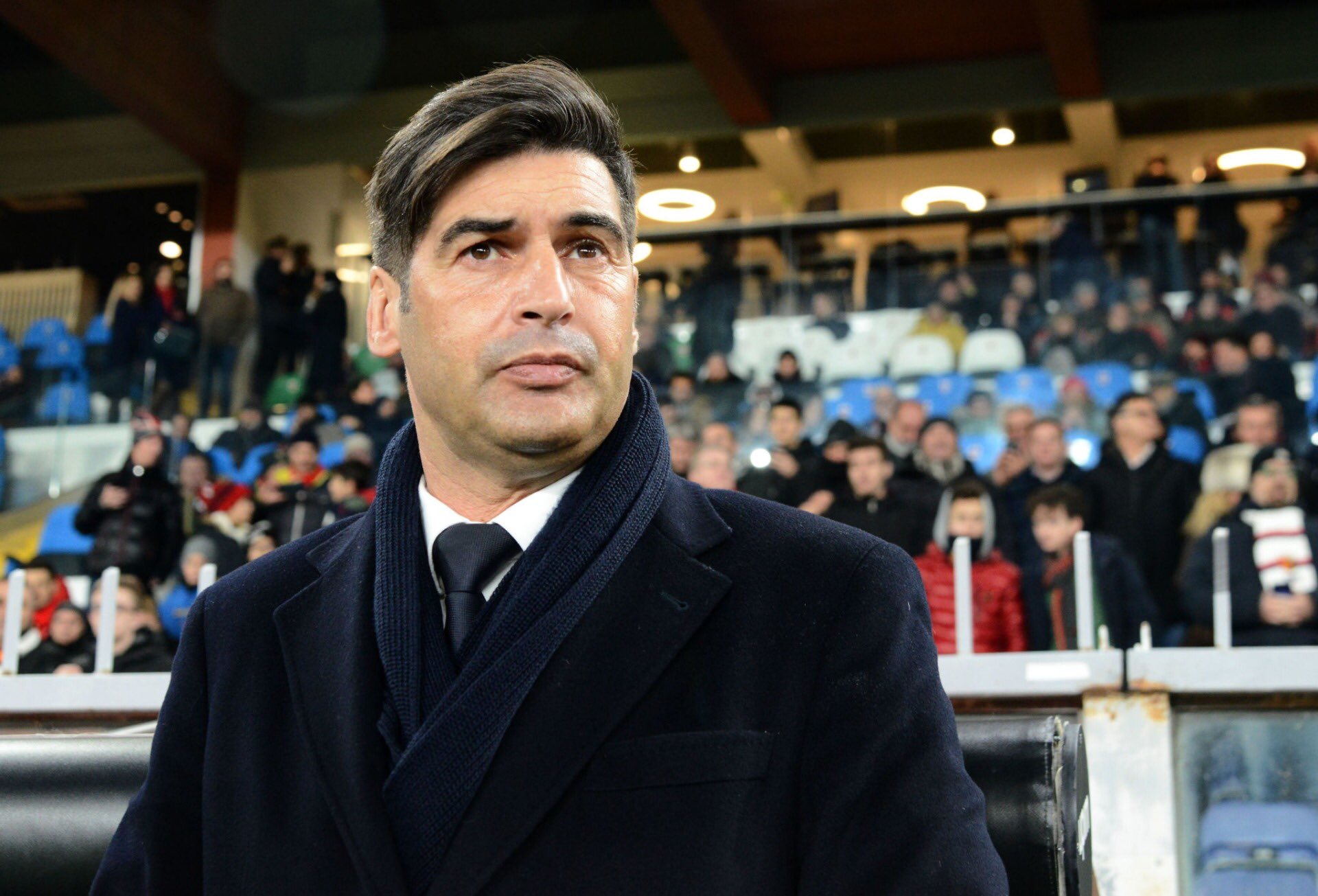 Paulo Fonseca made some dubious yet troubling decisions regarding his lineup and team selection ahead of the big Europa League match yesterday against Ajax. There was just a certain feeling about what Roma was going to be able to do against Ajax. The thought was playing with a back three was going to play in favor of the Dutch champions. They would have to go to Amsterdam and try to pull out a victory, something that seemed extraordinarily complex before a ball being kicked at the Johan Cruyff Arena last night. Ajax considering the counter-attacking weapons that they possess. A type of team that usually can take advantage of a setup with three center-backs. Roma also lined up with three attackers. Edin Dzeko operating central Lorenzo Pellegrini and Pedro Rodriguez on both sides, creating a front three as the Portuguese tactician made a formation change. A smart decision to make a change to its formation, but the change was an unexpected one. There was talk about a 4-2-2 instead. Paulo Fonseca opted for a 3-4-3, having edin Dzeko upfront and Lorenzo Pellegrini and Pedro Rodriguez operating underneath; it was a very attacking-minded installation, specifically in the front. Logically it just didn't seem like the approach made sense; it looked like it would be in Ajax's favor. With weapons like Ryan Gravenberch, Dusan Tadic, and David Neves, the thought was it was going to be complicated, especially in a back three. However, Roma skint options defensively forced his hand to go with a back three. Roma, throughout the game, kept themselves alive against a very attacking-minded team. I'm not sure if it had to do with the formation, but whatever the approach was, it certainly worked yesterday. Even when Roma fell behind, there was a distinct possibility that Roma could get back into it. The back three did not necessarily alter mistakes; there was a mistake made on the opening goal, but that was primarily due to a lapse in judgment rather than being a formational issue. It's unclear whether or not it will be a regular occurrence, but it worked yesterday. Roma got forward, and even though they were second-best, a lot of the game edin Dzeko in that role was fantastic. He came close to scoring on several different occasions even before Ajax got the goal through Davy Klaassen. It was slightly unusual to see edin Dzeko get the start for Roma; it has been an up-and-down season for him and based on form, bojar mayoral did make more sense. It has been these final hurrah for edin Dzeko, who is likely to depart the summer despite some of the stuff that has occurred. I've always said he is a Roma Legend and deserves to be respected. He has just 10 goals this season, three goals coming in this competition. His track record in the European game is quite good, and I think a large part of that's why he was picked. Mayoral is the competition's top scorer; the logical choice would have been to start him in this game, but given the Bosnian's experience, he ended up getting the nod. Roma never exposes themselves in the back, and they got forward pretty well. Lorenzo Pellegrini was playing alongside basically as a left Winger was impressive playing a captain's performance. In some sense Roma we're lucky to get the result. Still, despite my criticism of Fonseca after seeing his product on the pitch, Paulo Fonseca got it right both from his team selection and from his formation, even though it looks like it was going to be a disaster. Logically maybe it should have been he had a feeling and went with it, and in the end, he made the right call.
Pau Lopez saved Roma's Season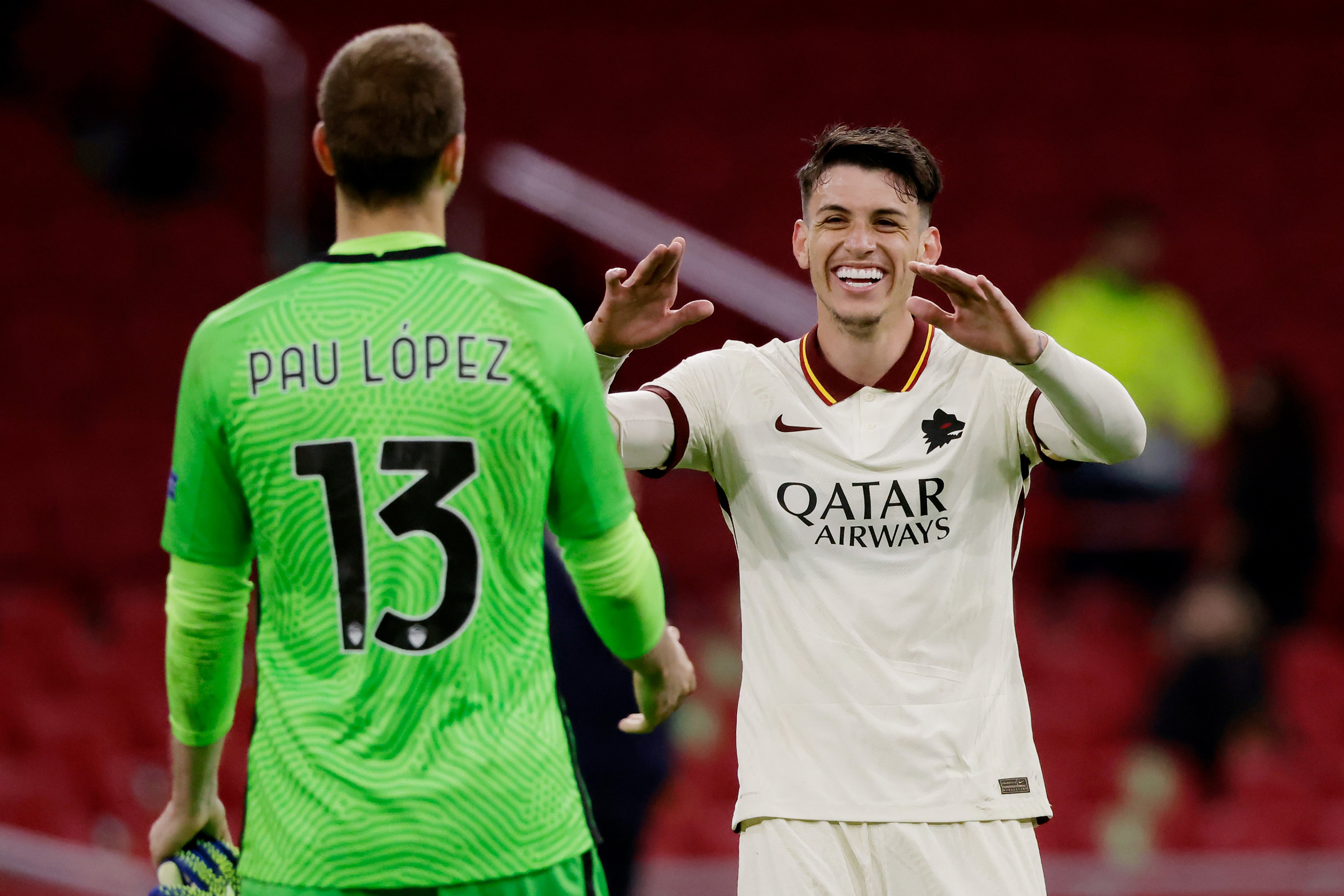 Pau Lopez, who Roma signed from Real Betis for 25 million in 2019 Lopez, can become that number one for Roma but has made some deplorable decisions at times. If he took or removed the stupidity moments from his game, he certainly could be that number one for Roma it just hasn't materialized consistently. I'm not sure what will happen this summer. I'm assuming Roma will still look for a new goalkeeper, but maybe Roma works with Paul Lopez and give him another year. It's a fascinating situation because his Europa League form has been pretty remarkable. In this year's competition, believe it or not, he is the best goalkeeper and in a very crucial moment last night, he saved Roma's entire season in European football. Roma went from 1-0 down on the verge of conceding another that would have probably killed Roma not only in last night's game but in the quarterfinals as a whole. Early in the second half, Ajax was giving a penalty. Dusan Tadic Ajax top scorer the season with 22 goals, and Captain had the opportunity to put the Amsterdam-based Club up 2-0. The entire season was going to come down to this moment. If that moment comes across differently, the game's complexion changes the outcome changes the way Roma and Ajax are feeling this morning changes. A defining championship moment. To my recollection, Pau Lopez has only successfully saved one penalty since being at Roma. If you would have just suspected that Dusan Tadic was going to convert. Pat Lopez saves Roma; he denies the Ajax captain from the spot. 4 minutes later, Lorenzo Pellegrini scores from a free-kick, and Roma finds themselves in front on away goals. Then in the 85th minute, Rodger Ibanez gives Roma a second. Roma leaves Amsterdam with two away goals with a legitimate shot to get to the semi-finals. The only reason this is the case is that Lopez save. It wasn't just the penalty save though; he made one bad throughout the game; he was absolutely brilliant outside of that. He is the best goalkeeper in the Europa League this season, and he showed exactly why. Ajax, what's the better team and a tap the Roma goal very precisely. Lopez was at his peak level. Making eight saves, six of which came from inside the Box in danger space for Ajax. This takes him to 35 saves in Europa League Play this season, the most out of any keeper. Saving the penalty making minimal mistakes in his 57 touch, and earned an 8.9 match rating; he was the man of the match Roma and made it into the team of the week in the Europa League. Please make no mistake about it. Lopez denying the penalty saved Roma season. It was a nearly Flawless performance and came up big, and the game's most significant moments, his save on Dusan Tadic, changed everything. If Roma goes on to win the Europa League, it will come down to that moment.
A Four Minute Defying Sequence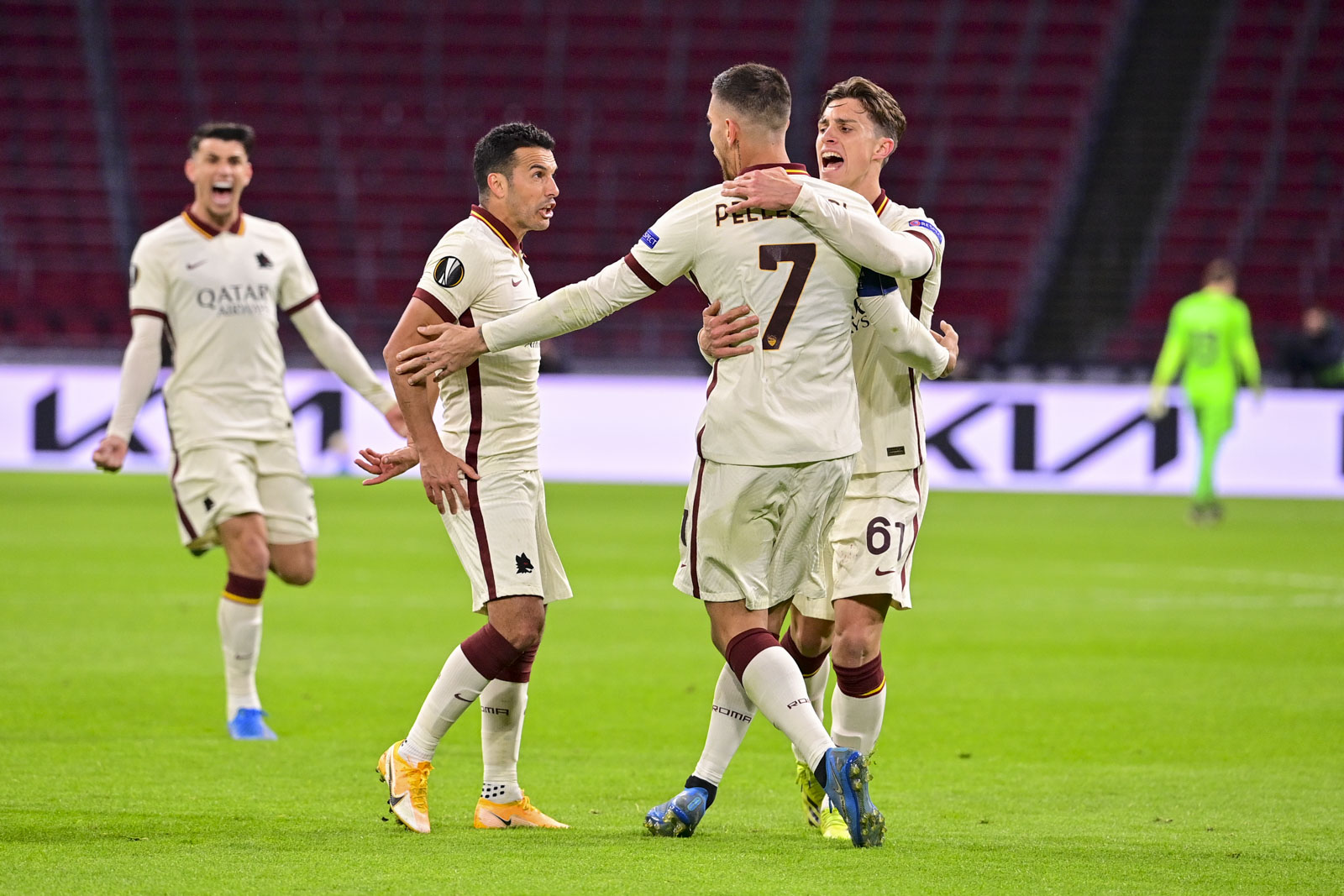 Roma was second-best last night; there even was an element of luck attached to the match. Ajax still has a legitimate chance in the second leg, but Roma certainly has to believe in feel. Still, they have a fair chance of getting to the semi-final, especially after the two away goals. The disadvantage just didn't come out of thin air throughout the game; they weren't the better team for the most part. However, a sequence of times one than this game as great as it was, the defining moment wasn't Rodger Ibanez scoring that screamer; it was four minutes that dictated the course of the game. As I said, Roma played very well in the first half, made a mistake, and Ajax capitalized on it. Early in the second half, the Dutch side was highly aggressive and continued to pressurize Roma. All the momentum and energy were with Ajax. Then Dusan Tadic was stopped in his tracks by Pau Lopez on a penalty. Roma reclaimed all the momentum in the game when the energy that they didn't have suddenly was revitalized. In a span of four minutes Roma, we're leading this tie. After edin Dzeko came, close Lorenzo Pellegrini finally scored on a free-kick. The Keeper made an error as he did not do a good job of tracking the ball as he was not in the best position to make the save. Nonetheless, the goal counted the same, equalizing the game and putting Roma in front on away goals. It is precisely what Roman needed, from the penalty to the free kick in 4 minutes; Roma took advantage in this game. As I mentioned, Lopez was unbelievable, making things as complex as possible on the hosts playing a significant part, and what occurred the game turned around in those four minutes even though Ajax continue to attack Roma had a sense of energy that they did not have before the second half shift. 5 minutes to the end, Rodger Ibanez catches the ball on his chest before following through on a strike ripped through the top of the net, giving Rome a second away goal. That was the icing on the cake Roma's first goal gave Roma a chance that I probably would not have had otherwise. In just a matter of minutes, Roma able to turned this entire thing around before the freak goal at the end to put the pressure all on Ajax; Roma has all the capabilities did not pull this off as much as Rodger Ibanez hit the rocket; it was the way Roma responded immediately after the penalty the save change the game but Roma still had to go out and get another goal the way it unfolded was the turning point in the game and the tie.
It's NOT over Ajax Have been here Before

If there's any team that turns around a situation like this, it is Ajax. They always thrive in European competitions, and whether or not they win it they always seem to go deep regardless of the situation. Need I remind everyone they have been in this situation before. In the 2019 Champions League round of 16 against defending champions, Real Madrid Ajax surrendered to away goals at home, heading into the Santiago Bernabeu second leg. Real Madrid was ripped apart. Ajax ended up winning it 4-1 in hostile territory with fans in the stands. There's no doubt they can turn this around; that was a unique Ajax; they went all the way to the semi-final and probably should have won the game. Had they made the Champions League final, I believe they would have beaten Liverpool. The point is we have seen them turned things like this around. That was an incredibly special Ajax that featured Donny Van Der Beek, Frankie de Jong, Hakim ziyech, Deligt, and many others. The majority of the core of that Squad ended up being sold throughout Europe; however, few members of that team still remain, meaning they have the winning mentality to do it. Roma just needs to keep it close against them at the Stadio Olimpico but considering what we know about Ajax. There's no doubt this is far from over. They outplayed Roma for 90 minutes. Roma found those moments and executed that was the difference and obviously, saving the penalty changed everything as Roma energy revitalized. I wouldn't count it over; I think it's still open for business. Roma should steal that in the end but Ajax fear no one; they still have so many weapons to hurt them; it still is only a one-goal game right now. Roma has the away goals for now, but that could disappear very quickly. Roma should back themselves to get to the semi-final and finish the jobs at the Stadio Olimpico a place in which they're unbeaten in the Europa League. However, you never say never with this Ajax team. I still believe they are the best team in the Europa League, and they have all the tools and resources to turn this around. Just because Roma has two away goals does not mean it's over.