Score: Cagliari 3 A.S Roma 2FT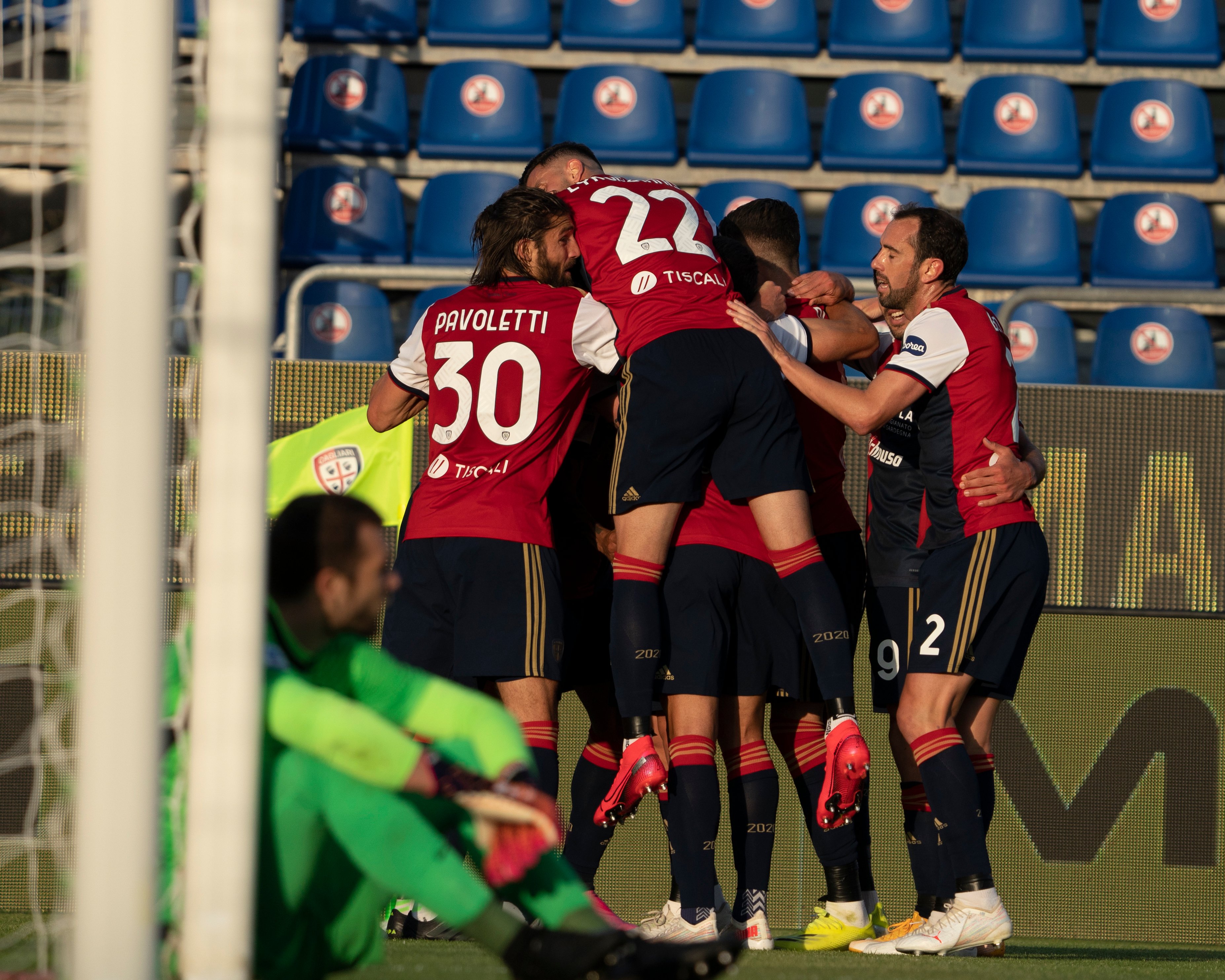 Roma came into this game following a last-gasp 1-1 draw with Atalanta. Roma had not played well lately, and the Hope was getting that point on Thursday to give them some sense of optimism to get their season back on the right track. The Europa League spot was slipping but still maybe had an opportunity to close the gap. Roma went on the road to take on Cagliari for the second time this season. Roma picked up three points at the Stadio Olimpico earlier this year, but this was going to be a very different situation. With Manchester United on Thursday, Roma played a slightly weakened Squad to be prepared for the Big Challenge in the Europa League semi-final. Cagliari is in a relegation fight and has won two games in a row; the way they played was unexpected considering they didn't have much of the ball, but they managed to make things work against a slightly favored Roma side. Just three minutes into the game, the calculator took a 1-0 lead Roma tried to fight back and eventually level the playing field when Carles Perez got an equalizer late in the first half. Only for calculator to run away in the second half with a Razvan Marin and Joao Pedro was scoring a pair of goals as calculator took a 3-1 lead. Federico Fazio got one back for the Roma to minimize the deficit, but in the end, Roma ends up falling; wall Cagliari is on the brink of survival. Not precisely what Roma wanted ahead of their biggest match of the season on Thursday as calculator take Roma 3-2 in Sardinia.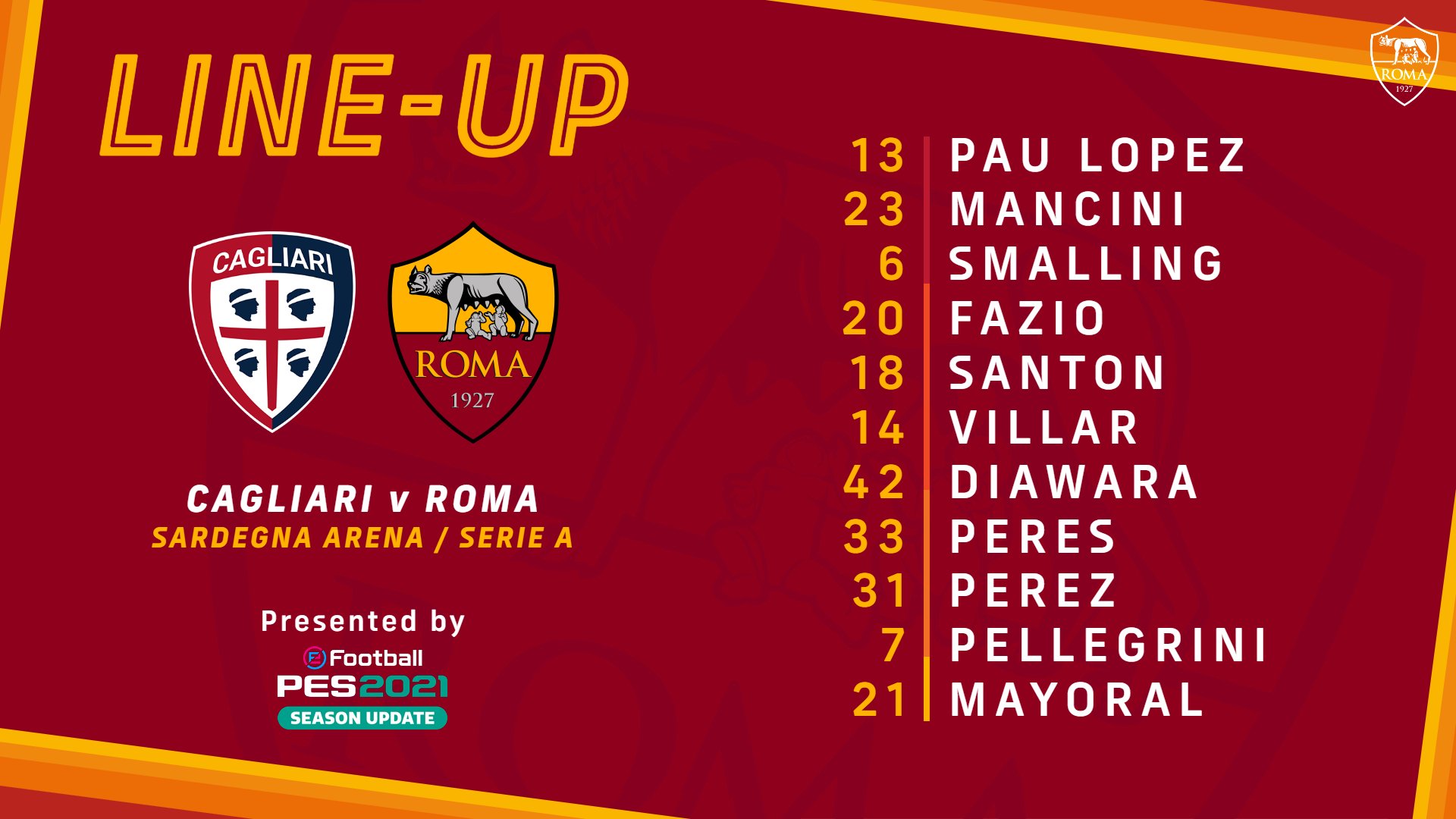 Roma lined up out of the 3421 formation. In goal would be Pau Lopez. With the suspension to Rodger Ibanez, the back three would consist of Gianluca Mancini on the left, Federico Fazio on the right, and we saw the return of Chris Smalling in the middle. At left wing-back, we would see Santon for the first time this season. Then on the opposite side, we would see Bruno Peres as the right one back. The defensive Midfield would I be at the duo of Diawara and Gonzalo Villar. Underneath the striker on the left-wing would be Lorenzo Pellegrini, then on the right-wing will be Carles Perez. Upfront as Roma Central Striker would be bojar mayoral.
After preparations and predictions, the mascot underway edin Sardinia as Roma took on Cagliari in a massive match for both sides of the table. The home side wasted no time putting themselves in front. A breakdown Inside the Box allowed Llykogiannis to take the lead in the 4th minute; barely any time had gone, and Roma are already behind it wasn't a great start, was it? 4 minutes later, Lopez denied an attack by Cagliari. Bojar mayoral tried to hit back with a strike from outside of this area code for ultimately was dealt with by The Keeper. Roma had complete domination of possession, but that's exactly what Cagliari wanted; that's the approach they have taken over the last couple of weeks and why they've been able to give the points that they have let the opposition have the ball. Roma, just for the forever reason, can't get back in good form. Carlos Perez misstimed they shot from out of the box. However, as it was just a struggle for Alma, they got themselves back into this game in the 27th minute; Carles Perez hit the post only to get his rebound and put it into the back of the net to equalize. It would be his third goal of the season. Joao Pedro tried to respond to the hosts, but Paul Lopez made the save. Roman has some excellent chances at the end of the first half. Gianluca Mancini has header misfire from the corner and then a strike from a Lorenzo Pellegrini and cross being saved by The Keeper. There were a few different chances exchanges from both teams in the closing moments of the first half, but in the end, through 45 minutes, it was a 1-1 draw in Sardinia.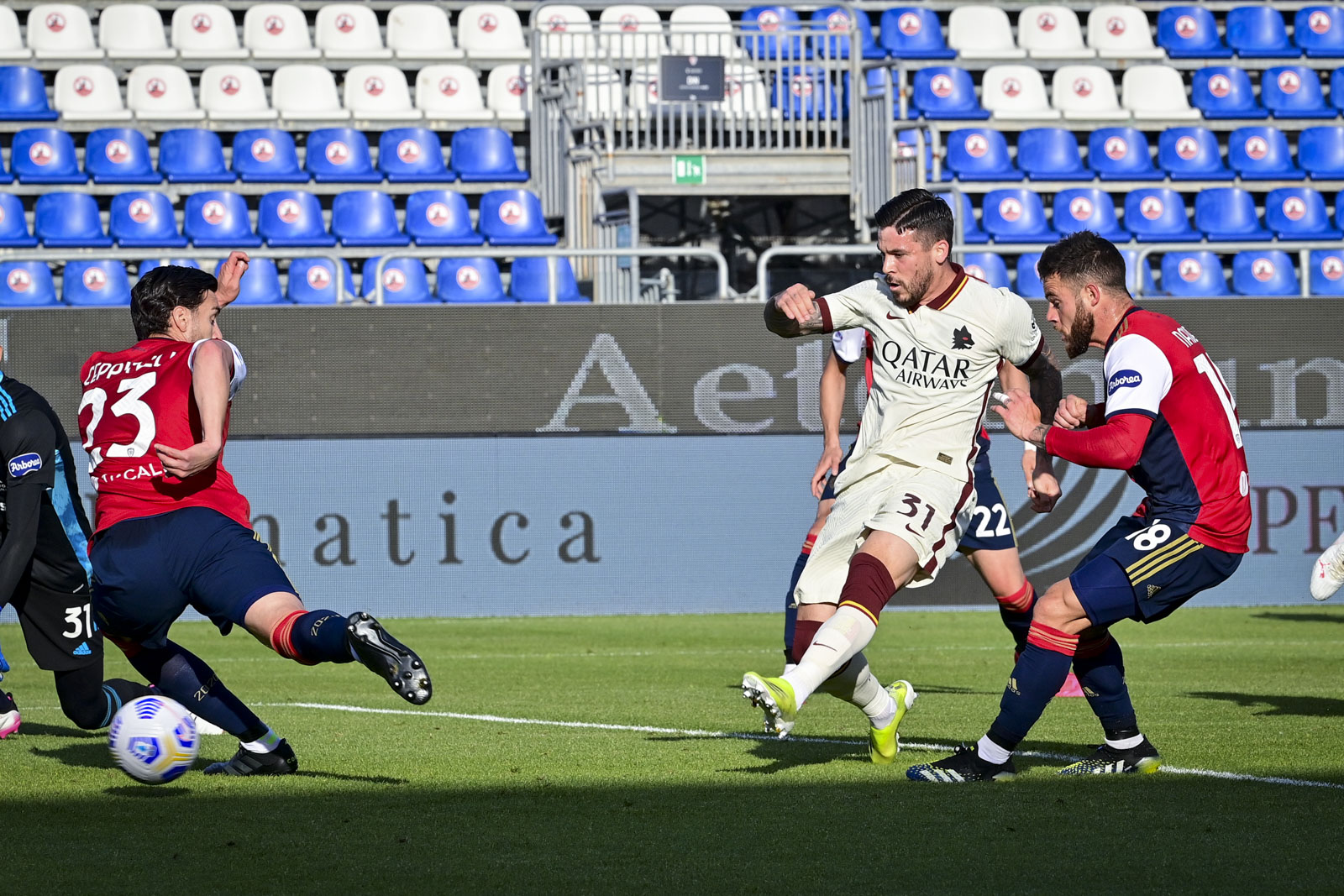 Roma made the first chance of the game when Leo spinazzola replaced Bruno Perez. The second half, unfortunately, did not get much better, and it got bad very fast. Giovanni Simeone was denied from Lopez, and then bojar mayoral tried to respond from a shot from close range. Then in the 57th minute, the Romanian wizard Razvan Marin did a deep strike from outside the box into the bottom corner as they took a 2-1 lead. Roma made some changes bringing in Bryan cristante, Rick karsdorp, and henrikh Mkhitaryan. Then not long after, the 64th minute Razvan Marin set up Joe Pedro as the Brazilian converted on the header as they ran out to a 3-1 lead. Roma fastbreak in the 69th minute when Federico Fazio converted on a header to minimize the deficit of all people. Roma still searches for the draw making some more changes as Jordan veretout entered the match. Would not a lot of time left Gianluca Mancini once again came up and tried to find that equalizer but was unsuccessful? Gonzalo Villar came close just a few minutes later. Still, his shot from Deep hooked to the left a late chance from Bryan cristante with less than 10 minutes to go misfiring ultimately confirmed the end as Roma go down in Sardinia after suffering a disappointing a 3-2 loss.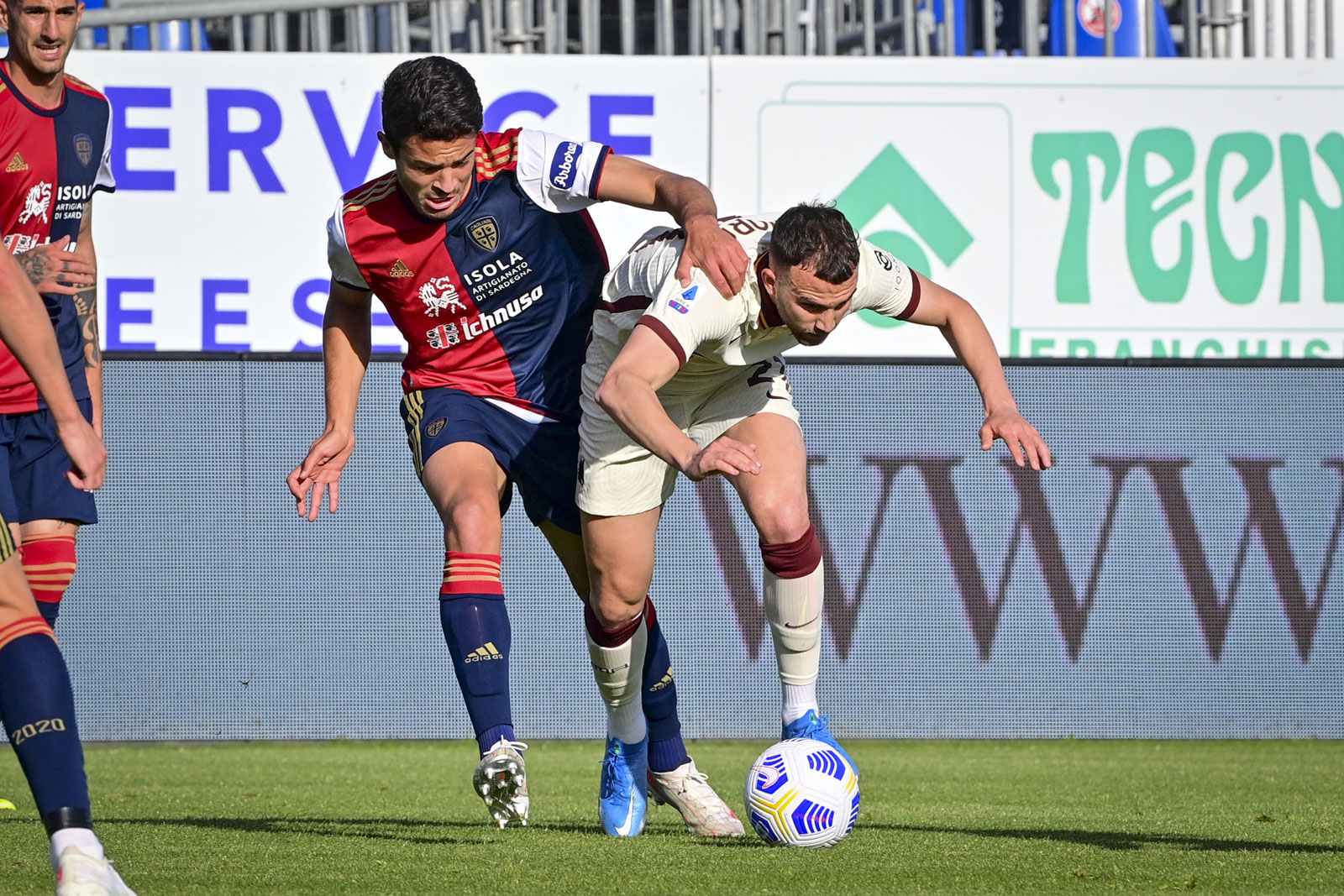 There's not much to be said really about that performance. Roma had the majority of the ball and could not do much with it. Roma did not play their strongest team as they are more focused on Manchester United on Thursday. Does this performance reflect what could happen in a few days I don't think so. Roma has gone into every stage of this competition in poor form lately and still has done reasonably well. Roma is in poor form in the league, though, and nothing can be done about it. They're not going to finish in the European spot this season; it's just basically blowing up in their face. They're in terrible form, and they can't get anything going. They are likely to finish 7th; it seems like it's been ages since they got a victory. It's been the polar opposite of how the team has looked during the first half of the season; it is just becoming expected for Roma to play poorly and not get the job done. In the Europa League, they have been fantastic, but in the league, it's pretty much over; these games over the next couple of weeks have become almost meaningless. Roma isn't going to be in Europe next season. It's just not going to happen. There's not much to fight for anymore after today's result; it signifies everything. Cagliari barely had any of the balls and still managed to get three goals, largely behind the Brilliance of Razvan Marin, who should find his way on a bigger Club next season nonetheless this Victory puts them in a prime position to escape relegation as they continue to fight on from Roma's point of view there's nothing I can say or do that explains what happened. Roma's domestic season seems more or less done, and not only are they planning badly and they can't get themselves out of it, but there's genuinely nothing to play for yet in the league everything that is determined by everything will occur this Thursday and next Thursday against man united as far as the league games Roman need to play better but even if they end up winning the season again in the league is over after tonight there's not a way for them to really get into the Europa League and certainly not away in the Champions League; unfortunately, Roma may as well be at a beach because regardless of the results over the next couple of games it makes no difference and we'll make no impact on where Roma finish this season it's pretty much done it's dead in the water this point.