Ruben Dias vs PSG
Ruben Dias arrived from Benfica and joined Manchester City for around 60 million Last Summer. This was not necessarily looked at like the signing that would change the Manchester City defense and be the difference between making the Champions League final and not. Ruben Dias was established in Portugal; he didn't have the Mystique or the brand of a big-name player. They did have to pay 60 million for him, but certainly, when he signed on the dotted line, Manchester City fans and English football didn't exactly tremble with fear. He had been very productive with Benfica, which is an ample reason why the price tag was as hefty as it was. Pep Guardiola had been following him for several years and finally decided to pull the trigger. However, he was relatively unknown to the Premier League fans, and it wasn't evident what he would bring to Manchester City. He has quickly become one of the best signings of the season. Manchester City paid 60 mil Diez worth about 90 now. He's come in and immediately made an impact both in the Premier League and the Champions League. He has come up against some of the biggest attackers in the game, including the best player in the world, Neymar, who he could handle relatively speaking in the Champions League semi-final a few days ago. He has become not only essential to Manchester City arguably. They're both valuable play. Without the defensive abilities and display of Ruben Dias, Manchester City probably doesn't win that game, and Neymar scores a couple. It wasn't like Neymar had a horrible game it wasn't his best showing, but he came very close to scoring on a numerous about the reason he struggled to find it at the back of the net wasn't because of Ruben Dias Without Ruben Dias, Manchester City does not make their first Champions League final. That's the reality of the situation, and against Chelsea, they will be the favorite on the back of his influence in this team. Dias climbs the ladder in World football. As it stands, he went from a very young talented Prospect to the second-best defender in the world. Nonetheless, that's a huge jump. Matthias Deligt is the best defender in the world, and I've been very consistent with that. I think his level is far superior to most; however, he's playing with Juventus in a team that has not done very well this season; however, that doesn't eliminate good quality is just not gratifying because of the quality of his team. Ruben Dias is right behind him, and that is a tall task. He has been arguably the best center back in the world football this season, and it has shown how he has handled some of the big players he's gone up against. Manchester City is in the first Champions League final; a big reason why is Ruben Dias. 60 million may sound like a lot, but he has been worth every penny, and now he's probably worth twice what Manchester City paid for. Pep Guardiola has signed center-backs practically every season; it seems he's finally hit the lottery with Ruben Dias. His performance against PSG in the Champions League in both games was spectacular, really proving his true importance. It's unclear who will win the champions league, but Ruben Dias is the key to success for Manchester City; it is the first time I've recognized him as one of my players of the week, but in all honesty, he has been as consistent as any player this season. His premier league performances and his Champions League this place are a big reason he's in the Champions League final. He is incredibly mature for his age it is not necessarily required, but it makes him even more valuable just feels like the future captain of City.
Ngolo Kante vs Real Madrid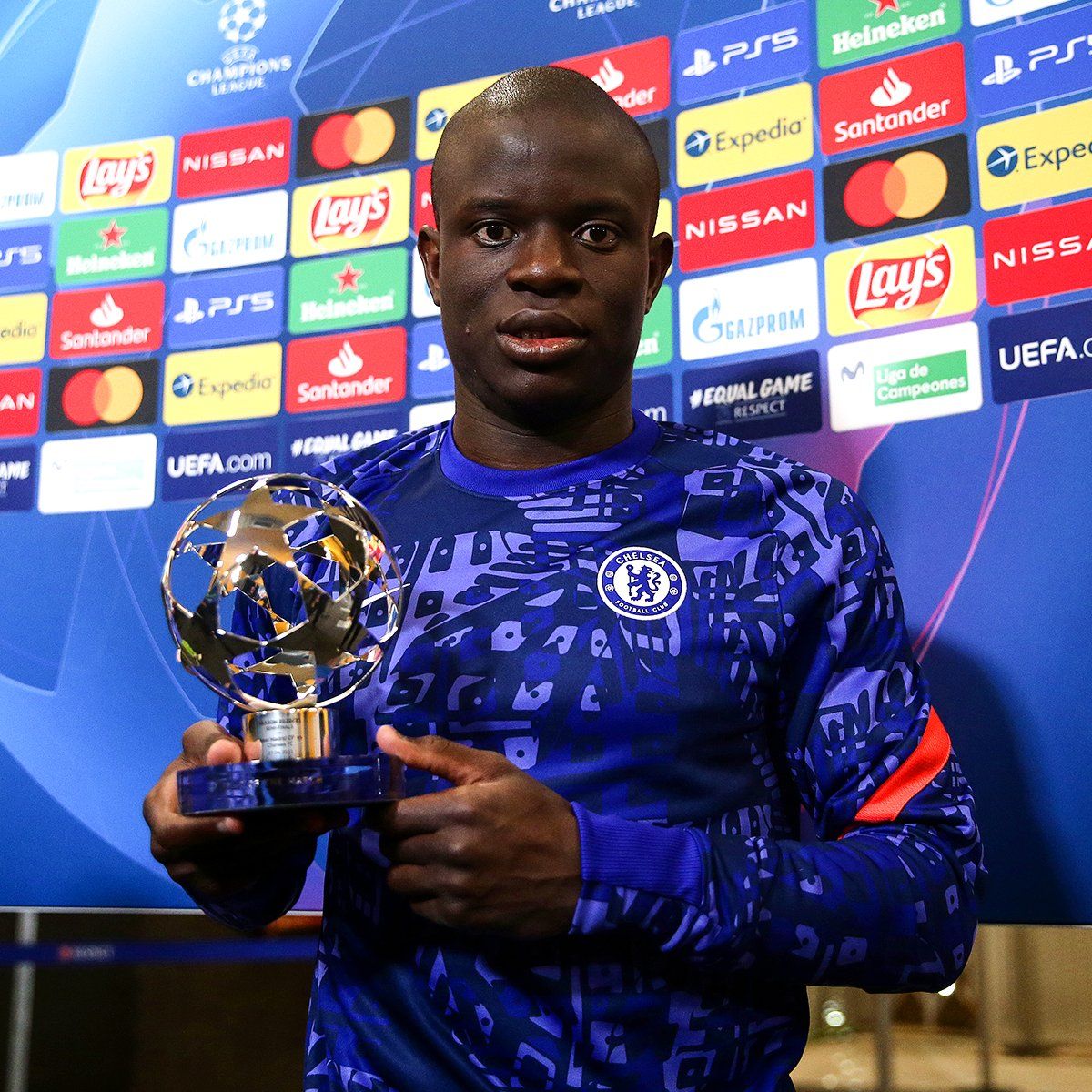 Ngolo Kante has been and continues to be one of the most underrated and underappreciated players in World football. As a defensive midfielder, you really can't get much better. Not only does he have incredible quality but a winning attitude that has been largely influential in Chelsea having success this season and in previous years. Ngolo Kante has won the Premier League twice, the Europa League, the World Cup, the FA Cup, and many other honors. The one thing that has always preceded him is the Champions League, and now he has an opportunity a bag that one as well. Real Madrid going into the two semi-final matchups against Chelsea were slight favorites for a good reason. Real Madrid has a winning pedigree. Regardless of how the team looks, they have winning intangibles and showing it throughout this Champions League campaign; however, Chelsea in the two games against Real Madrid was magnificent. Everyone's going to talk about Mason Mont and Christian pulisic; they have been fantastic in both games, but in all fairness, Ngolo Kante is the reason they're in the Champions League final. He was the man of the match of both semi-final games. Ngolo Kante is a warrior; he goes everything; he has for 90 minutes, he has a high motor, and he never gives up on any play. In Chelsea's 2-0 victory over Real Madrid to clinch their place in the Champions League final Ngolo Kante was responsible for the buildup in both goals. That's not what makes him unique though the French midfielder isn't someone who will fill out the box score for stats he barely scores; he scores a season if he's lucky. That's not what makes him unique as all the other things he does. The gritty and ugly part of the game. Defensive midfielders are not necessarily meant to score and Supply a lot of goals. Joshua kimmich, for the most part, is the exception. Ngolo Kante is very defensive-oriented. When it comes to interceptions and tackles and stopping the attack in its tracks, Ngolo Kante's specialty. Great tackles controls with his dribbling while also Distributing. His distribution typically doesn't lead to goals; he is not Distributing the ball to push the team forward in the attack, so I wouldn't even consider him a box Box midfielder; he is very defensive in every nature of the word. He worked extremely hard and is the glue to this Chelsea team. You have to understand football to appreciate all the things that he does. Against Real Madrid, he was phenomenal as he continues to show on the Champions League stage what he provides for this team. The Chelsea players that score goals are exceptional; we understand this, but it indeed the case that a guy likes Ngolo Kante that can stop counter-attacks Woody's and dictate the game in Chelsea's control; that's the difference between making a Champions final and not the French midfielder has no ego whatsoever he just loves to play, and it shows in the game. His impact goes deeper than goals and assists; it's about dictation control and toughness; he's brilliant and knows how do you manipulate the opposition and steal possession; the defensive capabilities are something unlike any other it was an incredibly special performance against Real Madrid. He was the pulse of Chelsea, and a big reason why they made it to the Champions League final Chelsea will have a chance just by being underdogs; it's unclear whether or not they will win the Champions League are not but if they do, Ngolo Kante will be the reason why.
David De Gea vs Roma
David de Gea denied Roma the possibility of overturning a 6–2 deficit. Roma outplayed Manchester United for the duration of the 90 minutes played at the Stadio Olimpico on Thursday night. They were significantly the better team and made Manchester United uncomfortable on a somewhat regular basis. Even though man united had mutually qualified through their big victory in the first leg, Roma came after them, applied aggressiveness, and made things incredibly uncomfortable. They quite honestly, it was one of Roma's best performances of the season. Even though it was going to be incredibly difficult, Roma had enough chances in this game to do the impossible; even if they converted a few more, it probably would be unlikely but not out of the question based on the way they played. David de Gea pulled off a vintage performance. For an area of time, David de Gea was the best goalkeeper in the world; he has won everything there is to win at Manchester United; he was the driving force behind a lot of the trophies that the club ended up winning. It is likely to be his last year Manchester United as the higher-ups around the club seem to prefer Dean Henderson at this point. Nonetheless, even though he's not the goalkeeper he once was, he had a world-class performance that continually kept Roma at arm's length. David de Gea was hounded at the stadio olimpico. The Spanish goalkeeper faced 22 shots on goal 13 of the On Target. Roma probably could have scored another two, maybe three goals, had he not been absolutely ridiculous. As I said, Roma was the dominant force in this game and had so many opportunities to break through the reflexes of the Manchester United Legend got in the way Roma pulling off history. The double save that he made on edin Dzeko and Pedro Rodriguez was something special. He kept Roma frustrated all evening, and even though he did concede three goals and Roma did lose the game, his goalkeeping display prevented Rama from potentially overturning it. Roma had enough chances to get the goals necessary to get themselves into the final they were determined as Manchester United were second-best all evening it was the individual brilliance that made the biggest difference David de Gea ironically is a transfer target for Jose Mourinho at Roma next season, but after that performance, I think Manchester United should re-evaluate their stance on the long time goalkeeper. Roma nearly saved the Titanic, but the unreal performance from the goalkeeper is the core reason why Manchester United is in the final.