Score: A.S Roma 3 Man United 2FT (Man United win 8-5 on AGG)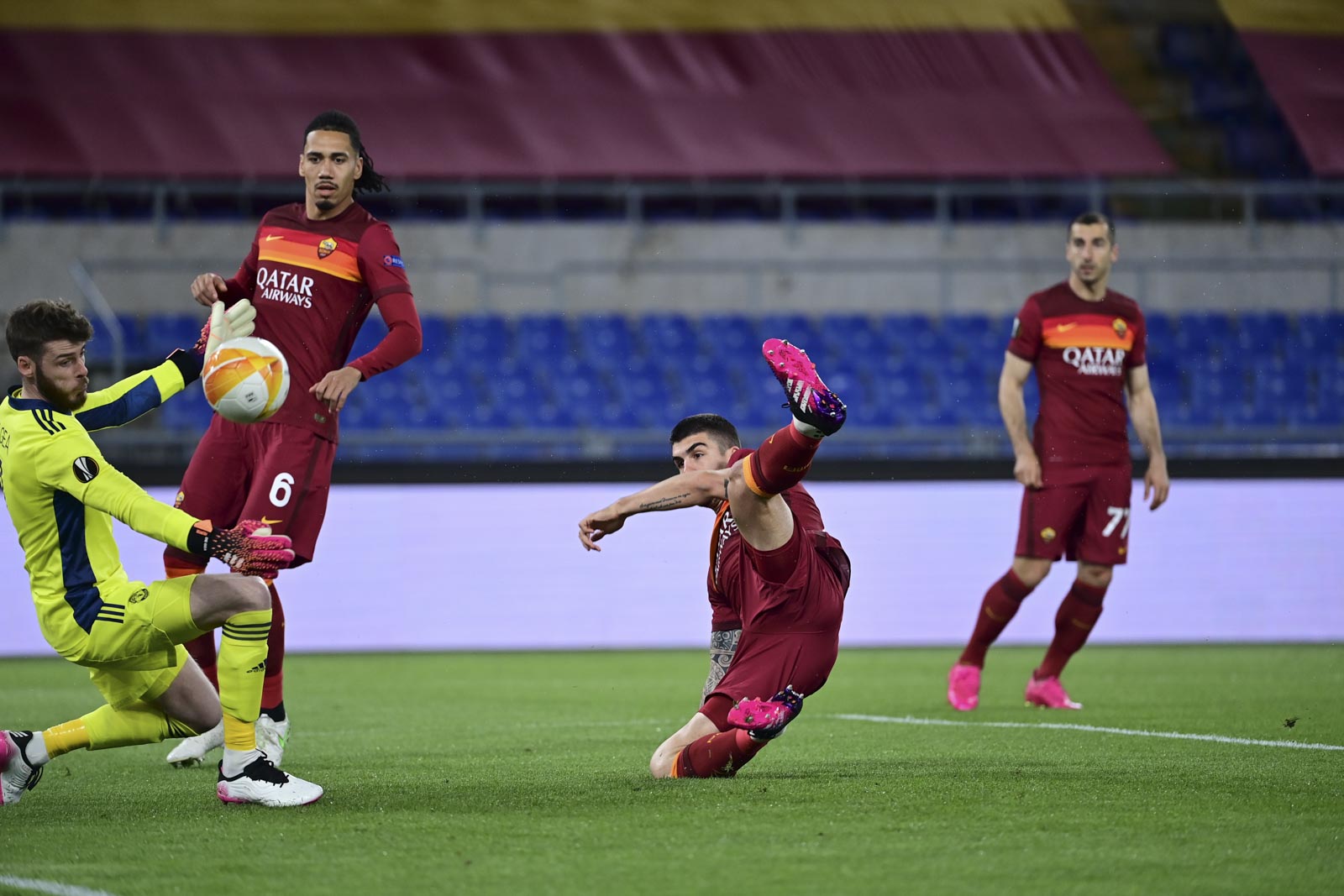 Roma attempted to try and save the Titanic with a bucket of water. That is what they were up against tonight after being picked apart by Manchester United 6-2 at Old Trafford; their abysmal performance at Sampdoria didn't help things either as they have failed to find any sense in good form, especially on a night like this. It was going to take something of a miracle to turn this around. Roma's mentality was if they go down swinging fighting for everything nd that's exactly right. Roma was significantly the better team and showed it very early in the game with a very aggressive approach as they tried to take down Manchester United against the odds. It was an assault on the Manchester United goal that had David de Gea put together an incredible goalkeeping display. Despite Roma's exceptional performance in the first half, Edinson Cavani struck, giving Manchester United the 1-0 lead he has haunted Roma his entire career, and that's another example of that. Despite having the lead, Roma was outplaying Manchester United. Roma fought back in the second half scouring through edin Dzeko and Bryan cristante just minutes apart as they very quickly took a 2-1 lead. It was clear Roma was not going to lie down and let Manchester United take advantage of them. Roma continues to battle and chip away at potentially pulling off history even though it was doubtful. Edinson Cavani came up again with another punishing blow to Roma. However, polish Striker Zalewski, on his debut help Roma retake the lead with not much time remaining. Roma holds on, playing a brilliant display against Manchester United winning the game 3-2. However, Manchester United make the Europa League final winning 8-5 on aggregate despite Roma's elimination; it has been a very encouraging and fascinating Europa League campaign; they came into the game with no hope but didn't go down without a fight as they battled until the final whistle .
Roma comes out with a new formation change yet again, this time operating out of the 4-1-4-1 formation. In gold would be back up Antonio Mirante. The back four would consist of at left-back Bruno Peres; beside him would be the center-back partnership of Chris Smalling and Rodger Ibanez the right-back would be Rick karsdorp. The lone defensive midfielder would be Gianluca Mancini pushing into a position he has played occasionally. In Central Midfield, we would see Lorenzo Pellegrini alongside Bryan cristante. Henrikh Mkhitaryan on the left-wing and then Pedro Rodriguez on the right-wing. Up top as Roma Central Striker Roma's European top scorer of all-time Edin Dzeko, who perhaps is playing in his last European game for Roma.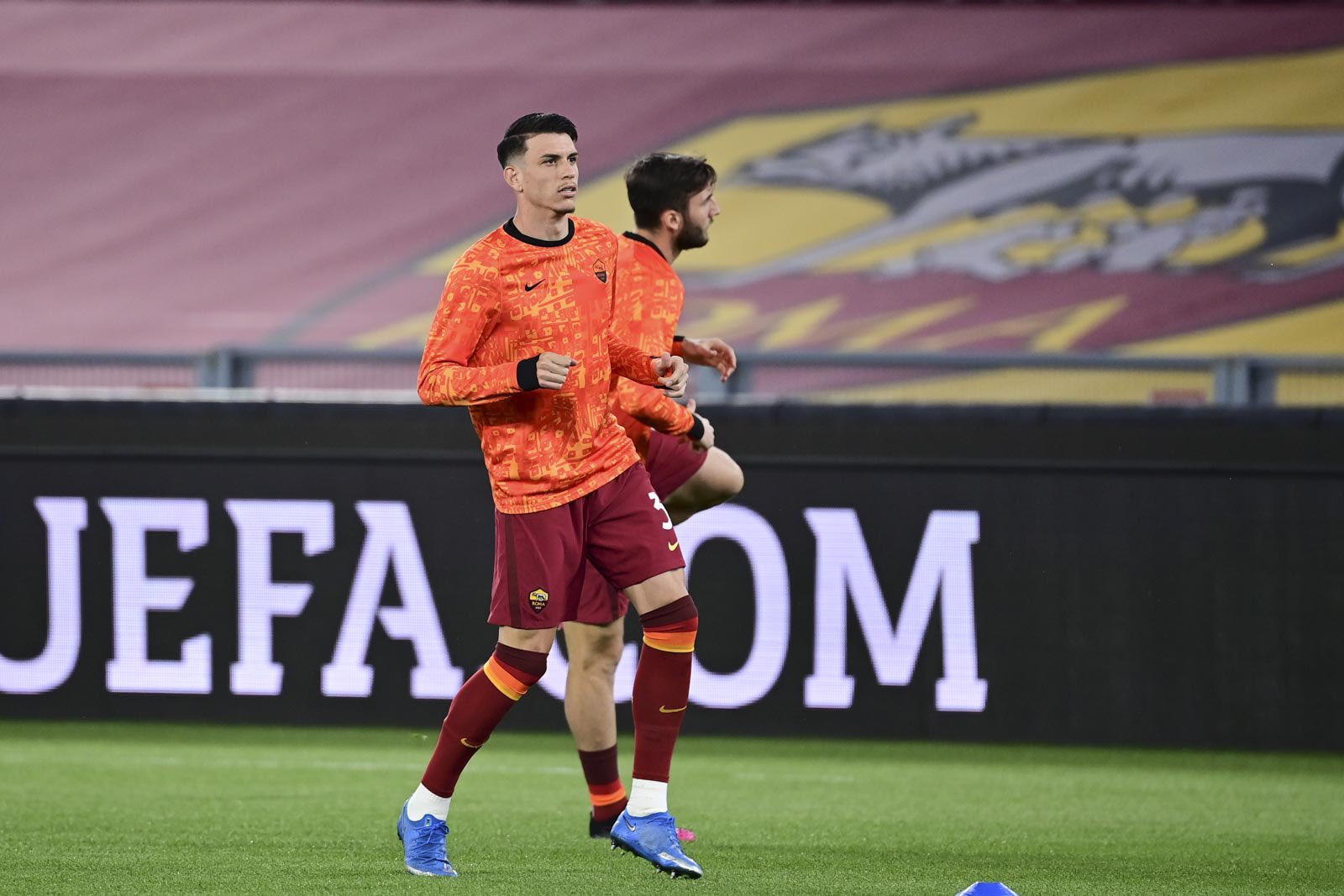 After preparations and predictions, we got underway at the Stadio Olimpico as Roma look to try to do the impossible. Roma would need to score four goals and not concede for them to qualify for the final. It was going to be close to impossible to pull it off, but that doesn't mean Roma could not put together a good showing. Roma came out very ambitious and went after man united very early; they outplayed the Premier League side for much of this match. Even though it was basically over, Roma would fight man united on everything. Minutes into the game, Roma had four chances off the bat. Gianluca Mancini being his header saved, Bryan Cristante being denied with his attempted strike the side of the box all within seconds of one another. Then three minutes later, Lorenzo Pellegrini came really close with a strike for outside the box hitting the post. Man United was in this game, but Roma controlled did have the higher-quality chances through much of the game's not even just the first time. They came out aggressive and went after it; even though the chances of turning it around will be slim, the Italians continue to pressurize Manchester United. Unfortunately, at the half-hour, Mark Chris Smalling got it an injury, and in came in Darbo Roma's youngster that just made his debut for the club just a couple of days prior. Roma finishes the half draw with Lorenzo Pellegrini being denied from the side of the box, and Gianluca Mancini sees another header dealt with by the Manchester United keeper. However, in the 39th minute, Edinson Cavani truck from outside the box, giving Manchester United a 1-0 lead. Henrik Mkhitaryan provided a late chance for Roma with not many minutes left in the first half. The Keeper saved his strike at the first half came to a close. Roma was the better team, but Edinson Cavani punishes Roma again.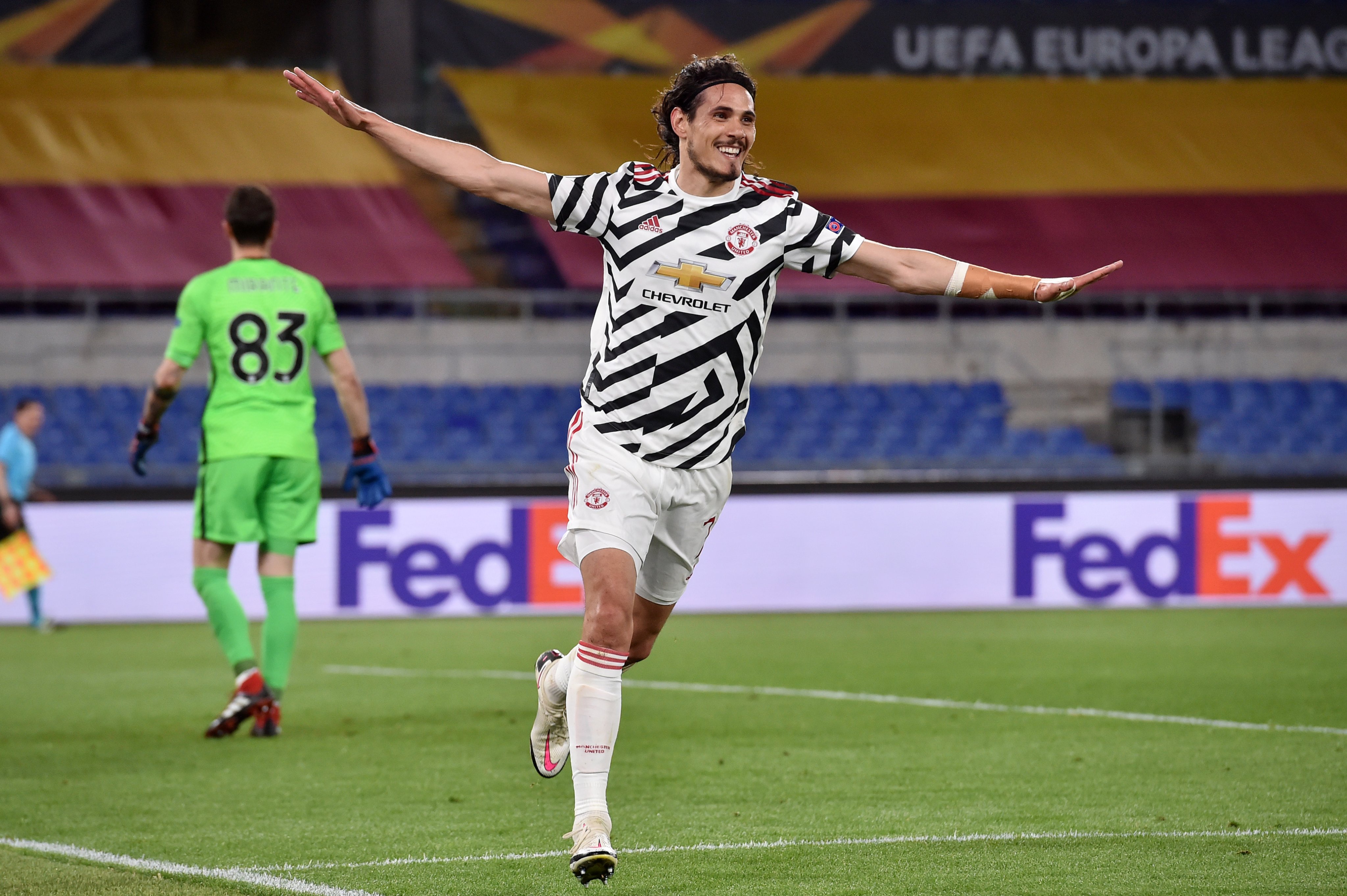 Edinson Cavani torments Roma again as Man United take first half lead
It was a very encouraging first half from Roma; even though they did concede Roma had many good chances to take the lead, this was a little bit unlucky and unfortunately had to deal with yet another injury. Roma went into the second half determined they would not allow Manchester United to wipe the floor them the way they did in the first leg. Bryan cristante minutes into the second half ripped off a strike from Deep; even though it was dealt with, you could tell that a goal was coming. It would eventually arrive in the 59th minute, and edin Dzeko header beat David de Gea as Roma got a goal back. The chances of them qualifying still would take a miracle, but Roma proved in the early part of the second half that they would fight until the final whistle. Three minutes late in the 60th minute, Roma got themselves another goal. Bryan cristante strike from close range, beating the Keeper as Roma took a 2-1 lead in the game. They still would need three goals to pull off a miracle, but they decided to continue to Chip Away. A minute later, edin Dzeko came close yet again before Pedro and Mkhitaryan saw their shot saved. Bruno gave man united a rare chance but could not find the finishing touch. However, in the 68th minute, Edinson Cavani got his brace. As he watched his header find the back of the net. Shortly afterward, Bruno Peres picked up an injury as it Santon came in. Roma continues to fight even though they knew they weren't going to be in the final henrikh Mkhitaryan strike hit off the post, a genuinely unlucky situation from Roma who, despite playing as well as they did there was some misfortune. Mayoral and Zalewski entered the game Off the Bench. Roma's polish youngster gave Roma the winner in the 83rd minute when he scored on his Roma debut. Even though it was meaningless, not once did Roma hold a spot back until the very end Manchester United go through and make the Europa League final. Still, Roma should be proud of the way they performed; they outplayed Manchester United were the better team on the night, and even though they don't go through, they can believe in High Spirits as they gave everything it was going to take a miracle. Roma played and gave everything, even if it wasn't enough to get to the final.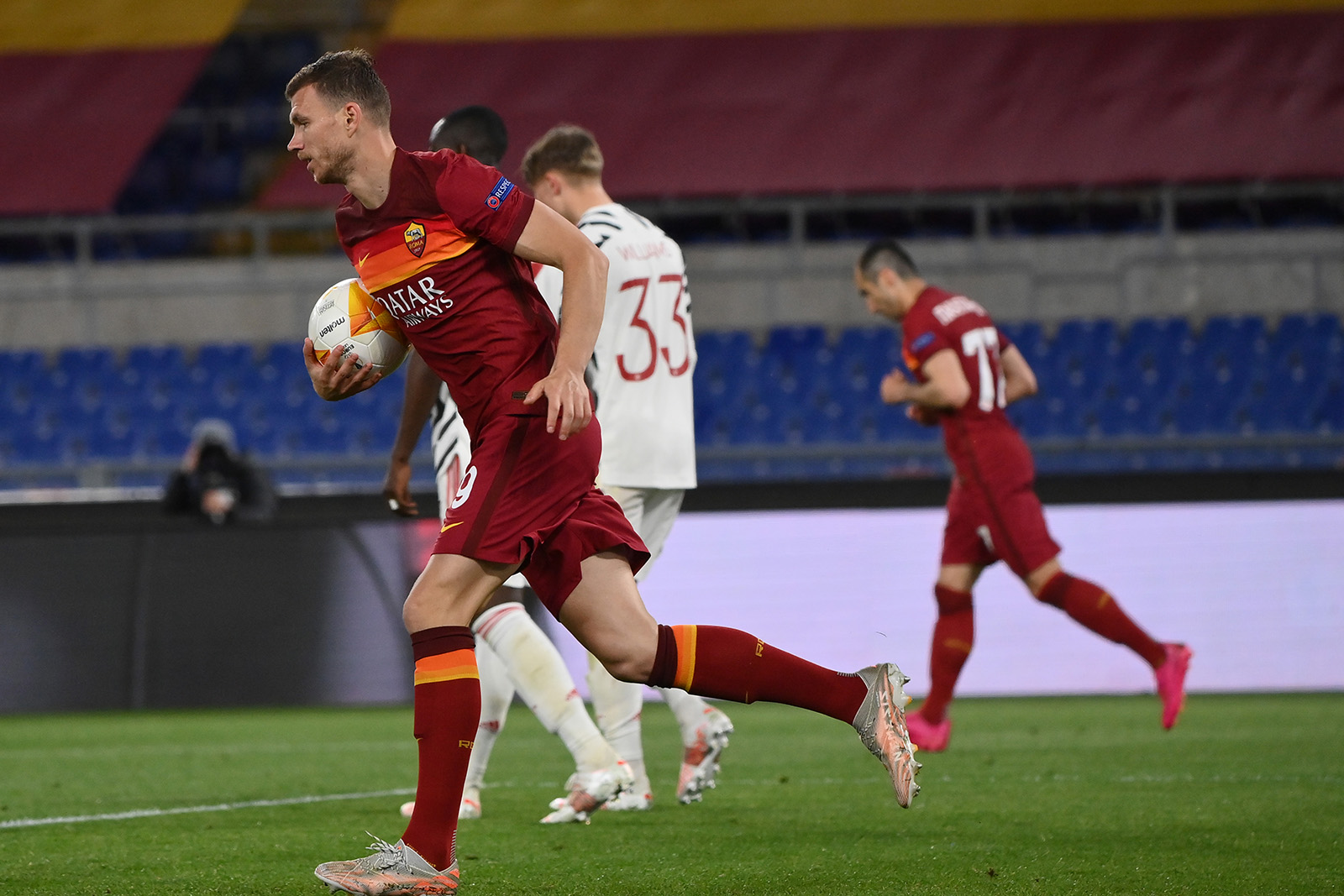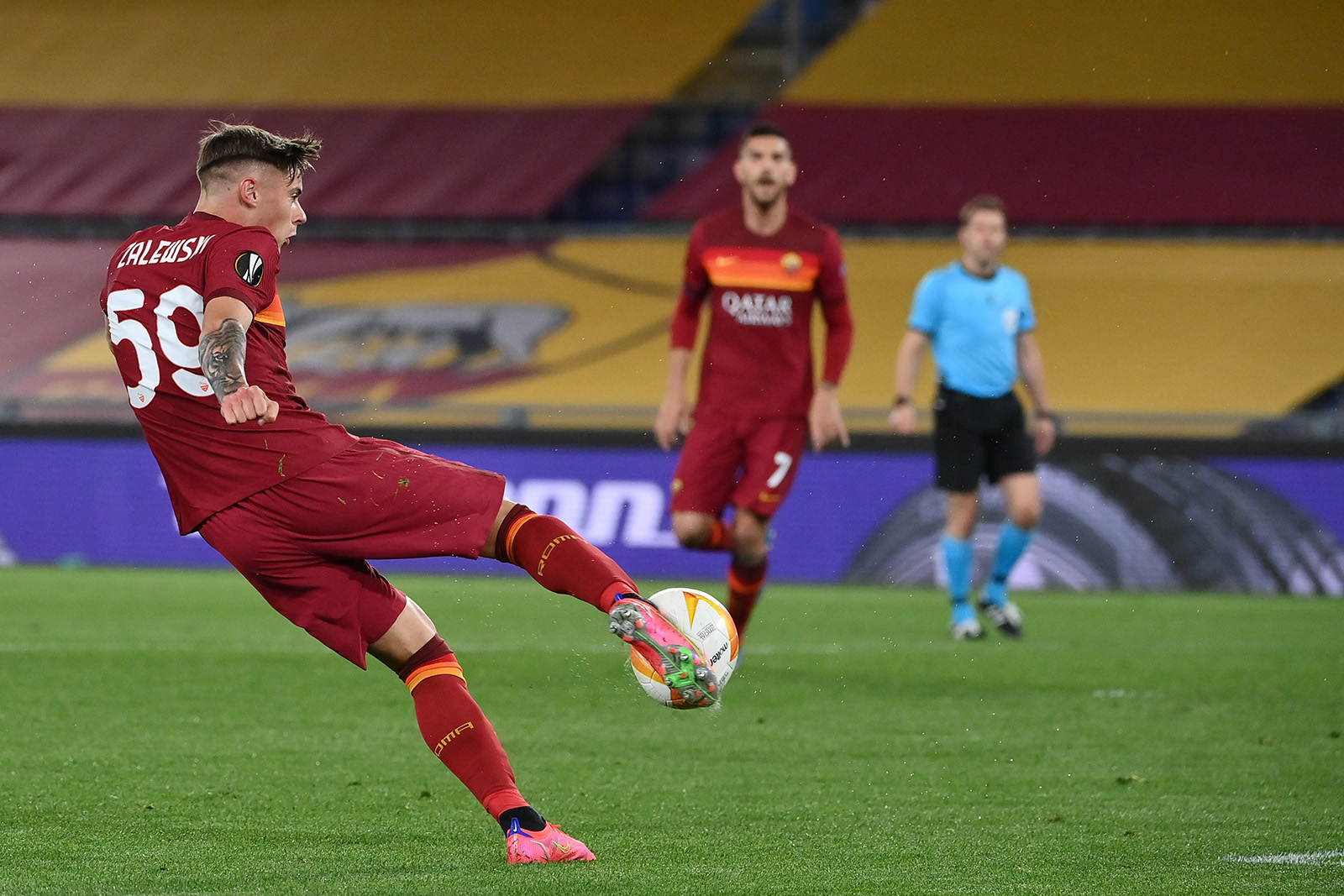 Roma fight back as Dzeko, Cristante and Zalewski all score as Roma win but don't escape elimination 
The possibility of Roma coming back was going to take a miracle in the first leg despite a valiant effort in the first half from Roma; they were dogged in the second half being throttled with five goals. Roma suffered three injuries in the first half-hour of the first life, mainly contributing to the entire complexion of the semi-final. Roma was well aware he was going to take nothing short of a miracle to pull this off. The damage essentially had already been done, but that didn't stop Roma from putting together one of their best performances of the Europa League. Even though they knew deep down, they had little chance to make history Roma fought to the death giving Manchester United 90 minutes of hell. Under other circumstances, these two matchups probably would have been a lot closer than they turned out to be. However, despite Roma not being able to pull this off and Manchester United making the Europa League final, Roma outplays Manchester United for 90 minutes at the Stadio Olimpico, putting together an incredible performance they attacked with so much aggressiveness they were never going to go down without a fight they gave everything they possibly could have and perhaps they could have even closed the gap by more if it wasn't for the incredible goalkeeping performance from David de Gea certainly looked like he turned back the clock putting together an unbelievable goalkeeping performance. The way they pushed it forward and got into attacking position so often was impressive they still gave everything they had after the 90 minutes tonight there was nothing left for Roma to do the tank had been emptied as they fought and battled Manchester United even though history was unlikely they still thought through every minute as if there was the slightest possibility Roma leave this game with their head held high and High Spirits even though they didn't make the final they fought until the whistle blew under other circumstances they could have made the final. Their European Journey comes to an end at the hands of Manchester United Roma put up that fight minimizing the deficit avoiding any sense of humiliation. Paulo Fonseca deserves a lot of credit for what he was able to accomplish with this Roma team in the Europa League; the league struggles are undeniable which he took Roma to their first semi-final in a long time. As the Paulo Fonseca era ends InStyle beating Manchester United at the stadio olimpico. Some changes will be made in the coming months as Jose Mourinho takes over at Roma; the Portuguese manager certainly was watching this match closely as the Roma side did it sell Justice and put together a spirited performance against a Manchester United Team but probably could have blown their doors off a good performance Roma as at least minimize the mountain that had to climb. Roma was fantastic and ended up winning the game; even if it wasn't enough to make the final they can leave with a sense of pride of how they performed not only tonight but in the Europa League as a whole.