Score: A.S Roma 5 Crotone 0FT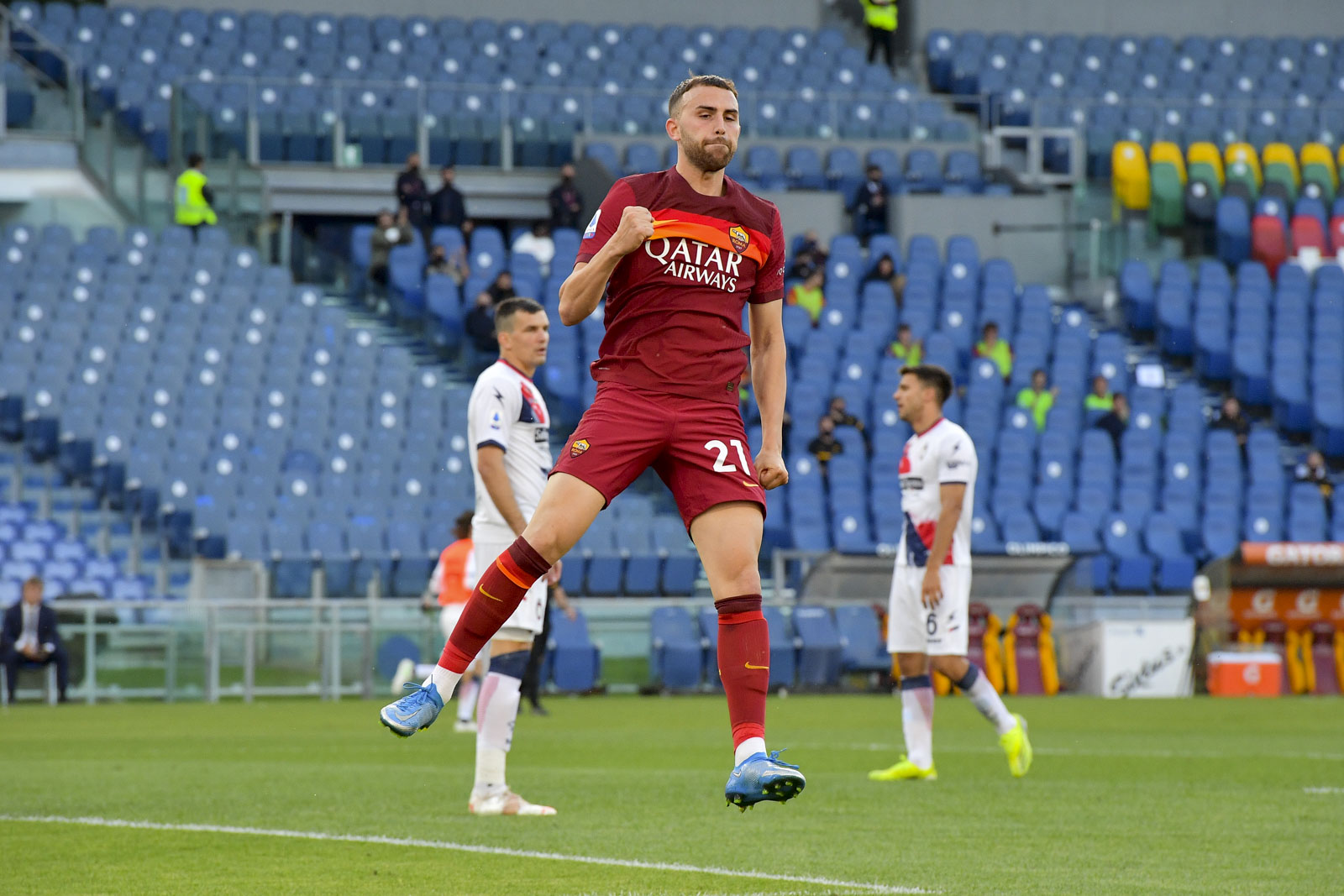 Roma was coming to this game, coming off a victory against Manchester United in the Europa League despite elimination and a loss to Sampdoria on Sunday. Roma is winless in their last five League games and needs to find some common ground so they can feel a sense of confidence once again. They would be playing the bottom of the table Crotone, who has already been relegated this season. In the first meeting, Roma took a 3-1 Victory against them, and this was a perfect team for Roma to play to get back in form, at least to a certain extent. The hope was to end the skid and, at the very least, finish the season strong that's precisely what they did. A one-sided first half Roma hit the post twice for unable to score any goals. In the second half, Roma just exploded. Bojar mayoral get things started with a goal just a minute into the second half. Then Roma scores three goals in seven minutes from Lorenzo Pellegrini twice, then Mkhitaryan adding another. In the dying parts of the game, the last attack, bojar mayoral gets on the break in dangerous space and gets himself a second goal. Three different players had at least two-goal contributions in this game as Roma dominant Crotone getting that sense of confidence back within the team; the result itself doesn't mean anything necessarily will they pick up three points and continue the reign of terror they have upheld against newly-promoted teams as Roma batter them with a 5-0 victory.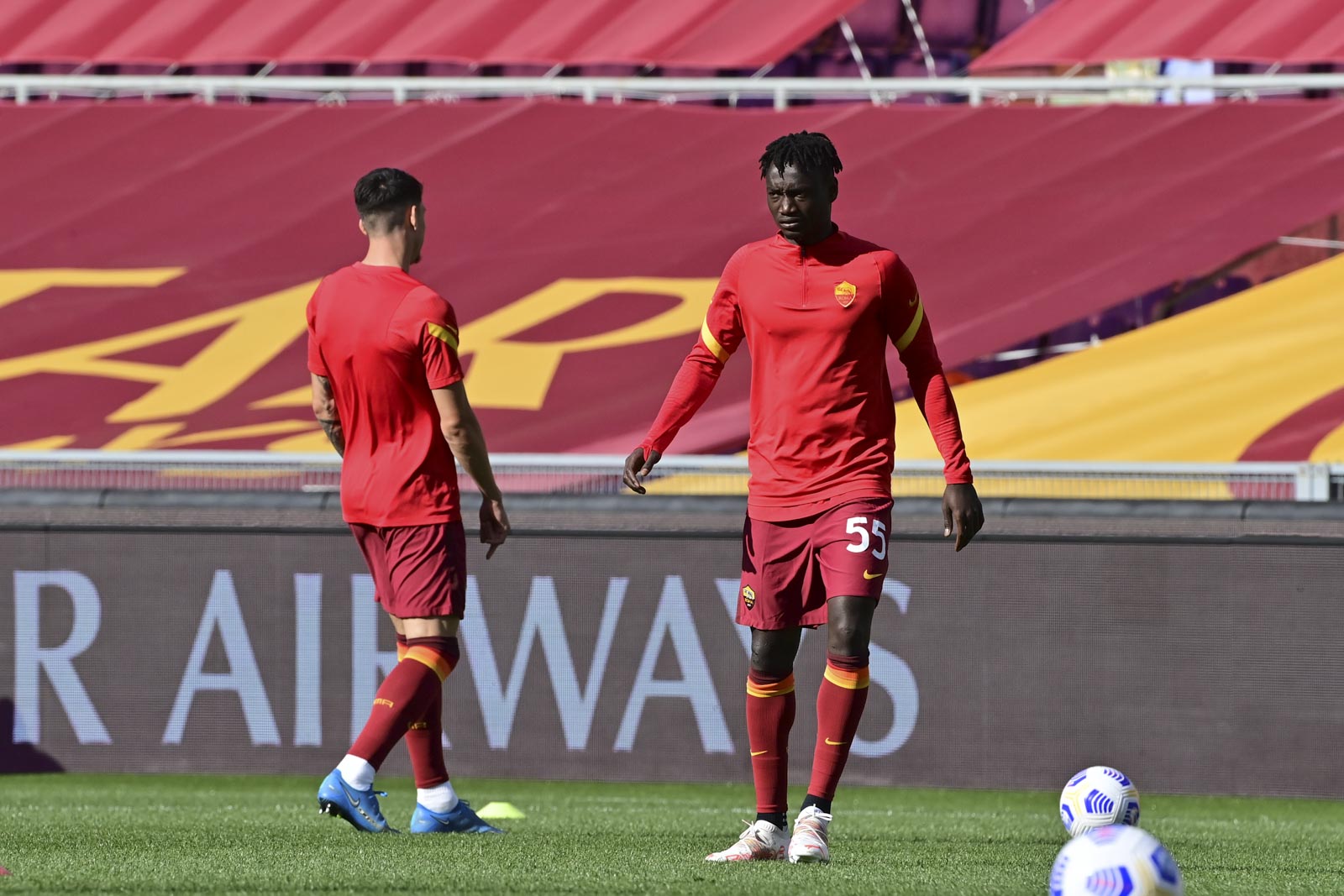 Roma operated out of the 4-2-3-1 formation. In goal yet again was a Daniel fuzato. Moving to left-back for this game would be Rick karsdorp; beside him would be the center-back partnership of Rodger Ibanez and Max kumbulla patrolling the opposite side as the right-back would be American Teenager Brian Reynolds getting his second start of the season. In the defensive Midfield, Bryan cristante alongside Ebrima Darboe, who made his League debut last week, is getting his first start in this game. In the Centre of Midfield would be Roma, Captain Lorenzo Pellegrini on the left-wing would be henrikh Mkhitaryan, then on the right-wing would be Pedro Rodriguez. Upfront as Roma's Central Striker would be bojar mayoral.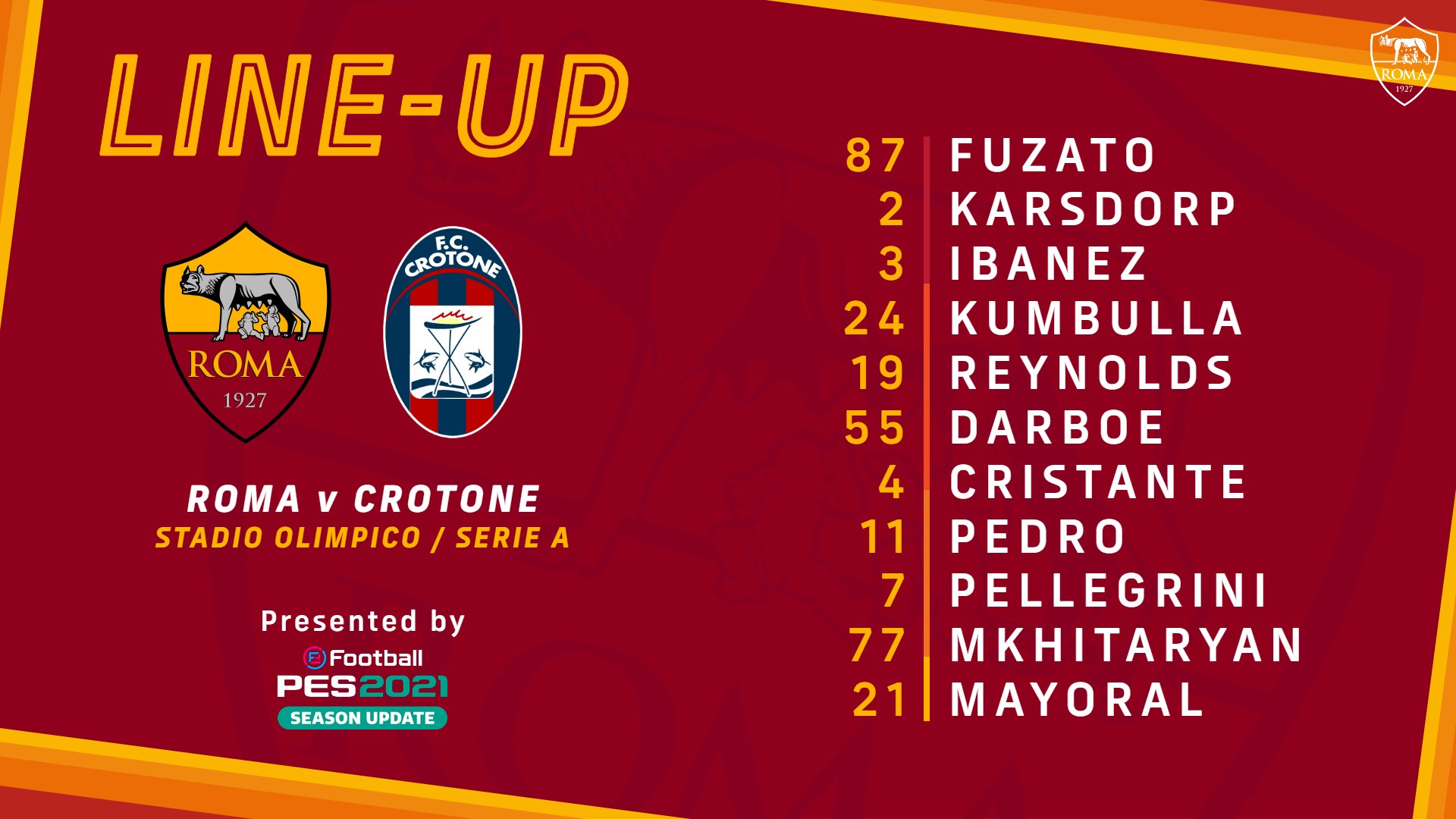 After preparations and predictions, the master underway at the Stadio Olimpico in Rome as Roma looked to end their skid in league play against the bottom of the table. It seems like Roma really needed a match like this to help them gain their confidence back. They came out aggressive continued to push the envelope early in his game. Roma dominated from practically the start. Lorenzo Pellegrini attempted to draw blood first with a strike from outside the box having the distance, but the goalkeeper made the save. Just a few minutes later, Roma nearly broke through when henrikh Mkhitaryan hit the post after striking from inside the box. 4 minutes later, it happened again when Lorenzo Pellegrini connected with bojar mayoral on a well-hit cross from the wing mayoral put his head through it. Still, his header claimed off the post as Roma hit the post twice in 5 minutes, really showing their intensity and their conviction in this match while also being unlucky, having not scored on either opportunity. Seconds later, Ibanez saw his goal attempt miss; it seemed like a Relentless attack from Roma as they got forward and were able to make a considerable dent in the game. They hadn't quite hit the back of the net, but it seemed like it was going to be a matter of time before that occurred. Lorenzo Pellegrini set up his team to get into those positions constantly; while also seem to really be driving in that position, the Roma's Captain attempted a deep strike from outside the box that was close did not have enough placement to keep the ball down. 10 minutes later, it would be almost The Identical sequence. With just a couple of minutes left in the first half, henrikh Mkhitaryan was denied from the side of the box, and then on the stroke of half-time, Darbo hit the ball out of the air, really coming extremely close for that first goal, but his strike went slightly over.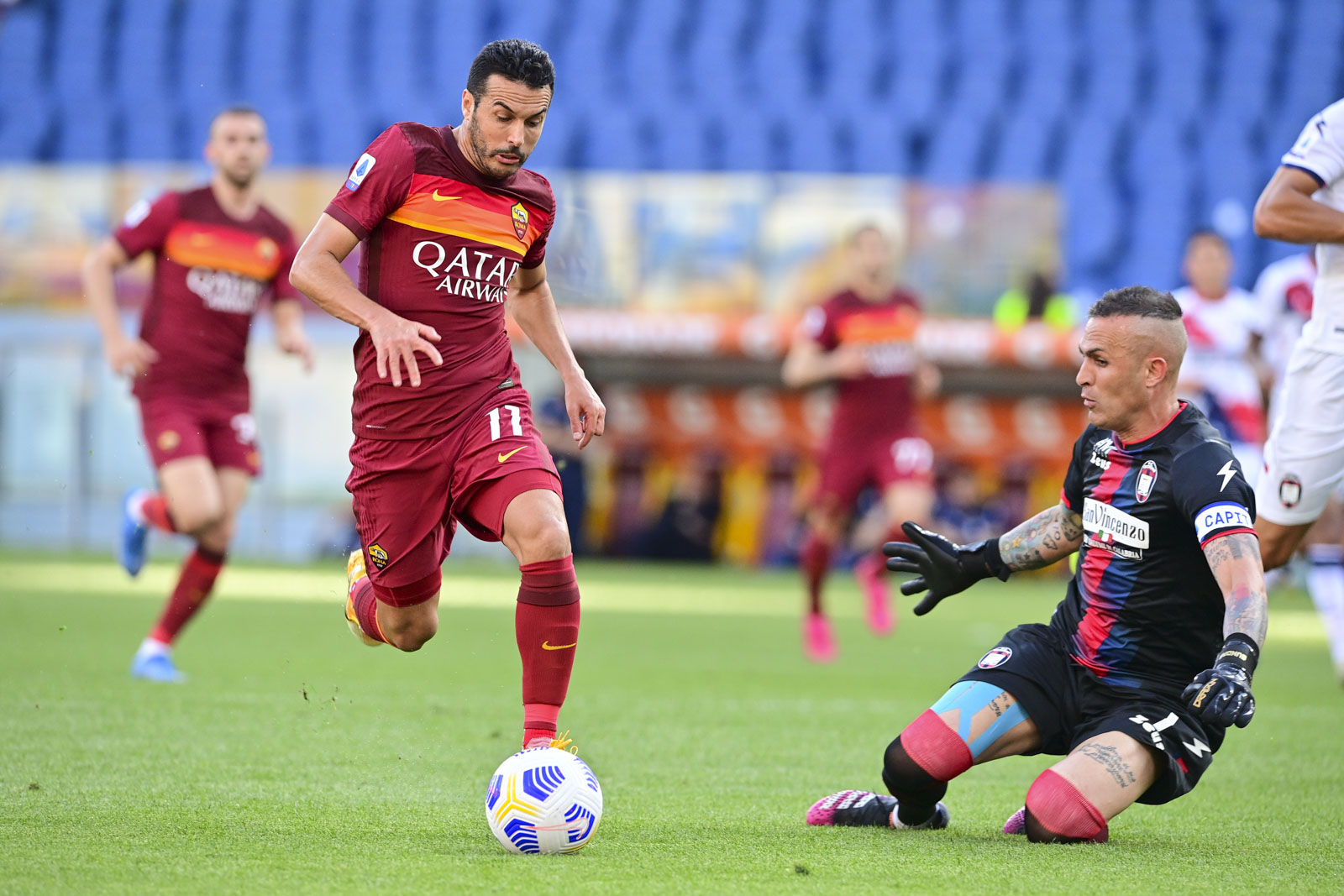 Pedro looks for space in a goalless first half in Rome
It was an extremely one-sided first half with Roma having a bulk of the chances. Crotone didn't really have a response. In all honesty, it was dumb luck that they had not conceded yet. It was going to happen, and it did happen very early in the second half. In the 47th minute, Rick karsdorp hit a bomb from his own box into space where he found henrikh Mkhitaryan Roma pushed forward, bringing mayoral, who is making a run into the box. The Armenian supplied a short pass as mayoral struck his laces threw the ball into the bottom corner to give Roma a 1-0 lead that would be his 16th goal and all competition at the has having a career season with the Romans as we can just keep our fingers crossed that he returns next season which seems highly likely. Immediately after the goal, Crotone started threatening a little bit. The next 7 minutes, The visitors created Five chances as Roma was under pressure temporarily. A mess from the side of the box about a minute after the goal, Junior Matthias coming close on a header that was wide another by Simy minutes later was denied shortly after that. It was truly the only part of the game in which they felt they had an opportunity to score, but it was still a goose eggs for Crotone. David Santon enters the game for Brian Reynolds afterward. The young American played a much better game than his last couple, showing some progression for the youngster brought in from FC Dallas. Roma continues to push until they broke Cortana down to the point of no return. In the 70th minute, Lorenzo Pellegrini received the ball into the box and then picked out the bottom corner as Roma took a 2-0 lead. Then in the 73rd minute, he scored again he was teed up by Hendrik Mkhitaryan this time from outside the box hit on the first time into the bottom corner to score yet another as Lorenzo Pellegrini help Roma take a 3-0 lead with two goals in Rapid succession it would be the 11th goal of the season a career-high for the Romas skipper. Then in the 78th minute, henrikh Mkhitaryan finished off a beautiful Counterattack set up by Rick karsdorp, who supplied him the ball in the air as Miki just needed to follow through into the back of the net to give the goalkeeper not a chance. It would be his 12th goal of the season as Roma took a 4-0 lead. Roma made a bunch of changes, and the closing 15 minutes or so with Zalewski making another appearance after scoring in the Europa League game on his debut on Thursday; in addition to that, Bove entered the game as another youngster made his debut for Roma. In the 90th minute, Roma added Zalewski set up mayoral as he got on the break into the box, finding the bottom corner to score his second. It would be his 17th Goal of the Season as Roma wraps it up, punishing Crotone with a 5-0 victory as Roma break their winless skid in with an emphatic victory.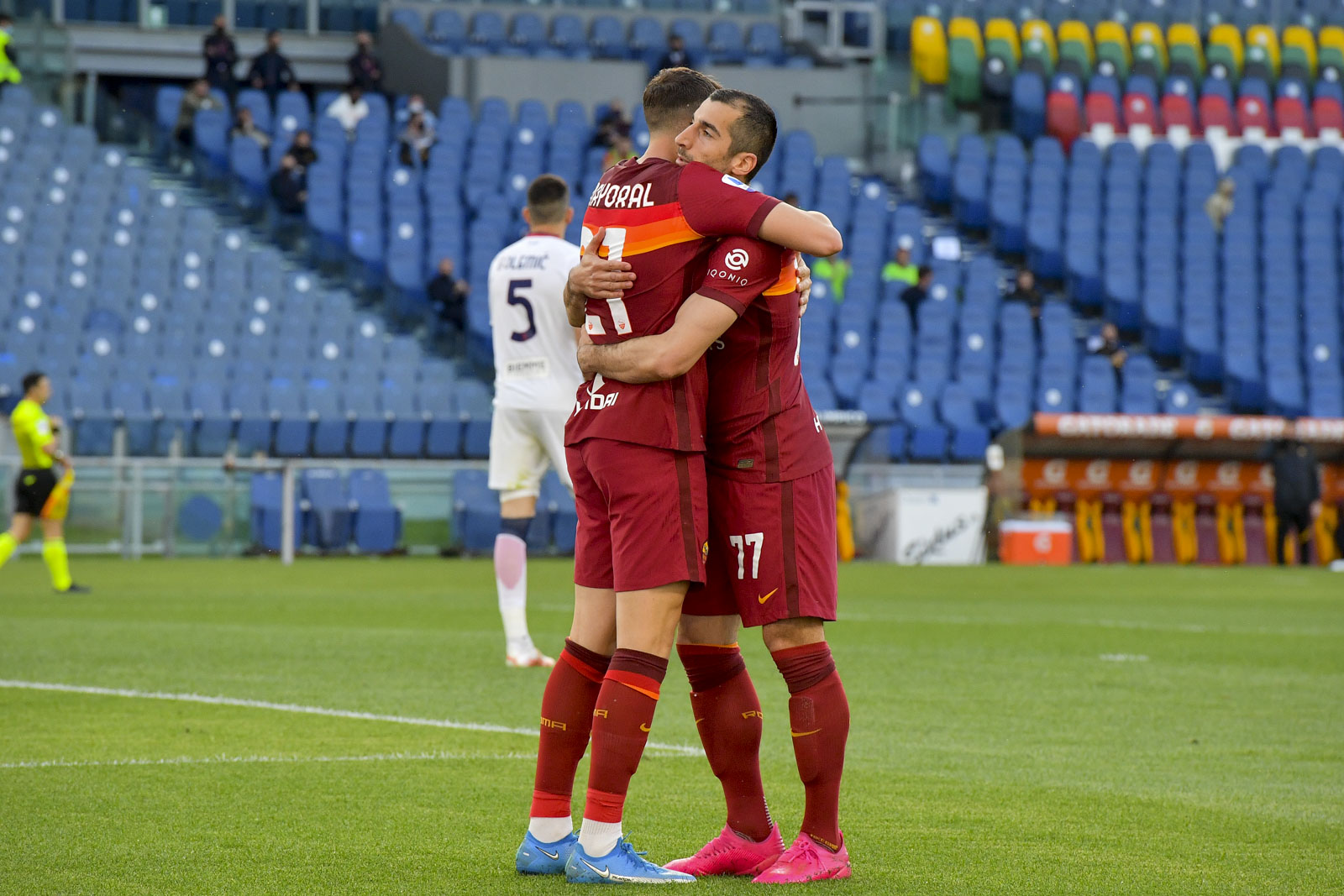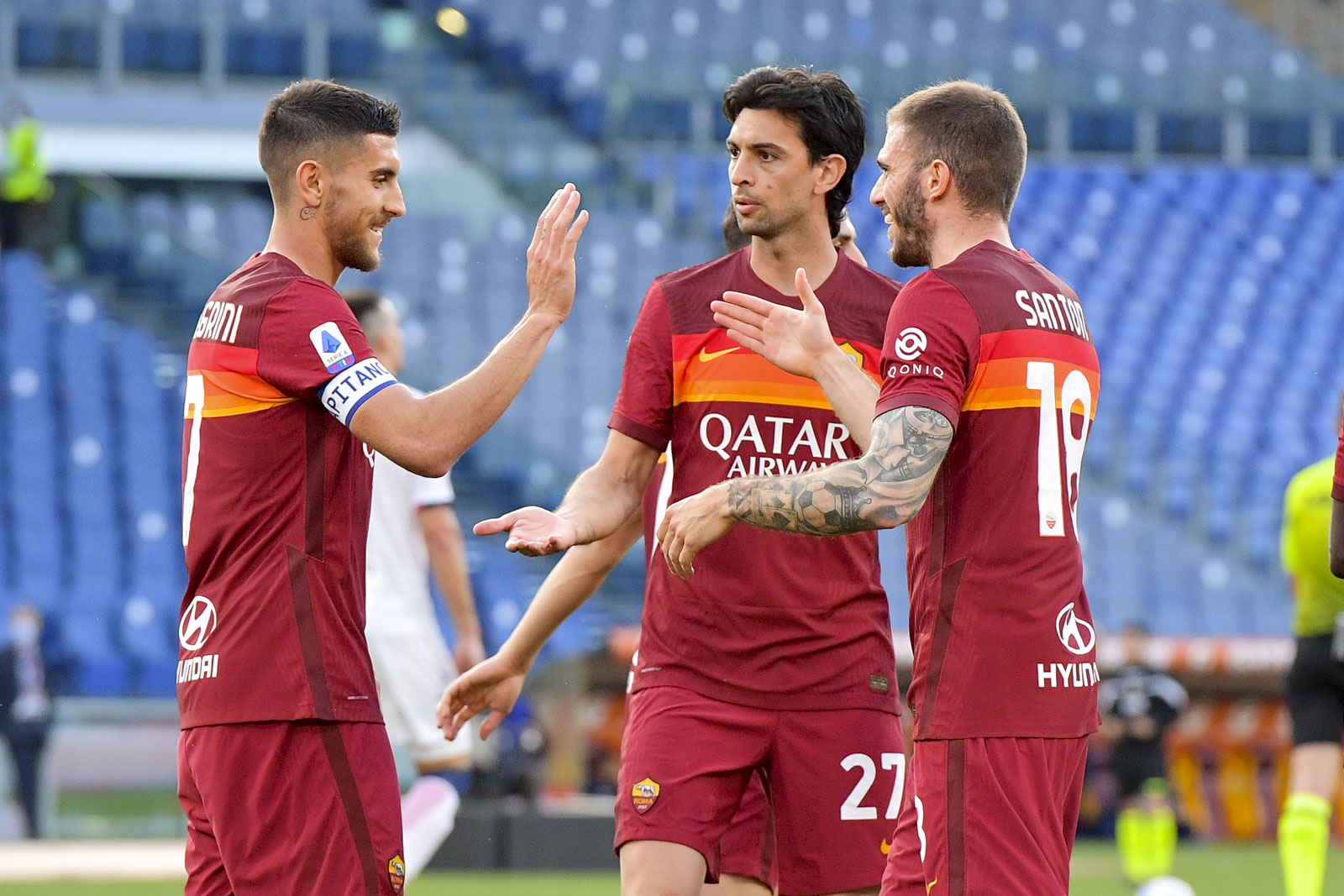 Roma unload in second half as Mayoral,Pellagrini and Miki all score in 5-goal second half.
Roma has been struggling so significantly even though this is against the bottom of the table, Roma needed something to be excited about. They clearly took the momentum from their victory on Thursday against Man United and applied it to this game. Roma made many different adjustments; we saw Darbo get his first start in the league and saw Brian Reynolds getting another run out for this Roma side. Roma was excellent all afternoon as they go absolutely crazy in the second half and what turned out to be one of Roma's best performances of the season. Mayoral open the scoring as he continues to have an outstanding campaign, and they only continue to take it to them. From the 70th minute to the 78th minute Lorenzo Pellegrini scored twice, Mkhitaryan scored another, and then mayoral scored in stoppage time; Roma unleashes to put five past the bottom of the table. I don't think it matters who they played; they just needed a sense of confidence, and I feel like, with this performance, they got exactly what they were looking for. It's good to see Roma come together and put together a very dominant display. Roma wants to finish the season strong and the end of their skid in the league. Three players had at least two-goal contributions. henrikh Mkhitaryan had a goal and two assists, Lorenzo Pellegrini had two goals in like 6 minutes, and mayoral got himself two goals as well; it very difficult to pick one of these, but I think Lorenzo Pellegrini impact in the passing game and in the attack seeing him thrive in a different position and doing it so well just proves even more so that he should be involved in Jose Mourinho is Roma he had 6 key passes to go with his two goals. He looks like that Dynamo in the Midfield that Roma needs right now. With Jose Mourinho going into the future, he could become something extraordinary special the Capitano stepped up for Roma today and will continue to do so as he has been consistent the majority of the season at least recently, So Lorenzo Pellegrini is my man of the match, but this could have gone to anybody a truly dominant display for a Roma team that needed it.
MAN OF THE MATCH: Lorenzo Pellegrini