Robert Lewandowski

vs Gladbach (5)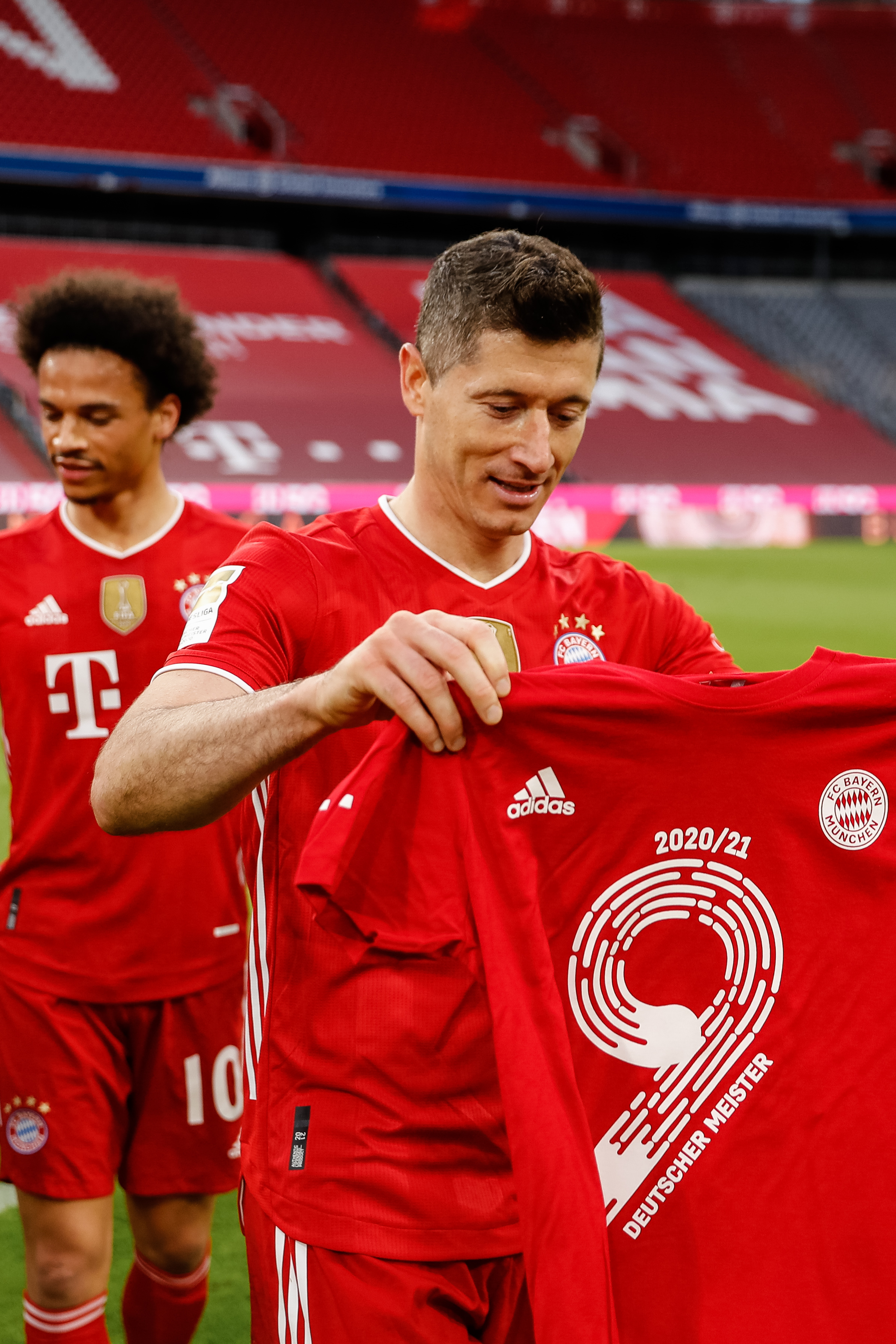 Robert Lewandowski is the best striker in the world; he seems to add a dimension to Bayern Munich that they do not have without them. Bayern Munich went out in the quarter-finals of the Champions League against PSG; a larger reason why would be the absence of Robert Lewandowski he plays such a significant value in this team that when they are without him, they are not the same. Obviously, with some adjustments in the summer, this won't be as vital going forward, but the injury to Robert Lewandowski derail the two things. The Ambitions to repeat has Champions League winners, which I still believe had he played and not gotten injured, they would be sitting in the final. The other thing that was speculated that Robert Lewandowski could miss out on is breaking Gerd Muller Bundesliga's record 40 goals in a season. Had he not been injured, the Polish Striker would have already break in it. The lack of time that Robert Lewandowski ad to eventually just thrown the German Legend was not going in his favor. However, after a goal against Union Berlin and a hat-trick against Gladbach, they are now closing in on history. Robert Lewandowski just needs one goal, two equivalent, and two goals to break it with two games left. As I've stated in the past, he is the best striker in the world, and it's not even close so much so that he is on pace to shatter the Bundesliga all-time scoring record. It will take a couple of Seasons, but there should be no reason why he can't break the record at this pace. Robert Lewandowski has separated himself significantly from any other striker globally at this point is not even remotely close. Erling Haaland, Harry Kane, Andre Silva, Karim Benzema, and others are all superb attackers, but none stack up to Robert Lewandowski. Robert Lewandowski is a complete Striker; he is a goal-scoring machine; we all know this, but he does more than just that. He has excellent Hold-Up play; his distribution is on an elite level brilliant, and a team player that does so many things tremendously well. he may not be a better distributor than Harry Kane, but if you look at the complete package and everything around striker Robert Lewandowski. Against the Gladbach, it was just another show. A hat trick makes it, so history beckons for the Polish Striker. In fact, he could have scored even more than three over the weekend. He had four-goal contributions in a dominating Bayern Munich victory. His first goal came on the opening chance; with only two minutes into the game, Robert Lewandowski punished Gladbach and antagonizing strike from inside into the bottom corner. It wasn't just a job he was doing scoring; he was facilitating opportunities for his teammates spreading it out, and even could have scored a few more a header at the near post, a deflection that went off a Defender and a few others before Robert Lewandowski Rose to the occasion again. This time, a deep strike coming off a beautiful Cross by a Kingsley Coman. Robert Lewandowski struck the ball out of the air into the back of the net, giving him his second of the game. Then right before halftime, he supplied a goal for Kingsley Coman; he had the ball in good space outside the box; he took his time and located the French Winger sending in a beautiful hold up before following through with a through pass that gave Kingsley Coman all the momentum to score his goal. In the second half, he finished his hat-trick with a penalty from the spot giving him 39 goals this season. A three-goal one assist showing from the world's best striker who only continues to chase history. Robert Lewandowski now has 49 goals and nine assists in all competitions as he has had yet another cartoonish season. He did Miss six games or injury; those numbers easily could have been significantly higher under other circumstances. It was a knockout punch as Bayern Munich where named Bundesliga champions for the 9th year in a row. It would be Robert Lewandowski 7th with Bayern Munich and 9th in total with the two he won in Dortmund with Jurgen Klopp. He only continues to chase down the pantheon of football greats at 32 years old there is no sign of slowing down. He has scored at least 40 goals in every season since the 2015-2016 campaign. He only continues to add to his silverware cabinet. He has achieved 16 trophies in German Football with a total of 20 in his career. He has been subjected to an Era of Leo Messi and Cristiano Ronaldo. Had that not been the case, he would have won multiple balls indoors. Football hose Robert Lewandowski the Ballon d'Or even if Bayern did not win the Champions League, this is his award, and he undoubtedly deserves it. In the late stages of his career, he has been an absolute animal. With GERD Muller doing what he does, Robert Lewandowski major have all of his records before he is done; there was no doubt in my mind that Robert Lewandowski was one of the most outstanding performances of the weekend with four gold contributions a hat-trick he wins the title and with two games left just needs to goals to stand on his Mountain alone. The best striker in the world delivers and inches away from mortality.
Victor Osimhen vs Speiza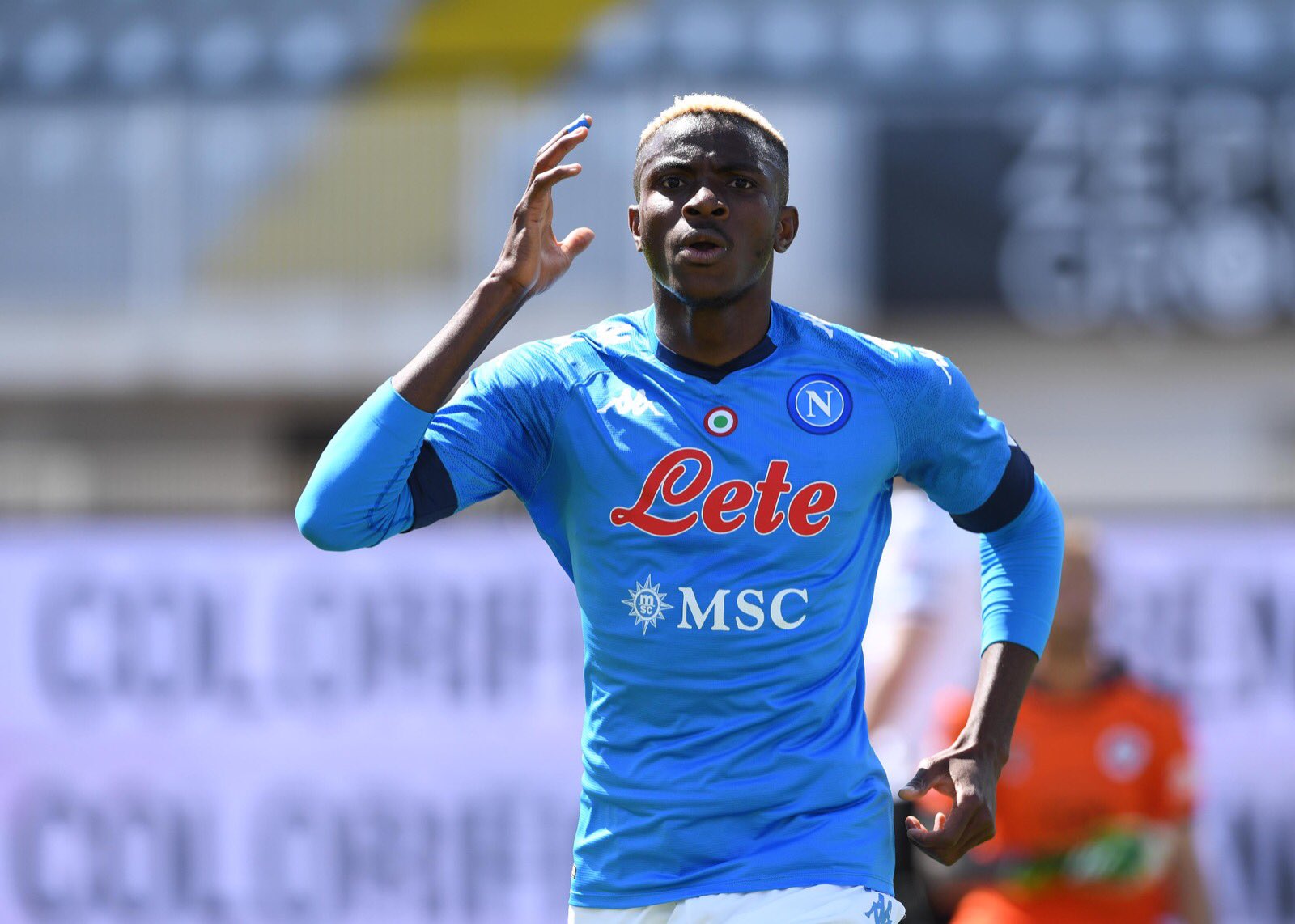 Nigerian attacker Victor Osimhen was all the Rave when he arrived in Napoli this summer. Napoli paid 77 million for the young attacker; He was coming off a very successful campaign in France justifying his move to the Italian Top Flight. The move itself was very intriguing and interesting; the price tag was out of control with the 77 million that Napoli forked out for the young striker. It has been a very problematic season, and had significantly struggled since being in Italy. During the first half of the season, it really didn't look like he had it; there were many things concerning his form and his overall play. It took him a while to get used to the league and right when he was trying to get into that space where he could be effective for the Napoli team that has vastly underachieved despite being in the champions league. He was on the verge of something special. It looked like he was starting to get the hang of things, and then Misfortune after Misfortune occurred, he got the Coronavirus, a dangerous and scary head injury, and dealing with a shoulder problem. Even though he hasn't been all that impressive throughout this season, at least during the first half of the campaign, he didn't miss 19 games; finishing the season strong is exactly what the doctor ordered. There was no doubt he could be an absolute Superstar for the Naples side; The last few weeks were a really tell of what he's capable of. It is clear that the striker is injury-prone, but at his best, he looks like something extraordinary special. Against Speiza, we saw him explode. The first game where we got to kind of see what he could potentially become with Napoli. It doesn't make up for the crazy transfer fee, but he has shown to have that ability, even if it is in short spurts. That's what he will have to see with him is whether he can maintain it and show some more consistency where he can regularly find the back of the net. If the Nigerian can be a 20-goal scorer for Napoli, the price tag will seem minimal, and Napoli will start to contend for trophies, which they have not been able to do as of late. They have been one of the biggest underachieving teams over the last 5 years and still have a truckload of issues as they just aren't as good as they should be. However, the Nigerian went crazy in the match on the weekend and showed exactly what he's capable of. When you watched his 90 minutes, he played you saw more than just the two goals and one assist three-goal contributions of a possible for goals is a tremendous performance, especially for a play that needed the injection of energy and that confidence that has preceded him the season it's not his fault he has been injured, but it is a concern for a club that invested so much in it; however, this week and he was special. It was beyond has adjusted his athleticism movement; his pace just looks like complete athletes, not to mention his finishing was superb even going further than that, his positioning allowed him to break through and become a danger regularly. The question really remains whether or not he can continue to do it, but it was a spectacular performance for a player that needed that self-esteem boost. Having had a difficult life and Napoli so far he shows all the capabilities of a player that can be a 15 to 20 goal scorer season, and that's exactly what they're going to need for him in the coming season, but this was an outstanding performance from all angles of it. a tremendous Counterattack on his first goal using his pace and great athletic ability to separate himself from a defense that was chasing him down; he gets in a great position and gets great service and then just takes it into the box and the finishing off a beautifully hit chance. his second goal was one appear intelligent, manipulating the backline on a free kick keeping himself on side while separated himself from everyone; when he received the ball, he was by himself before hitting the shot into the roof of the net to score his second his first brace in Italian football. He came down multiple times to get into those dangerous areas before supplying the ball to a teammate or taking it himself. On his assist once again, he pushed the ball forward to look like he would take himself and then used his intelligence and huge unselfish action by finding Chucky Lozano setting up the Mexican international in a goal-scoring opportunity. Considering he has missed 19 games and has 10 goals and three assists, not a bad return. He needs to keep this up if he wants to justify the price tag. He certainly shows that he had the talent and ability to do so; the concern will always continue to be whether he can stay healthy if he can stay healthy, we have seen that he can be that Superstar for Napoli. I want to see a little bit more, and I think we need to see more before we judge whether he has that Superstar quality, but we saw some spurts of it and Napoli's big win as they continue to push for Champions League, and it looks like they're in a good space to get it. He was one of the most outstanding performers in Italian football this week. It was a performance that Victor Osimhen needed, but Napoli needed as well as they push their Champions League bid into more reality. We need to see more what if he can finish the season playing like that, it will only go into his confidence. If he can stay healthy, he could be a serious player in the title race in years to come; there is an inconsistency problem and an injury problem, but the sky's the limit if you can overcome that.
Pellagrini (3),Mayoral,Miki (3) vs Crotone