Goalkeeper: Koen Casteels, Wolfsburg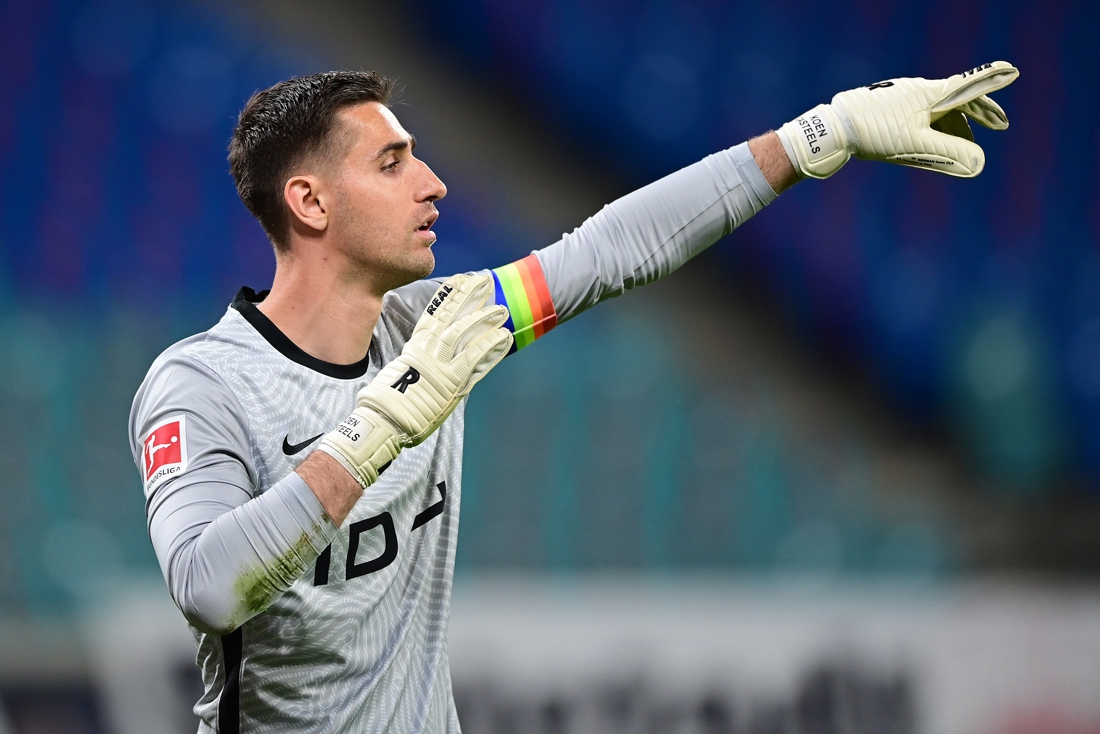 Trying to figure out who has been the best goalkeeper in fits in this team of the season is very difficult because it's rather close. Essentially between Keon Casteels and Péter Gulácsi The goalkeepers of the two best defensive teams in the league. Keon Casteels has 14 clean sheets this season in 33 games; meanwhile, Péter Gulácsi has 14 clean sheets in 34 games; from a statistical standpoint, it's very similar. Both of these goalkeepers have come up big and some of their biggest games of the season. The question is which one is superior, which makes the starting XI, and which one ends up as a reserve; it is a very complicated and difficult decision to make because both have been equally impressive. Considering the qualities about RB Leipzig and Wolfsburg, neither was really going to rank high in saves. They're not going to face the number of saves that a keeper from Augsburg Armenia bfl and teams like that will face both Wolfsburg and RB Leipzig made the Champions League this season and had a great defensive front in front of them this is what makes it so difficult. Keon Casteels finished 14th in saves with 76, while Péter Gulácsi finished 18th with 57 saves. However, despite that, these are the two best goalkeepers in the league this season. This is a tough call to make, but I'm giving the edge to Kiana Casteel in the big games against RB Leipzig, Bayern Munich, Dortmund, and others he's come up with some big saves that turned out to be matched defining moments, so for that reason and that reason alone my goalkeeper of this season goes to Keon Casteel.
Centre Back: John Brooks, Wolfsburg 
There may not be a player in the Bundesliga over this campaign that made more progress and progression than John Brooks. The American Center back this season turned out to be one of the best in the league; in fact, since 2021, there's an argument that he is the best defender in the entire Bundesliga. He was challenging to manage, and it's a big reason why Wolfsburg had the success they did. He has taken strides every season since he is joined Wolfsburg a few years ago from Hertha Berlin. He has the capabilities intelligence and Leadership behind a Wolfsburg name that return to the Champions League. in this day and age; there are a lot of attacking-minded Defenders John Brooks is an example of a pure defensive Force; he can occasionally score a goal off a set-piece, but his primary objective is to shut people out defensively, and that's precisely what he has done this season. I think everyone has been hugely impressed of how well Weston McKinnie has adapted at Juventus, but this season not only does John Brooks slide into the team of the year arguably the best defender in the Bundesliga, but he had the best season out of any American player and continues to show underrated he has been. In the Bundesliga this season, he ranked 5th in aerial duels with 132, second, and pass interceptions with 257 as he has shown to be a force not only defensively but also spreading the ball out as he passed with an 85% percentage this season. He has been everything you want in a Defender, not to mention he has been the leader of the backline that has impressed so many this season.
Centre Back Maxine Lacroix, Wolfsburg  
Besides John Brooks in the team of the season, I am nominating his teammates Maxine LaCroix. The Young center-back had become one of the hottest Commodities in the Bundesliga that many European clubs want. With Wolfsburg making the Champions League next season, they probably will hang on to him, but he is the real deal. He is relatively young, only 21 years old, and had an outrageous campaign being one of the main contributors and Wolfsburg defense. The partnership that he created with John Brooks has been something to watch this season. The combination between the two of them has been something extraordinary. In fact, for this team of the season, this Wolfsburg side was so good defensively that I could have nominated all four of the backline. Lacroix will only get better and better as he develops into a star; this season was a standout campaign for the youngster. There was a lot of talk about the young talents that have come across the Bundesliga this season. Maxine LaCroix is one of the Bundesliga's biggest talents proving his worth with an outstanding campaign. He finished the season ranked number one in pass interceptions top 20 in area duals, and top 15 in total tackles, just showing that the kid is special and it's only going to get better as time progresses. Wolfsburg had the best center-back partnership in the league between Brooks & Lacroix; they complement each other so well, which is a big reason they made the Champions League this season.
Centre Back: Matthias Ginter, Bourssia Monchengladbach 
Gladbach had a really inconsistent season; the first half of the campaign was awe-inspiring, making the Champions League round of 16 and advancing through a challenging Champions League group that included Italian Champions Inter Milan and Champions League semi-finalists Real Madrid. Afterward, it crashed and burned. The announcement of Marco Rose leaving the club to join Dortmund derailed their season as they went weeks without picking up victories; it was tough for the club. However, the one constant thing that we have seen this season was the ability of Matthias Ginter, without question one of the best center backs in the league. While he doesn't have the Wolfsburg pair's statistical advantages, he has done exceptionally well in a not that strong team defensively. He has been the Rock at the back ever since he has arrived at Borussia-park, while collectively as a team this season, they have not been impressive. It's kind of been a year of chaos. Matthias Ginter is excluded from that who has had an exceptional season especially considering their struggle defensively; he's been a real bright spot. He may not have the statistical numbers as John Brooks & Lacroix, but Matthias Ginter this season has 28 blocks, 118 area duals, and 67 tackles; also, on the offensive end, he has scored two goals, and then a part of nine big chances for the team going forward. In the biggest games, somehow, he always seemed to show up even if his team could not. He's been wildly impressive this season despite his circumstances coming up and making it uncomfortable on some of the league's best strikers. This might be a controversial pick, but considering his surroundings and the lack of quality and performance at his team during this season, he's been a bright spot and kept the defense of float; we all know that they've lost some games by a considerable margin this season, but all in all Matthias Ginter has been a very important part of this team and then the leader at the back he can't help how good his team is but his individual display considering the team lack of success this season has been very impressive maybe many won't agree with this. Still, I think Matthias Ginter had as good a season as you can have on a team that dealt with chaos. When the announcement of Marco Rose departing at the end of the season derailed a lot of the team and their performances, even though he was frustrated and angry, his performance did not dip after the announcement was made that has kept relatively consistent all season long.