Score: A.S Roma 0 A.C Milan 0 AFT (Roma win 3-1 on Penalties)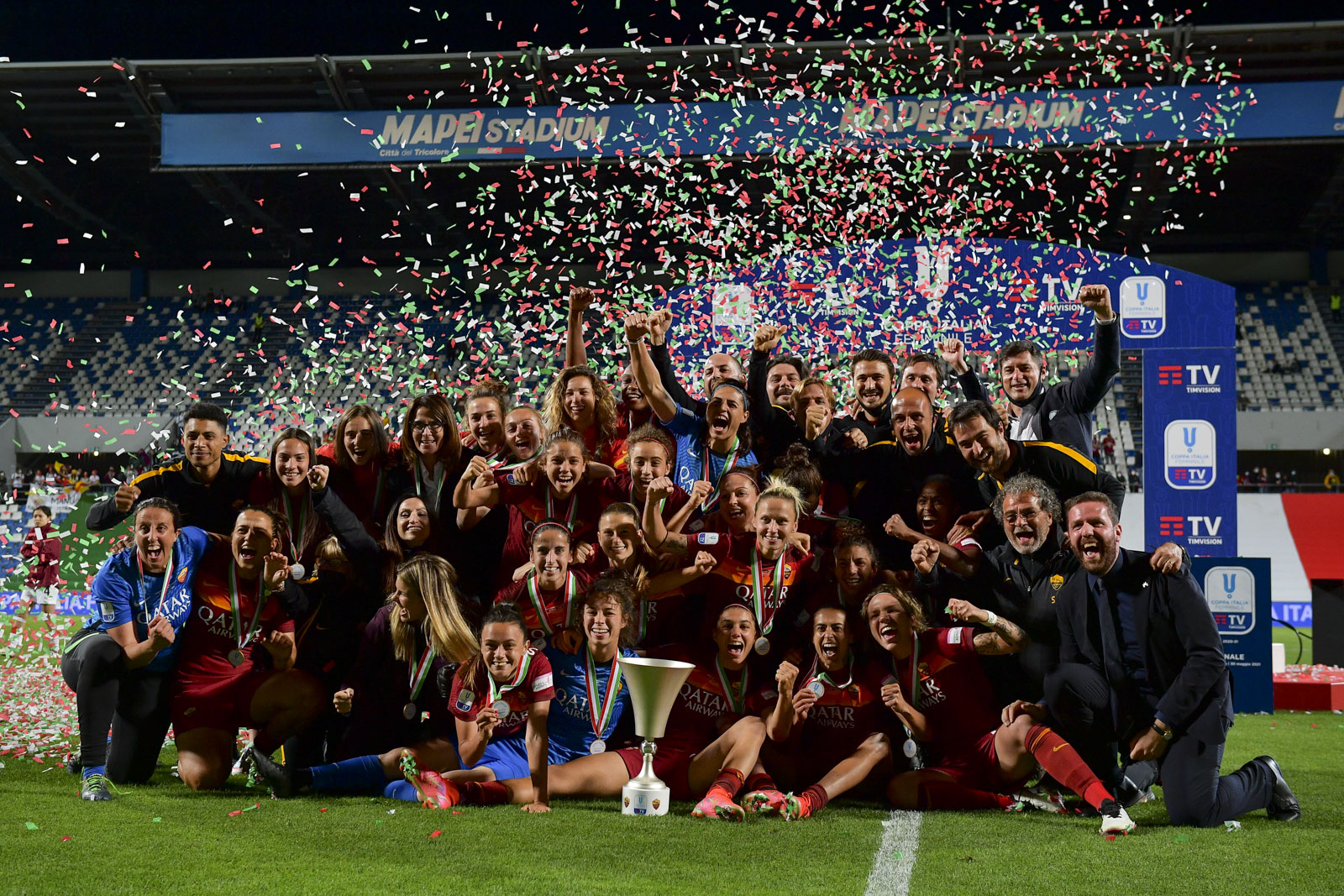 We have reached the season's conclusion with only the Coppa Italia final to play. With an opportunity to see Roma win their first trophy since 2008 and the first trophy since the Roma women established in 2018. They had a challenging road to the final but ultimately got through it. They went through Sassuolo, Fiorentina, and most notably Juventus. They are the only team in the League to have beaten Juventus this Season even though in League play, Juventus did not drop a point winning every single game, but no one has put more pressure on Juventus than Roma did during the Coppa Italia semi-final. Roma beat them in the first leg, being the only team to do so this season; then, in the second leg, they nearly beat them again ended up losing the game but gathered enough away goals to push them through to the Coppa Italia final. Meeting them, there would meet AC Milan, and the League's best player Valentina Giacinti AC Milan and Roma had played a few weeks earlier in a callous 0-0 draw kind of giving us a sneak peek at what we would see in the Coppa Italia final it turned out to be a very similar type of game. On Sunday night Roma and AC Milan went for battle; with the possibility of late-season Glory at the Mapei Stadium in Sassuolo, the men's Stadium a champion would be crowned as Roma would prepare for their biggest game in club history.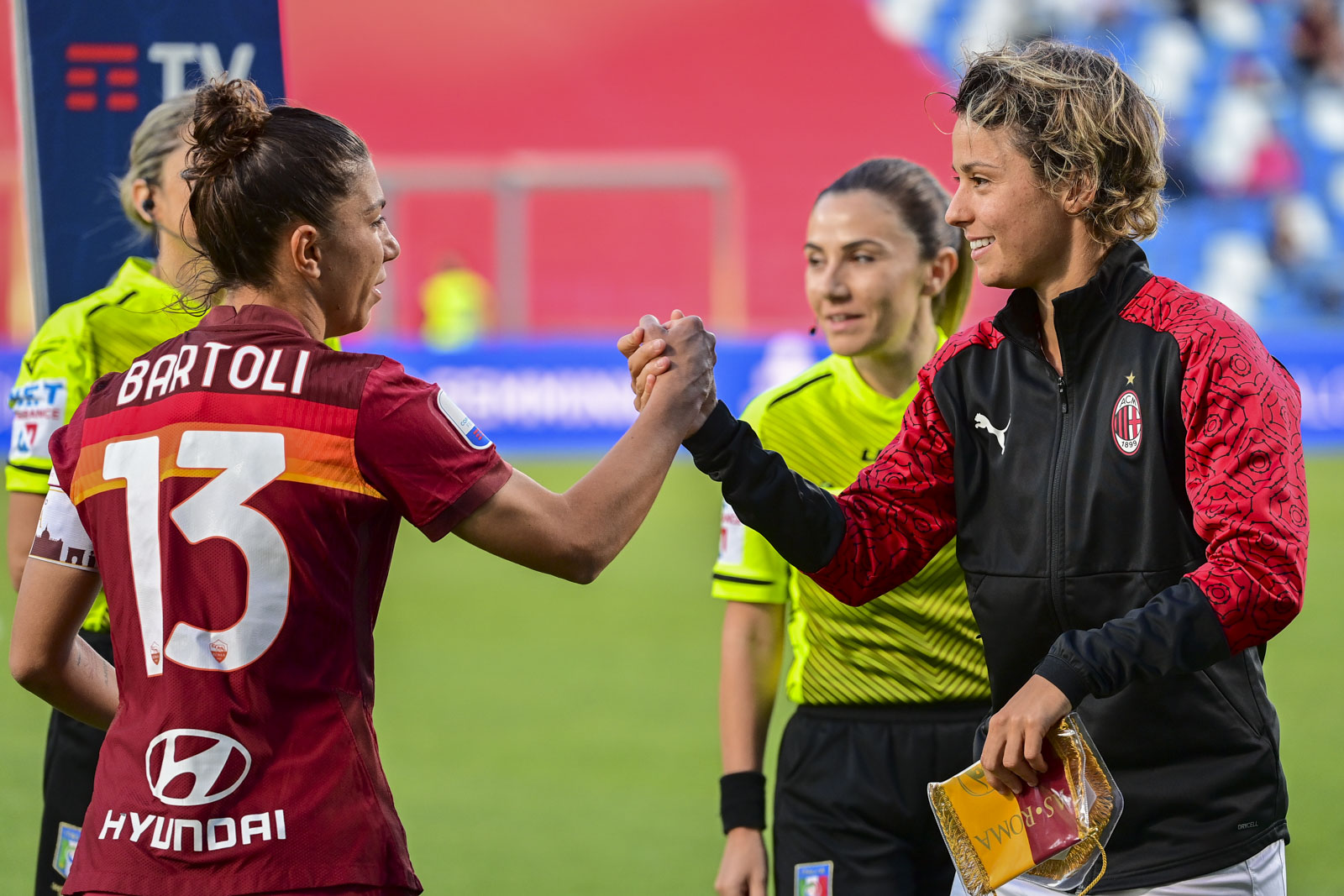 Elisabetta Bavagnoli made really thoughtful decisions when it came to her team selection. The Roma women would operate out of a very attacking-minded 4-3-3 formation. In goal between the sticks would be the Romanian shot-stopper, Camelia Ceasar. At left-back would be Angelica Soffia beside her would be the center-back partnership of Allyson Swaby and Elena Linari let it right back would be Roma Captain Elisa Bartoli. Roma would line up out of a three-woman Midfield. On the left would be Vanessa Bernauer on the opposite side on the right would be the top scorer for Roma; this Season, Annamaria Serturini has been operating as the creator of the Roma Midfield would be former AC Milan creator Manuela Giuliano. Roma's front three would be very similar to their usual attacking installation. On the left-wing would be Lindsay Thomas on the opposite side on the right-wing would be Roma's number two score this Season Paloma Lázaro, then up top as Roma Central Striker would be a touch of Brazilian flair with Andressa Alves. A strong team, but would it be strong enough to lift the trophy? We would have to find out.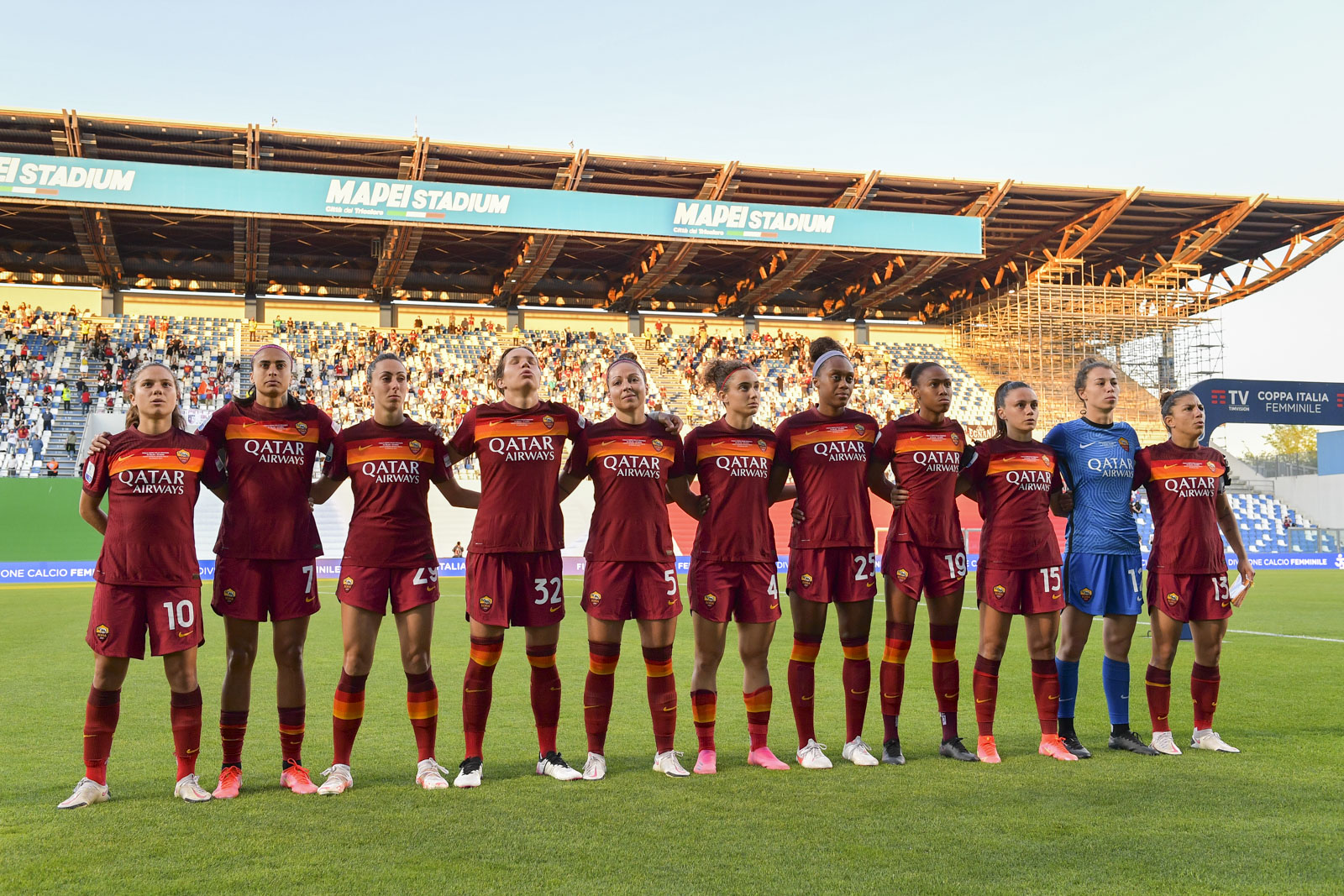 All the talk surrounding this game was over; this has been speculated and discussed for many weeks as we have known about this matchup for over a month, it was time to put up or shut up for both of these teams. No one can save them now as both teams got on the pitch with only themselves to determine who will lift the Coppa Italia. Would it be League runners-up AC Milan or 5th Place Roma, and how different was it going to be from that 0-0 draw a few weeks ago? At this point, they know each other very well, and it was just going to be about being the best on the day and putting their best performance together. AC Milan had a very aggressive nature to start this game; in the opening minute Camelia Ceasar was called into action immediately. AC Milan got an attack. Dowie threatened the Roma goal. Camelia Ceasar reacted, but the shot glided just wide. A very aggressive start from AC Milan as Roma nearly concede in the opening minute. AC Milan just cut in almost immediately, and Roma is on the back end right away. A scary start, but Roma had time to adjust and get themselves into a better position both in the attacking and defensively. AC Milan continues to get into dangerous positions so easily it would be a long day for the Romans. The one thing that ended up going to their advantage is the significant possession that they had throughout the game they held 63% of the ball; there are other facets of the game in which Roma could have done better, but they maintain possession which means control which is what they needed to do especially after such a flying start from AC Milan. About 15 minutes into the game, Roma started threatening, providing their first chance. A well-hit corner kick Landing in the space of Paloma Lázaro, who connected with her head through the air but did not have the distance going a little wide a very difficult angle to hit the ball, but she connected very well despite not reaching the target as it hit the side netting. 5 minutes later, there was controversy when Lindsey Thomas was taken out inside the box, but no penalty was called; a very questionable decision, especially to make in a cup final nonetheless, they continued to fight on. Even though Roma had most of the ball, it became a little back and forth with both teams exchanging chances. AC Milan ended up with the higher quality chances while Roma did have some issue converting in front of goal despite having a lot of creativity coming from the Midfield, but their finishing just wasn't up to the standard at that point in the game. This has troubled them all season, but they managed to stay strong and keep themselves alive in a very tough game against AC Milan. Right at the half-hour mark AC Milan push forward with a beautiful shifting ball into the box to find Jane struck the ball on her first touch, curling searching for the top corner. Still, Camelia Ceasar corralled the ball, hitting the ball away from her area, making a great safe first of many in this game. AC Milan did a great job of getting her that position, finding enough space to strike as they had throughout the game, but AC Milan was having was they kept being taken offsides. They got themselves on the counter almost regularly. Don't get me wrong, Roma did a good job defending it, but they got forward a few times in which they probably could have scored if it wasn't for being called offsides. AC Milan Captain Valentina Giacinti, the League's best player, in my opinion, made some awe-inspiring runs but always either went too early or too late as she was called offsides four times in just the first half; it antagonizing thing if she's just able to stay on sides in a general sense she would score way more goals it's the one part of the game that she needs to work on. It showed because every time she got forward, she was dangerous, but being flagged offside so often looked incredibly frustrating. At the very end of the first half, Elena Linari attempted to push Roma in front just before half-time coming off a free-kick, but it didn't threaten the goal as the half-time whistle blew despite connecting well with the ball. It was a goalless draw in the Coppa Italia Final in Sassuolo, still 45 minutes to find themselves the champion.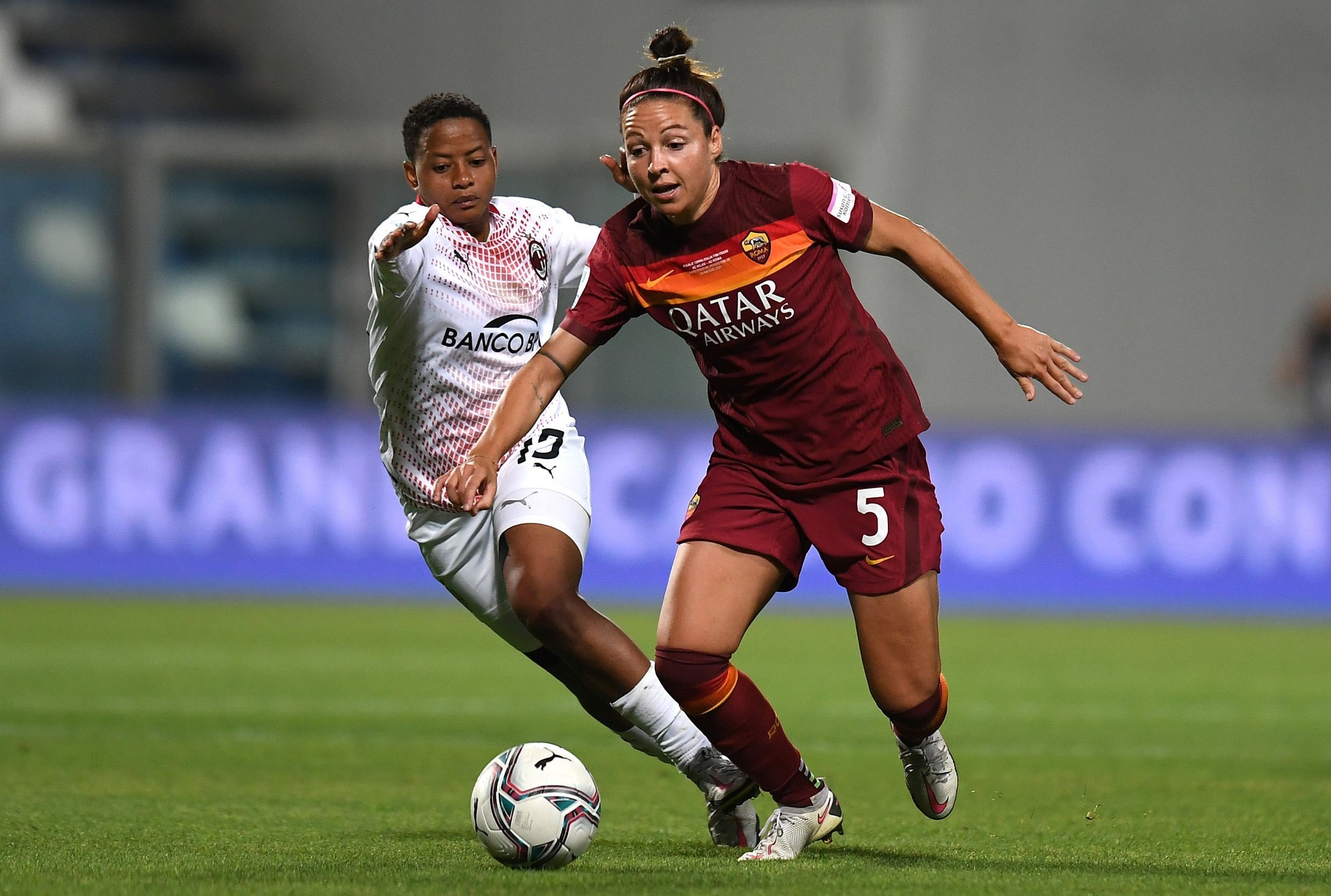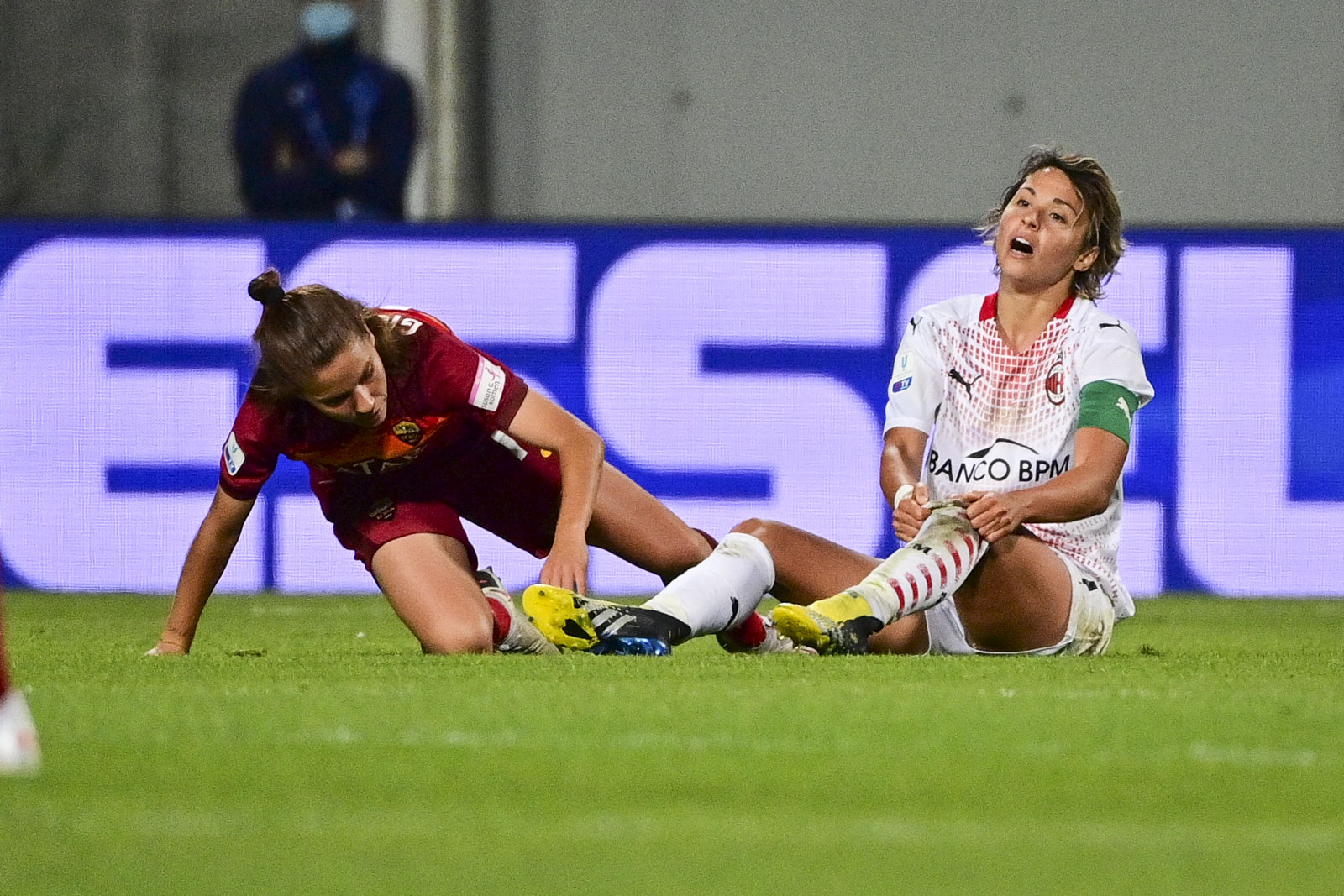 It was a very tough and strategic opening 45 minutes to the Coppa Italia final. AC Milan looked incredibly dangerous when they pushed forward and got on the attack but did not have discipline. They continue to be called offsides and listen to that Camelia Ceasar was having an incredible game denying chances left and right. As far as Roma's point of view, other than the chance coming from Lazaro, they did not convert on much they got themselves in position occasionally but couldn't convert as they continue to struggle in that aspect; however, having control in The Possession gave them a huge outlook on the game essentially allow drama to be in control. That doesn't mean AC Milan can't come forward and kick them in the mouth, but they were in control of the way the game was dictating. They just needed to find a way to take advantage of that beating them in open play, but it was a very back and forth type of game; there was no clear Superior team really at any point of this game; it was very split down the middle, and after an exciting first half it's not surprising that it was goalless thus far. It became more of the same in the second half, with both teams exchanged blows when they had those opportunities. Thomas came dangerously close at the beginning of the second half. The French attacker it's physically powerful, very imposing, and extremely athletic; this allows her to overpower those around her when the ball is hit in the air. She had a bullet of a header searching for the top corner missing to the left. The best chance of the game for either team. as the game progressed, time does as well; the sun went away, and it became darker and much colder, and so did the game. AC Milan provided an avalanche of chances, but Camelia Ceasar was there through every moment to deny them. Despite Roma's possession, they weren't able to do much with it; at least it did not seem so AC Milan but creating far more chances; however, this doesn't necessarily mean they were the better team or playing better. Roma's defensive performance against them caught them off guard. Dowie looks through before Linari was there to rectify the situation. Time was ticking down as both AC Milan and Roma were still goalless going into the very deep part of the second half; with like 10 minutes to go, it still didn't seem like a goal was coming. Both teams had their opportunities, but neither converted as of yet it had appeared that we were going for extra time at the very least. In the 92nd minute in stoppage time, Vanessa Bernauer nearly gave Roma the win late. The Switzerland International hit a steeping strike from well outside the box; she had the Power Precision accuracy as it was gliding into the top corner; she just had a little bit too much power on it, nearly clipping the crossbar. Her late strike signified the end of the second half; after 90 minutes, we still had a champion to be crowned goalless between the two; Extra time, here we go.