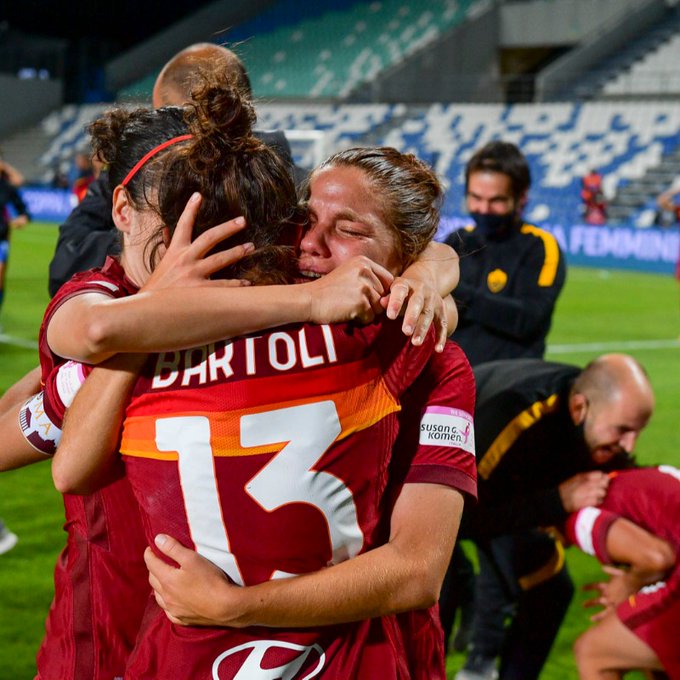 As extra-time got underway, both teams should have felt like they still had a good opportunity to breakthrough. There were significant chances for both sides, but it just hadn't happened yet; it was a feeling that there might be some optimism between them just because both teams are playing relatively well and just needed one chance to potentially get their hands on the trophy. In the 94th minute, AC Milan put together something absolutely brilliant from the Midfield Milan push forward, supplying a ball to the outside who cut into the box it looks like it was going to be the end when a pass was hit to an open AC Milan attacker howeverAllyson Swaby saved Roman's Glory she flew in out of nowhere hitting the ball out and ultimately handling the situation. Had she not done that, the results of this game could have been very different. After the first half of extra time, it was still goalless.
The second half of extra-time kicked off as Roma now had 15 minutes to get that goal or we will be heading to the Penalty Shootout. Considering how well Camelia Ceasar was playing in this game from start to finish, it was something last perhaps would not be the worst thing to happen, but Roma still wanted that winning goal, and they were going to search for it. AC Milan got inside the box yet again, but incredible defensive performance and moment from Vanessa Bernauer to prevent the attacker from getting a shot off inside the box. With three minutes left in stoppage time, Camelia Ceasar comes up big twice, denying an initial strike on goal before denying them a second time on the rebound, and on a third strike, the defense cleared the ball out. With the last chance of extra time, Vanessa Bernauer supplies a late chance on her first touch but hooked wide. The second half of extra-time was over as the whistle blew; that's right, we were heading into the penalty shootout.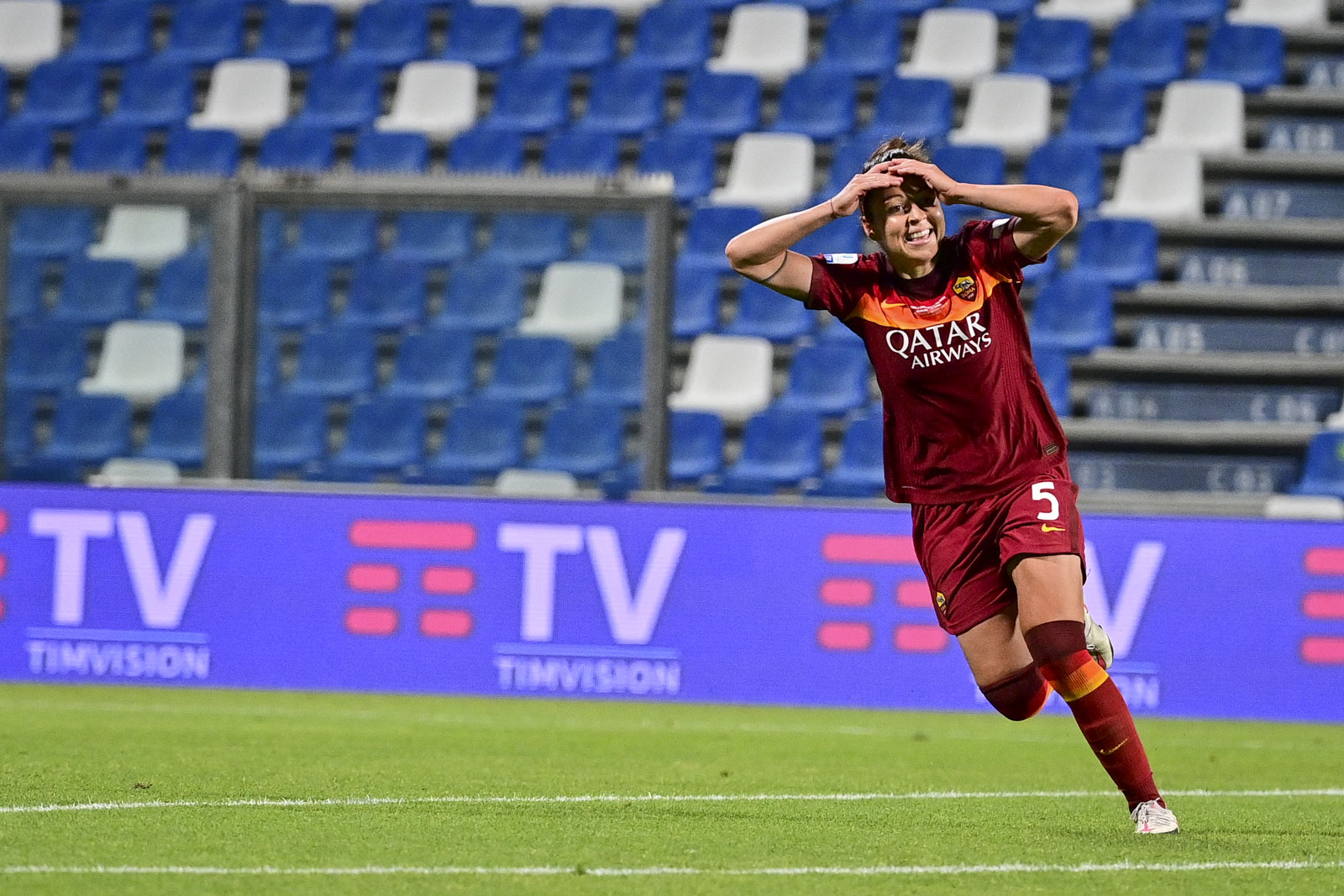 The entire combination of the season was going to be determined by spot-kicks. The Coppa Italia was within their grasp for both teams. Roma just needed to win a shootout in the glory would be theirs as they could get their hand on the trophy. Roma has not won anything since 2008 as Roma where penalty kicks away from winning the first trophy since the Roma women established in 2018 it was right there for them the tension and the pressure were on as you could feel the nervousness watching it from afar. This may not be the men's team, but at the end of the day, we're still all Roma fans, and we'll celebrate like crazy regardless you could cut the tension with a knife. Boquete stepped up first for AC Milan she placed the ball down on the spot. She struck the ball looking for the bottom right corner, but Romanian hero Camelia Ceasar denies her. The Roma goalkeeper screamed with excitement as you could see the passion on her face. Stepping up first for Roma would be Manuela Giuliano. Roma's creative midfielder converted the penalty sliding it into the bottom corner as the goalkeeper chose the wrong direction. Roma takes a 1-0 lead. Stepping up next for AC Milan would be Agard this time, she makes no mistake beating Cesar, converting in the bottom corner, making it 1-1. stepping up next would be Annamaria Serturini Roma's best player this season, and one of the best players in the league. Had the pressure; now of putting Roma in front in the shootout. Roma Superstar makes no mistake lifting the ball into the top right corner. Roma takes a 2-1 lead. Stepping up for AC Milan would be Grimshaw the midfielder went for the bottom corner, but Camille Cesar makes another huge save as she Palms the ball and hold on to it for dear life. Linari would step up next with a chance to win the Coppa Italia for Roma, the defender that is meant so much since he has arrived in January could finish the deed. However, she strikes with power-hitting it over the goal a horrible mess as AC Milan is still in it. Roma still has a 2-1 lead stepping up for AC Milan would be Cimini. She also goes to the left but hits the post as Roma remains in front. Stepping up fourth for Roma with a chance to end the shootout once and for all would be Vanessa Bernauer. The Swiss midfielder stepped up and delivered the Coppa Italia; she sends the ball into the left corner; the goalkeeper got a touch to it but not enough. The Roma women win the Coppa Italia as they drowned AC Milan 3-1 on penalties after a goalless 120 Minutes. Vanessa Bernauer erupts, running away from her team and then celebrating together a moment that they will never forget.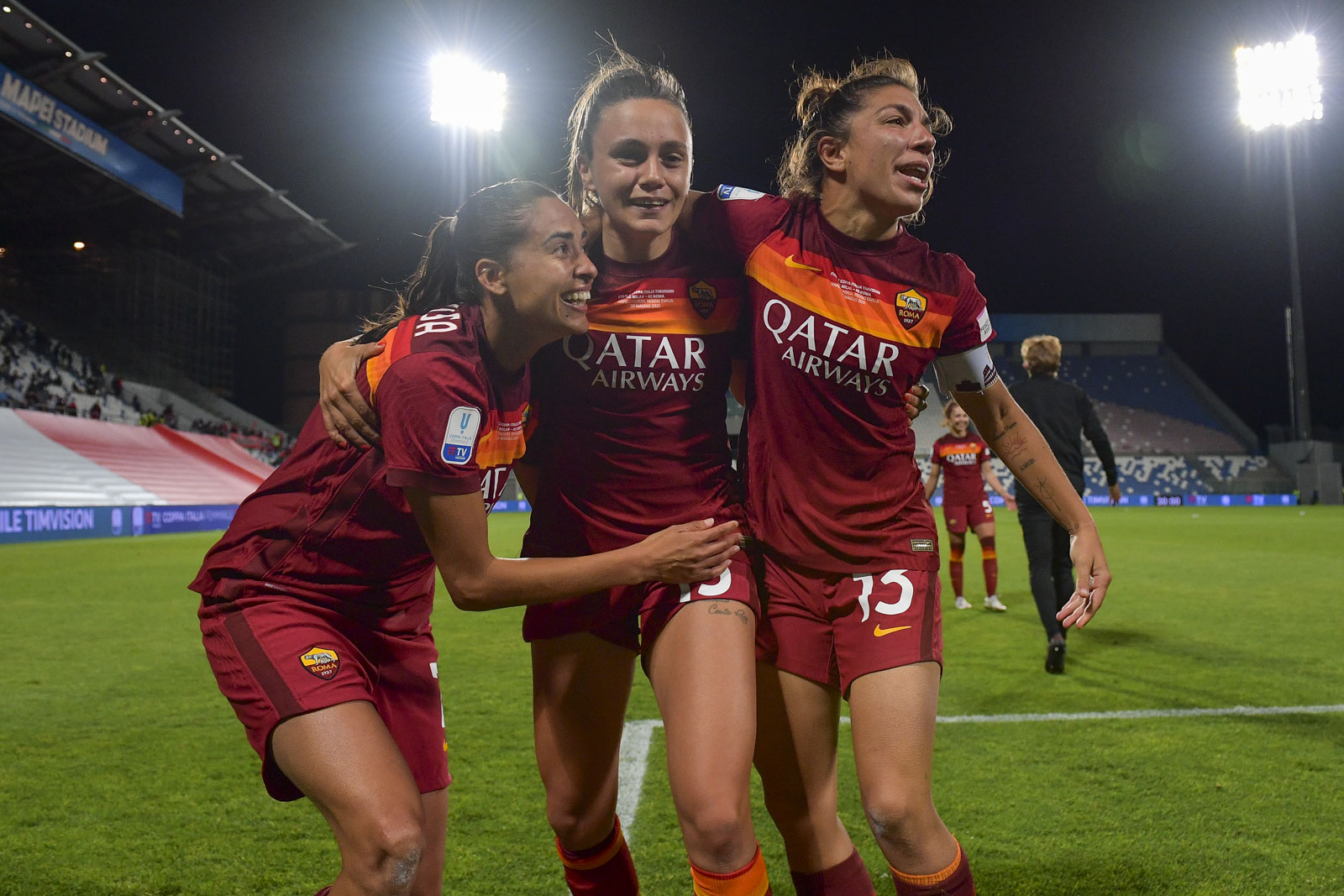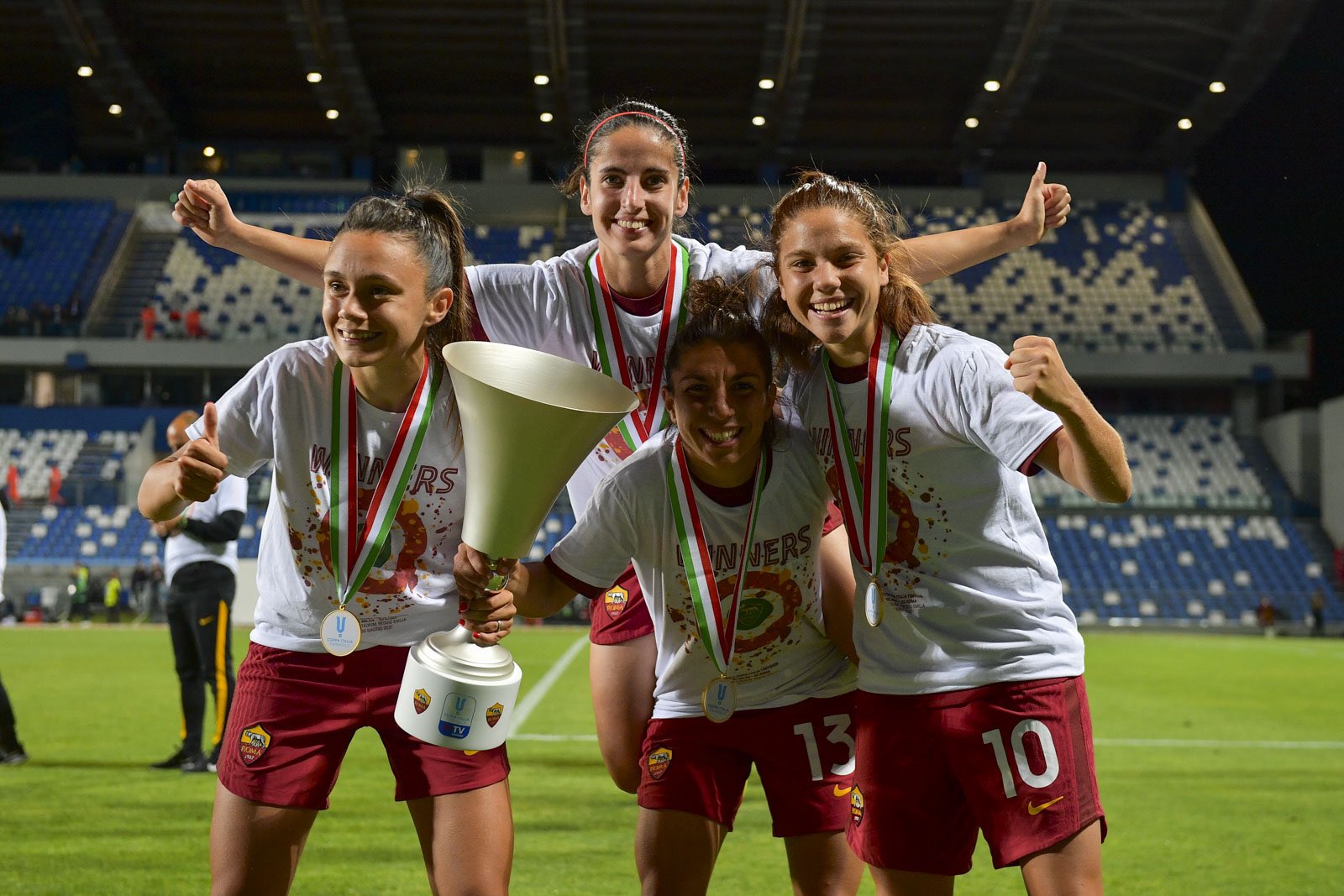 The fifth-place finish in the league means absolutely nothing now; this is more than just a Trophy; this is the first time Roma has felt any type of Glory since 2008. While Jose Mourinho has joined as the head coach of the men's team, the women's team has just lifted the Coppa Italia. The entire team culminated together celebrated and an extraordinary moment. This was a statement this is the team that will try to challenge Juventus next season and try and get into the Champions League. The Roma women win the Coppa Italia; they f did it!!!!!!! So much celebration, passion, and emotion from all of the girls they were in tears as they taste Glory winning the first Trophy in club history for the Roma women. the fans there celebrated as they ran over to them just watching this at home, I cried when I didn't think I would at the end of the day this may not be the Roma men's team, but it's still my Roma.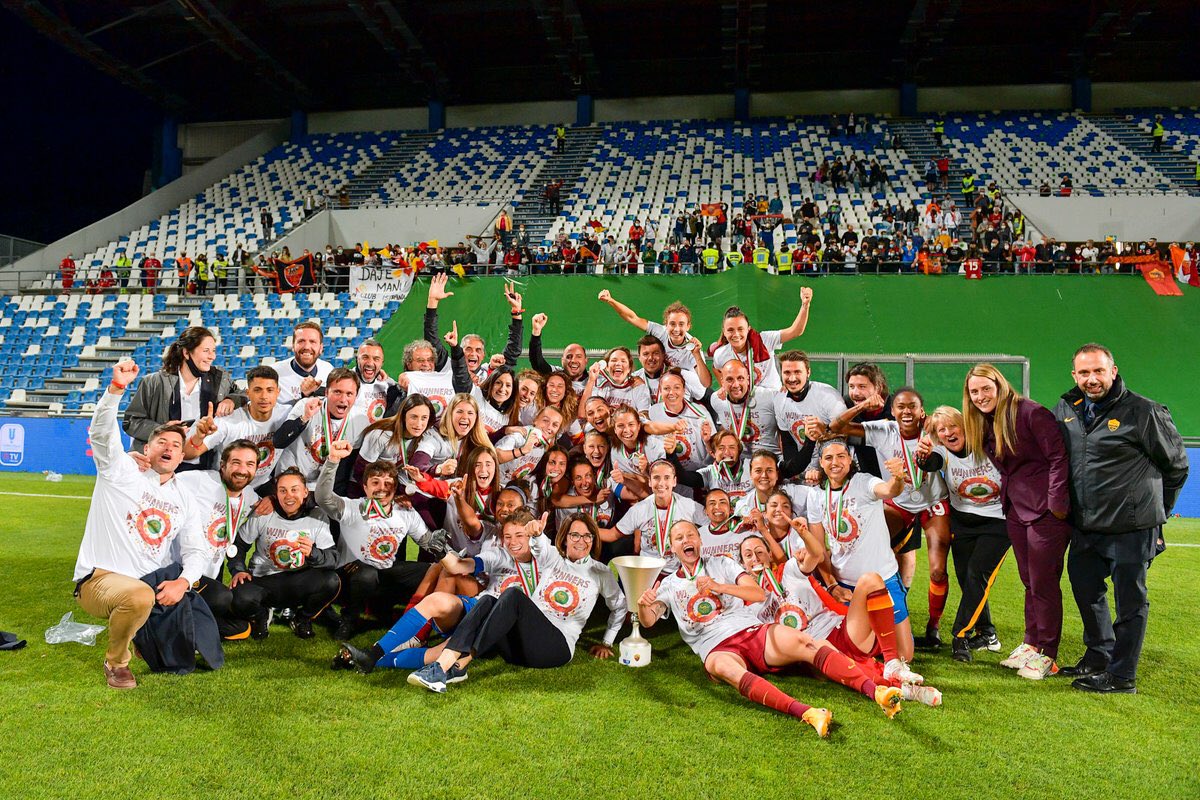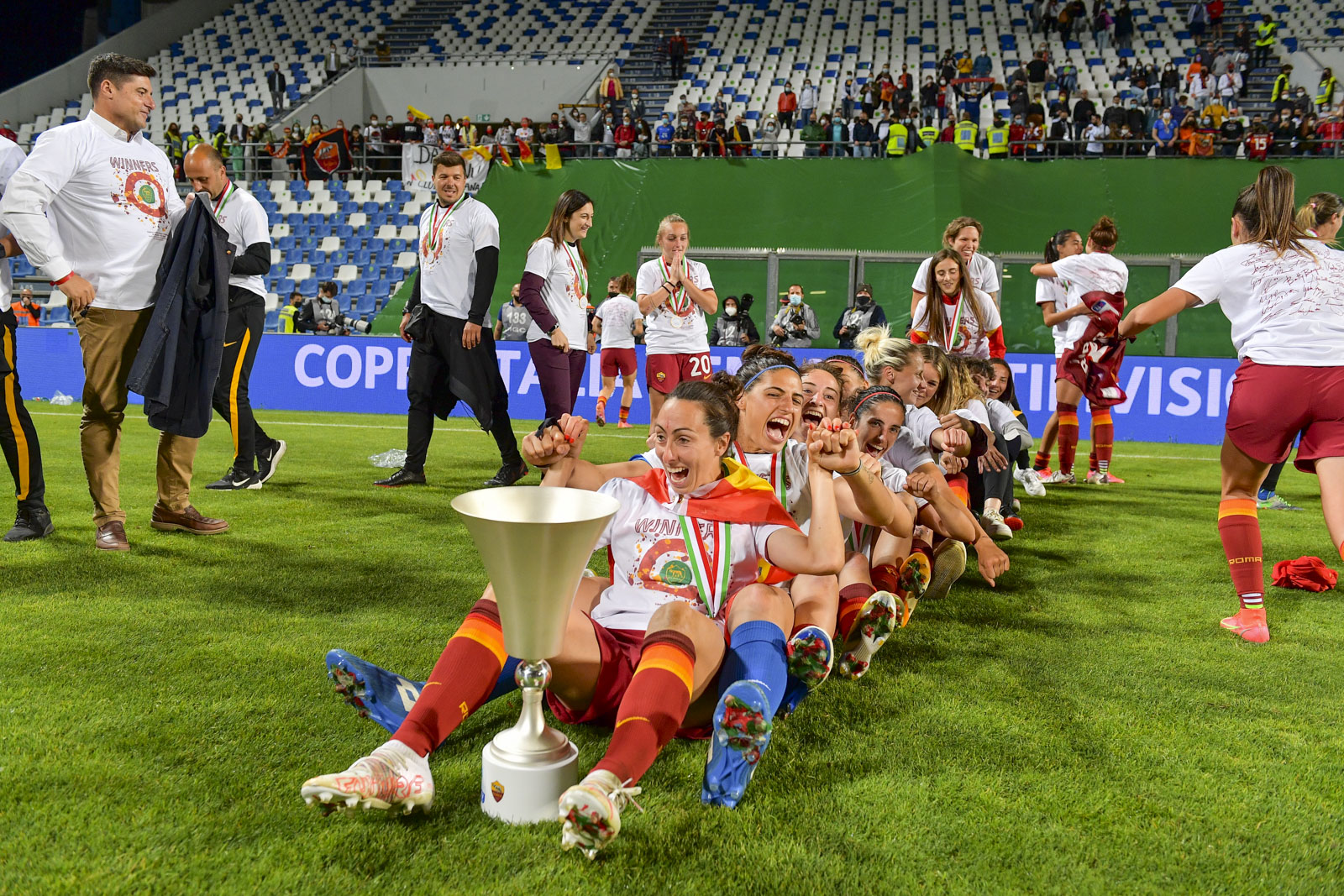 Seeing the girls have their moment is one of the most emotional things that I felt in football in a long time since we have had anything to celebrate it brought me to tears. AC Milan watched on as Roma celebrated; the players embraced the coach, and the players were embraced by each other they consoled some of the AC Milan players. I feel incredibly bad for them, especially to lose in this type of manner, but someone has to win it, and Roma's was able to conquer that. We saw all the different Roma players come together and celebrate something special we saw Pamela Lazaro wrapping herself with the Spanish flag; we saw the same with Alves with the Brazil flag; we saw them come together, celebrate and enjoy the moment together. It's unclear what will happen this season, but winning the first trophy is incredibly special a historic moment for the club in their three-year history. They were having the time of their lives; they lifted the trophy as Bartoli was incredibly emotional a Roma-born woman that has been with Roma from the beginning. Lift the Coppa Italia in the air as of now has Roma's name engraved on it. She listed the trophy as confetti flew in the air. The passion and emotion were celebrated through each of the girls as they conquered something historic. Roma win the Coppa Italia. It was a sea of emotion for a group of girls that battled through a lot in the 120 minutes played on the final but throughout the entire season, make no mistake about it, this Roma team is coming.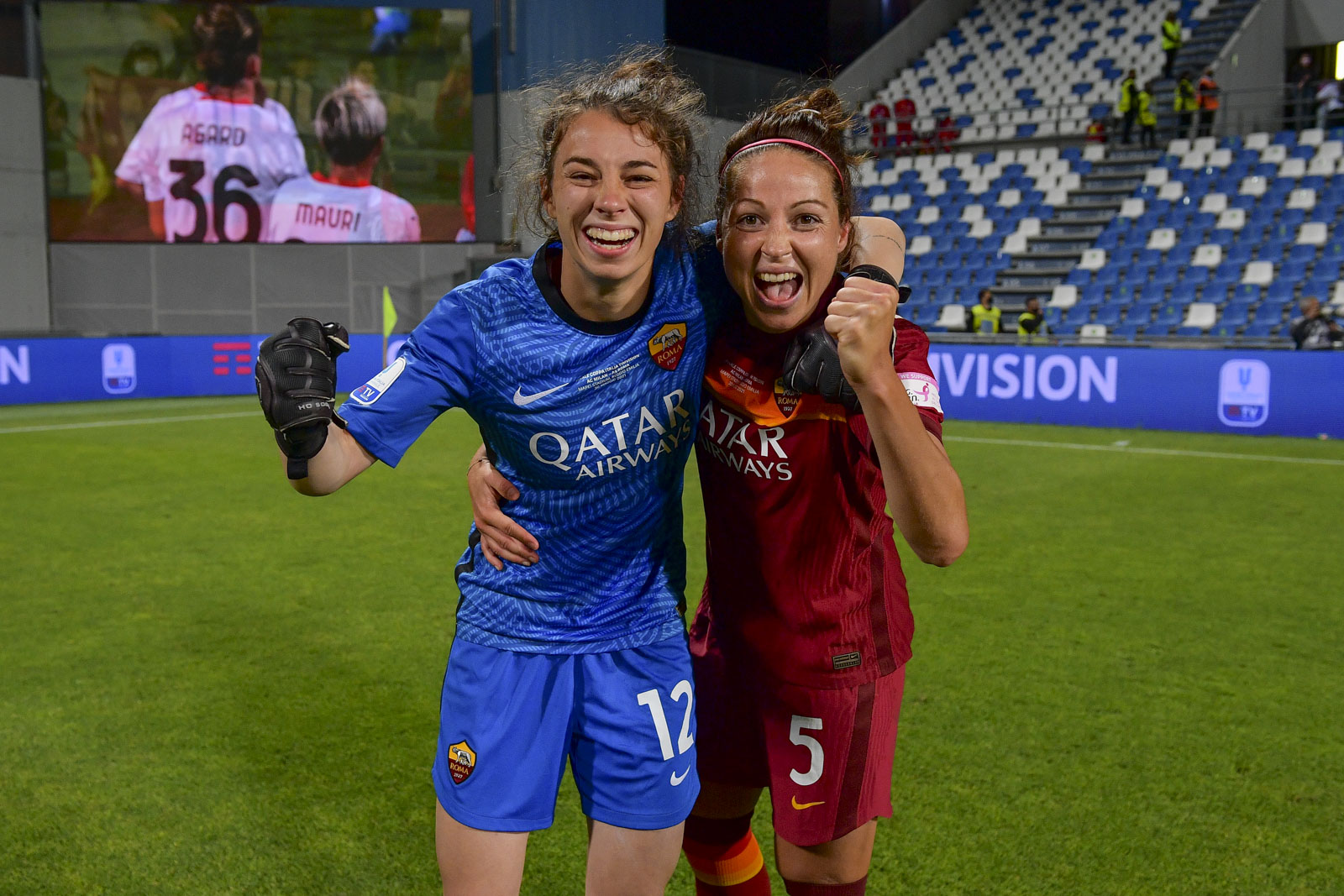 The woman of the match tonight goes to Camelia Ceasar, who came up big making some top saves during the game and in the shootout, ultimately handing Roma the trophy. The passion and emotion of a celebration hit every Roma fan around the world watching as even though we want to see the men's team get back to the good times to see the woman thrive and win something it's incredibly special there's no way to really explain anything about this for people who don't understand this is still our team these are our girls. The Coppa Italia is theirs as they've reached immortality, a trophy gets put in the cabinet; hopefully, there's more to come. Still, tonight this week, this month this summer is all about the 23 girls that battled through so much this season to get the ultimate reward; ultimately, Roma wins the Coppa Italia. Football days aren't for Women are over; they have battled through so much; these women are warriors and are still standing, having gone through the battlefield.
Elisa Bartoli, captain

Rome-born, Roma fan, first club captain in Roma Women history
"It still doesn't seem real. I think it will take a good while for it to really sink in, everything that is happened.
"In 2018 [when the team was formed], we set it as an objective to win a trophy in the next four years – and we've managed to do it in three. But it is definitely not the end of a chapter now. If anything, it is something that should push us to set the bar even higher."
---
Camelia Ceasar,Goalkeeper
Women of the match, saved two penalties in the shootout
"Yes, I was voted Player of the Match, but the truth is all of us were amazing.
"Behind those saves was an enormous amount of hard work, sweat and training. I share the credit for that with [coaches] Mauro Patrizi, Cesare Cipelli, Valentina Casaroli, [fellow goalkeepers] Rachele Baldi and Rosalia Pipitone.
"We gave everything to win the Coppa Italia. Manuel Neuer made me fall in love with goalkeeping as a kid. I loved his style.
"I don't see the win as revenge [against her old club]. I was actually upset to see them all in such pain after the defeat. But I'm happy that my team, Roma, won such a difficult game."
---
Tecla Pettenuzzo, Defender
Italy international and substitute in the final
"Coach Bavagnoli has helped us improve so much, to mature as a group and really understand our strengths and weaknesses. I think you've seen how much we have improved over the course of the season – and the coach and her staff have been absolutely crucial in that.
"They have always pushed us to produce more and more, even when the opponent sometimes seemed better than us."
---
Andressa Alves

Brazil international, Coppa Italia top goalscorer
"I am truly delighted, it's amazing to have become part of the history of this club. I am so proud of this trophy.
"There is not a 'Roma Men' and a 'Roma Women' – it's just Roma. And all those fans who before only followed men's football have shown us each day just how much they are supporting us and cheering us on."
---
Paloma Lazaro;
Forward that Arrived Last Summer
"It is still difficult to believe it's all really happened; we put all our hearts into it and we have to thank the fans for the boost they gave us too. They told me beforehand about how passionate the fans are here, but I couldn't have imagined they would be just as strongly behind us as they have been."
Annamaria Serturini;
Forward, member of the team from the start, Best Player club's top goalscorer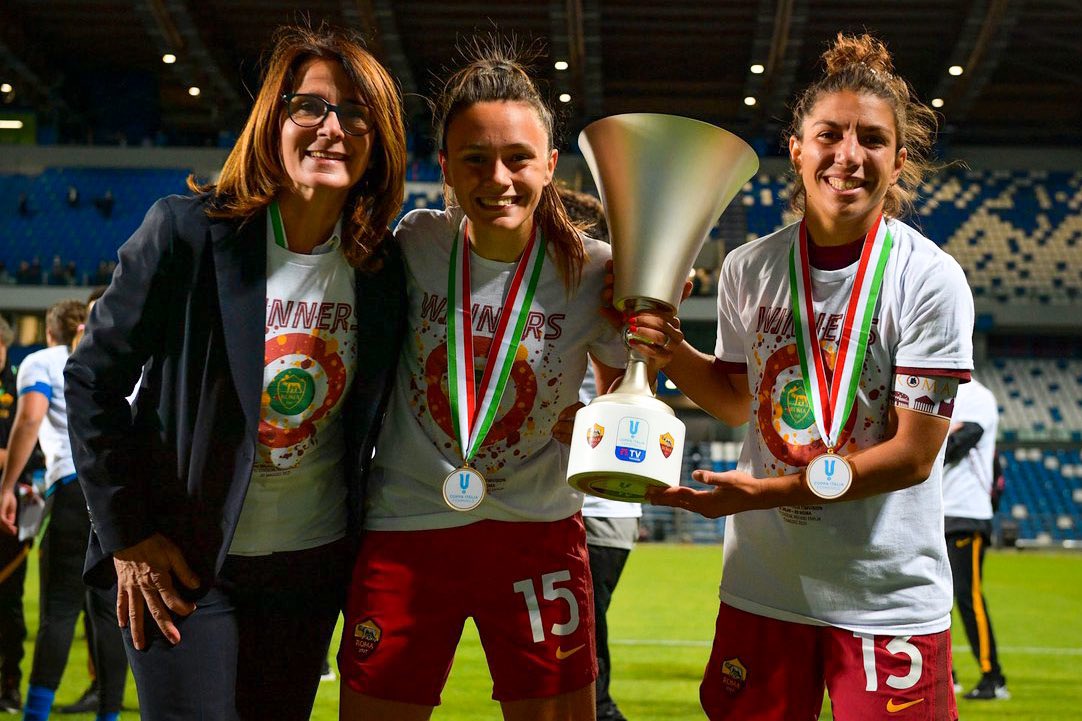 "They always told me that winning a trophy for Roma would be something magical – and now that's been confirmed to be true. A whole fanbase fired up to support us, it's just stupendous. "I arrived three years ago, joining an ambitious new project. Receiving congratulations from Jose Mourinho is something really amazing. We hope that we have welcomed him to Roma in the best way possible with this victory."
My Affection and Friendship with Anna Serturini 
On a personal note, it was highly emotional for me. Roma has had next to nothing to celebrate for a decade; all of us want a little taste of Glory. The Roma women gave us that. The Roma women have only been around for three seasons, yet they have already achieved Glory in such a short amount of time. Conquering the Coppa Italia was extremely important. Not only for the moment but for the future of the club. This team has only been in existence for about three years, and I'm still trying to learn the players and the types of things they provide this fascinating Roma team. I'm happy for everyone involved, from the players to the coaches to all of the fans; we are in an emotional state right now. I watched the penalty shootout on a train on Sunday when I watched Vanessa Bernauer sink that winning penalty, I started to cry not because of anxiety or sadness; it was a pure moment of complete aw and satisfaction. This season I started writing articles about Roma women even though people told me that I shouldn't do it that there would not be enough interest behind it. However, once I started watching the games, I realized but that didn't matter. It wasn't whether or not I had a lot of people reading my content obviously, that is the ultimate goal, but I enjoyed writing them. The Roma women's season has given me a level of enjoyment that I have not experienced; it was a unique situation. More so than anything else, I was writing them for myself because of how much affection I had for this team whole. I did not know a lot about them at first, but I continue to learn about the different players that have been so important to this season. I have developed a certain affection for Annamaria Serturini; she and I have become quite friendly. I tagged her in a post on Instagram stories Midway through the season. She messaged me back. She has done this throughout the entire season. We have become friendly with none another. There is a language barrier, but she always replies a lot of the time using emojis, but she's liked many of the messages that I sent her. I have developed a relationship of some kind with her. It may not be very detailed conversations, but we do speak, and from a personal perspective considering all the things that she has gone through this season, I could not have been happier for her; she is one of the nicest, kindest person I have communicated with. I may not know her very well but just to give the time of day to someone like me makes her incredibly special. As far as professional athletes go, Anna is a class within itself; there's no reason she should respond or message me back, but she does it anyway from the kindness of her heart. It may not seem like a lot, but when she messaged me back the first time, I lost my mind; she is an incredibly special individual, a kind-hearted person, and one of the best players in the league if anyone deserves the Glory of winning a trophy it is Annamaria Serturini even though she is one of the best in the league and one of the best Italian footballers in the world the fact that she takes the time to message me and make me feel essential means more to me than she will ever know. People like Anna are why I started writing about the Roma women; her kindness and willingness to speak to me are the definition of a Class Act, an amazing young woman. This team is only going to get better. With a team like this amazing 24 young women with no ego and family connectivity, they will find a way to put more pressure on Juventus; someone needs to knock them off their step Anna. This Roma side, after winning the Copa Italia, is just the team to do it.