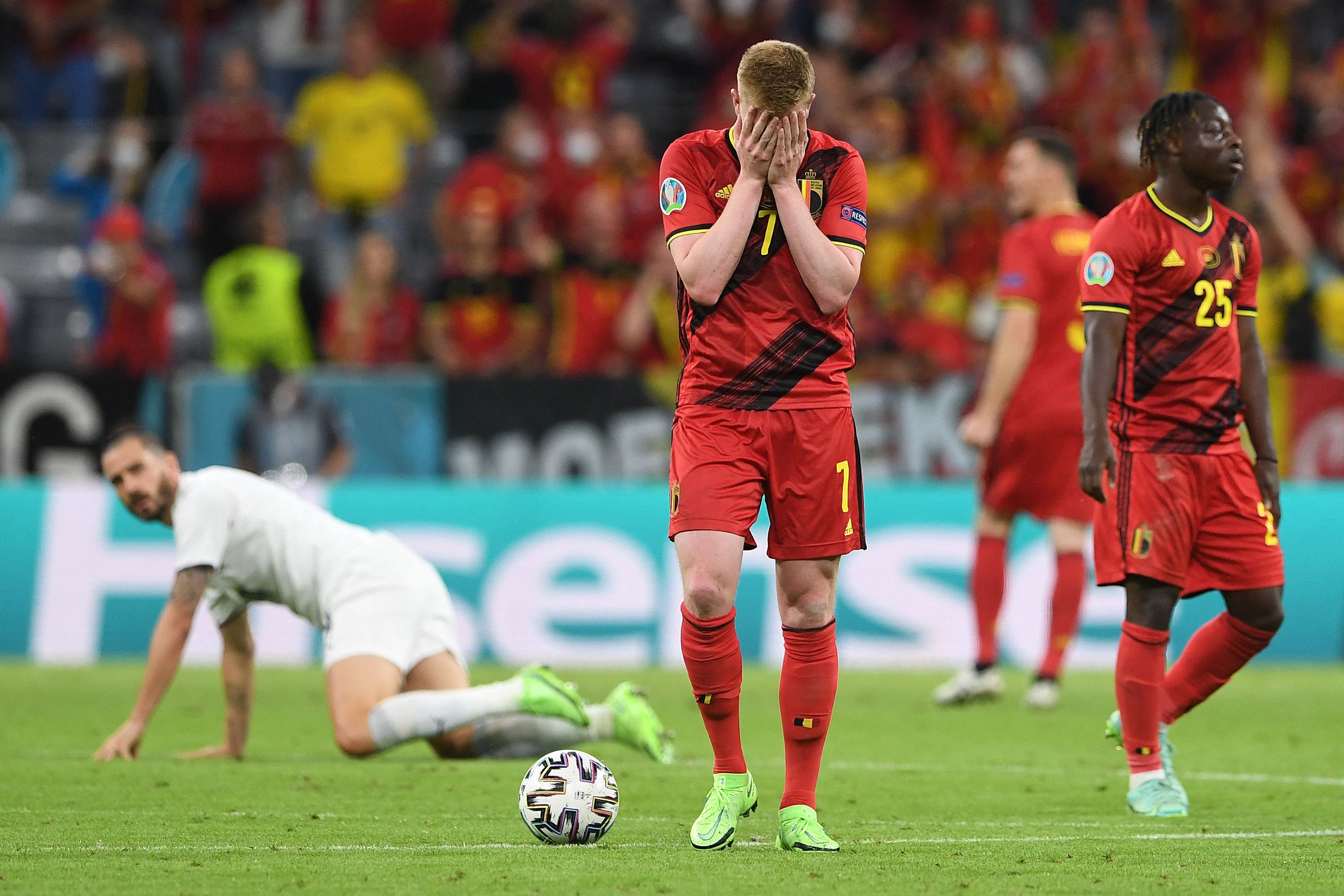 On a Friday night at the Allianz Arena in Munich we saw the most anticipated matches in the competition as expected. In the quarterfinals of the euro, we talked about two of the best teams in the world go head-to-head on the biggest stage in Europe at the moment. Not only that, but the storylines are associated with a big quarterfinal between Belgium and Italy. Italy had gone through the round of 16 after narrowly beating Australia in a 2-1 victory. Italy escaped death in that game, with Roberto Mancini making a critical error that could of severely cost Italy. However, Italy managed to close the deal an extra time despite Austria coming back and nearly equalizing in the end. On the other side of things, Belgium had taken out Portugal and Cristiano Ronaldo while exposing them as a fraudulent contender at the Euros. There were two different narratives attached to his game. Roberto Mancini has an incredibly talented young Italian side that we're going to be around for a long time; they were just starting to gel after failing to make the World Cup in 2018, perhaps the most talented collection of players since 2006. then a lining up against them a Belgium side lead by Inter Milan romelu Lukaku. The Italian defense knows about Lukaku, and Lukaku knows about them it was one of the most exciting Dynamics of the entire match. It was do or die for Belgium; if Italy came up short, they would have other opportunities, but for this Belgium generation, this was our last opportunity. We have been talking about Belgium for a long time. The young team that we saw in 2014 was expected to deliver on the big stage; this was generally the last chance all those young players aren't so young anymore. As a team, they're getting older and probably won't have the steam to deal with what would be thrown at them in the World Cup a year from now. Let's face it; this is the last chance for this golden generation of Belgium to win something and make sure it wasn't going to town for anything. However, with that being said, Italy has a chance to build something extraordinary, and these Euros may be the stepping stone they need. There was so much pressure on the big stage between these two as many believe the winner Italy vs. Belgium will win the euros.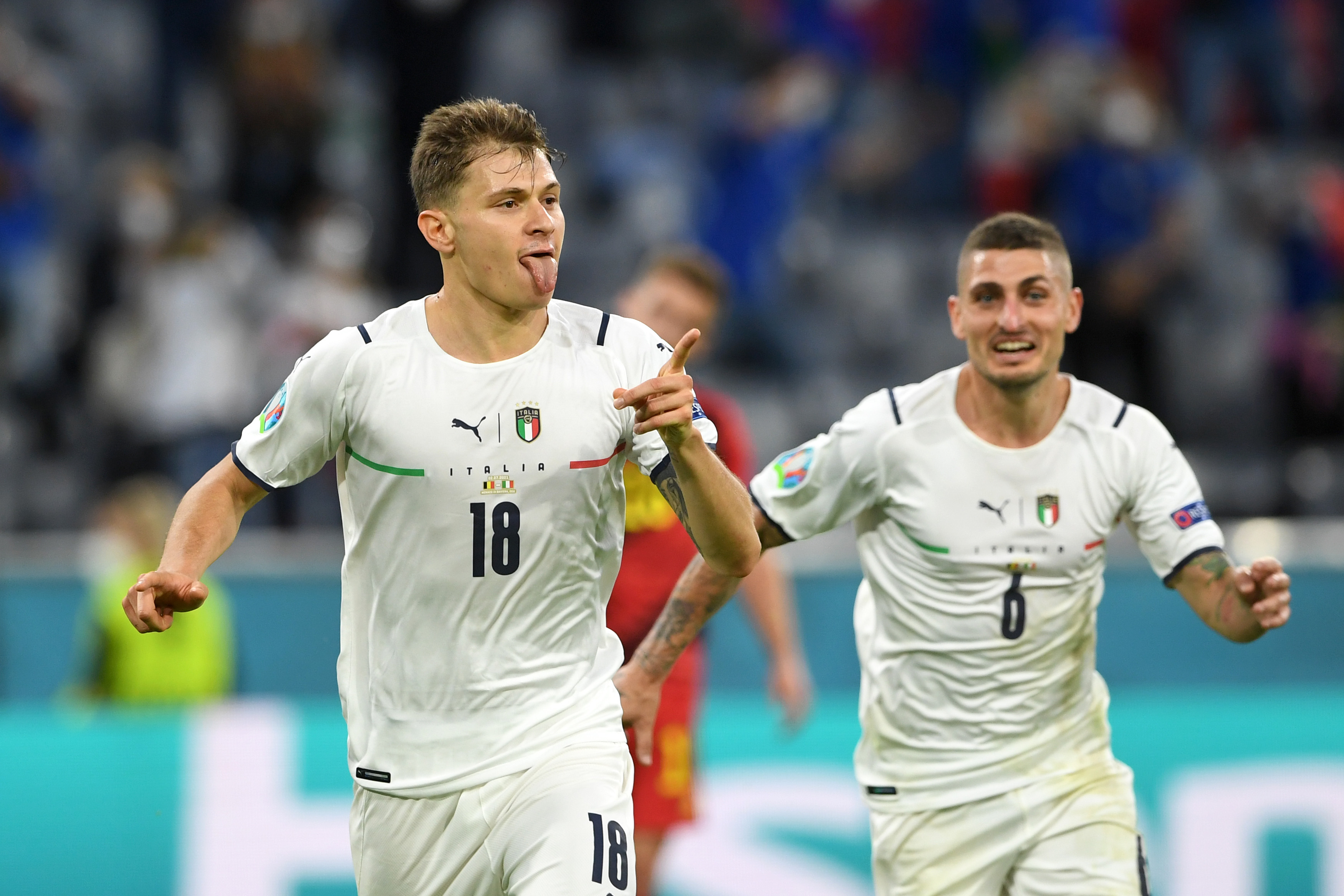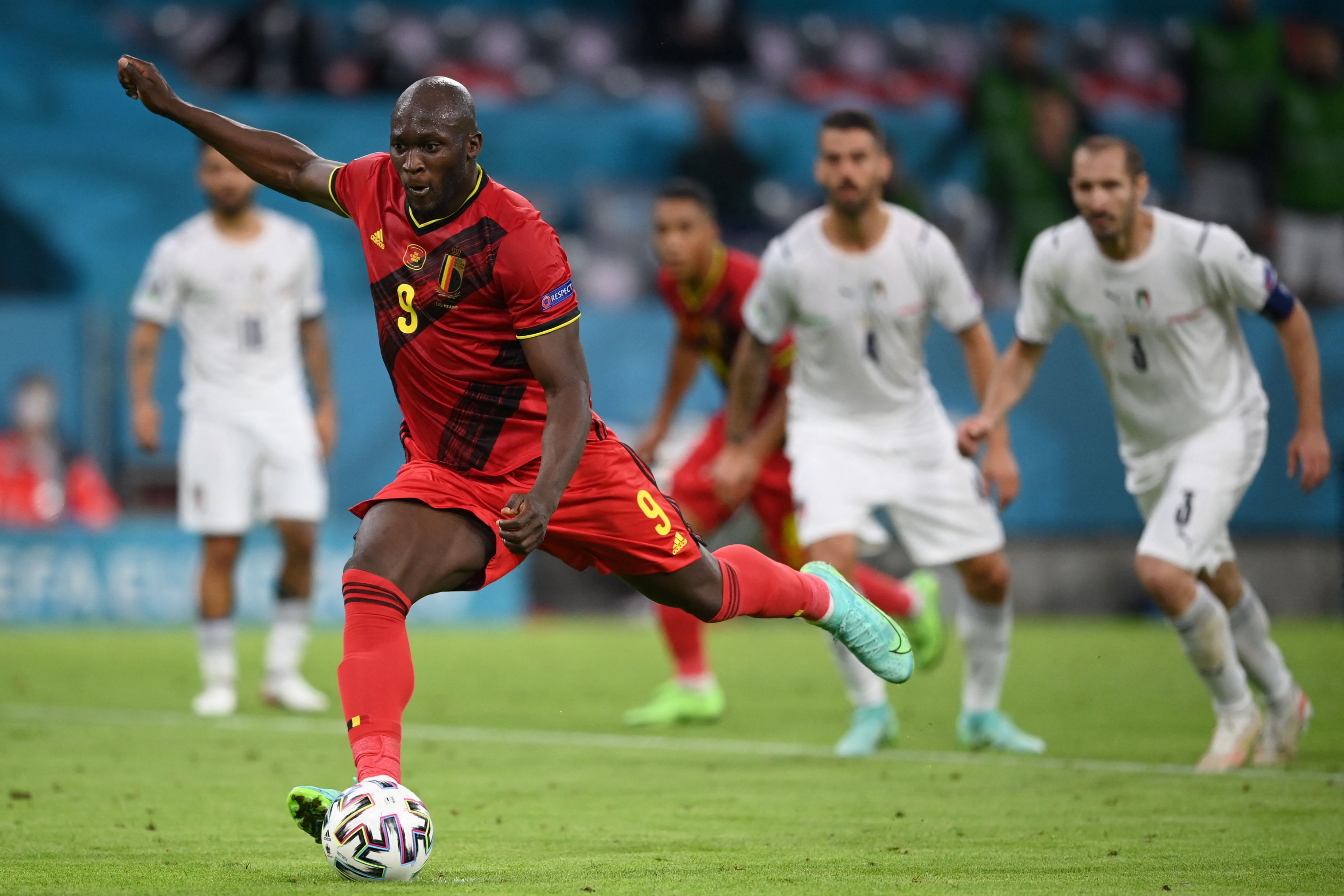 Belgium went into the game as slight underdogs as Italy has only conceded one goal since the start of the competition. even though Belgium has the materials to beat Italy and had the experience, Kevin De bruyne wasn't at 100%, and Eden Hazard was expected to miss the game, not to mention his brother also picked up a knock. Kevin De bruyne is one of the best midfielders globally; without his influence, they would be a huge advantage in Italy's favor. this one was as difficult to call as any match-up in the quarterfinals; it was so close, and even though it did not require 120 Minutes, it was pence from the very first kick-off. both Italy and Belgium came out to play in one of the most evenly-matched games. Italy providing through the Midfield regularly is what we expected from the best Midfield tandem in the world. Nicolo Barella, Manuel Locatelli, Marco Verratti, and Jorginho have non-stop quality in the middle of the park, not to mention the depth they have at many different positions. with that, though, is counter-attack has plenty of room for improvement; they have quality up front, no doubt, but they have failed to deliver; even though they are a danger going forward, it really does not hit the target enough considering the chances they created through the Midfield. We saw dynamism from them in the early parts of his game but equally, Belgium, although the circumstances were firing on all cylinders. Kevin De bruyne tested donnarumma very early, making Italy a little bit uncomfortable, and those first 15 to 20 minutes when Belgium got forward, they look relentless not only with The Usual Suspects romelu Lukaku, Kevin De bruyne, but we saw great output from Doku Who provided a threat that Italy probably were not expecting. The Rennes attacking midfielder shredded Italy with his pace and dribbling skills; even though Eden Hazard was out, that didn't seem to matter considering how well Doku was playing against the Italian backline that is very difficult to contend with but still found enough space to threaten down a roof on a numerous occasion. Italy scored an early goal as the Italians erupted throughout the stadium, but it was discovered that Leonardo Bonucci made contact with the ball as it hit his chest, putting Giorgio Chiellini in an offside position after a video of you it was taken away. the aftermath was a back-and-forth battle with both attacks getting into those dangerous spaces trying to keep the others off balance. Belgium really looks dangerous going forward, but Italy controlled the game through the Midfield and showed how Dynamic they actually are. it was unclear who was going to deliver the first blow, But ultimately it was the Italians. however, professionalism was questioned in the aftermath of their goal. Ciro immobile hit the deck looked like a dead body just lying in the middle of the box. Nicolo Barella collected the ball before rifling into the bottom to give Italy a 1-0 lead; he exploded with excitement as Italy celebrated their opening goal; it looked to set the game's pace. however, Ciro immobile made a huge infringement after looking like a dead body; after Italy scored, he got up and celebrated with his team a disgraceful action from Ciro immobile a pathetic display of play-acting. in my opinion, Roberto Mancini should drop him after a display like that. Italy had the momentum now, and they were able to double the lead through Lorenzo insigne, who is given too much space from the Belgium defense the Napoli Winger hit a rocket from outside the box into the top Corner as Italy score again to take a 2-0 lead in the quarterfinals. Belgium did manage to get themselves back in it when Giovanni di Lorenzo dropped Lukaku Inside the Box a penalty was given. romelu Lukaku against Gigi donnarumma in every game they have played against each other; Lukaku has scored the Belgian Hitman lined up before beating donnarumma to the punch as Belgium minimized the deficit. That pretty much signaled the end of the first half, with Italy holding a 2-1 lead. and the second half, the pressure anticipation only continued it was a battle. unfortunately, in the second half, romelu Lukaku had a massive chance at the far post trying to connect as he hit the post after Leo spinazzola took a deflection. Mere moments afterward, Italy lost one of their best players, Leo spinazzola, the second-best player at the Euros behind Patrik Schick, who had to be carted off the field after reportedly rupturing his Achilles expected tumescent significant game time a massive blow for Jose Mourinho and Roma. many good chances from both sides; what goalkeeper has been called into action pretty regularly Courtois and donnarumma make vital saves. Belgium continues to push late while Italy just tries to hold on. Doku nearly got Belgium back on terms with a brilliant run outside the box before firing a powerful shot at donnarumma; he put too much on it as it coasted over the bar. Belgium continues to push and squeeze any life they still had outside of this golden generation But ultimately could not get that equalizer they were searching for. Italy's two first-half goals the difference has Italy punch their ticket to the semi-final as Italia Espana go head-to-head with a place in the final at stake.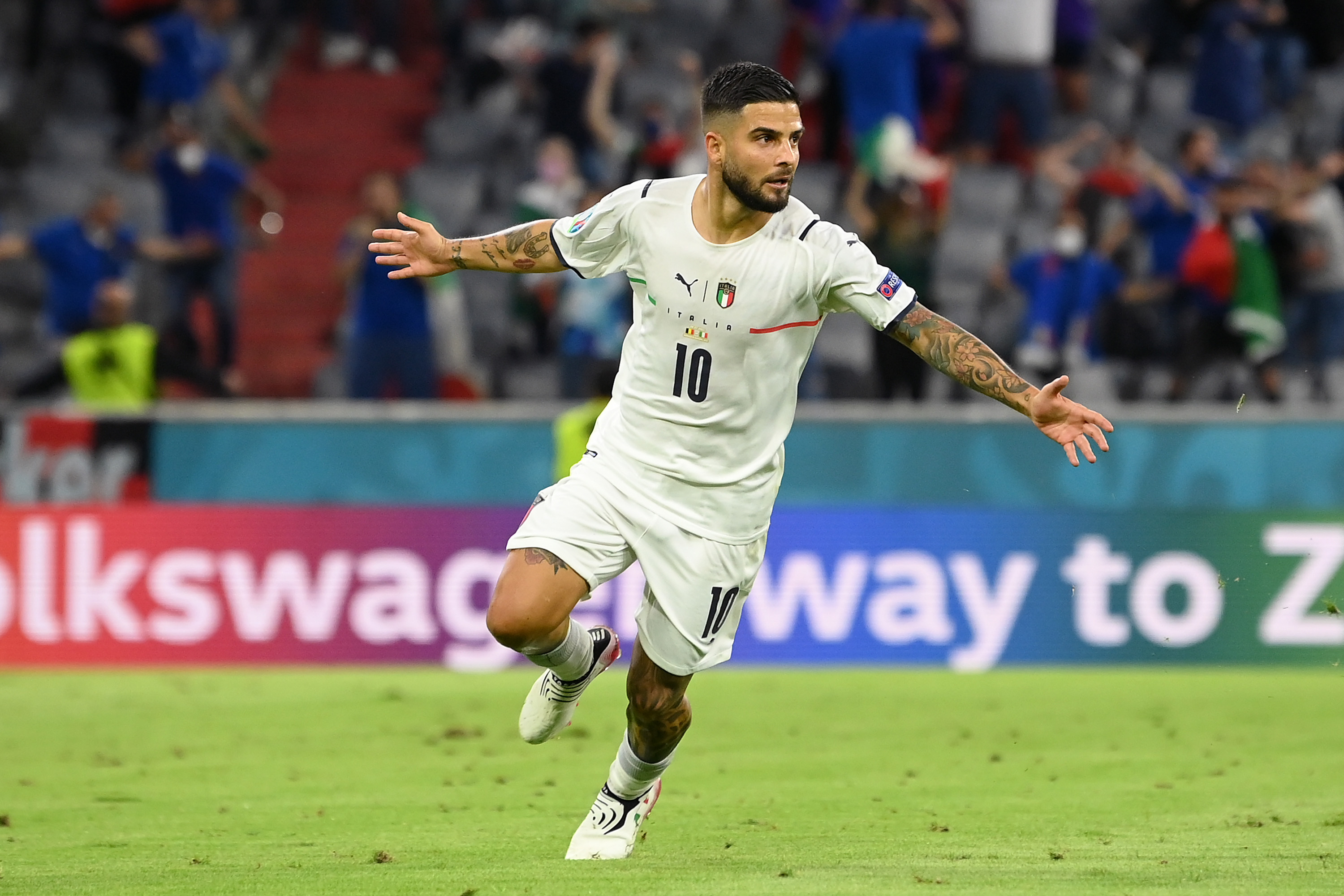 The golden generation of Belgium has been discussed for many years; they had so much talent and opportunities to ultimately at least win something. They made the semi-final of the World Cup and the Euros, but this era has to be regarded as a failure; the depth of talent that this team had was absolutely ridiculous, and maybe they have a chance in the World Cup, but for me, this seems like a fading opportunity, and it was going to have to be Euro 2020 if it was going to account for anything. This Belgium team had Kevin De bruyne Eden Hazard, and romelu Lukaku in their primes at exactly the same time and could not win anything. Ultimately Roberto Martinez was never the man for the job, and in hindsight, he probably played a big role in this ending as a failure. on the other side of things, Italy is a team that's going to be around for a long time their younger energetic and are just getting their feet wet in a tournament like this. they were never Dark Horses they were way too talented to be considered an underdog. Italian fans claimed that they were, but they truly weren't, but they're a team that I think a lot of people speculated could get to a semi-final. Still, it was unclear whether they would after Roberto Mancini's massive mistake against Austria, he got it right, and the stage was not too big for him to deliver. I still don't see him as the Messiah or one of the world's best coaches; anyone who believes either of these statements is absolutely delusional. Still, he has got this team playing the right way, and it seems only inevitable that they'll end up in that final. It is easier said than done. Espana will be no walk in the park, and it will challenge them physically and mentally considering the adversity they've already gone through; they are battle-tested in a way it'll you're not Roberto Mancini, and this talented Italian side has to feel very confident going into the semi-final in ultimately having the belief that they can win it.