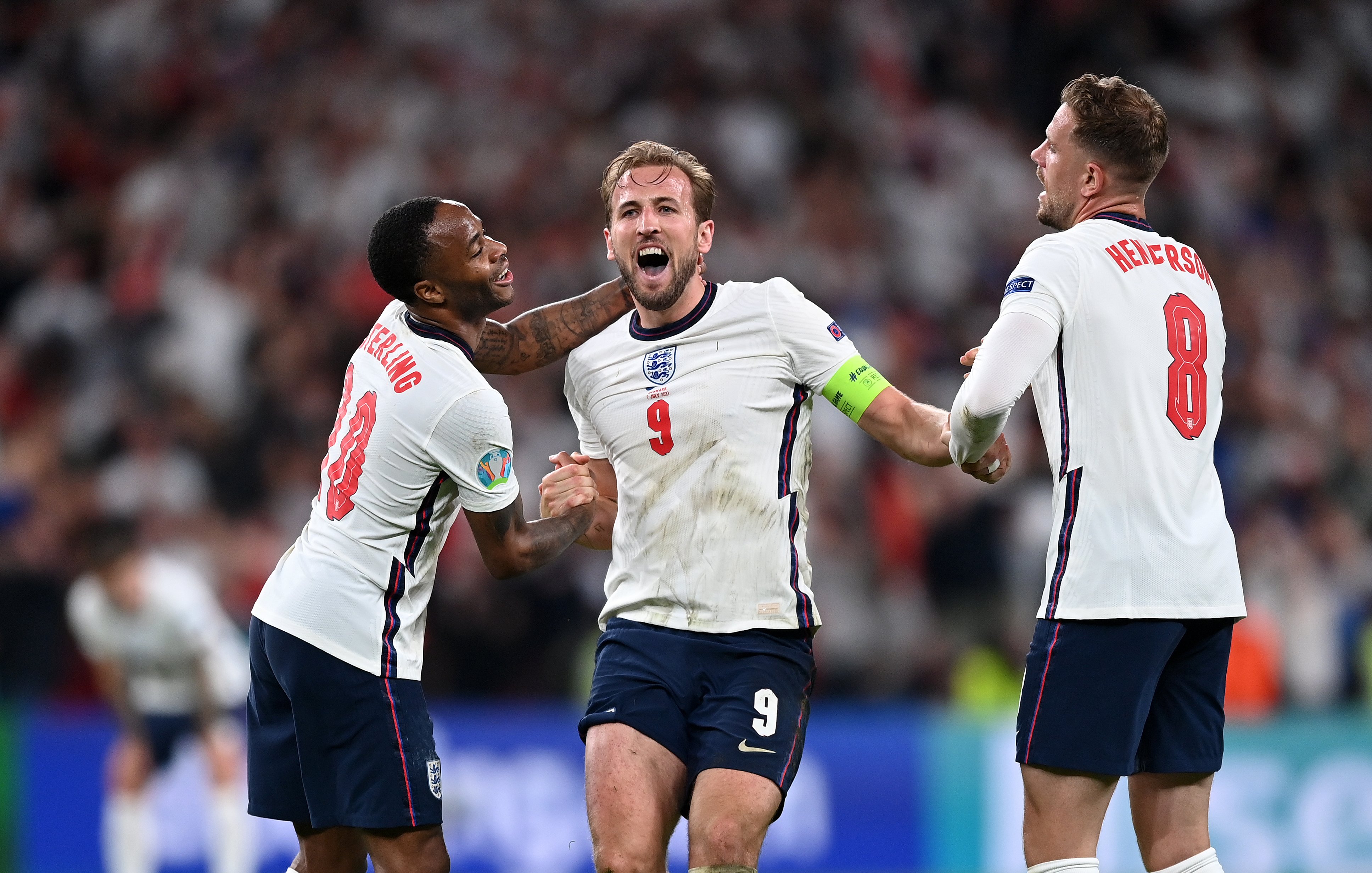 In the second semi-final, we once again saw David and Goliath go head-to-head on the big stage at the Euros at Wembley Stadium. England came into this competition as one of the favorites, especially with the final being in their own backyard. It has been an up-and-down tournament but really caught fire in The Knockout rounds. England finished top of their group beating the Czech Republic and Croatia while getting a draw with Scotland. They then took down Germany in a huge rivalry game, then getting past Ukraine without any difficulty in the quarterfinals as they arrived on the stage as favorites. The question is, it coming home? In this tournament, it has come to mind with an opportunity to win the European championships at Wembley Stadium. England fans have uttered this phrase on a consistent level throughout; however, at these Euros, that could turn to be actuality. England went out in the round of 16 at Euro 2016, losing to Iceland. in the World Cup in 2018, they made the semi-final but regretting they went down to Croatia despite being massive favorites. The red carpet was rolled out for them weather straightforward route to the semi-final at the World Cup; this was an opportunity for England to get back in a tournament like this with the possibility of getting through and making the final with a chance to win the Euros at Wembley. However, the underdogs in the semi-final is a Denmark team that defies the odds and has a fighting spirit. As they lost their best player Christian Eriksen who nearly died in the match against Finland, he ended up being okay, but his health and the situation have inspired this Denmark side to Coast to a semi-final. Denmark won in 1992 Greece who won the Euros in 2004 Miracles can happen. Yes, if Denmark got to the final, they would not lose it regardless of how difficult the opposition was; this was essentially their final; the fighting Spirit was going to all the power whoever they saw in the final at Wembley Stadium. They went into their final group game bottom, but a convincing Victory against Russia gave them a life jacket. Denmark humiliated Wales in the round of 16, took down a very tough Czech Republic sign in the quarterfinals, and now they were here on the big stage against England. Without Christian Eriksen, Damsgaard Yussuf Poulsen, Kasper Dolberg, and others have been the beating drum behind this Denmark team that would Chase an opportunity at history would it be the heavily-favored English or the fighting spirit of the Danes we were in for one outstanding and dramatic semi-final.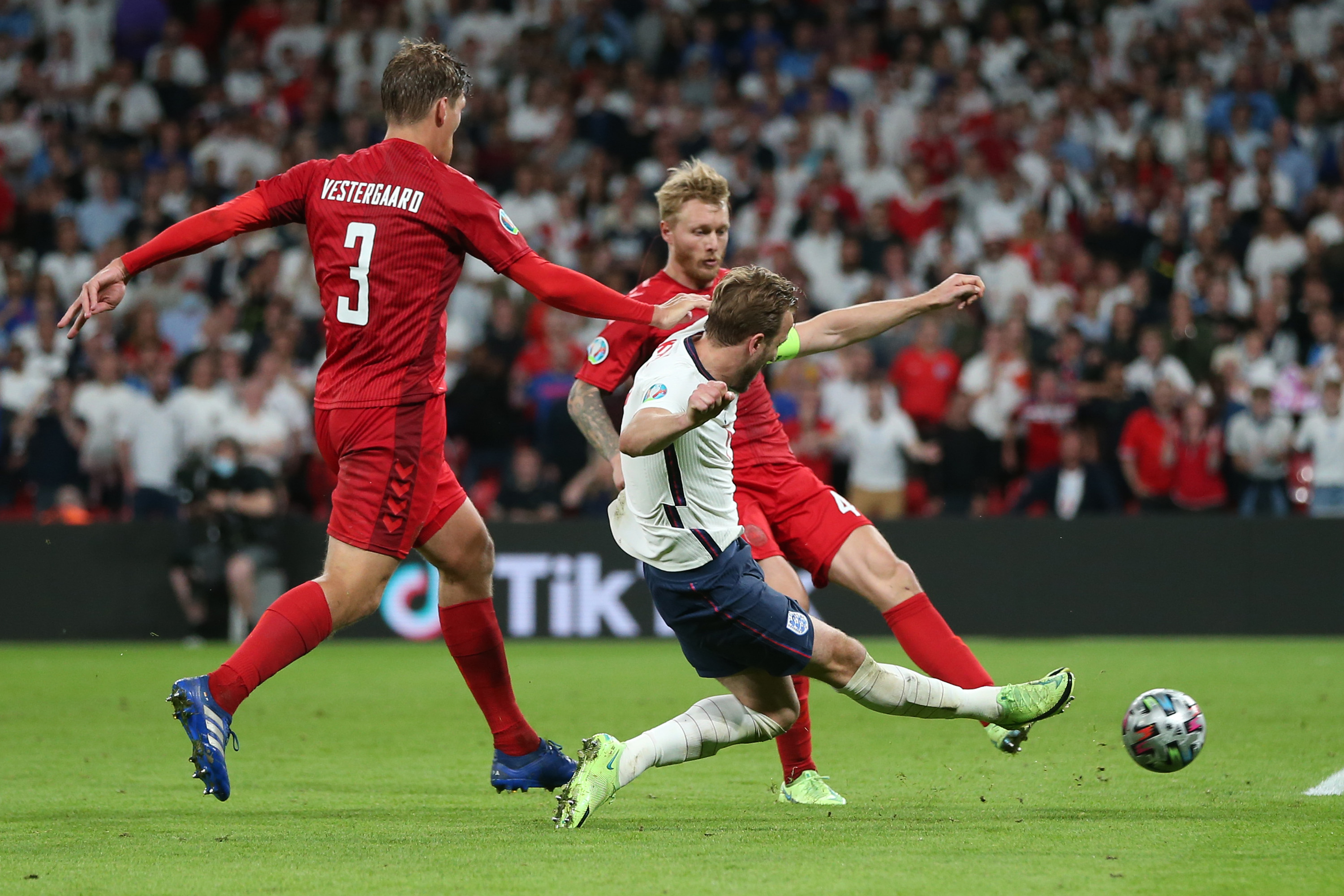 It was going to be a physical and mental challenge for both teams. On one side, you have a very talented English team with the potential to put themselves in a position to deliver on something they have been waiting for since 1966. England has been underwhelming in recent times, and now they sit a semi-final at home with a final to bring football home after Decades of waiting. To get to the final, something surely thrilling. Then Denmark, in its own right, has the feasibility of being an underdog that survives and wins the tournament. Considering everything they've gone through in the euro, this was their chance to show exactly who they are. A win here for Denmark would more or less write their name on the trophy, a team operating out of emotional energy playing with the challenge of cutting the Lions head off in its own Den. England glided through Ukraine without too much difficulty. The Ukrainians are a very nice young team with lots of things to look forward to. Meanwhile, Denmark is a complete team who even without their best player, has shown those colors. Kasper Schmeichel, along with damsgaard Kasper dolberg and many others who play well the team despite not having the Three Lions' superpower in the early part of the first half, as we expected, England continue to ride on their momentum, showing their explosiveness and their talent early. Testing Kasper Schmeichel with a couple of chances has Harry Kane looks for Sterling but plays the ball too long. England. After but the defensive ability is the backline, and the keeper kept things out. England did have the momentum driving them in the first half, but Denmark was hyper-aggressive in their own right getting into those dangerous spaces trying to be effective. It was a nip-and-tuck battle throughout; even though England probably had a little bit more momentum driving than the Danes at did not back down from any challenge, and we're on the brink of scoring almost regularly; it was really impressive goalkeeping performances from both Kasper Schmeichel and Jordan Pickford. There was a question of who is going to deliver the first blow. In Wembley Stadium, you would have thought it would have been England. Denmark earned a free-kick at the half-hour mark in a dangerous position. Damsgaard against Pickford. The Denmark youngster curled a strike into the top corner leaving England no chance to save it. The Danes push themselves in front as they led 1-0 in the semi-final at Wembley Stadium. Unfortunately for the Dark Horse of this tournament, it would not last very long England got themselves level within 10 minutes a beautiful ball from the wing inside to Raheem Sterling, who ended up getting on the end of it, smashing the ball into the top corner it was eventually credited as an own goal what a beautiful set up from the side and a fantastic run by Raheem Sterling.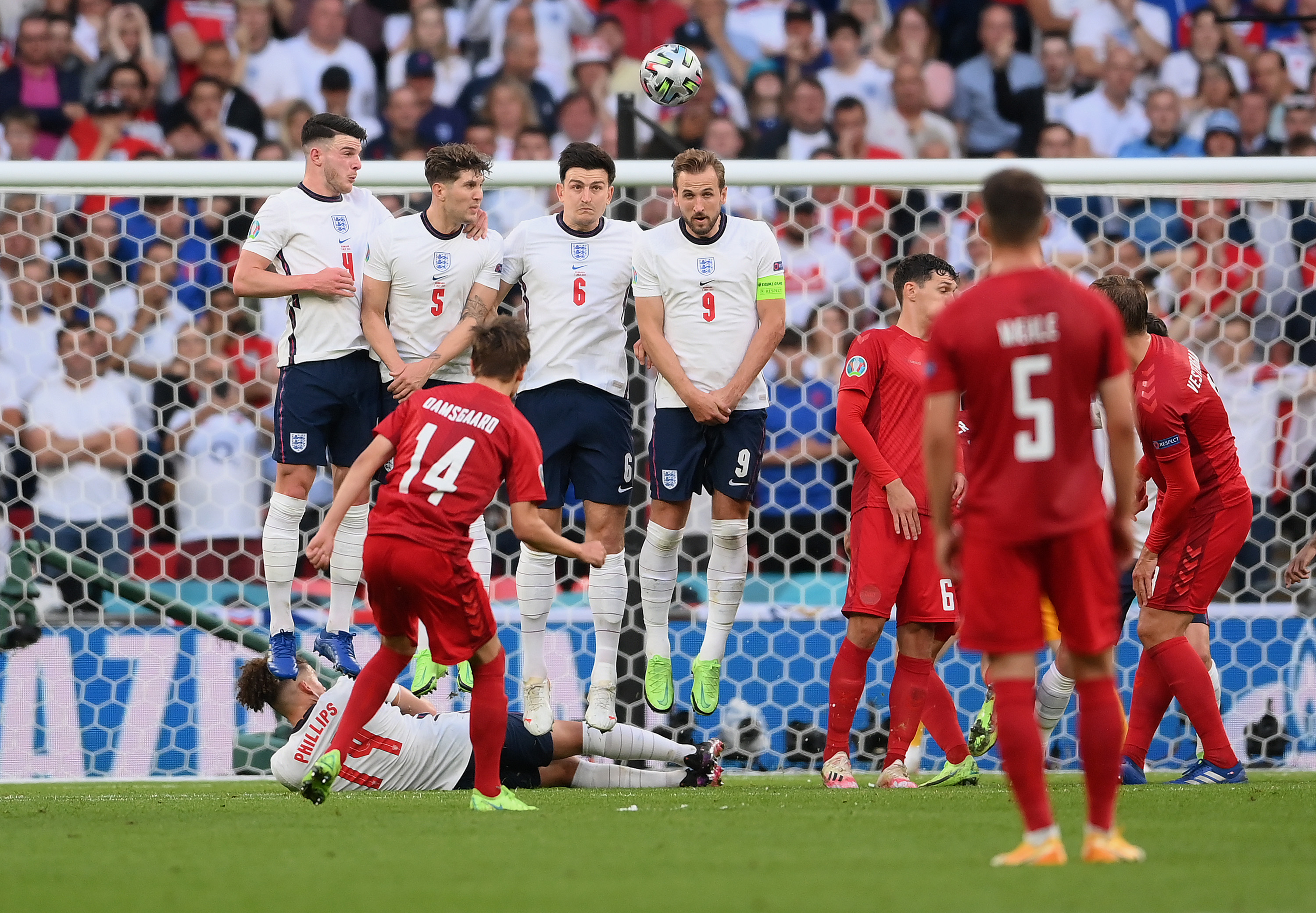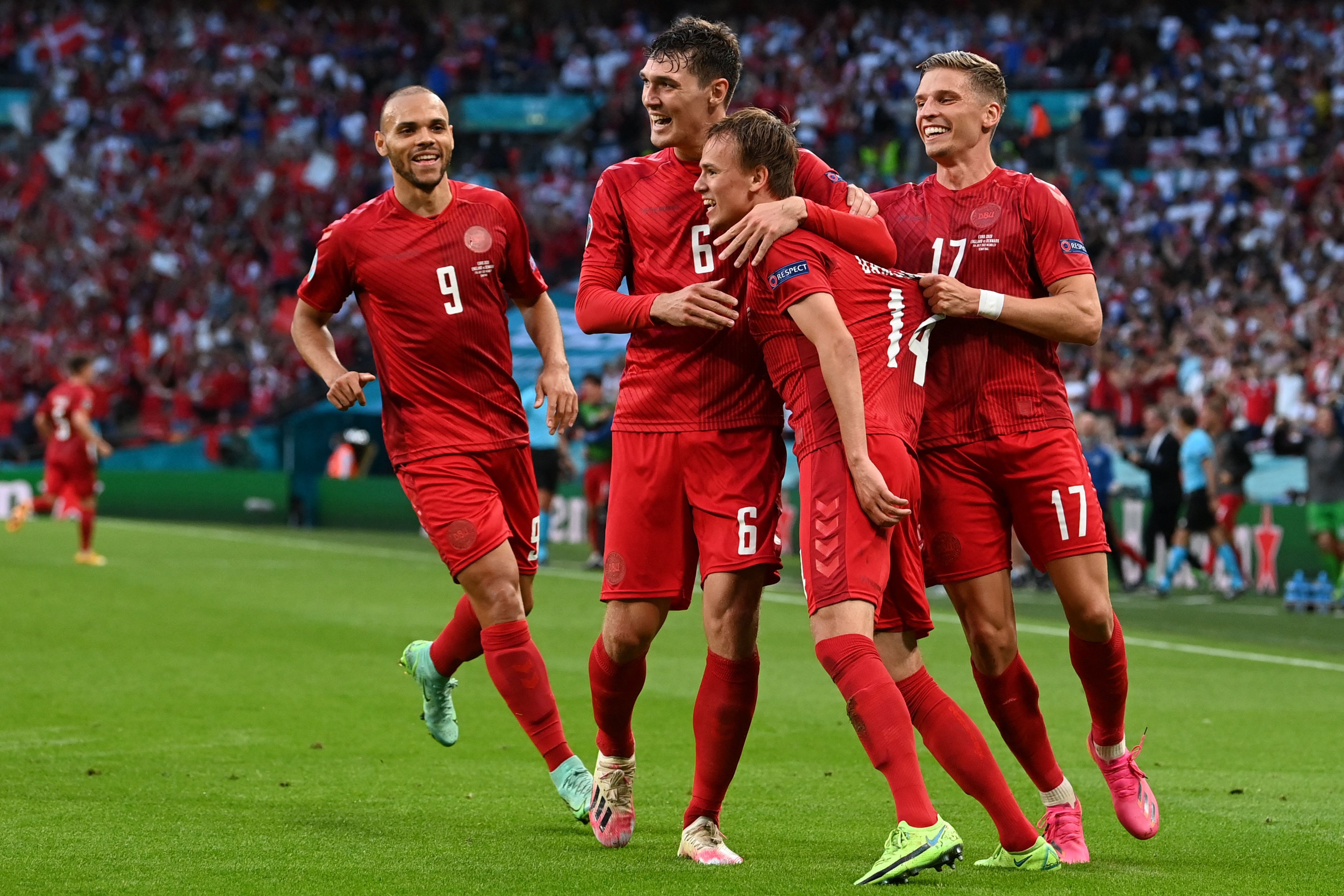 it was a level after the first half; both teams could taste the final it was going to come down to different types of circumstances of whether or not they could settle it in 45 minutes or would we see another game go into extra time. England came forward tested Kasper Schmeichel, but they continued to deny England in the dangerous areas. England has The Possession and the control was the better team in this game, but opportunistic Denmark came within distance on several occasions. There were some unfortunate calls for both England and Denmark; they continue to fight as the tension only became more and more heated. Denmark had an opportunity to chase history while England was trying to get to that final with the possibility of football coming home. 90 minutes wasn't going to settle it yet another game going into extra-time Denmark had their chances through dolberg and Polson an extra time Damsgaard continue to be that creative bulldog in the Midfield. At the same time, The Three Lions did push forward and seemed to be on the verge of something meaningful. Controversy ensued an extra time. a penalty was given to England despite the claim of theatrics from Raheem Sterling there are certainly questions to be asked of whether it was a penalty it's hard for me to say at first glance I would say it wasn't. There could have been some playacting involved in the penalty itself. However, the call stood. Harry Kane stepped up to take an essential penalty and one of the most monumental moments of the England national. Kasper Schmeichel denied Kane as it was a really poor penalty, but Harry Kane got the rebound and stuck in the back of the net as England and Wembley Stadium exploded. The reason you can't call robbery on the penalty it's because he didn't score; we just don't know what could happen or what would have happened if the penalty wasn't called for; all we know in that very moment Harry Kane could have scored from the same position a minute later if he makes the penalty may be the conversation changes a little bit. Initially, I thought it was a penalty, but looking back at it, I'm really not sure, but I'm not going to call robbery. England deserved to win Denmark tried to push and squeeze the final drips of their fighting spirit left in a heartbreaking turn of events, Denmark falls short of fulfilling their destiny to win the competition for Christian Eriksen. Even though they ultimately fell short of their goal, they should be hugely proud of the way they performed; they went from nearly missing out on The Knockout stage to being in the semi-final; the Danes aren't going away; this will not be the last time we have heard of them. While England gets an opportunity to celebrate something that seems impossible, they are in the Euro 2020 final at home at Wembley Stadium. They will be going up against a callous Italian side that has not lost in 30 games but did seem beatable against Spain; it will be a tough one to call between two outstanding teams England and Italy throw down on the final tomorrow night it's either coming home call coming to Rome.