Argentina 1 Brazil 0FT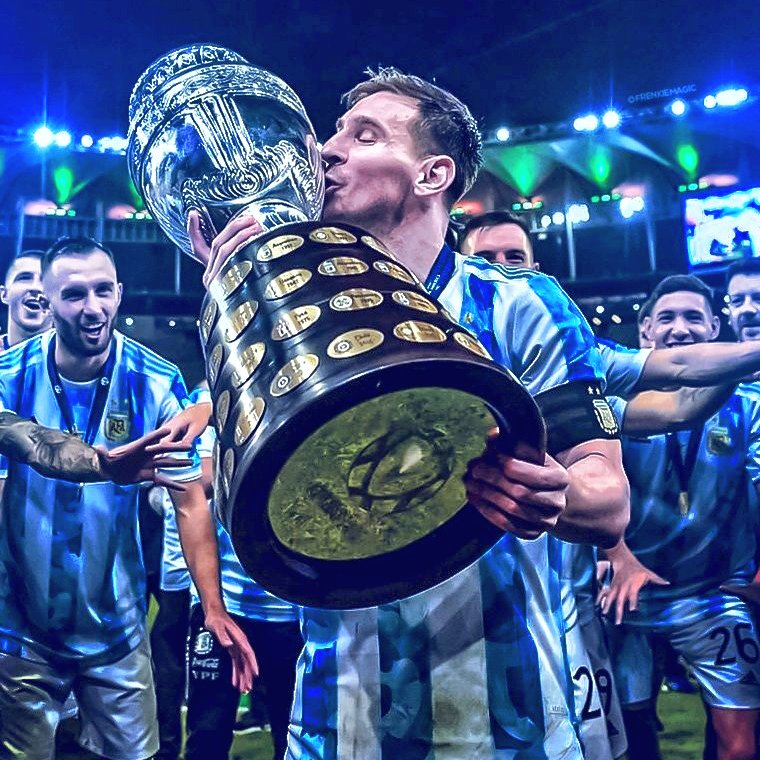 Argentina has been chasing Copa America since 1992; it has been a disaster and heartbreak repeatedly; even though Argentina has come close to finally getting the Glory, it has been a challenging Road that Argentina has not been able to crack. The last time Argentina was champions of Copa America, Gabriel Batistuta was the man on top and the star of the show. This is before Lionel Messi, the greatest footballer we've ever seen, was part of his Argentina side; it's not just the fact, but Argentina has come up short; it always seems to have been in the most tragic way possible. Lionel Messi is the Undisputed goat even without an international trophy with Argentina, but even then, it has been very difficult for Argentina to get over the hump. Before Messi and with Messi, the Heartbreak and Devastation seemed to follow them almost constantly. It's one thing if it's Brazil being the reason for the lack of success from Argentina; it's another when that's not the only cause of it. Peru and Uruguay have knocked them out in recent memory. Not to mention Argentina making the two finals against Chile, falling short on penalty on both occasions. Lionel Messi missing from the spot in 2016, ultimately retiring before returning. Then you look in the early 2000s Argentina was on their way to winning the competition until a stoppage-time goal from Adriano ended up with Argentina losing on penalties being humiliated and the last Copa America to Brazil in the semi-final so many other heartbreaking moments. The devastation and heartbreak weren't just a specialized for the Copa America losing the World Cup final to Germany in 2014 to France in the Round of 16 in 2018 and Germany again in 2010. Lionel Messi has failed to fulfill his destiny of winning with Argentina as Diego Maradona did; it's not fair and international trophies should not Define the greatness and the Legacy of Leo Messi, but it just highlights the misery he's had to deal with Argentina over his career before this Copa America he was 0-9 in Finals despite winning the gold medal early in his career and under-19 World Cup those are not accounted to his senior career and unfortunately with Argentina despite being individually the greatest player I've ever seen the criticism has not been far behind. Even though Argentina lost in 2018, They almost didn't make the tournament, and it took a Lionel Messi hat-trick against Venezuela despite conceding in the first minute to take them to the World Cup. It really seemed like Lionel Messi ultimately would not be able to give Argentina Glory.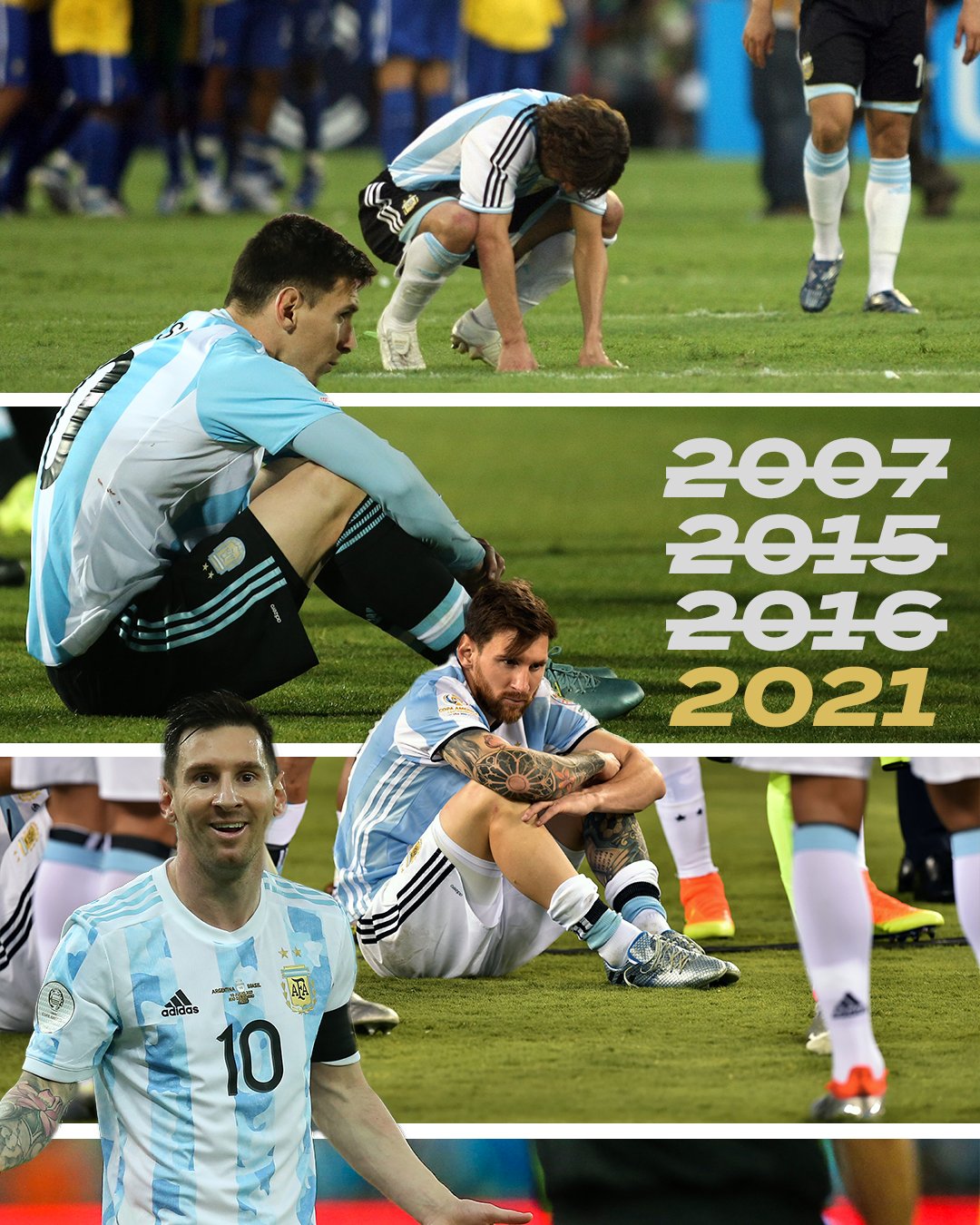 Leo Messi had fallen short in 2007,2015,2016 This was the time to Turn the tides
The 2021 Copa America hosted in Brazil made Glory's already challenging shot that much more difficult. Argentina was knocked out of the Copa America in the semi-final last time without Neymar, arguably the best player in the world currently, at least in that conversation. Neymar was coming off a fantastic season with PSG taking them to the Champions League semi-final beating the Champions League holders Bayern Munich with two men of the match performance is in a row in the process. he could have been the missing piece for Brazil they came into this tournament in fantastic form, and he was completely healthy ready to capture the Copa America, but his teammates did without him in 2018. a fully healthy Brazil with Neymar was going to be almost impossible to beat, and during the group stage, Brazil certainly looked unbeatable with Neymar putting together so many outrageous performances, especially early in the group stage it just seemed taking down Brazil in their own country was going to be far too tricky. We all picked Argentina to Win It out of nostalgia and Hope that Lionel Messi would finally get over that hump. This Brazil team just seems almost impossible to break it down, but Argentina grew into the tournament as it progressed. Lionel Messi was unbelievable the best player in this tournament by a country mile; he was at his Peak throughout Copa America. However, certain doubts were surrounding whether his Supporting Cast would be able to give him enough help to get through it. During the group stage, there for certain doubts surrounding that. Lionel Messi scored a fantastic free-kick to kick things off for Argentina and continue to put together some Sensational performances. Still, there are other games where it seemed like he was doing it by himself. Lionel Messi was the best play in the tournament, with most goals, most assists, most man-of-the-match Awards, and so on. Argentina went into the knockout rounds with a little bit of confidence. Leo Messi was driving them, but Emil Martinez, who had an Underdog Story of his own was phenomenal Christian Romero continued the fine form that he showed in Serie A Rodrigo de Paul showed every day he was worth that move to Atletico Madrid so on and so forth near the end of the group stage Argentina was playing at a team. Maybe there was a way to make it when you go from there, but Brazil was still the favorites, and I still believed they would win it. Argentina, in the quarterfinals, they took care of Ecuador without too much difficulty in a 3-0 victory. The semi-final vs. Columbia came down to penalties before ultimately Emilio Martinez was the hero saving three penalties. Meanwhile, Messi as a leader showed his great colors not only gives his team encouragement during the critical moment of the semi-final, but when former Barcelona player Yerry Mina missed penalty Lionel Messi did something very unusual when he missed the penalty Lionel Messi was giving to him Mina had danced when he scored his penalty in the quarterfinal, and Leo Messi's shouted at him saying "Dance Now". Argentina was going to earn a date with Brazil. Brazil was so dominant during the group stage but kind of Limp through the quarterfinal and semi-final, beating Chile and Peru both 1-0 lead. As expected, Brazil versus Argentina, despite the Forum Brazil playing in against Argentina, we expected Brazil and Neymar to close the deal. I think there was an understanding that Lionel Messi Argentina had a legitimate chance, but it was far-fetched.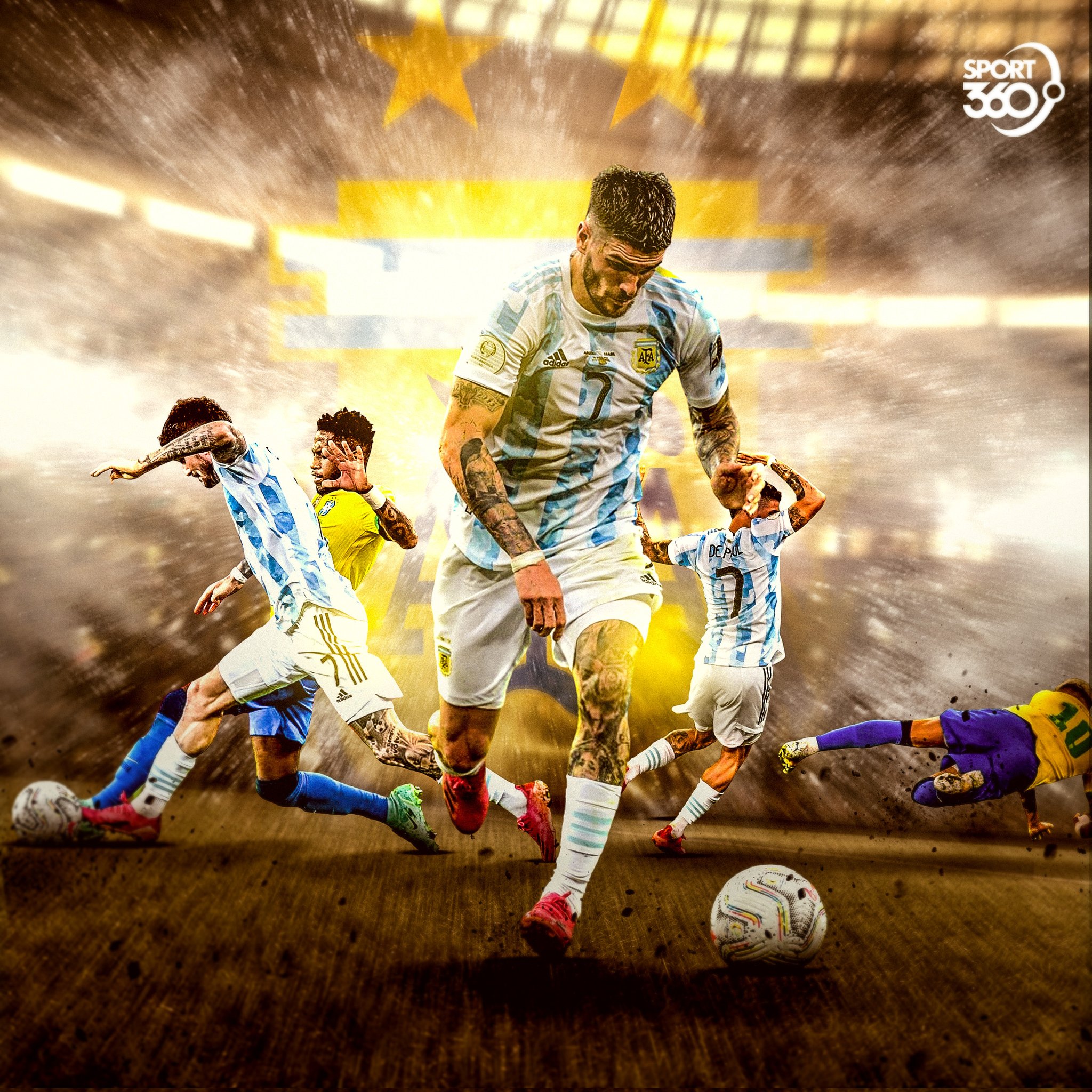 Argentina got that meeting with Brazil
At a chance to win the Copa America in Brazil, Argentina was too big of an opportunity for them to let it slip. Still, the best Brazil team is one of the best in the world and will be one of the favorites for the World Cup regardless of the result of this game, but there was so much on the line for both teams. Lionel Messi potentially grabbing his Copa America that he has been longing for or Neymar adding Legacy to his already historic career. Brazil heading credible flashes early in this game of the way they were playing at the beginning of the Copa America Argentina, for the most part, contend with it with Emilio Martinez and Christian Romero playing a big role and trying to keep a Brazil at arm's length. Argentina was very impressive through the Midfield Messi did his thing but honestly wasn't his best day. A back-and-forth type of game, but it was Argentina that got themselves in front and put them in Dreamland. a beautiful ball from new Atletico Madrid signing Rodrigo de Paul to Angela de Maria, who caught the pass out of the air as the ball landed in the back of the net as Argentina took a 1-0 lead. Brazil had those chances to get back into the game, but Argentina held on to their lead after the first half.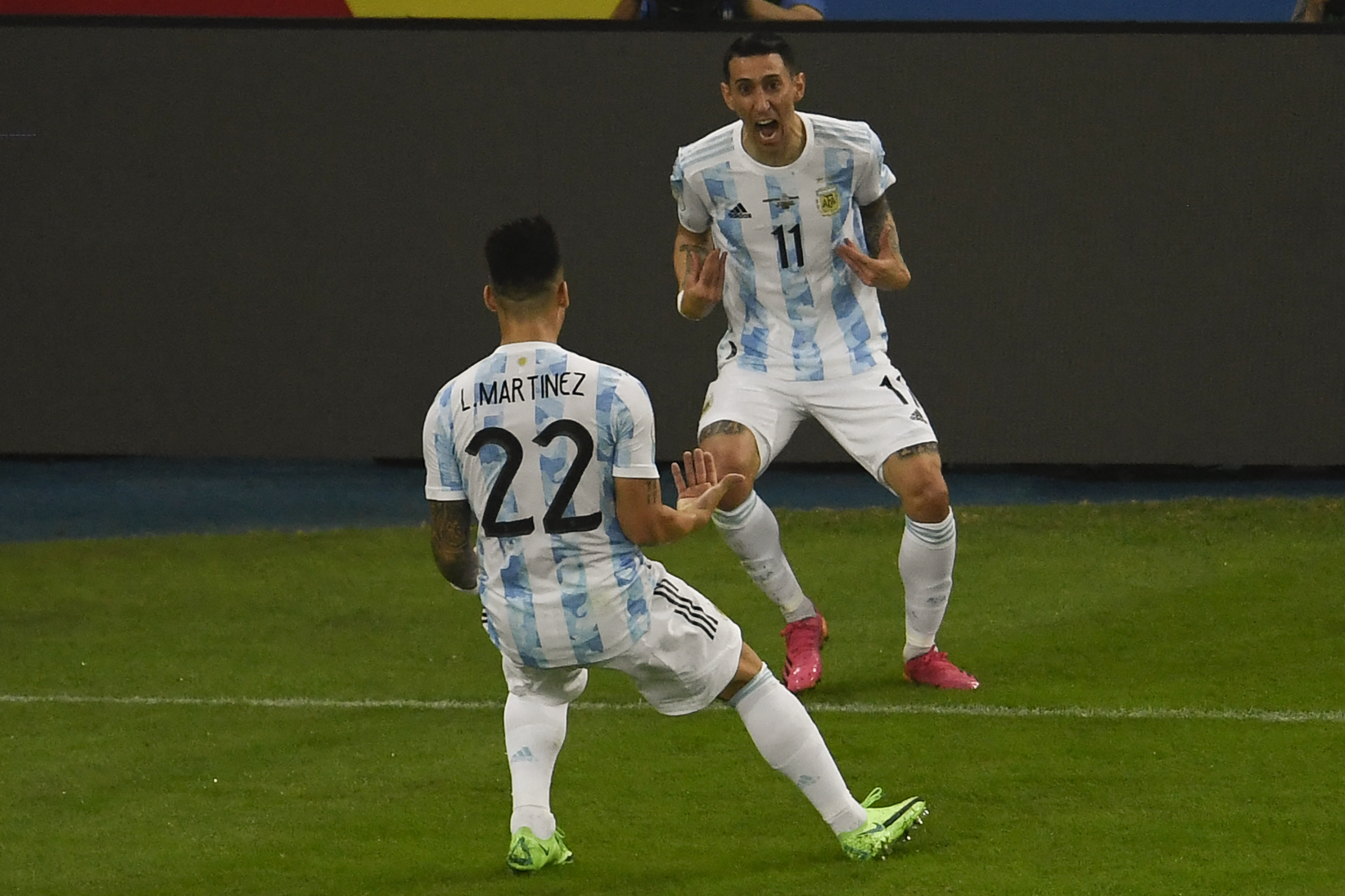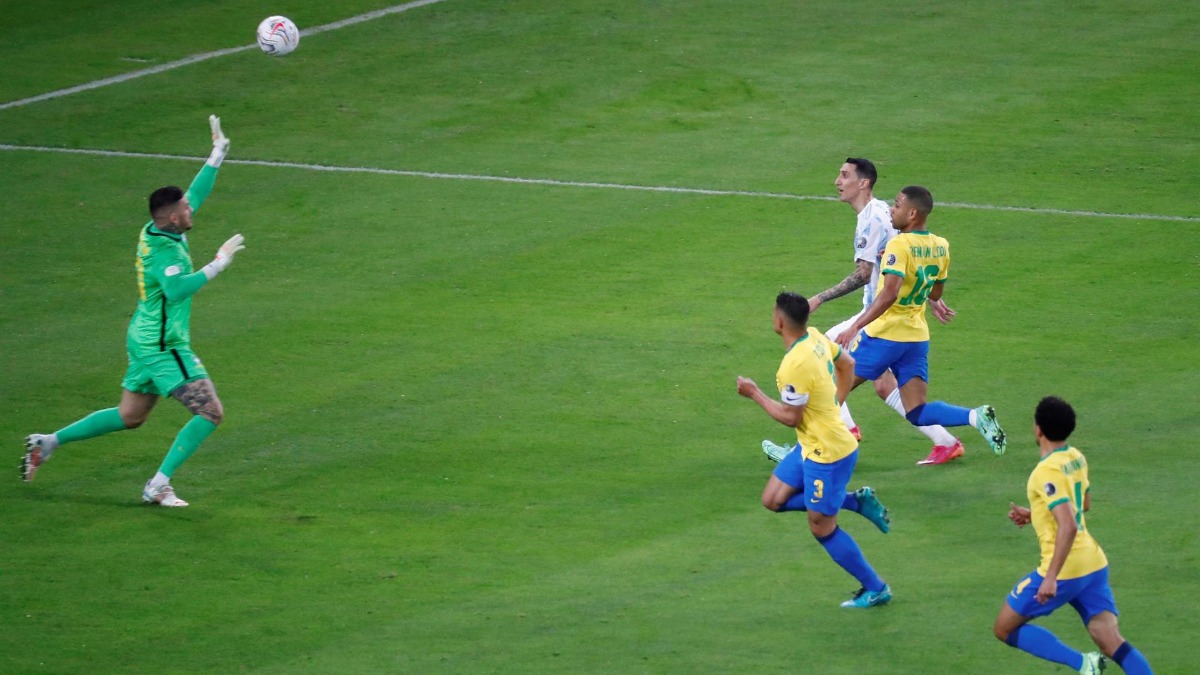 Di Maria gives Argentina the lead in the first half
In the second half, the game heated up. Argentina was trying to hang on for dear life, while Brazil wanted to push them around as much as Argentina resisted. Argentina was now 45 minutes away from winning the Copa America. Argentina needed to be especially careful to extend the lead but not make too many risky decisions to sabotage themselves potentially. I'm making history early in the second half. Brazil did score, but it was rightfully called offsides. The midfield did a good job of control in the game, and defensively Romero did such an excellent job of keeping the Brazil stars in check. Neymar was still phenomenal, proven to be the best player in the world; he constantly gets disrespected for no apparent reason. This was his opportunity to Silence the Critics. It was a tremendous battle in the late stages of the game name or came close in a couple of times, but Emilio Martinez was there to deal with the situation really put together a tournament to remember. As great as Brazil are throughout the tournament, it is evident that changes need to be made at the top despite having one of the most talented assembled squads globally. Neymar was willing to die for his team doing everything he possibly could have until The Bitter End. the final whistle blew as Argentina win the Copa America.
The Wait is over Undisputed GOAT Leo Messi Wins at last with Argentina
Leo Messi dropped to his knees immediately as emotion came over him, something that he has been fighting for his entire life. From almost not qualifying for the 2018 World Cup to the countless finals losing to Germany in 2014, the two Copa America final defeats and so much pain and agony as the pressure just continue to mount on Lionel Messi. Even though it is entirely unreasonable, he has been asked to win with Argentina to truly become the greatest to potentially in Argentina become bigger than Maradona. You could see the emotions affecting Lionel Messi was finally won something significant with Argentina; nothing can be said anymore. Five years earlier, Cristiano Ronaldo did the same with Portugal, and now Lionel Messi with Argentina is getting that International trophy to justify everything we know he already is. Lionel Messi finally conquered Glory with Argentina and took down Brazil, which has stood in their way so many times in this competition. Lionel Messi embraced his teammates, and tears began to flow down his face; this was a very different Argentina than in the past; this isn't a fantastic team; it's an outstanding team, but the reason, in the end, Argentina are the kings of South America is because of the leadership maturity and guidance of Lionel Messi he was not fantastic during the final. Still, he didn't need to be his teammates came through and supported him and came up big when they needed to collectively Health Lionel Messi achieve the thing that is always preceded him. After the final whistle, he facetime his wife and his family you could see how much it meant to him he's finally answered the bell with Argentina; it is impossible not to feel so happy for Lionel Messi, who has fought so long do so many heartaches and heartbreaks that calm United into this moment. People will continue to debate about who the greatest ever is, and it's in their right to do that. However, with this Copa America Title the 67% of people but I believe think Lionel Messi is the goat will go up after Argentina Copa America Victory I think that number is closer to 75% now some believe Diego Maradona still is the goat some people believe Pele Johan Cruyff or Zidane. However, I believe the debate of the last decade between Lionel Messi and Cristiano Ronaldo has finally been settled. Cristiano Ronaldo is probably the greatest goal scorer in football history, the best player ever in the history of the Champions League, an amazing super athlete that has operated on an incredible level for so long he is without question one of the five greatest players ever. We should not take anything away from Cristiano Ronaldo and all he has done in so many different leagues on the biggest stages in the world. However, for the longest time, the Cristiano Ronaldo fans held his Portugal euros in favor of Ronaldo using that same argument against Messi because Lionel Messi did not have anything with Argentina. Cristiano Ronaldo, by default, is more remarkable. The absolute truth of the matter is international Glory only matters to a certain extent it does not define or make the difference between the goat and not the goat Lionel Messi is the greatest player ever; he did not need to win with Argentina for that to be a reality it's all the other things that come into it that makes him the greatest ever as great as Ronaldo is the debate between Leo Messi and Cristiano Ronaldo is now over I don't think any reasonable person physically beliefs that Cristiano Ronaldo is a superior player to Lionel Messi. As I said, Cristiano Ronaldo was an all-time great Lionel Messi is in a league all by himself. Now, with an Argentina Copa America Title, it permanently settles that debate. I think most people put too much stake into winning International trophies; it is a matter it's an incredible accomplishment, but it doesn't fall into the criteria of being the greatest ever; certainly, it can enhance it. Still, it shouldn't be the duel and all, which why even though we're all incredibly happy for Leo Messi; I don't think he needed to win anything with Argentina to justify that he's already the Undisputed goat. Still, it's hard not to be so happy for Messi, considering the emotions that went over him.
Emotional Leo Messi facetimes Family as the final whistle blows to celebrate a moment of high level emotion
Lionel Messi was winning Copa America a fantastic Triumph, but as far as the Ballon d'Or goes, it still belongs to Robert Lewandowski. I don't want to spend too much time mentioning this, but I want people to keep everything in perspective. In my criteria, International success does not enhance the Ballon d'Or nomination in any way. Lionel Messi has probably made it closer, but Robert Lewandowski should win the Ballon d'Or, and it actually would be Criminal if he was robbed of the honor just because of a Copa America Triumph. It's a lot closer than it was a couple of months ago, but there's nothing that should stand in the way of Robert Lewandowski winning the Ballon d'Or. There's a lot of discussions now that it changed the conversation; the criteria should never be based on team success, at least to a certain extent. It becomes close, but in the end, Robert Lewandowski still should win the Ballon d'Or. I don't want to talk about this too much because I don't want to take this from the message, but I just want to make sure we all understand that this is a fantastic Triumph for Messi's Legacy but does not change the owner of the Ballon d'Or this year.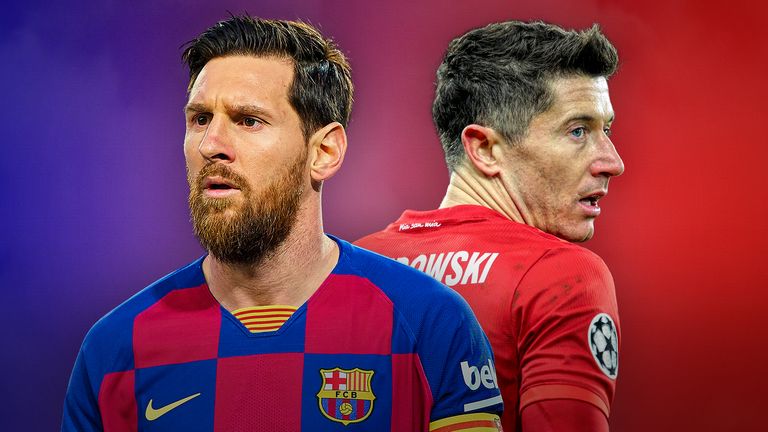 Amazing Moment for Messi but the Ballon D;or still belongs to Lewandowski
Messi's Glory's is Neymar's Heartbreak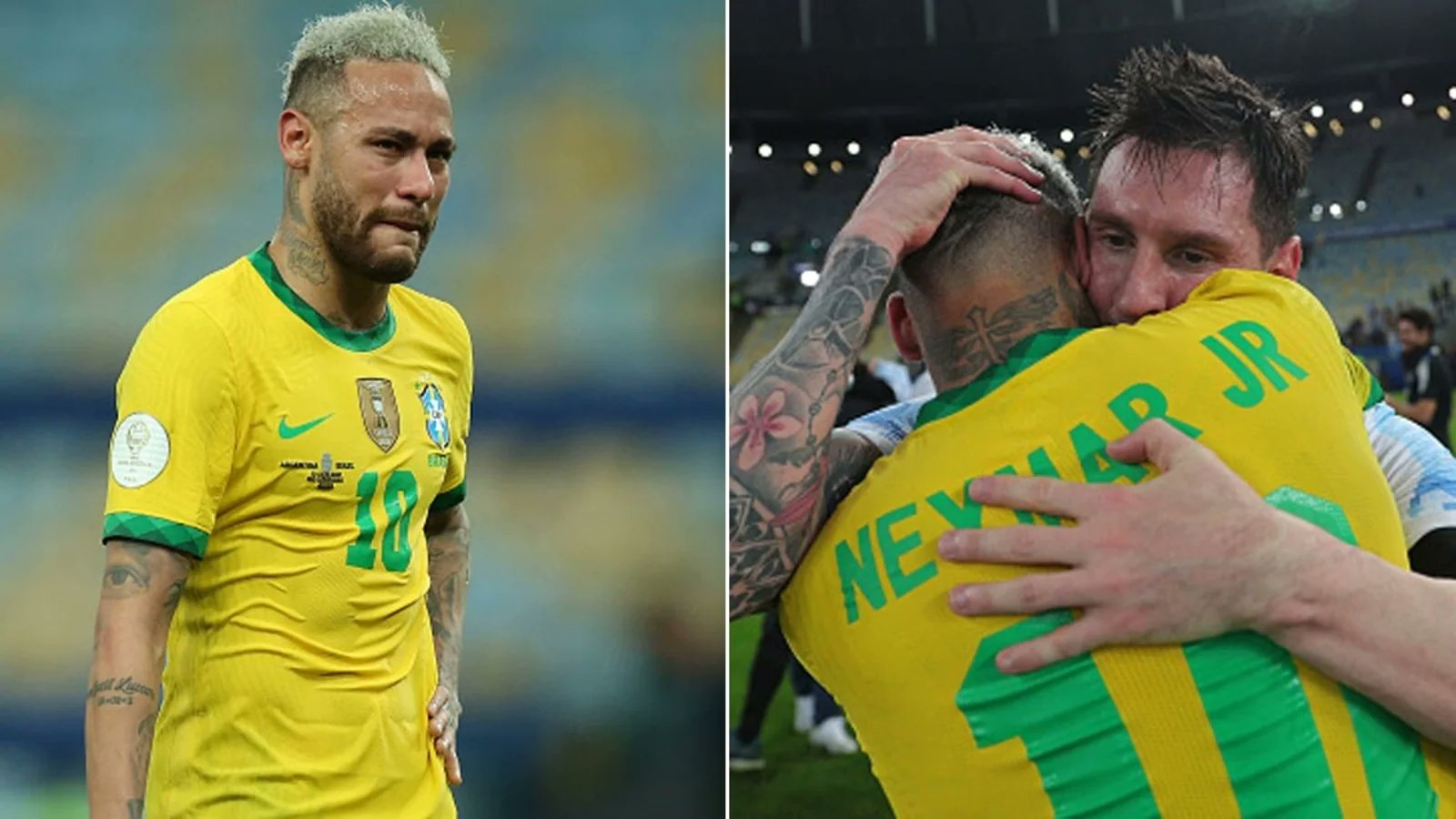 There are two sides of this emotional scale Lionel Messi winning the Copa America has an amazingly emotional moment for and his family and everything that he has done up to this point and finally getting that validation for Argentina is terrific; is a huge moment, and this moment belongs to Lionel Messi. However on the other sideline, we saw a very emotional and distraught Neymar. Lionel Messi is the Undisputed goat, but I believe Neymar is the best player in the world, and I have no issues whatsoever in saying that. as much as this was an amazing moment for Messi, it was a ploy of Devastation for Neymar; on the footage of the conclusion of the final whistle, you can hear Neymar crying and losing himself emotionally Neymar, to me, is already a top 25 player of all time he is one of the greatest footballers we've ever seen and has not been able to deliver yet for Brazil in the previous Copa America he was injured and could not participate this was going to be the best opportunity to win something for Brazil. Neymar will end up as the highest-scoring player in the history of the Brazil National Team; he is all the accolades at Club level, and he wanted to add a Copa America trying for Brazil so desperately. Neymar it's constantly getting disrespected just for the simple fact that many don't like him. So much so that they cannot acknowledge his incredible quality he is the best player in the world and one of the best players we've seen a huge generational Talent that doesn't get the respect he deserves. as much as I am so happy for Lionel Messi finally getting it done I am truly gutted for Neymar this is an opportunity for him to silence his critics especially for a player like him getting disrespected so much that he's become underrated everybody hates him he's a villain so much so they can appreciate his incredible quality name of thought a lot to get to this point and wants to win with Brazil so desperately to see him fall to his knees an experienced a vast amount of emotions it was devastating to see unfortunately Messi's Triumph was at the expense of Neymar's Devastation. Brazil is not going away they will be back; certain changes need to be made, but going into the World Cup, they certainly will be one of the favorites, and I know for a certainty that Neymar will win the Copa America for Brazil eventually this was a very difficult moment for Neymar, and I truly feel for him especially the criticism that he gets constantly. After the final whistle, Neymar lost it but eventually was able to go over to Lionel Messi and congratulate his former teammate and great friend, ultimately being happy for Lionel Messi finally winning with Argentina; it was a difficult moment for both of them because they feel and understand what it's like to be on the other side of that as much as I am devastated for Neymar this tournament and this match along to Lionel Messi answering the question we have asked of Lionel Messi for ages win with Argentina now he is done that not only that he is proving to be a leader and his leadership played a big role in Argentina winning the Copa America I don't want to hear another word about International success attached to Lionel Messi he is answered that question as Argentina celebrates for the first time since 1992.