The Dishonesty of Harry Kane

Harry Kane's departure from Spurs has been one of the biggest topics of this year's transfer window at certain times that it was inevitable that he would make his move to Manchester City. Harry Kane is one of the best strikers globally, coming off another fantastic season in which he led the Premier League in goals and assists. Under Mourinho, he became a much different player and only continued that vein of form. He is one of the very best players in the league, but as he approached his 30 years old he has looked at himself and realized he is not going to win anything; the club has not won a trophy in many years, and for Harry Kane to reach some of his accomplishments he needs to move on. That's not to say he has any animosity towards Spurs; he can still think of them positively; he wanted to leave because he's not going to win at Spurs; that's just the reality. He made things difficult on himself when he signed that six-year extension that did not have a release clause that could release him from that deal. Harry Kane requested to leave without formally putting in a transfer request. He wanted to do it most professionally, but Daniel Levy sticking to a very high price for the striker complicated things. Manchester City did make a couple of the Tottenham chairman. Man City had already spent 100 million on Aston Villa Captain Jack Grealish. Still, with a striker, they identified Harry Kane as the solution to their problems as Pep Guardiola hopes of securing the Champions League. As the transfer window is winding down, Manchester City and Spurs still could not agree on the validation. Harry Kane refused to turn up to training for the media portrayal of this is ridiculous for some reason; he got a pass; if Paul Pogba had done this, he would have been buried. Still, because Kane has a different personality type, he is given a pass; he just got away with it. Regardless you have to turn up for training. In The Opening match of the season, Harry Kane was not on the bench or in the stadium, which shows his lack of commitment to Spurs. Eventually, the transfer window winds it down, and the two parties could not reach an agreement. Harry Kane eventually showed up for training but has wrecked the reputation that he has had. He is Tottenham's greatest ever player, at least of the Premier League era; his legacy with Spurs cannot be tarnished, but he has wrecked the relations within the club after the actions that he is made the summer. Harry Kane released a statement has he flat-out lied to the supporters, which will only make things more toxic when Harry Kane leaves either in January or next summer. In his statement, he mentioned that his decision to stay this summer had to do with the supporters and the way they supported him throughout the process. That's a lie; even though Tottenham respects Harry Kane and is happy that he's returning, they were ready very public in their displeasure about his actions. The second part of it says he said this season which gives the fans no respect and false hope. Had Harry Kane publicly stated that he is returning to the club, but this will be his last season, he would be truthful to the fans while enjoying one last season together. Instead, he made up all these lies so he could protect His image. The other thing about this is his explanation of why he was staying is just not true. Had Tottenham and Manchester City reached an agreement, Harry Kane would have left; everyone knows this the Spurs fans get one more season of Harry Kane, but the worst part of all this is Harry Kane cannot be truthful to the fans that have supported him for so many years his actions are unacceptable. He's got a slap on the wrist because he's not Paul Pogba. In the end, his lies have ruptured the interrelations between himself and the club. He will be gone maybe in six months, maybe in a year and but in the end, the damage has been done, and he couldn't even be truthful about his intentions.
Bayern Signing Marcel Sabitzer Harms Bundesliga
Bayern Munich has dominated the Bundesliga for the last decade. Although not every league is walked eventually pull away most of the time after winning a big game against a challenger. This season we could see something else with Wolfsburg, Dortmund, and RB Leipzig potentially making some noise to stop Bayern Munich from winning another title. However, even though Bayern Munich is trying to build the most dominant team they can to win on all fronts by doing it, they are wrecking the reputation of the Bundesliga slowly but surely. Essentially the rich keep getting richer. Bayern Munich is one of the best teams globally and should continue to upgrade their squad, but the way they are doing it is dangerous to the league. From top to bottom, the Bundesliga is arguably the best league in terms of talent throughout the 18 teams. A lot of the players that they have in this team have taken from rival teams; the ambition of those players is very questionable because a lot of the time, the best players from other teams always seem to believe the aspect of if you can't beat them join them instead of trying to take them down. This doesn't necessarily apply to everyone, but Bayern Munich consistently has taken the best player from rival teams. Robert Lewandowski came from Dortmund, Joshua kimmich came from RB Leipzig, Leon Goretzka came from schalke. It is almost impossible for them to be dethroned even though they are challenged, their team is too deep and too intense because they pick apart the teams around them from a marketing standpoint and a business standpoint from Bayern Munich it is brilliant, but it is harmful to the league as a whole. Occasionally they sign players away from other Bundesliga teams weakening a rival rather than strengthening Bayern Munich. RB Leipzig finally has a team that can potentially gun for the title following the acquisition of Andre Silva, giving the team a striker, something they lacked last season. Bayern Munich has the best Midfield pairing in Europe with Joshua kimmich and Leon goretzka, not to mention Thomas Muller playing underneath the striker. A rising star in Jamal Musiala. Marcel Sabitzer it's one of the best midfielders in the Bundesliga and the best player on RB Leipzig. He is in the last year of his contract, so the price tag on him is minimal. From Bayern Munich's perspective, they always make brilliant business decision. RB Leipzig didn't necessarily need to sell him and especially didn't need to sell him to Bayern Munich. Not only was he the best player on RB Leipzig, but he was the captain as well. Bayern Munich to take a player that they don't even need. Marcel Sabitzer makes a 15 million move to Bayern Munich. That is exceptionally cheap for a player that probably would have cost at least 60 million if he had more years on his contract. This is a case of Bayern Munich weakening the opposition rather than strengthening their own team. The Austrian midfielder is one of the best in the league, but he is not better than Joshua kimmich or Leon goretzka; of course, long-term, he will be able to be used brilliantly by the Bavarians, but this wasn't a requirement or a big need the truth is Bayern Munich didn't need him. They just took him away from RB Leipzig because of the price and the fact that they would not have time to secure a replacement; they wrapped up this deal in the closing days of the transfer window. Once again, Bayern Munich has taken one of the best players from a title rival team; we have to put all our faith in Wolfsburg and Dortmund now. They haven't had a great start to the season this is the last thing they need meanwhile the Bundesliga continues to become very one-sided despite all the qualities that exist inside of it; it is a bad look for the league and its reputation it continues to be challenging to bring in a neutral viewer when Bayern Munich make moves like this. There is an entirely false narrative regarding the league quality and the competitiveness of the Bundesliga because of it Bayern Munich may not care what they are damaging the reputation even if they don't mean to do it.
Mbappe Coup Fails but Managed to Bring Camavinga to Madrid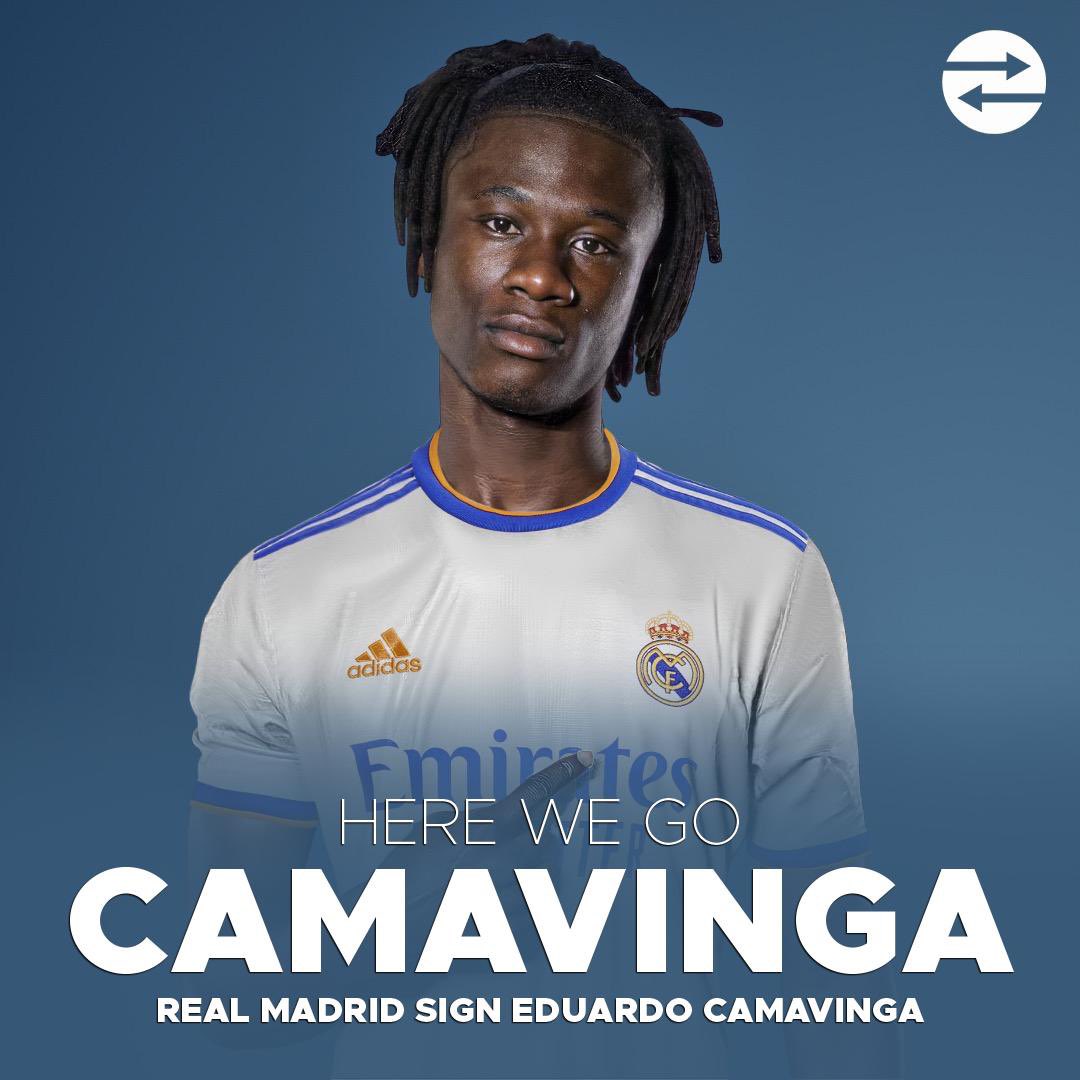 There has been a massive shake-up in La Liga regarding Real Madrid, Barcelona, and Atletico Madrid. Many late moves are made that could ultimately prove to be extremely vital in the title race this season. Regardless of the squad's strength, it is a pretty overwhelming consensus that those three teams are the ones that are ultimately be hunting down the title. There might be a possibility for Sevilla to break into that and potentially do something, But ultimately it will end up being The Heavy Hitters. The Mbappe move to Real Madrid has been discussed for several years with PSG securing Lionel Messi, it seemed like it was the best opportunity the cash in on the Superstar. One of the best players in the world who dreams of arriving at Santiago Bernabeu. Even though he grew up in Paris and he has enjoyed his time with PSG, his dream move is Real Madrid; there's no hiding that there's no denying that. Mbappe only has one year left on his contract, meaning essentially, he can leave for free next summer. Real Madrid has been aggressive in their approach of trying to get the Frenchman. Real Madrid has already lost Sergio Ramos and Raphael Varane, and we're hoping to make a huge Marquee signing with mbappe. The president of PSG has been very consistent in his continuous claim that he is not for sale. Mbappe has rejected multiple contract offers and potentially could leave for free next summer. However, with a super team that they are building in PSG, it makes sense both for mbappe and for PSG to win something special, potentially capturing the champions league for the first time ever. PSG is the best team in the world on paper, and it's not even close. If they don't win the Champions League, they only have themselves to blame a big part of that will be mbappe, who is off to a fantastic start to the season. Real Madrid had an opening offer around 174 million PSG turned this down in the closing days of the transfer window they offered 200 million for mbappe as crazy as that is, and the numbers were astronomical in the end, PSG had no interest in selling and wanted to win with this team. Real Madrid will inevitably sign Kylian mbappe, but it won't be this summer. Real Madrid moved exceptionally quickly in the closing days of the transfer window. They could not pull off their number one transfer, Target, but they made a great coup as they brought in Rennes 18-Year old Eduardo Camavinga, one of the best young midfielders in World football. He is an incredibly fantastic player. I have personally been a fan of it for the last couple of years to get that deal done in the last hour couple of hours of the window with a fantastic signing by Real Madrid Mbappe will probably arrive next summer. However, even though that deal failed to get a player of that quality is incredibly impressive. They acted fast and quick. They got Eduardo Camavinga, someone that will be Sensational at the Santiago Bernabeu.
Antoine Griezmann Back at Atleti, Saul to Chelsea Luke De Jong to Barcelona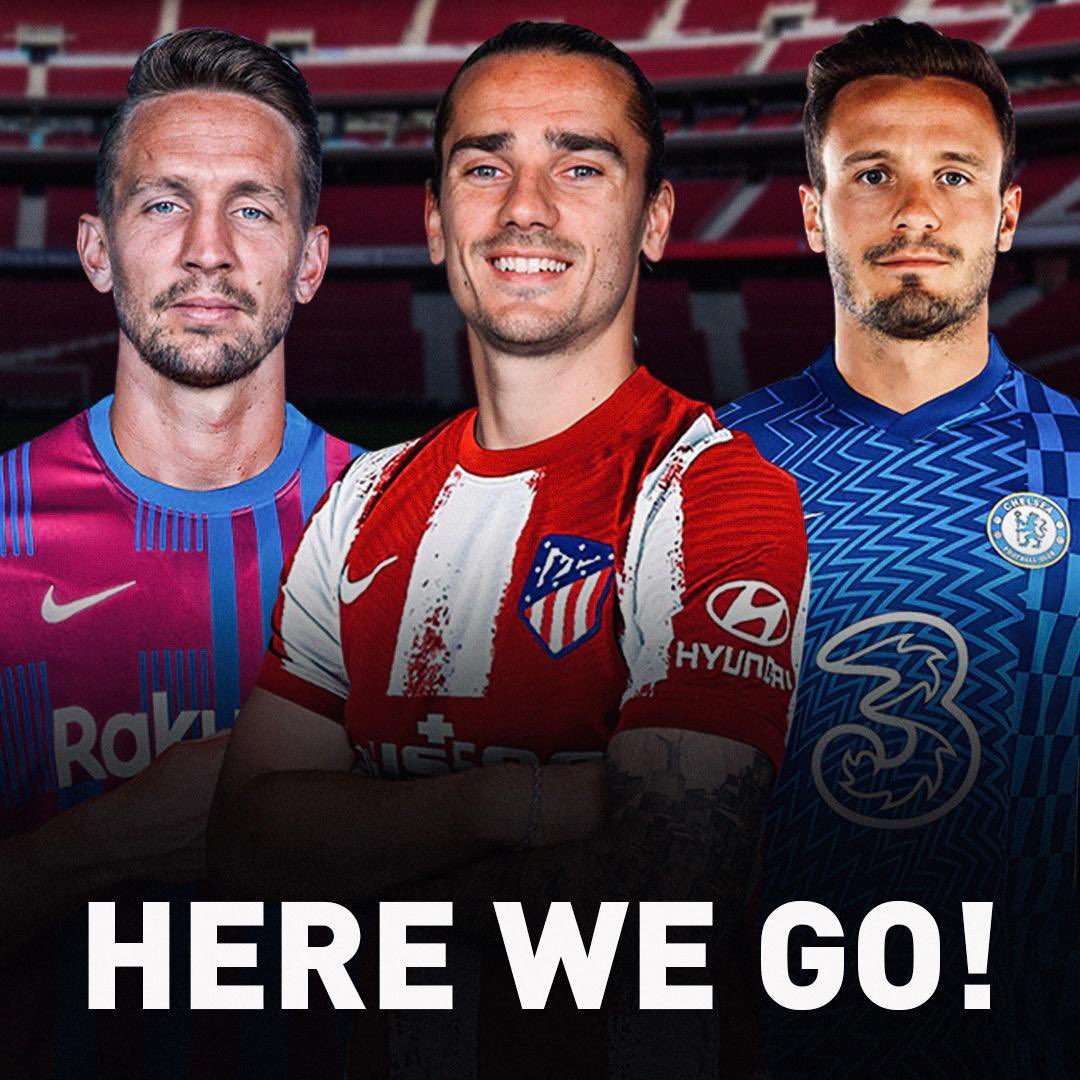 Now looking at Barcelona and Atletico Madrid. Barcelona is in a horrible financial crisis so they could not even afford to keep Lionel Messi as the greatest player ever left in tears, ultimately departing PSG. This was only the beginning Emerson Royal departure to Tottenham Hotspur, who they had brought back earlier in the window for 15 Million. Barcelona youngster Ilaix Moriba went to RB Leipzig for 16 Million, Junior Firpo to Leeds United for 16 Million, and many other noteworthy moves but not massive. There have been discussions with the potential Athletico Madrid reunion for Antoine Griezmann. Griezmann at Atletico Madrid was one of the best players in the world and truly was unbelievable at Barcelona; he hasn't entirely clicked, and even though he's had moments of brilliance, he has not been consistent enough a reunion with Diego Simeone and Athletico Madrid coming off capturing the La Liga title this might be precisely what the doctor ordered it to retain it. Under Diego Simeone, we could see Antoine Griezmann at his best once again. He has made his return as he agrees to rejoin Athletico Madrid on loan with an option to buy at 40 million. Atletico Madrid also made a sale as Saul move to Chelsea for 35 million. Chelsea is now loading up and looking to be one of the favorites to win the Premier League after signing romelu Lukaku a month ago. However, back to La Liga with that sale, they bringing Antoine Griezmann, who rejoins Athletico Madrid that already features Luis Suarez, Joao Felix, and so many others; this put Athletico Madrid in Prime position to retain the La Liga title, and I expect them to do so. However, before the end of the transfer window, one more La Liga move was made after Lionel Messi left Barcelona and Antoine Griezmann went to Atletico Madrid, Emerson Royal went to Spurs, and so on forth they made a lot of sales. Previously they secured the signing of Memphis depay and Sergio Aguero. Despite financial ruin, Barcelona managed to make one more deal as they negotiated an agreement with Sevilla for Luke De jong to join on loan with an option to buy at 20 million. It gives Barcelona another attacking option, hoping to keep the Barcelona float with Atletico Madrid and Real Madrid. Real Madrid to get Camavinga, who will boss the Real Madrid Midfield for the foreseeable future; remember, he's still only 18 years old. When you look at what Barcelona did getting the Sevilla Striker, the big winner here is Atletico Madrid; even though they did sell one of their best midfielders, they have brought back Antoine Griezmann could potentially recapture the old form that he showed before he left for Barcelona. Atletico Madrid will win the La Liga title again; however, with some of the addition being made, Real Madrid and Barcelona could make things potentially interesting, but these moves have put Athletico Madrid in the driver seat for the La Liga title will have to see how it all turns out.